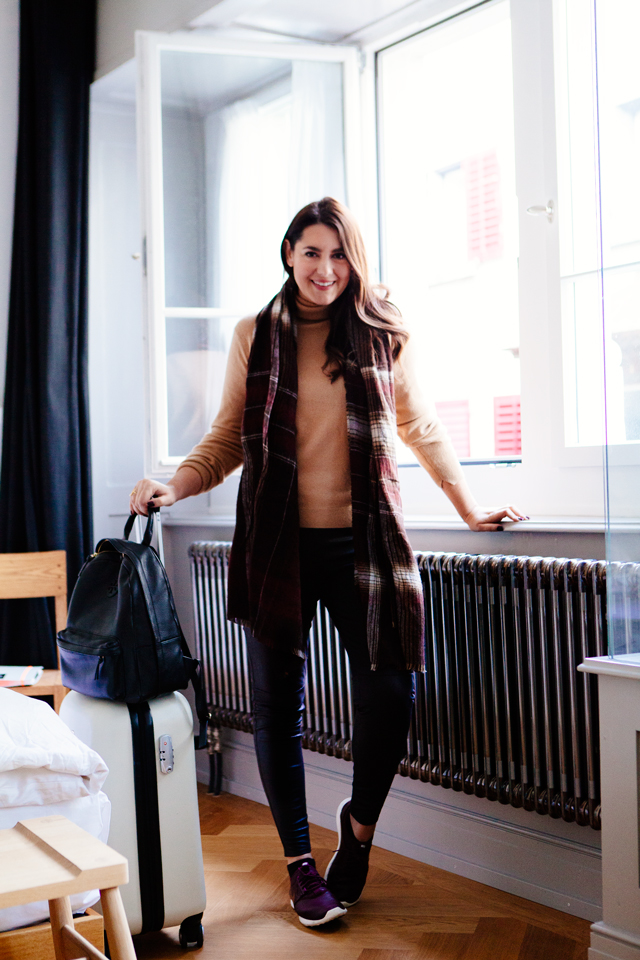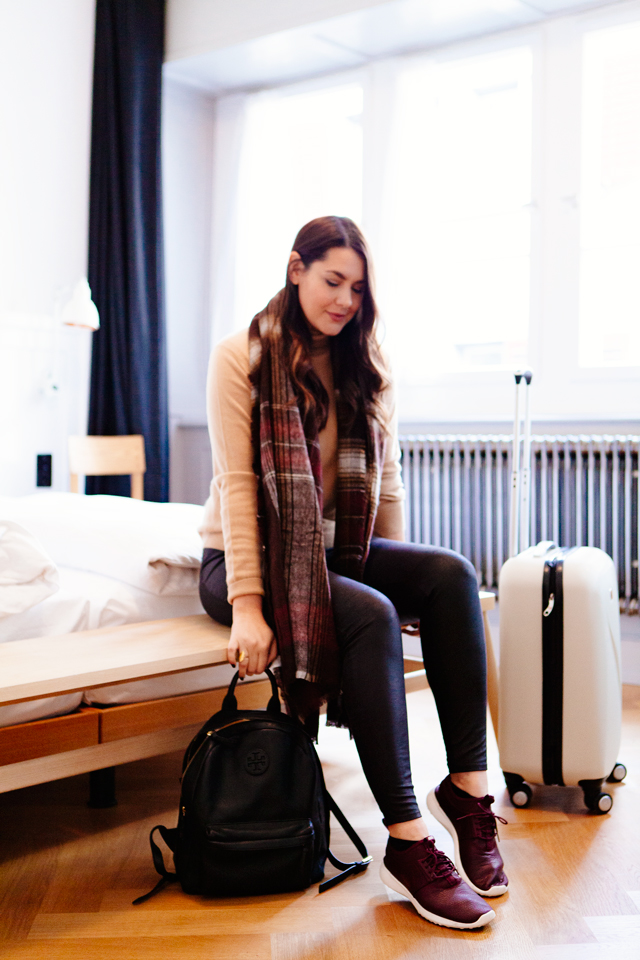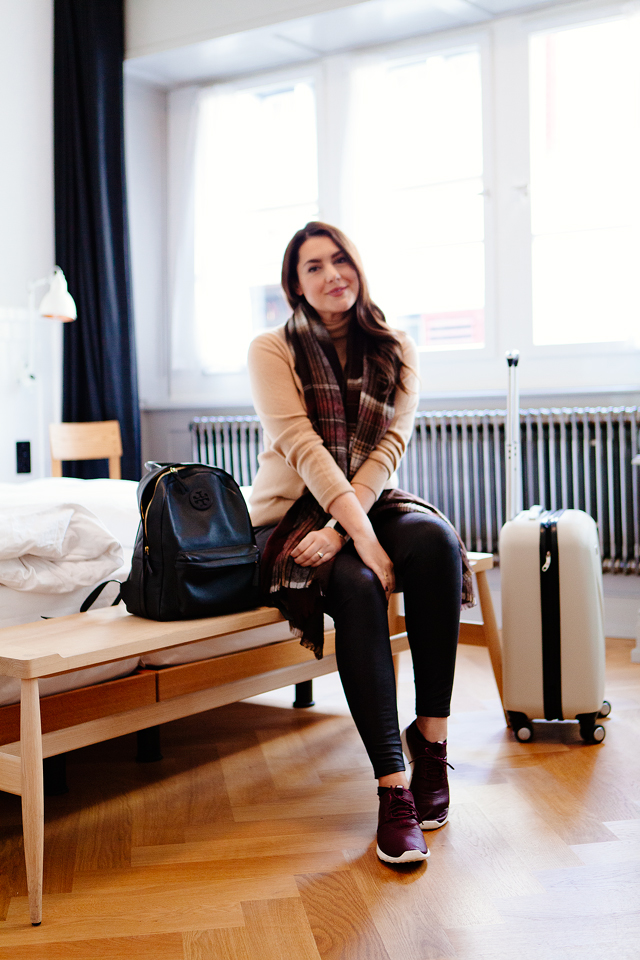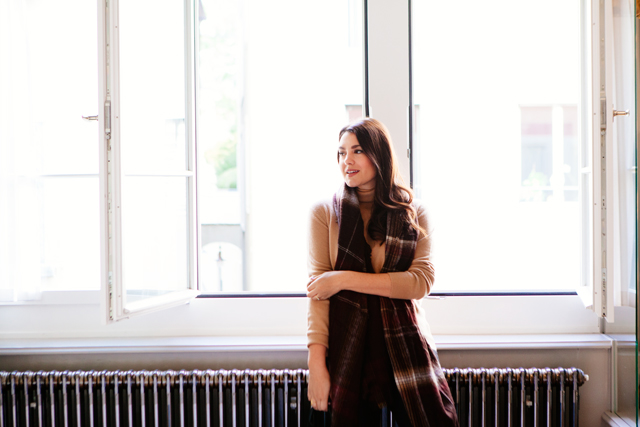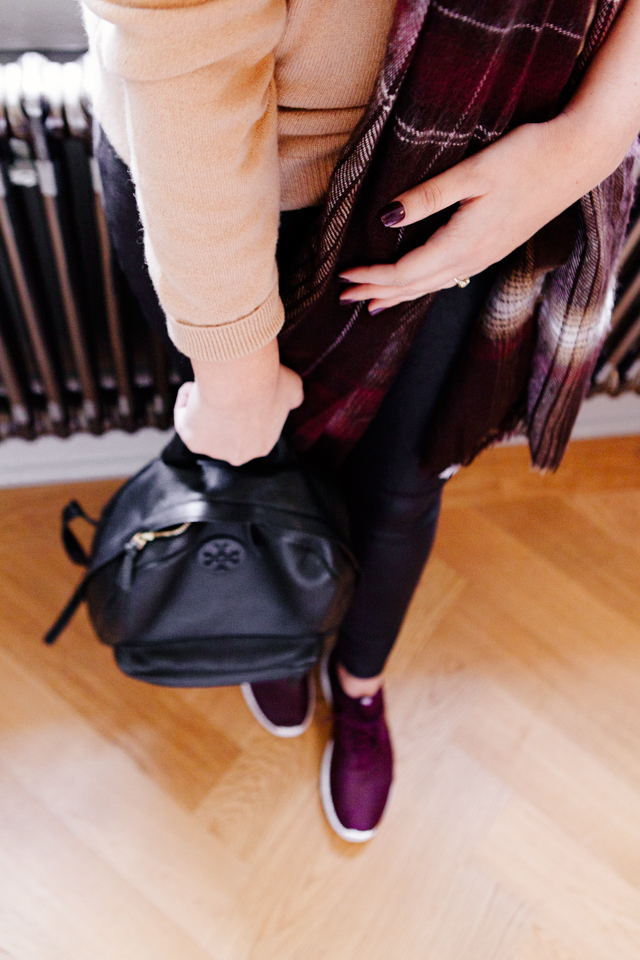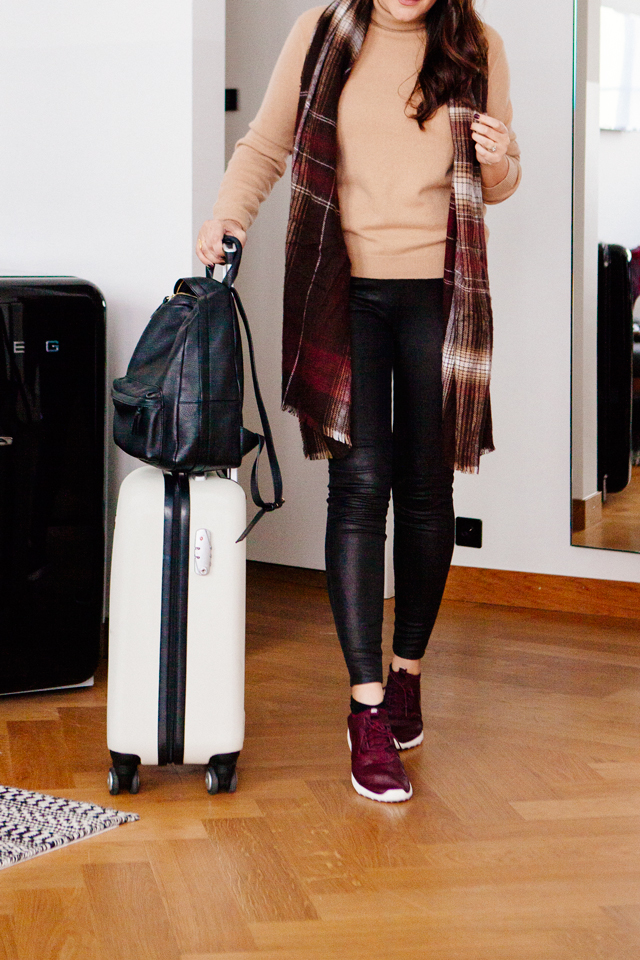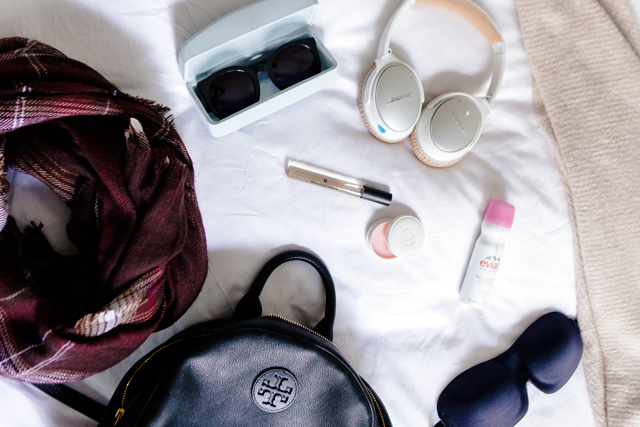 We have been traveling a lot this year, so I've had many chances for trial and error when it comes to curating my travel bag and my essentials for on the go. I've also had time to really hone in on what I like to wear during travel days or days we spend walking the cities we explore. This outfit is one of my favorites from our Switzerland trip, so far. It's perfect for hopping on the train and taking a side trip to another city. Of course, how can anyone go wrong with a camel sweater and plaid scarf combo? Traveling or not, it's a good combination for fall.
We have a rule when we pack — if you can't carry it, you can't take it. So I try to keep my luggage to an amount that I am able to carry, which means I've really curated my essentials. I wanted to pull them together here to show you some of my must haves! And not to mention the 'h' word too soon (*whispers* the holidays) but the holidays are just a few months away and if you know a travel lover or someone who is always on the go, it turns out that my favorite travel essentials work perfectly as gifts! You ready? Let's go!
To wear:
These faux leather leggings are some of my favorite to travel in. I'm so glad they brought them back this fall! I've loved wearing them last winter and they complete the perfect travel outfit. Plus, they are stretchy — need I say more when trying to get comfortable in a small airplane seat?
This travel shawl is my very favorite. (I also use it when I'm cold in the office or at a coffee shop! It folds so perfectly I can take it anywhere.) I ended up buying it in this midnight shade as well last the pearl. See? I told you it was a favorite. You're looking at the ultimate gift right here. I also love a big scarf and I can not lie. A scarf works double duty — adding warmth and style to your outfit. I am never without one when traveling in the fall and winter. (love this one for gift giving too!)
My husband is a bit of a sneaker freak and it's starting to rub off on me. As a girl who loves her some heels, I'm curating quite the sneaker collection. From my Superstars to my Stan Smiths to these Nike sneaks, I'd say I'm pretty ready for traveling anywhere. Also, these Nikes are super comfortable for walking and traveling. (They slip on and off like socks!)
My other essential? Sunglasses. Year round I keep at least a pair or two with me at all times when traveling. Jet lagged but still want to look alive? Sunglasses. They are always the answer.
To carry:
I've loved using this Longchamp bag as a carry on or a weekender. The best part is you can fold it and put it in your suitcase empty if you think you'll be picking up a few souvenirs or shopping at your destination. It's perfect for a weekend away, as well. And of course, honorable mention for my Tory Burch backpack that holds my laptop. Yes, friends it. holds.a.laptop! I mean if that's not meant to be the perfect travel bag, I don't know what is.
When I'm traveling internationally, I don't like to carry a huge wallet, but instead a little zipper pouch. I only bring along the essentials from my wallet — a credit card, my I.D. and cash. And it's perfect to pop into a pocket and go, if I don't need to carry my purse that day.
Passport holders are my favorites to give as gifts if I know friends are going to be traveling soon. They seem personal and they are functional. My favorites are from Kate Spade — great quality that will last for years. (I have this black leather holder!)
To refresh:
If I'm heading on an overnight flight, I have a few items I like to carry on just so that I can feel a bit more refreshed when we land. Lip balm is always important to have, especially when traveling, and I've loved this rose lip balm from Dior. Another secret essential are these tiny bottles of water mist that I use when my skin starts to feel dry or I need a quick wake up. Beauty items are the cutest for stocking stuffers or small gifts, that's a fact.
I get kind of weird about smells so I love taking with me small TSA-approved roller ball perfumes. My current fragrance obsession is B by Balancinga here. It's floral and not too overwhelming, so it's a great travel companion.
I am never without my headphones  when I travel. I invested in these Bose headphones last year before a big trip and have not looked back since. They are noise cancelling which means I can drown out the loudest of conversations behind me in airplanes or airports. I am also never without an eye mask, especially for overnight flights or a hotel room with too much light for my taste. It's my best kept secret to getting the best night of sleep.
So those are my must-haves when I'm on the go! With holiday and travel season upon us, these essentials are perfect for going and for giving.
*This post is in collaboration with Nordstrom. Thank you for supporting brands that support this blog!