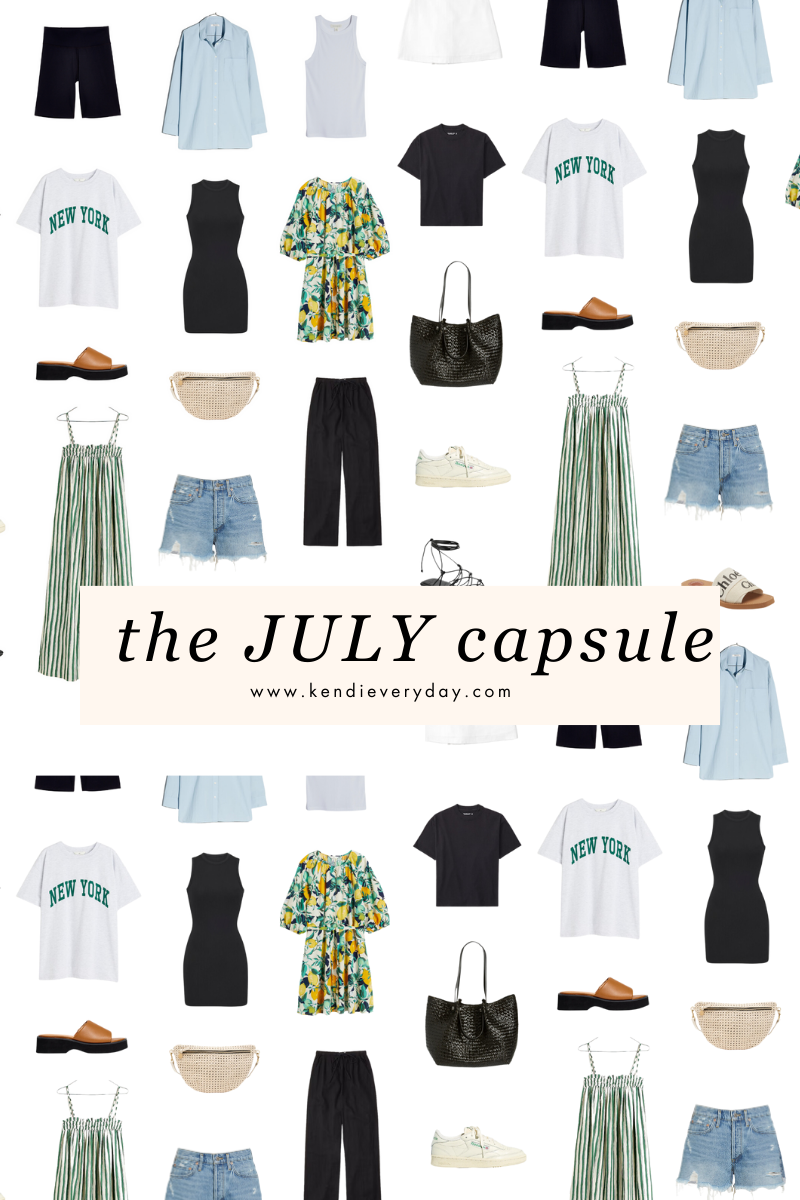 Hi and happy Friday! Did you know that a capsule was coming today?? If not — surprise! This month's capsule was super fun to put together — everything just fit together perfectly. I just love when that happens. If you are looking for some versatile pieces for summer then you have come to the right place — I have found some great pieces that fit go together like they were meant to be. Apparently I had green on my mind and honestly I love this hue of green right now. I can't explain it – it's somewhere between Kelly green and mint green and it works really well with denim, black and summer blue. I am so happy to invite this hue into the KE universe. Let's get to the pieces + the outfits!
*you can click on the '+' to go straight to the product or find a list of everything to the right!*
32 Outfits for July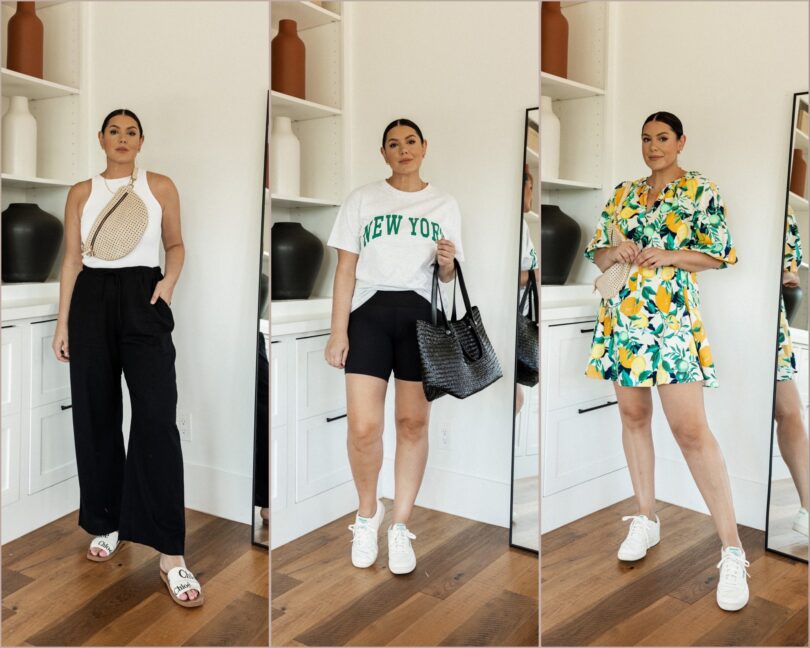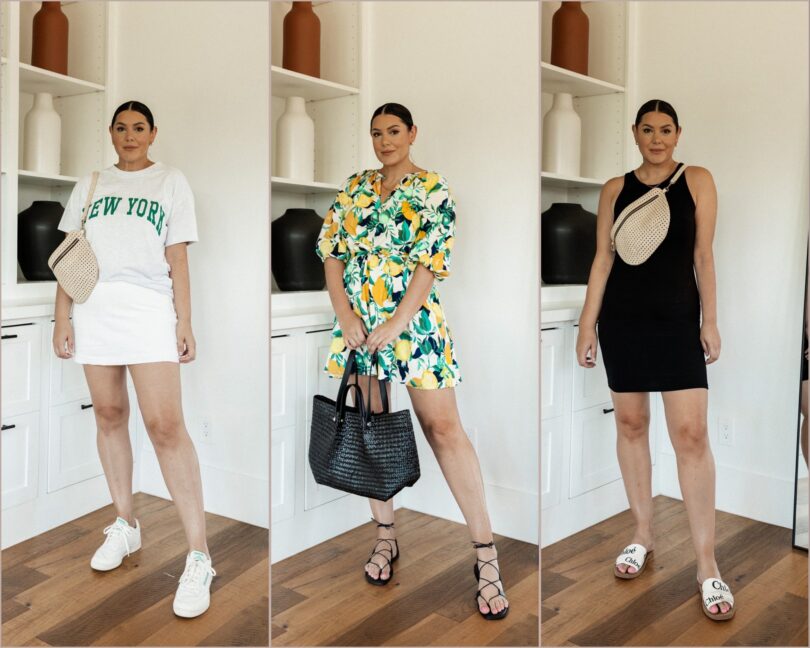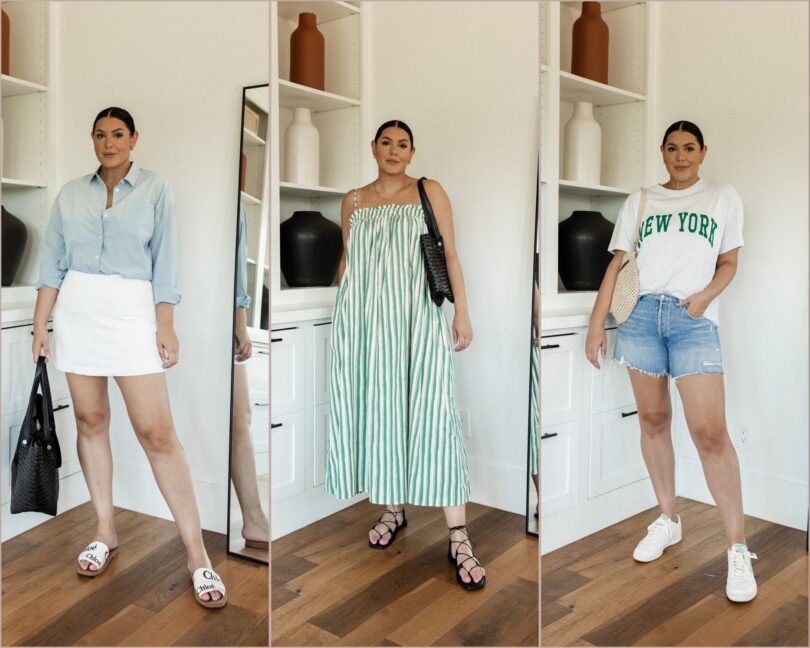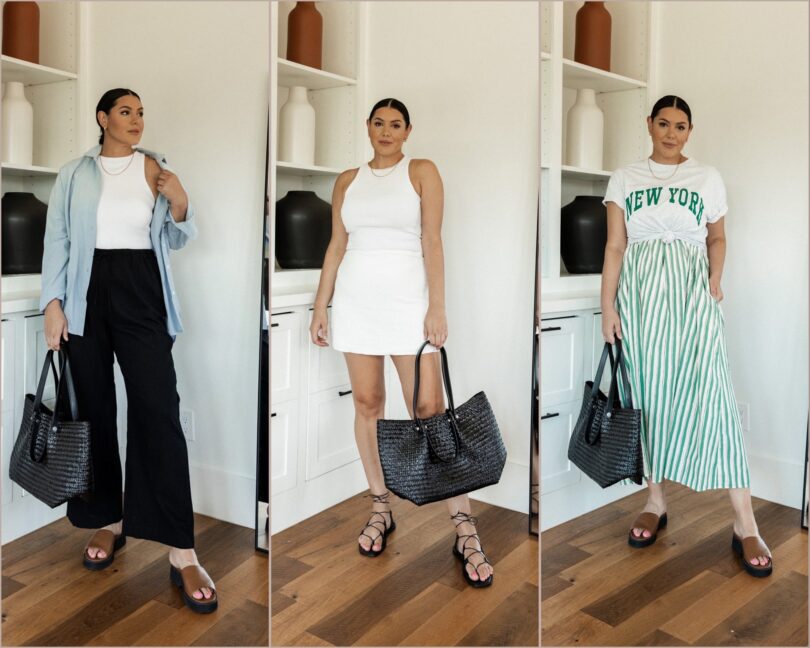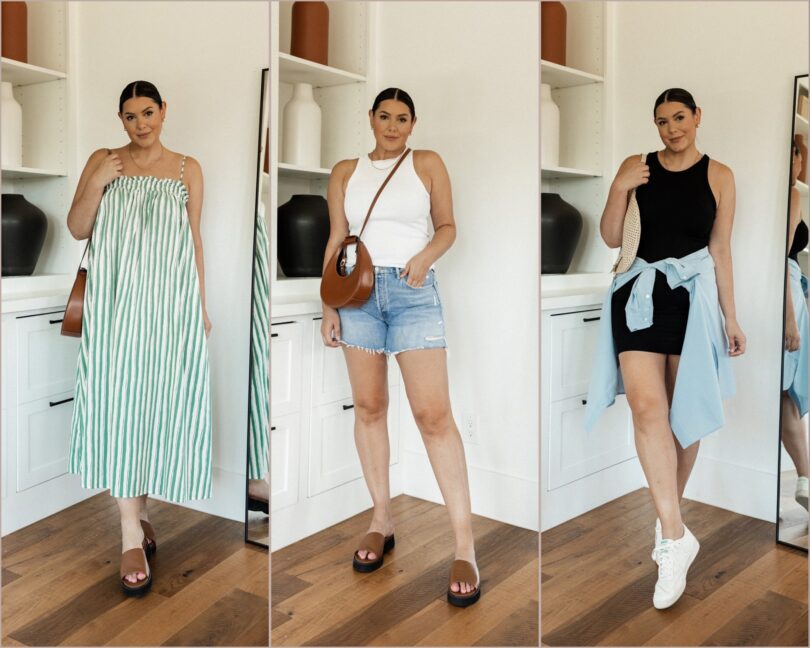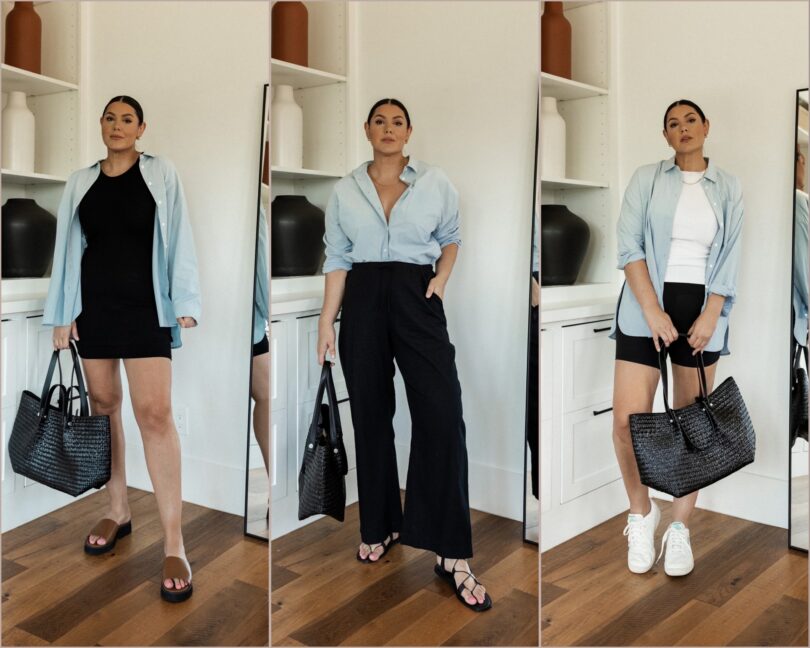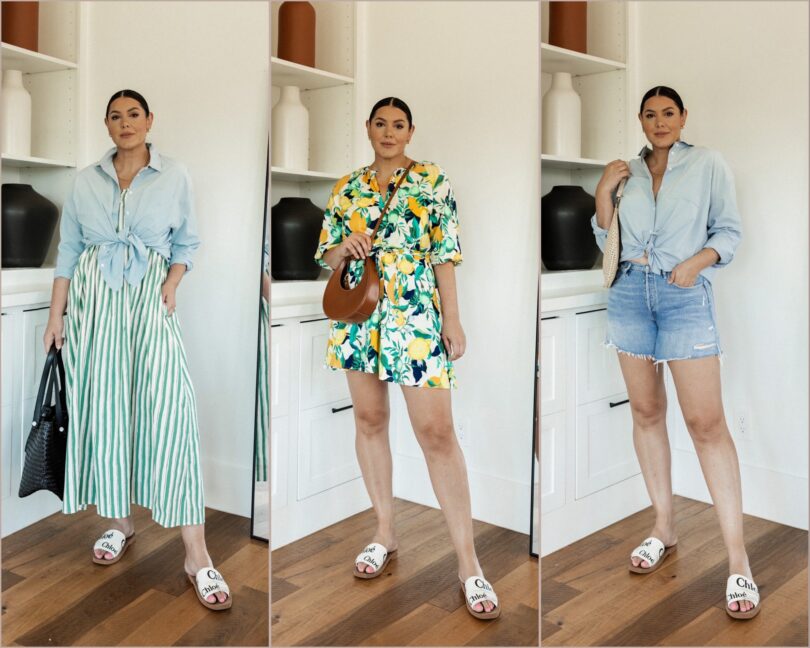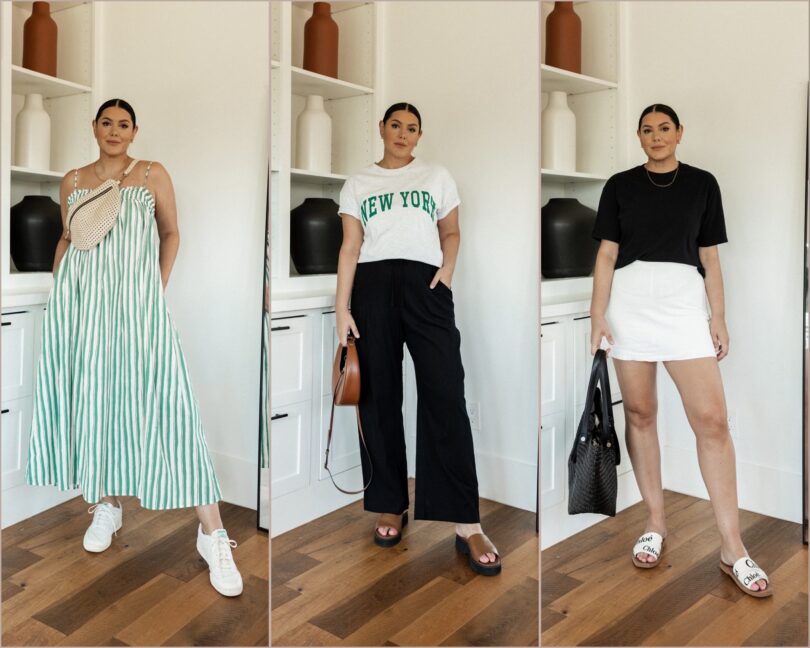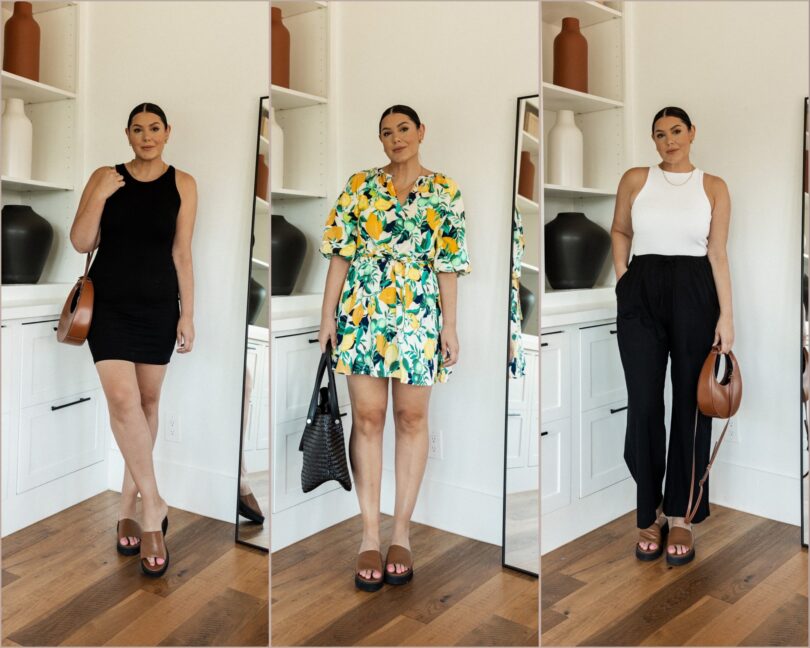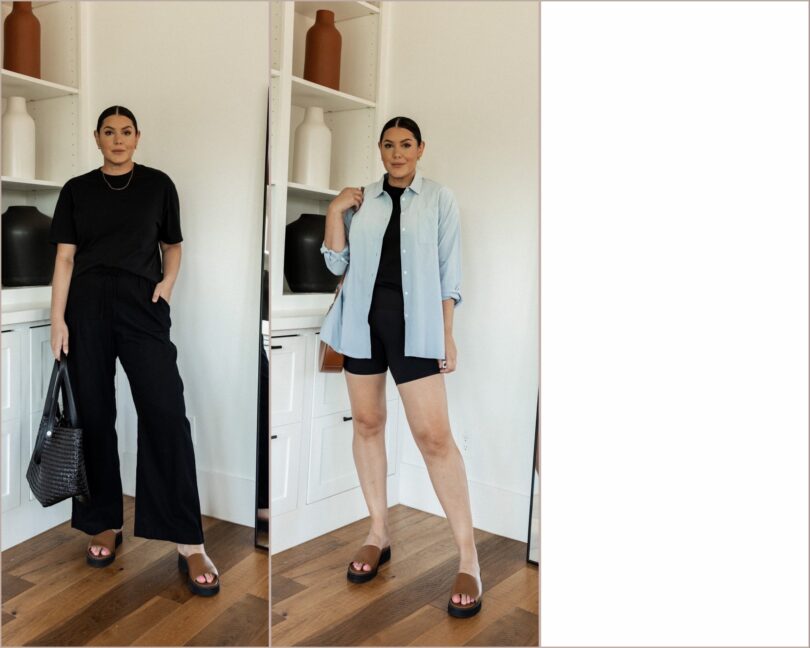 A Few Favorites
As always there are a few outfits that always stick out to me as my favorites! Let me know your favorites below, as well!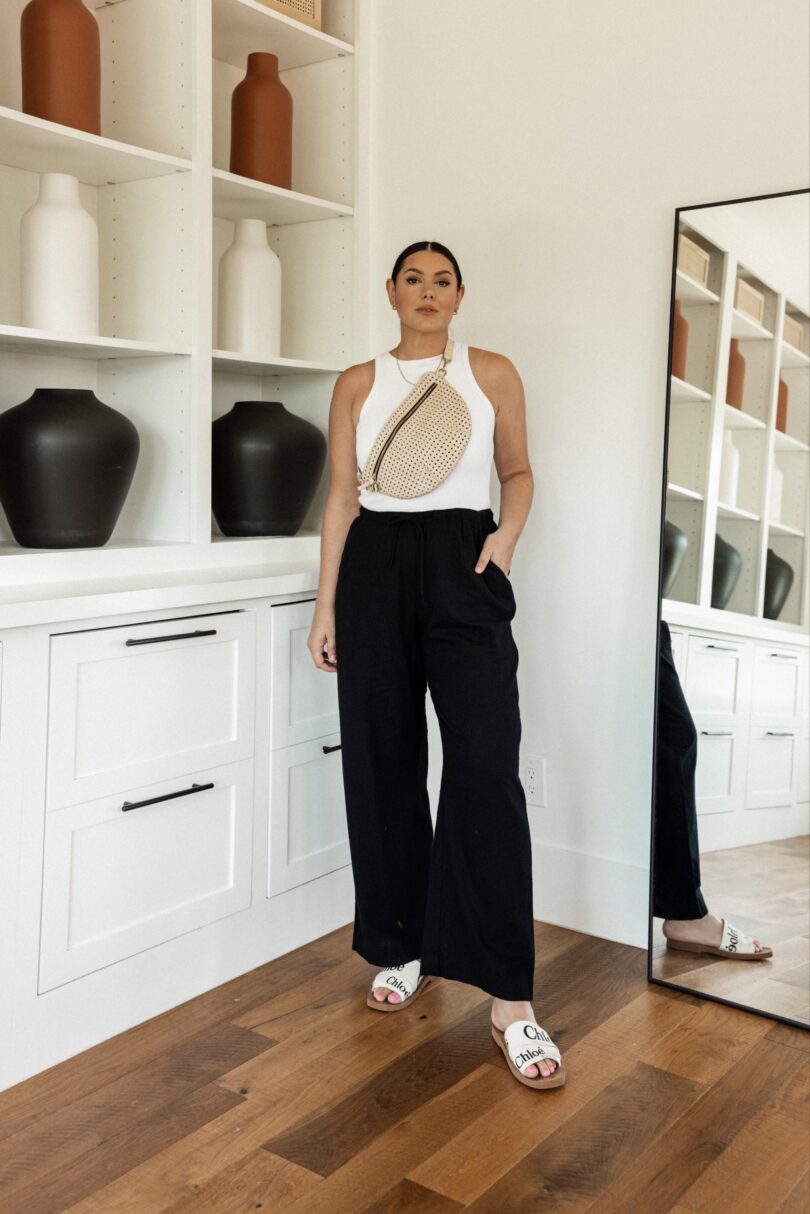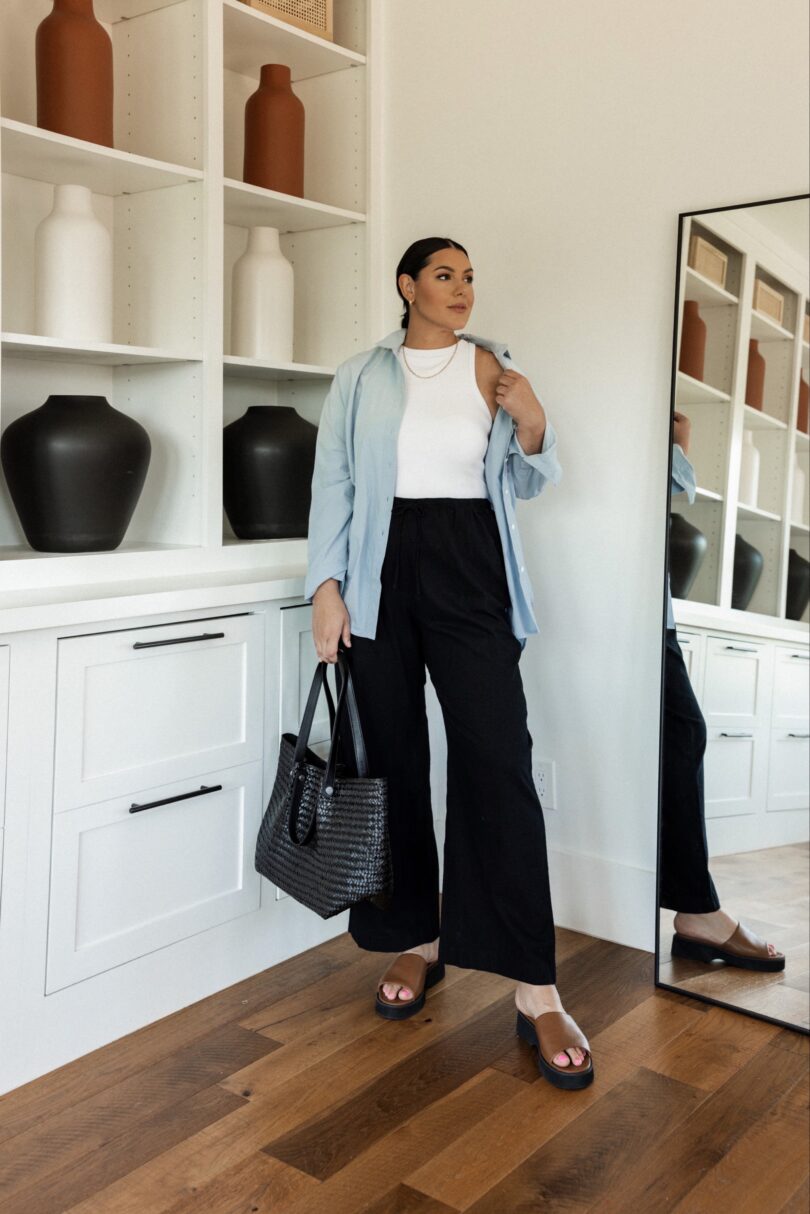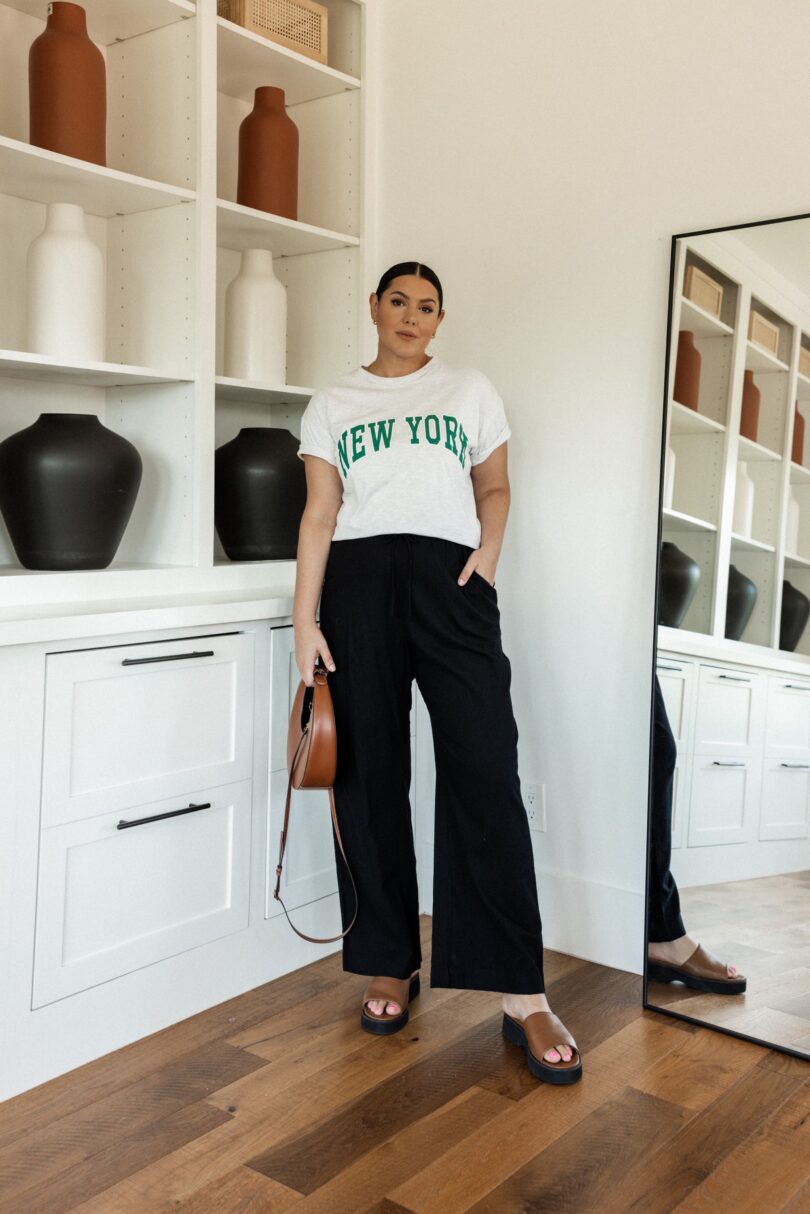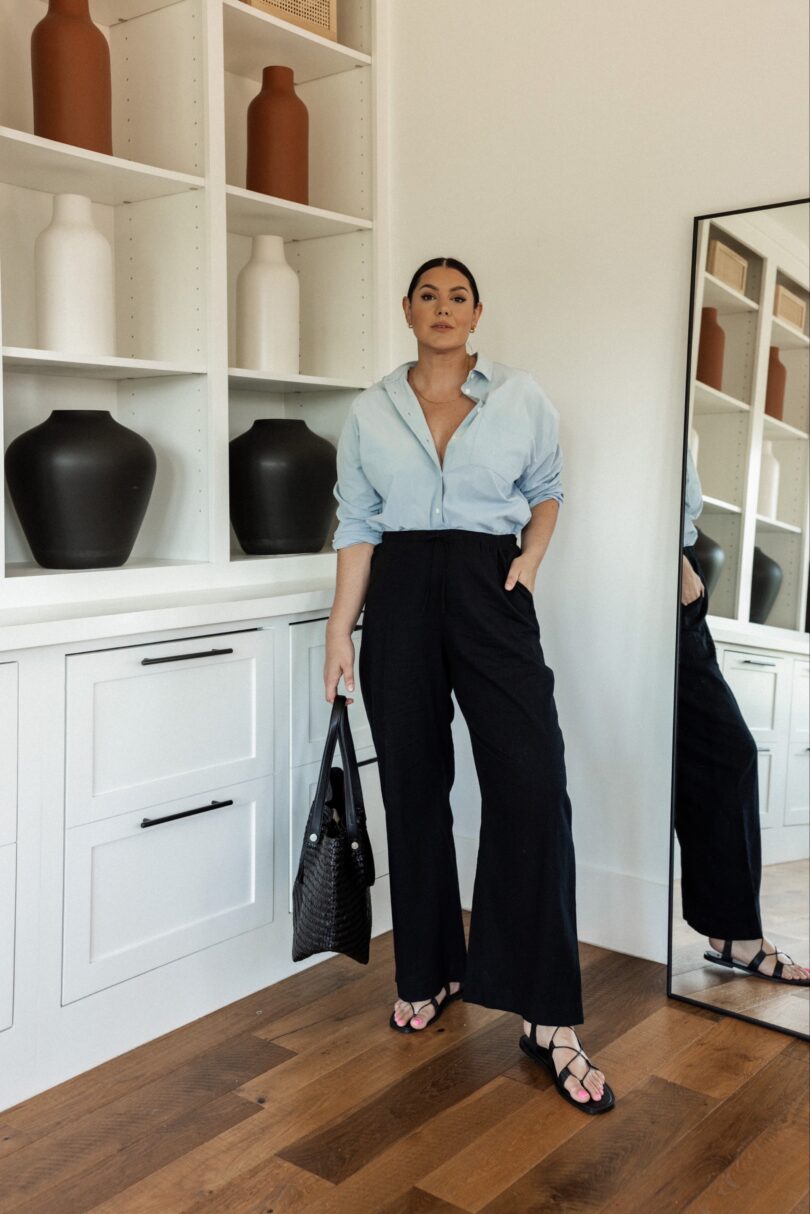 These linen pants are it, my friends. They are lightweight and as you can see so versatile. I love the loose fit for summer — they still look very tailored but the casual vibe is undeniable.
I am in the large here but they are a touch too big! I think they run quite generous, so keep that in mind. I'm going to swap them for a medium, just because the waist is very loose, which is rare for me to say. Find them under $100 from Abercrombie here!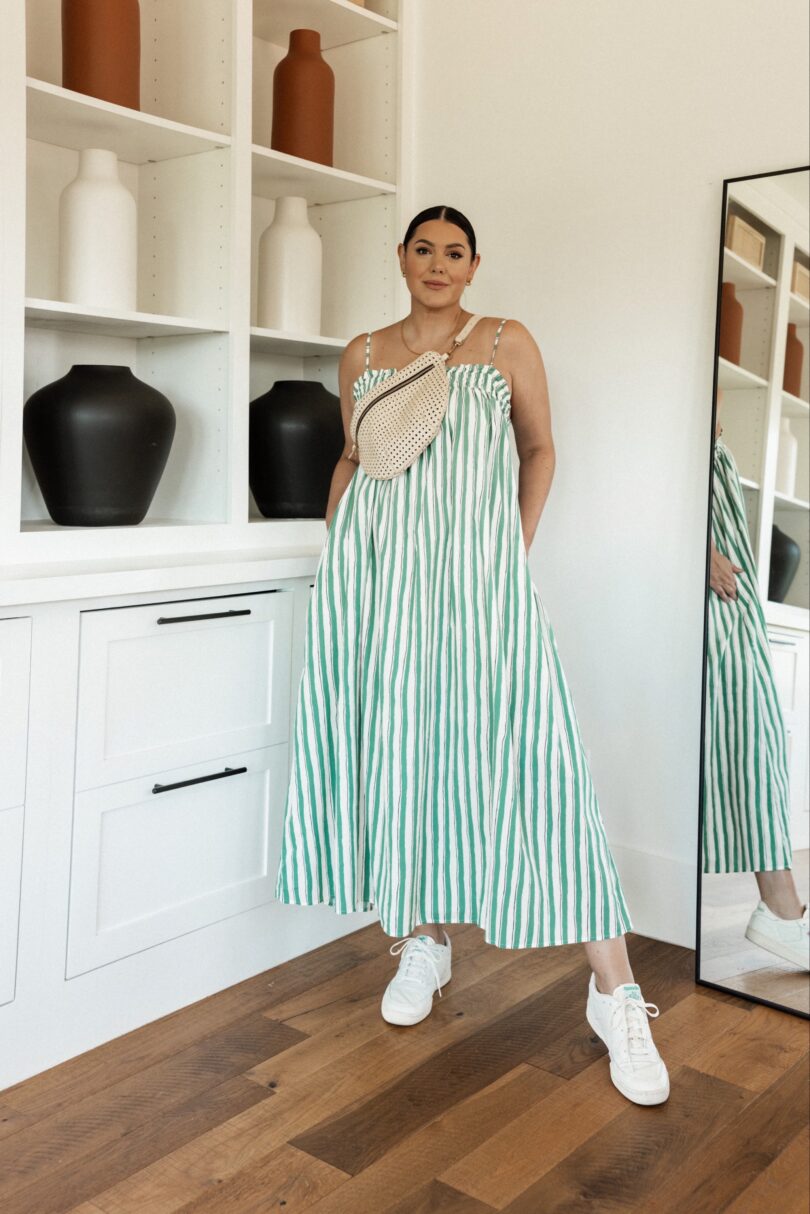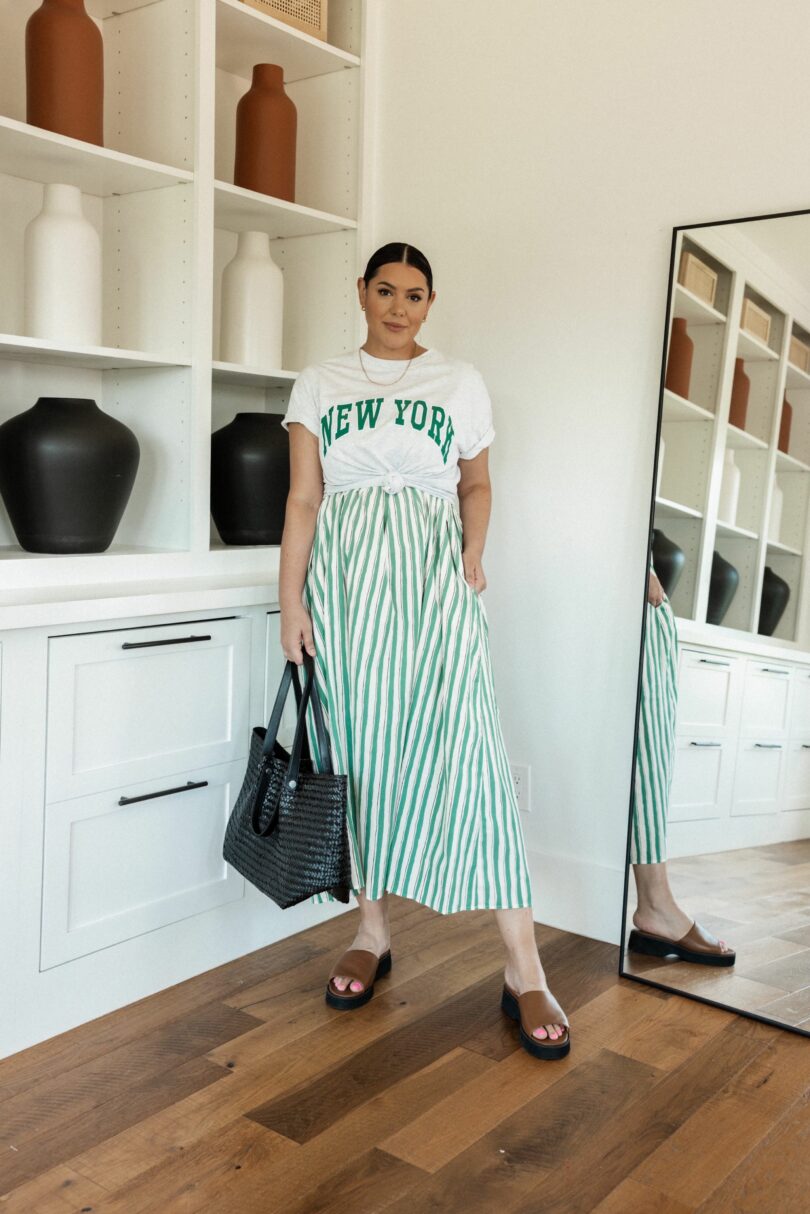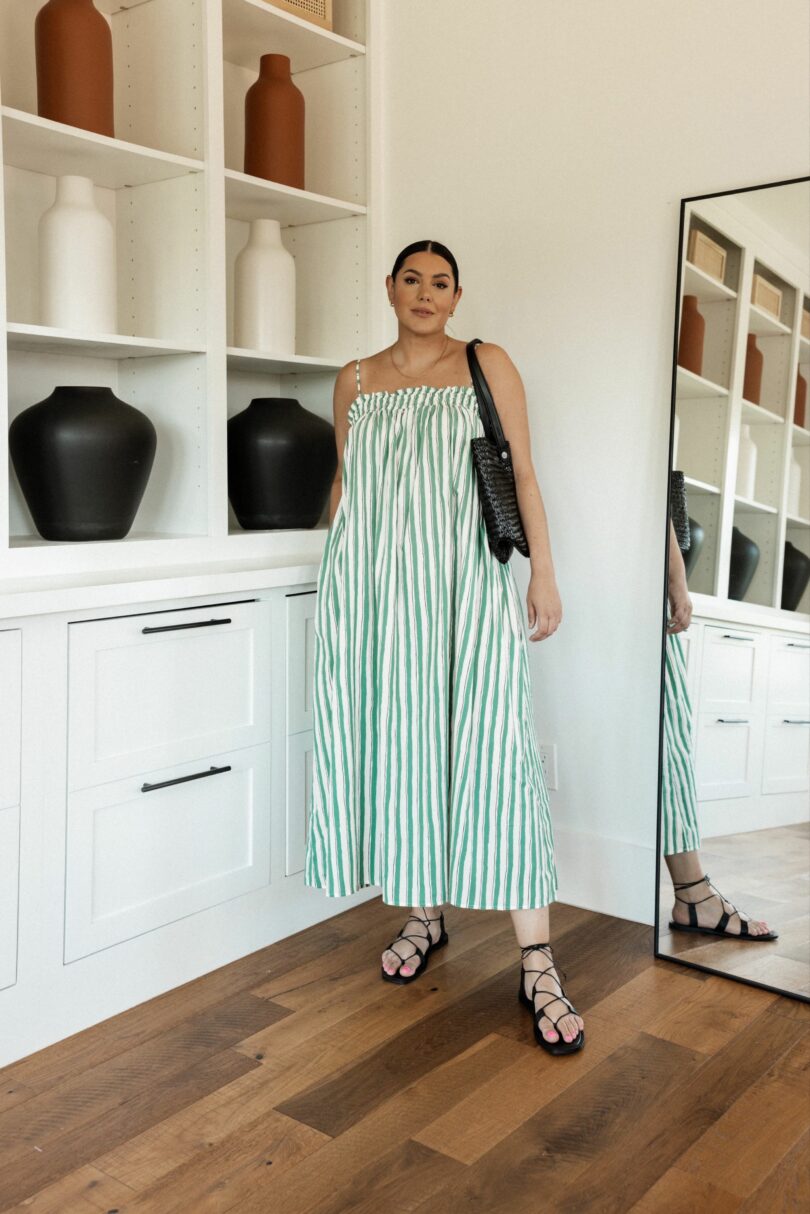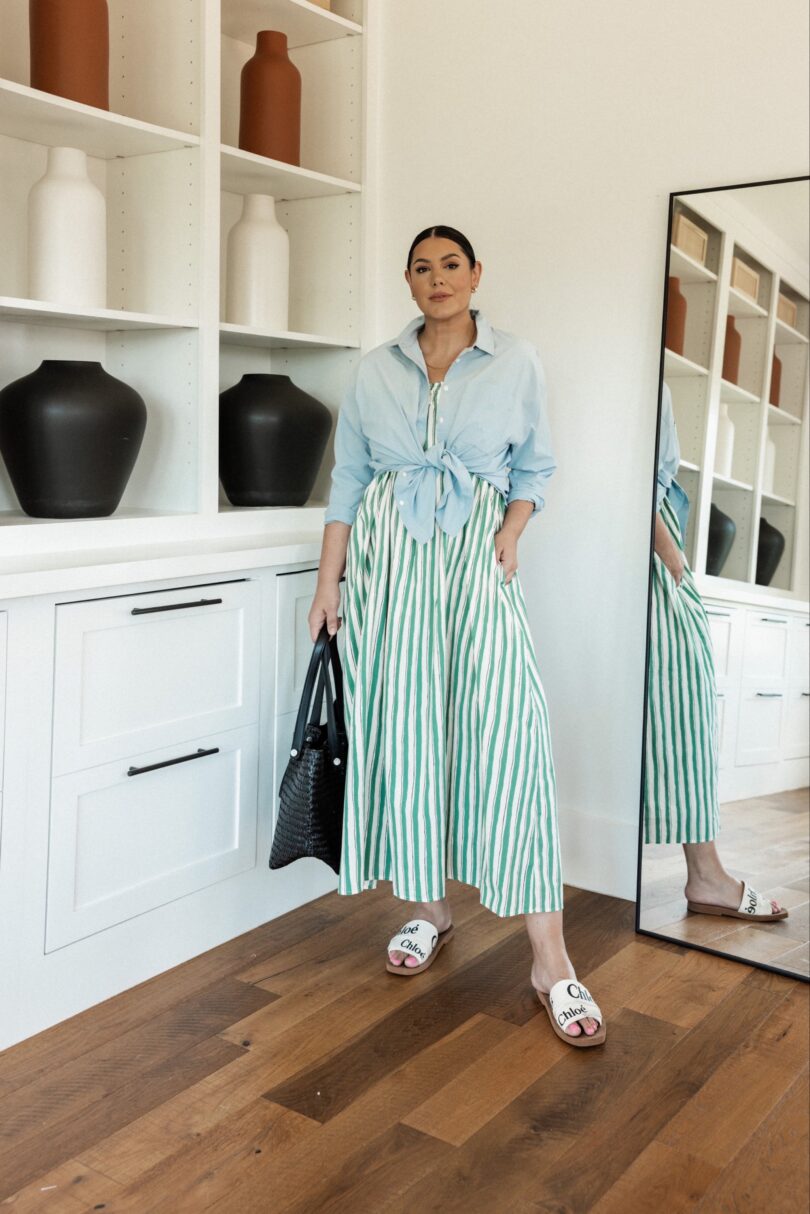 This maxi dress is exactly what I like in my dresses — loose fitting and just the right amount of color. It quietly grabs your attention you know? It's from Madewell and it's just right over $100, but it's so much fabric I completely understand why. Also — is it just me or does this not read Madewell? It's such a surprising dress to me!
I am in the medium. Fit is loose / oversized! Find it here from Madewell or more sizes at Nordstrom here.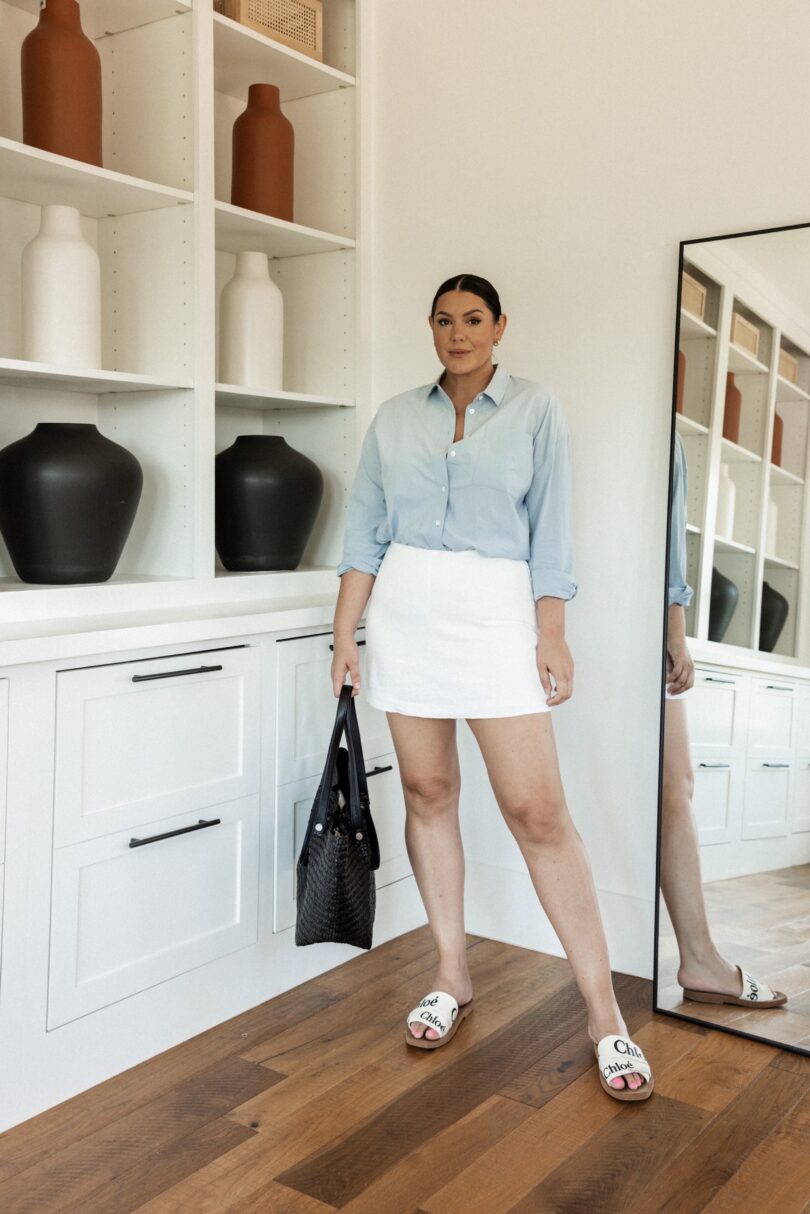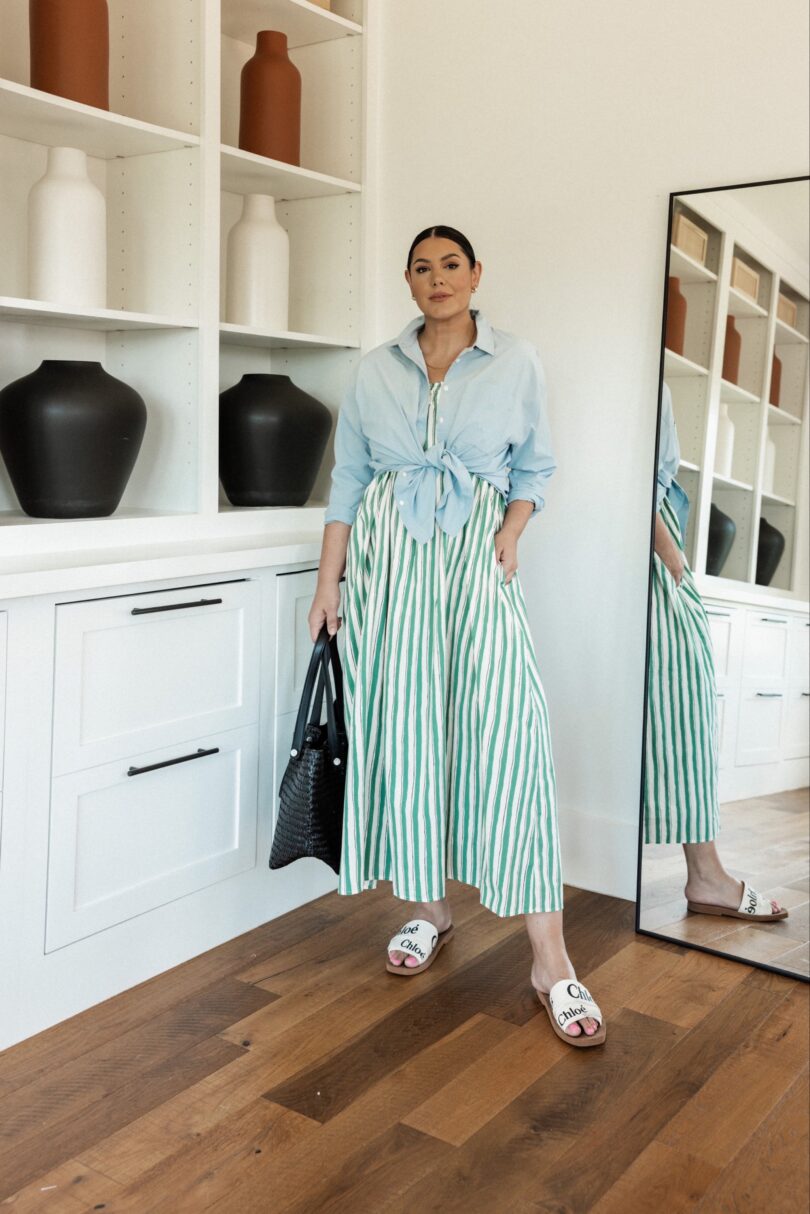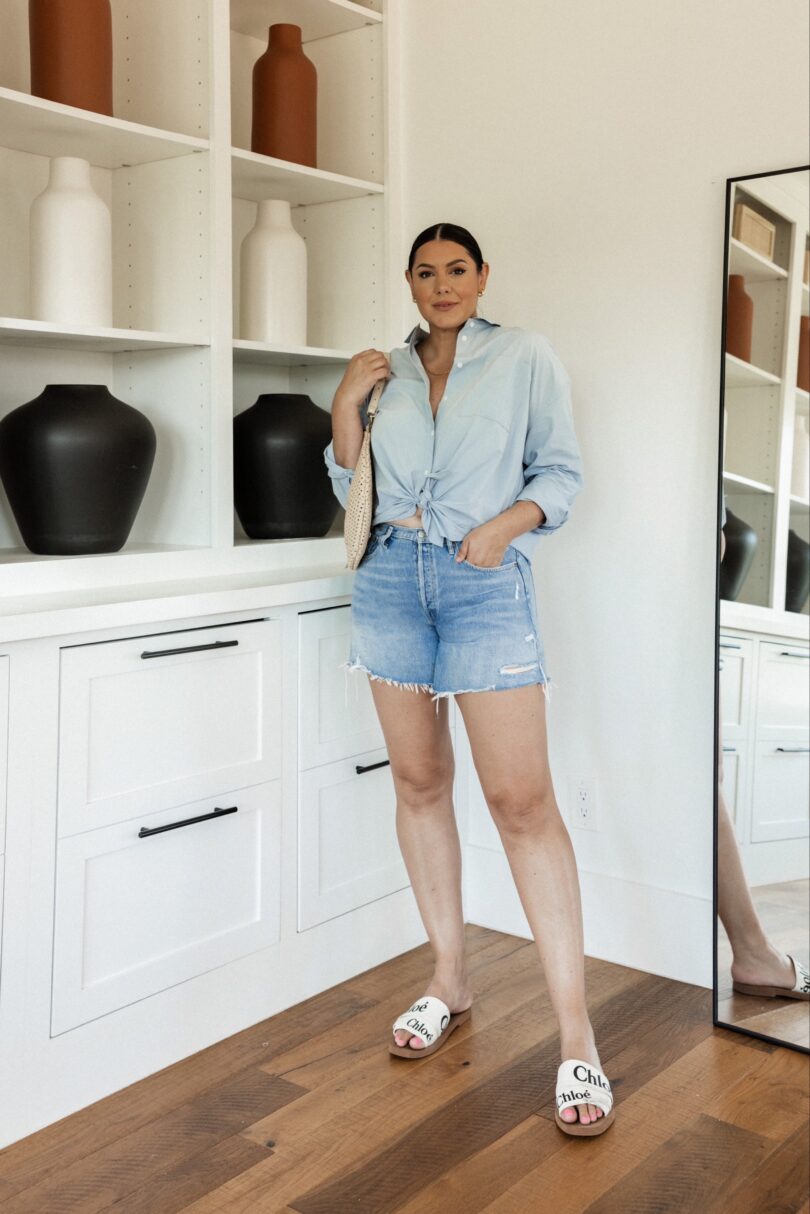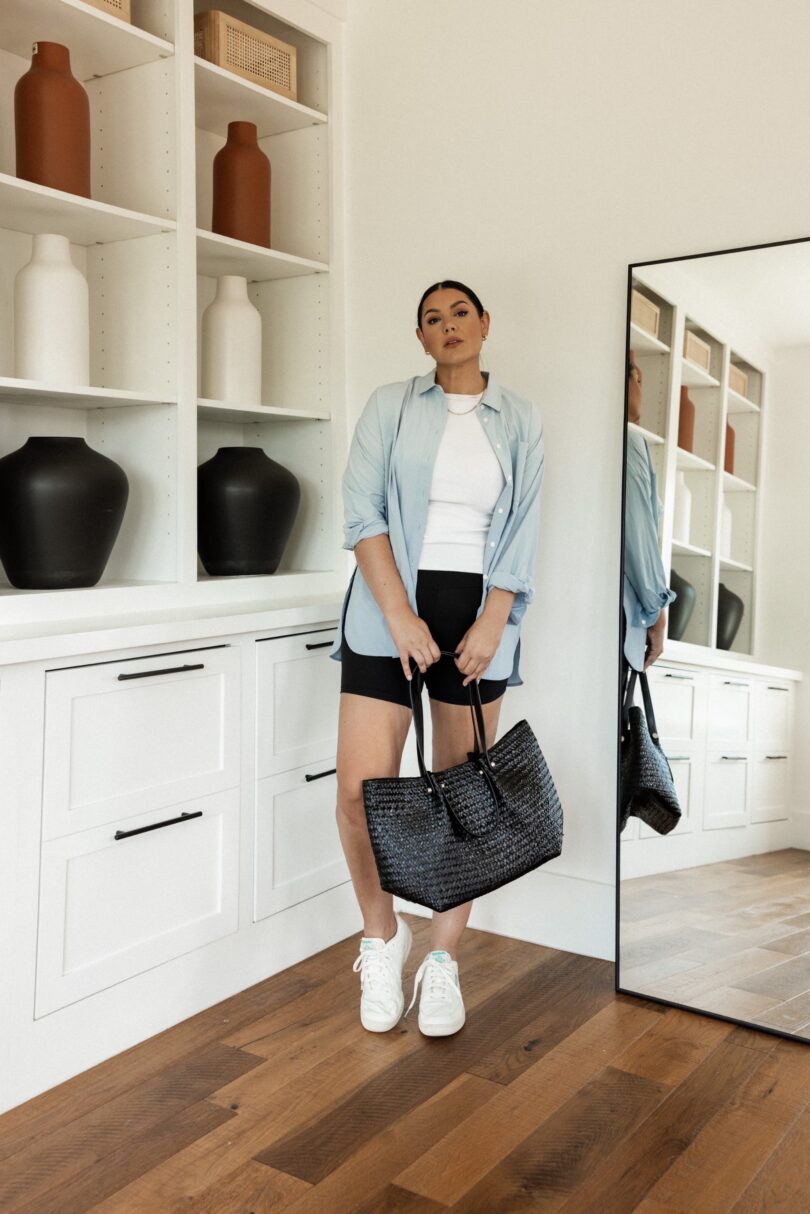 This really is the cream of the crop when it comes to cotton button-downs. I love how lightweight the Madewell button downs are and how they fit — it's relaxed, loose but still very very tailored. I mean look at this top — she has been tied, layered, left open, and button up. She looks great in all variations — now that's a good shirt. I'm seriously obsessed with this one. 10/10 recommend if you are looking for a good button down.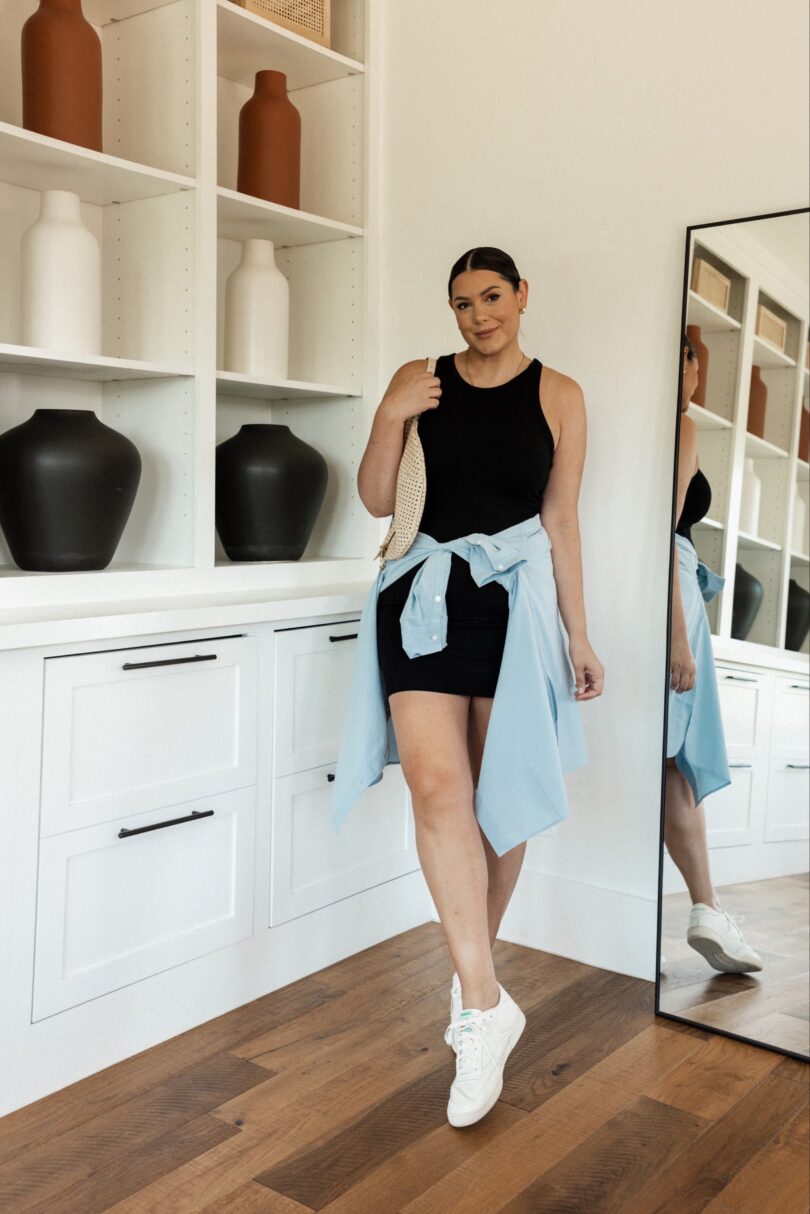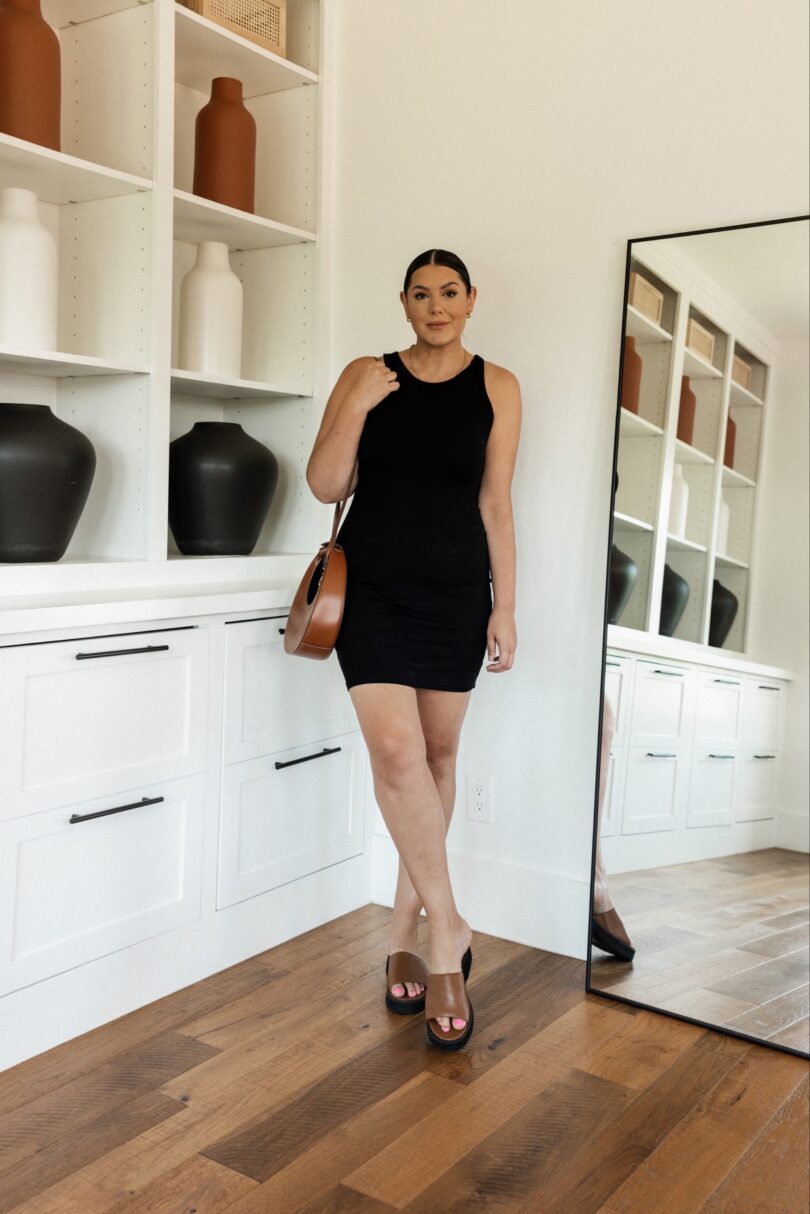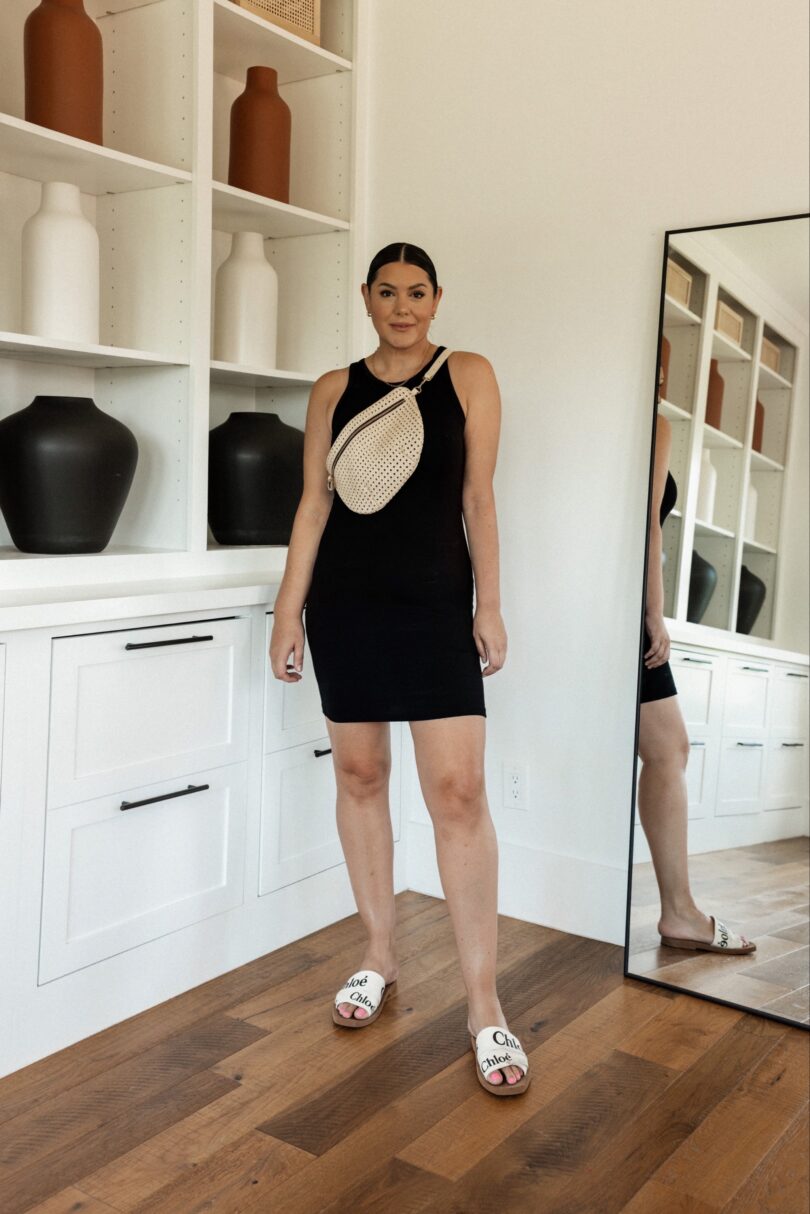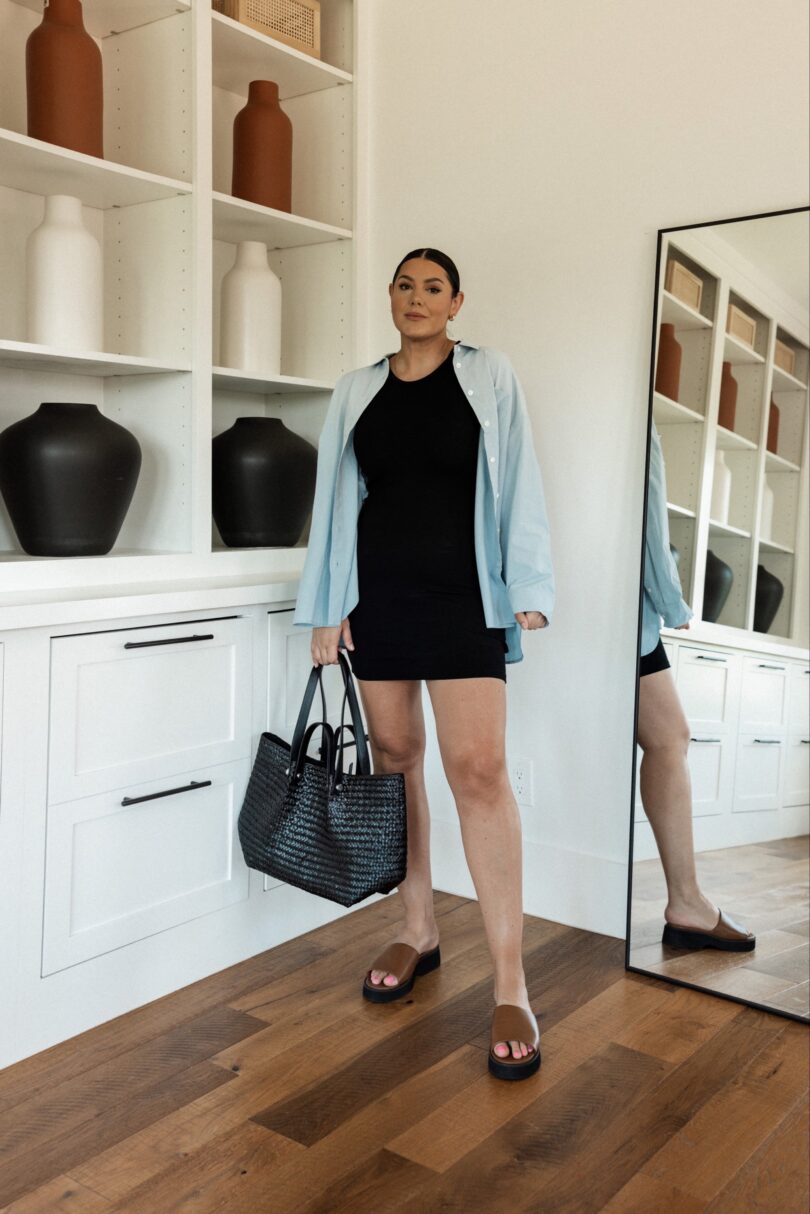 I am patting myself on the back for this one. Okay so I wanted a thin, stretchy ribbed knit body con dress and let me tell you — that's harder to find than you think. AND it's hard to tell the exact fabric on Amazon so I ordered a few and was so excited when I pulled this one out — it was the EXACT fabric I wanted. It's that super soft, fine ribbed knit — I could sleep in this it's so soft and comfortable. Highly recommend for a comfortable summer dress under $30! I am in the large.
Abercrombie Linen Skort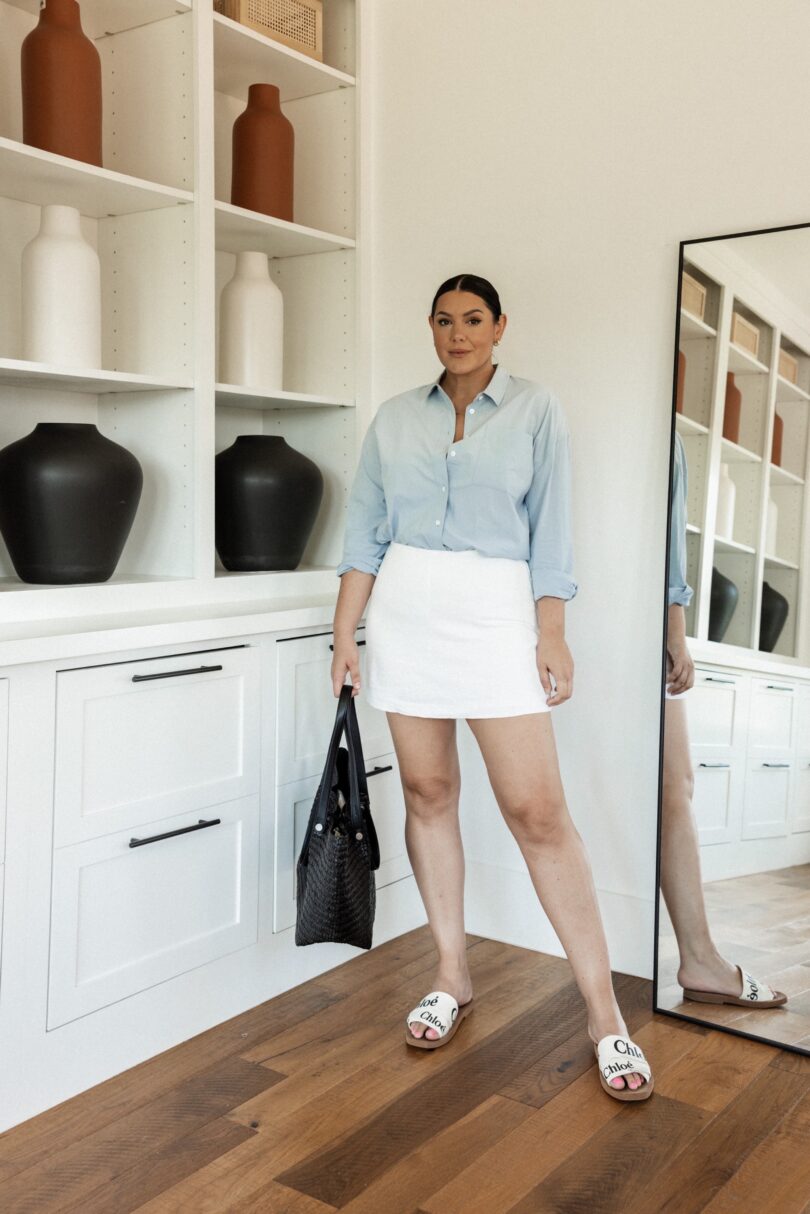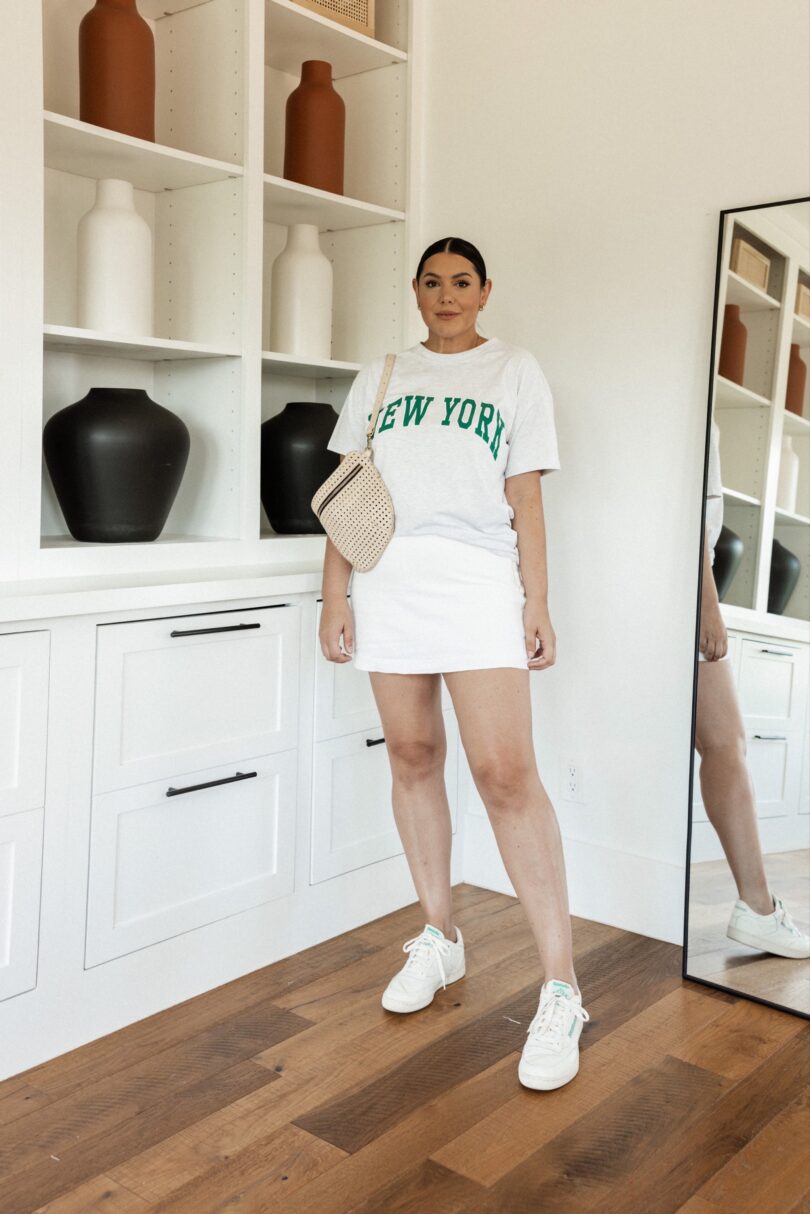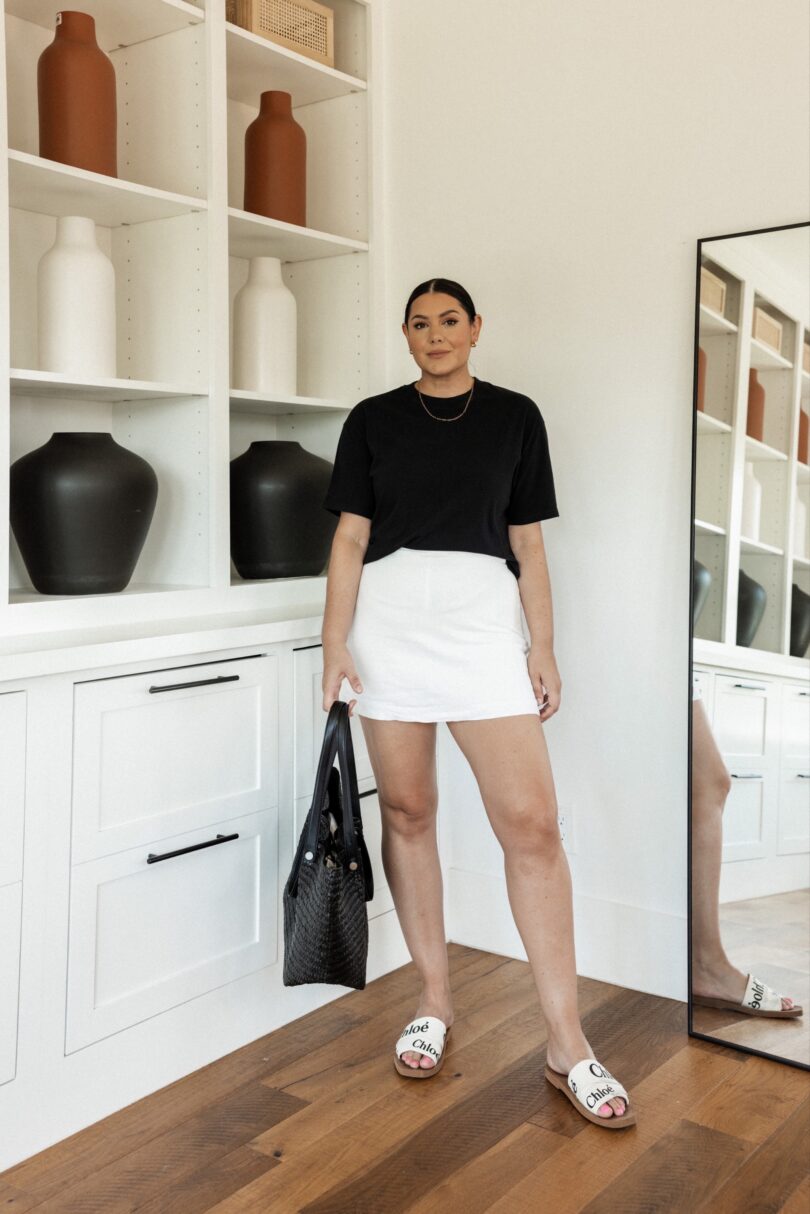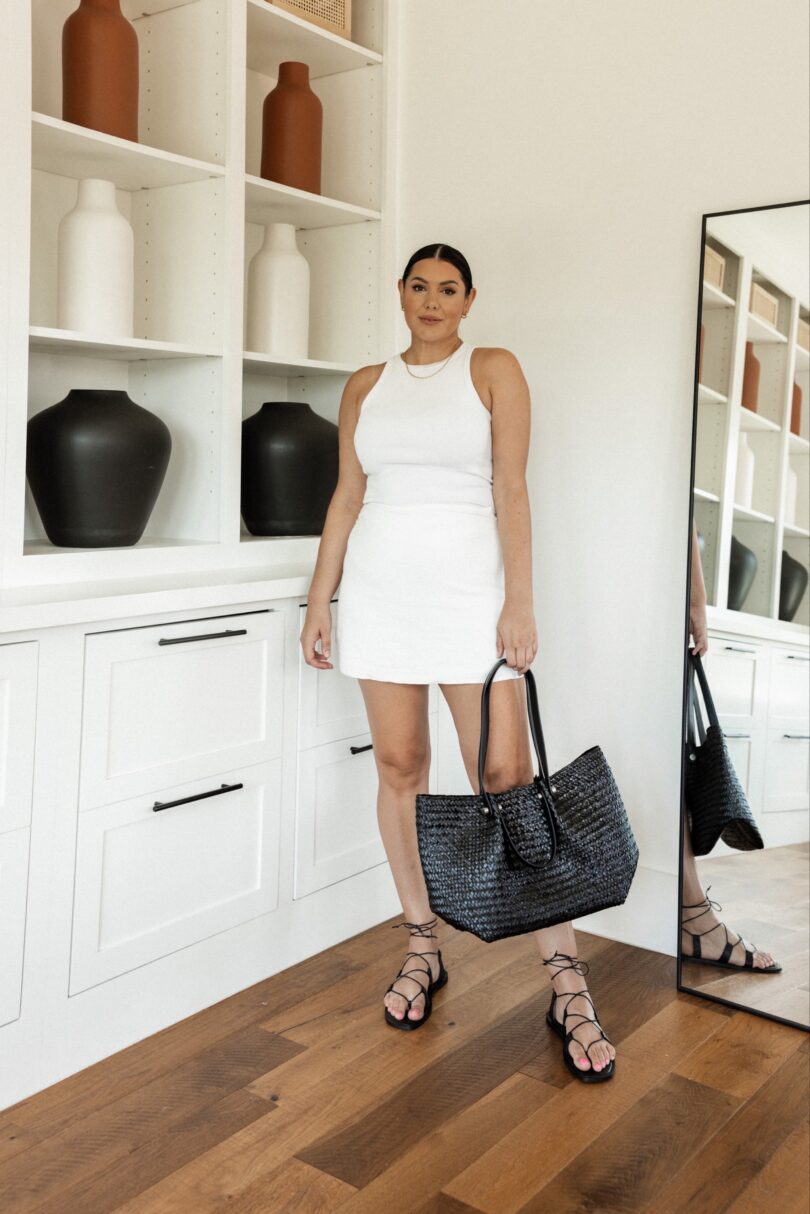 I feel like I need to have a trigger warning for those of us who wore Abercrombie in the late 90s / early 00s. So TW: Abercrombie and Fitch. However, they've really taken on the 'from millennials, for millennials' mentality and their fit and offerings have come a long way since 2002. I can actually fit in their stuff now, lol. This linen skort is precious and it fits really well. It's also NOT sheer — amazingly enough. Like I shoved that black tee in there and you can't see it. So props to them, honestly. I am in the large of the skort — probably could have done a medium but I don't chance it when it comes to length. Size up for length but otherwise TTS.
__________________________________
That's it for July! Which look was your favorite?