The perfect white tee doesn't exi–
Actually? It just might and I've pulled my favorite 5 white tees (+ 1 honorary member of the White T-Shirt club) that I believe are essentials for the everyday closet. I've broken down my favorite silhouettes, cuts, fabrics and I am giving you my #1 suggestion for each category below!
I have to say, I didn't realize when I started this series just how hard it would be to put them together. Not the actual producing or writing, etc. But the curating of the items is where I find the challenge. It's quite hard to narrow items down because we live in a time of everything everywhere and at anytime. So I say all of this with a caveat of preference; these are items I own and I love. You might find some better that work for you and your shape, lifestyle, etc. so feel free to use this as a guideline to what to look for when searching for that perfect white tee.
Of course there are a lot of other white tees you can find — v-neck (I have my reasons), puff sleeve, long sleeve, bodysuit, etc. But I don't necessarily feel like these are essentials, they are more like a level up. I'll add in a few of my suggestions for Level 2 White tees below!
The Everyday Tee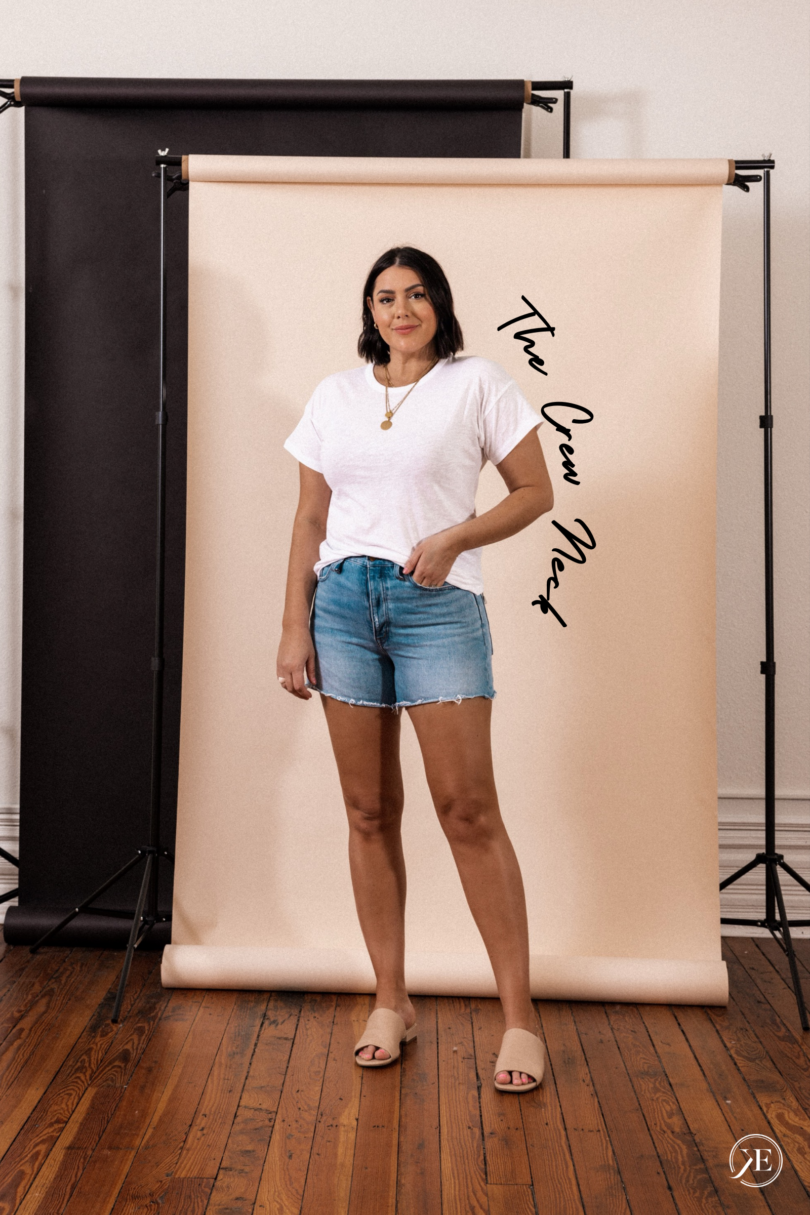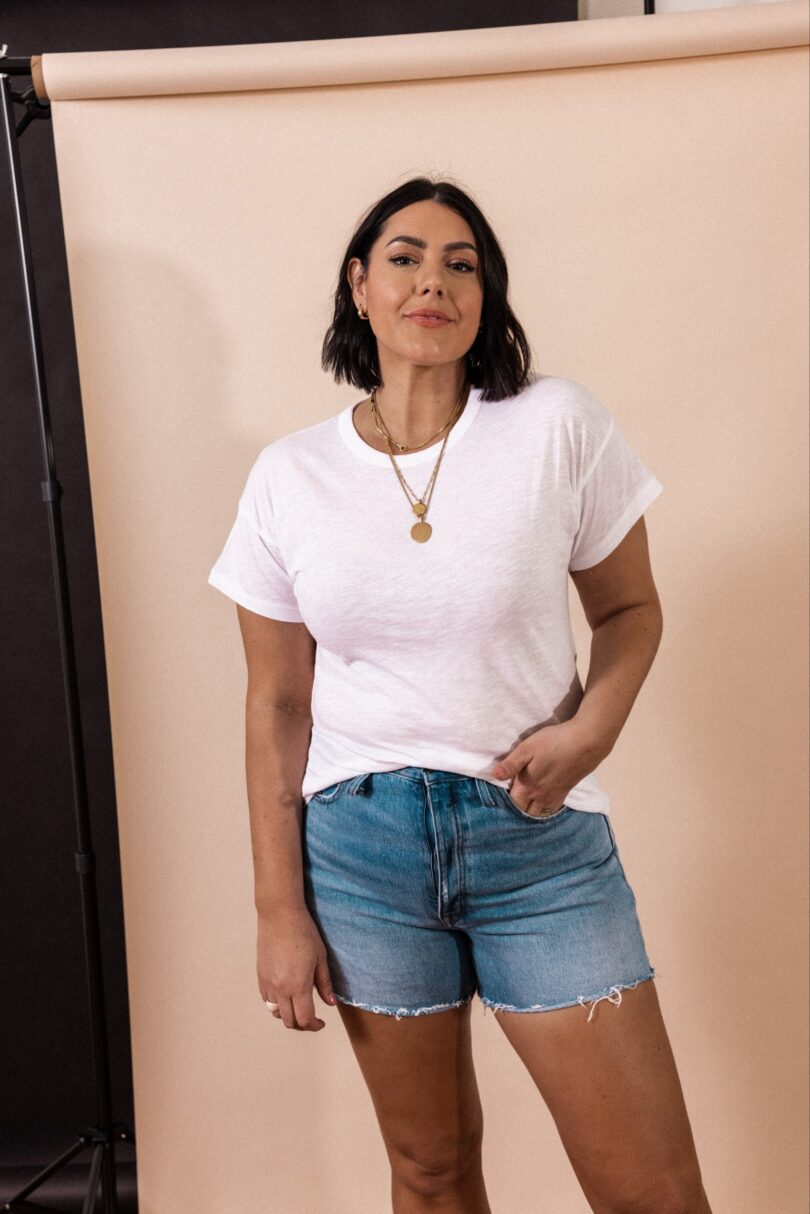 This is the tee that I think everyone should own. I don't know of one closet that wouldn't benefit from a nice cotton tee. This one is a favorite year over year from Madewell, it's a 100% cotton tee and it's that soft worn in feel. It's ever so slightly sheer but nothing a nude bra can't handle. The fit is absolutely perfect and this is coming from someone who swore off t-shirts after the baby tee incident of the 2000s. The sleeves are the right length (not too short), the fit overall is loose but fitted in the right places without going boxy. And it's under $25. (PS: I wear the large)
You can find this tee from Madewell.
The Drapey Tee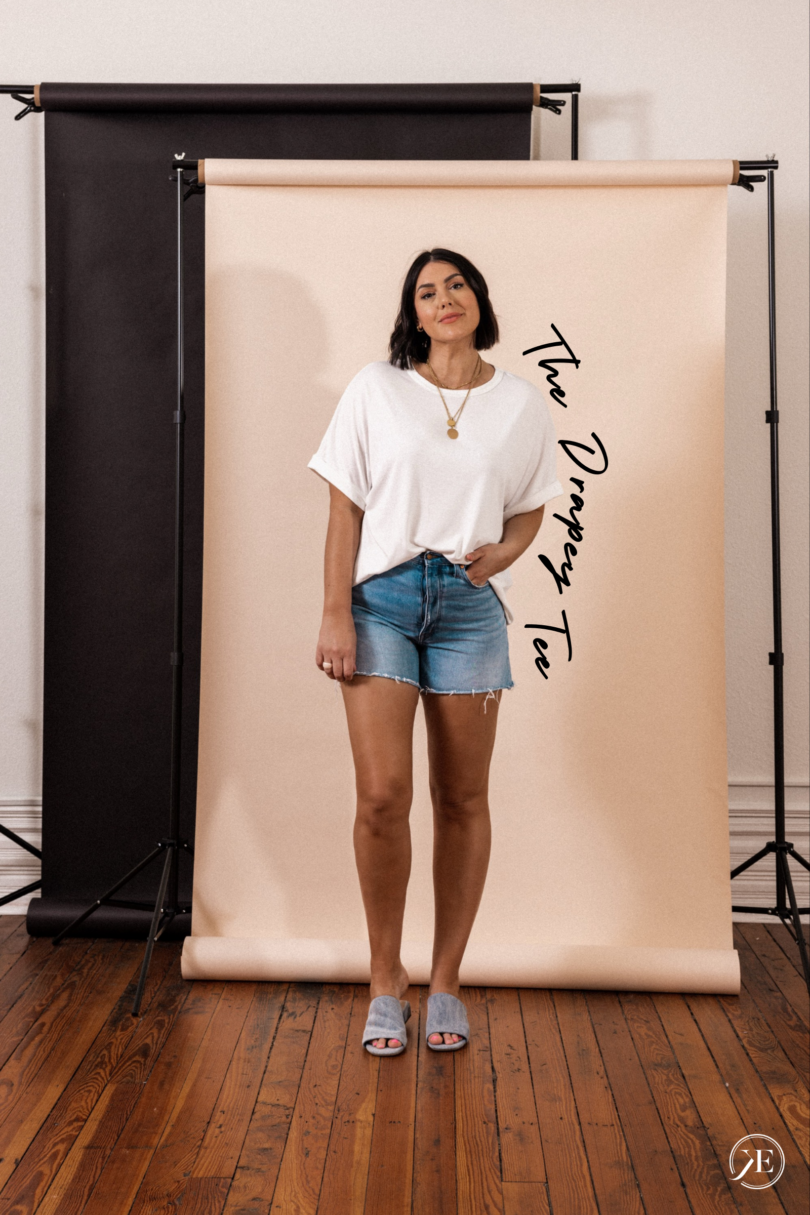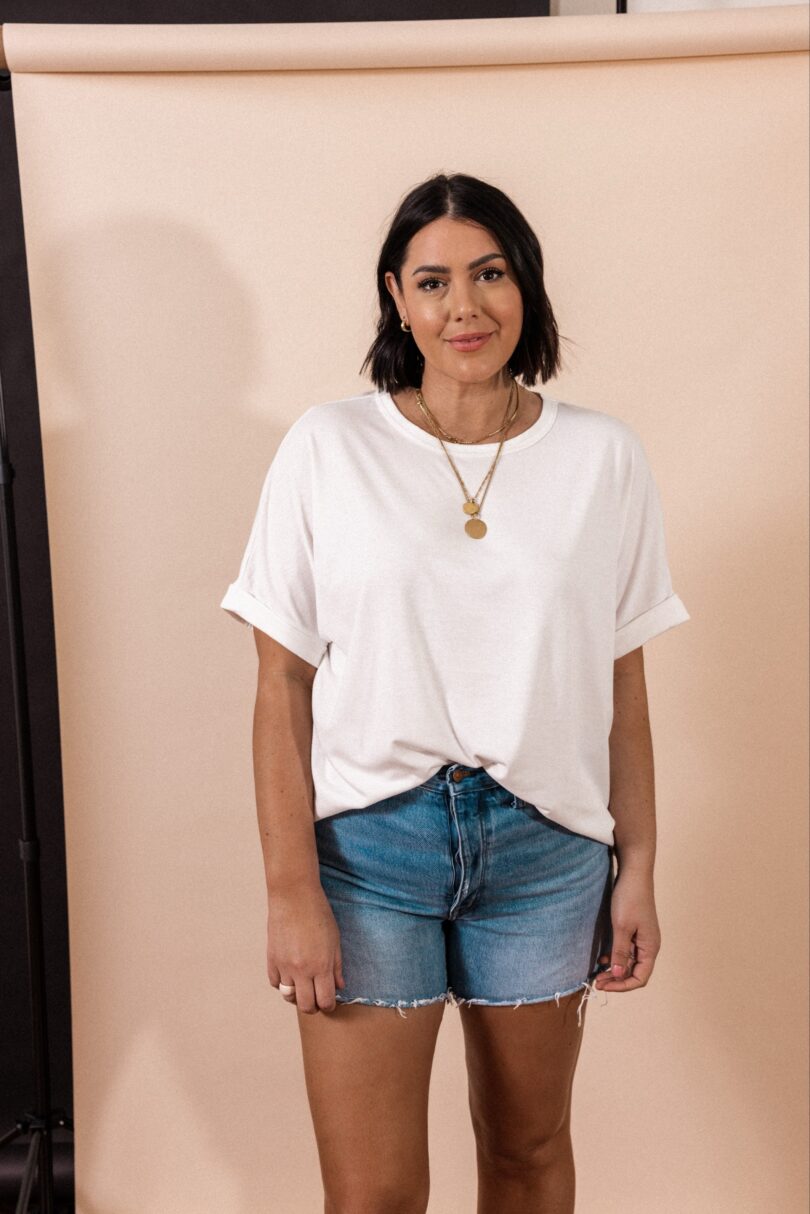 This tee is my favorite of all the tees. I live for a loose fitting tee that fits, it's actually something I collect. And this one? This is THE ONE. I would suggest this shirt until the end of times. It's cuff sleeved (sewed in), it is that nice poly / rayon mix that is a slinky soft fabric and the length is perfect — not too long, not short at all. I mean just look at that perfect front tuck? Gorg.
I size up because I like it even slouchier than intended, so I am in the large here. Find it on Amazon under $25 here!
The Muscle Tee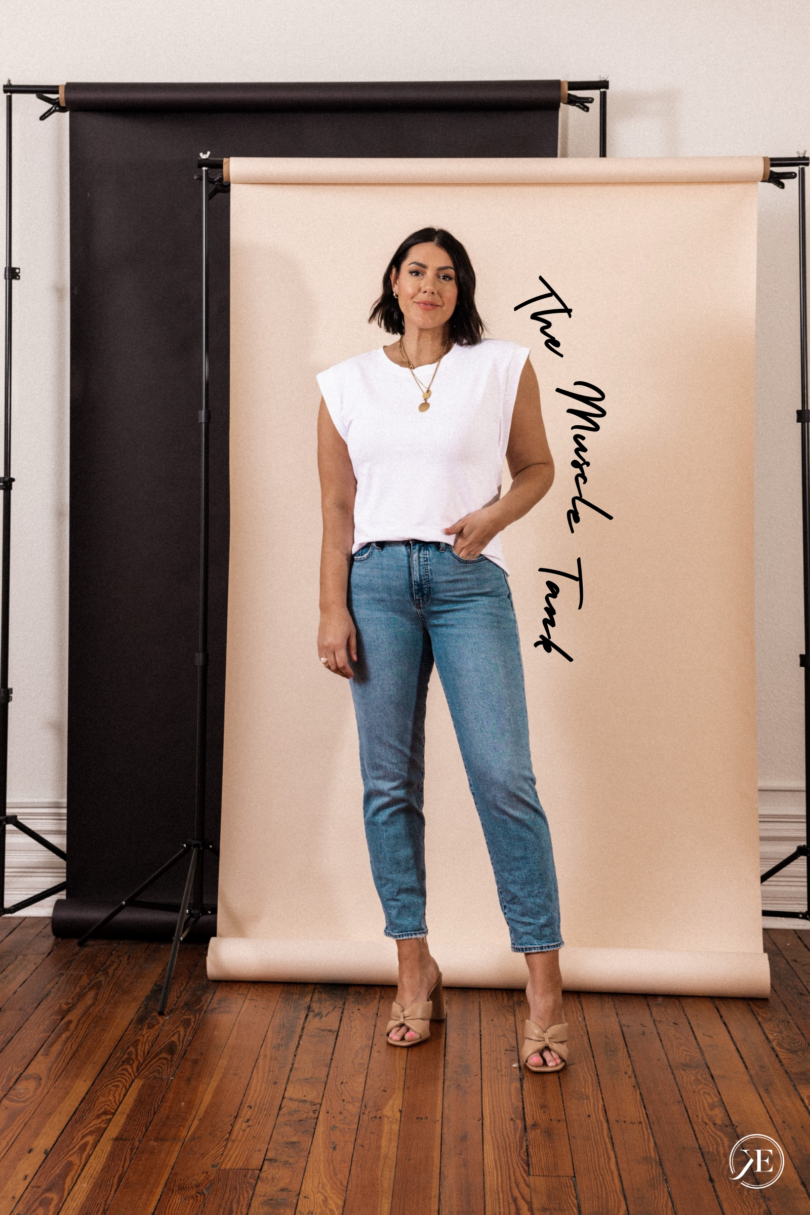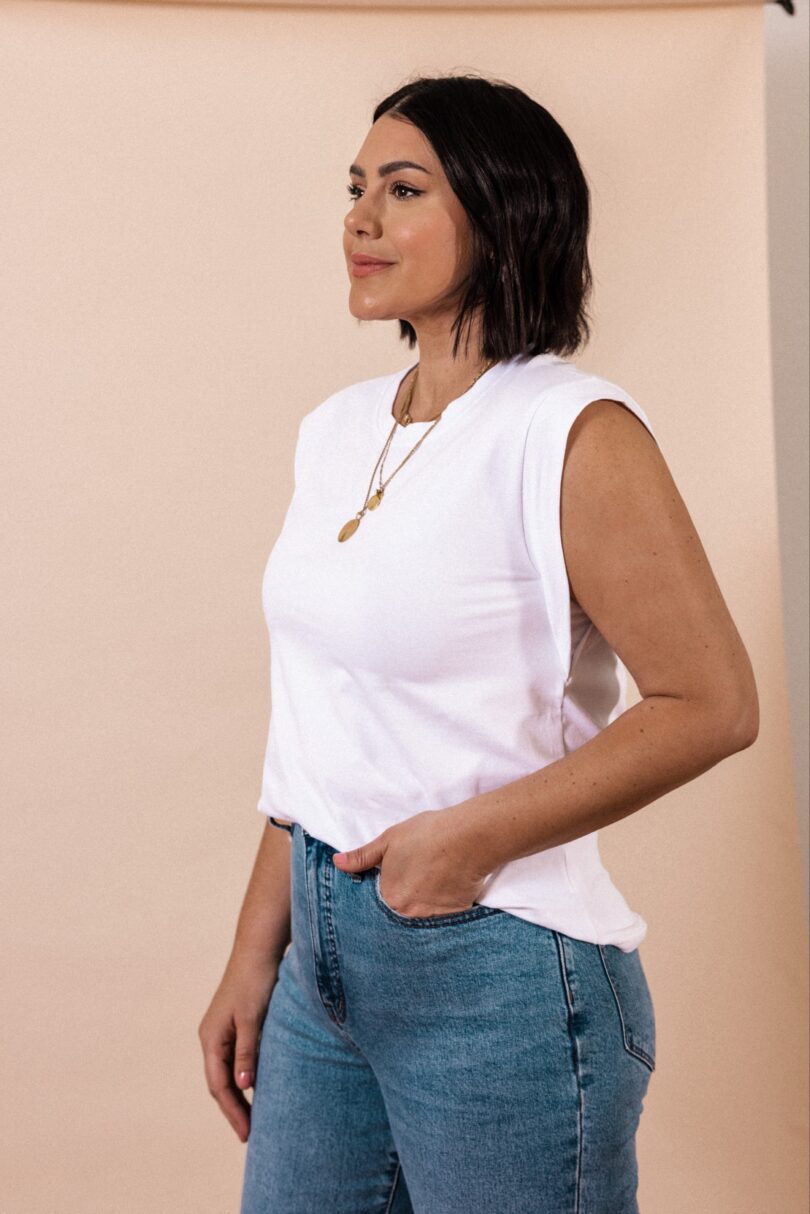 If this one seems surprising to you, hear me out. Having a white tee / tank with a strong shoulder is a really nice nod to current trends right now but also elevates a typical tank top. This top works well with denim and/or trousers, so it works for work as well. Top a blazer on this tank and it's a really nice modern look. This top is easily layered too, which is what essentials are for.
This is also a nice look for summer, pairing it with shorts of any kind again gives a simple tee an elevated look with the strong shoulder. This one I particularly like because of the thicker fabric with a hint of stretch AND the little extra bit of fabric underneath the arm so it hides the bra. This is a game changer for me.
I am wearing the large. TTS! Find it here. 
The Oversized Tee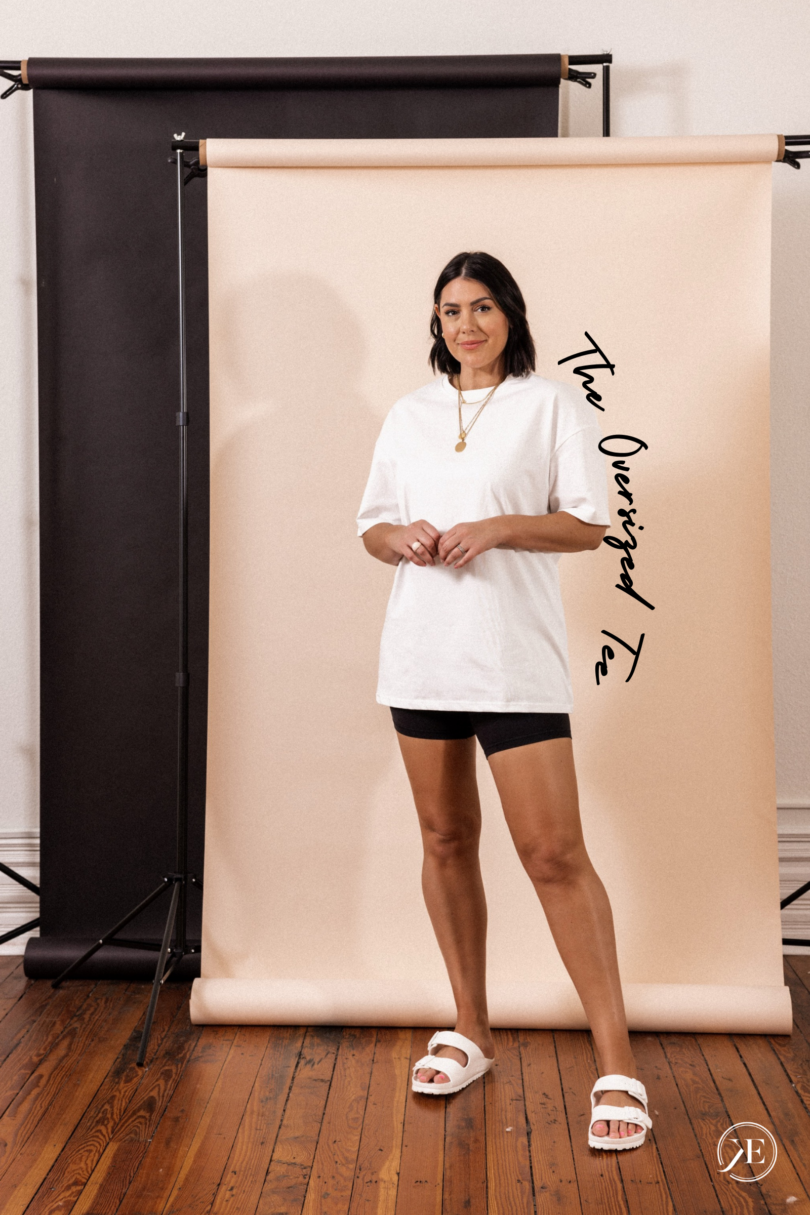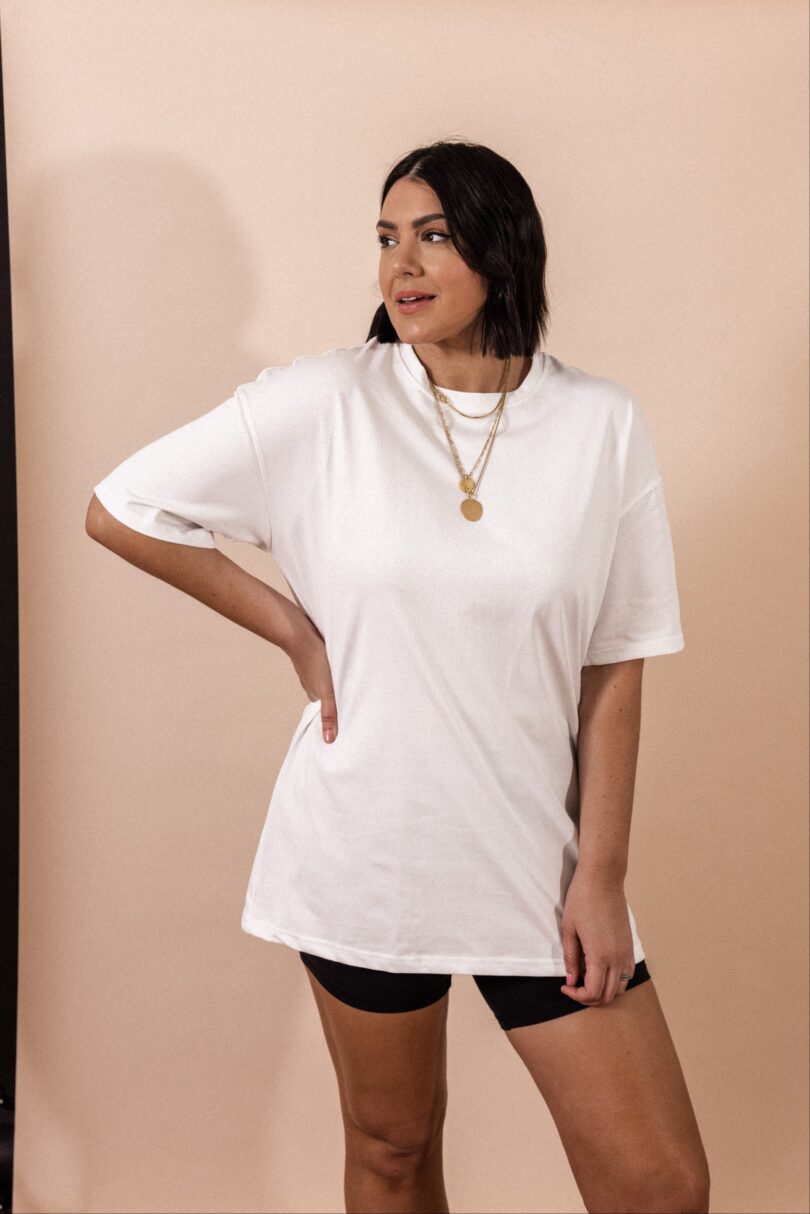 Shop the Oversized Tee on Amazon
An oversized tee has become a spring / summer staple around here. (Well and fall too because it's still hot in October, lol.) You can find me in this look a lot during the summer — in fact this look made it into my summer capsule last year! This tee is one of my favorite oversized ones because it's a thicker white fabric and it keeps its shape. Is it the softest tee? No but it has a structured and I like that with the oversized shape and here is why: I typically wear these oversized tees with biker shorts or running shorts and if they are too clingy (just the rayon / poly blend fabric) then it falls strangely with shorts. This one gives structure, so while it isn't the buttery soft fabric, it does have and keep its shape. This gives an elevated chic look even though the items in it are just two basic pieces.
I am in the large for boobs! If you have boobs size up one because …well if you have boobs then I don't need to explain. Everyone else, you're good with your typical size. Find it via Amazon here!
The Luxury Tee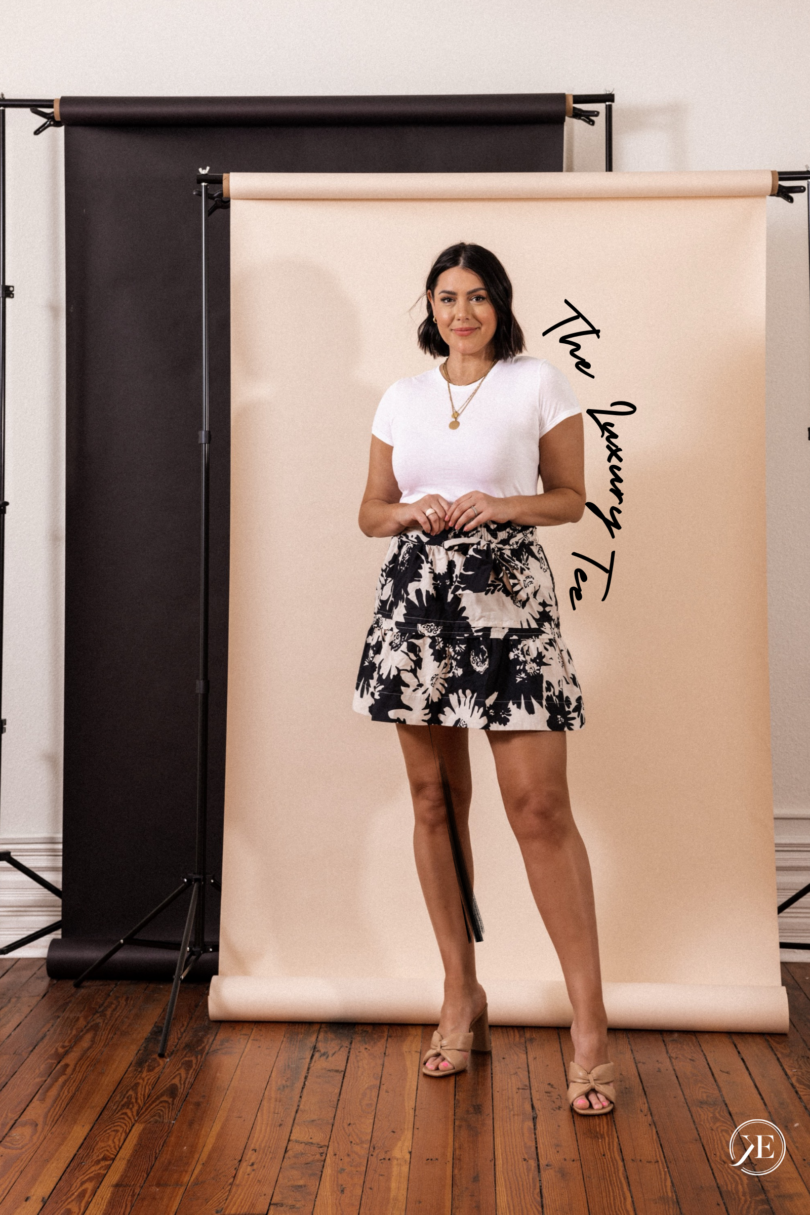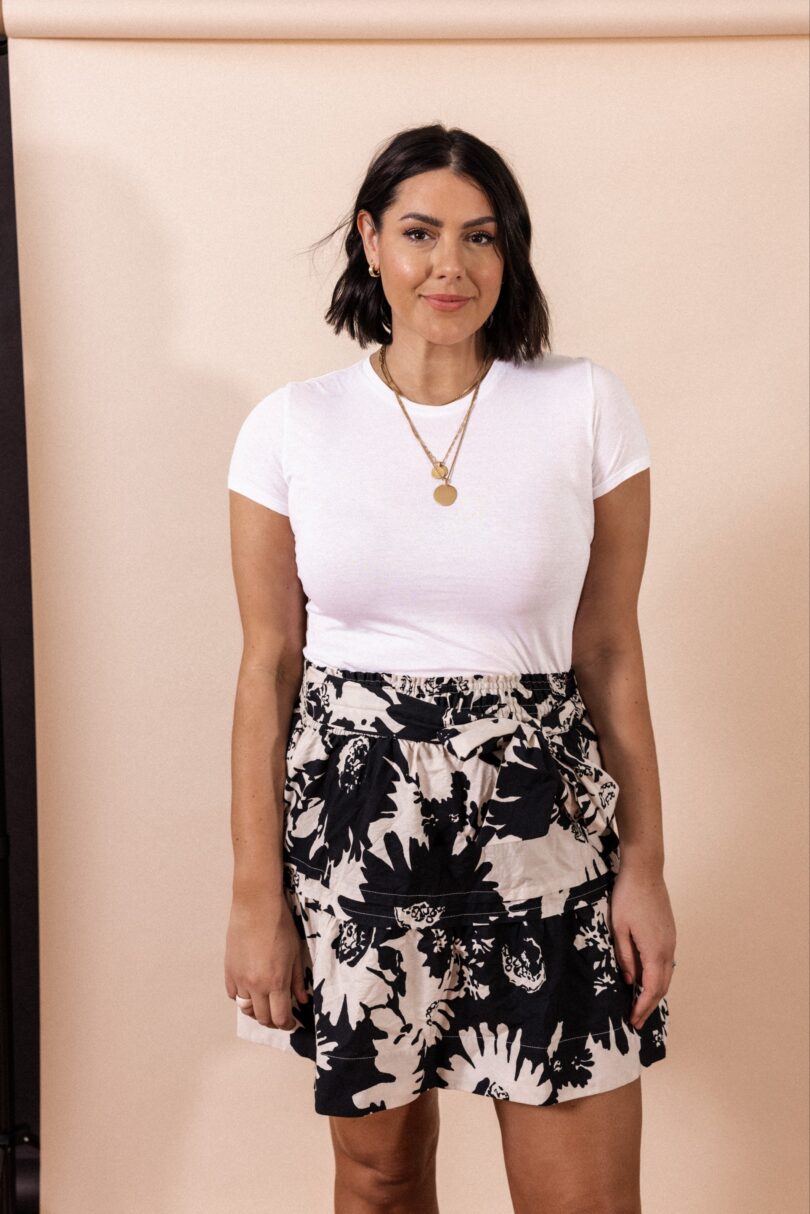 This is a tee I've had for many years: The Vince Tee. Or affectionately known as The "you spent $80 on a tee in THIS economy??" Tee. That's right, it's the 100% pima cotton, cures acne and back pain, luxury tee. Jokes aside, this is a good tee. The cotton is a higher quality than the others and you can see that in the fit and the feel of the fabric. It's cotton but it doesn't *feel* like cotton. It's truly what cotton should be like, but you know…we've got groceries to buy.
This is the Vince 100% Pima Cotton Crew Neck tee and yes it is worth the money, IF you are looking for a white tee that ends all white tees. If you like to wear higher quality fabrics, this is your gal. Slightly sheer, but again nothing a nude bra can't handle. Silky smooth and washes out like a dream, however I do not dry any of my tees. Hang only for me so they stay in their best shape for as long as possible. (I'm in the medium here but were I to buy it right now as a size 8, I'd buy the large.)
Since this tee is a crew neck as well, I thought I might as well explain my hatred towards v-necks. Soap box no one asked for: I don't like them I've realized. They are way too much work for me. I have big boobs and it's a constantly feeling of 'are they hanging out? am I covered? can you see right now my shirt?' I also feel like — again my opinion — that a crew neck, mock neck, high neck look is a chicer option. It looks elevated compared to a v-neck. And lastly, v-necklines loose shape quicker than a crew neck.
The only pro it has over a crew neck is they are easier to get on without getting makeup on the collar. I'll give her that.
Thank you for coming to my TEE talk.
The Ribbed Tank Top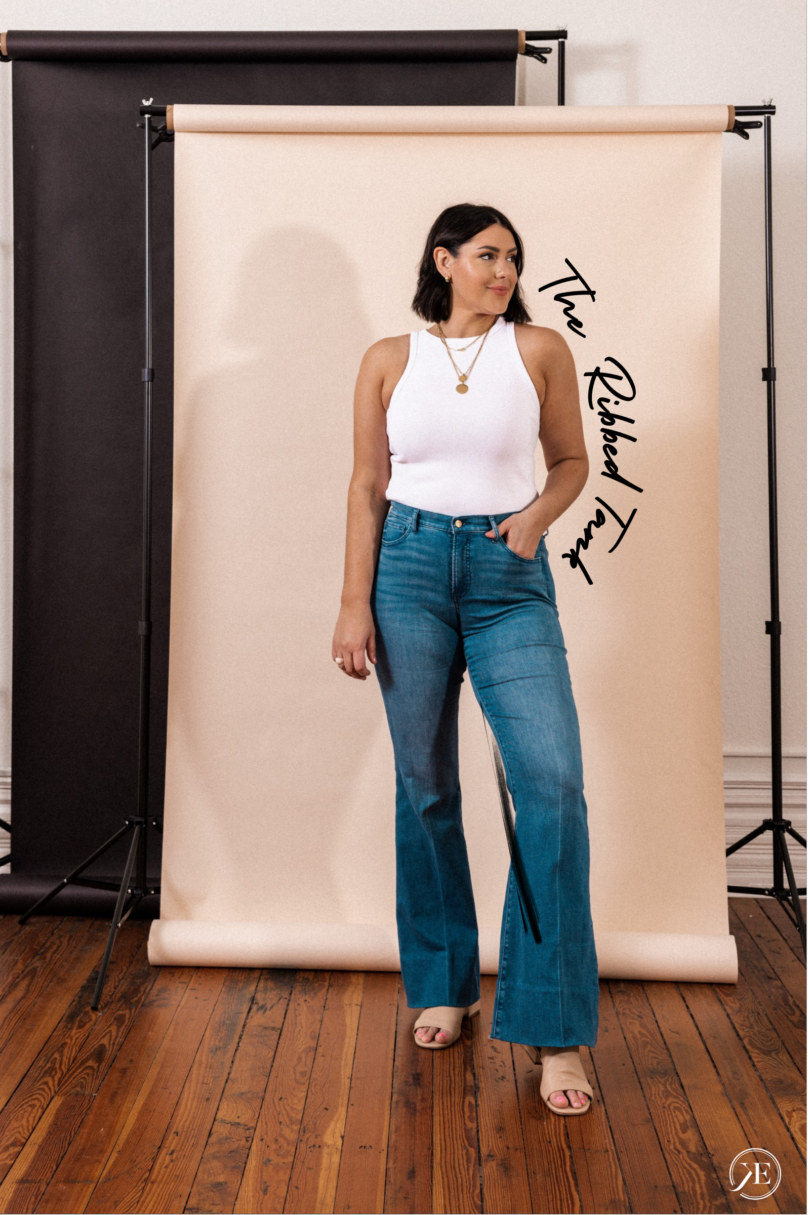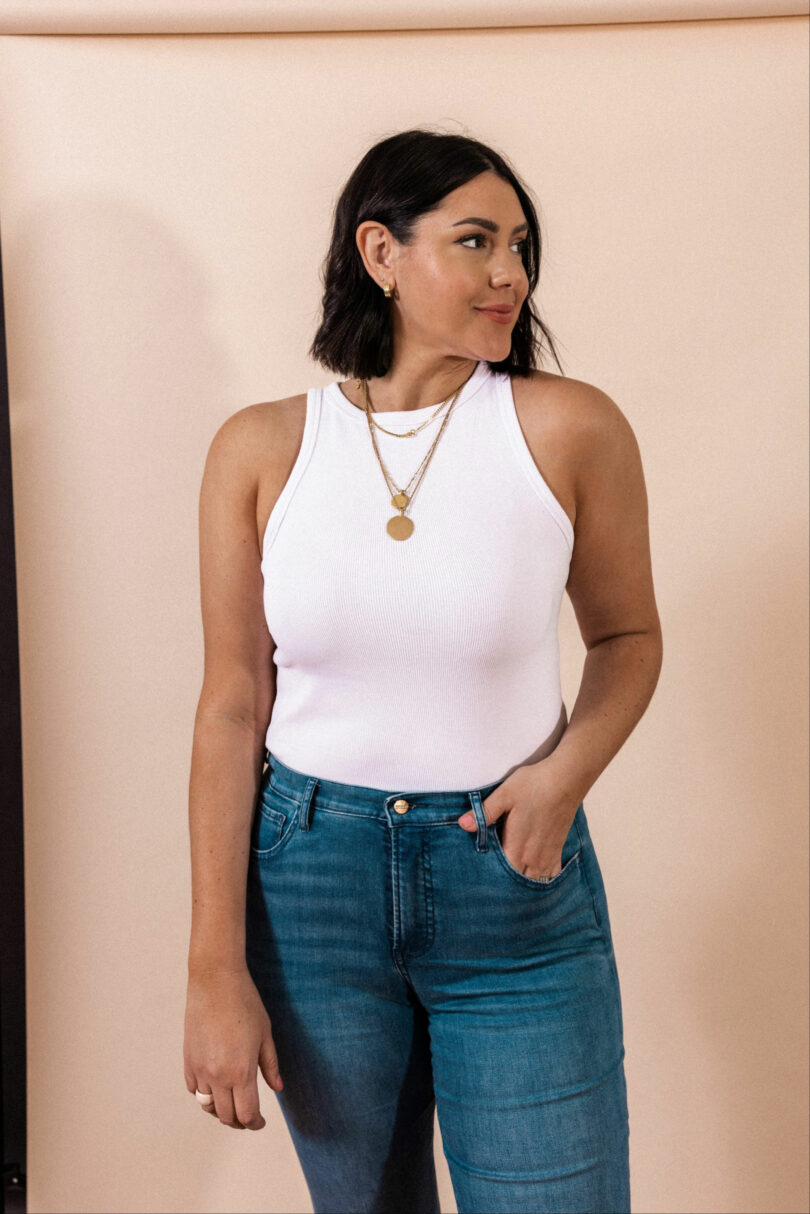 This is an honorary mention but I feel like it's just as much as an essential as the white tee. It's the summer version of the white tee you know and I can honestly say I don't know of an essential I've worn more of, especially when it heats up around here. I prefer a high neck, halter tank top like this one here. This one is Agolde but I also love this one from Gap. (I have this one in other hues. It's not as thick as the Agolde but it's a great fit, TTS.)
As far as quality, this Agolde tank is keeper forever. I have had this tank for 3 summers now and it's still in great shape. (I credit the stretchy thick fabric.) I am in the medium. Find it here!
____________________________________
Honorable Mention White Tees

_______________________
Which tee will you add to your wardrobe? Let me know in the comments below!
My Other Essentials Posts: