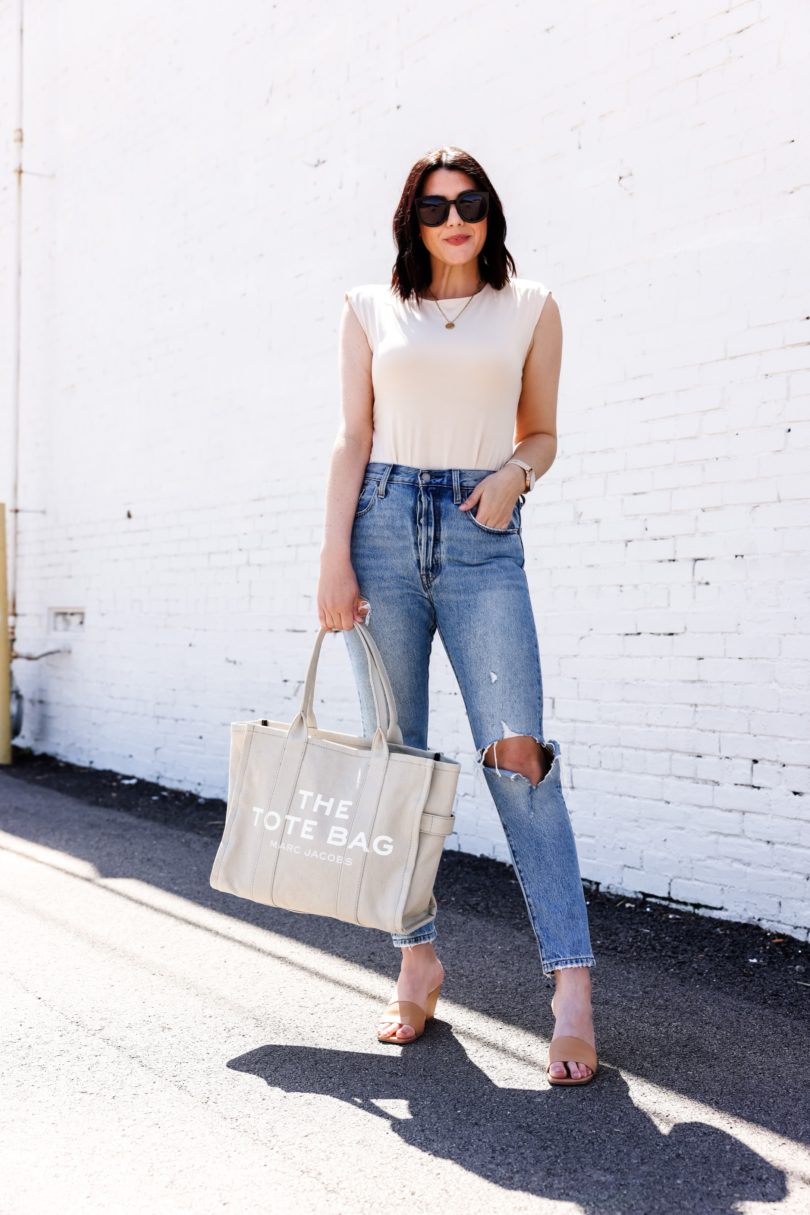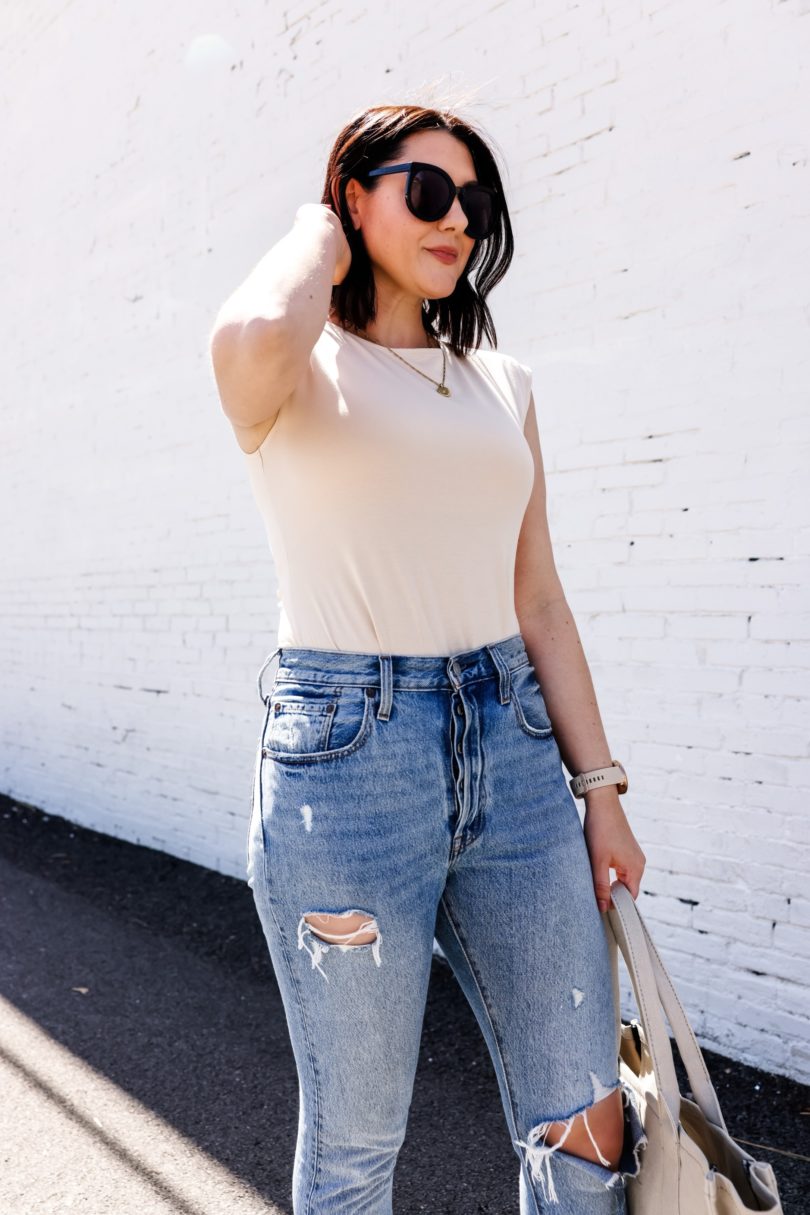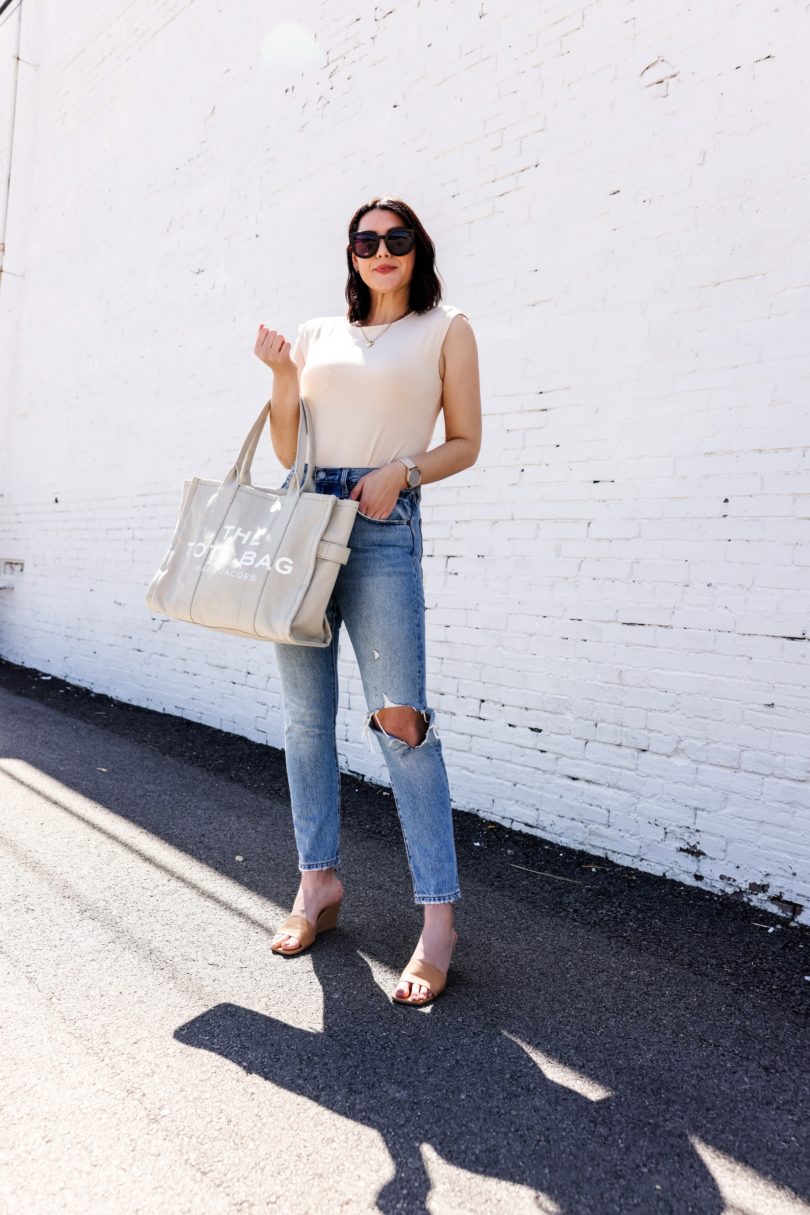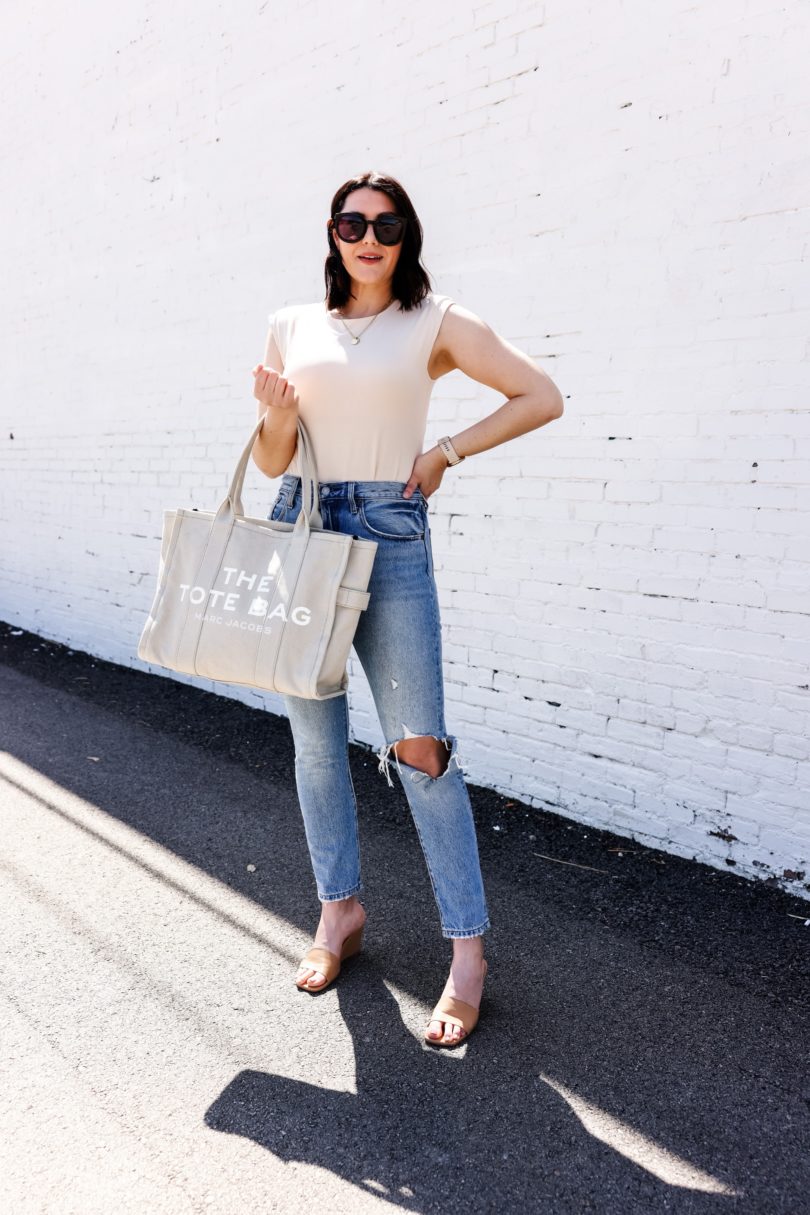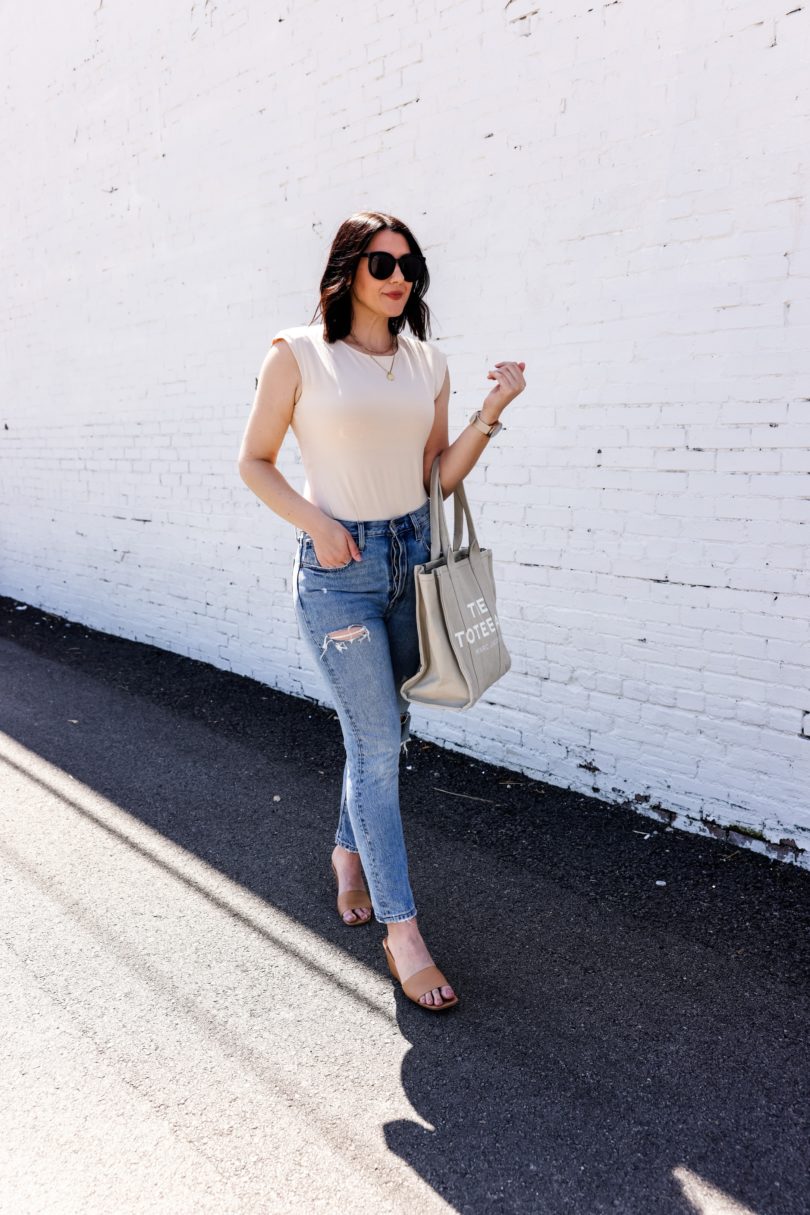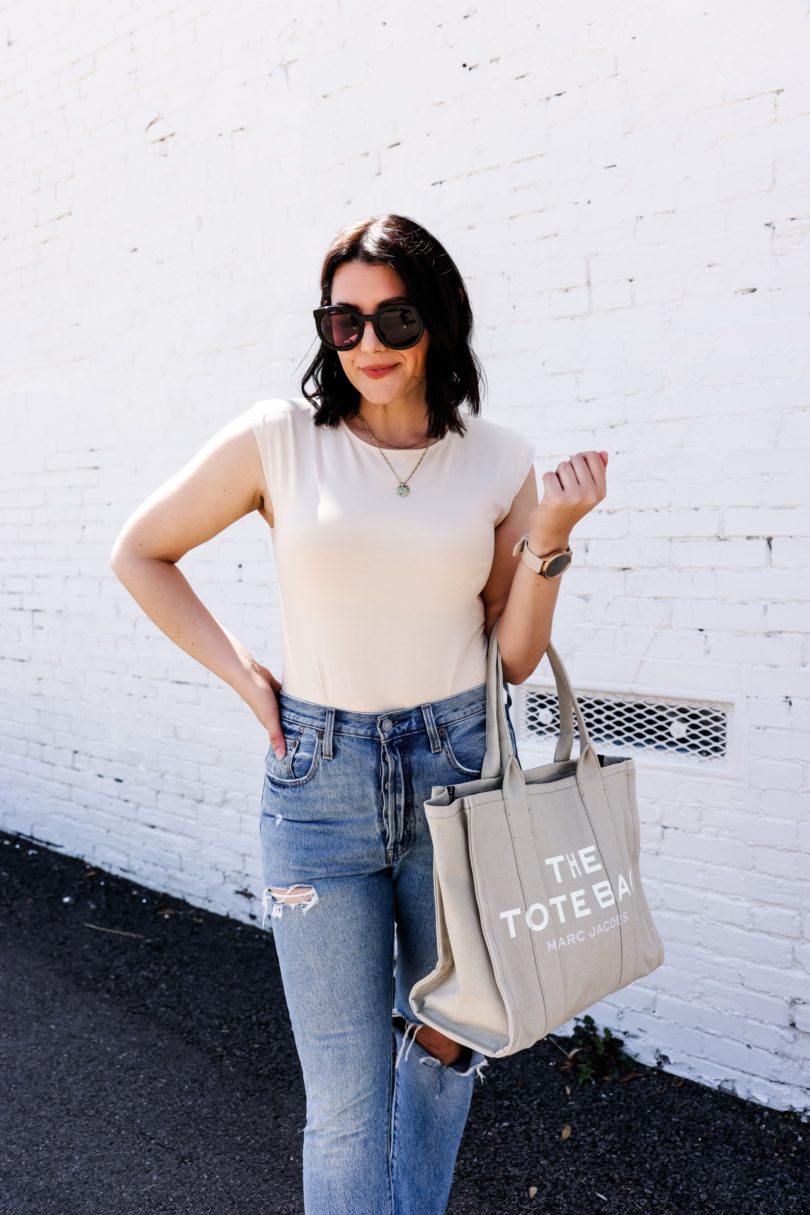 I could be wrong but I feel like bodysuits are a very polarizing piece of clothing. You either love them or you think they're for babies. There are only two teams — Team Bodysuit or Team Onesie: which one are you? Me? Oh I'm team bodysuit all the way obviously. Why would I not want to wear a glorified one piece bating suit with jeans? Exactly.
Did I say you're gonna love my bodysuit? No, no… I said you're gonna love this hack and the good new is it works with anything you want to tuck in and have a nice tailored look. So I first tried this bodysuit with my normal size jeans. Everything fit like normal but I felt way more constrained because of the fit of the bodysuit and my more fitted jeans. If I wasn't standing very still and very straight, you could see every little bump and lump with every little move. On a whim, I changed into these jeans because I wanted the ripped look for this outfit and this particular pair is a size bigger now so they are pretty loose in the waist. As soon as I buttoned them up and noticed that the bodysuit didn't ripple or pull and laid perfectly flat. I realized that THIS is the solution to a bodysuit –it's looser fitting jeans or pants with a loose waist. It seems so obvious but it came to me only by happenstance and I just thought I'd share it with you, just in case you too have missed this very obvious secret to a bodysuit look.
Size up on your pants. That's the hack. That's the post. You're either nodding in silent approval of my genius or your eyes have rolled so far back in your head you're going to need a good sneeze to get them back. There's only two teams.
My bodysuit is a cheap thrill from Amazon but I love her. She's got padded shoulders (this week's theme apparently) and she fits true to size. I'm in the medium and it's plenty long which is a blessing for us long torso'd beings. You can find it under $30 here! I am in the 'nude' option.
My jeans are Levi's 501s — love this jean so much I have a few pairs of them! I am in the 29 here and my typical size in these is 28. Find them here.