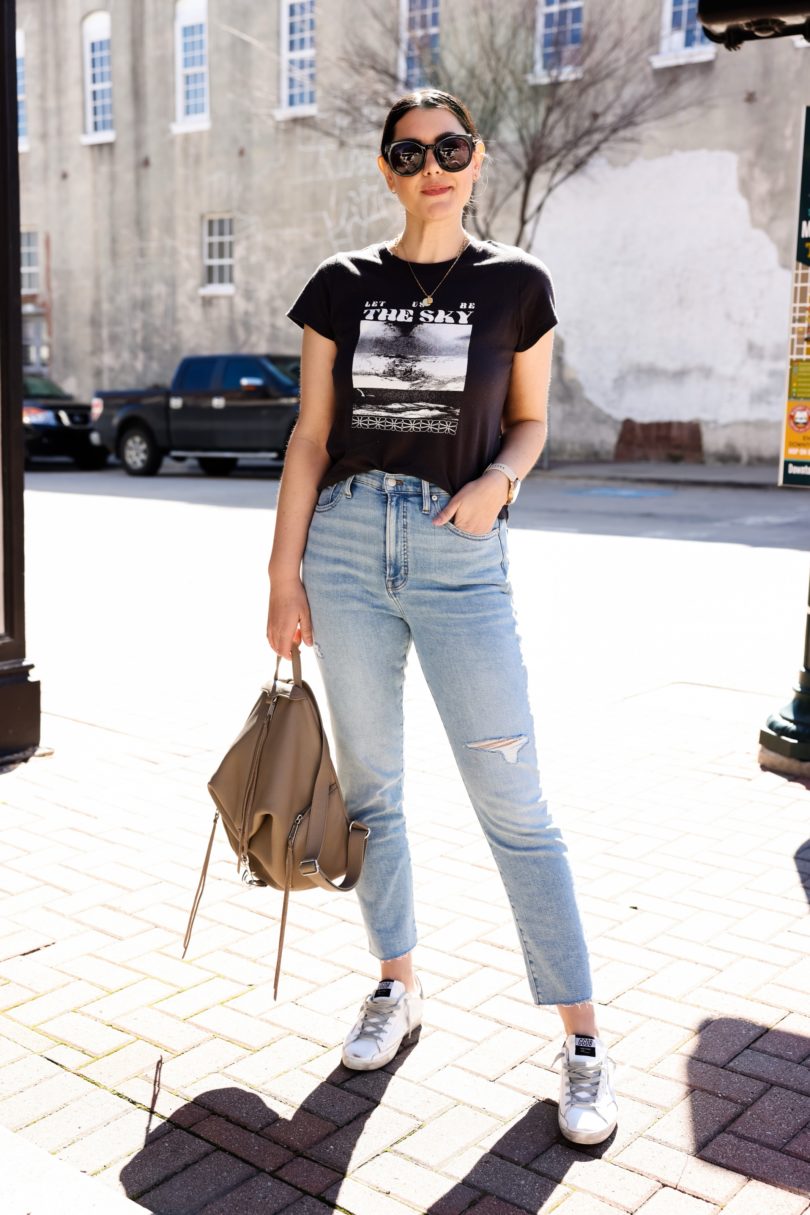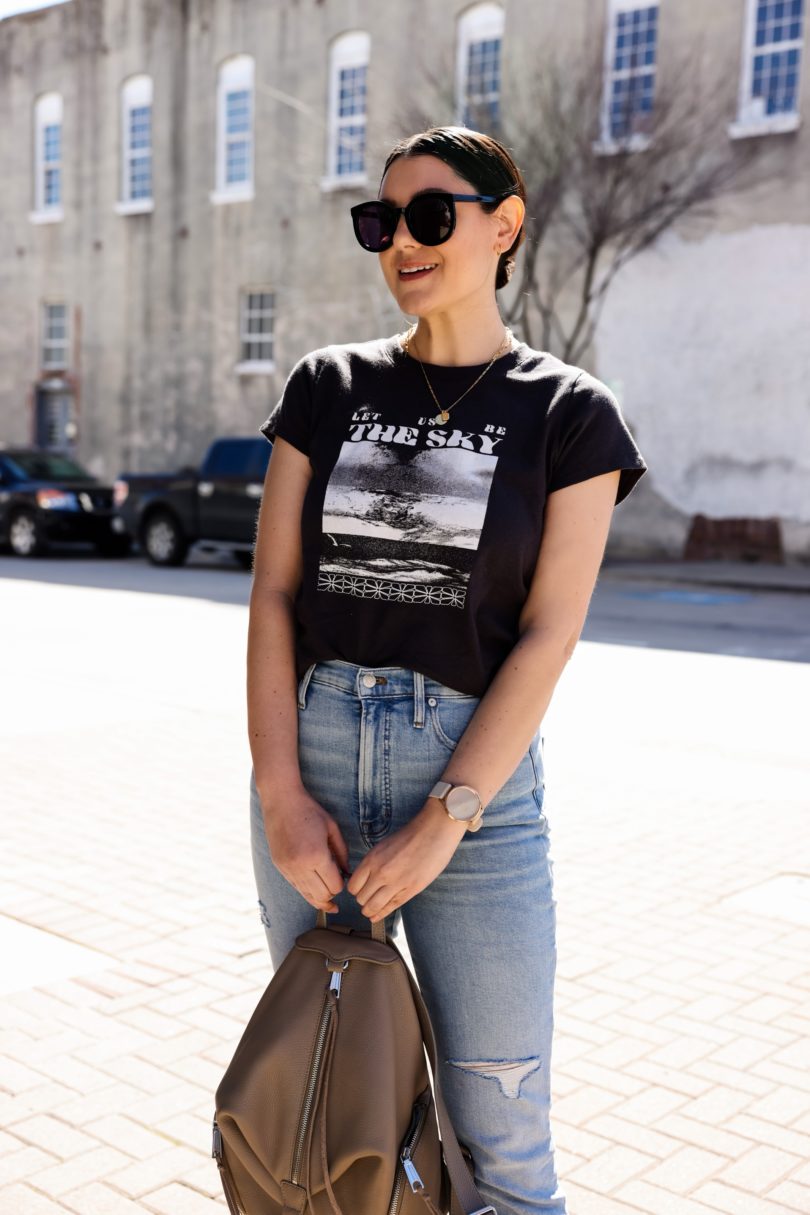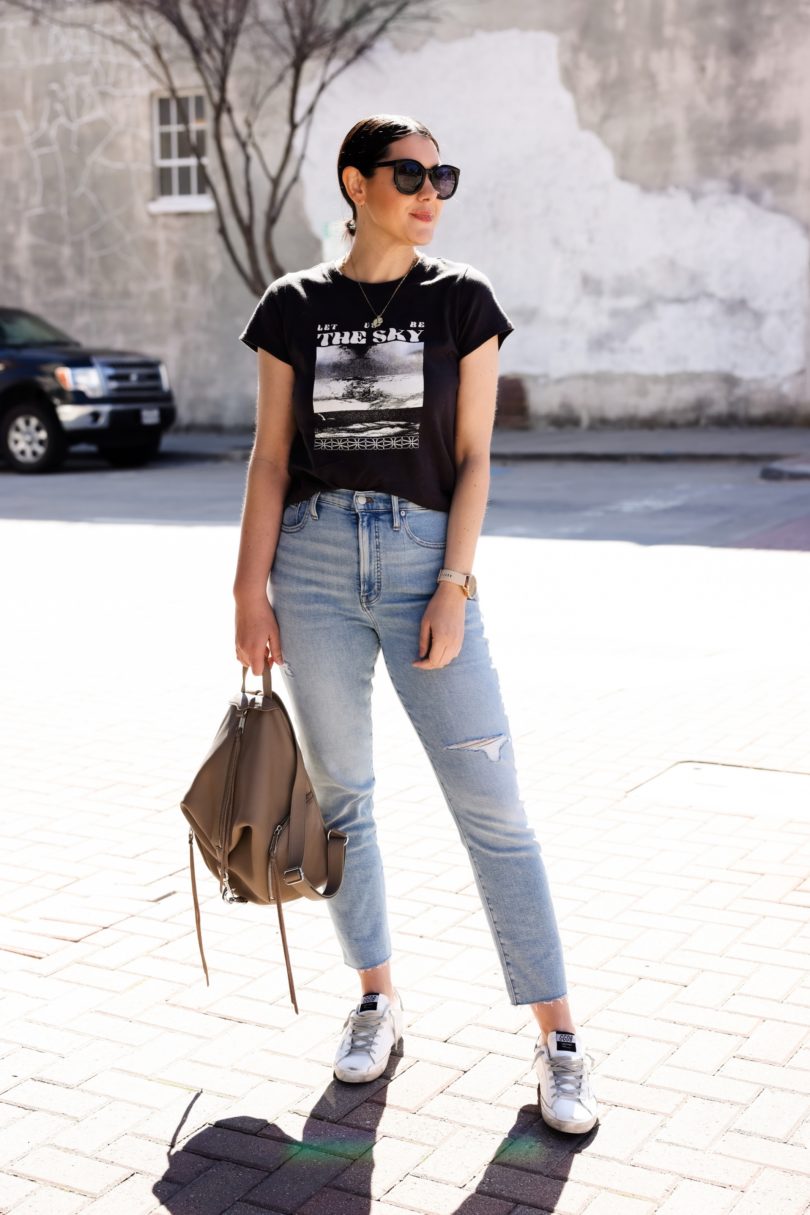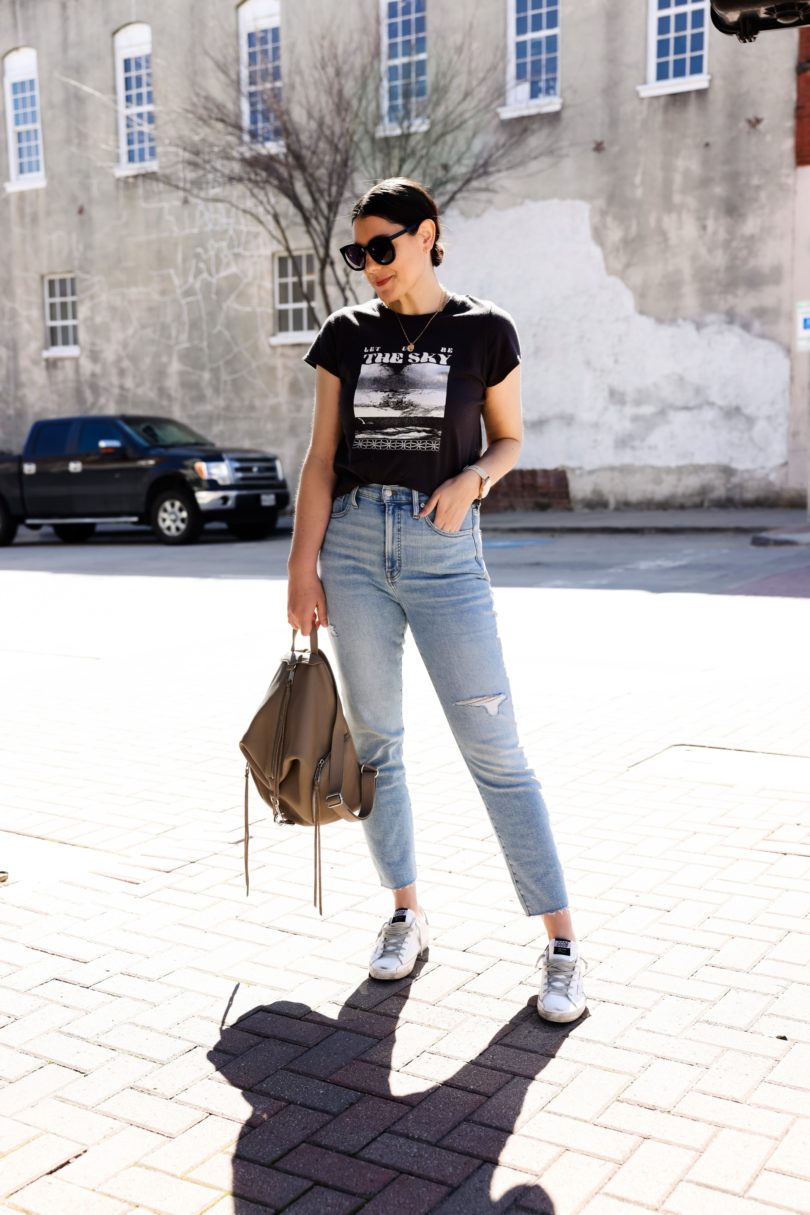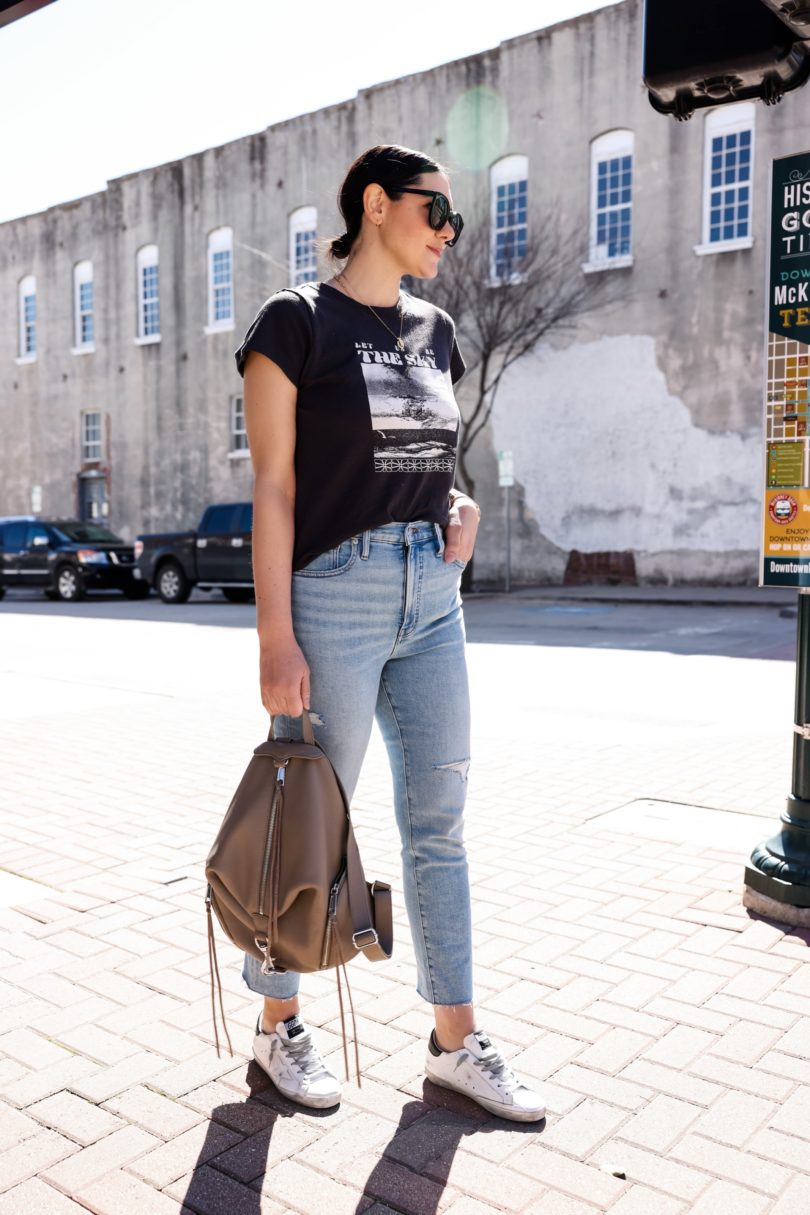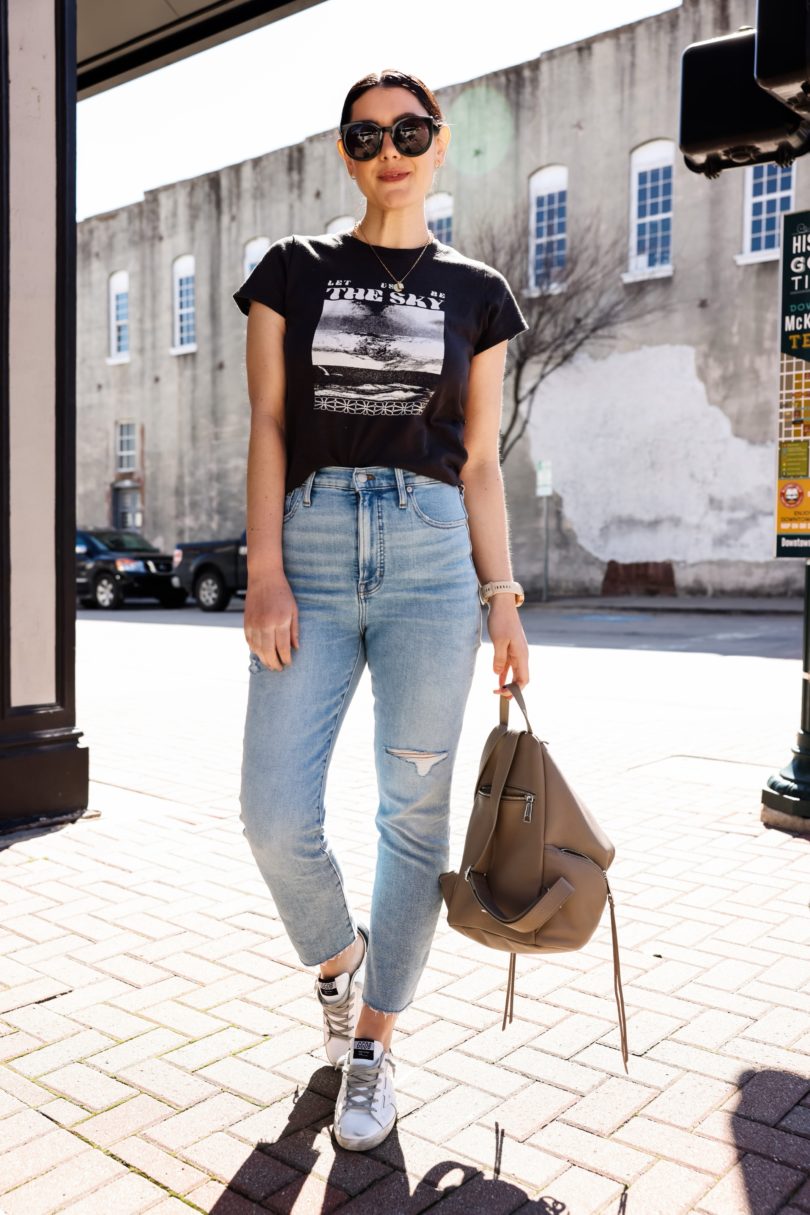 Did you know that this is a type of outfit that I wear quite a lot but I rarely show on here? Jeans + tee+ sneakers are my go-to outfits. As you know, I've been on the internet for what — 11 years now? — and there have been quite a few 'rules' that I made up over the years. Arbitrary rules that do not truly exist anywhere except for my brain, but for many years I created a rubric for me to follow as far as content on here. I only wanted the best content and outfits for the blog which resulted in years of dressed up looks in pretty dresses and heels. Absolutely no regrets in trying to create the best for the blog but it's taken me a bit to undo those 'rules' I created. Not wearing heels has been a big step, as silly as that seems but it's also been freeing in a way. In fact, we have come full circle with fashion blogging: we started shooting casual outfits in our house and now we are back to shooting casual outfits in our houses. So while this may seem like a normal outfit — and it is — it's also a big step for me. One small step for a regular person, one huge leap for a highly strung, over-thinking fashion blogger.
With that being said, let's talk about my fake vintage shirt. LOL, might as well call it what it is. I used to love finding vintage tees in thrift shops in high school and college. I got quite good at finding them and I'm actually kind of sad I got rid of some of my best ones. I had a really great collection and now I'm kicking myself. Of course that just means another girl who was on the hunt found a really good vintage tee and that makes me happy. I found this tee at Madewell recently and it fits the bill perfectly. It's so soft, so it already feels worn in and it has a vague graphic that makes me look hip and mysterious. And isn't that what all 36 year olds are looking for? 😉
I am in the medium and it fits TTS! Find it here.
Speaking of, Madewell is on sale this week!! I've posted a lot of Madewell recently and now there is a 20-30% off sale depending on what you buy! My denim is Madewell as well and you can easily size down in this pair. I am in the 28 but they're still pretty generous. I love this distressed look and it's a nice alternative if you are looking for a skinny jean alternative. Find them here! Use code HOWFUN.
PS: you gotta go read the last review on this tee. I feel attacked 😂😂