Have I got a post for you today! This post was so fun putting together with Walmart. I found so many cute pieces that highlight fall trends and let me tell you, they do it right. Each featured piece is under $50 and let me tell you, I couldn't pick a favorite if I tried. I can't wait to show you what I've found, three fall trends that are perfect for Thanksgiving, if you are looking for some outfit inspo! Rather you want to dress up, dress down or go somewhere in the middle I've got three outfits perfect for Thanksgiving — and every day in between.
Sherpa Pullover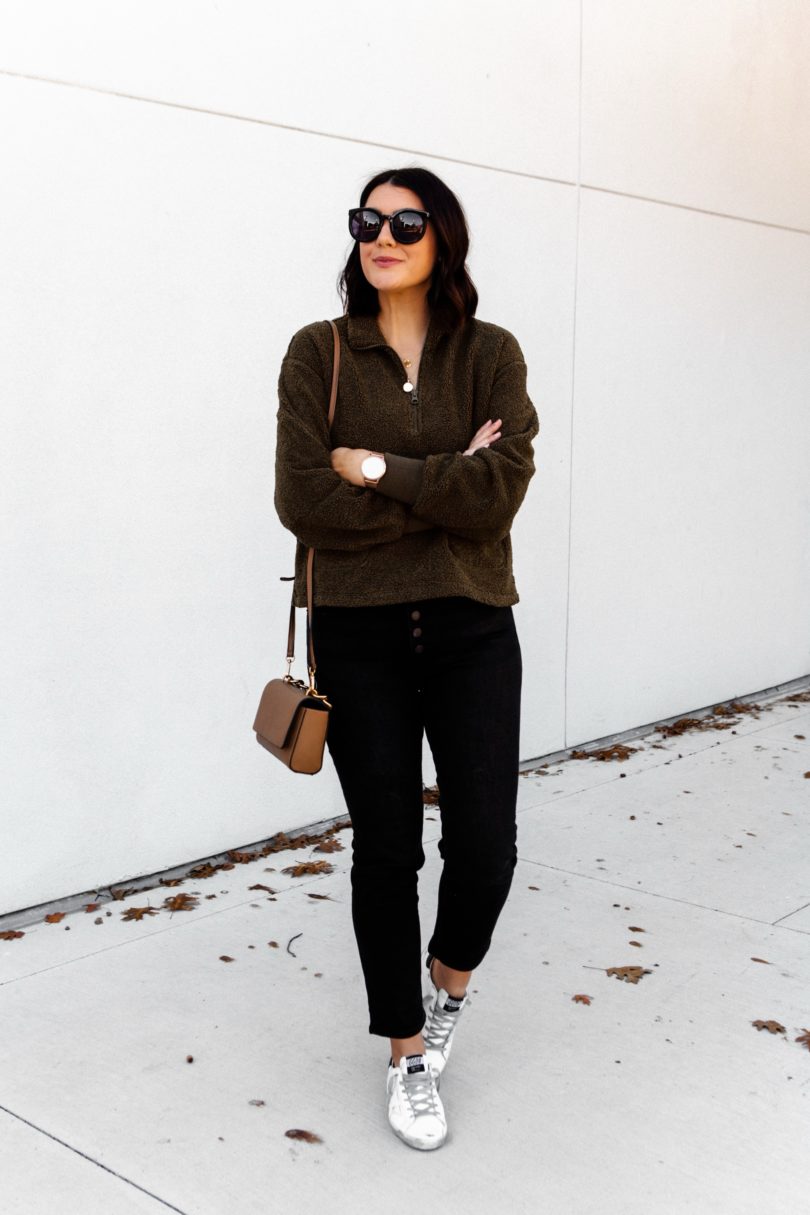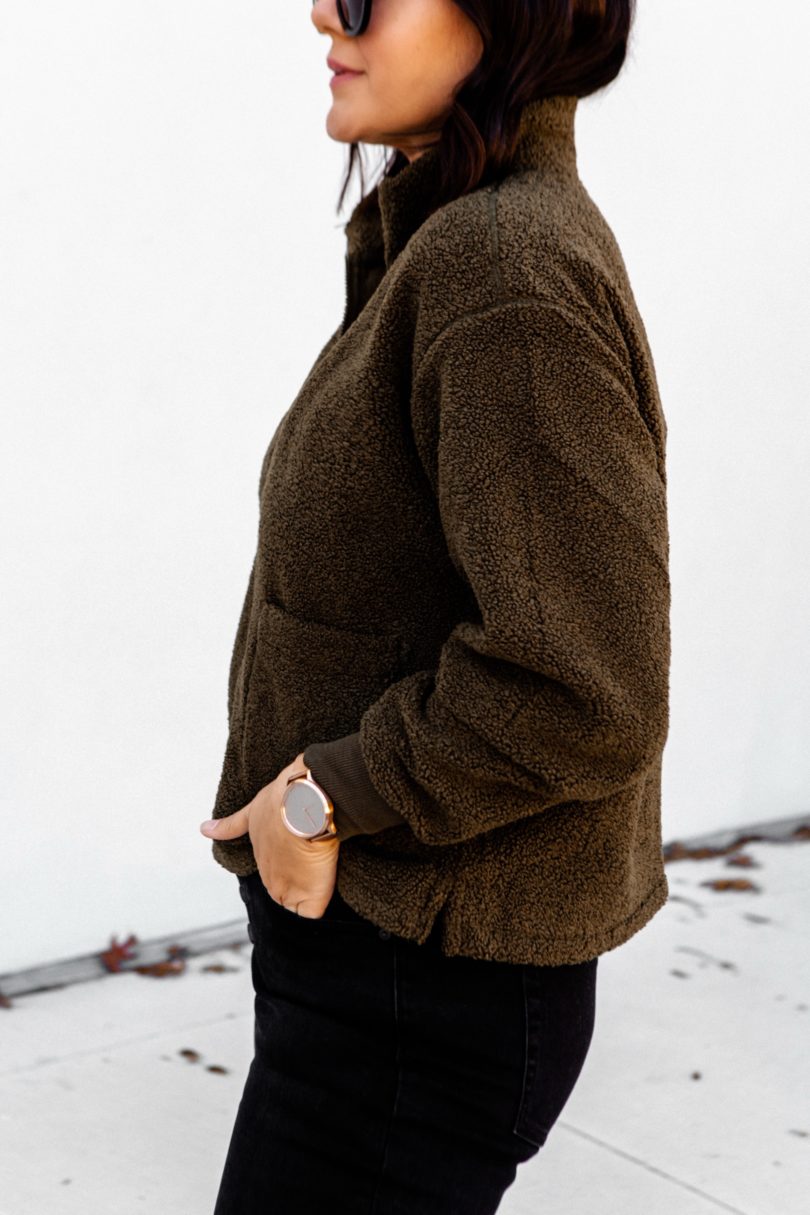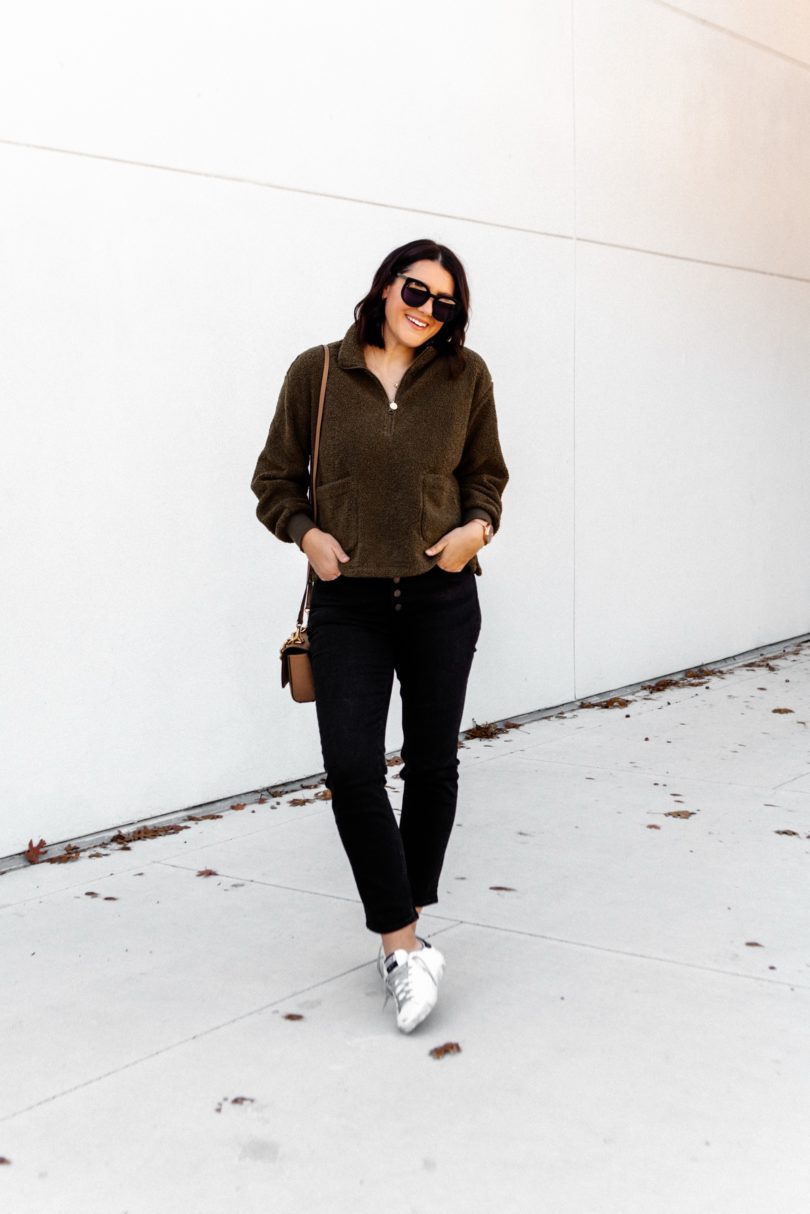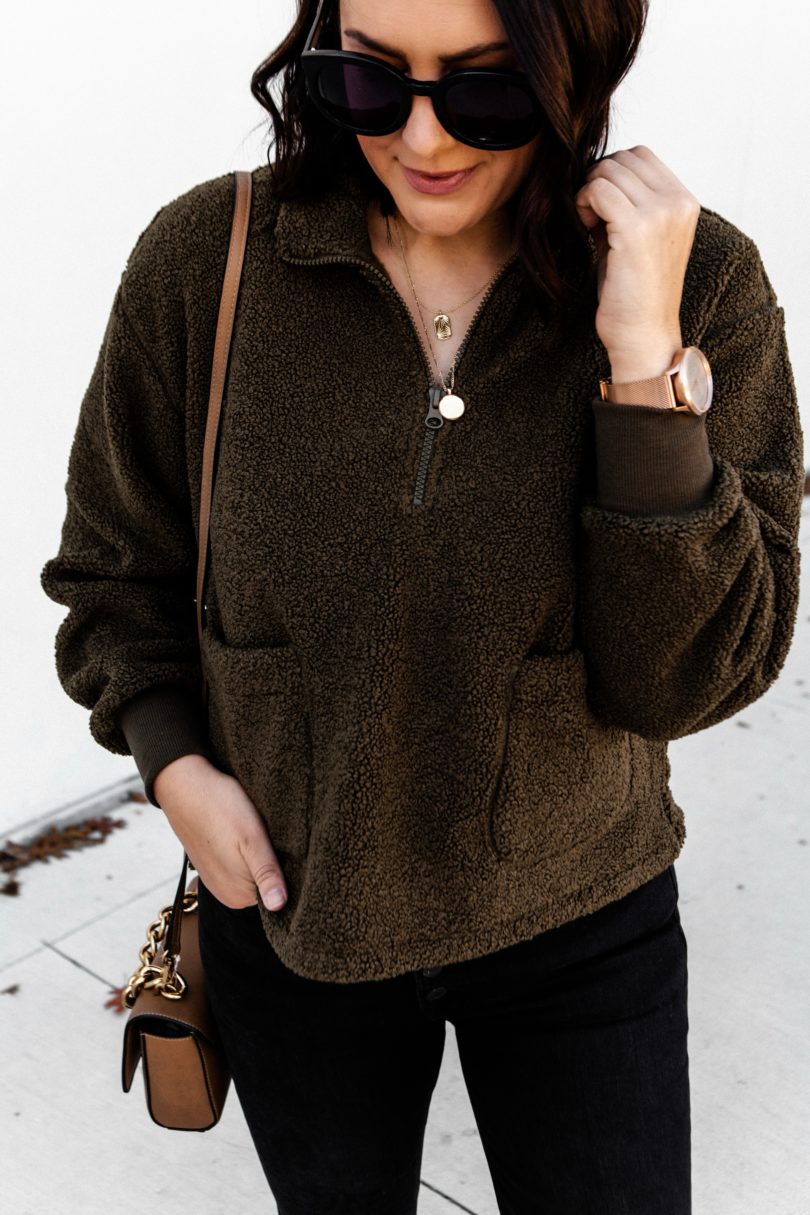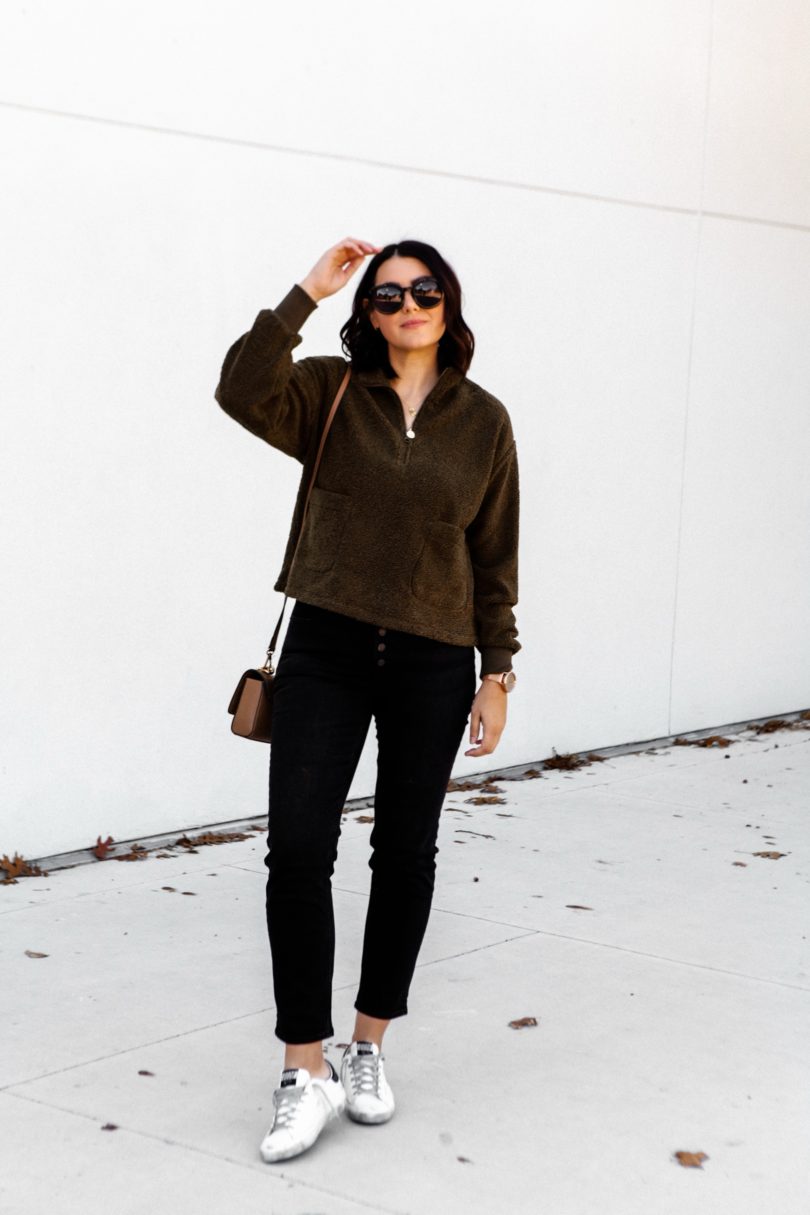 I don't even know if I can properly explain this jacket, but Lord knows I'm going to try. So you know how most sherpa jackets have that soft, teddy bear fabric? This pullover is a more structured weave, so it's more like a nubby feel, like tiny woven knots and I love it. It feels like an upgrade to your typical teddy sherpa. Plus it's made from recycled polyester — reused resources. We love to see it. I love this olive color and the good news is it's in full stock! I am in the medium and it fits true to size.
Find this Half Zip Sherpa Pullover here.
My denim is from the same line, new at Walmart called Free Assembly. These button front jeans fit true to size and have the right amount of stretch, but not too much. I am in the 8. I do think that if you are in between sizes, you could size down one. They are a bit tight at first at the waist, but they stretch with wear for comfort.
PS: check out their new Free Assembly line if you like more casual, tomboy, trend-forward pieces! Wonderful price points, too. Find the line here.
Floral Mini Dress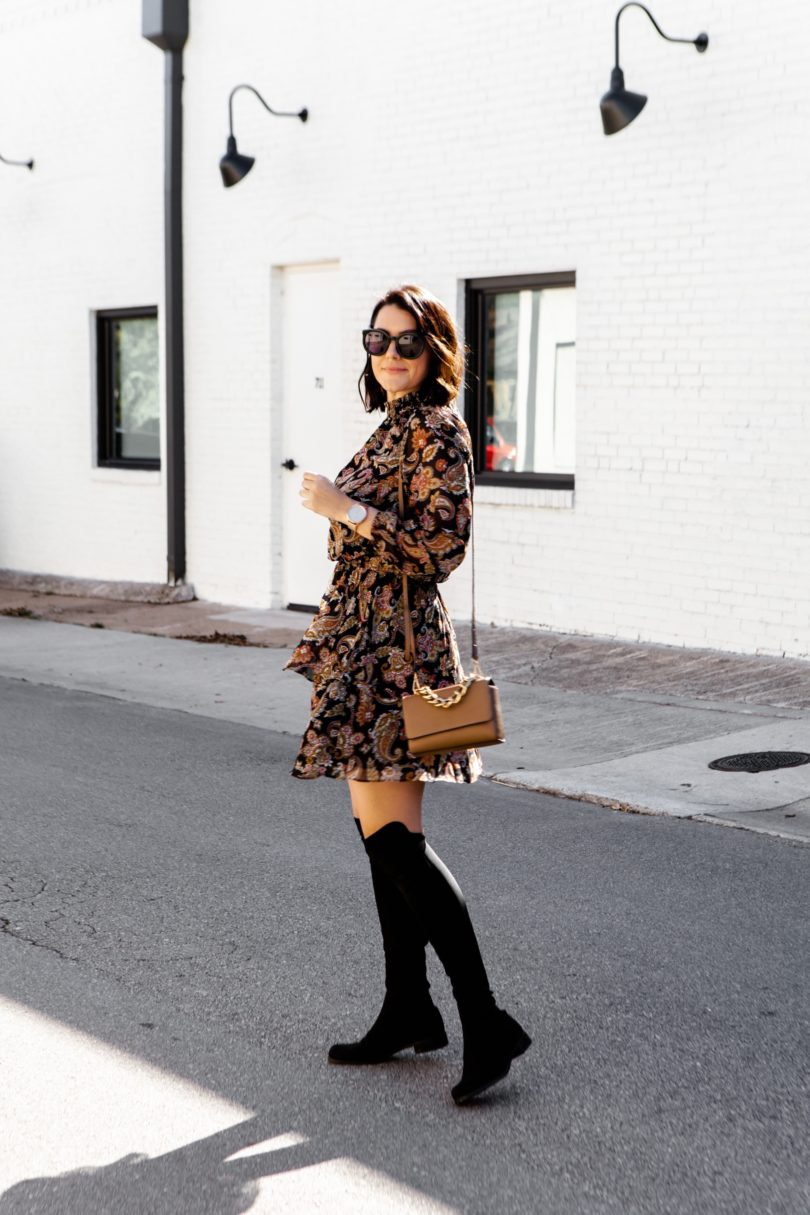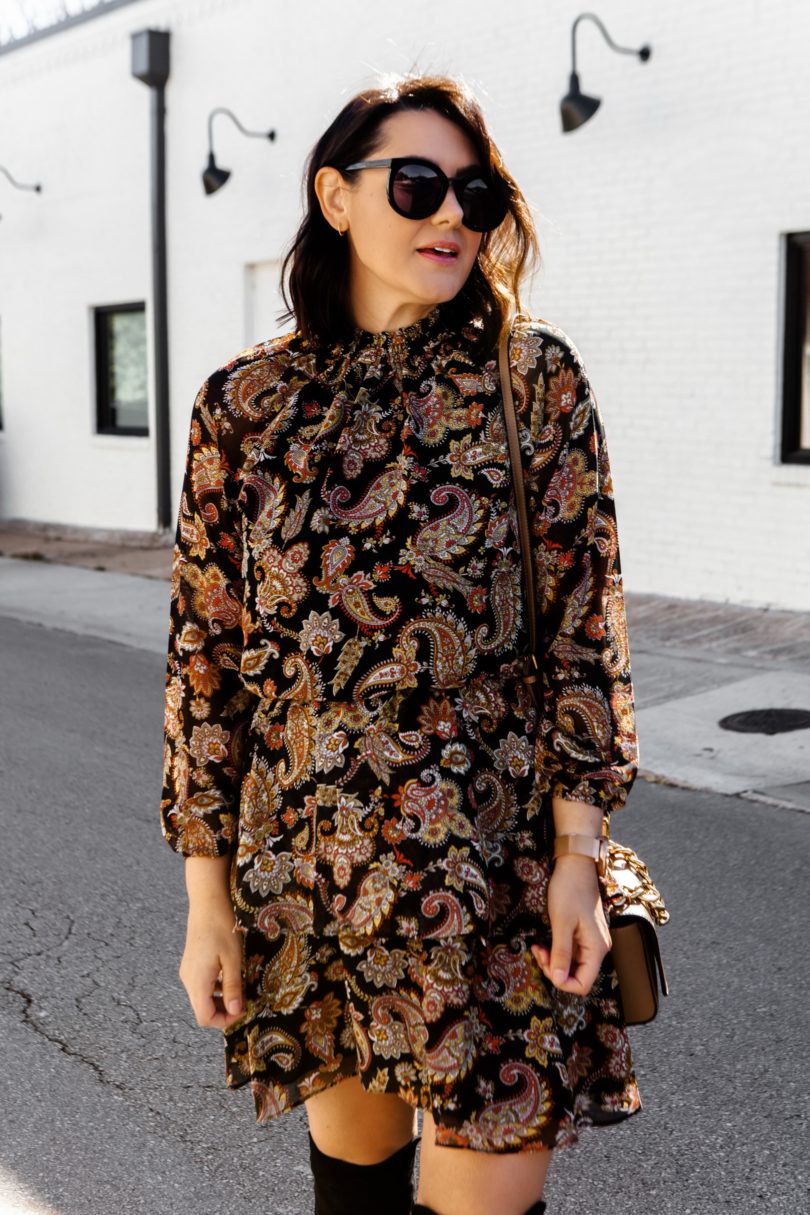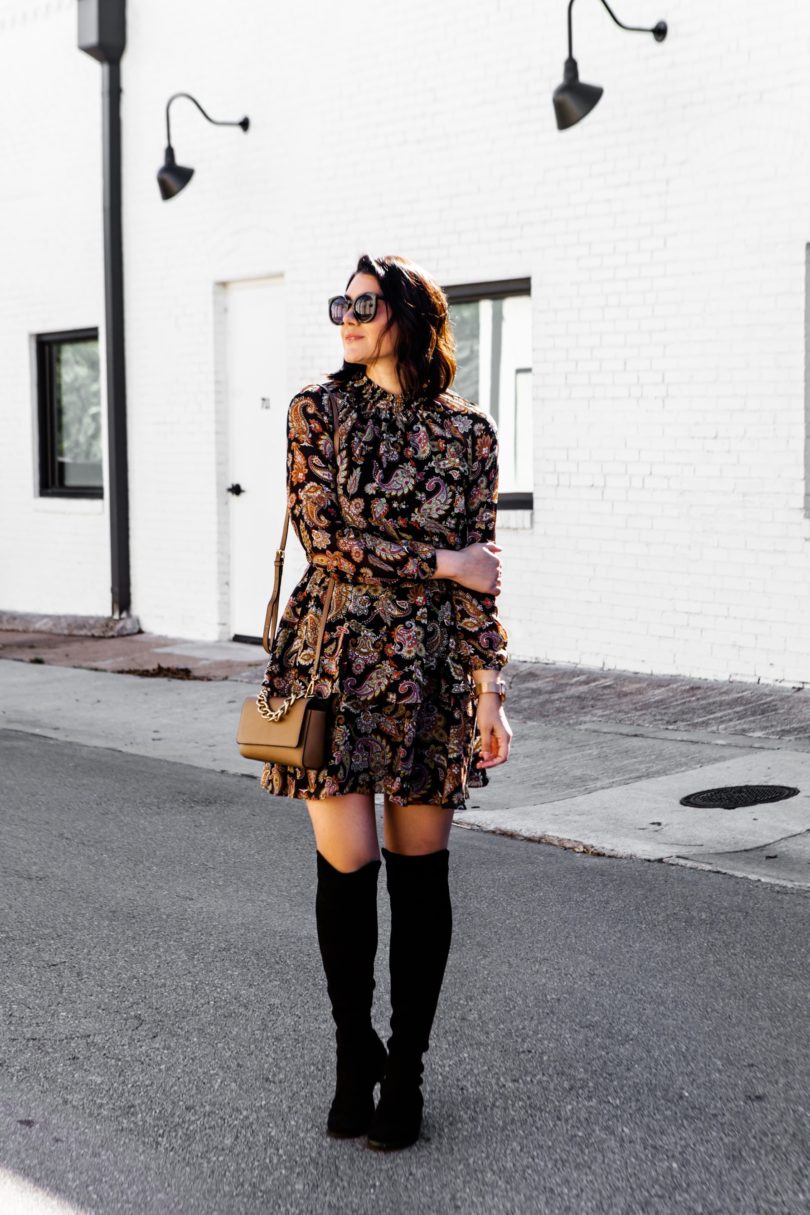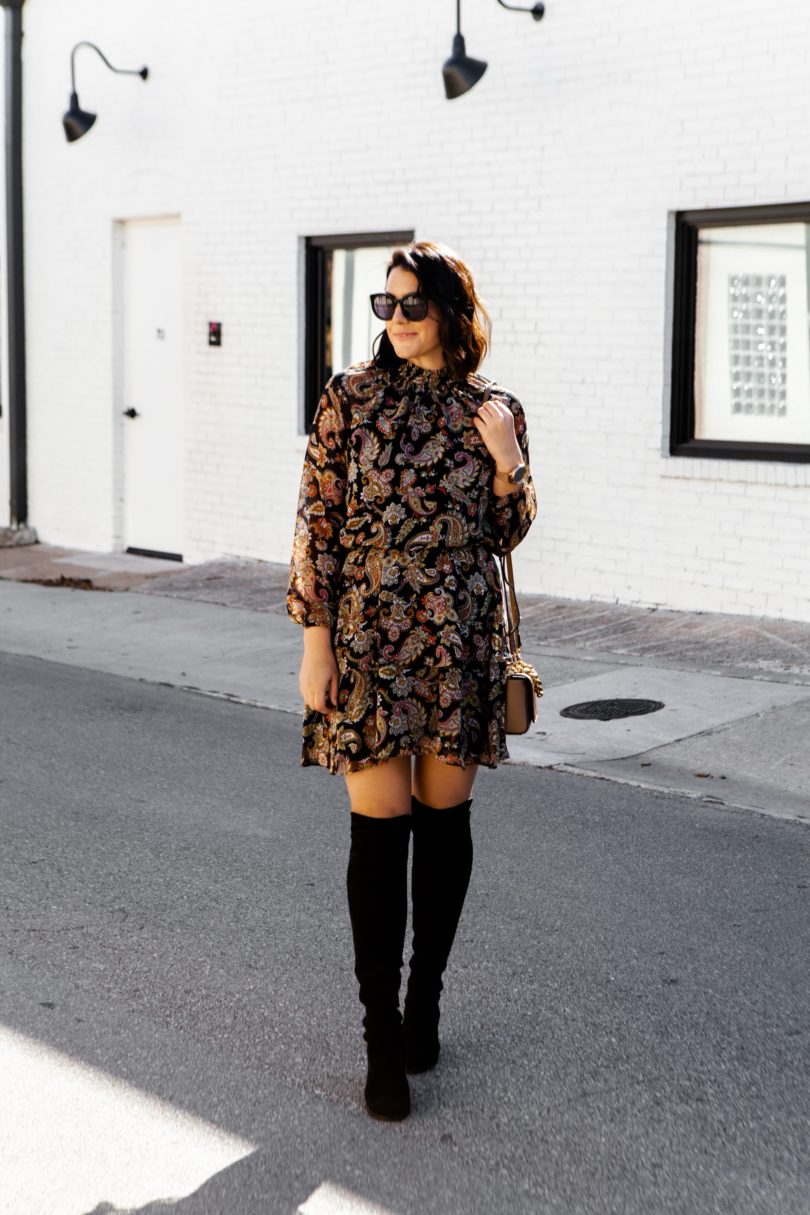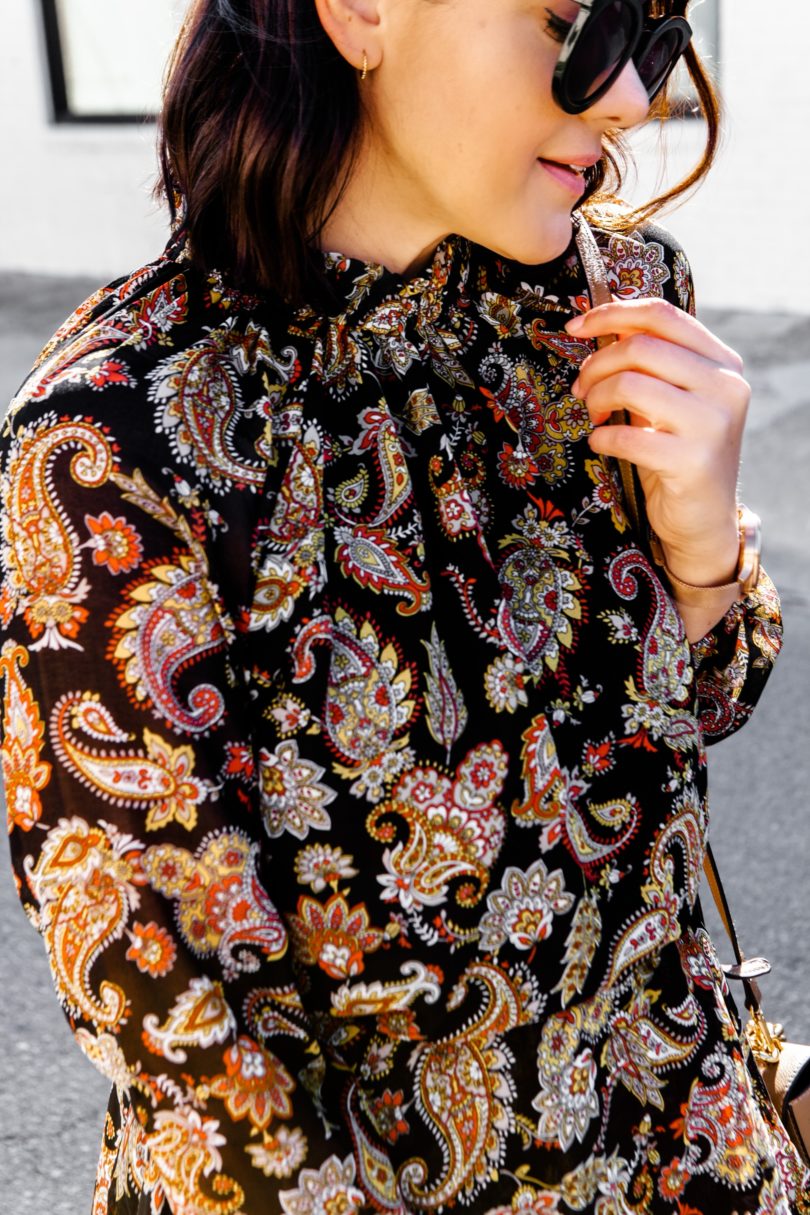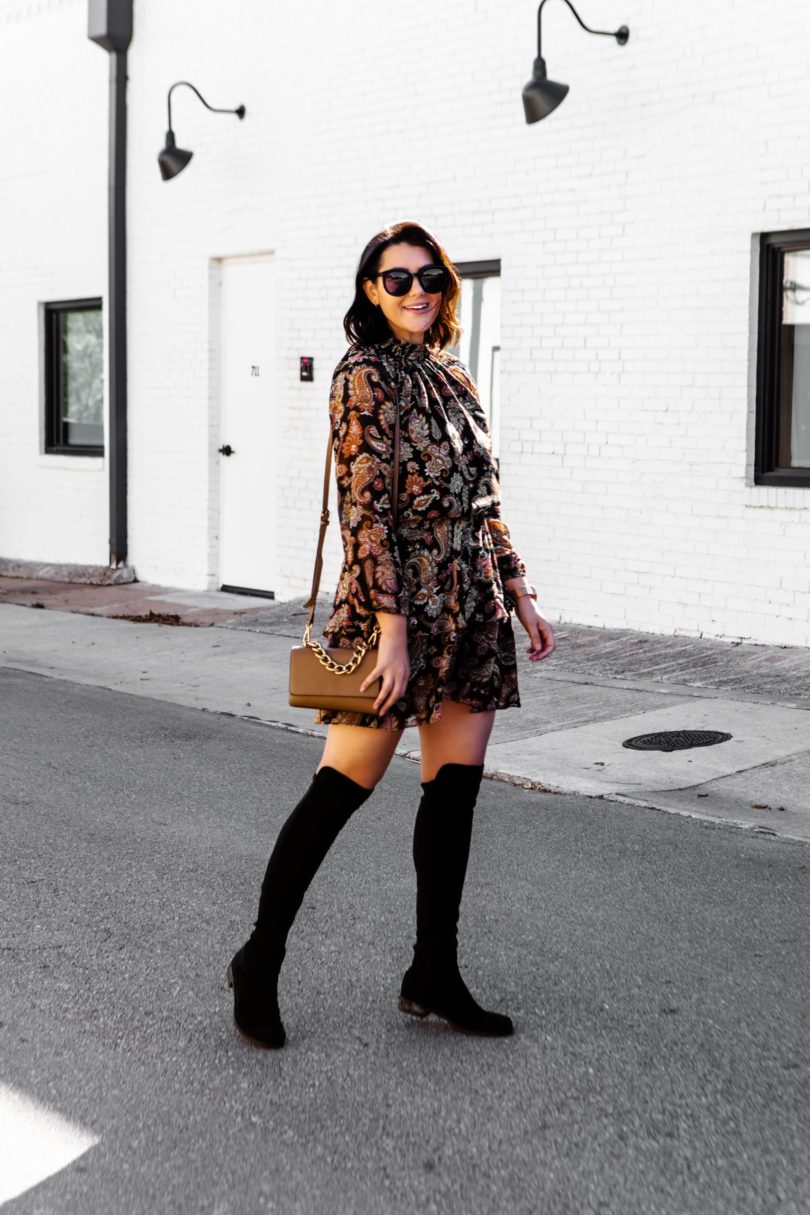 Okay so this look is my favorite, but only because I like to be extra whenever I get the chance. Plus I love a mini dress for fall and can I be honest? The perfect long sleeve / mini dress combo is hard to come by. But this one achieves the perfect balance between the long sleeves and the mini skirt. It's a winner and I was so excited when I got it in because before I even tried it on, I just knew it *worked*. I love this look for Thanksgiving, if you want to have a fancy day. Bonus: the waistband is elastic and the dress itself is comfortable. Fashion but make it comfortable.
Find this under $45 dress here!
I am in the medium of the dress and it fits spot on. I would say it definitely fits a size 8-10. I am 5'9″ for height reference! For me it's the right length, especially with an over the knee boot. Speaking of over the knee boots, this pair of Walmart is an perfect budget-friendly pair! I love the heel on it as well. Check them out here!
Walmart actually has a lot of great dresses right now! I've rounded up my favorites below.

Cozy Sweater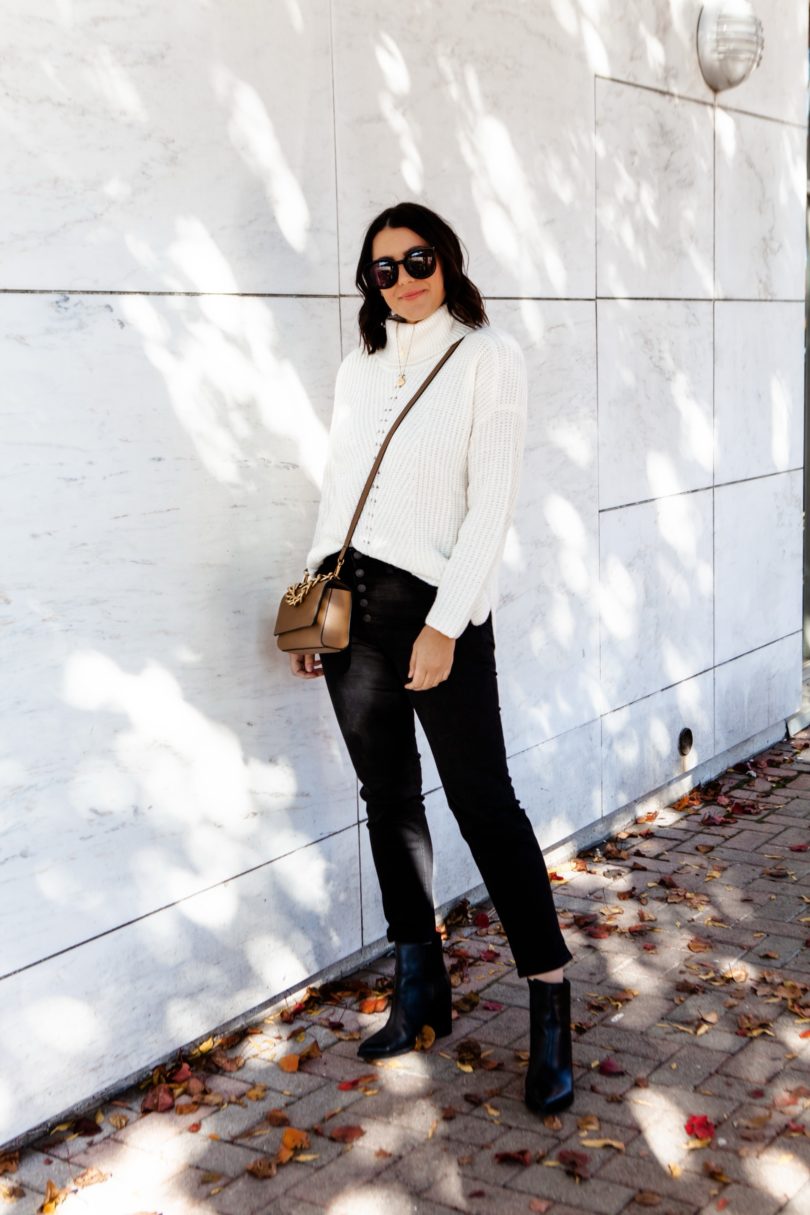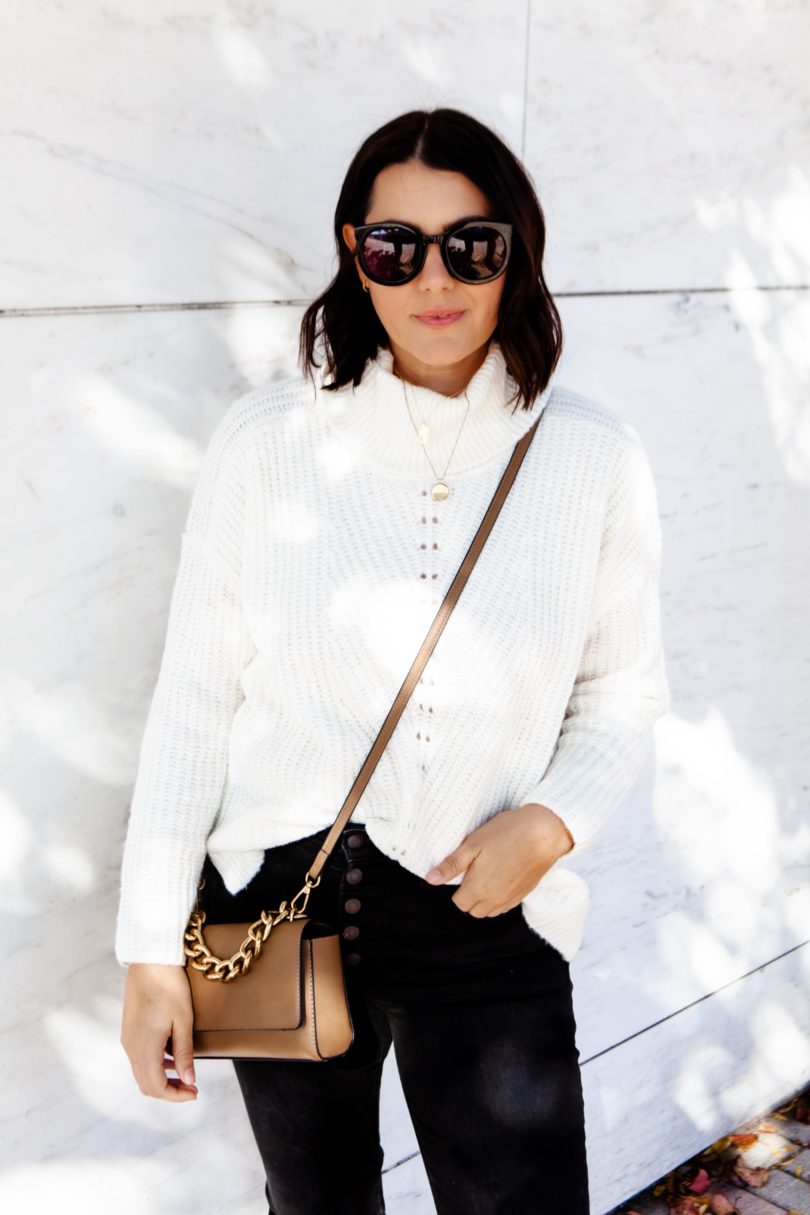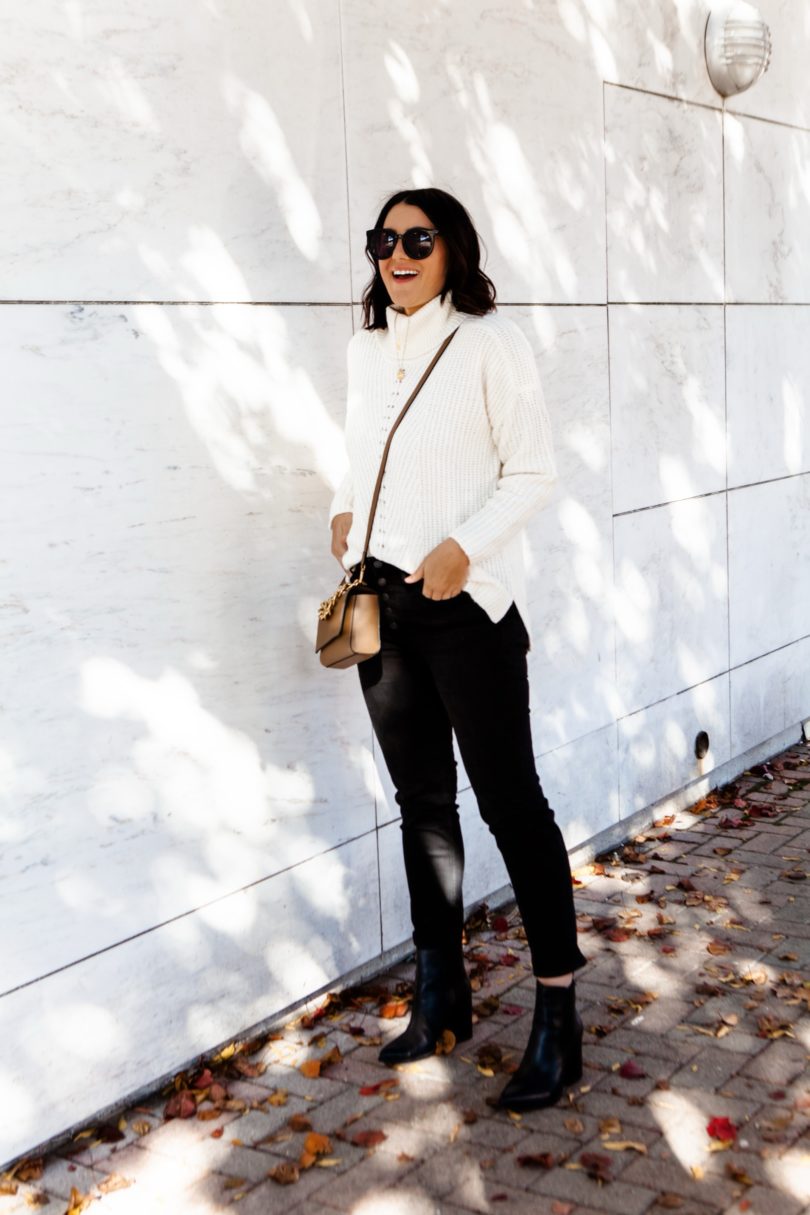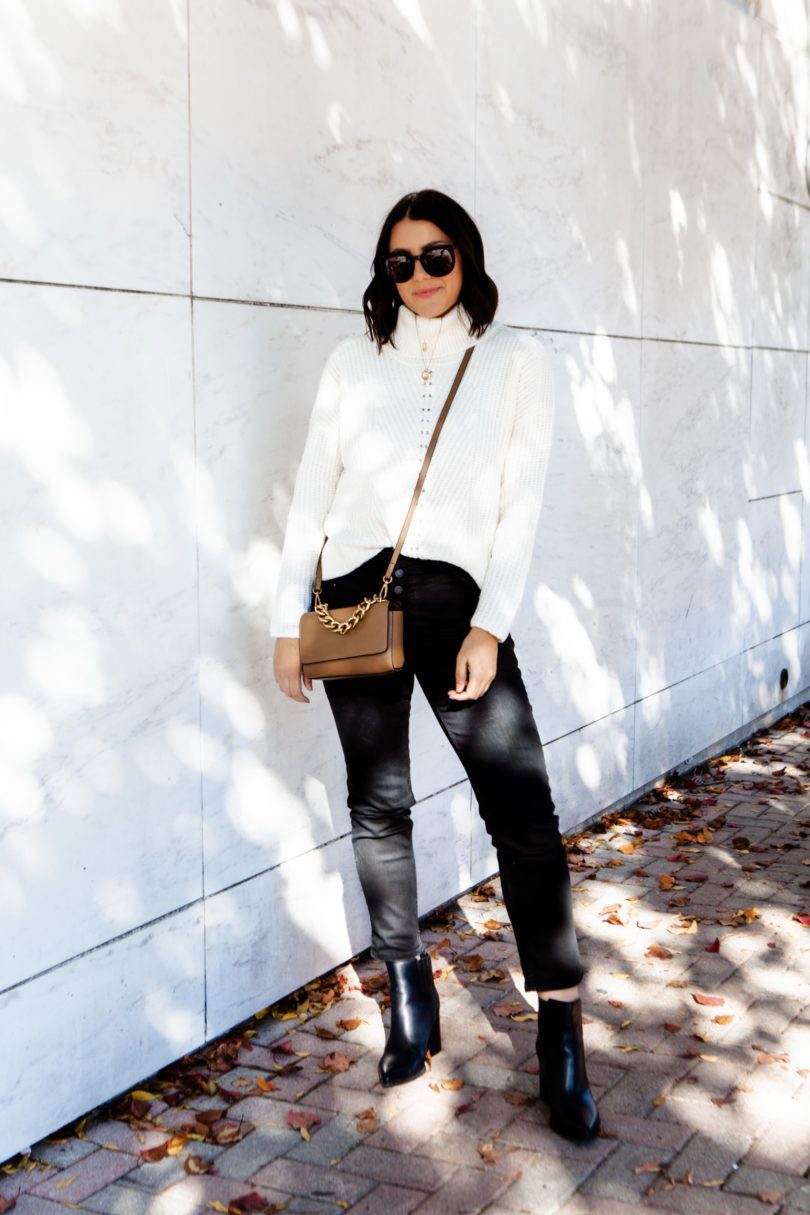 Let's talk about this classic look for fall. You just can't go wrong with a classic cowl neck sweater. I wanted to pair it with a black denim over a traditional blue denim to give it a bit of an edge. Black booties and black skinny jeans give this sweet looking sweater a bite, you know? (Love these jeans, by the way.  A great buy if you are looking for a vintage looking black denim for fall!) I am in the medium of this sweater and it's perfectly oversized. I would stay stick true to your size, it's a cozy fit.
I rounded up some of my favorite sweaters here!

***
Which look is your favorite? How are you dressing for Thanksgiving this year — fancy? casual? or somewhere in between?
*This post is in collaboration with Walmart! Thank you for supporting the brands that support this blog!