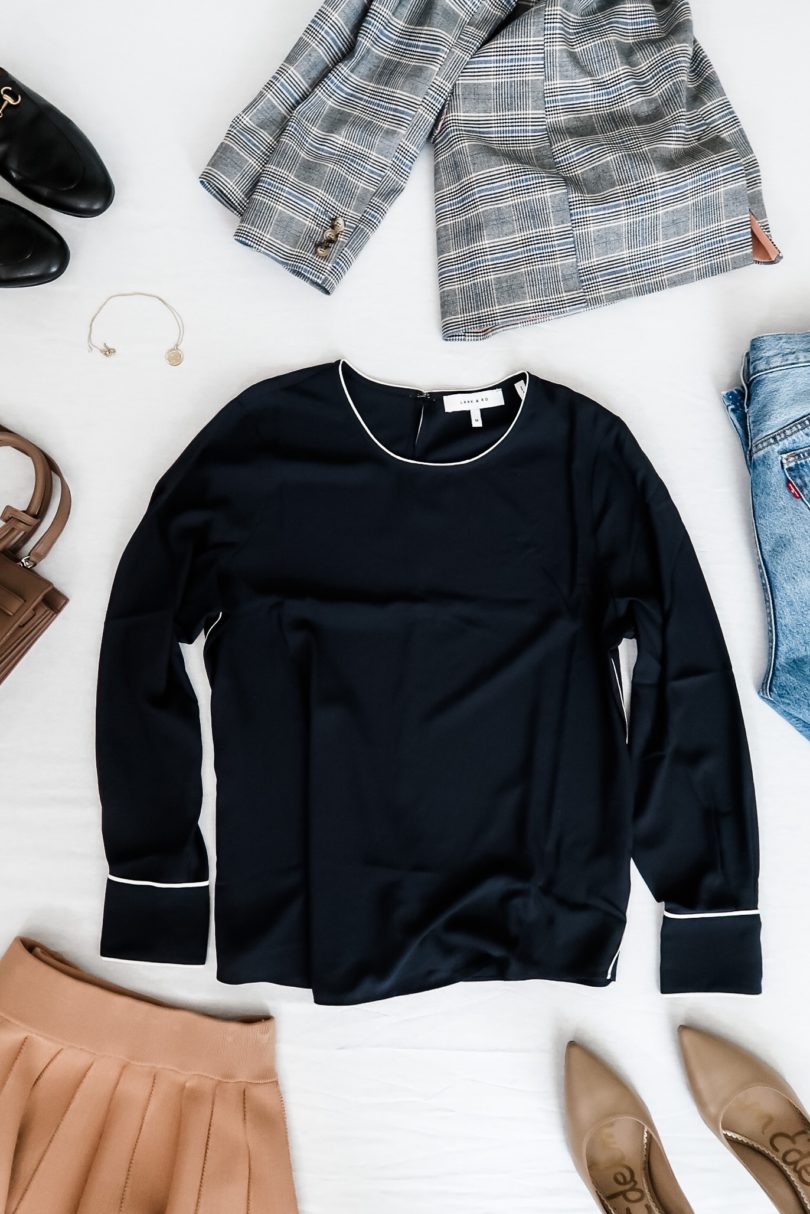 Last week during that crazy Amazon Prime Day sale I dropped a mid-week try on on IG Stories and THIS top was the number one seller. Which was exciting to me because I loved it (but I love a lot of things so…) but mainly because it was a work wear piece. It doesn't need to be said but since 2020 is a rollercoaster that everyone wants off of, trend forecasting hasn't been reliable for fashion this year. Back in spring, everyone was leaning towards cozy items: joggers, tie dye sweatshirts, seamless bras, yoga pants and leggings. So going into fall, it's interesting to see what people are looking for and I was excited to see a perfect top for work was a favorite. You see, I love a simple top like this one here that can go from work — either in an office or a work from home situation — to an everyday, casual outfit. Really put that work wear to work, my friend.
But before we get to styling this top 8 ways, let's talk details! This top is from Amazon, the Lark & Ro brand which is their workwear line. I am in the medium of this top and it fits true to size. Generously but intentionally roomy. A medium is the right fit for an 8-10 size, so size according to that scale. This is a lightweight top that once steamed, doesn't wrinkle easily. This is the navy color with a vanilla contrast piping around the cuff.
One more thing: this is a deep dive into my own closet so some of these items are older and not in stock. I'll do my best to link similar options below each photo for you. Let's get to styling!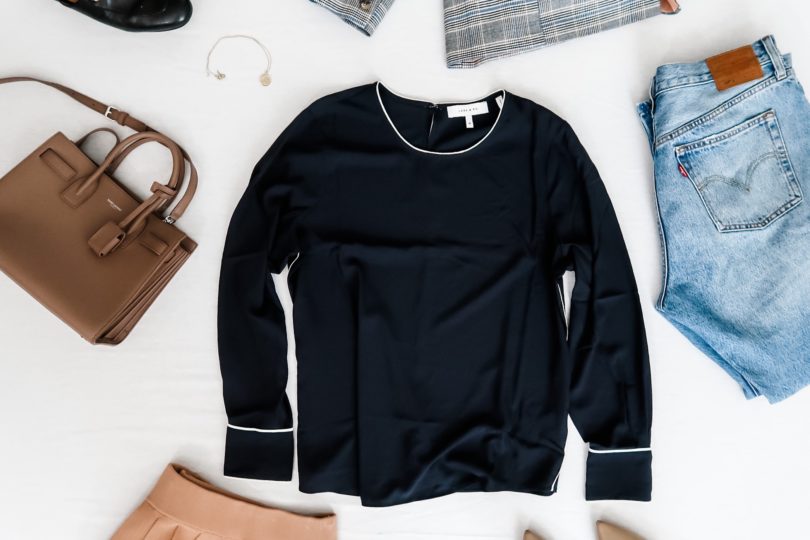 1 / Distressed Denim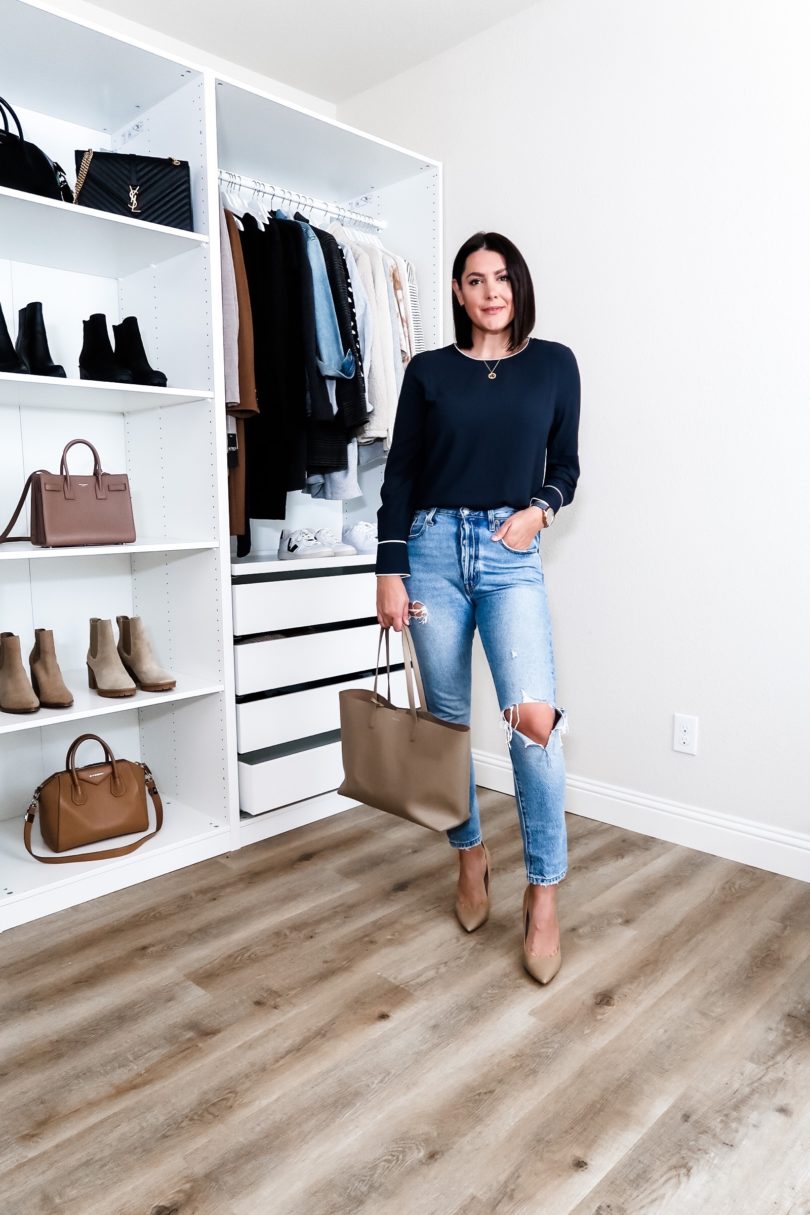 This look gives an otherwise office-forward top a casual look that you can wear outside of the office or to the office, depending on your dress code. Not every workwear top has to be paired with trousers or a skirt and the juxtaposition of a distressed denim creates a casual vibe.
2 / Paperbag Waist Trousers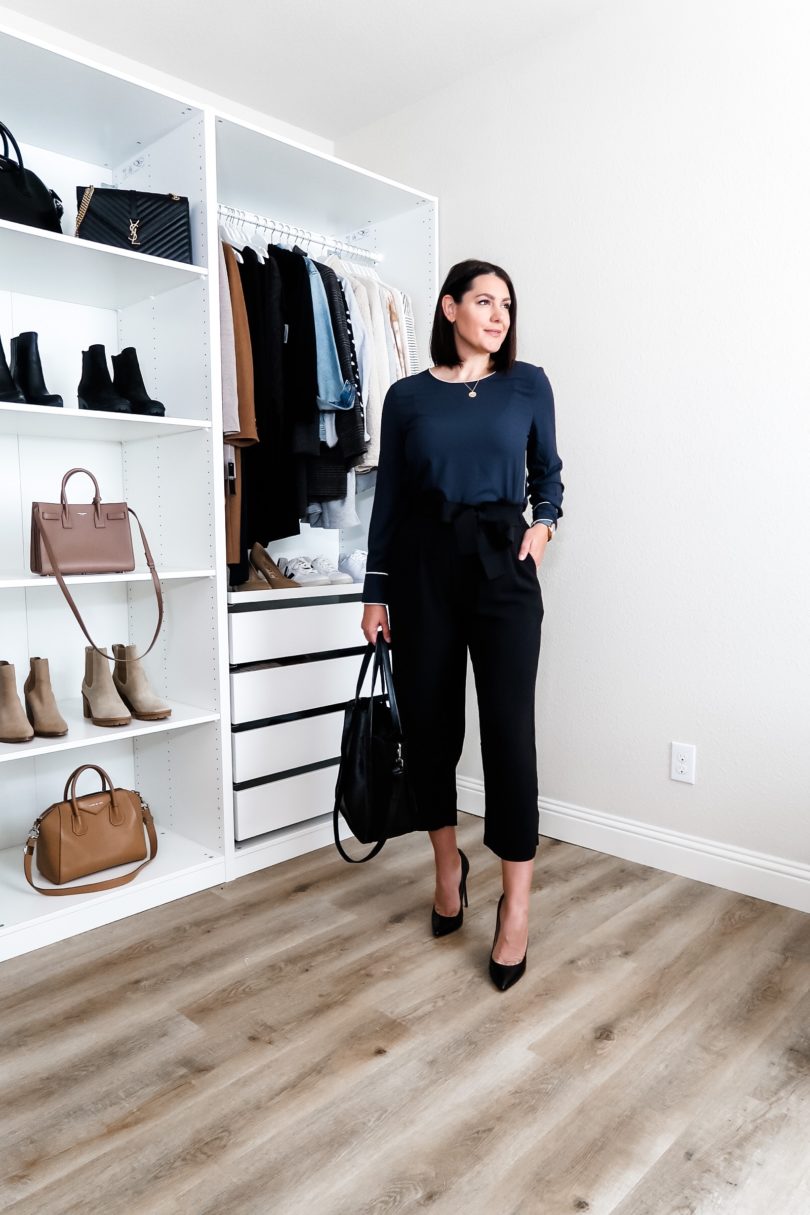 I love pairing navy and black together for a few reasons. One reason is because it's so chic and unexpected. And the second reason is because navy is impossible to match sometimes and most people have black in their closet over navy. Black trousers or pants are an essential and this pairing is a new classic look. This pair of trousers is actually a paperbag waist pair and it's a favorite from Madewell. But you could recreate this look with any pair of black trousers — wide leg, skinny, paperbag waist, high waist, etc.
3 / Mini Skirt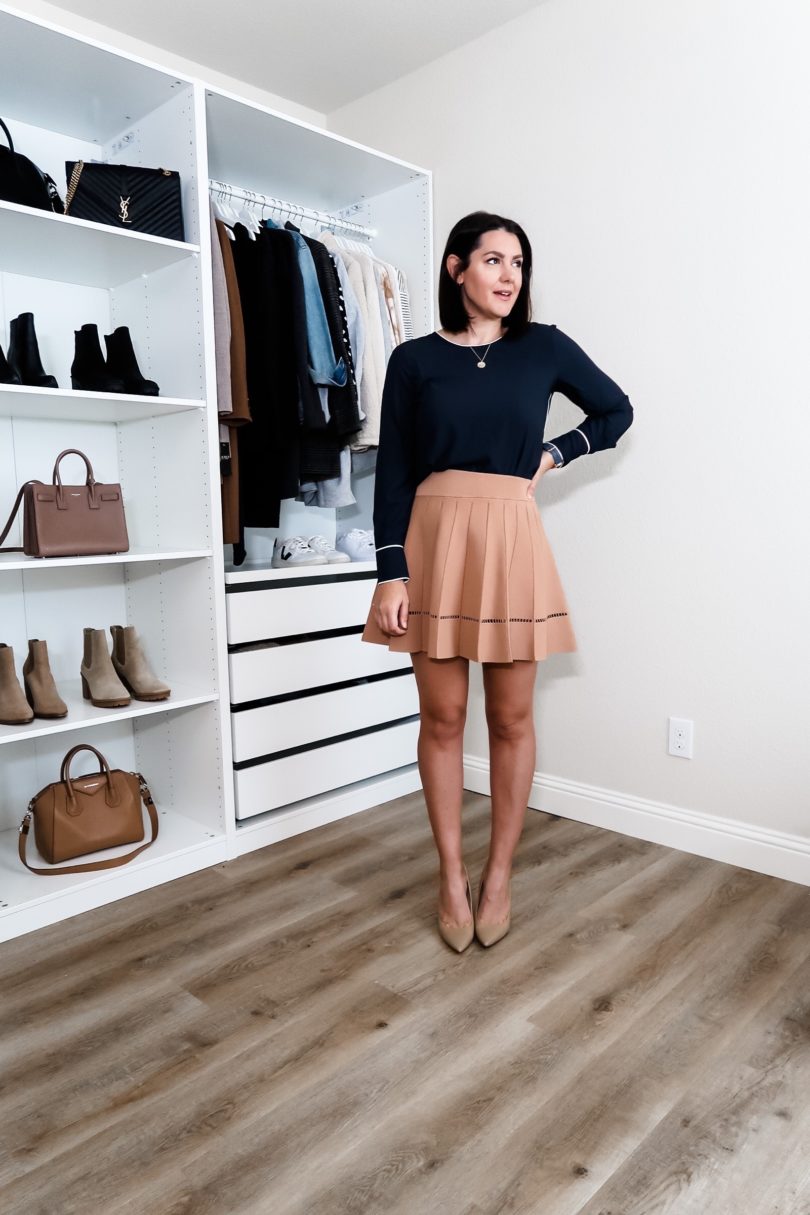 Now this look could work with any neutral tone of mini skirt, but this is what I had in my closet. It's a nice camel color which works perfectly with navy. But this look could work with darker camel, black, grey, white or cream. I love a brown hue right now so I've linked all the brown or camel skirts I could find right now below! And a few cream ones as well. But moral of the story: you can't go wrong with a classic top and a mini.

4 / Spanx Leggings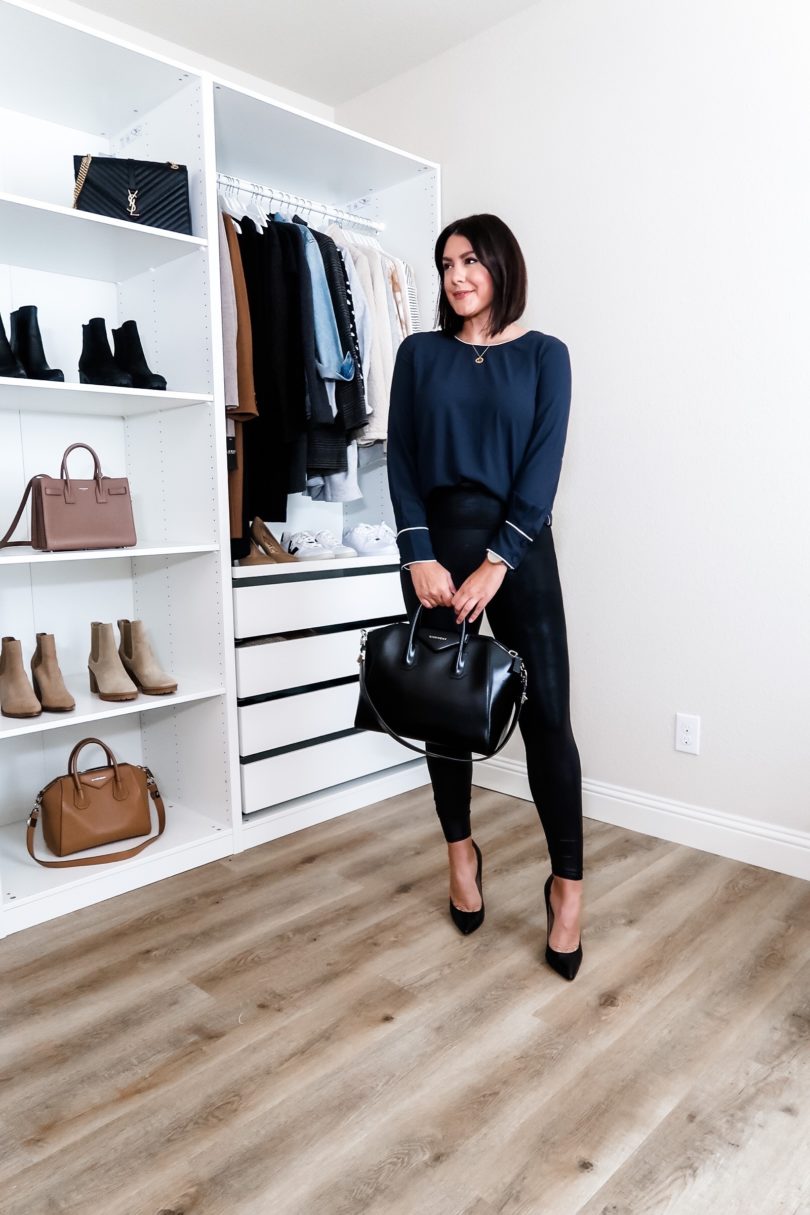 Aw, the Spanx leggings. Probably didn't see this one coming did you? Or maybe Spanx leggings are a staple for you for the office? These lovelies were not around when I was working in an office or they would have been a weekly wear during winter months because why not wear glorified yoga pants to the office? So this look works best if you tuck the top in and I realize that look isn't for everyone. But with this top out, it just looks sloppy. A nice front tuck would work as well if you want some more coverage in the back.
This look can always easily work with Ponte leggings as well, if you like the idea of this look but don't love a shiny legging.
5 / Oversized Plaid Blazer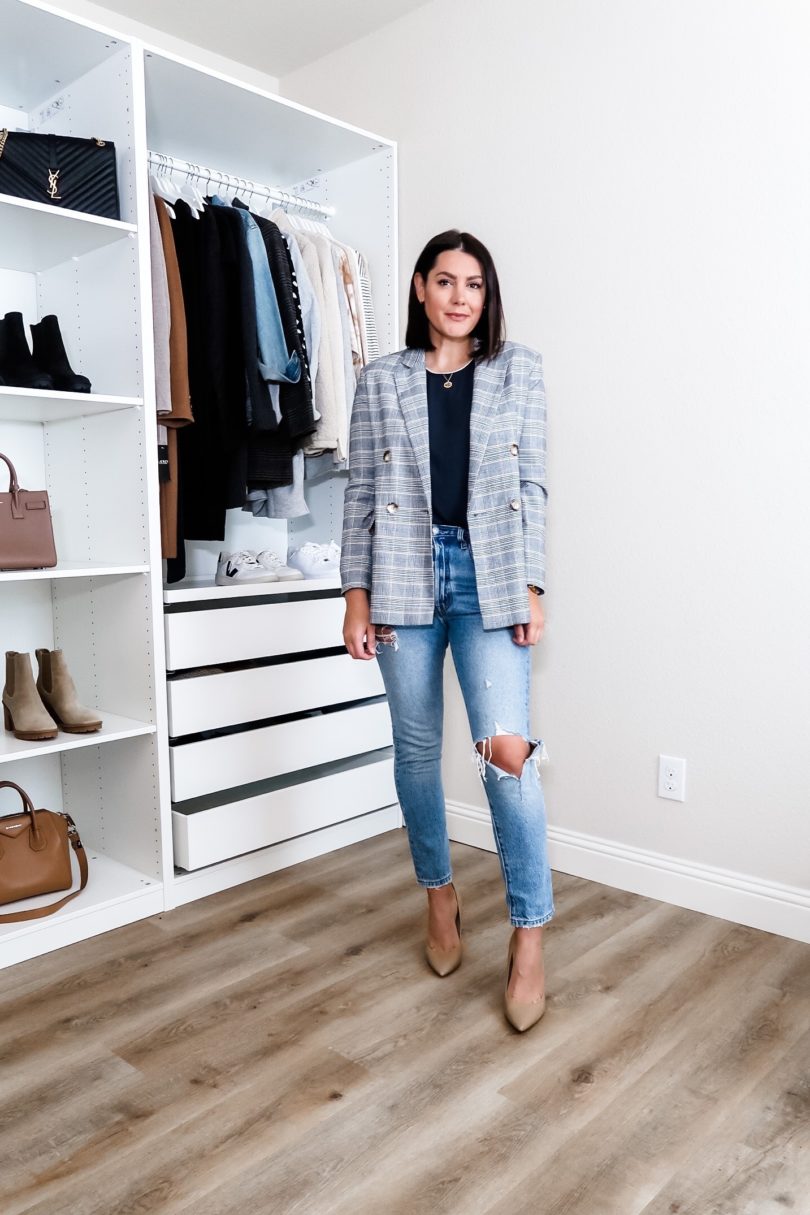 If this looks familiar, well I added an oversized plaid blazer to look number one and instantly loved this look. It's a classic look that can work year round. I tried a few different shoe options but the nude heels really were the best choice; it just ties the whole look together.
Adding an oversized blazer works for this look because you are making a workwear outfit with your top and blazer and the jeans add a really cool vibe. You could easily do a navy blazer here, a camel, or a plaid blazer, like this one.
6 / Skinny Jeans and a Coat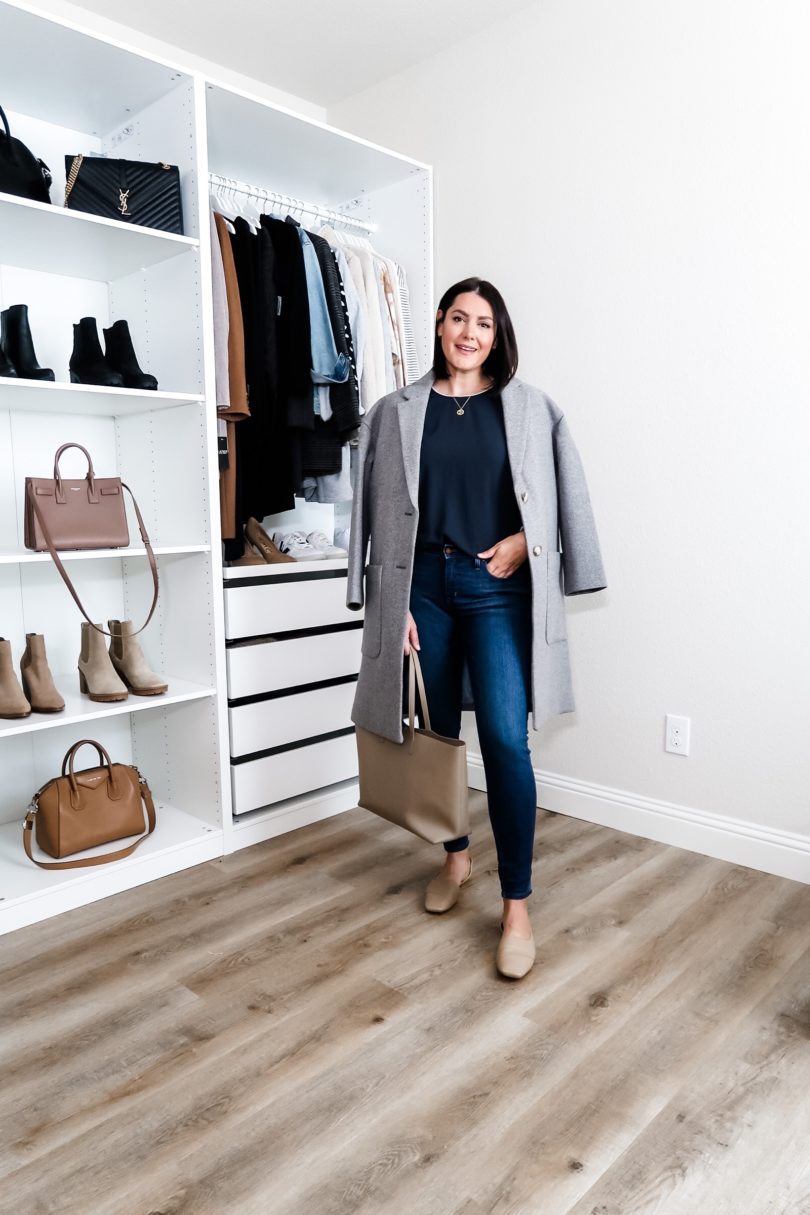 This look is a great everyday go-to — a nice pair of skinny jeans, flats and a crossbody. Toss on a classic coat and this look is perfect for fall. This look goes to show you that a workwear top doesn't have to stay in the office — you can pair it with denim to dress up your denim and flats. A nice errands outfit when you feel like looking fancy at Costco.
(Or without the coat for reference)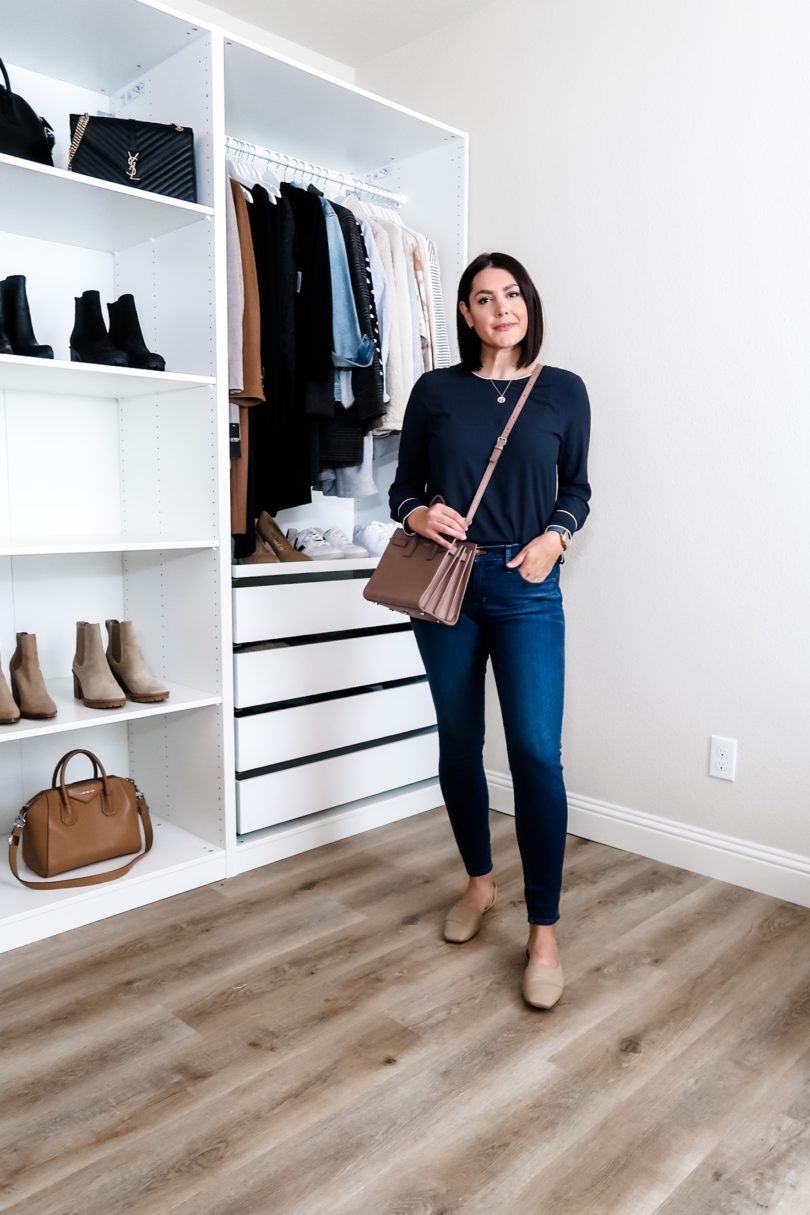 7 / Ivory Trousers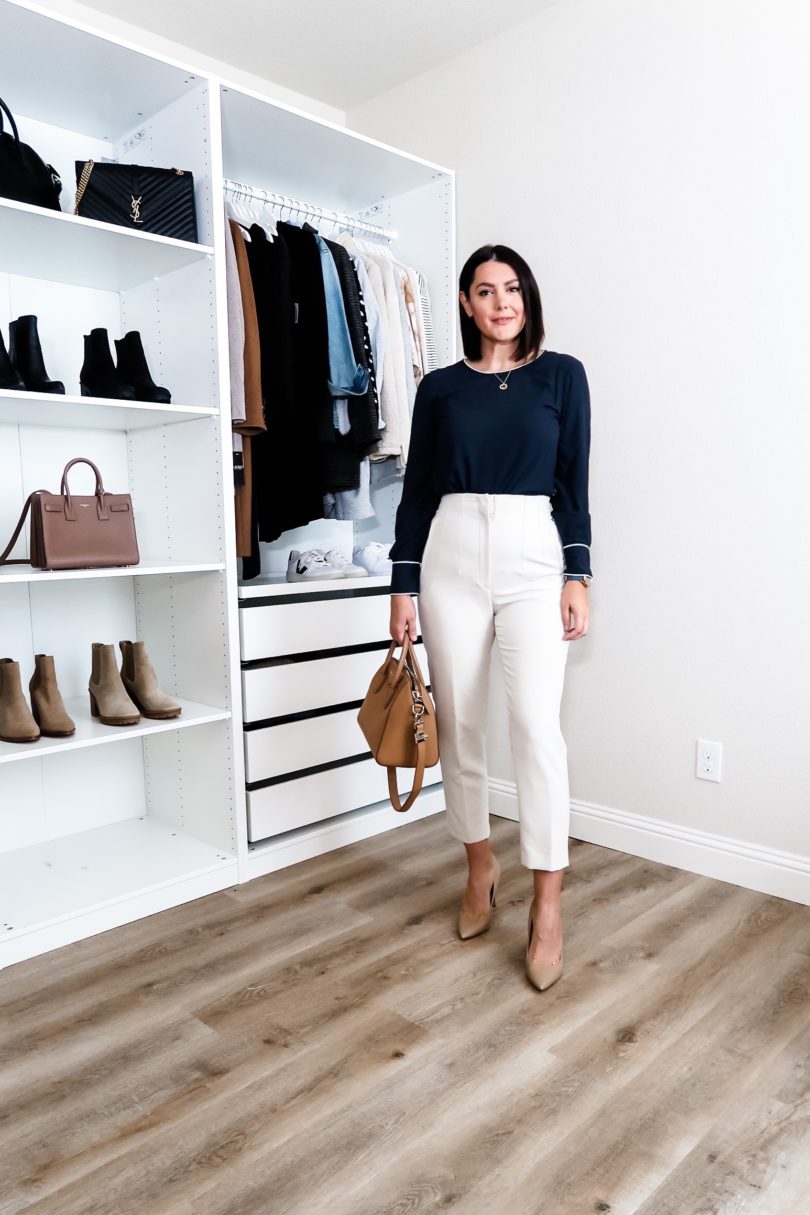 I love this look — isn't it so rich and fancy looking? Is there anything more ritzy than a pair of ivory trousers? These pants just scream 'I have a line for dry cleaning in my budget'. This look can work for fall, winter or spring because these hues are absolutely timeless. Going for a cream trouser gives the light piping details a shoutout and it's just a really clever look.
These are old Zara pants, but I've found a really close similar here!

8 / Leggings and Cardigan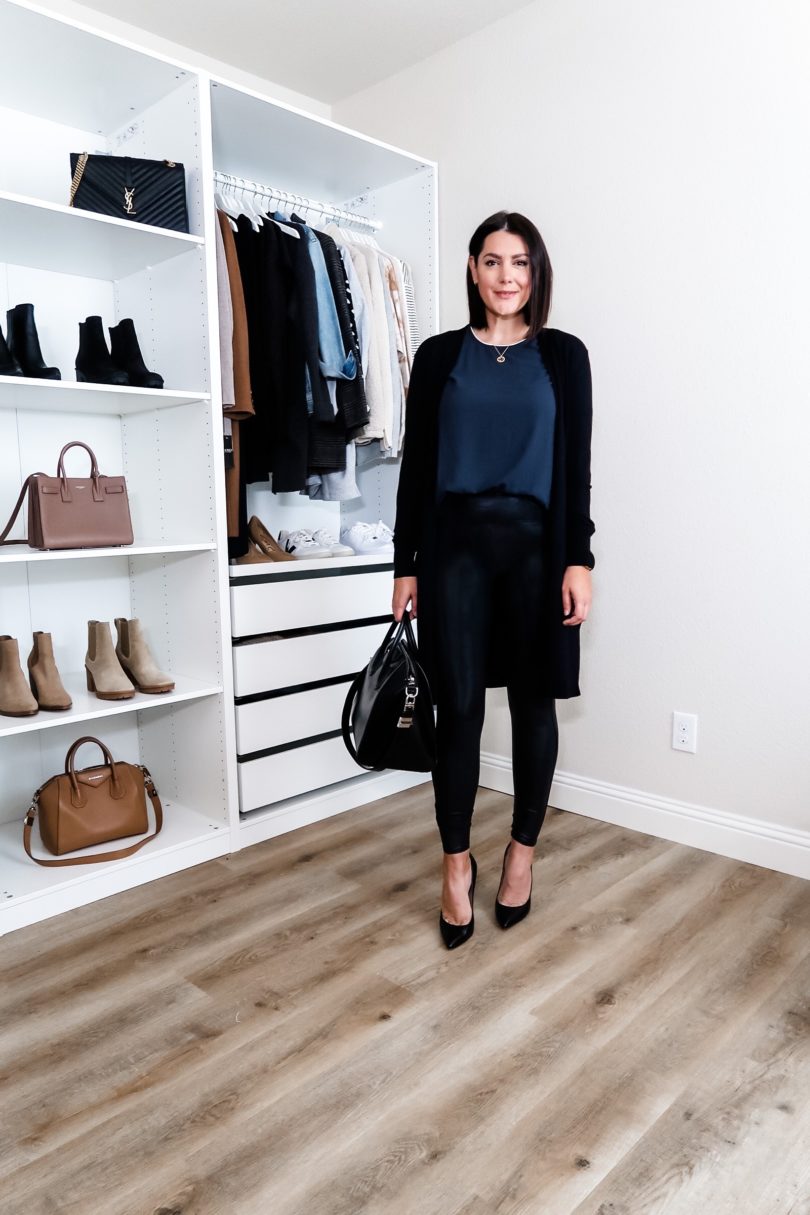 This look is the Spanx leggings again but you can easily swap them out for Ponte leggings, instead. I tossed this cardigan on over this top because they are both lightweight layers so they work really well together. This cardigan has a slinky feel but more tailored fit, which is what I would suggest staying with for a look like this. You want a tailored cardigan over a chunky or oversized look just so you can keep the classic style.
So…which look was your favorite? I'd love to know!
________________
Pin this to save for later!