I really shouldn't be surprised when it gets hot here in Texas but I'm always caught off guard. But this year I was determined to be ready with shorts for summer. I found three pairs that I love and thought I'd share them with you! If you like this type of post and are wondering about some other types of denim shorts (length wise / fit wise) let me know! I'm happy to try on a few others for you guys too! These are just a few that are my favorite and I thought I'd share!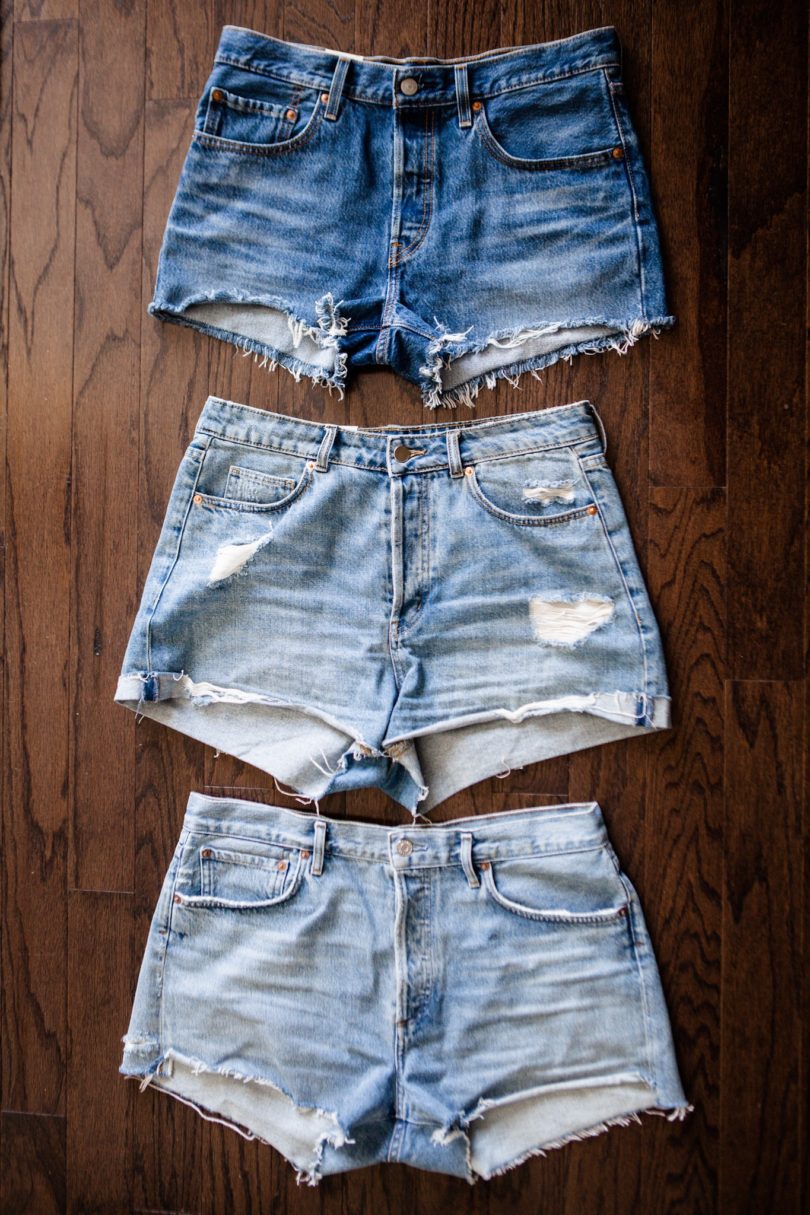 The Ultimate: Agolde Parker Vintage Shorts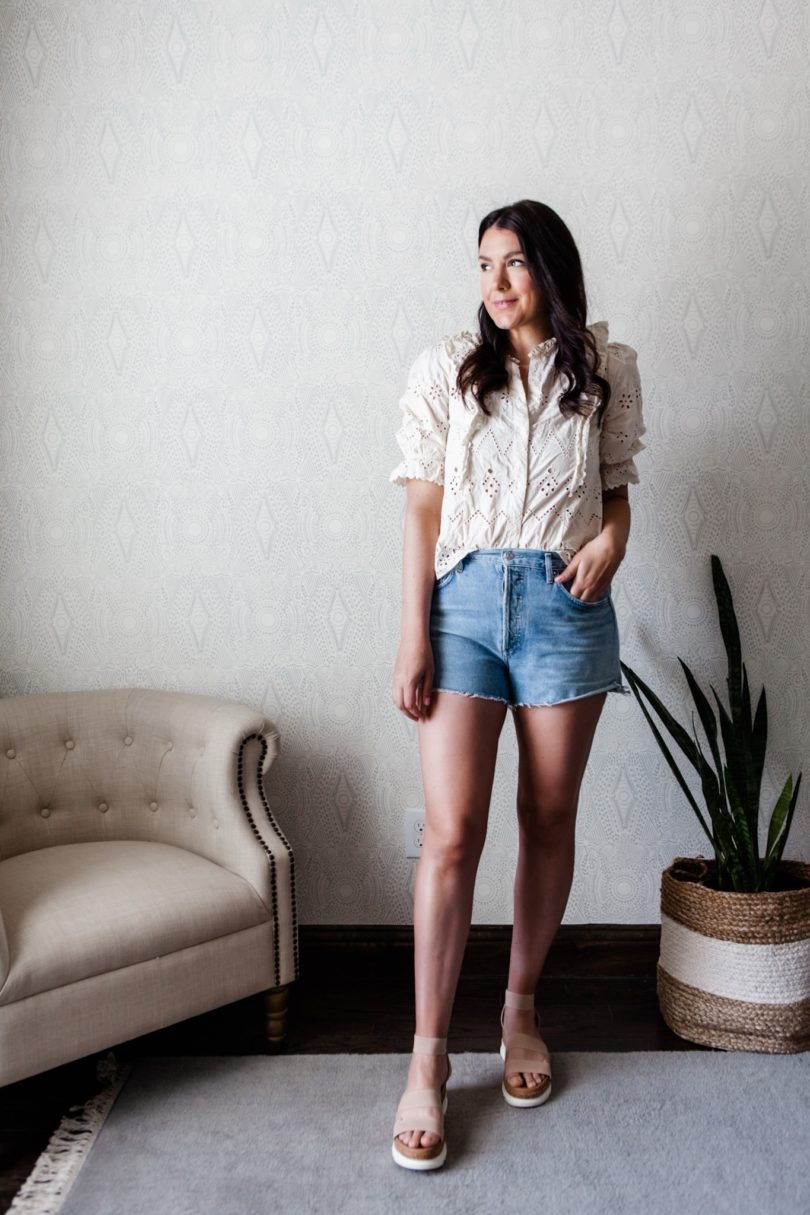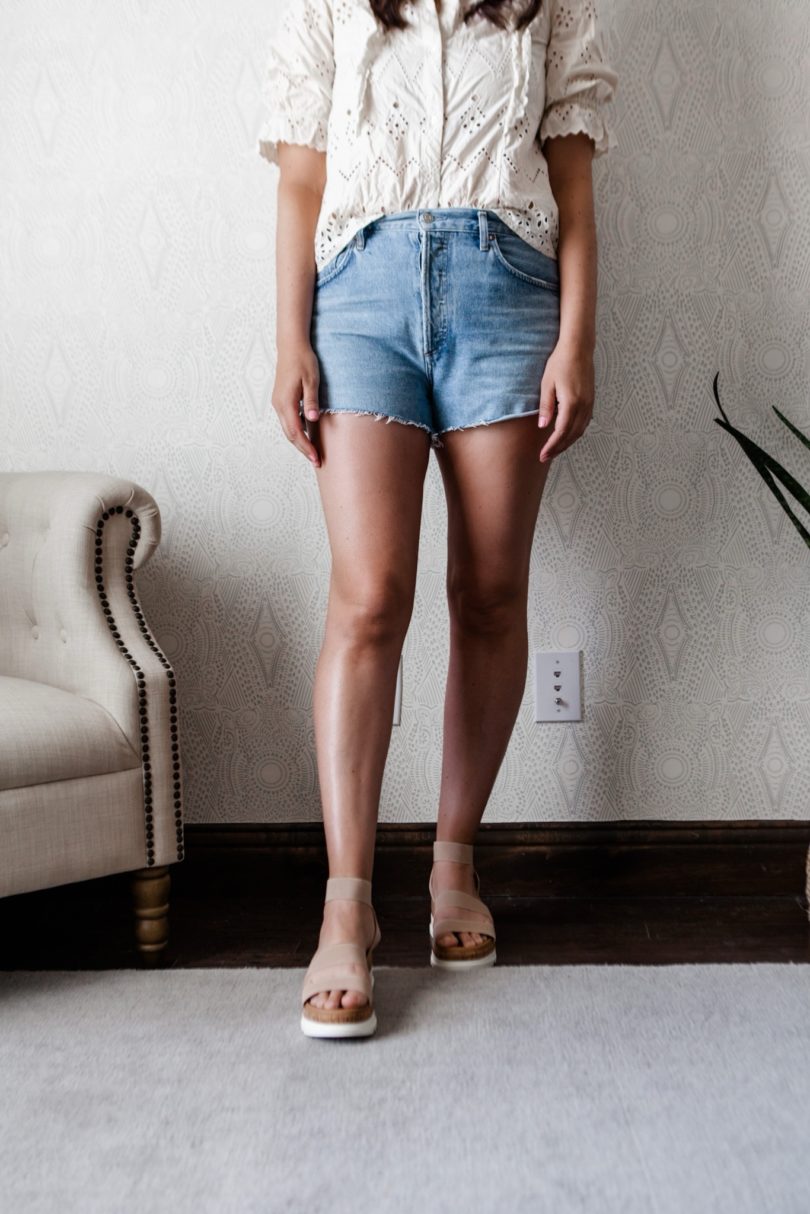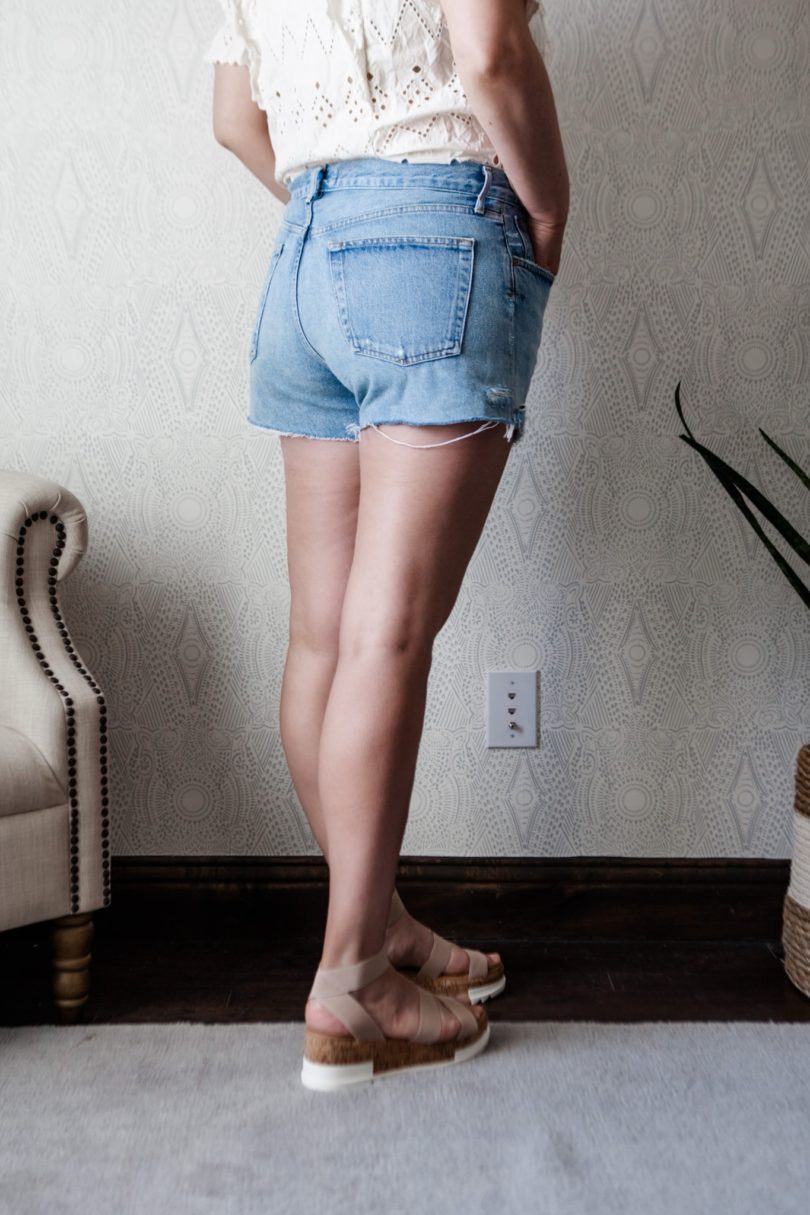 I've been drooling over these babies since last summer to be honest. But my shorts were fine last summer and I always talked myself out of it. Not this year, no ma'am. I took the plunge and they are my summer shorts. Do you do that? Like have an unofficial piece of clothing that you wear and wear and wear all season long? Well I'm calling it now — these are my summer shorts. They are a perfect fit, not too tight or short and I love the lighter color.
Fit: I am in the 30. I am typically a 29 in Agolde denim but since these were 100% cotton I didn't want to risk these not fitting. I am probably a 29.5 in these shorts so I'm very happy with the 30. I would say that they actually fit pretty true to size and that they will stretch with wear. Don't be afraid of the 100% cotton, they stretch and they will 'form' to your body. True to size. If you are in between sizes (like me) size up one. OR if you want them to fit just a bit lower on your hips (like they do here) then size up one.
Quality: High! These are 100% organic cotton and the fit / feel of them are perfect. I can't say enough good things about these pair of shorts. They are worth the investment (but also if you watch, they will go on sale at Anthropologie, Shopbop and Nordstrom from time to time!)
Great Budget Find: H&M Vintage Shorts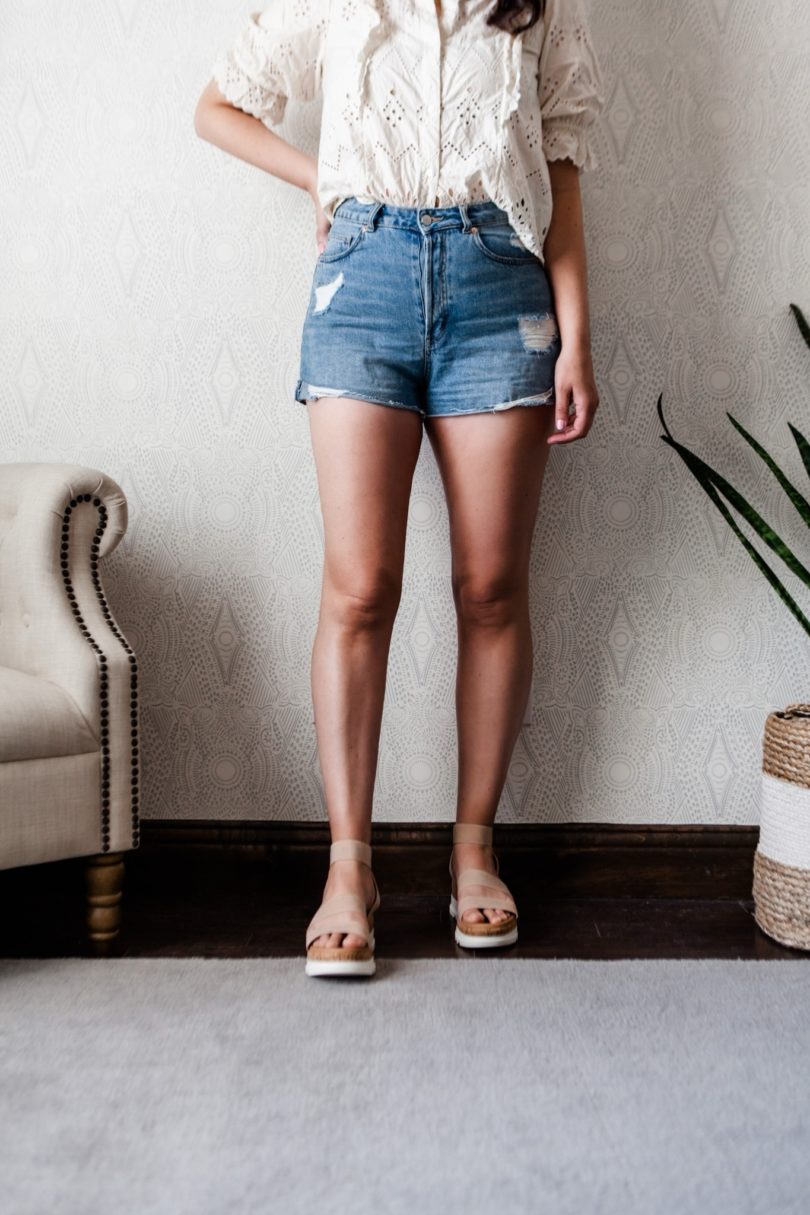 I bought these on a whim back in April when H&M had a 25% off even and got them about a week ago. (AKA super slow shipping) But I really really love them! They are a higher waist fit than the Agolde denim shorts, more of a vintage / mom jeans fit. They fit higher on your waist and more round on your hips. Or at least on my hips 😉 Creating a more 'peach' like bottom than the Agolde or Levi ones below.
Fit: I sized up to the 10 because I just had a hunch. And I was very correct on that hunch. These, as a 10, fit more like an 8 or a 29. The fit is tighter at the waist and a bit more wide at the thighs, but not huge by any means. I have pretty normal legs, I have a more round waist but my hips are pretty average, so I think that if you have a rounder tummy or wider hips size up one. I would say unless you are petite then just size up in general. They fit about a size small.
Quality: Great! 100% cotton and the fit is wonderful. I like the small bit of distressing too. They have a sewed cuff at the hems but it doesn't seem to stay rolled up in the front — maybe that's on me though?
Classic Cut-Offs: Levi's 501 Shorts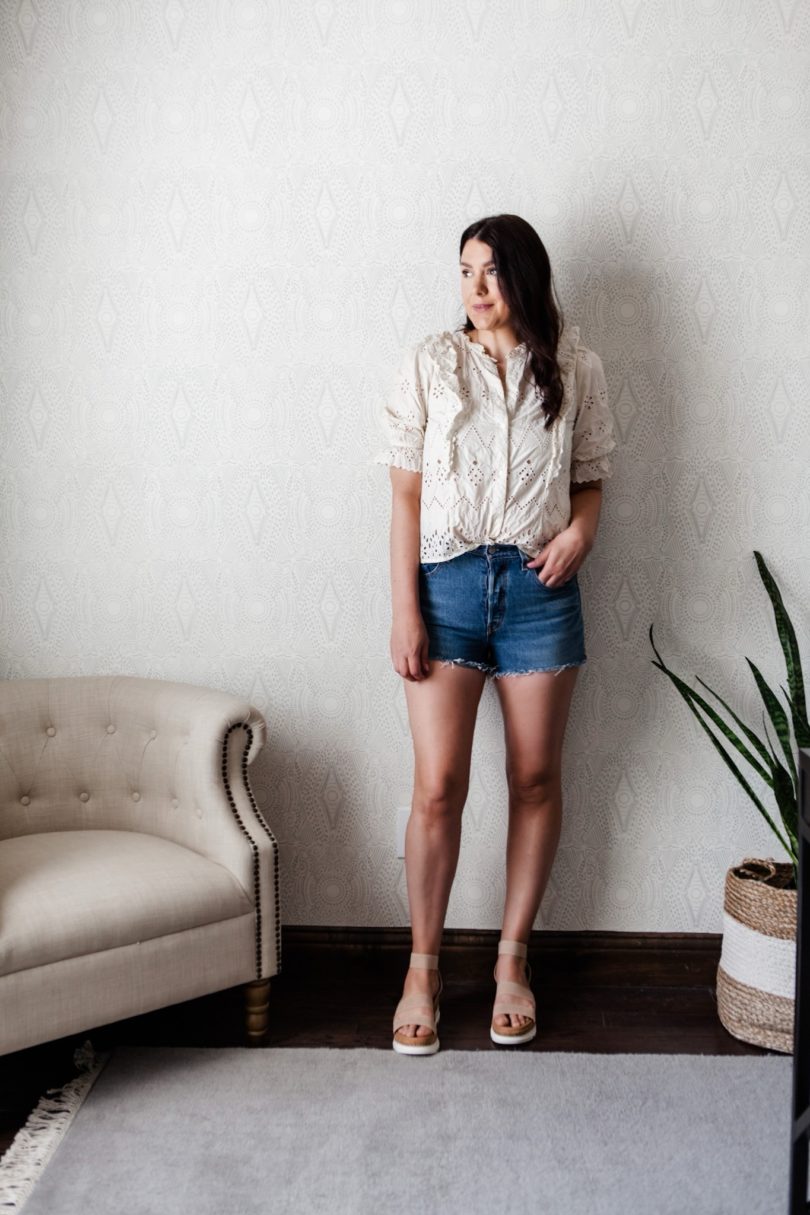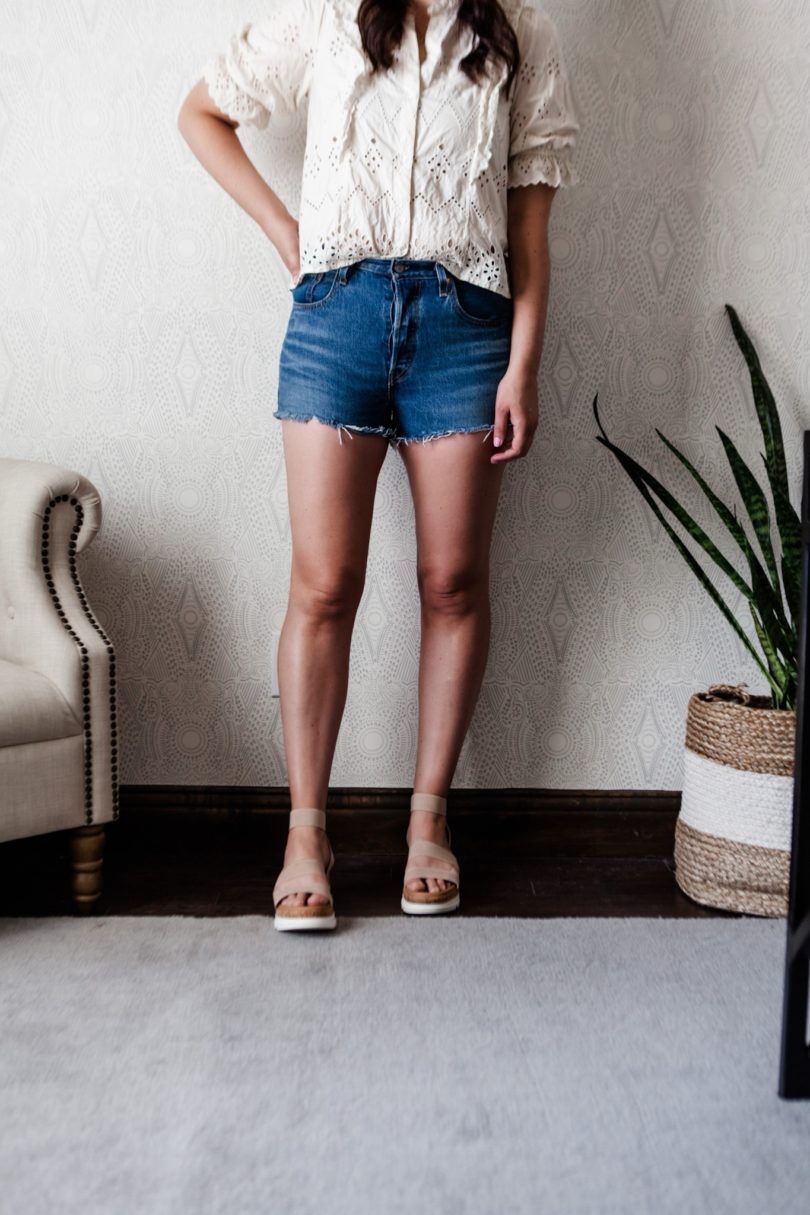 Last on the list but certainly not least — the Levi's 501 shorts. I've been wanting to try these and I deemed this year the year. I am slightly torn on these for a few reasons. But overall I like these and would like the fit if I would have sized up one. (I'll get to that in just a moment!)
Fit: I am in the 30 but honestly need the 31s. These DO fit as in I got them buttoned (LOL) and I didn't have to lay on the ground to do it. Bonus points. But they are very tight. Like you couldn't get anything else in this pair of shorts, not even a blade of grass. The hips, waist are so tight and the thighs are also tight. Only place not tight? The booty. Weird right? It almost flattens it out in a way. I don't think that they look bad by any means but my comfort level is not as high with this pair. I really do feel like I should have sized up two for my maximum comfort level. But overall — Yes they fit at one size up from my typical Levi's size, but Lord it was a prayer and a deep breathe getting them there. So I would say at least one size up, but if you want to pull them down a little two sizes up.
Quality: Great Levi's quality, exactly what you would expect from Levi's AKA they will last and last. I'm hoping they stretch a little with wear but so far no. Great quality for the price.