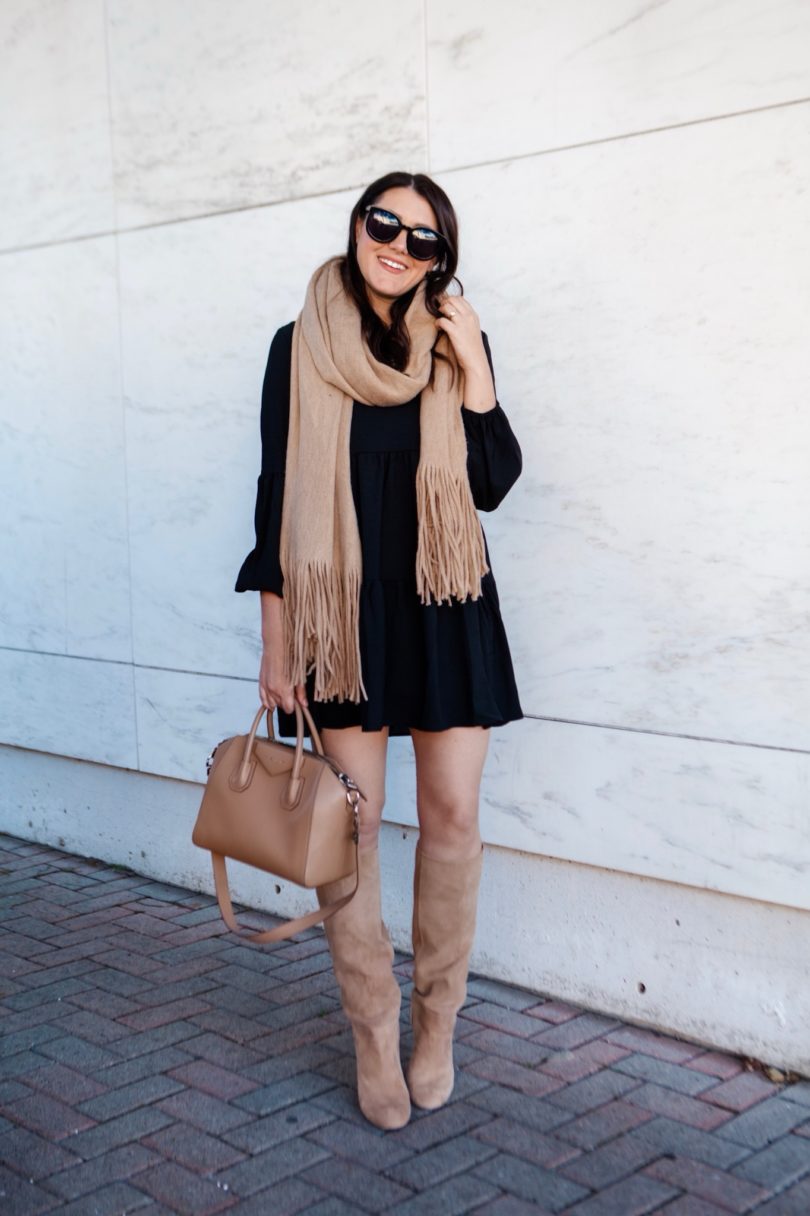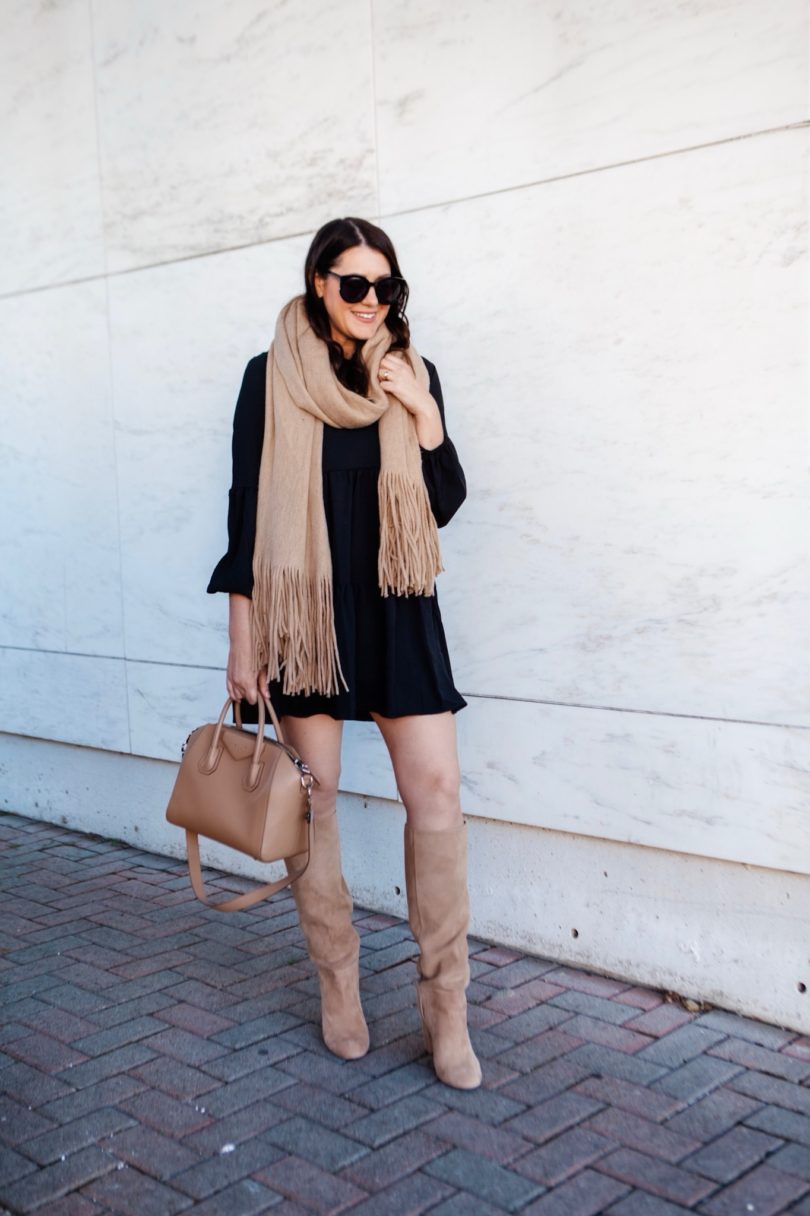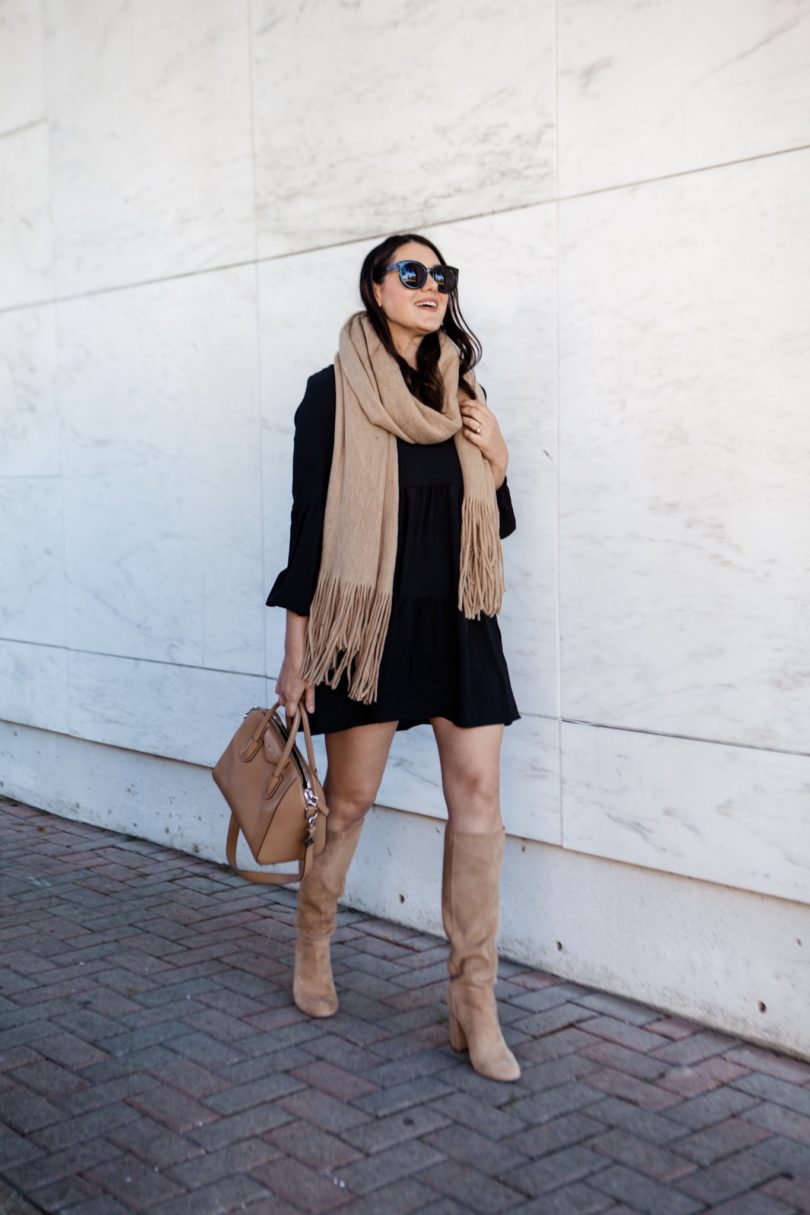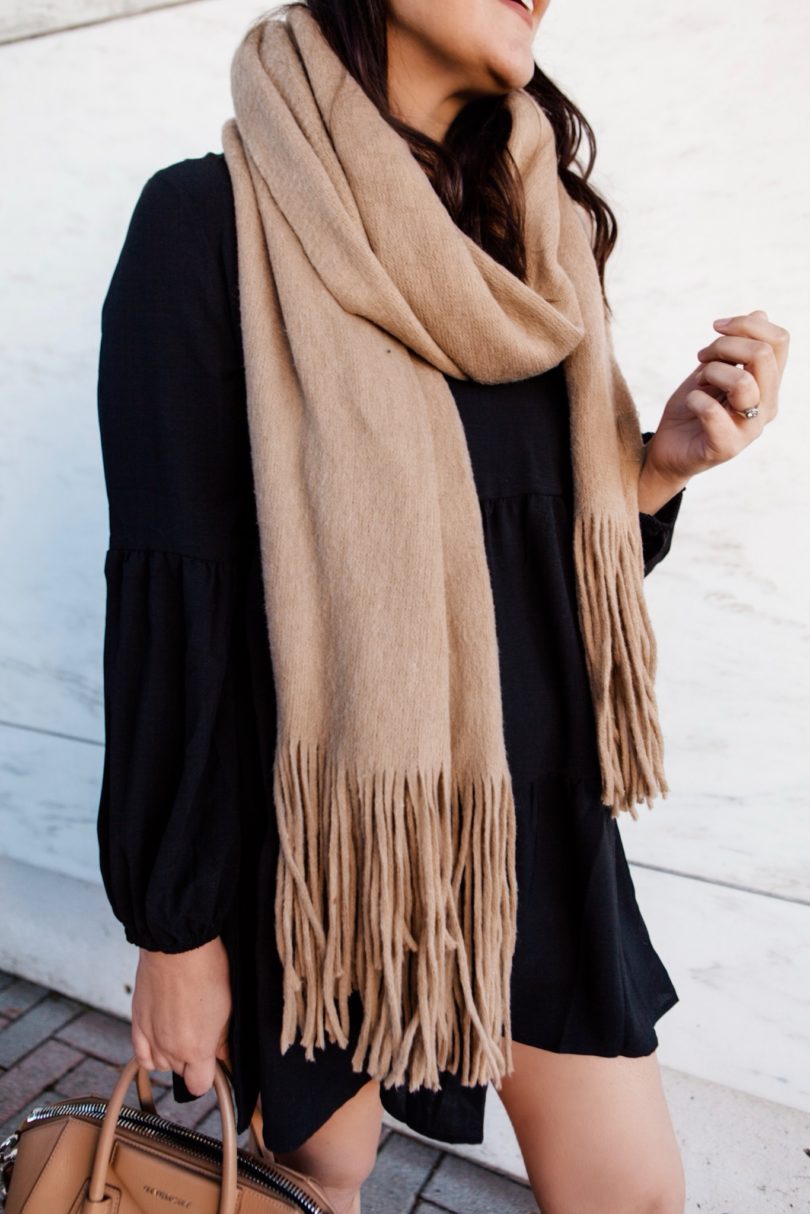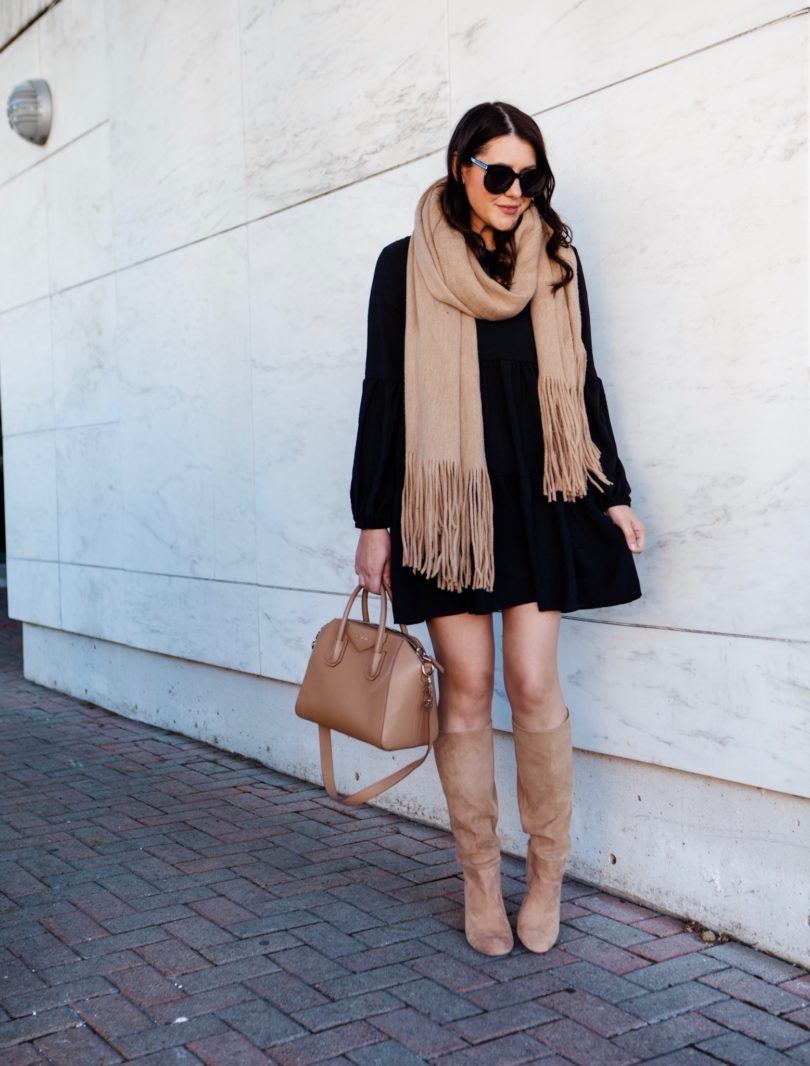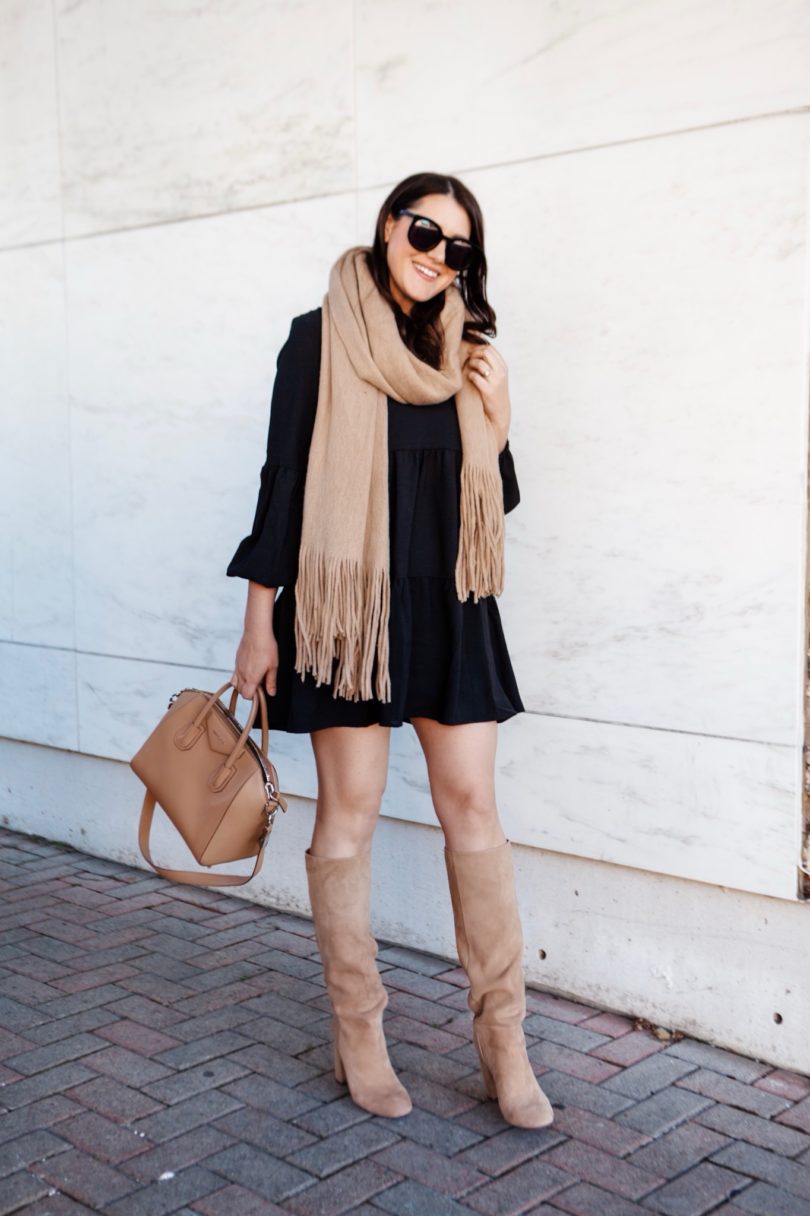 I posted an Amazon Try-On haul on IG stories yesterday (you can sign in to see it here!) and this dress was a favorite from the try-on. At just $25, I was impressed with the fit and quality! I was expecting that shiny poly fabric, but this is a thicker structured feel. (It is still Polyester, it's just a thicker feel, almost cotton like if that makes sense.) I, of course, chose the black because I try to go safe when I don't know what the fit / fabric will be like. But this dress comes in so many other hues, so if you aren't an all black dress fan, there are plenty of options!
(If you saw my stories and want full links to what I tried on, I compiled them all into a page here — trying to make it easy for you!)
When we had that cold snap last weekend, I wanted to wear this dress and my first thought was 'giant scarf'. I tossed it on then off then on again. I couldn't decide if it added to the dress or took away, but overall I think I like the feel of this look. Plus it was chilly and I definitely needed light layer. I love this time of year when you don't quite need a coat. It's my favorite because your fall outfits can shine without being hidden under a coat. We've got what a month and a half of this weather? You better believe I'm going to use it to my advantage and let these lighter layers shine. (PS: this is an old free people scarf but I've found similar in the links to your right!)
Okay so had lots of questions about this Sam Edelman Hai boots! I actually bought them last year but was so so so excited when I saw they were still in stock — and back with more options like snakeskin — this year! I had some questions about the calf opening — for me it fits about like a Hunter Boot opening, maybe a bit wider because the suede is more flexible. I have about an inch or so of an opening left, so I definitely think it could fit most calves, not just super tiny ones like some boots. You can also scrunch these boots down for a more casual feel too! My only issue is that they are a bit hard to get on and off if you war cotton socks (like athletic socks lol) so a trouser sock that is a bit more slick will help you out there. A willing toddler can also help you out of a boot, too.
You can find these boots here!