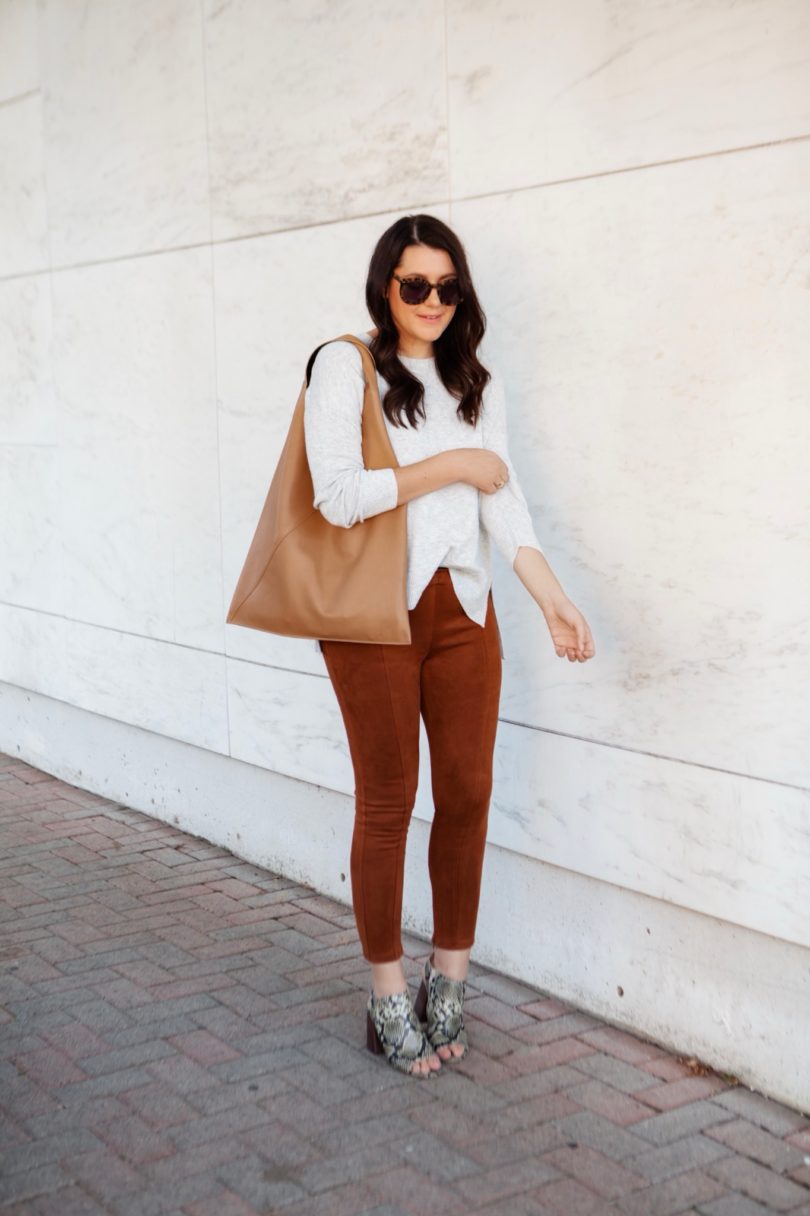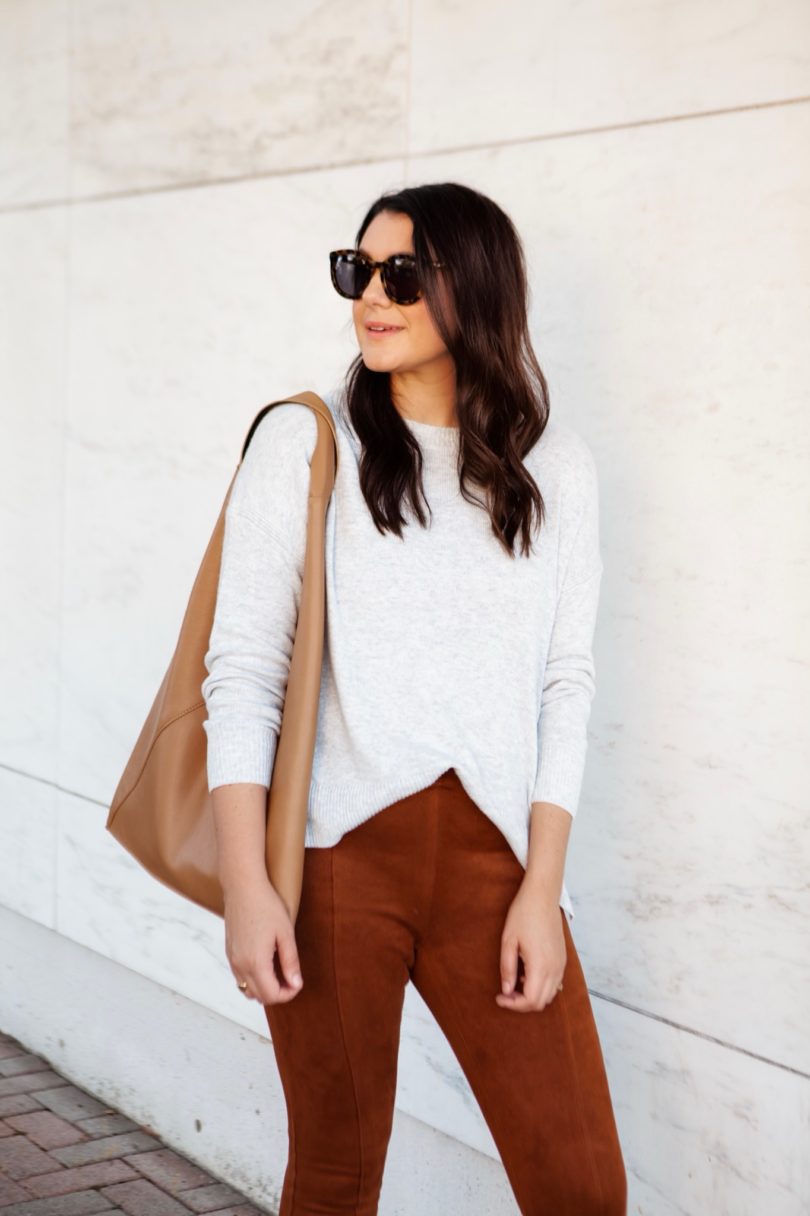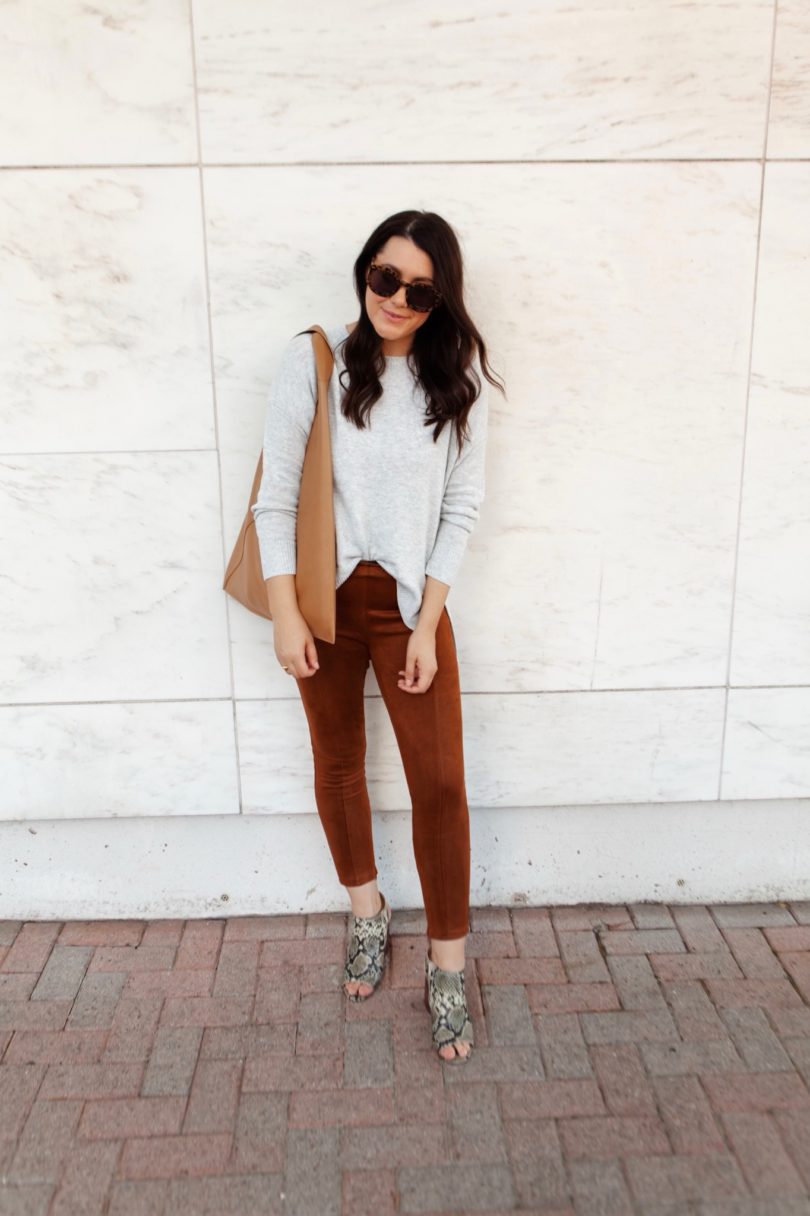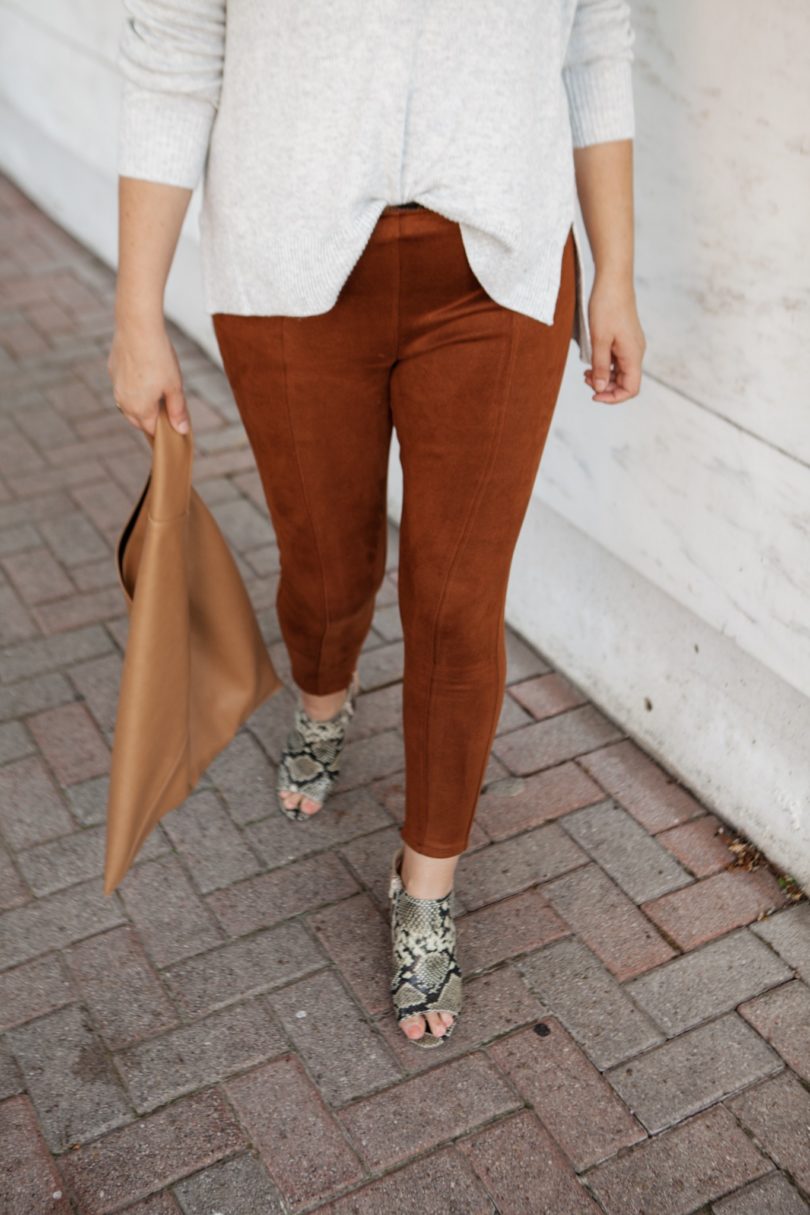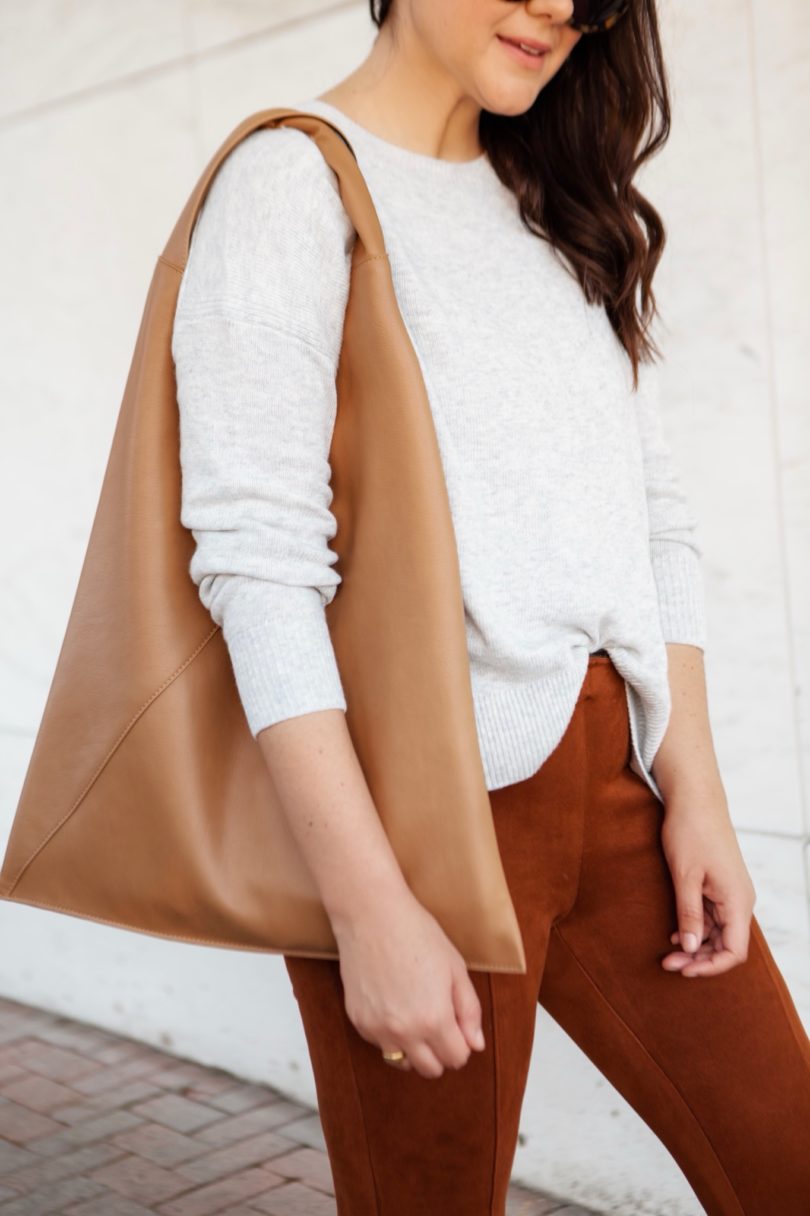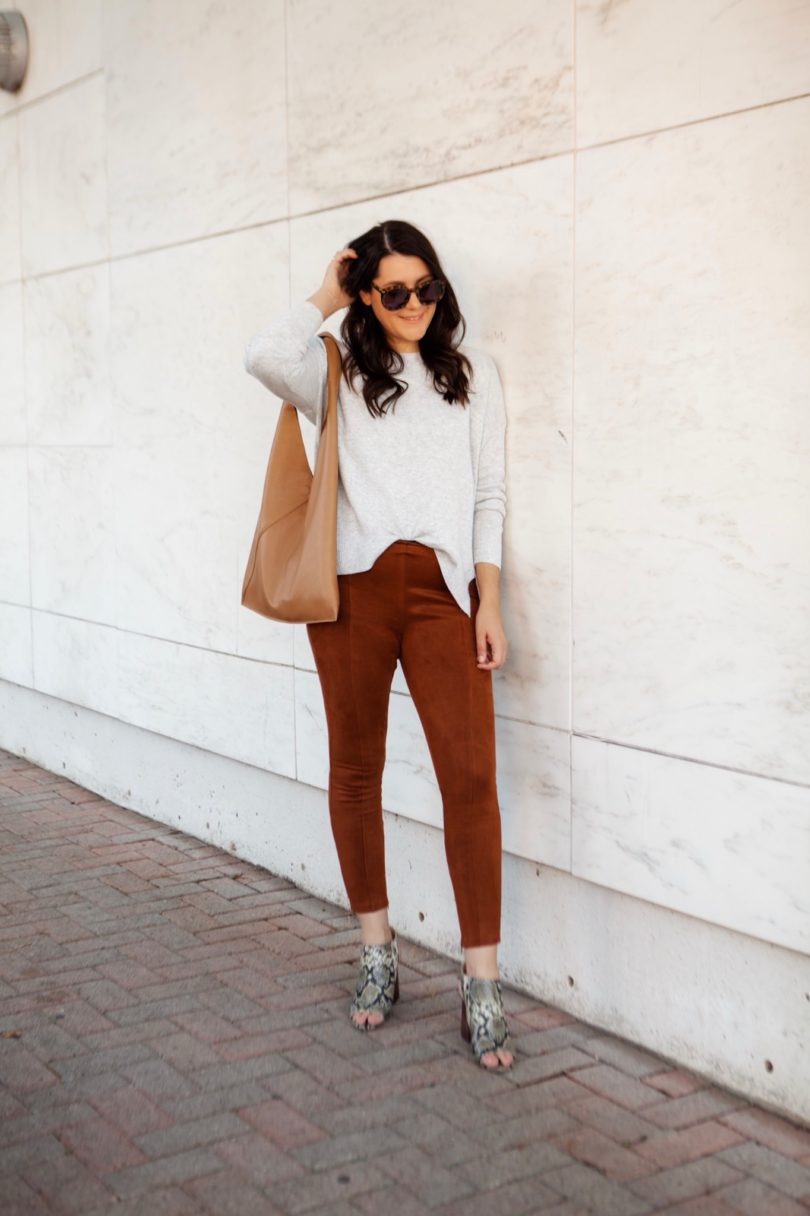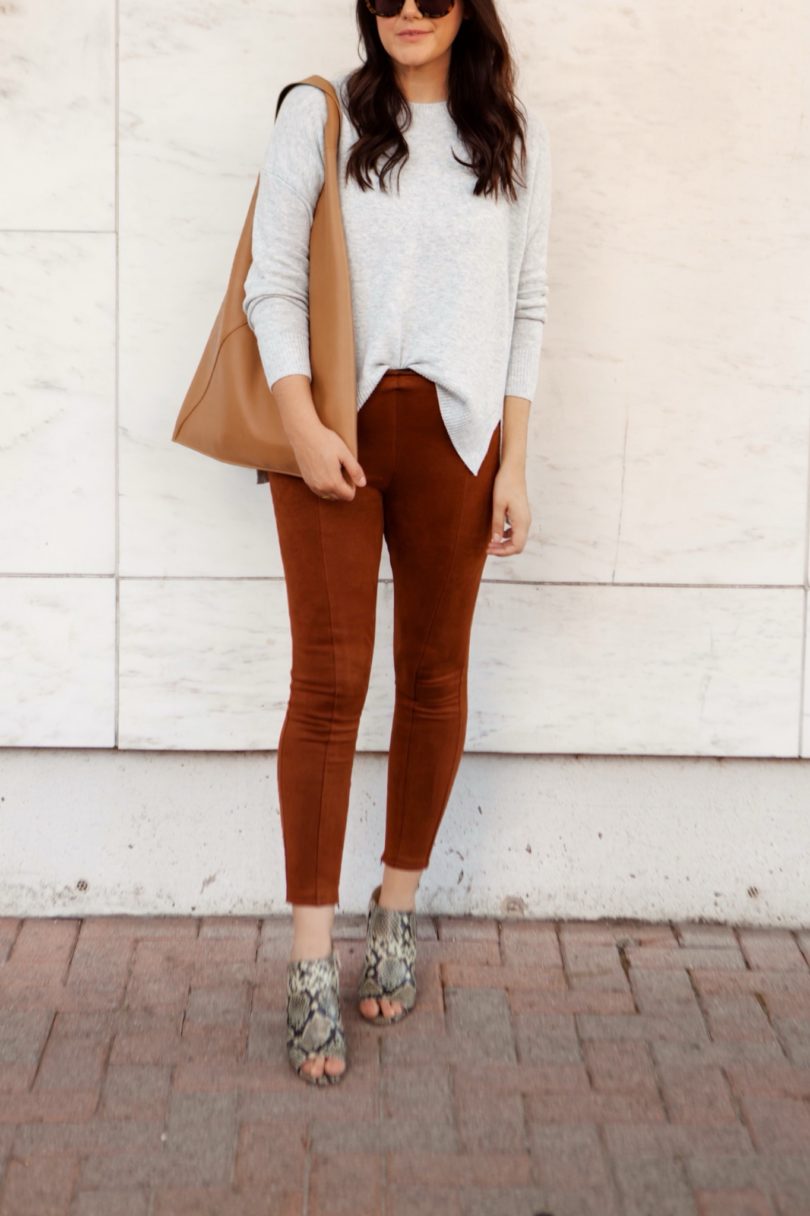 Where you at, Autumn? I got an outfit for you.
Well it happened. I bought my first sweater and didn't regret it. I did get some weird looks yesterday evening at Target because I was wearing this for a milk run (#fabulous) and everyone else was in their Sunday scrubs. I don't say that to judge — only moments prior to these photos was I too in my Sunday scrubs which consisted of an oversized pair of shorts and a misshaped tee that is so soft I just can't get rid of it. I actually have a HUGE blog post tomorrow that includes this sweater but I needed to wear it with this purse and these pants on the blog first. And yes, the word 'NEED' is absolutely necessary in that sentence. Don't you know? There is absolutely ZERO elaboration on this blog. Serious at all times.
I picked up this purse (on accident — I mean I paid for it but you know I wasn't going into Nordstrom to buy anything. That's what we all say.) and I've already gotten so many compliments on it. Mainly from my mother and my aunts, but I know a good bag when I see one. I've got a full review (haven't done that on here yet!) coming Wednesday. But it's a great faux leather tote, if you're looking to switch up your bag game this fall.
Let's talk about these leggings: Again I had no plans of buying anything in Anthropologie. You see, I needed to pick some things up at the mall last Friday night and Bryan was at the gym so me and Gemma just made a girl's night of it. We got smoothies, we ran around the outside play area at Northpark, we almost gave an employee a heart attack when we were smelling candles in Anthropologie (I hold the lid for her to smell, them she loves it. To be fair to the employee on watch, I would be annoyed at a toddler so close to candles, but Gems knows to smell and not touch. Anthropologie etiquette as been taught in this household. ) And there — just over past the candles — were these suede leggings. Like a moth to a flame, I'm drawn to anything this color of cognac. I was so glad I picked them up because they work so so well with this new bag and this sweater. I can see me wearing these leggings all fall long. In fact, I'm calling it — these are my Thanksgiving pants. Some people menu plan, I elastic waist pants plan.
The fit is good on this pair of leggings, true to size but the waist is lower rise. I would say they hit about 2 inches above my hips. I'm SO used to high rise that this took me off guard at first and I thought oh I don't like these. But after wearing them around, I realized it's just that I'm not used to a lower waist any more. I will say — I may return these for the Tall size online. I saw this as I was linking and may do that. So if you see these leggings on here or IG again and think HEY those used to be shorter, you're right. Or if they are the same same it's because I got lazy and kept the short ones. I am 5'9" for reference. If you are 5'8" or above I would suggest going with the tall option just for length. Size is TTS for everything else.