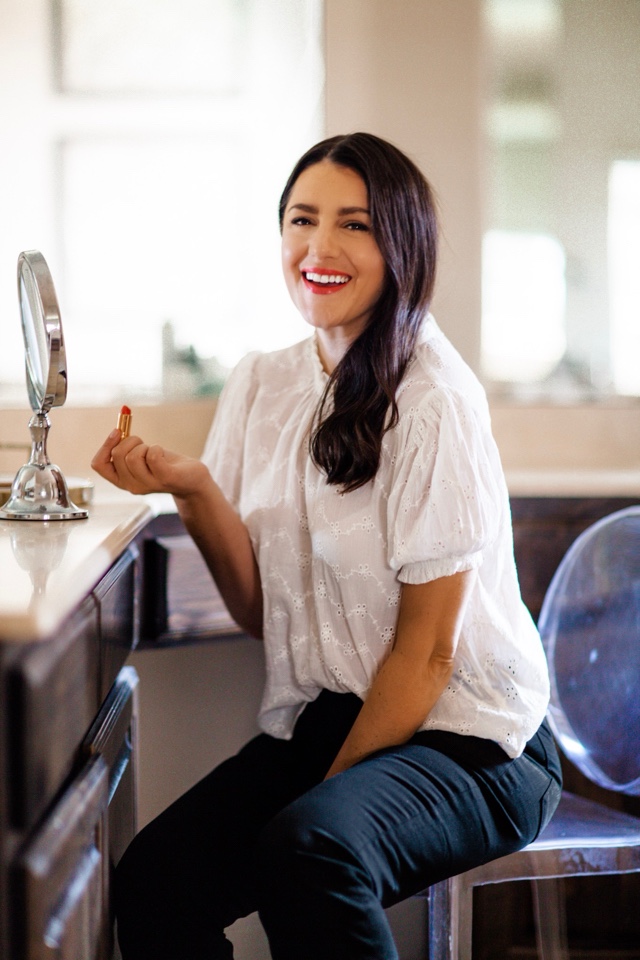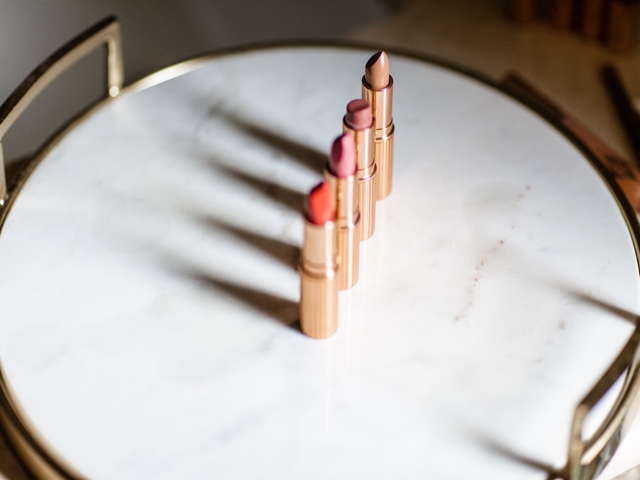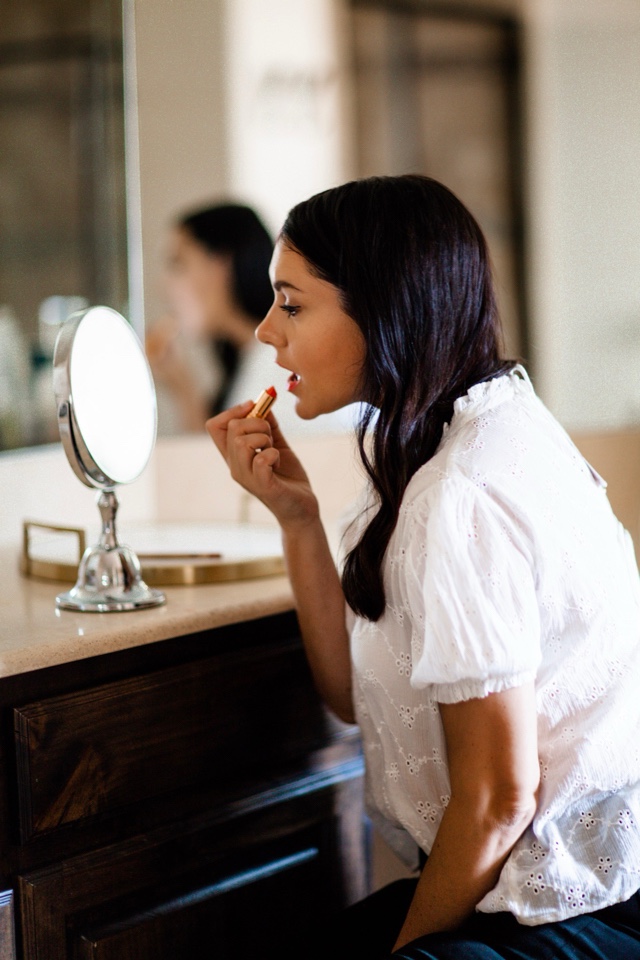 Okay so let me preface this with saying I am true loyalist with brands when it comes to my beauty routine. If I find a product I like, I stick with that product for YEARS. I like what I like and I'm not too adventurous when it comes to spending money on just trying things out. This is shopping at the beauty counter in your 30s by the way. In my 20s I basically closed my eyes and picked something and bought it. If it didn't work, oh well! I'd just toss it to the no pile and find something else to try. But now my purchases are researched, thought-out and well loved.
On the other hand, I can get stuck in a rut with my makeup. I love the simplicity of my routine these days because I've got it down pat, but this year especially I was just feeling kind of boring. I immediately realized that what was missing was my variety in lipsticks. I got to think about it and realized I've been using the same lip color every single day for 3 years. THREE YEARS, you guys. That's a commitment! So what is this daily hue? The cult favorite — Charlotte Tilbury Matte Revolution Lipstick in Pillow Talk. It's the prettiest mauve / dark rose color that goes with everything. And it's a lip color that you put on that doesn't feel like your lipstick is entering the room before you do. You know what I mean? I  feel like it's such a natural shade for me, I just feel complete in my look.
my everyday makeup

Here is my most beloved lip color. I bought this guy in January.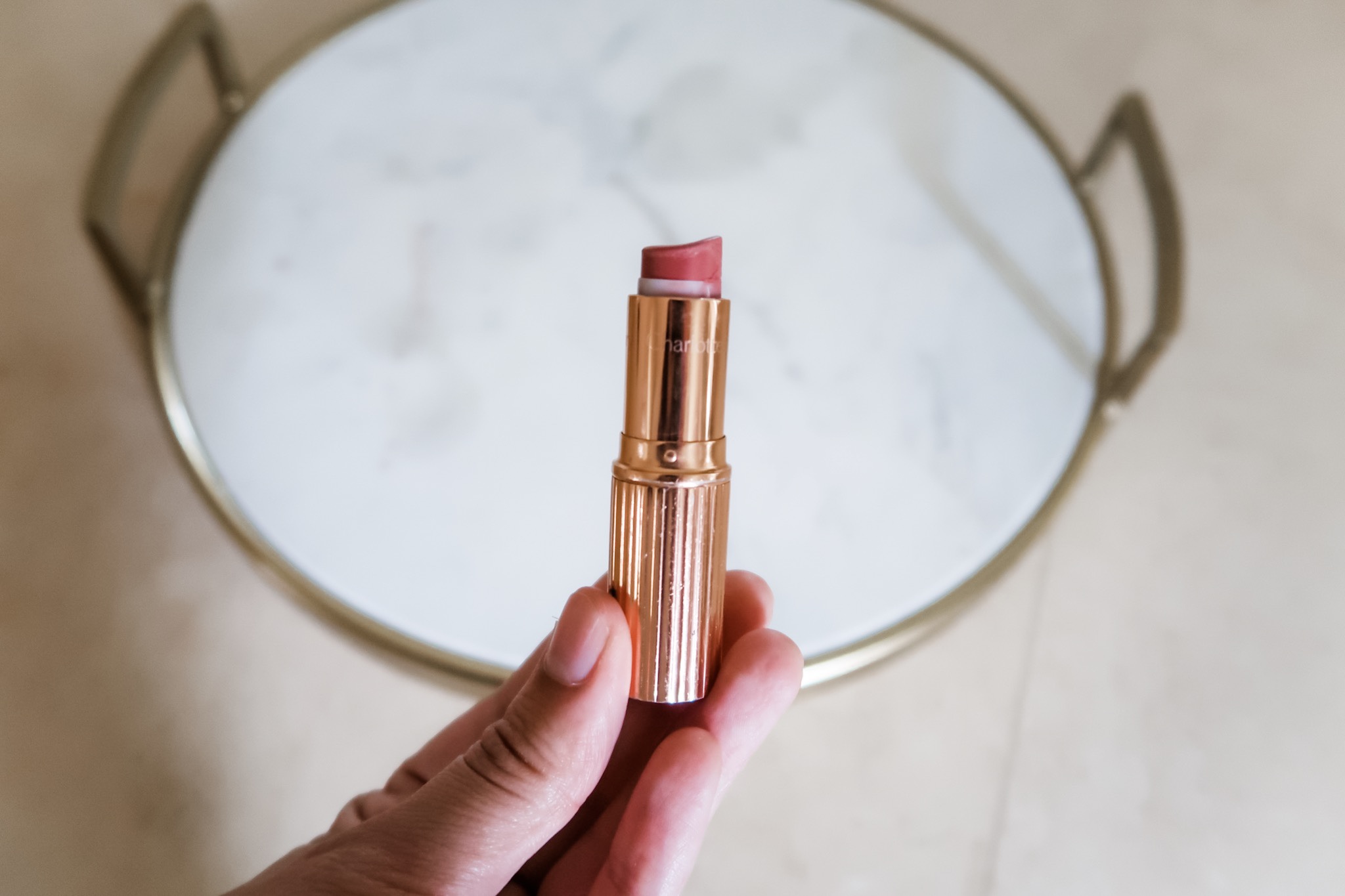 It's obviously very well loved! But I think that it's high time I mix up my lip routine, so I decided to stick with my favorite brand for lipsticks, Charlotte Tilbury, and I went on a little color journey. I went to the Nordstrom beauty counter and asked for the best matches and ended up finding 4 lipsticks that I truly love and can be worn year round. (Side note: I'm always SO intimidated by the beauty section but I shouldn't have been! The makeup artists I worked with were so nice!) I found a nude, a bright pink, my favorite mauve, and a bold red. Let's get to the lipsticks!
(I also picked up a few extras for my lip kit: a universal lip liner (in Pillow Talk), a lip plumping gloss (Collagen Lip Bath gloss), and the loved by everyone Kiehls Lip Balm #1)  See my kit below!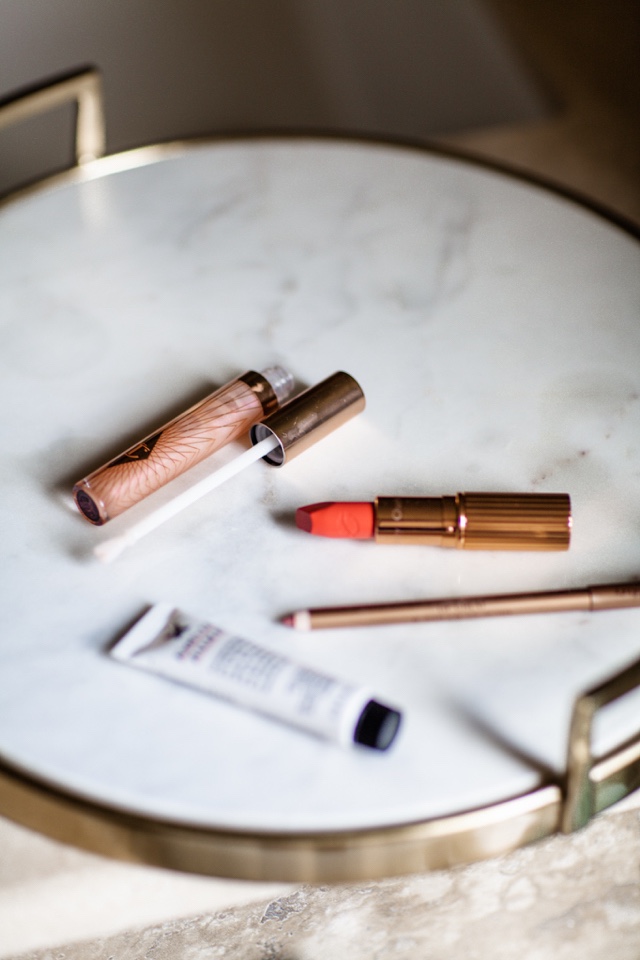 Here are the four lipsticks I ended up loving the most! (Sorry for the almost used up tube of Pillow Talk — I told you she is a favorite! But if you're a perfectionist, I apologize in advance if this collage *triggers* you.)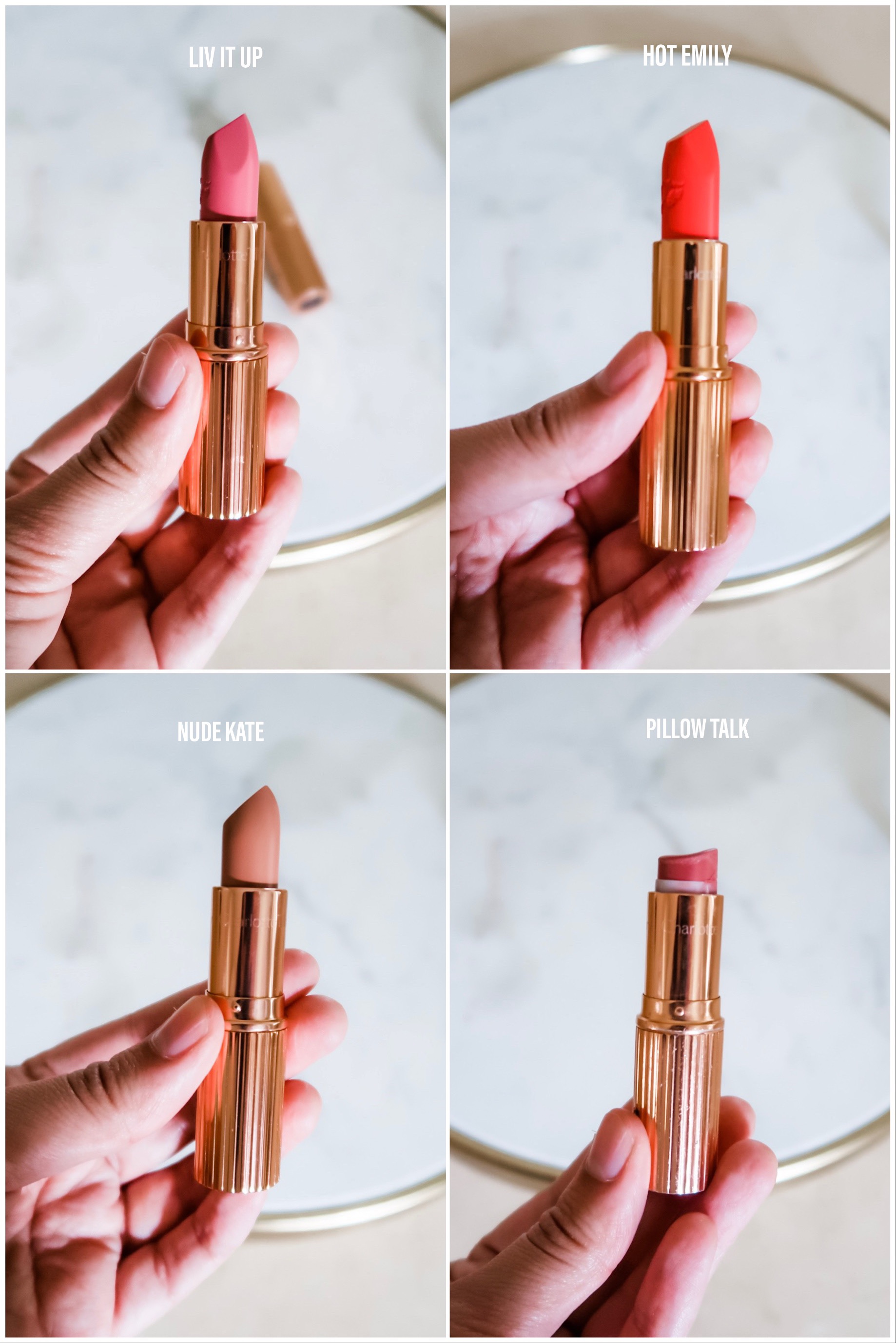 Surprising Fave: Nude Kate
Let's start with the nude lipstick — 'Nude Kate.' Nude is a hard shade for me with my coloring as I usually just end up looking like I need to drink some water and get some sun. But as I soon discovered the right shade of nude paired with smooth, hydrated lips and a little bit of gloss help a nude lipstick so much! Hydrated and exfoliated lips create a smooth base for the lipstick that will show everything and the gloss helps give a bit of dimension and shine to your lips! This lipstick is a bit shiny on it's own as well, so you don't have to add a gloss but I loved the look with the gloss. See my looks below!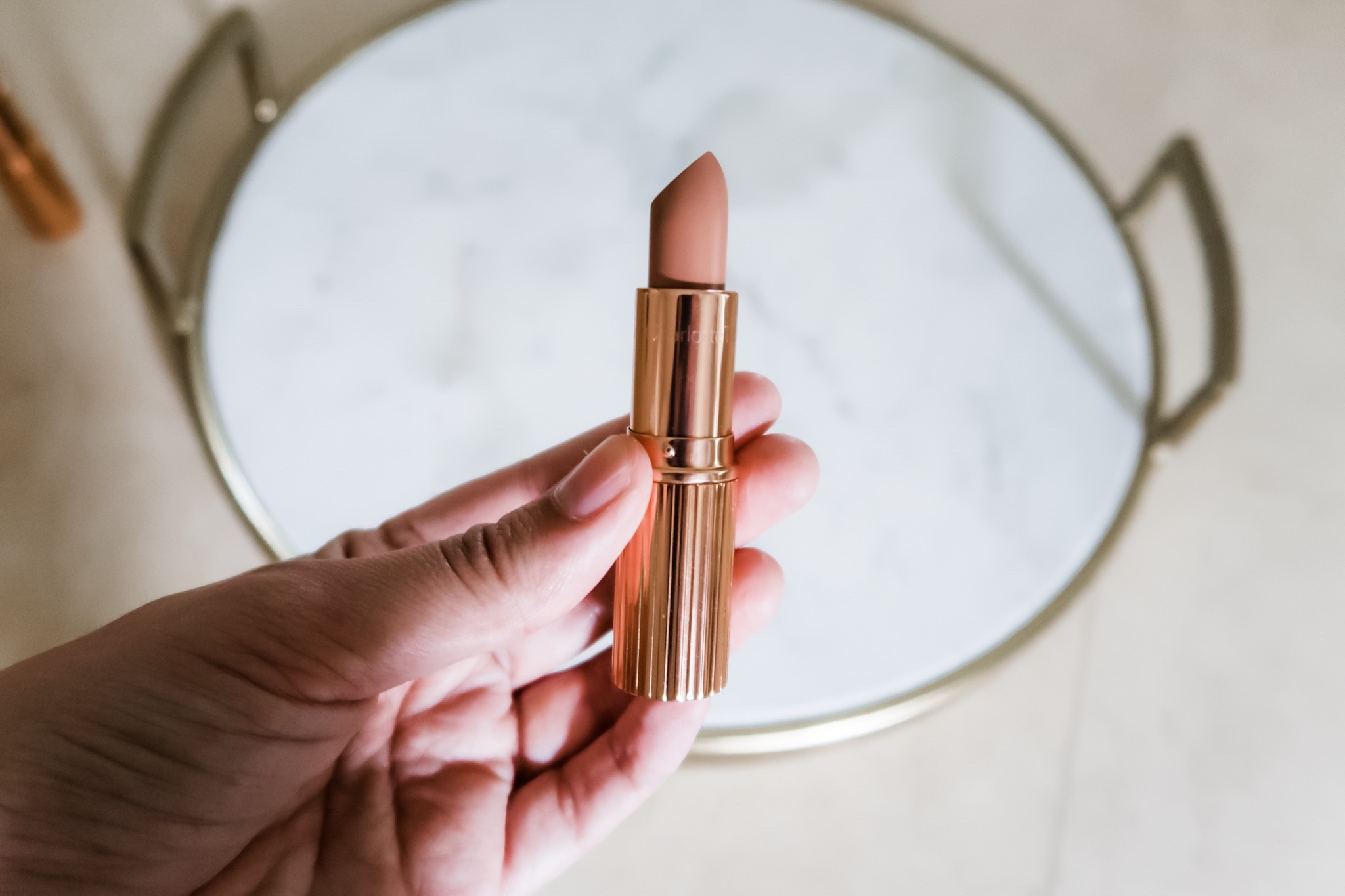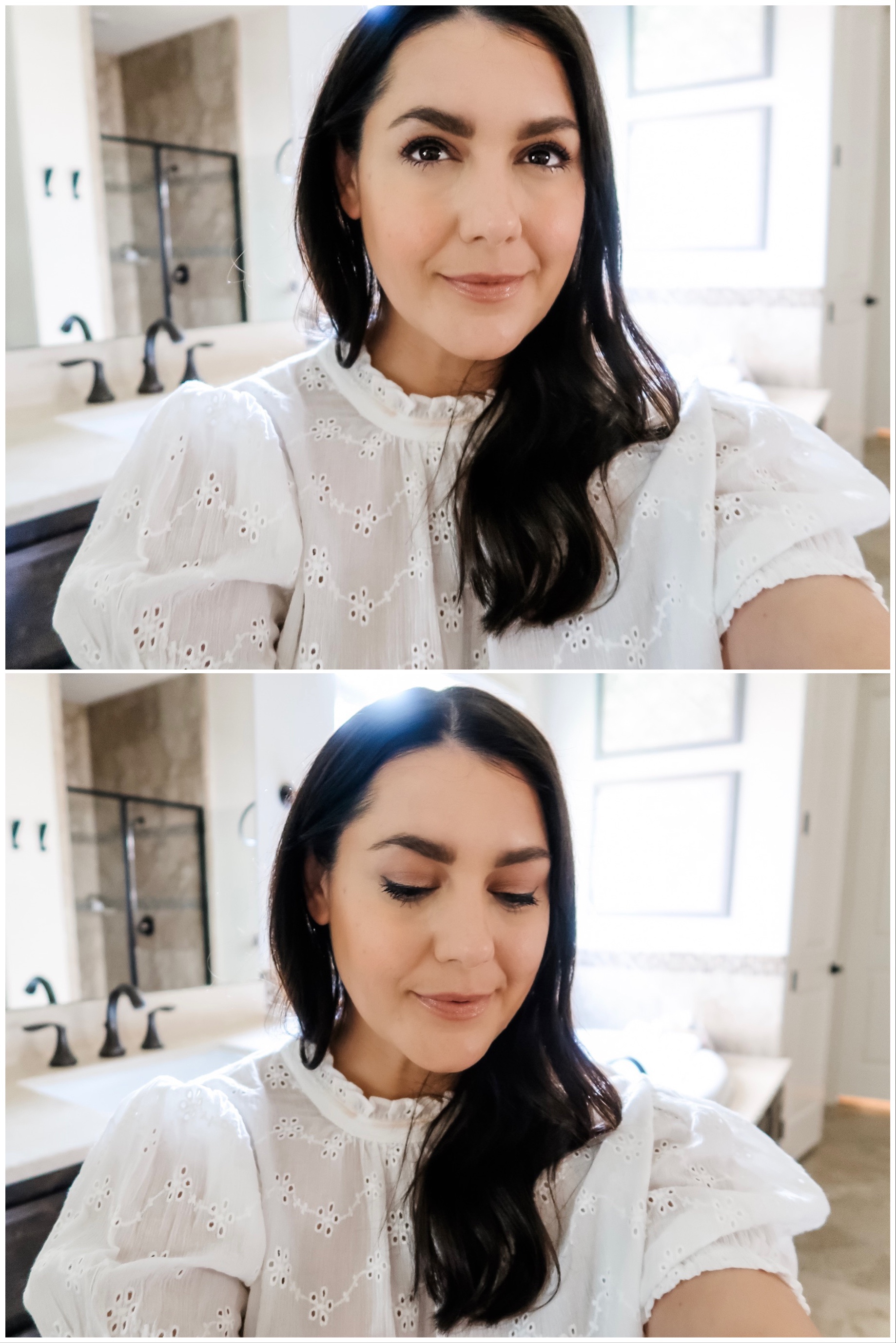 This nude is almost just a bit darker than other nude lips I've tried out, so I think it really works for me and my skin tone. It gives my lips a base color (paired with the lip liner too) instead of just kind of muting out my lips in general, which is what I've always felt happened with a nude lip. I've always been so envious of people who can wear a nude lip and now I think I'm one of them! Dreams do come true. Find this lipstick in Nude Kate here.
 Perfect Pink: Liv It Up
Okay next I knew I wanted a pink but not an obnoxious pink OR one that just ends up looking like frosting on my lips. (Is it just me or does pink lipstick sometimes get chalky looking? Just me? Cool.) I'm obviously very particular so you can see why I've stuck with ONE lipstick for 3 years. But then I found this pink lip. Liv It Up was the shade that best matched my skin tone and my everyday makeup and I love it. It's not too thick in color and slides on perfectly. You can layer it so it's more vivid or you can do one swipe, add some balm over it and have a light look that's perfect for everyday. (I also used the 'Pillow talk' lip liner in the post below!) Let's just say Elle Woods would be proud of this hue.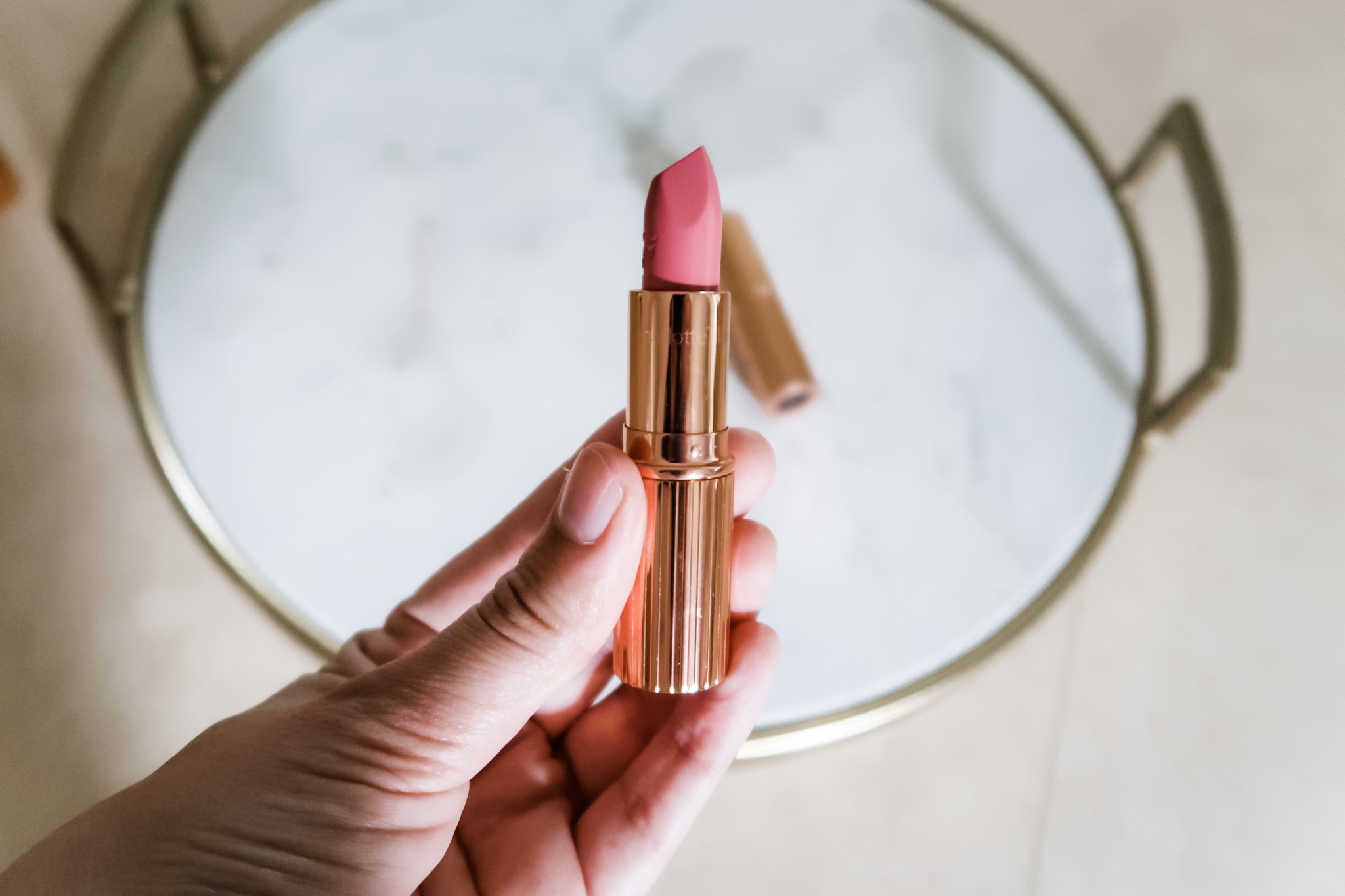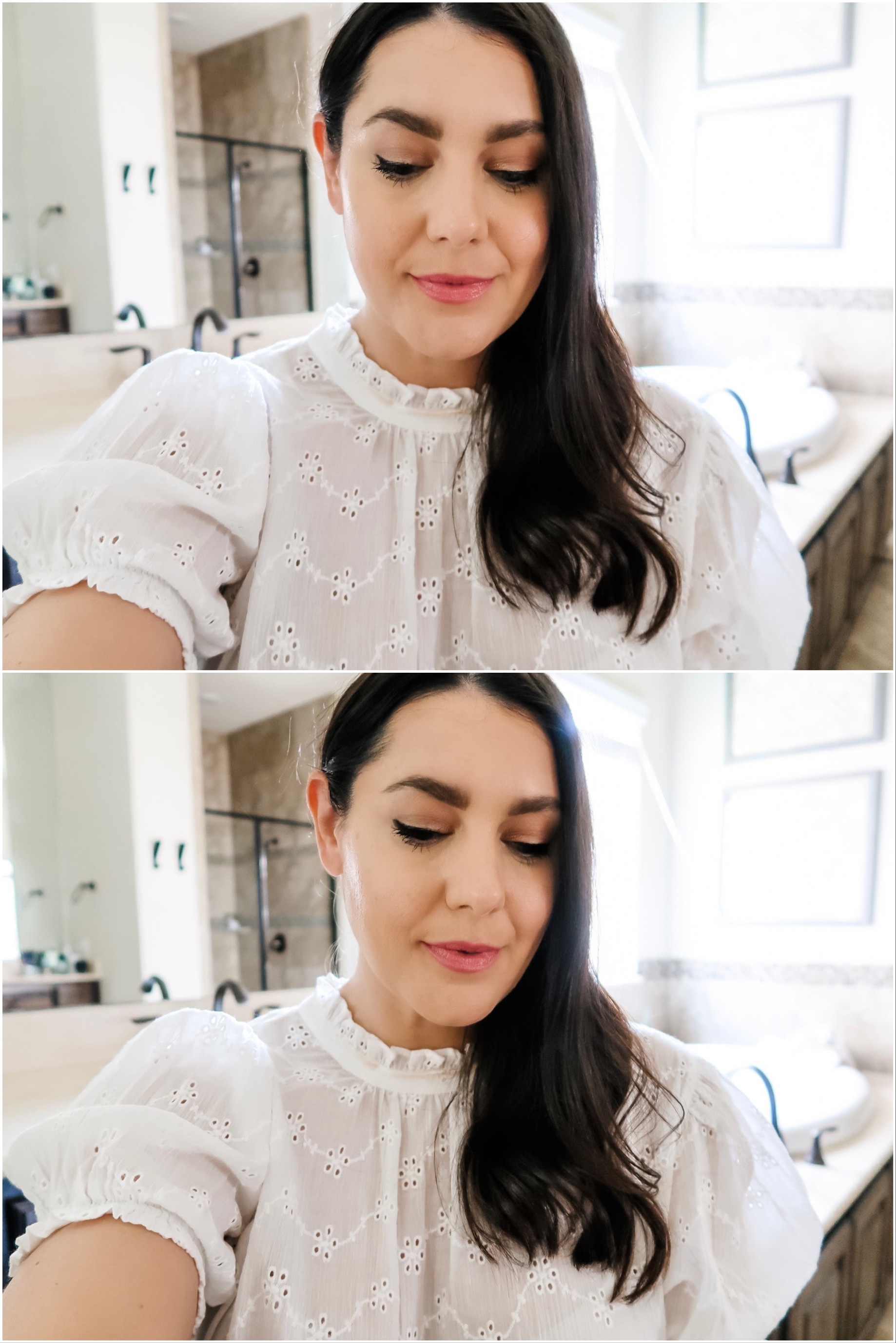 I did two layers of this color and it's just the perfect pink. It's not TOO perfect, you know? Sometimes pink can feel like Barbie circa 1993, or like you are wearing lipstick for the first time. But this pink feels grown up and feminine without feeling like it's too much color at once. It goes really well with my brown tones of my eyeshadow too! Win win because I don't have to change a thing about my everyday makeup routine, I can just switch out my lips for a new look. Find this pink lipstick here!
Bold Choice: Hot Emily
If you were scrolling for the BOLD lip, then it's time for you to stop the scroll. This is one beautiful shade of red. This is called Hot Emily and honestly I felt like changing my name to Emily after putting this on. Red can be tricky as well when trying to find the right shade, as one red does not fit all. This one is a bright warm coral hue. When I first saw it I thought this isn't going to be the red color I'm looking for, but once putting it on — it was EXACTLY what I was looking for. I didn't want a deep red (try 'Carina's Love' for a deep red hue!) and I knew I wanted it to be a softer look than the typical red-orange color I've used before (try 'Tell Laura' for a more vibrant poppy red!) This one was the exact in between of those two colors.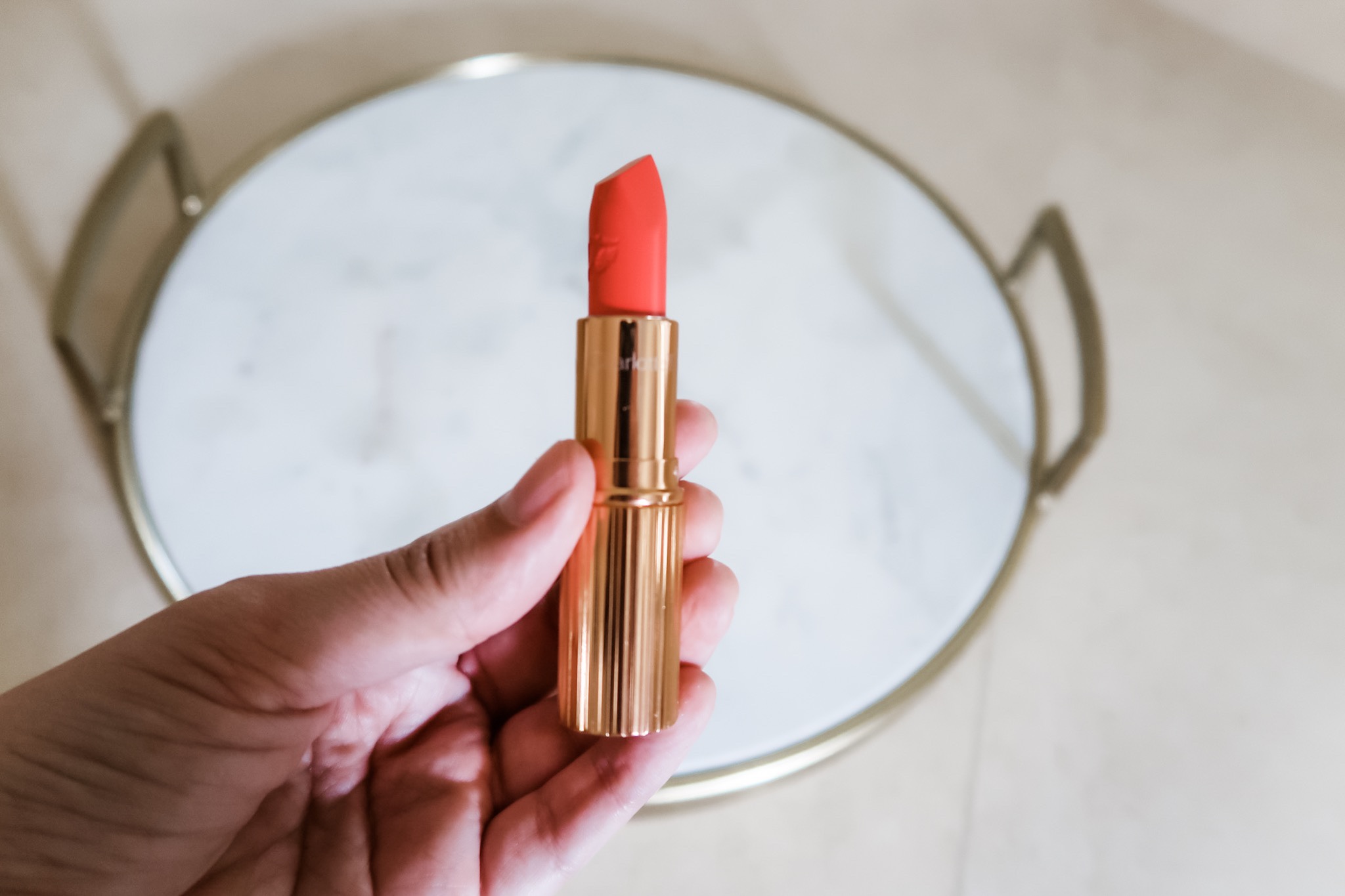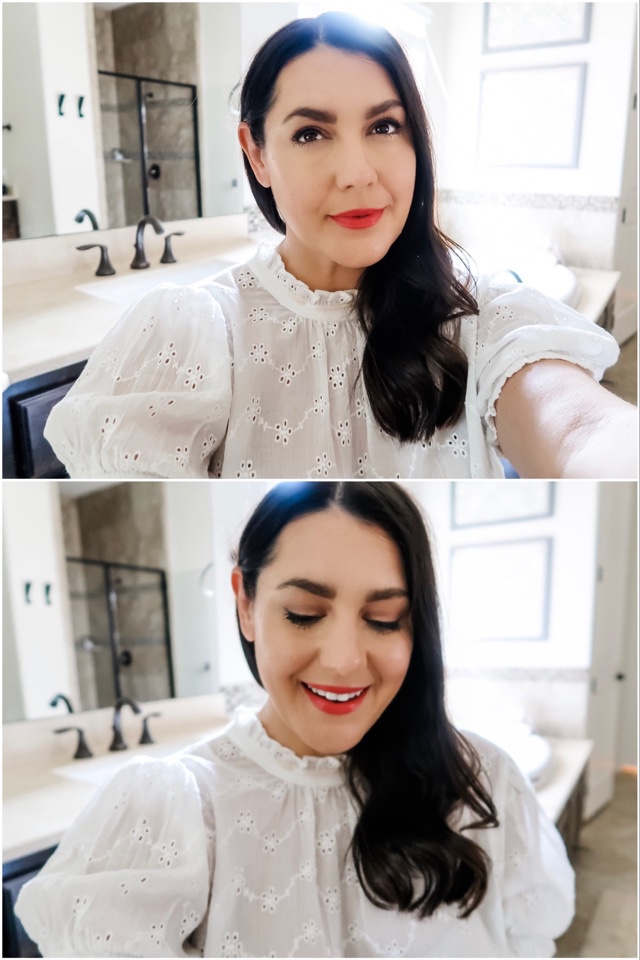 Isn't it so pretty? Now it's BOLD and I felt bold wearing it. In fact, I might have to get used to it again (I used to wear red all of the time, remember??) But it's my experience that after wearing a red lip a few times, you get used to the look on you and you kind of forget how bold it is. This color is definitely good for pairing with a simple outfit for a nice POP of color or for a night out! I used the lip liner and balm with this look, but did not use the Collagen lip bath as I didn't want a too glossy look. This lipstick has a bit of a shine to it so it's not matte, which is nice because you don't have to be too perfect with the application. You can find this bold lipstick here!
 Everyday Fave: Pillow Talk
And last but certainly not least, the cult favorite: Pillow Talk. I'm still dying over the fact that I didn't buy a new one to shoot for this post. But at least you know this one is very well loved! I've got about a month and a half of use with this guy, so come September I'll be due for a new Pillow Talk. I just love this lipstick. I discovered it in 2016 and it's just always been in my makeup bag or my purse. It's the best color to swipe on in one application and you just feel upgraded. I always wanted to find my signature lipstick and I did in this one.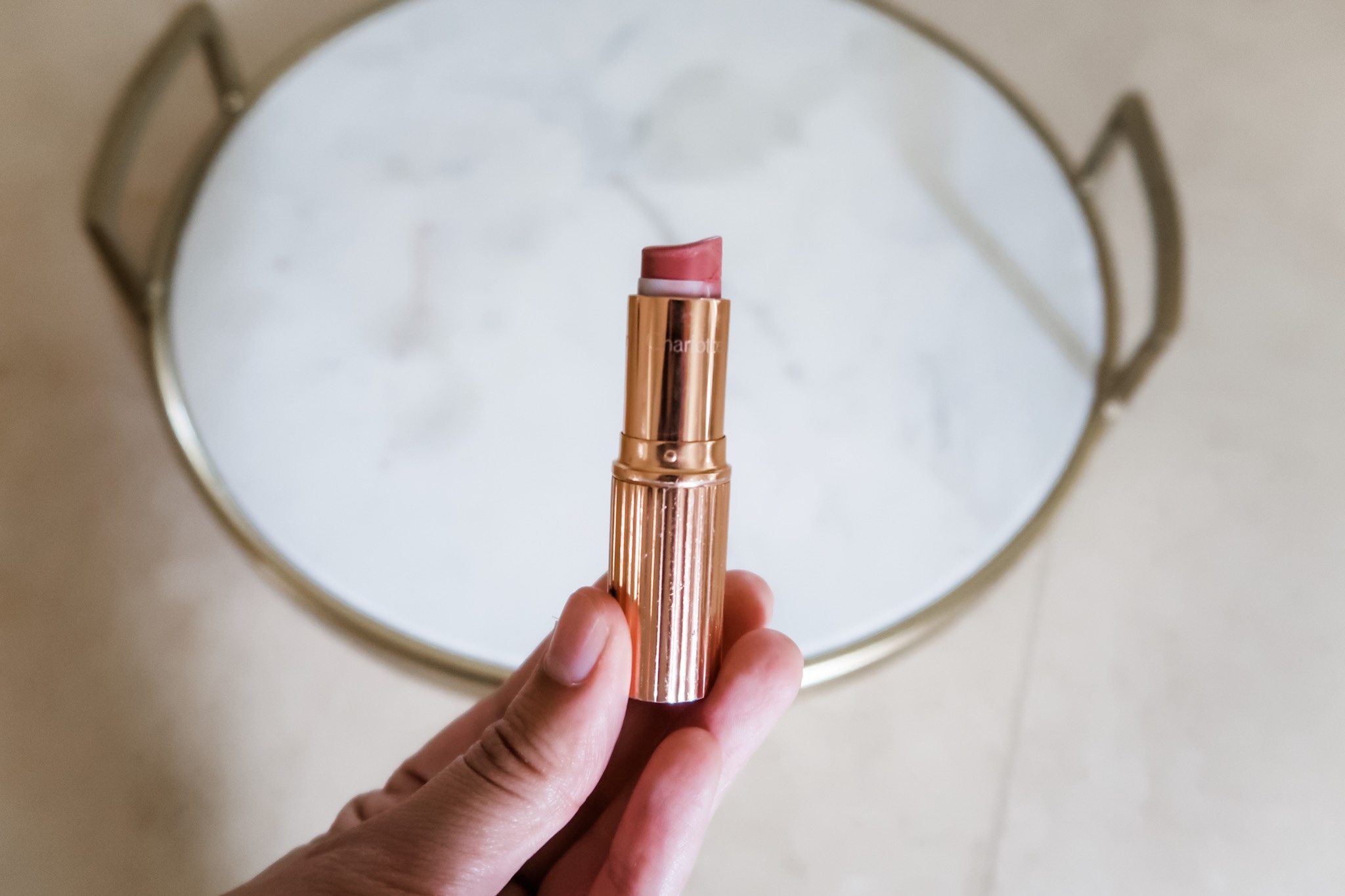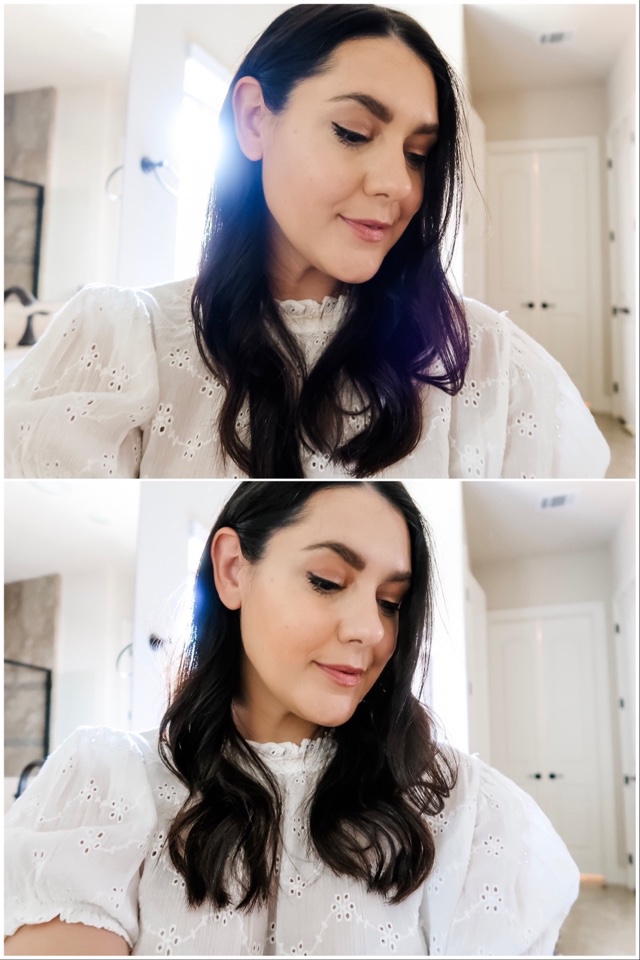 Isn't it so soft and pretty? I told you, it's a lot less intimidating and dark once you get it on your lips. To mix up how I usually wear it (matte) I used the Collagen Lip Gloss over this. Which by the way is such a nice plumping gloss, as it doesn't burn like most do and it smells like peppermint! This probably started early with my love of Lip Smackers but I love a scented lip gloss. Somethings never die. 🙂
You can find my favorite lipstick here!
And of course, while we were shooting Gemma wanted in on the action. She loves 'lips' as she calls them.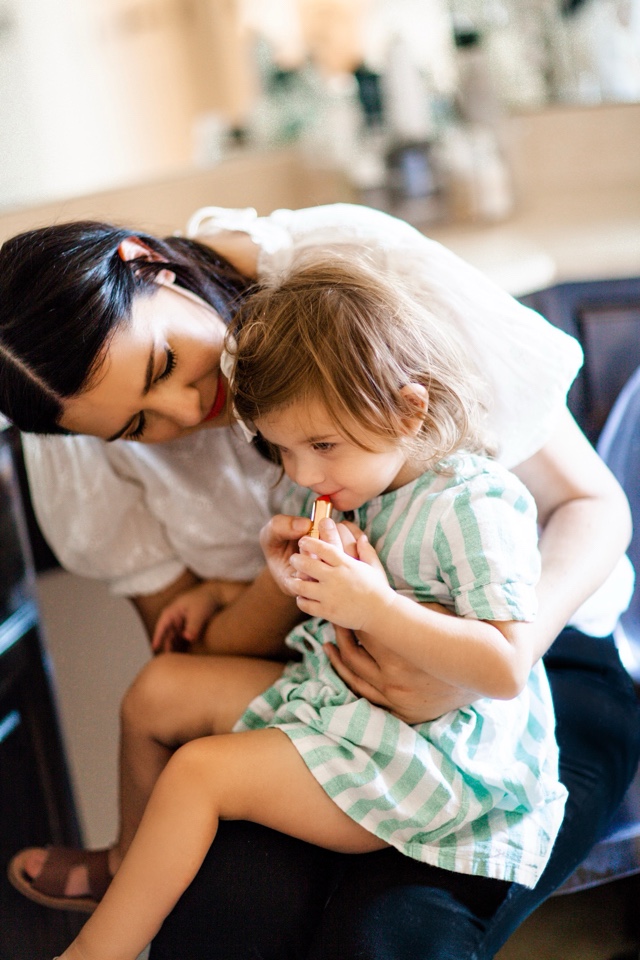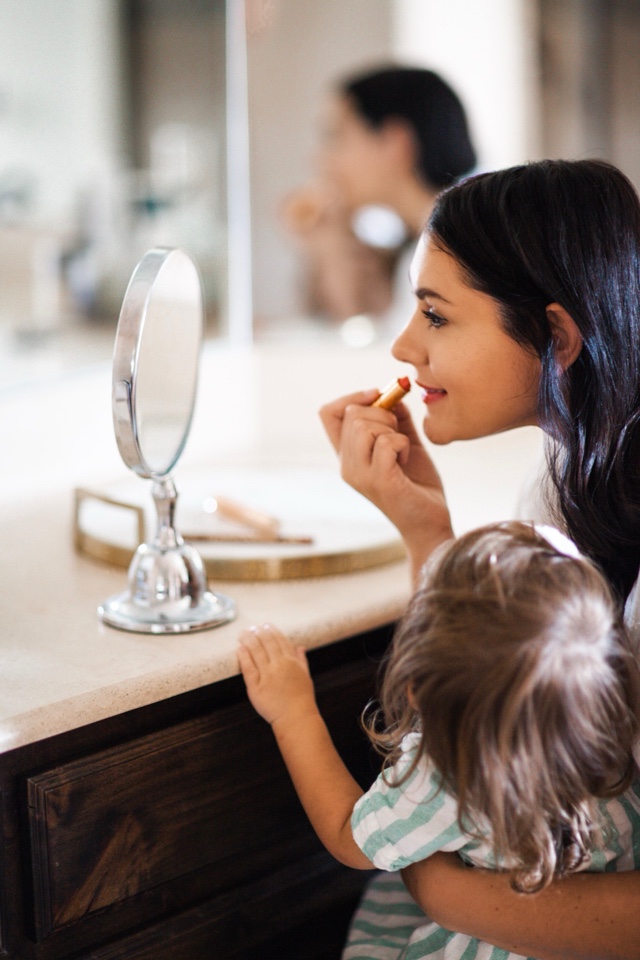 Start them young, right? 😉
I hope this post was helpful for you if you have been looking for some new lip color or beauty inspiration! I'm just at a place now that I want a product that I will love and use and Charlotte Tilbury is it for me for lipstick. I love makeup retailers but find myself ordering from Nordstrom for my favorite beauty products because I know I can order and pick up or their always free shipping. They are always in stock and a little tip, most of the time I use my notes on my makeup orders so it's basically like free lipsticks or foundation! You can see all of Nordstrom's beauty brands here in a nicely curated selection of best-sellers, so you can't go wrong. Shop Nordstrom's Beauty collection here!
_________________________________________________________________________________
This post is brought to you in collaboration with Nordstrom! Special thanks to Nordstrom for our long-time partnership and all the thanks to YOU dear reader for supporting the brands that support this blog!