Hello friends and Happy Monday! I'm a little late posting today because…my computer finally decided it was time to move on to that Apple store in the sky. It decided to promptly die on a Monday morning at 9:20 am, just as I was getting ready to edit these photos and post. So I'm a few hours off my Monday schedule BUT I'm here with not one but three outfits using one dress. Remix magic!
I've worn this dress in a pretty simple way here and wanted to show it styled a few more ways this week! Let's start with the first one!
Just a quick note: this dress is 'temporarily out of stock' online. But if you sign up for the notifications, it really does notify you the minute it's back in stock! I'll try to watch it as well, but that's your best bet if you've been loving this dress. Find it here.
1. Styled with Sneaks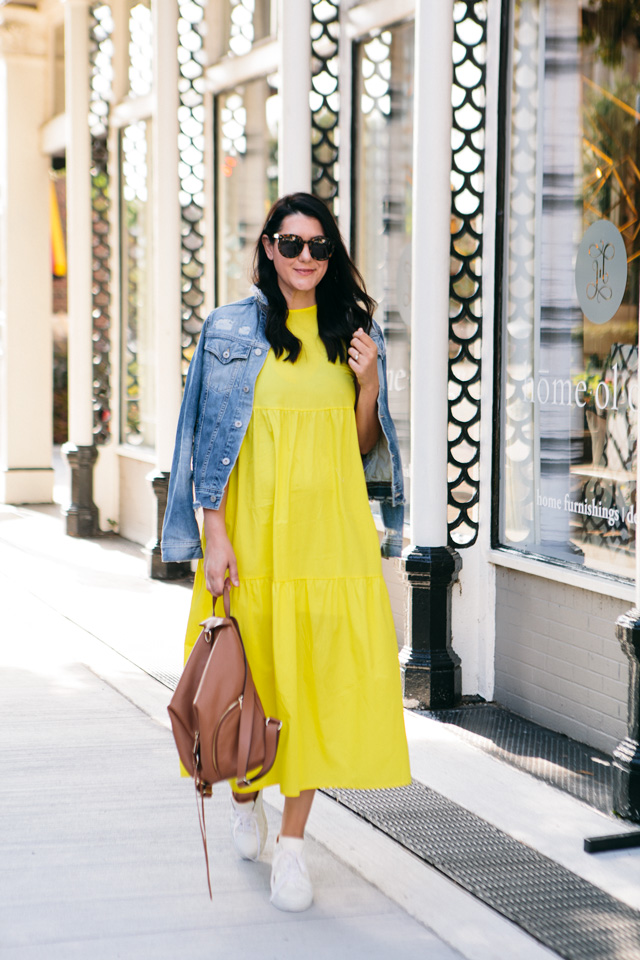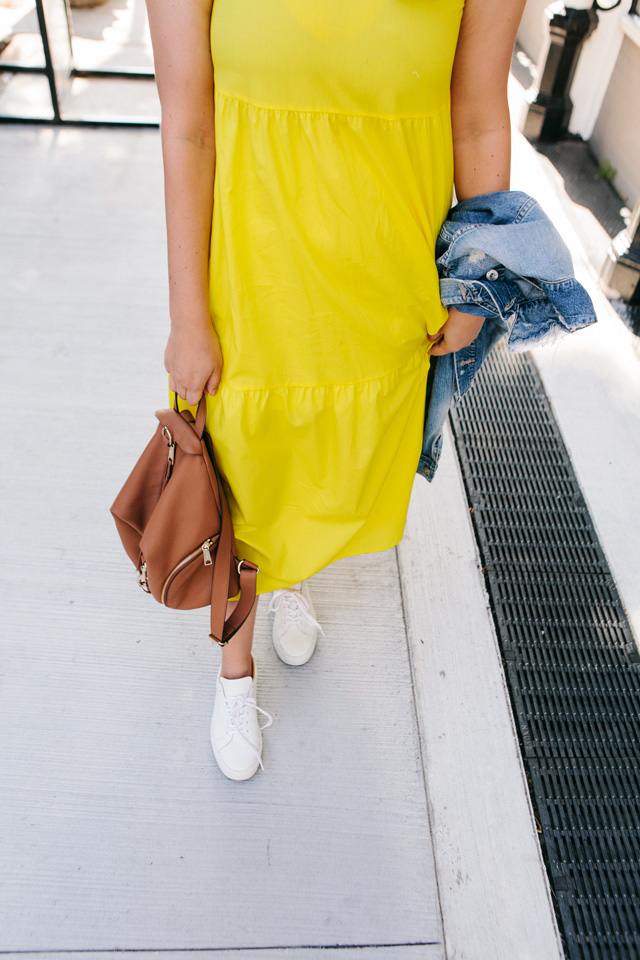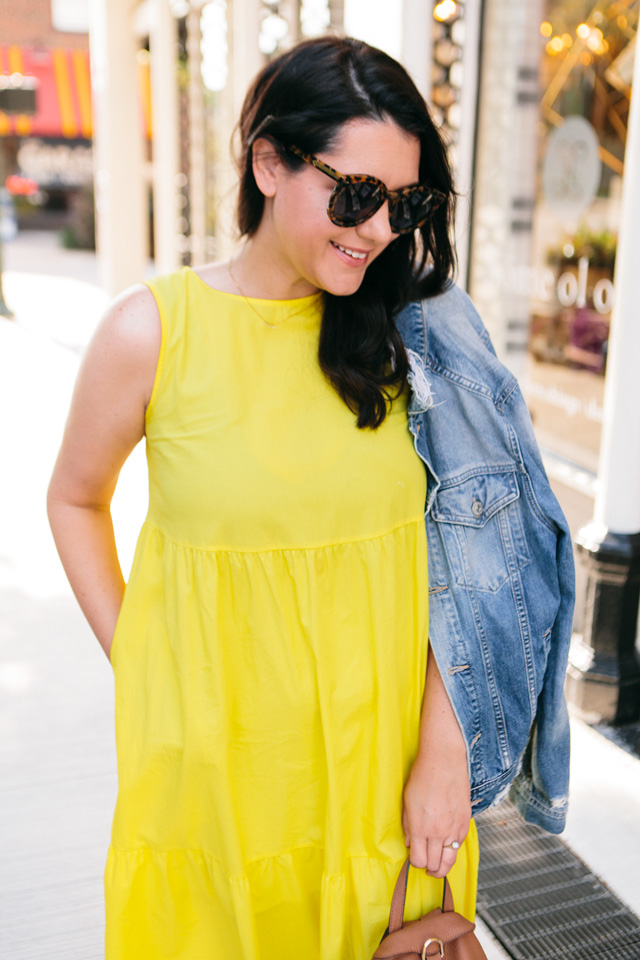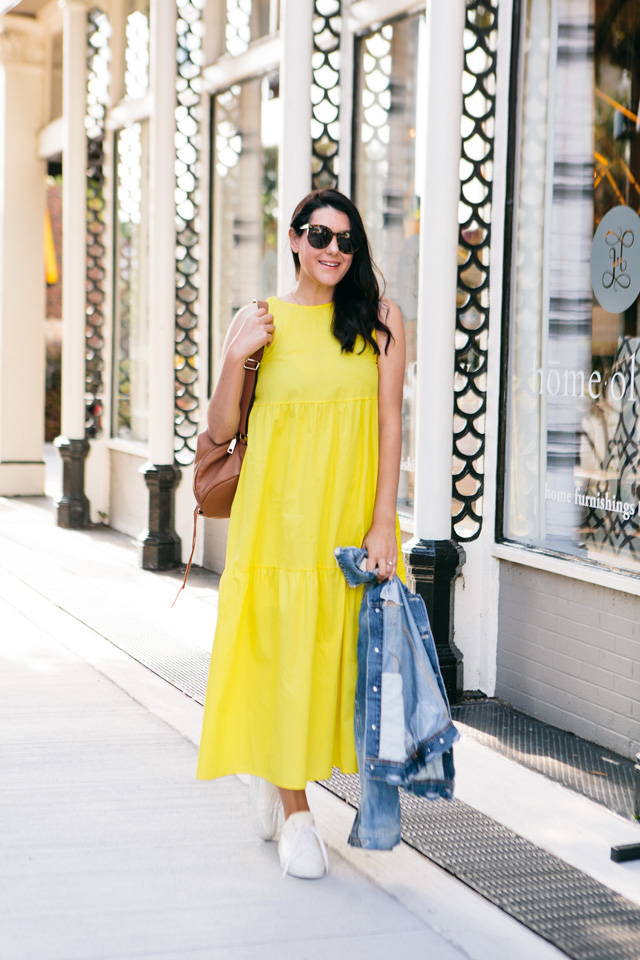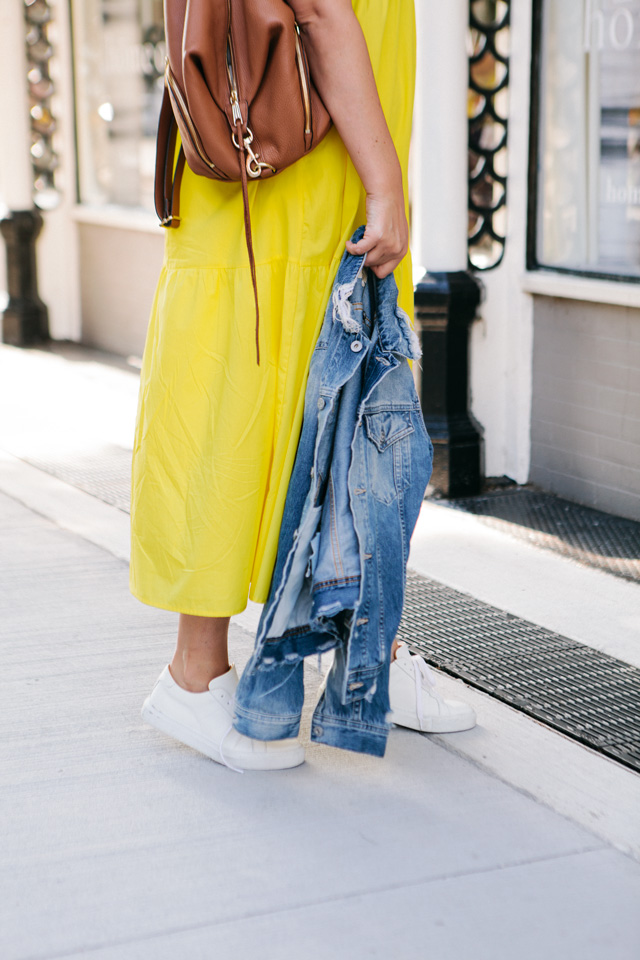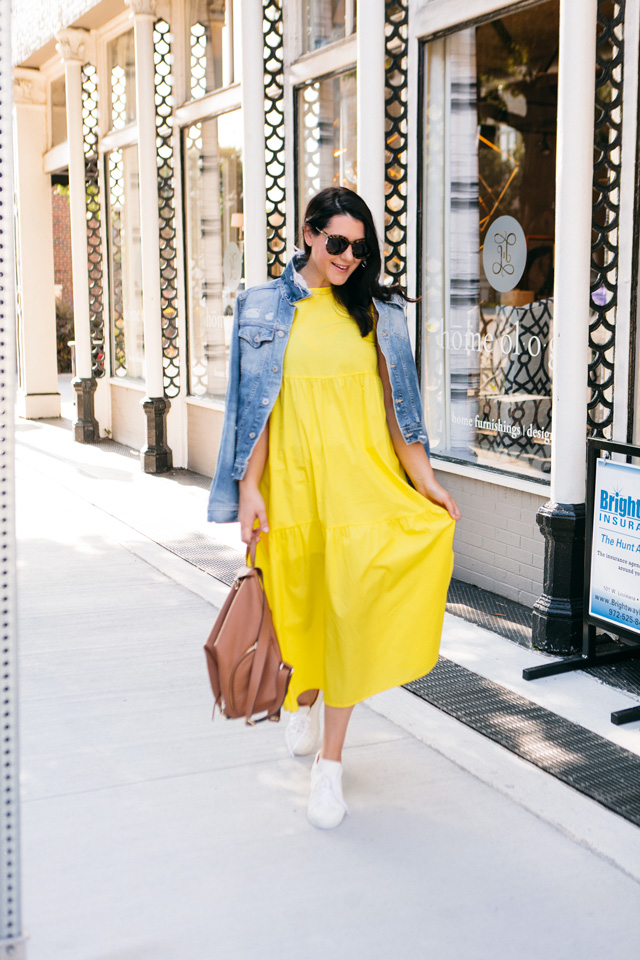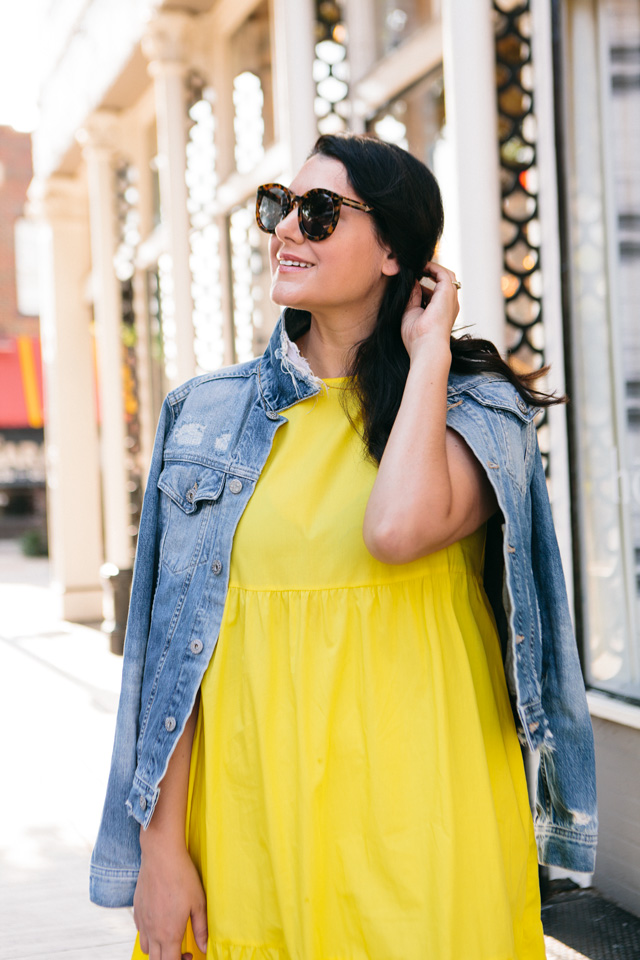 I love the sneakers + maxi dress combo that has been showing up lately. It's seriously one of THE most comfiest combos that's been in style in the last decade. (Only second to whoever started the atheleisure trend. God bless you as well, whoever you are.) I wasn't sure if trend this was going to be work with this dress — as this dress is a bit more dressier than a casual maxi. It's crisp cotton and tiered, but you know what? It pairs perfectly with a simple sneaker. I'd keep the sneaker white and one with clean lines but this maxi and sneakers is a no-brainer in my book.
Find this outfit here

---
2. Put a Belt On It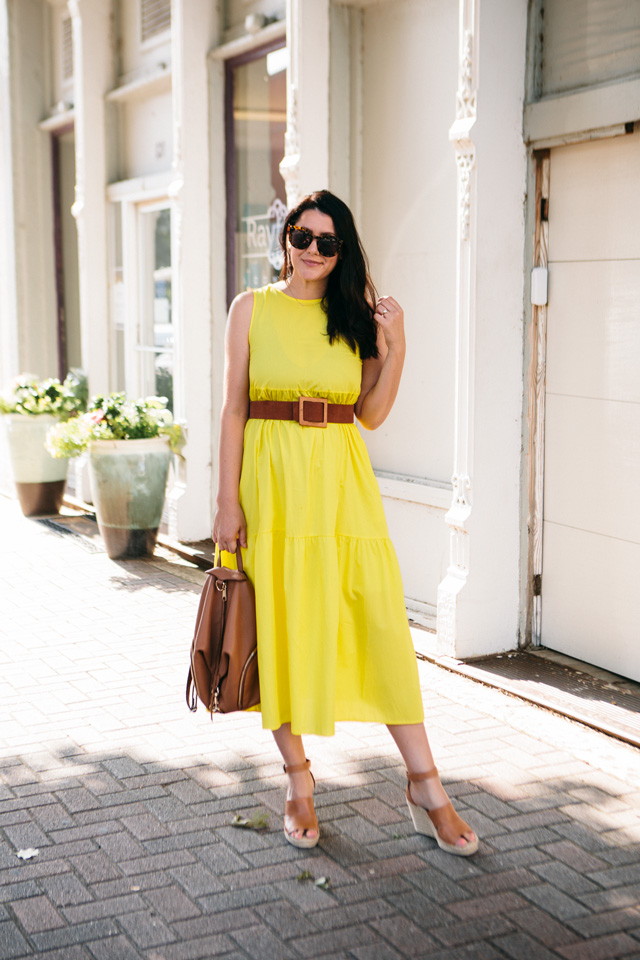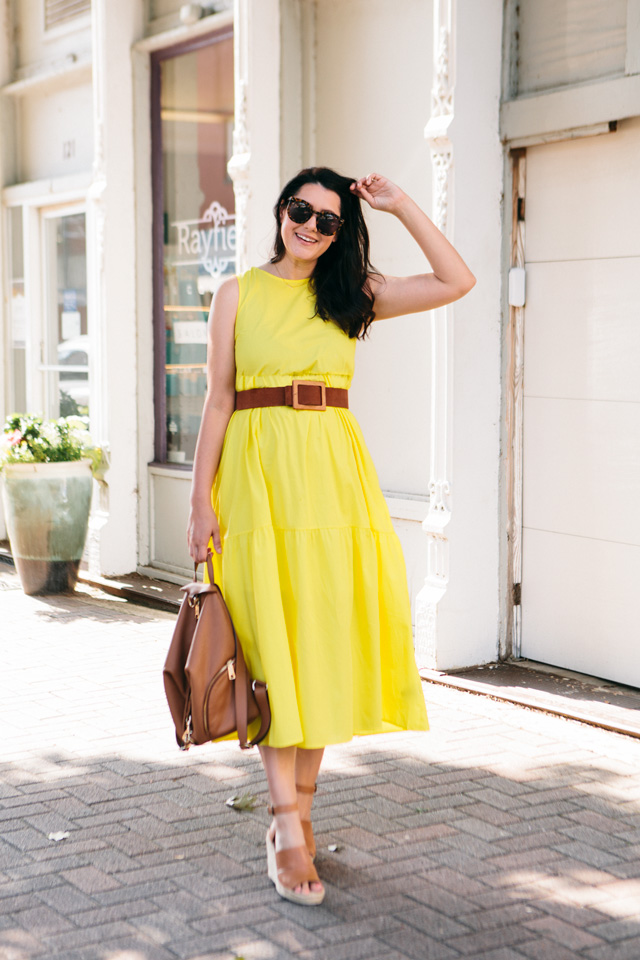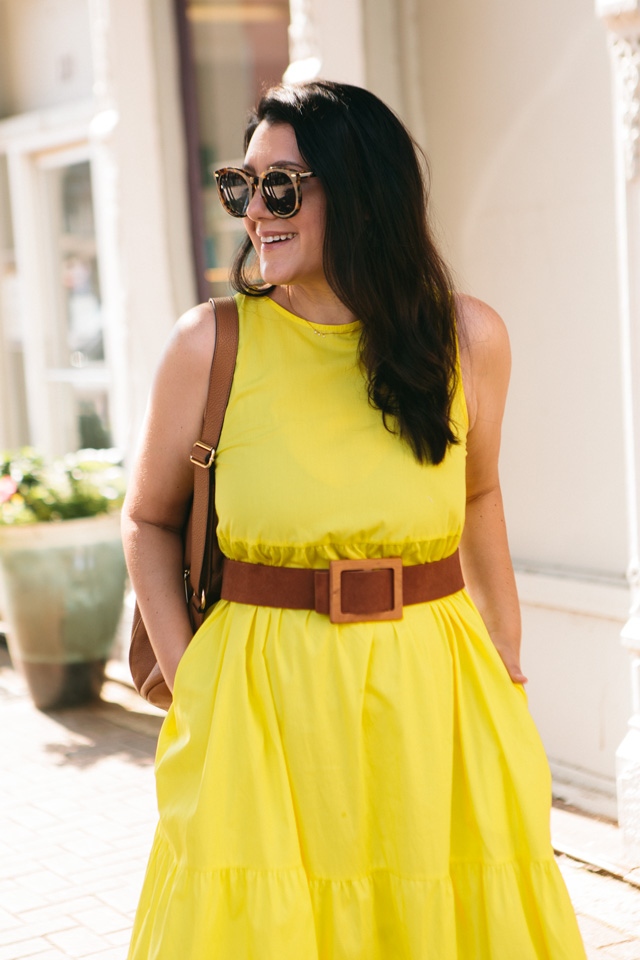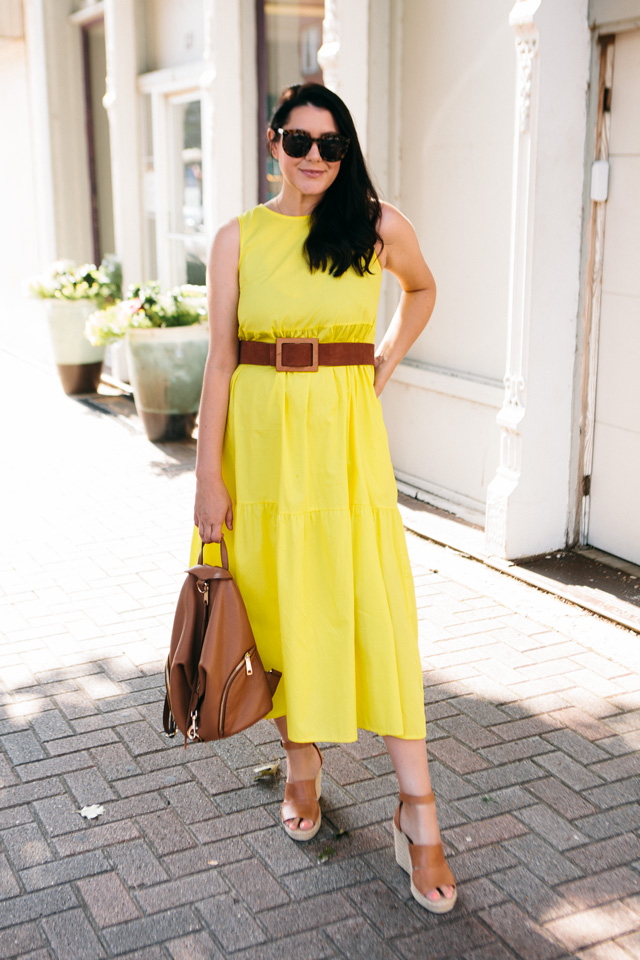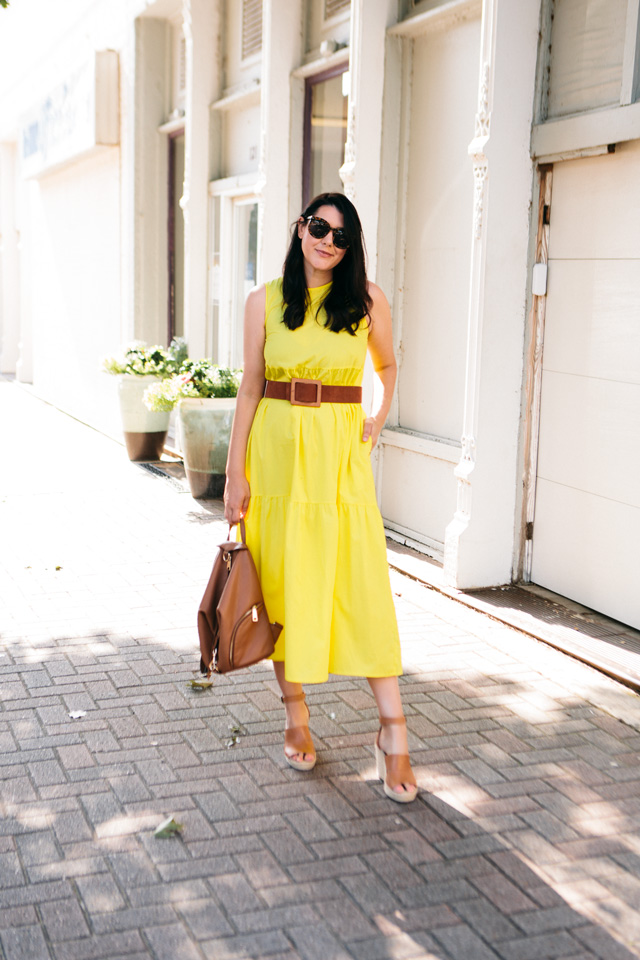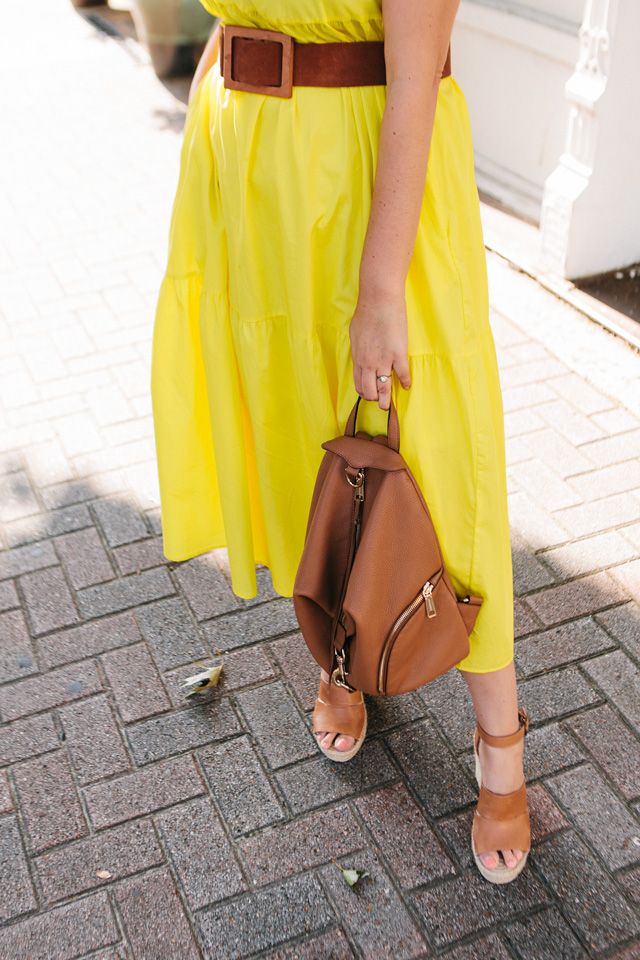 I've been dying to belt this dress, I don't know why because it's tiered and probably shouldn't be belted but IT WORKS! (I will say if you have a smaller bust than me, then the belt will sit right at that first tier.) Since I paired this dress first with black accessories, I knew I had to go all brown accessories to show how easy it is to style this shade of yellow. I love this wide belt and it paired just perfectly with this color yellow. I know it can look intimidating, but it's truly not. It's a bold dress, so keep your accessories limited and in coordination with each other. Besides, a little color never hurt nobody 😉
PS: My summer wedges are now on sale!! You can find them here.
(Quick note on the belt: I love love this belt, but it's a bit tricky to get to stay because there are no hooks or loops. To get the belt to stay, once you loop it through the buckle, simple fold under the extra belt and slightly 'tuck' it under the belt buckle. It will stay all day this way. That's the only way I've found for this to work.)
Find this outfit here

---
3. Tied to a Tee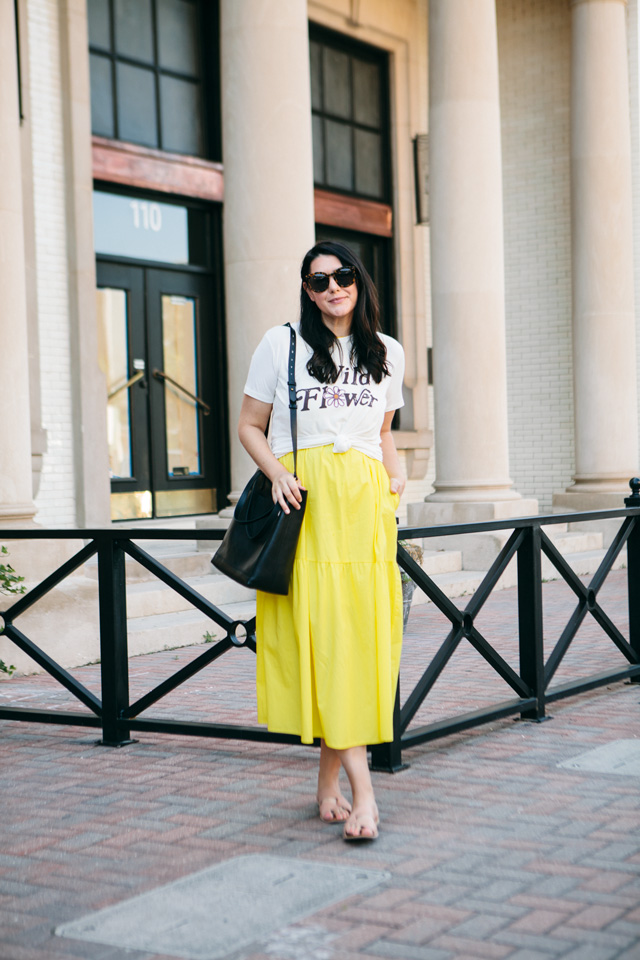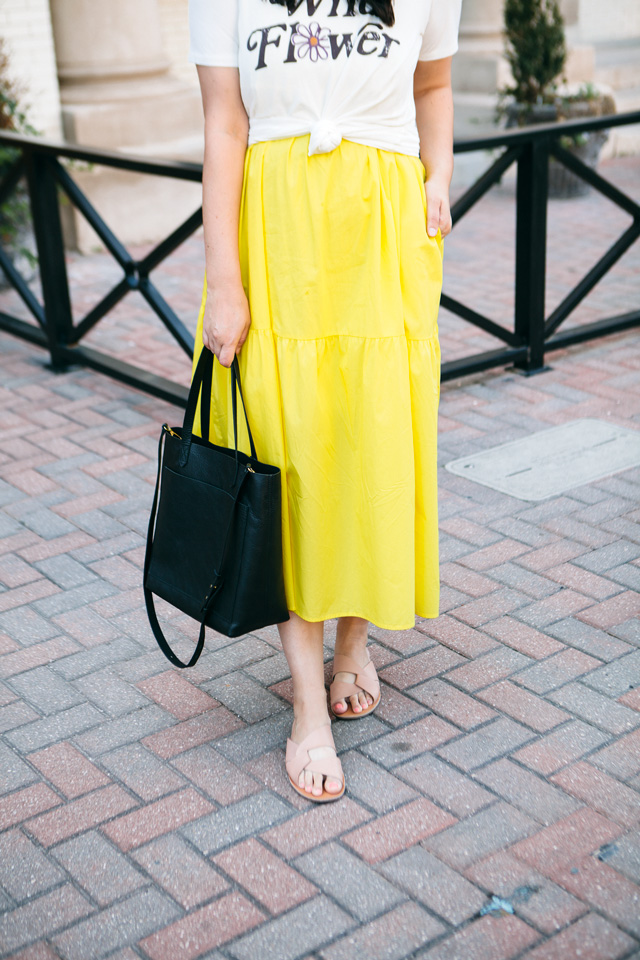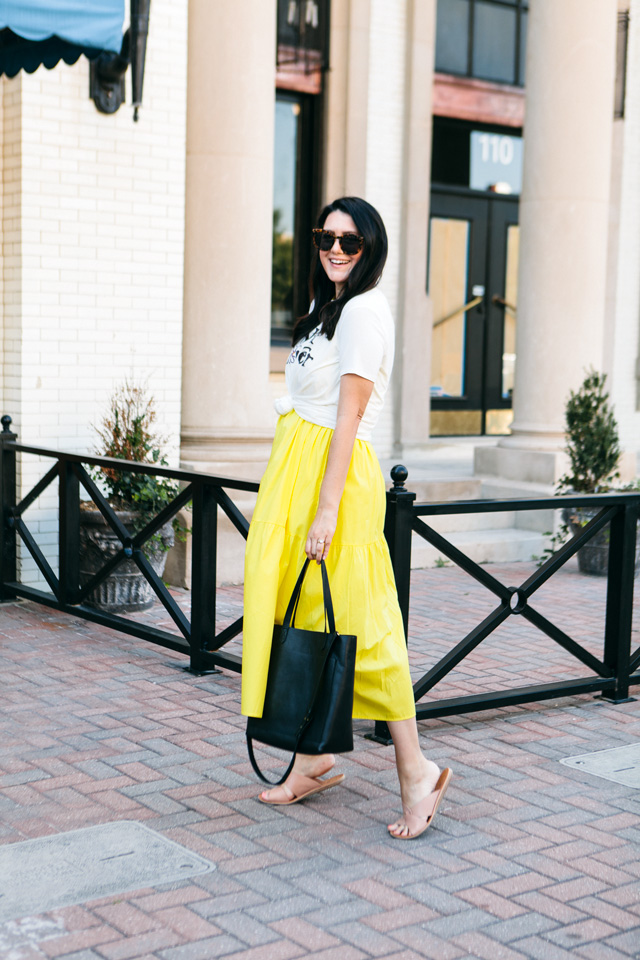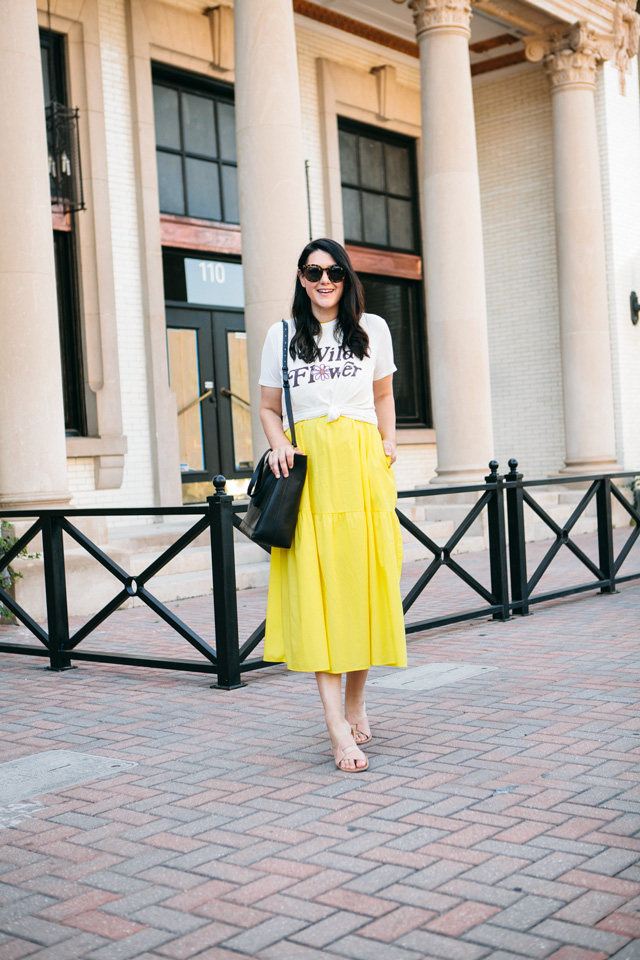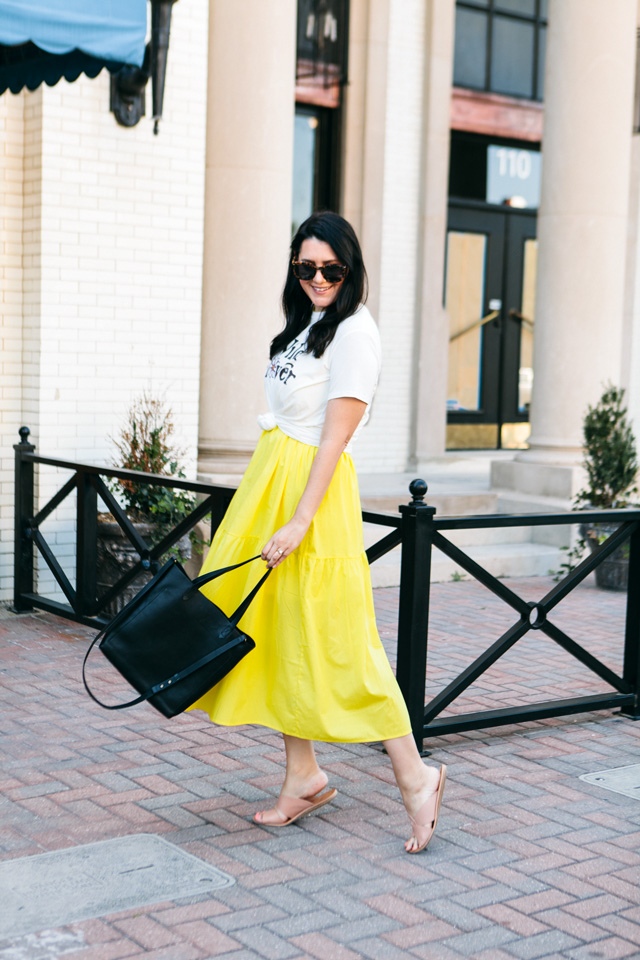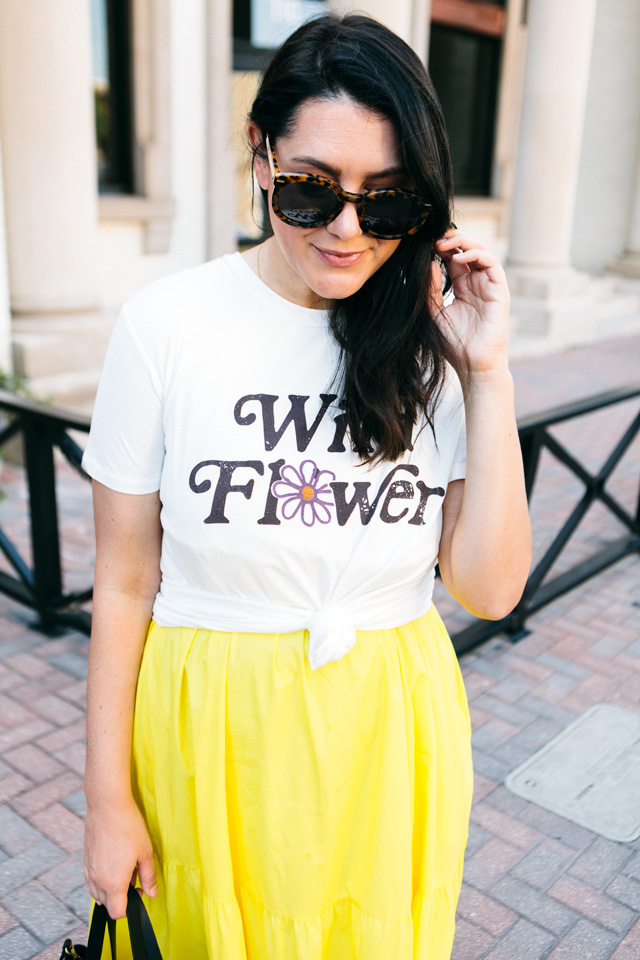 And for my last trick — the ol' 'tie a tee on top and make it a skirt' move. One of my many tricks up my sleeve, but this trick is a favorite. Styling a tee like this is such an easy move to make if you want to pack this summer and want to take a few pieces but want a few different looks. Plus I would say it's hard to find a bright yellow maxi skirt out there and voila! I found one just like that.
This tee is on backorder but we will have it in by early next week! You can find it (on pre-order) here! You can use code FIREWORKS to save 50% on our entire shop too!
Find this outfit here

You can find the other way I've styled this dress here!
This makes for outfits 17-19! I'm going to be posting the rest of my outfits this week like this, so we can see everything together. I think it will just be easier. I'll talk more about this in my wrap up post but the internet moves at a MUCH faster pace than 8 years ago, so I've got a few changes in mind for my next 30×30. We are going to hit these next 11 outfits hard and fast this week! 🙂