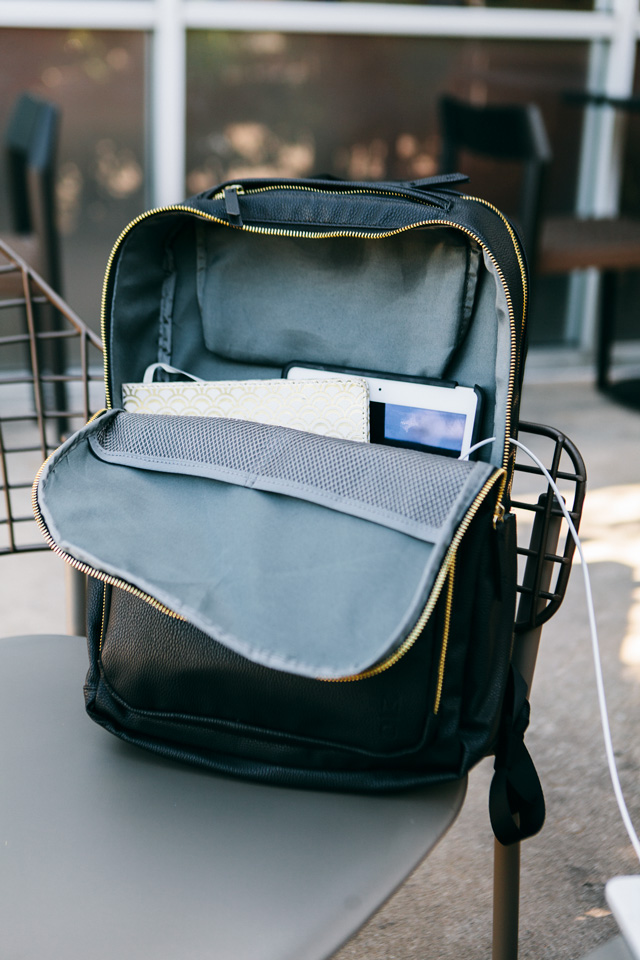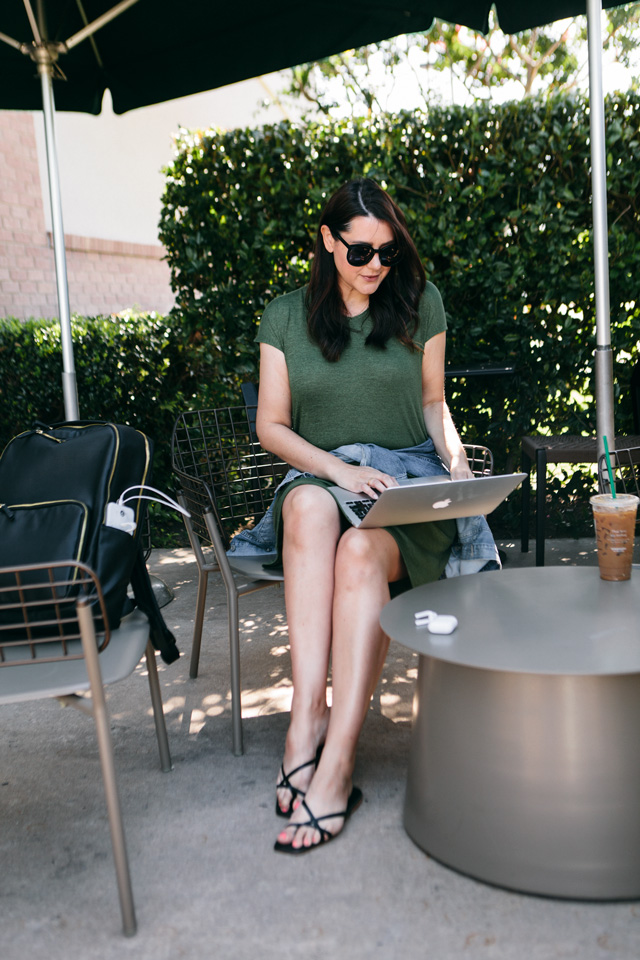 One of the questions I get a lot of is what work bag do I use to haul around my 'office'. Now that we have the warehouse office I don't end up jumping from coffee house to coffee house quite like I used to, but I like to keep one bag for everything — from my day to day commute and one that also work  for travel. I've long used the same laptop bag crossbody since 2015 and it was honestly time to upgrade. Motile, a brand exclusive to Walmart.com, has created a whole line of on-the-go accessories with wireless charging capabilities and they are all so chic. First I want form, then I need function. Something that can charge my usually always dying tablet, phone or wireless headphones is KEY in keeping my day in sync. I am one of those people that can get thrown off course when something doesn't go exactly my way (like a dead battery) but I am also one of those people that forget to plug things in to recharge. It's a complicated life, ok?
I've obviously been living under a rock, but this is the first time I've used a wireless charging bank and let me tell you: GAME CHANGER. I am that person that stalks the space in the coffee shop that is right by the plug. That spot is 98% of the time always taken and this leaves me in a full panic because I'm usually always on red. Since I'm in the process of switching my main laptop to just a full size tablet, having this 10,000 mAh power bank built in to this backpack means that even if I forget to charge my device up I can sit wherever I like (even outside!) and charge my device while working. It seems like such a small advantage but for me it is huge. (PS: A 10000 mAH power bank like this one will recharge most smartphones about two to three times.)
Here I am holding the power bank that fits snugly into the side pocket and allows for cords to go through the side and charge your phone while everything is nicely tucked in place. (Side note: the power bank does add a small amount of weight to the backpack. Once you have all of your devices or gear loaded in this backpack can be heavy if you carry it by the top handle, but the back-straps are large and padded and distributes the weight perfectly for travel, which is when I would carry the most items in this.)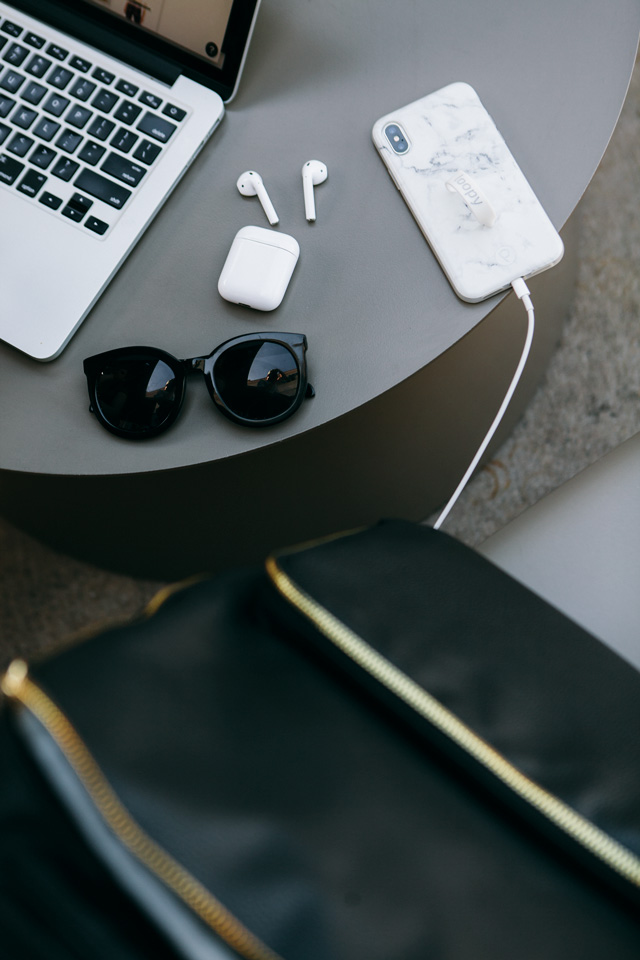 This is the Commuter Laptop Backpack, by the way. I don't think I've mentioned the name yet because I've been so excited about the power aspect of this backpack. Let me give you a quick rundown: This backpack is made of vegan leather that looks luxe. It's full size and could honestly be used as a travel backpack too (like you could pack for an overnight trip in this thing for sure). The thing I like the very most about this backpack and work bags in general are all of the compartments and pockets. There is a front small pouch that you can put your small things in — pens, headphones, wallet, cords, etc. It's easily accessible too. Then there is the first compartment where the power bank lives but doesn't take any room away from the backpack because it has it's own little room on the side. Here is where you can put notebooks, camera equipment for us if we were traveling, ANYTHING really because this is a big space for what you need. The back compartment has a nice slot for your laptop (it can fit a 15″) and a space for a tablet as well. There's also a nice little zippered compartment on top that can fit a water bottle so it keeps it away from all of the important things that don't mix well with water, too. (I like to use this compartment for my keys, though! Mainly because I'm terrible about drinking water and I hate for a pocket to go unused.)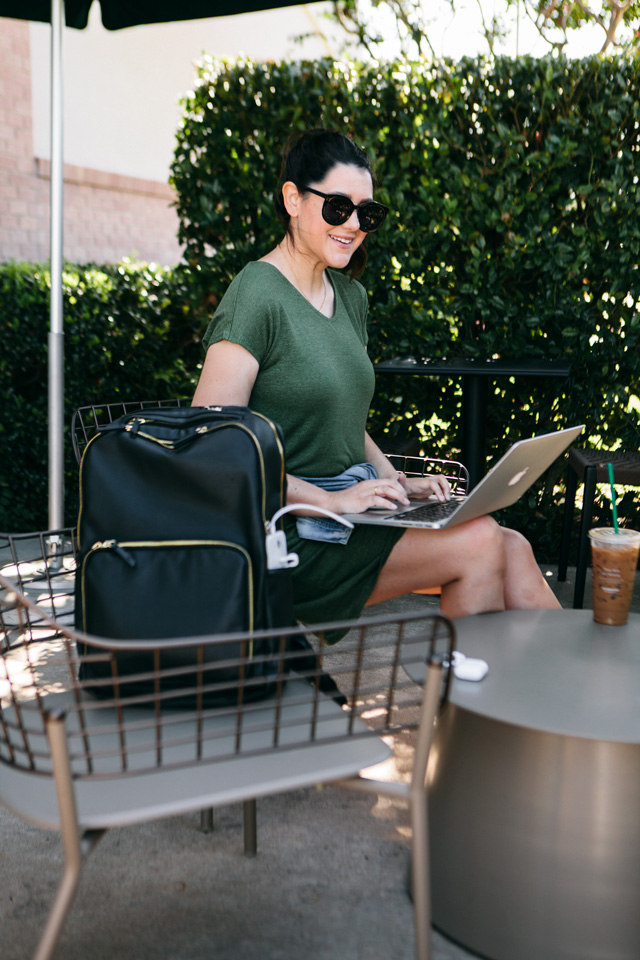 So now that we've talked function, let's talk style. I wanted to show how seamless this backpack looks with an everyday outfit. (I know this post is about the backpack BUT this dress is under $15 and ya'll it is the comfiest dress I've ever put on. I bought it in this color and the black! I am in the medium, true to size! Find my dress here!)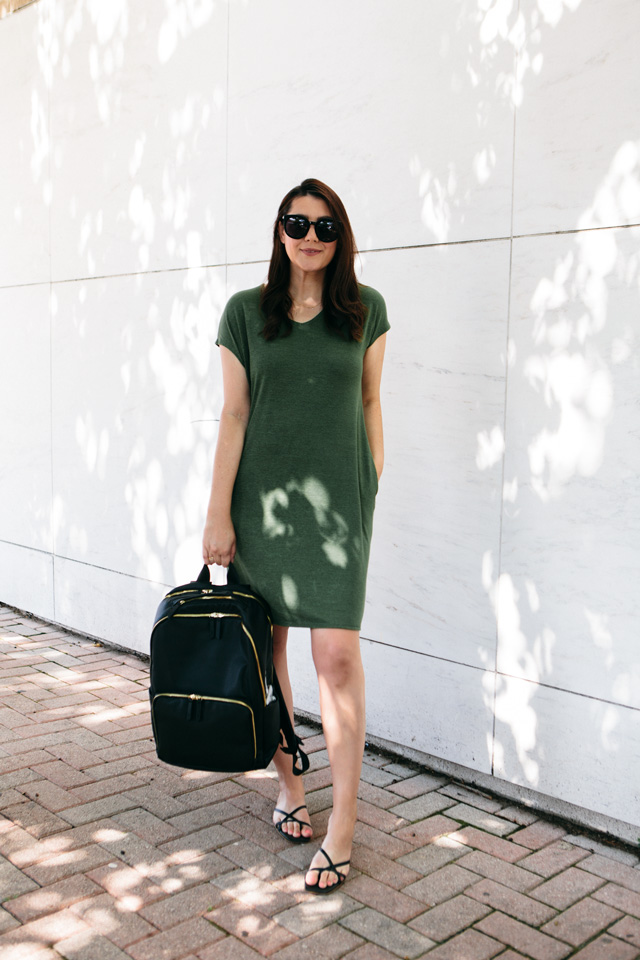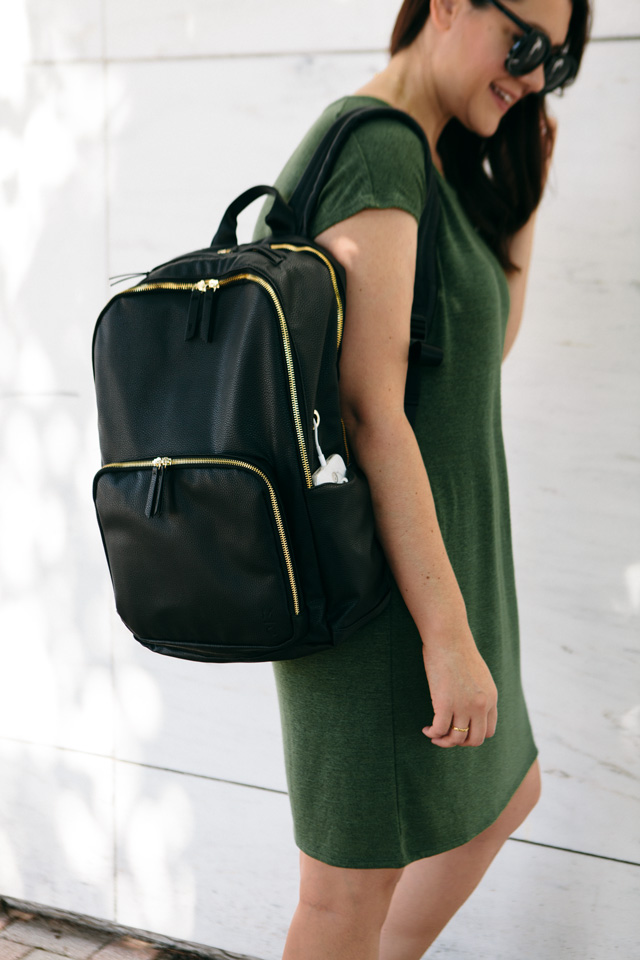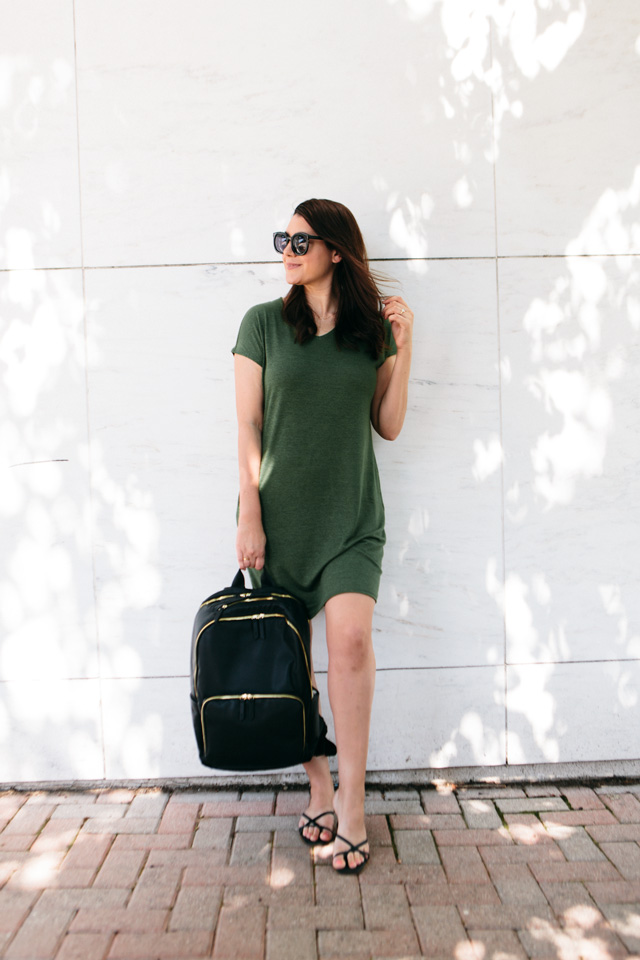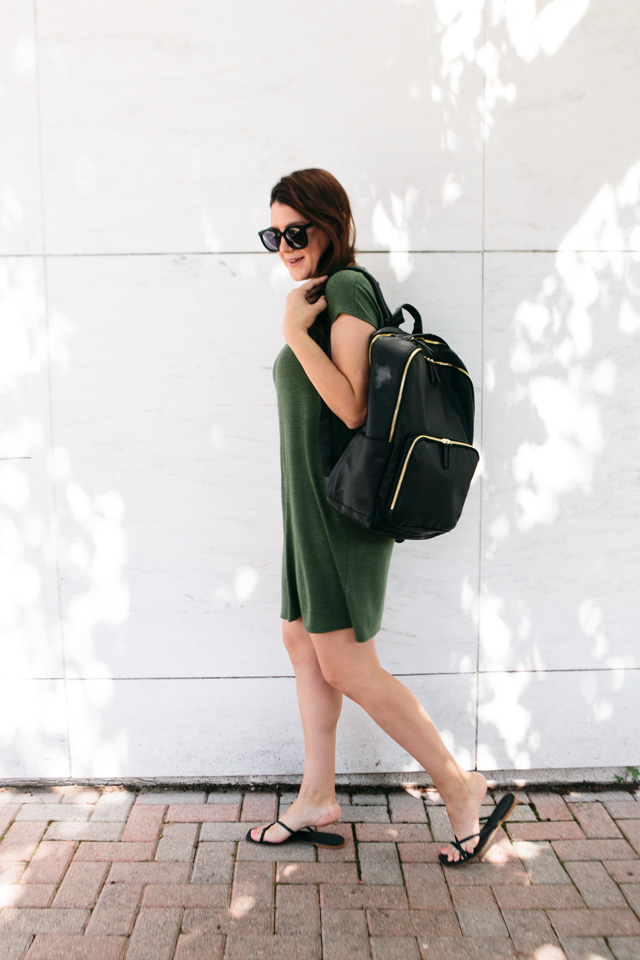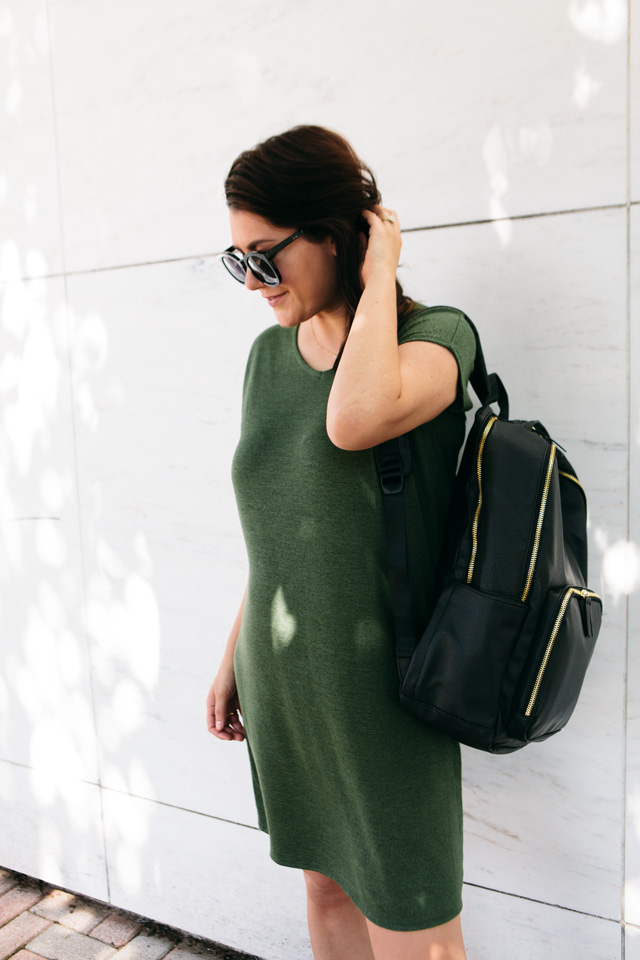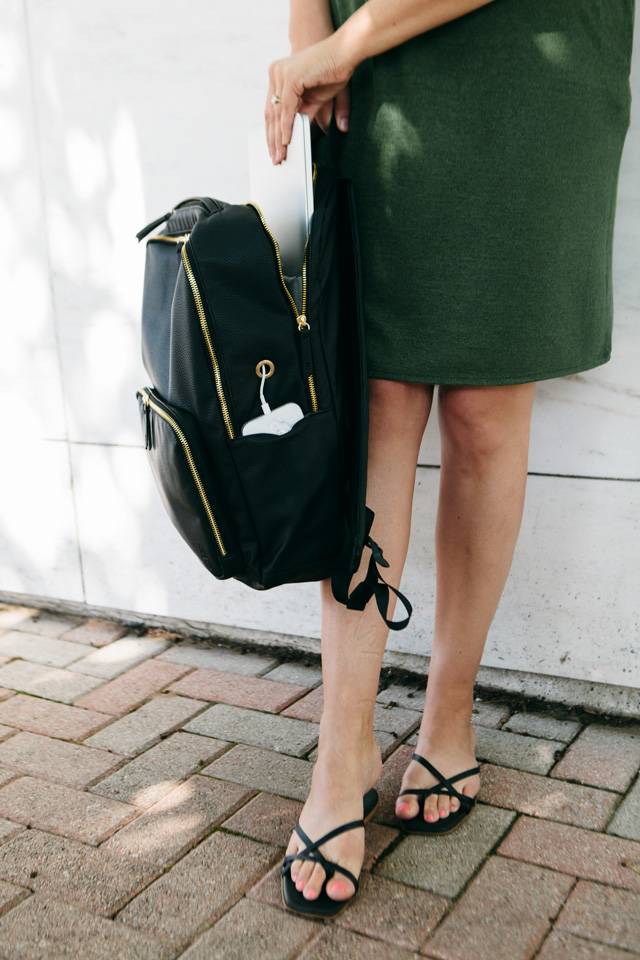 See how you can charge your phone on the go? It's seriously the best. Again, I'm new to this technology but I can't get over how much this has helped me during the day. Now I just have to remember to charge the power bank 🙂
This backpack comes in a few different colors other than black! When I first saw it, it was only available in black but now they have a really nice ivory, a cognac (which would be my pick) and then a navy option as well! I've linked all the options here! Black is of course classic, but there is just something about that cognac color I love. Find all options here.

I would suggest this backpack if you commute daily, travel for work and/or need to carry a lot of equipment around (like photography equipment!) If you like this technology option but don't necessarily want a backpack or need this size for your device Motile has many other options, including JUST power banks to toss into your own purses! But first let me show you the totes that I really love! I obviously love the cognac, but there are a lot of options. This would be nice to toss just your laptop, notebooks and wallet into and go. I love a tote option, as a workbag especially with the power bank option.

You could always go the power bank option which gives you the freedom to use whatever bag you like! I personally like having a specific bag for my computer / devices because I can keep everything I need in one place but if you are way more organized than I am and can switch out bags on the go with ease, this is a wonderful option! I personally think this is a great price too for a portable power bank. I've linked two that are just for devices with the lightening port and one that can charge anything with a USB port or lightening port.

So there you have it: just a few on-the-go options that can charge you right up! Thank you to Wal-Mart for collaborating on this post and providing me with this backpack to try out!
---
*Thank you to Wal-Mart for the partnership and thank YOU for allowing me to bring exciting brands to you through my blog! All thoughts, comments and opinions are my own.