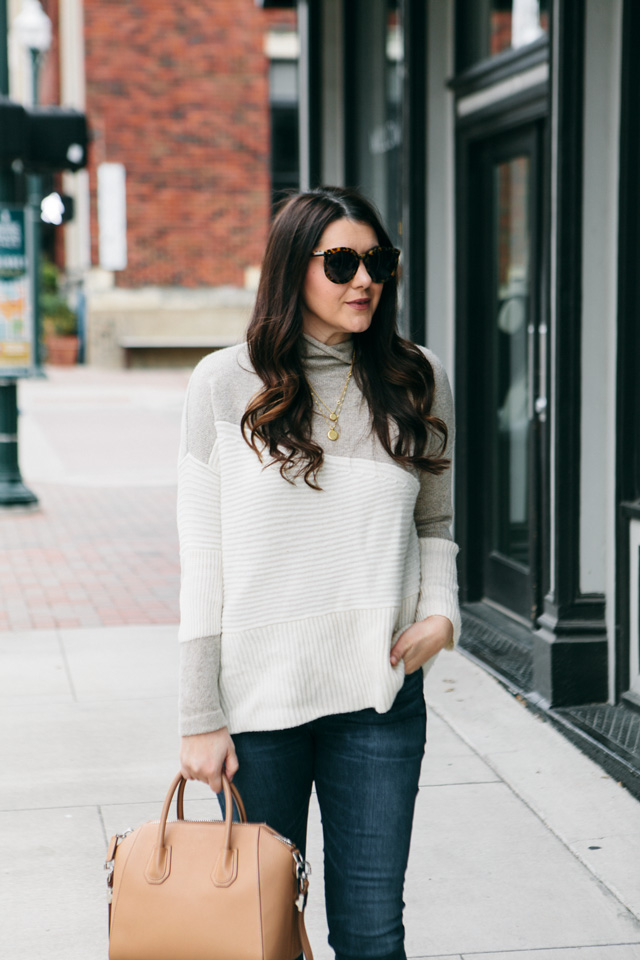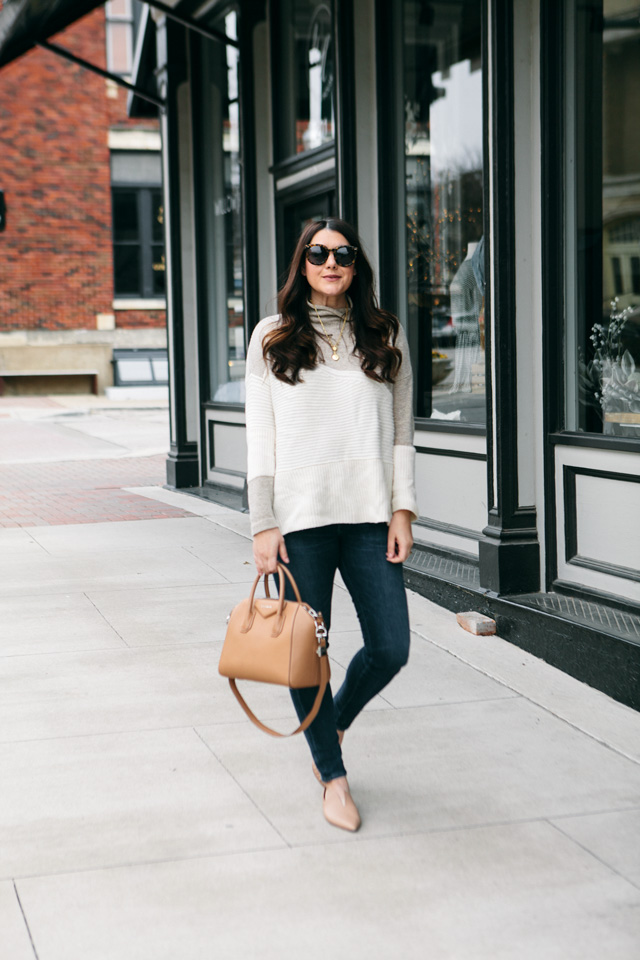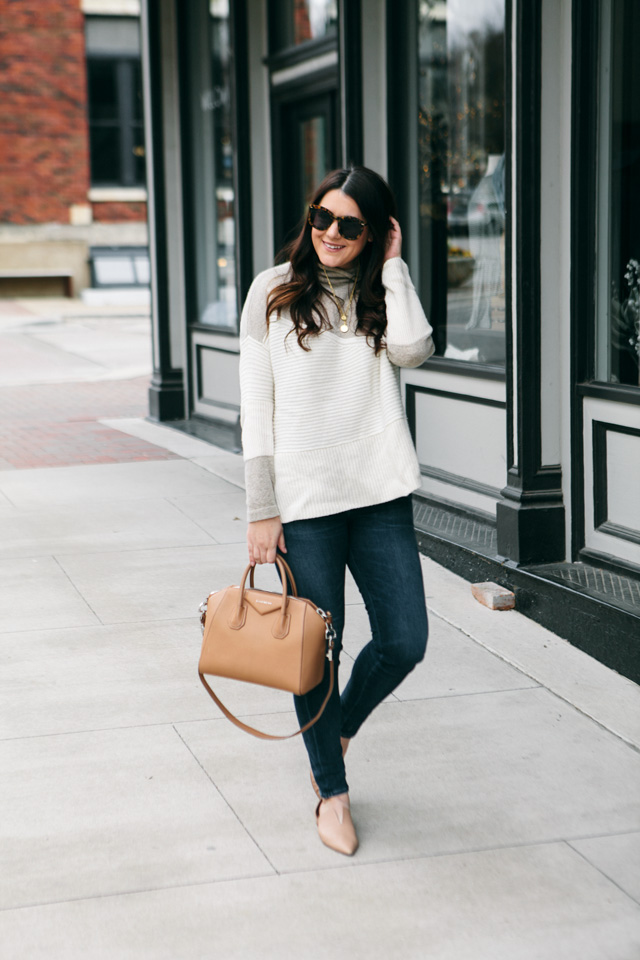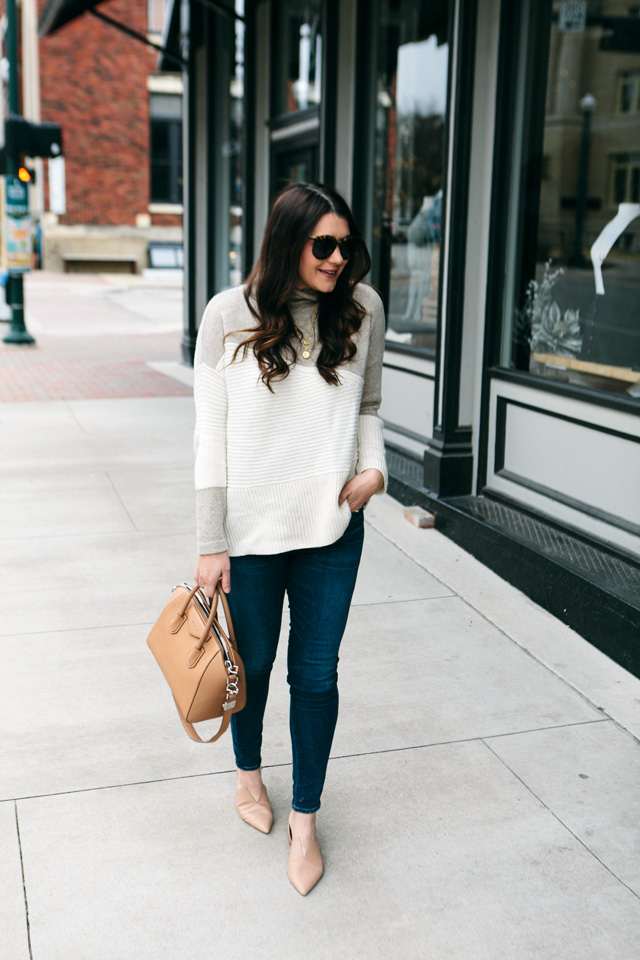 I bought this sweater on sale back during the Cyber Monday sales and luckily it's still available in a few sizes here and here! Sometimes I feel like I find the best items during Nordstrom's sales but most of the time it feels like it's the first time I'm seeing them. Usually, I try not to dive head first into the sales (well, not to too deep anyway) when I'm making a sale post for the blog but this sweater got me. I snatched this sweater up the second I saw it. I've worn it a few times and I wash it and it came out perfectly. (Albeit it needs a bit of steam after it is washed, I will say, which I did not do this morning. Sorry for a few wrinkles!) Like I said earlier, there are still a few in stock so you can find it on sale at Nordstrom here in a few sizes and at Amazon here.
You ready for my closet win today? It's a short story that I'm going to make long, so grab your coffee and here we go: I don't think it's a secret that I gained a lot of weight when I was pregnant since I documented all the way up to Gemma's arrival. After she arrived, it then took me a little less than a year to lose the weight. During the first 6 weeks postpartum, for some reason, I got this stupid idea to go into my closet and try on jeans that fit me pre-pregnancy. Now, why I thought these jeans were magically going to fit I have no idea but guess what? They didn't. I could barely get them up above my knees.  I am not sure what I was expecting — maybe for them to just not button? But that was not the case, so I took them off and hung them back up and thought 'one day'. I ended up buying a couple of pair of jeans that I could wear through my weight loss (Madewell Roadtripper jeans were my lifesaver!) and just kind of mentally put my old jeans away for a while. Last June, I decided to brave my old closet again after I'd lost most of the baby weight. I decided to give a few pairs of old denim a try and my pre-pregnancy jeans finally fit. I started, warily with one pair and then another and then another. I was in tears I was so excited because I've got a lot of quality denim in my closet. I'd not realized how much I'd missed my old closet.
We had our anniversary on Saturday and I was looking for something to wear. Past Kendi would have bought a new dress or something fancy to wear but honestly, our anniversary snuck up on me and we didn't know if we would be able to celebrate. So as I was looking for something to wear I came upon this pair of Citizens of Humanity jeans. They felt brand new; in fact, I almost don't remember buying them. I took a breath, put them on and they fit. It was like a new pair of jeans! And I didn't even have to buy them. I was so excited. That my friends is a 'closet win.' I like to thank my former self for buying nice jeans in my right size.
You can find these jeans here from Nordstrom or I've found a really great look-alike pair from Good American here! Side note have you guys tried Good American yet? I have a pair of distressed jeans sitting in my cart, but I've not bought them yet! They have pretty good reviews, so I was going to try them out!