Quick question, friends: do you want to take an optimism challenge along with me for the next 30 days?? Read on if you do! In fact, read on if you don't and let's see if I can't change your mind. 😉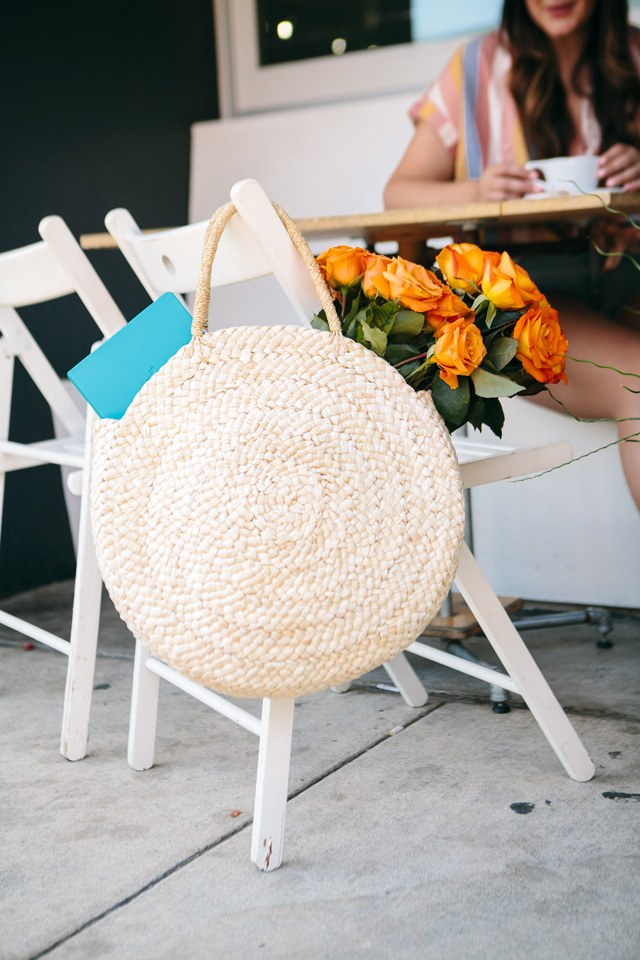 I have always considered myself a positive person; given the option, I would more than likely choose the glass being half full over half empty. I love the bright side of everything. Bryan is a glass all the way full kind of person. And I'm pretty sure Gemma's glass is going to be constantly overflowing. And while optimism comes naturally to me, it is still something I have to consciously choose daily. Or at least try to choose daily! Choosing to be positive was something I learned when he owned our shop for 5 years; retail is an up and down business and somedays you are your own cheerleader for months at a time. I decided one day that it was best to look at the ups and downs like a rollercoaster, instead of a bumpy ride. Since then, I became a mom to miss Gemma and I've realized that keeping a positive attitude is imperative as a parent. Some nights are hard. Some days are hard. But what I've come to realize is that the thing that makes your night rough or day long — well that thing is just going to happen sometimes. And if my attitude is crappy to start with, then the situation is 100x worse. But if I look at the situation with rose-colored glasses, then I can see that it's temporary and how I react is what lasts.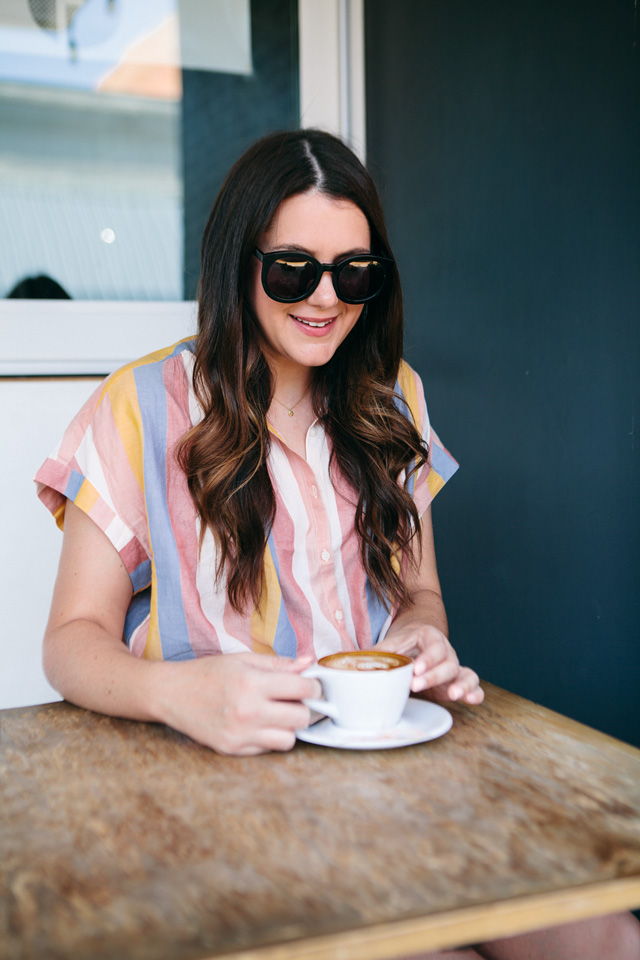 Side note: find something that looks at you the way I look at coffee. 
Did you know research has shown that choosing optimism can have positive results on physical, emotional, and even financial well being? Sometimes I feel like our world leans towards a pessimistic view and it can start to soak into my brain more than I'd prefer. So as pessimism seems intent on taking over and negativity seems to bubble over, this seemed like a perfect time to be reminded of the power that optimism can have. Started on August 6 (this coming Monday!) I will be partnering with Frost Bank and taking part in "The 30 Days of Optimism Challenge" and will be encouraged to completed a daily act of optimism for the duration of the 30 days. Frost Bank is sure that a growing number of optimists completing tasks that foster generosity, build community and encourage self-reflection can have a positive impact.  And I could not agree more. When I do little tasks of good, my whole day is better and that energy spills over into different parts of my life from my family to friends to even strangers I encounter with a smile.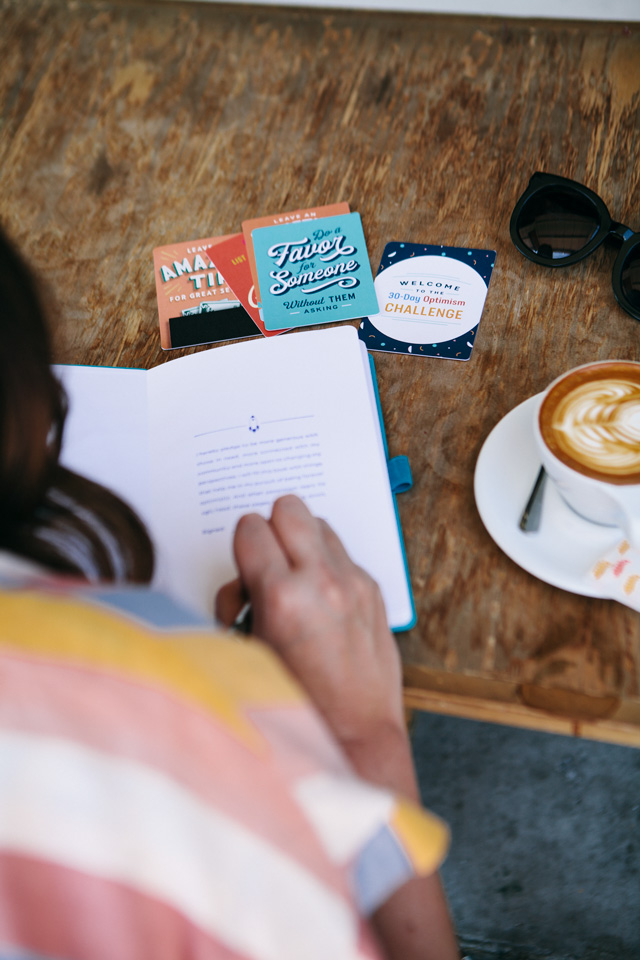 So with this 30 Days of Optimism Challenge by Frost Bank, it's more than just a 'happy' outlook kind of challenge. It's real tasks that they will email you with every single day for the duration of the challenge. We aren't talking a heavy task list here, but little tasks that have real benefit. For example, meeting a new neighbor or holding the door open with a smile for a stranger! Easy tasks that help spread joy.
(If you need more inspiration before you take the leap with me, Frost Bank has put together an amazing website with videos that will give you the happy shivers! All of that is here!)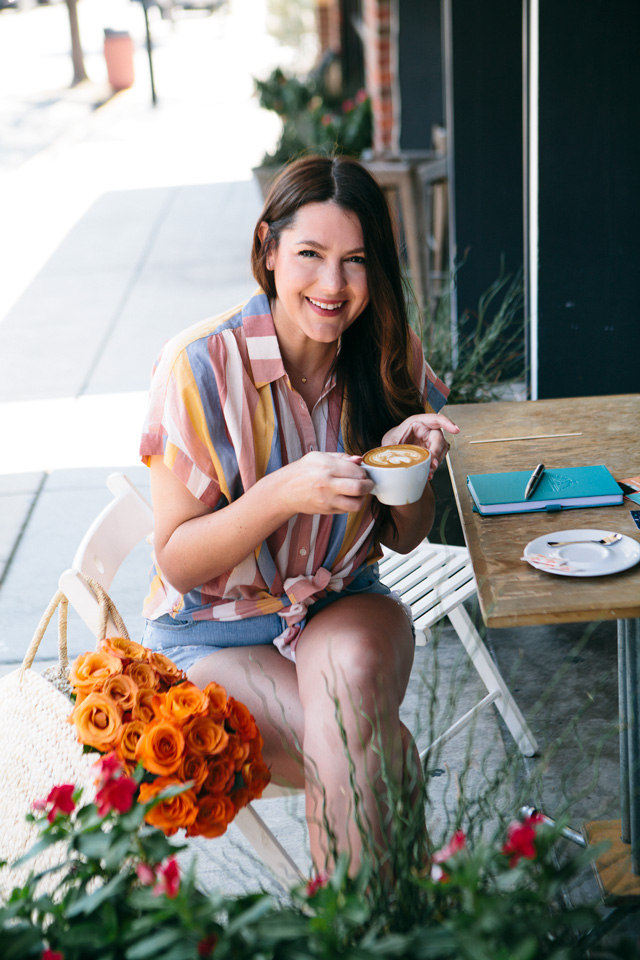 Look, I'll level with you. As a new mom of an almost 1-year-old, I know that life does not slow down, no matter your outlook. Gemma is growing every day and honestly, our days are getting more and more chaotic, so I'm looking at this challenge as a way to slow down and be intentional and most importantly, thankful. Before becoming a mom, so much of the attitudes I heard about having children were all the negative aspects of dirty diapers, mess, and sleepless nights. I've learned in my 11+ months is that sure there are dirty diapers, okay a LOT of dirty diapers, but there's giggles and silliness and hugs and a joy so pure I had no idea humans had the ability to be that happy. I'm taking this challenge to give myself a constant reminder that joy is there to be taken, it just needs a little bit of a perspective change sometimes.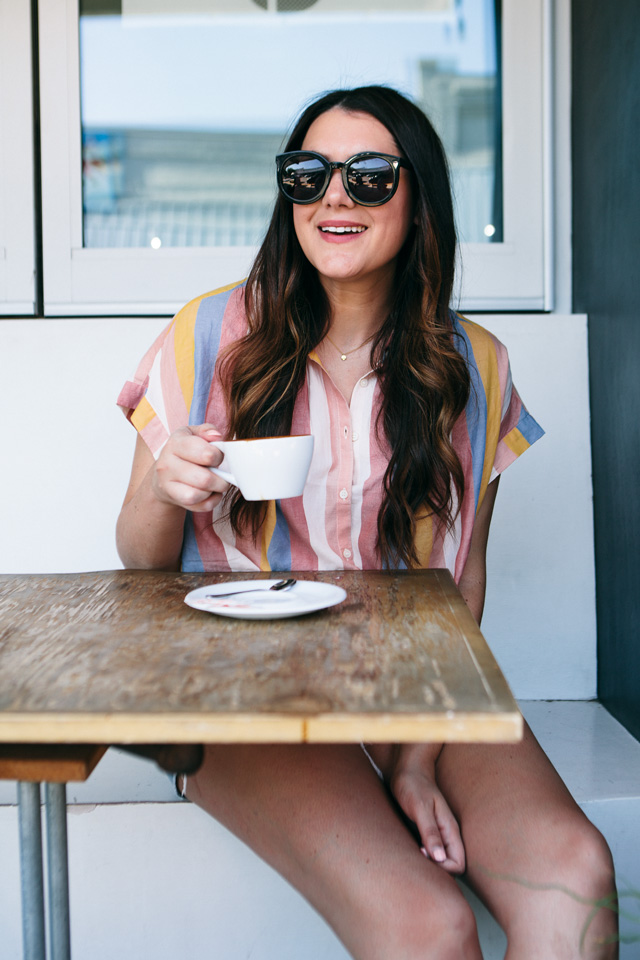 In taking this 30 Day Challenge, I will be interested in seeing how a guided task of optimism will be aligned or different than my natural reactions. Will I be asked to do something out of my comfort zone? FOR SURE. If we are being honest my comfort zone includes staying inside of my house, specifically in my bed, under the covers, wifi streaming. So I hope that my comfort zone is expanded to include spreading optimism and joy not only to my family but to others.
So will you take this 30 Day Optimism challenge with me? It's free, it's simple, no-strings-attached and most important it's the happiest thing you'll do all August! All you have to do is sign up here! Frost Bank will take it from here! We will all start August 6th and I'll come back with a mid-way update to check in on you guys and tell you how I've been doing with the challenges! Learn more about the 30-day challenge here or go straight to the sign up here!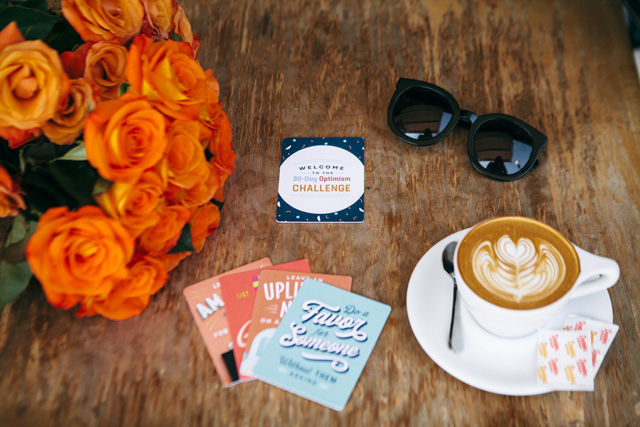 A cup of coffee is not included in the challenge but encouraged. 😉
You can sign up for the challenge here! Special thanks to Frost Bank for coming up with this amazing challenge and partnering on this post!