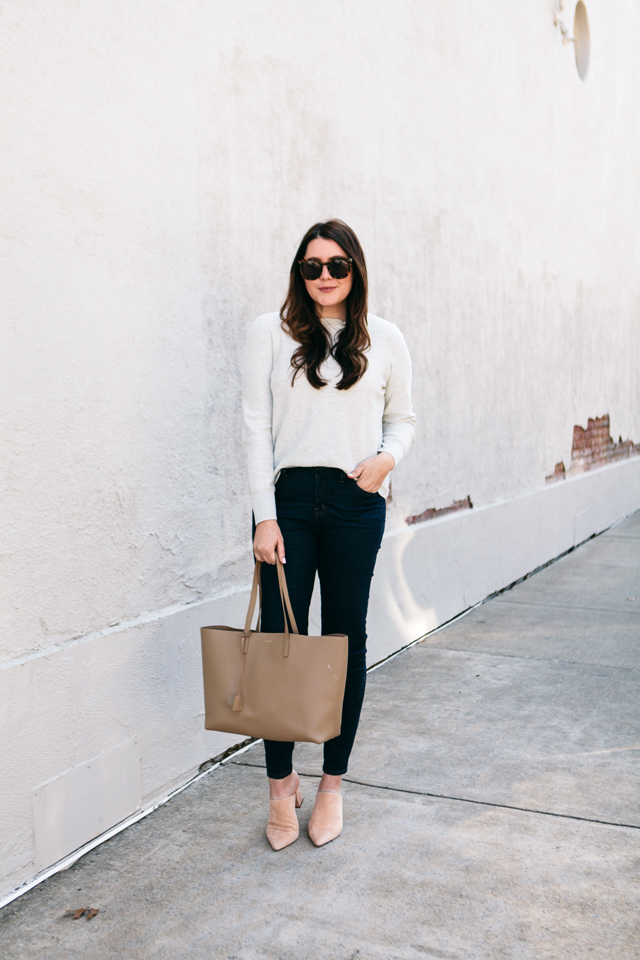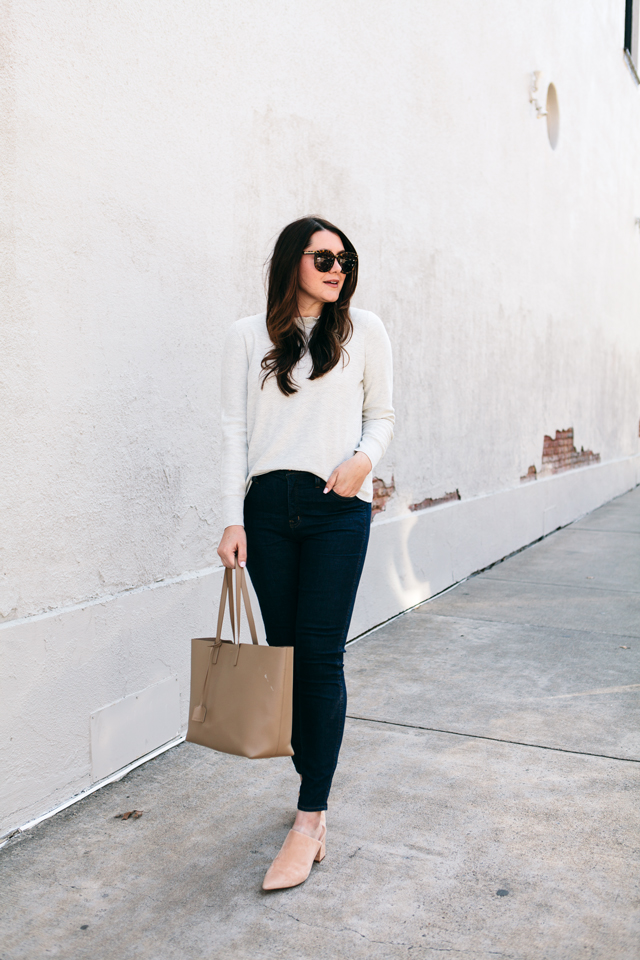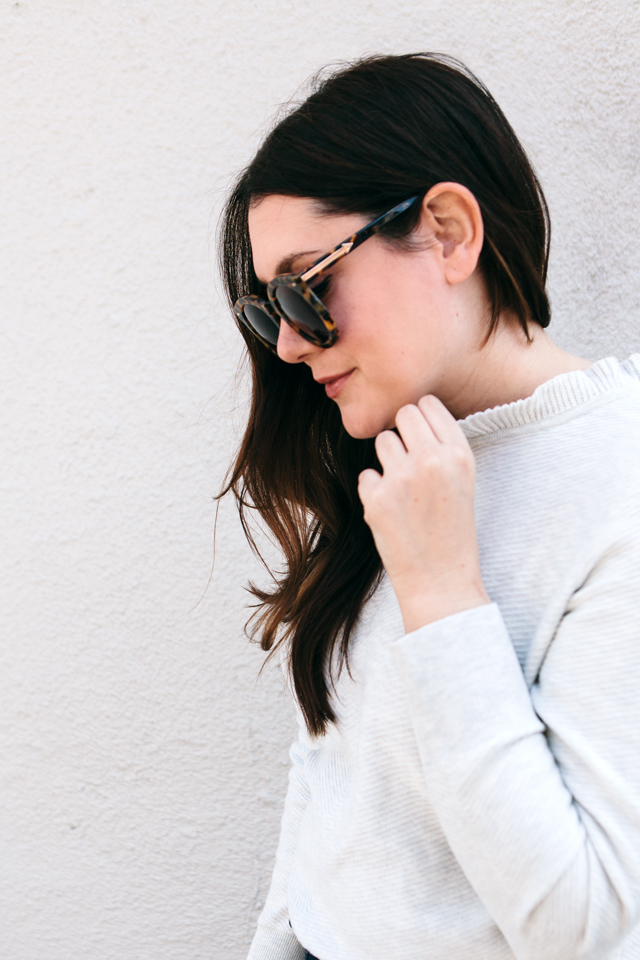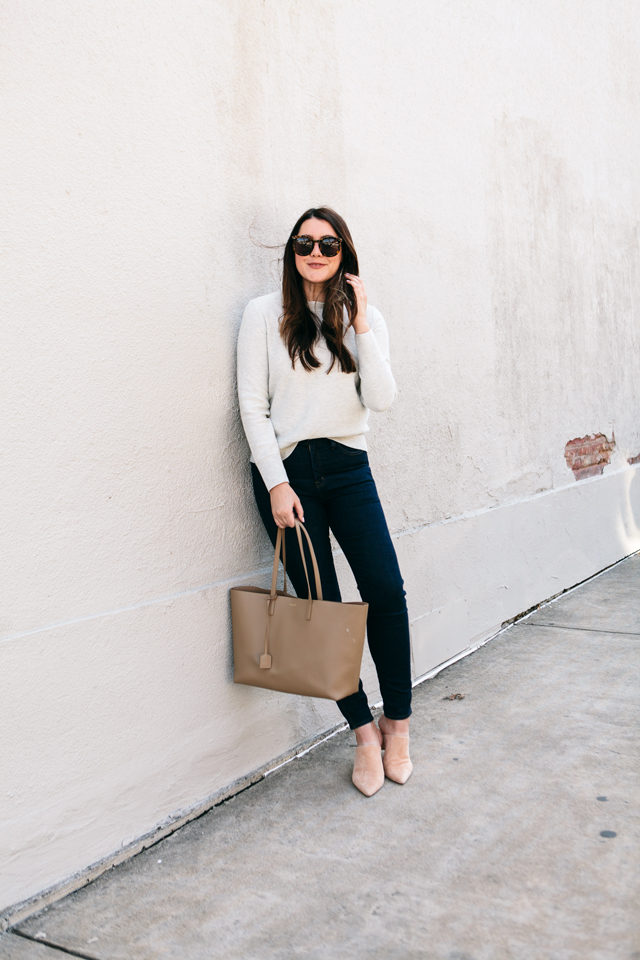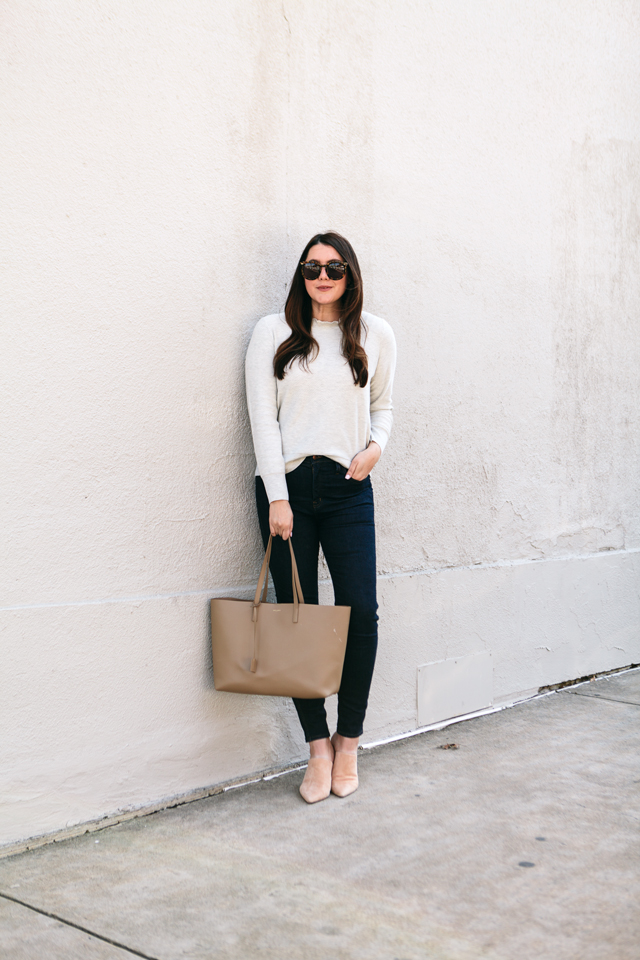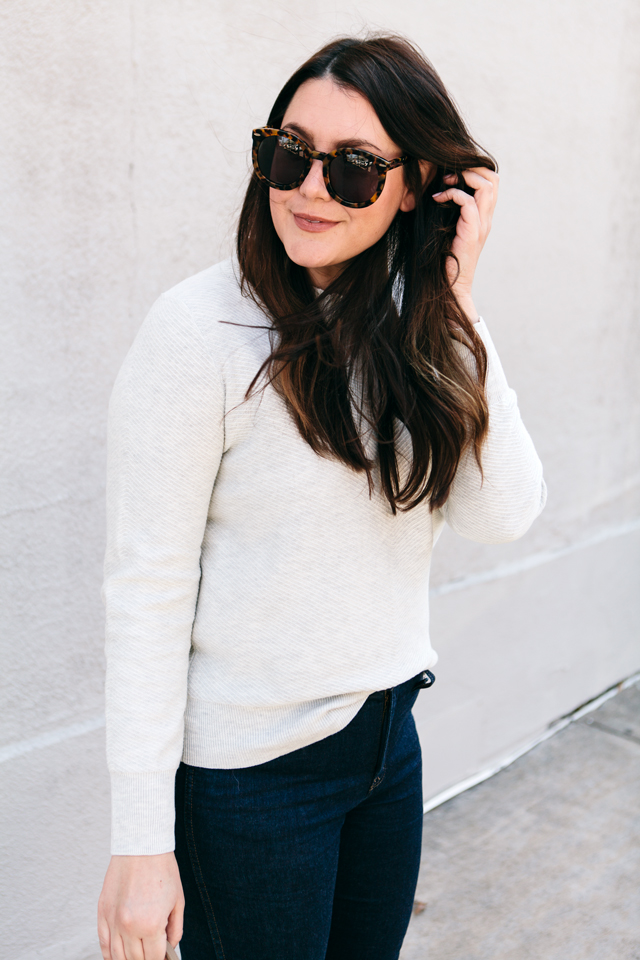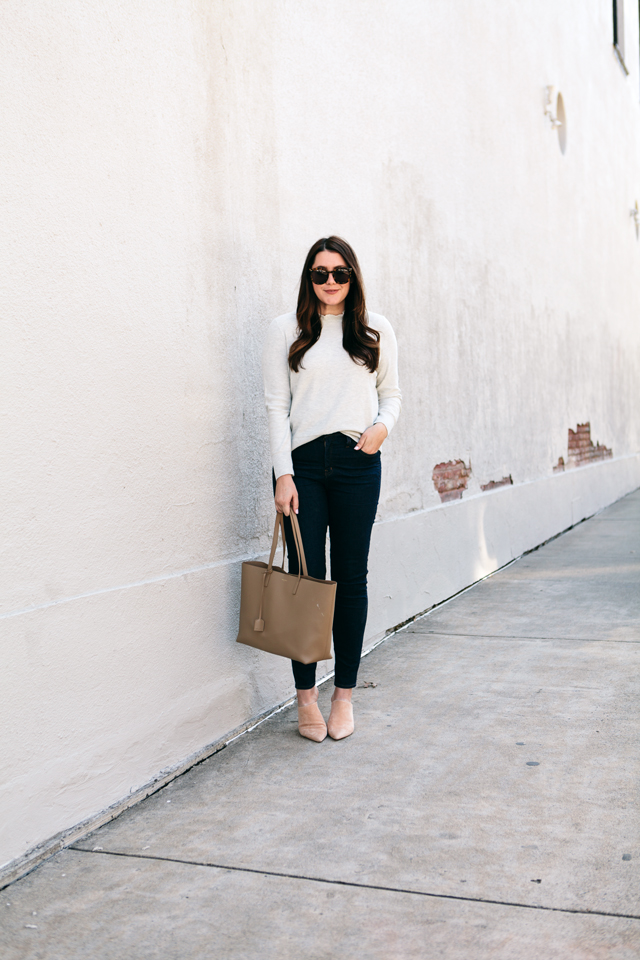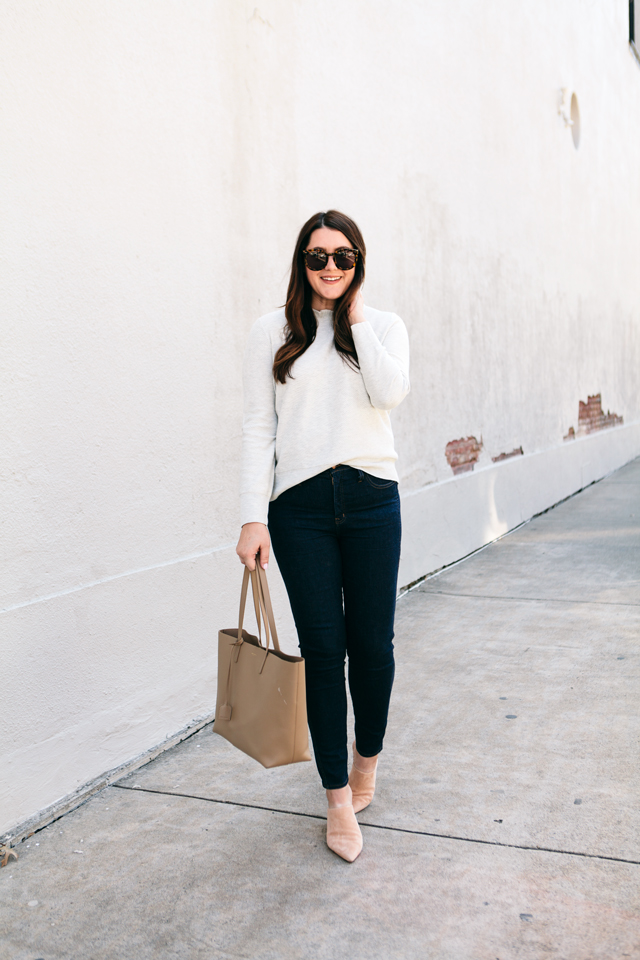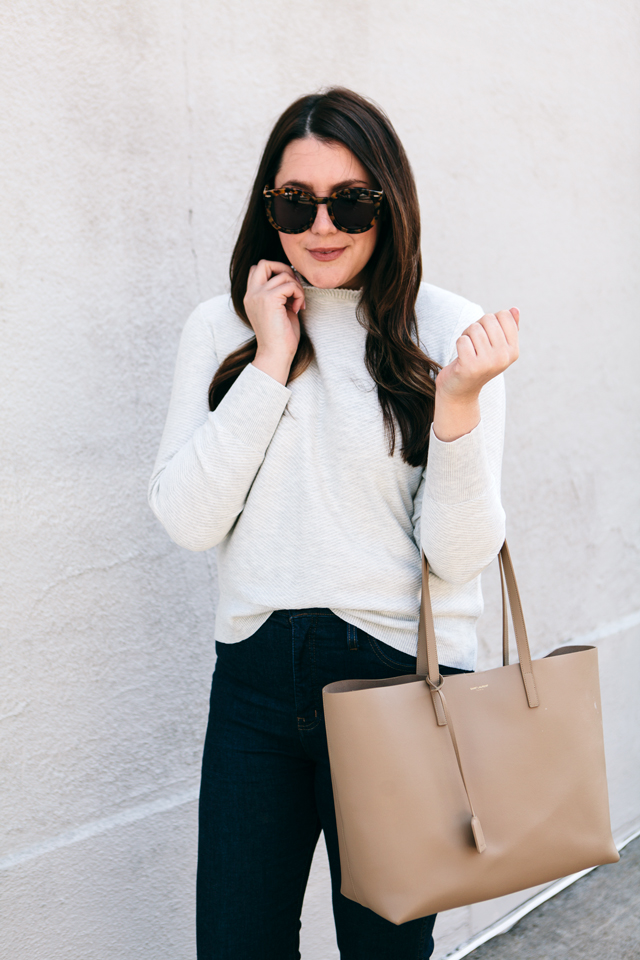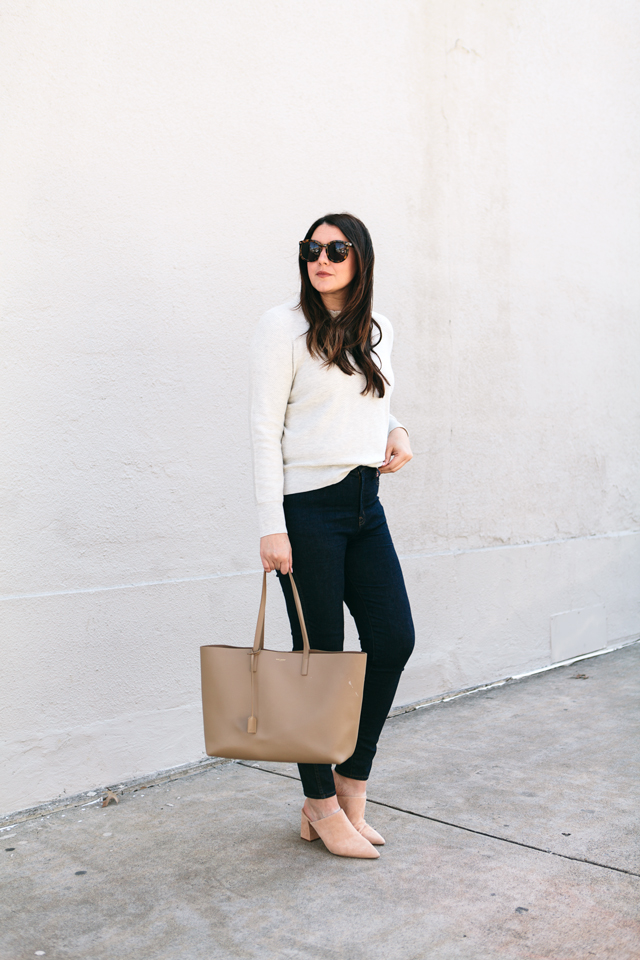 It's that time of year again. No, not springtime, it's that time of year where the wind blows so hard you wonder why you even did your hair that day. I had to hold onto my hair for the majority of this shoot, so forgive me. It's not that I just *love* touching my super soft hair, it's that the wind was blowing at 25 mph during these photos and when I wasn't holding it I had an impending nest of hair knots coming my way. Gotta be honest, wind like this? It's a good hair day ruiner. I always seem to forget this small detail of spring. Mother Nature bargains with us and says "you get sunshine now! Oh but you also get torrential winds. K thanks, bye!" A real frenemy, she is.
So all that to say, I am not in love with my hair, I was just avoiding possible injury.
 Let's talk spring sweaters, yeah?? I legitimately thought this was a sweater from Rebecca Taylor with the sweet little ruffle neckline but surprise — it's J.Crew! I don't always say this but it's even better in person and is a total layering team player. (Think a chambray shirt under this with white jeans! Spring outfit ideas, for the win! ) Also, I say this is a sweater but it's kind of a mix between a sweatshirt and sweater. It's fabulous and you can find it here at Nordstrom or J.Crew, wherever your preference may be.
I'm so into simple ensembles these days. I think the keys to simple and chic are a good pair of denim and keeping things monotone. I feel like dark denim gives just a little bit more of a fancy feel to any casual outfit. And you know how I feel about beige or nude accessories. I LOVE THEM. It's less if you've seen one you've seen them all and more if I have one and I need them all. Nude tote? Check. Nude shoes? Check. Check. Check. Check.
Fact: Accessories and lipsticks are the only nudes I like.
(PS: These mules are my favorite and are on sale!! Find them here!)