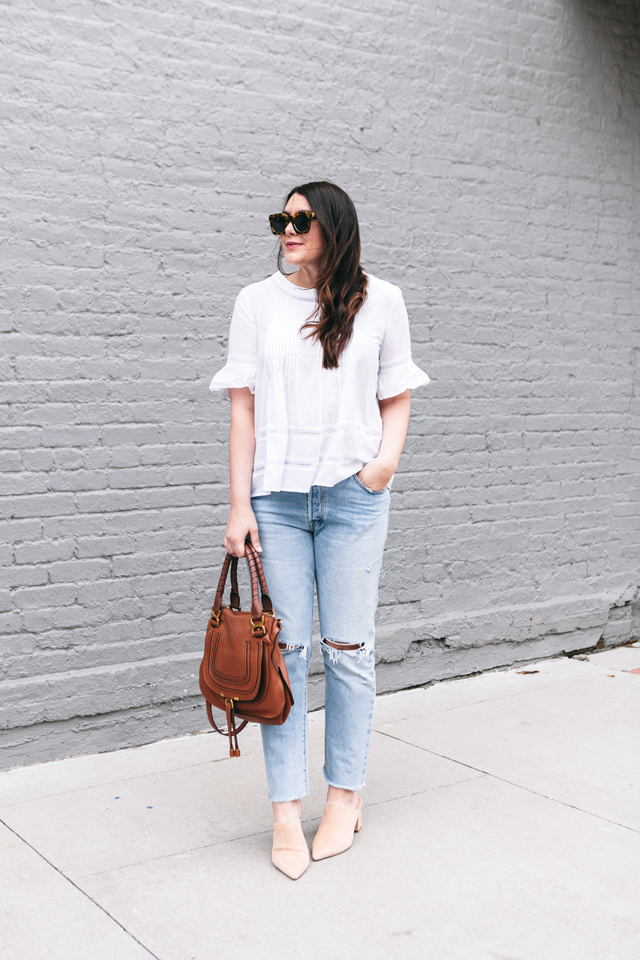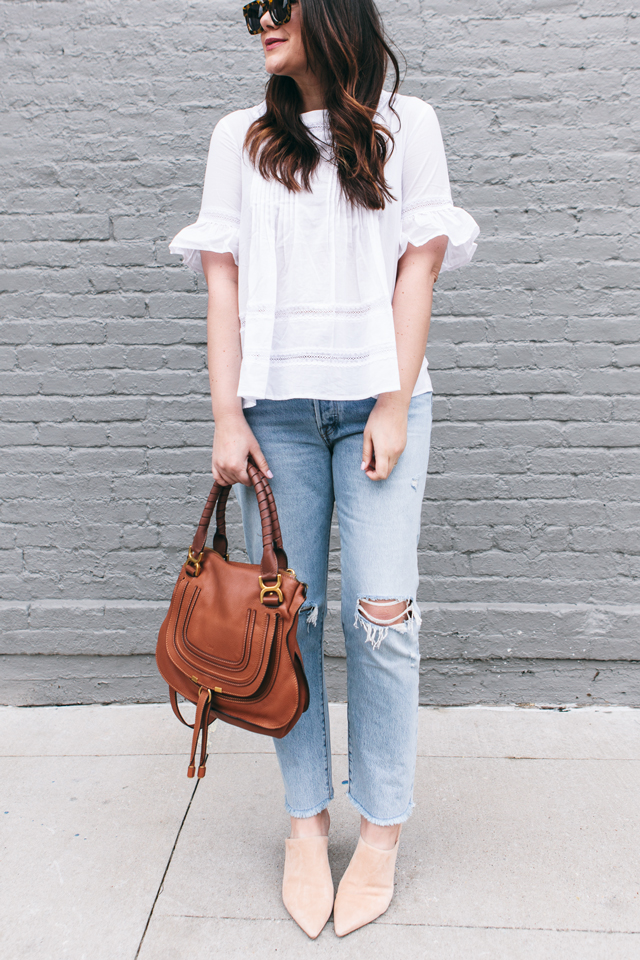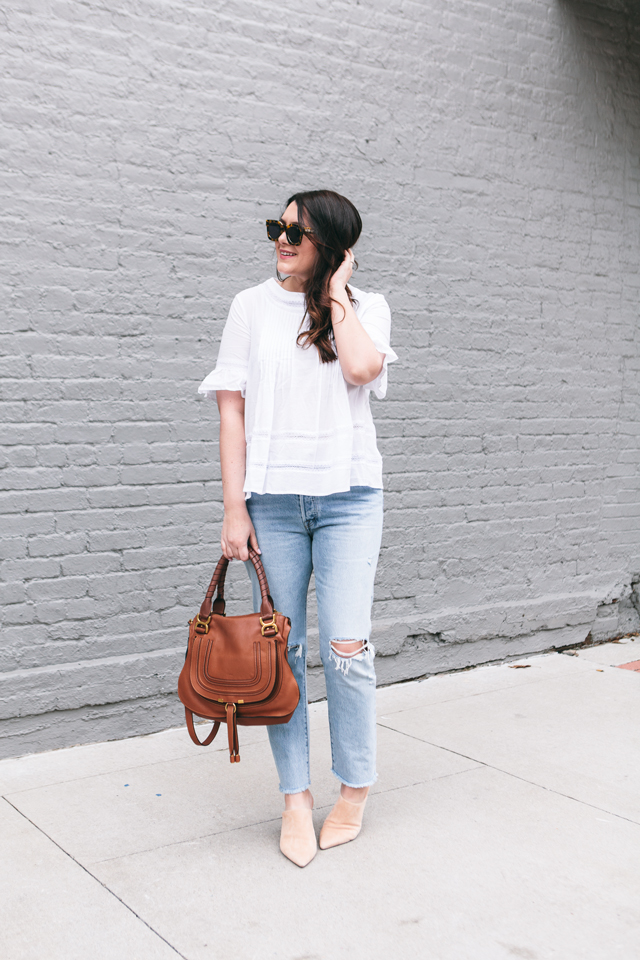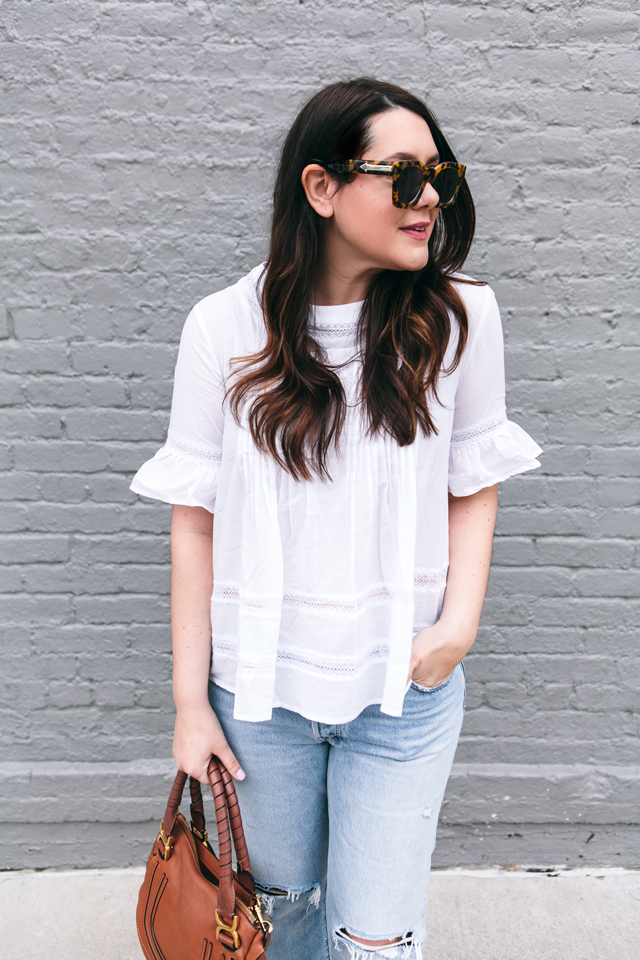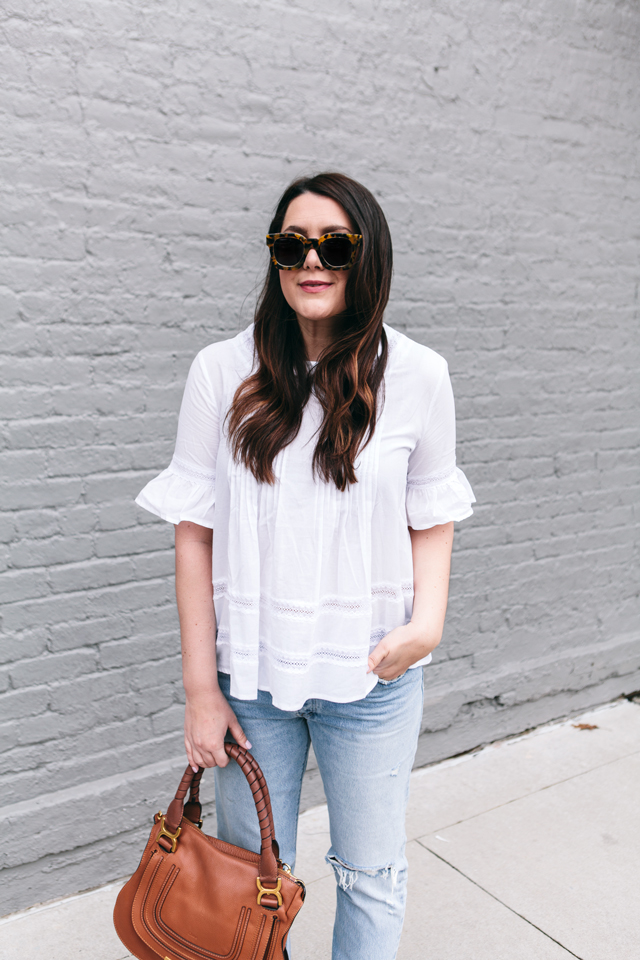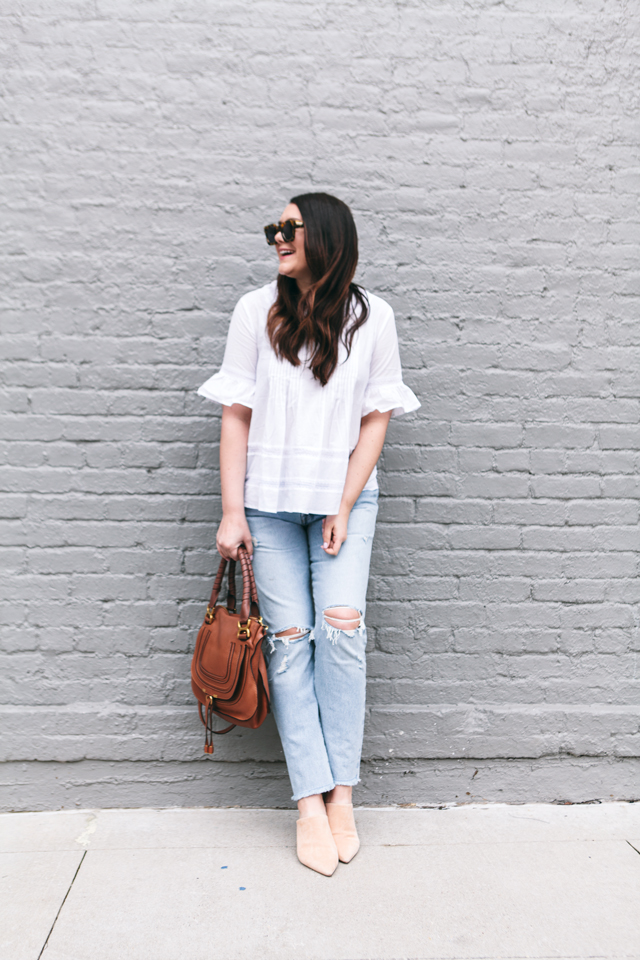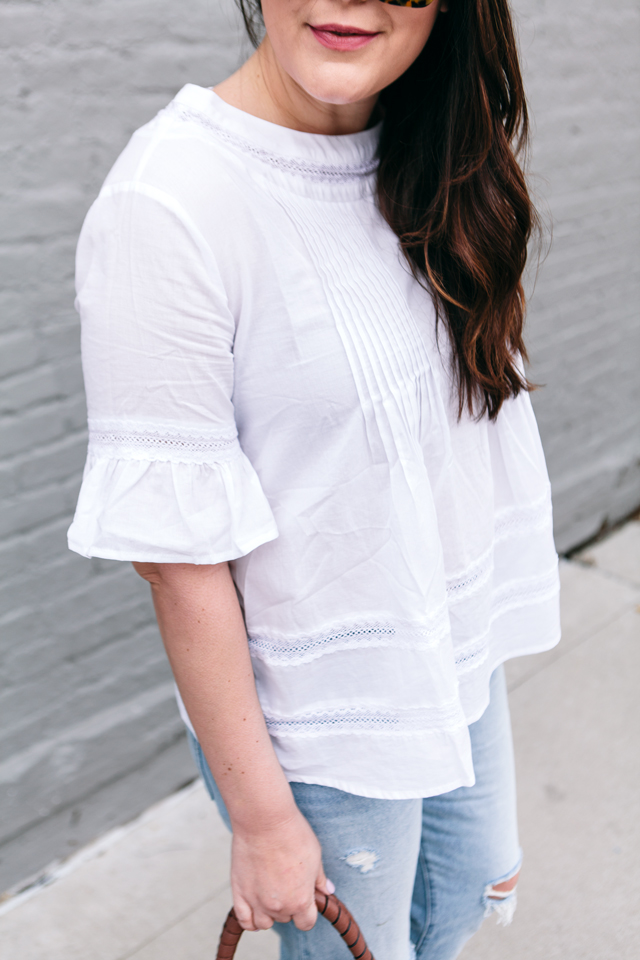 I have been watching this pair of Levi's for a while now, putting them in my cart and then chickening out when it came time to check out.  I think that I was just nervous that they wouldn't fit right and it would break my heart. I've been wanting to try this 'mom jeans' trend since not being pregnant and I tried some similar denim from Madewell but no matter what size I tried, they just didn't ever fit me the way I wanted them, too. However, with the Shopbop sale this week, I took a chance on these bad boys and they are exactly the fit I was dreaming about.
But I must admit — it wasn't an instant love. No, it was not because when I first put them on, even though I sized up one, they were TIGHT. And they have a button fly so they were tight AND a challenge. I was upset honestly because I just want things to fit the first time and I'd been eyeing these for so long. (And by upset I mean I just sighed a little to myself. I didn't like crash dishes against the wall or anything like that. I may be dramatic but I like a clean house.) I asked B what he thought and he was very enthusiastic about it, almost too enthusiastic. Like are you complimenting me because they look that good or that bad? One time I got a really bad haircut and people either said nothing or said they LOVED it so much that I realized that they were my frenemy and were just waiting for me to get a bad cut.  I mean it was a BAD haircut. And that, my friends, is how to find out if they are a true friend or a real enemy — give yourself a bad haircut with like 2-inch bangs and choppy layers then find your true friends. My life advice for the day. Ok, back to the story at hand–  I trust B's opinion (not a frenemy, told me it was a bad cut back in '08) so I wore them around that afternoon and I am SO glad I did. They loosened up a lot and started to kind of mold to my body shape. And now I wish I would have stayed true to my regular size! It's cool though because even if they fit a little loose, it just goes with the cool mom vibe of the jeans. That's right, not regular mom jeans but cool mom jeans.
Too long, didn't read? Good for you! Efficient, I like that. Stay true to your size and give them time to stretch! You'll be glad you did. Find the jeans here.
I get so many questions about these heels everytime I wear them on IG! They are sold out at Nordstrom (boooo) but I found them in full stock here! I love that they kind of look like a flat from the front, too. They are the perfect heel height and I love the neutral hue of the suede. Plus they remind me of my favorite pointed toe Vince flats that never came back again. Do you remember those from a few years back? What is up with all of my favorite things being retired? In my perfect world, a pointed toe nude flat is always readily available. In my real world, I just wear them until the shoe repairman throws them away for me and tells me they got stolen. Back to the mules, I'm wearing today, they fit true to size! You can find them here.
This blouse is selling fast at Shopbop! I've linked a few similar looks below!