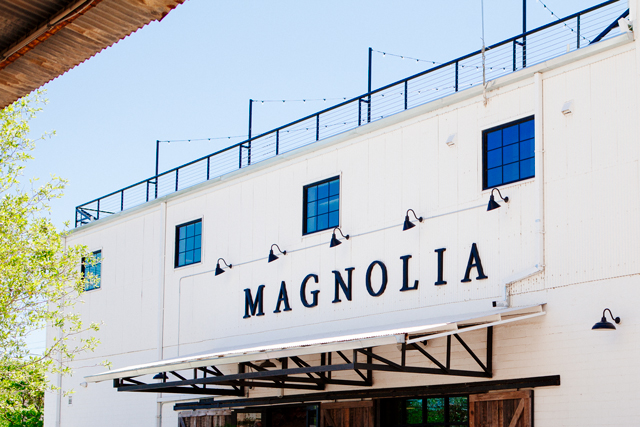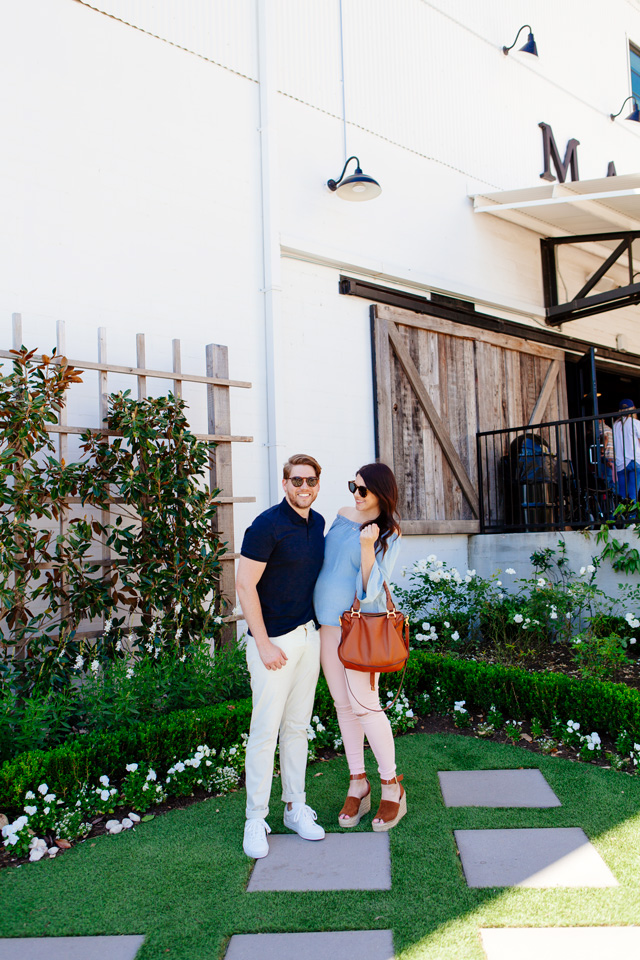 Just a few weeks ago, I somehow talked B into taking me and my mom down to Magnolia Silos and Market in Waco. I don't know what miracle happened, maybe it's my big doe eyes or the fact that I'm carrying his child but either way, he said yes and I did not question it. This is in fact not Bryan's number one plan of fun, but I've been wanting to go check it out for a while and he happily obliged. I also mentioned food trucks and cupcakes. That might have been the turning point for him.
But once we got there I realized, we were not doing this right. We got there right at lunch on Saturday so that was our first mistake. I realized this as we pulled onto the street Google maps directed us to and saw church parking lot after church parking lot with signs that said 'parking lot full'. "Oh my shiplap, this is all for Magnolia.' I said outloud and then I quickly thought okay so we drove down here for nothing. How are we ever going to find a park? Well luckily we found street parking a few seconds later, so it was meant to be. As we walked up to the Silos, the first thing you see is the bakery, which was number one on my list (and should be on yours, if you go.) But the line, you guys. THE LINE. It went 30 people back, across the street and in that moment I thought"I wait for no cupcake." and also "we should have come on a Monday at 9 am."
So if you are planning on a trip to Waco, I've gathered my expertise and tips for you. That's right after a solid afternoon I'm now an expert. Oh but first, let's take a quick look at my outfit. Hashtag priorities.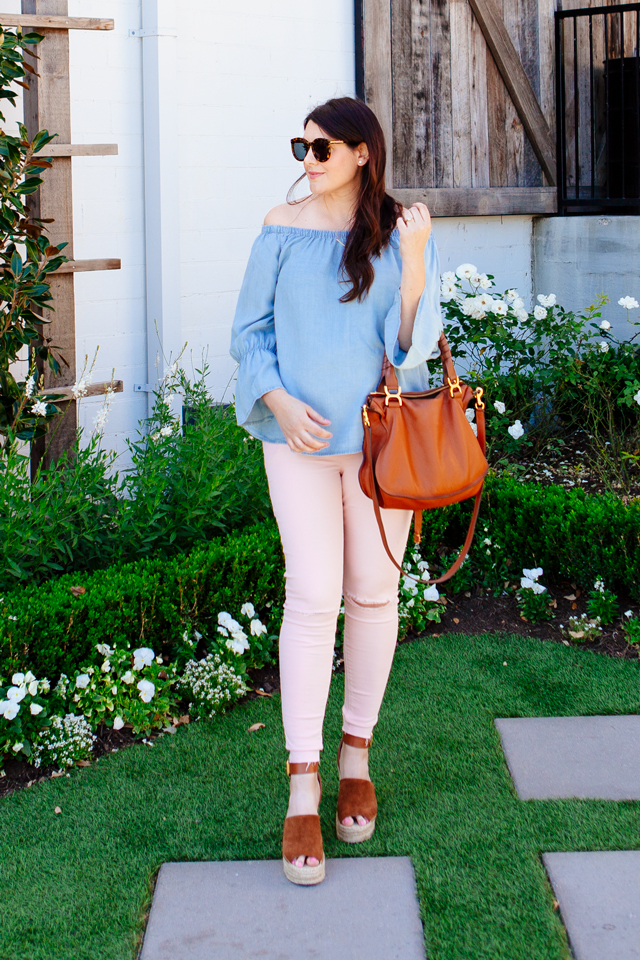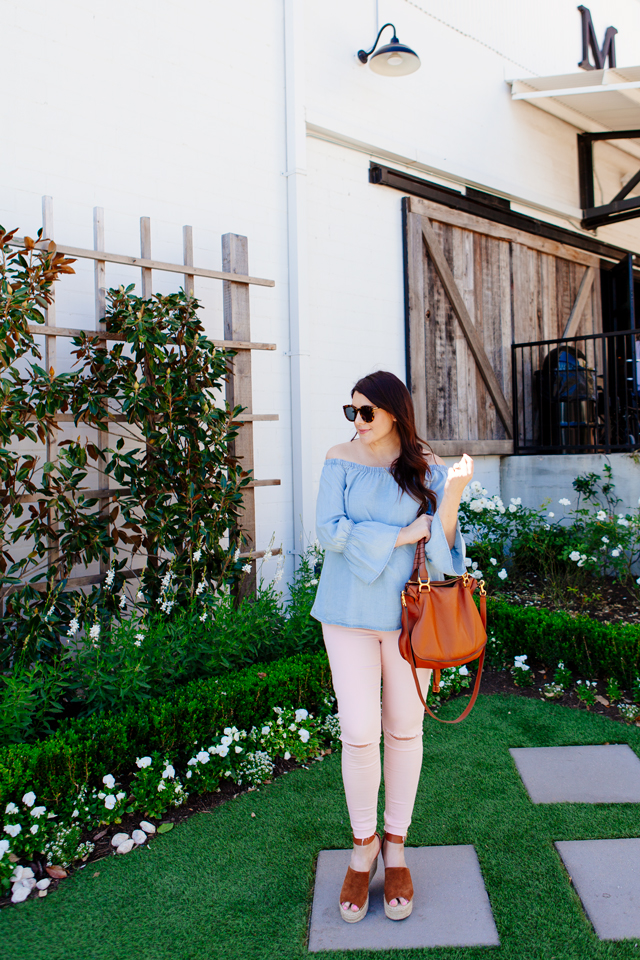 I told you I loved these pink jeans. (PS: the maternity version is here! The regular version is here!)
Monday is better than a Saturday
Look, some people like crowds and waiting for 2 days for a cupcake and I commend those people for their patience and bravery. I was not born with that gene intact, so I like to find the days of least resistance AKA people. After doing my research after the fact, I found that the least busy days and times were Monday and Tuesday right at the opening of the shop or late afternoon. I also asked a few people and they confirmed this truth. That makes a lot of sense, since most people probably want to get there in time for lunch at the food trucks. (Which is highly recommended.)
If you can at all go during the week, do it. And I definitely stress this if you are from out of town coming in to see the market.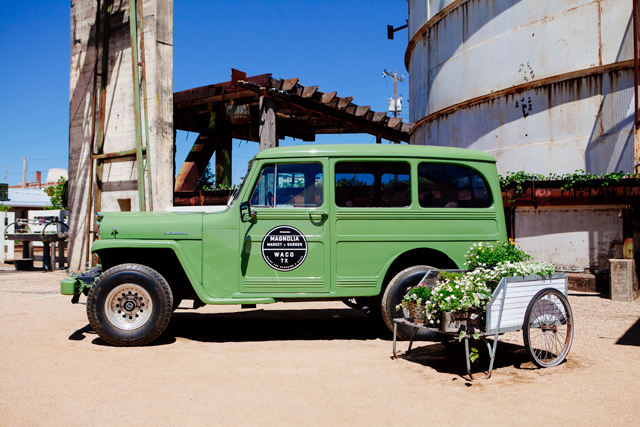 Make it a Stop, Not the Whole Trip
Not to say anything sore about Waco, but if you are coming for the Magnolia Market you are probably going to spend 2-4 hours there and then think — then what? I would say your best bet for a fun road trip would be to either keep heading south to Austin or Fredericksburg (Texas Wine Country) or head back north to Dallas and make a trip out of it. Waco is a great city, but it might not warrant a really long out of town road trip. If you are from Texas, then you are probably used to drive cross state but if you travel from afar, then come and make a stop at Magnolia / Waco and keep going to see other great cities in Texas. It makes a lovely afternoon, but past that I wouldn't stay much longer. (Again, nothing against Waco! We just went down for a few hours and turned right around and came back.)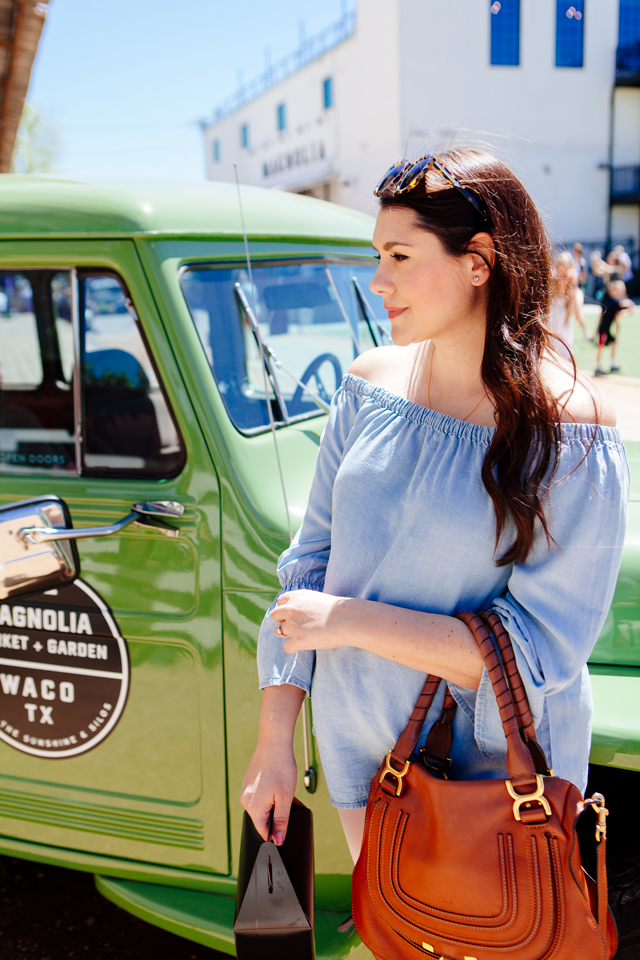 Take Your Time
I say this for two reasons: 1) because of the crowds you won't really have any other choice but to take your time and 2) because there are open spaces and seats and just room and air to breathe so you should take advantage of it! There is a big open yard with room for you to stretch out or play games, swings to sit and sip your coffee and eat your cupcakes, or said food trucks that you can eat at multiple times and no one will ever know you actually had 4 lunches. If you are in a rush, this might not be the place for you to stop. Come in and relax and your day will be better for it.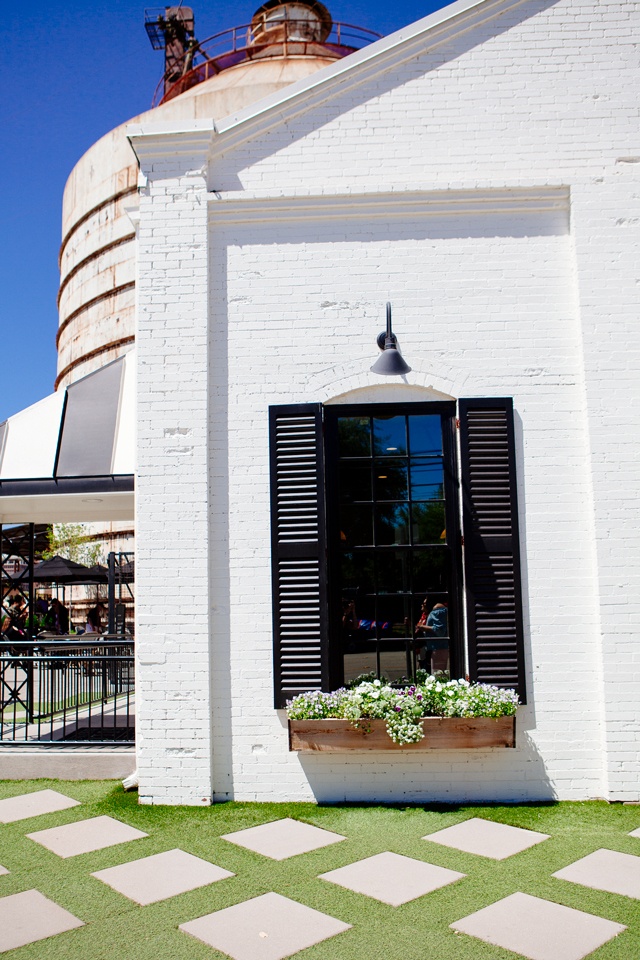 Wear Comfortable Shoes
Again, I say Disney Land for adults and if you are wearing any shoes that resemble what I'm wearing in these photos, you are probably doing it wrong. There is a lot of gravel, grass, and walking and standing so sneaks or sandals are your best choice! Unless you are trying to be fabulous at all times like me and then espadrilles will do. (I'm kidding, my next trip will be sneaks for sure.)
Early Bird gets to Shop
I'll be honest — my mom and I went to shop. We are always on the hunt for home decor and treasures so that was what we had in mind. Once we got into the market, it was so crowded it felt like going through the maze and motions at Ikea. We just followed the pack and so it was hard to look and appreciate the items in the shop. We quickly realized that if we wanted to shop, Monday at 9 am was going to be our best time, not a Friday or Saturday afternoon. We fell in love with displays and I fell in love with some dishes but decided ultimately to enjoy the day instead of trying to fight the crowd or the lines. Plus, it's always a good sign when you haven't even been there for 15 minutes and you are already planning a second trip.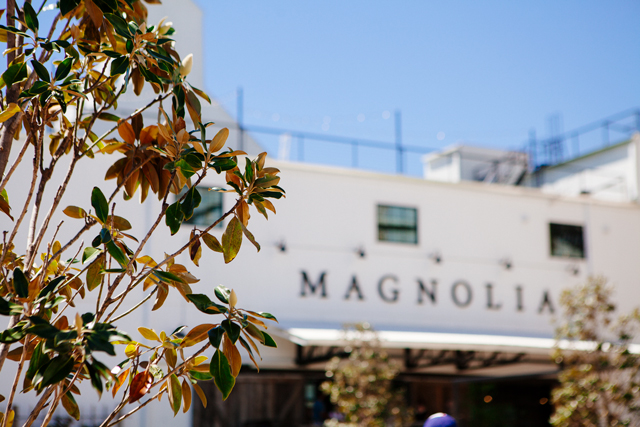 Don't Wait in Line (kind of)
Okay, okay. So you're going to have to wait in some lines and no they don't have a fast pass like they do at Disney world. BUT I found the airstream trailer at the end of the food truck line that also serves the Silos Bakery baked goods and we waited there for about 5 minutes as opposed to the bakery that was probably closer to 45-1 hour. While no, I didn't get to see the beautiful inside (which is what I was really excited about!) I did get to eat a chocolate cupcake and a chocolate chip cookie. So I think the trade off was fair.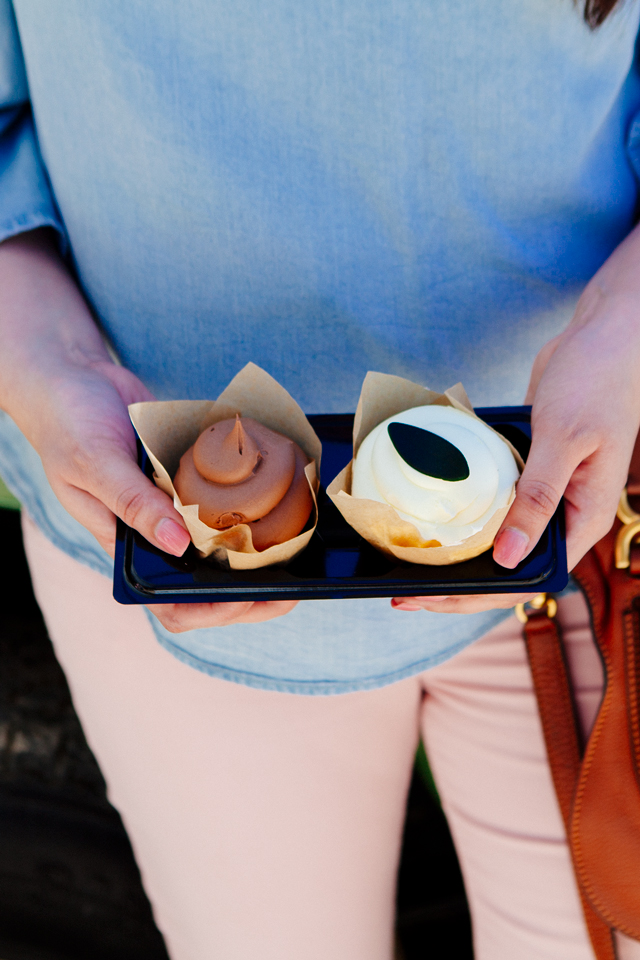 You can also play the food trucks just right. From about 11:30 to 1:00 the lines were pretty solid, but by about 1:30-2, the lines were starting to dissipated. The most popular food truck was the Grilled Cheese one so we decided on the BBQ truck and it was an amazing choice. I'd drive the 2.5 hours just for that food truck again. And also the cookie. I'd wait at least 10 minutes for that cookie. 😉
So yes definitely go if you get a chance rather you live here in Texas or you are coming from out of town. Maybe stop in Dallas and say hi to me, while you're at it. 😉