I'm not sure when it happens but the torch gets passed down from your parents to you and all of a sudden you are in charge of your own holiday traditions. It was a few years ago when B and I realized that we needed to create our own family traditions. And over the years I've collected ornaments that have meaning between us,  Christmas day cookies, and our Christmas morning tradition of cinnamon rolls, pajamas and presents. (We like sugar, ok?) And along with traditions we have set, I've also picked up a few holiday hacks that make things a bit easier when the holidays get crazy. Which I am more than happy to share with you guys!
You see, Loft has a holiday gift guide from A-Z and it's adorable. Seriously, you have to go check it out here. Loft asked me to cover a few letters on their guide and I realized that I've actually got this alphabet covered. You see, I've got G (gifts), H (holiday hacks), J (jokes), K (knits) and L (lace) covered. I do not unfortunately have ice skating covered. A short story about a long fall taught me to never ice skate nor tell that story ever, ever again.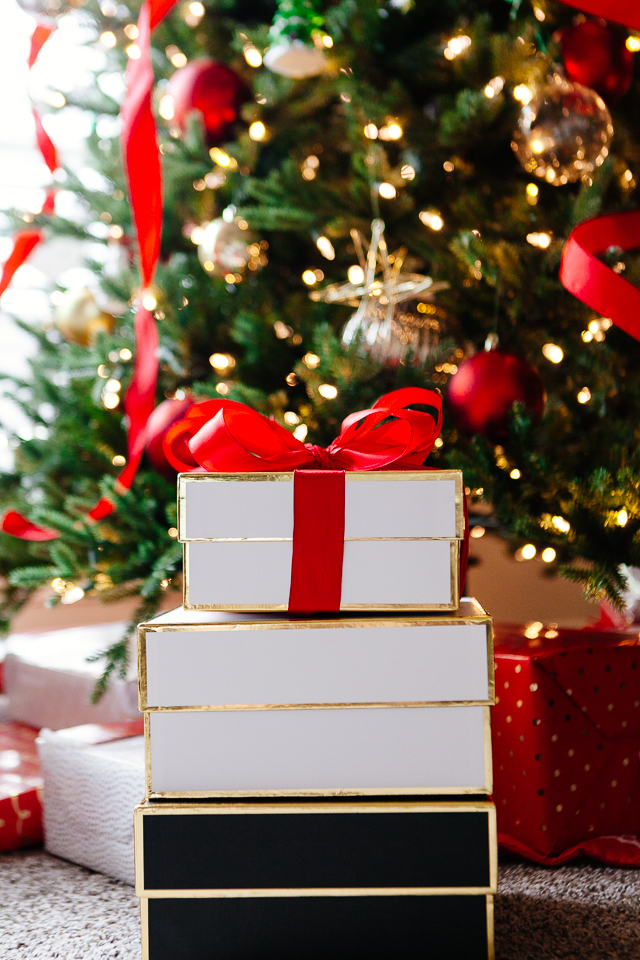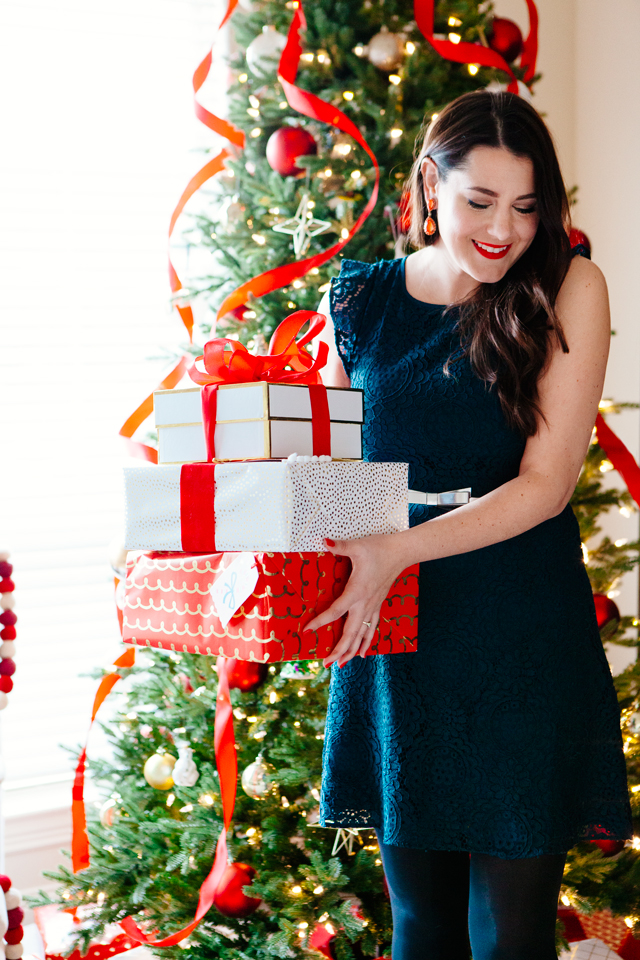 But before we get to my famous holiday hacks, let's talk lace — I mean is lace not the unofficial fabric of the season? I tend to be drawn to lace during the holidays and I LOVED this evergreen hue. I love to dress in themes — you know I do — but I also love a bit of subtlety with the holidays. This green dress is a perfect nod to Christmas but in a classy color that doesn't scream green. (Plus it pairs well with red! My earrings tell me so.)
I also love this lace dress as well, if you don't fancy green, black is always a classic option!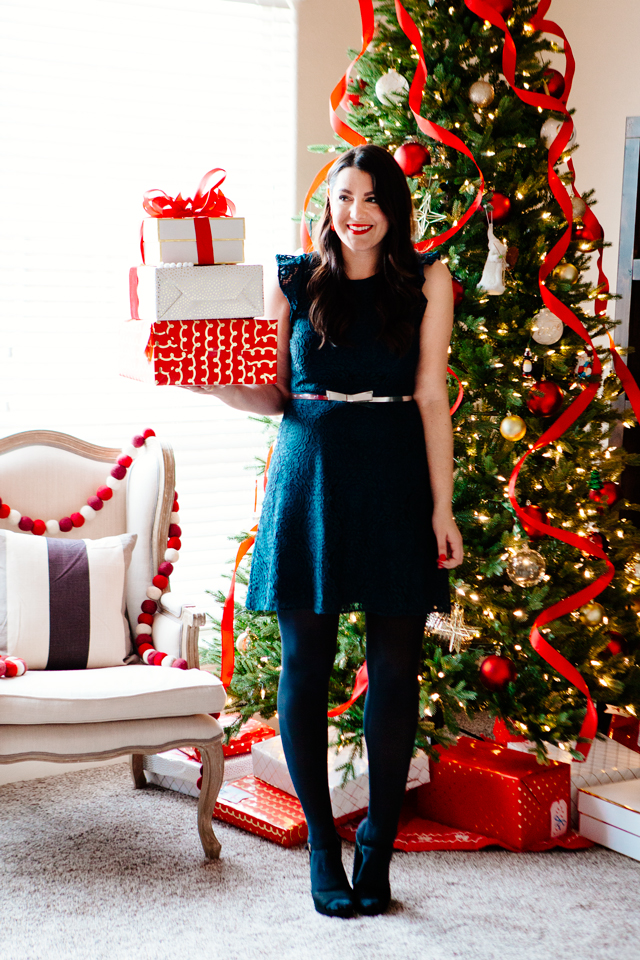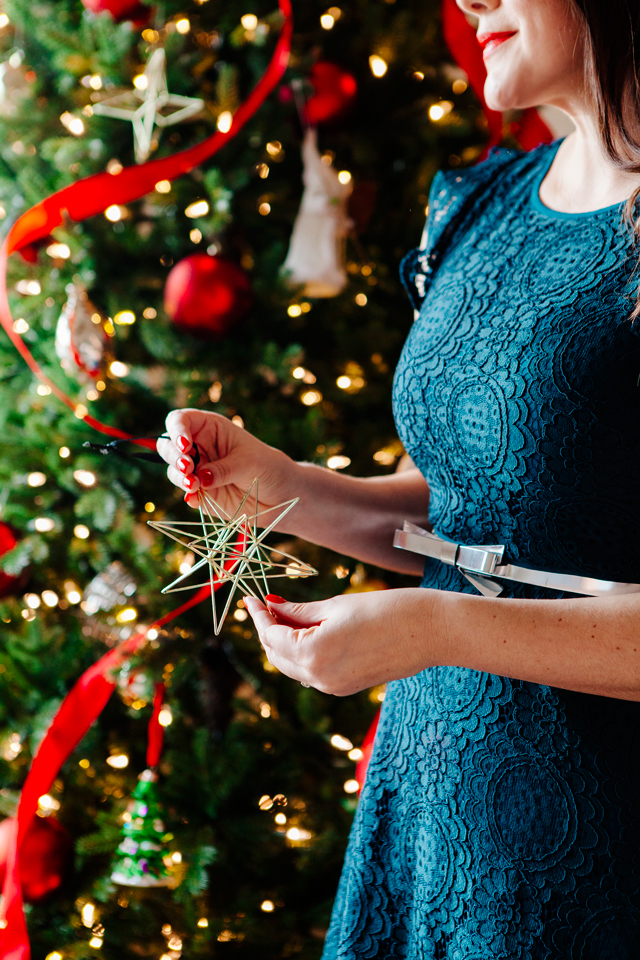 Okay on to those hacks I promised! Just a few tips that I picked up over the years. Oh and feel free to share with me yours in the comments below. Holiday hacks, here we come!
Use your wrapping paper as Christmas decor!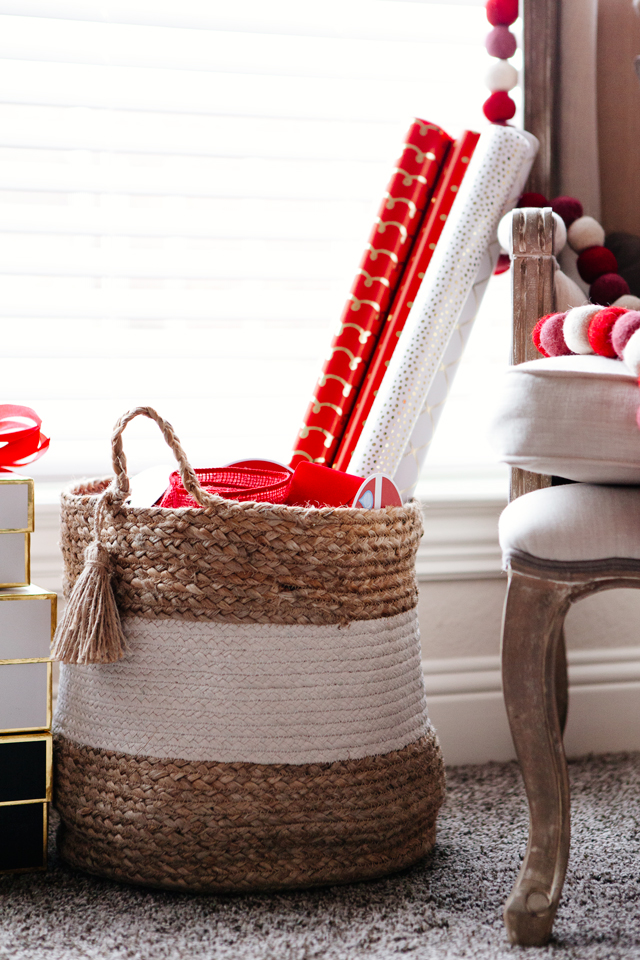 Typically wrapping paper is stored away until you need to use it, but I find it so colorful and festive that it's a shame to hide it! I like to empty out a basket and use it as holiday decor in the room. I tuck my ribbons, tape and scissors in the basket unseen, and everything I need to wrap presents with is right there — happy and colorful and oh-so-Christmas!
Make your own present bows!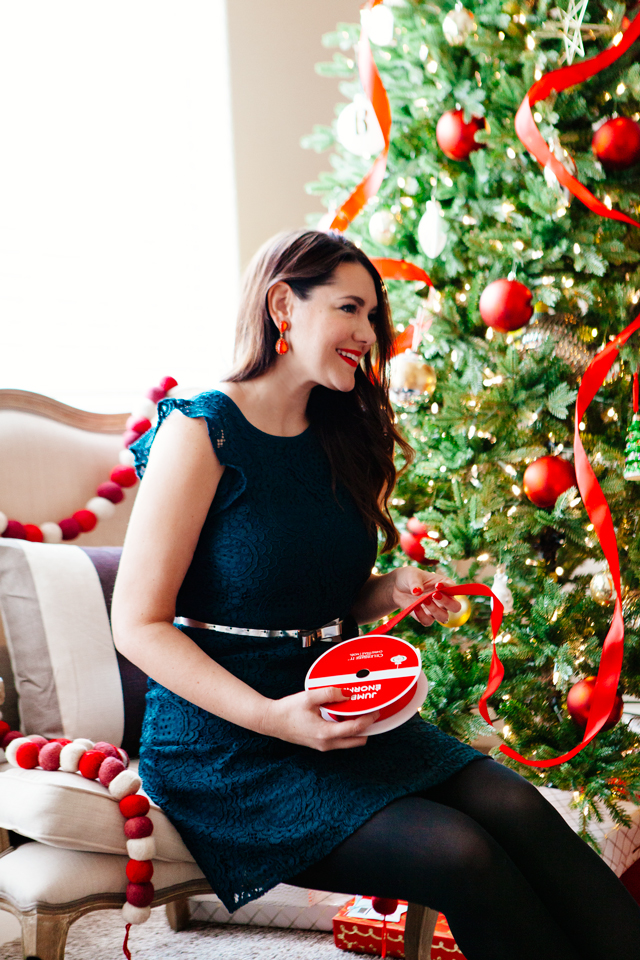 Pre-made bows aren't breaking the bank by any means, but I like to find ribbon on sale this time of year (most craft stores are trying to get rid of their holiday items as fast as they can) and make my own bows! As someone who is not the least bit good with her hands, this is something I've done for years. It's actually really easy — I use the pinch bow method; a trick I picked up from working in a gift shop through college. You can use these bows on gifts, wreaths or on your tree and garland! It's seriously the most simple way to tie a bow, once you get it down it takes two minutes to make.
Here is how you do it:
You'll need a spool of ribbon (I like the kind with wire so it hold's shape), scissors and that's it!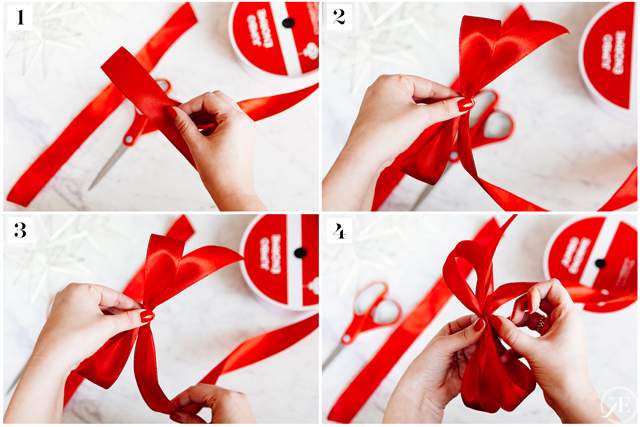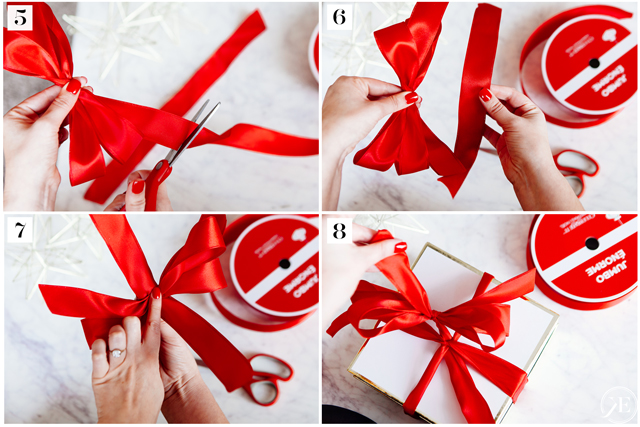 Cut an extra 4-5 inch ribbon to use later. Then take the end of the ribbon from the spool and create a loop.
Cross the loop, like you're making a bow, and make another loop with the ribbon. Pinch the middle to keep the loops together.
Feed more ribbon from the spool and keep creating loops on both sides, making them even. Create as many as you'd like! You can stop with two for a simple bow or knock yourself out with as many as you can handle.
When you're finished, gather the bow in one hand while pinching the middle to keep it together.
Feed the ribbon from the spool and cut the tail of the bow, making sure the ends match in length.
Take the extra ribbon to use as the middle fastener.
Turn the bow over and tie the extra ribbon in the back. Don't worry about the extra ribbon, you'll use that next!
On your package, tie a criss cross ribbon so that you can affix your bow to the front of the package. Use the extra ribbon to tie a small knot on the package.
Voila! You are done! Easiest bow you'll ever make.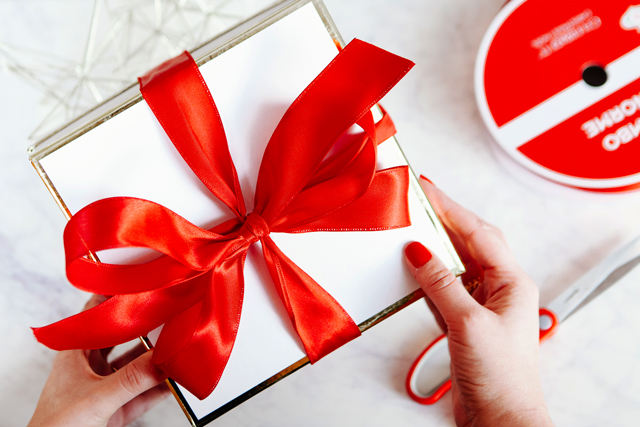 Use pre-made boxes!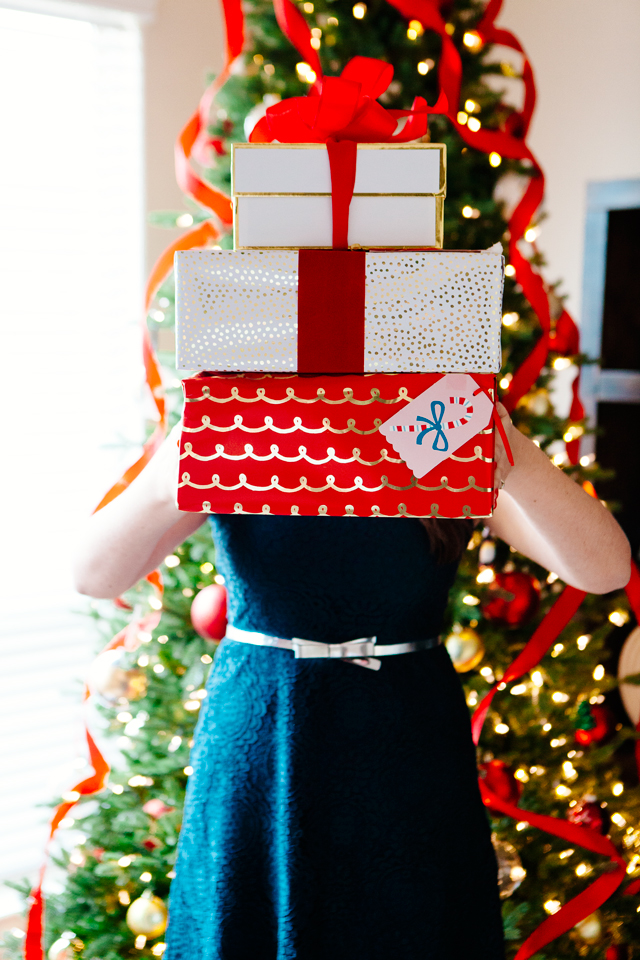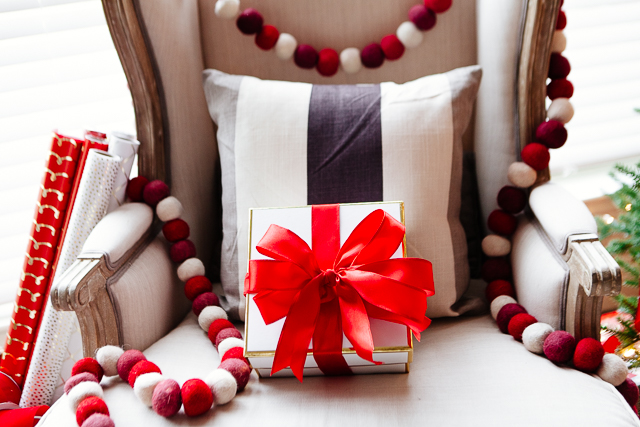 At some point the gifts start to pile up and gift bags start to look like the best option. I never mind a gift bag here or there but there is just something about opening a package or a box on Christmas Day. I like to pick up a few pre-made boxes when I start to get wrap-weary. Tie on a big bow and you are set! Sometimes the prettiest gifts can also be the most simple to do.
Give a gift everyone loves!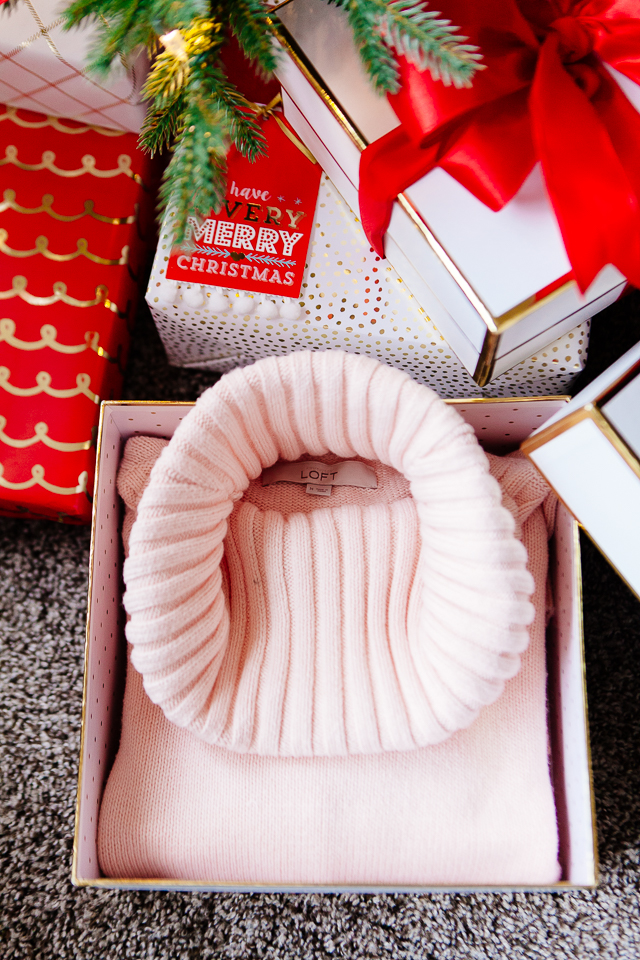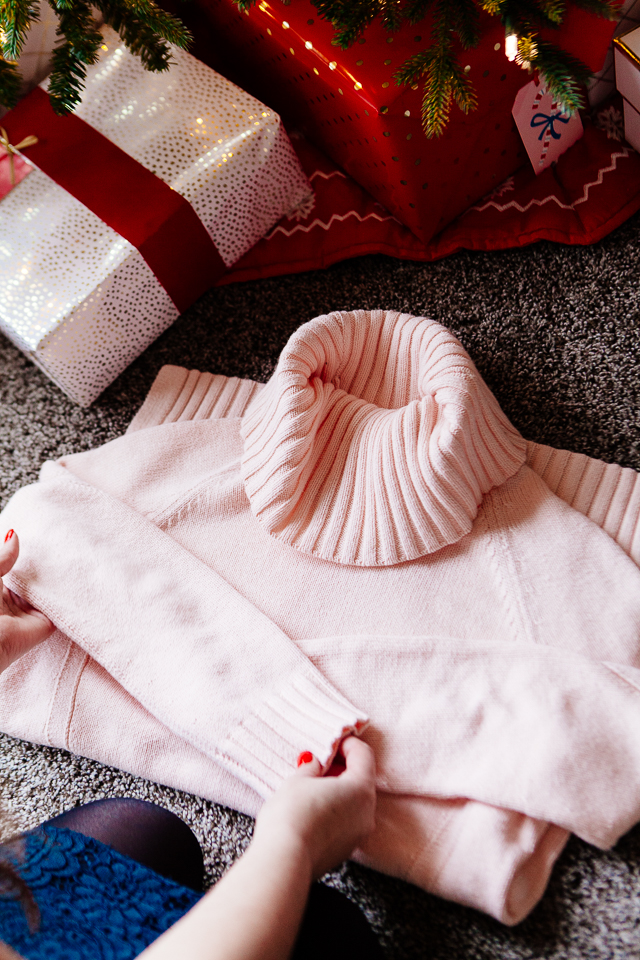 I bet you were thinking that I was going to say gift cards. Well everyone does a love a gift card but if you want to give something besides a gift card, I find that a sweater is always a welcome gift. Plus a sweater is easy to pair with fancy earrings or a matching scarf.  You can also see all of Loft's gift suggestions here! Oh and don't you worry, you've still got 12 days. This isn't panic time yet.
(I don't do this to the same person every year because I like to shake it up and I don't want to be predictable! But a sweater is a perfect gift. Especially this one from Loft. Would I be excited if I got this? Absolutely. That's why I'm wrapping this for myself in this photo.)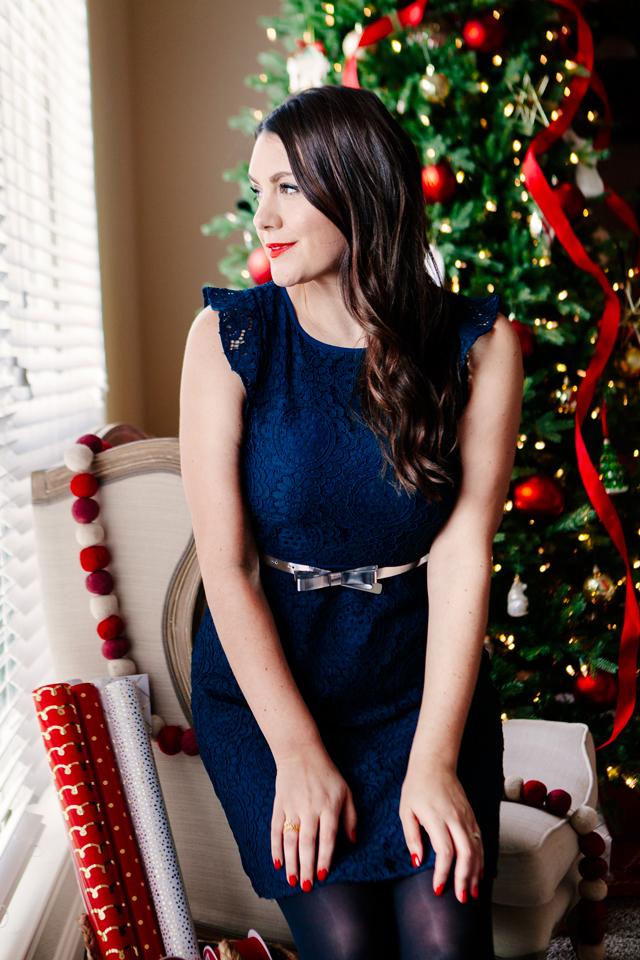 You can see Loft's A-Z gift guide here for some super cute ideas and gifts! Oh and the joke? I got jokes. How about this one?
What do you call a kid who doesn't believe in Santa?
A rebel without a Claus.
And yes, I'm available for parties.
*This post was brought to you in collaboration with Loft. Thank you for supporting the brands that support this blog!