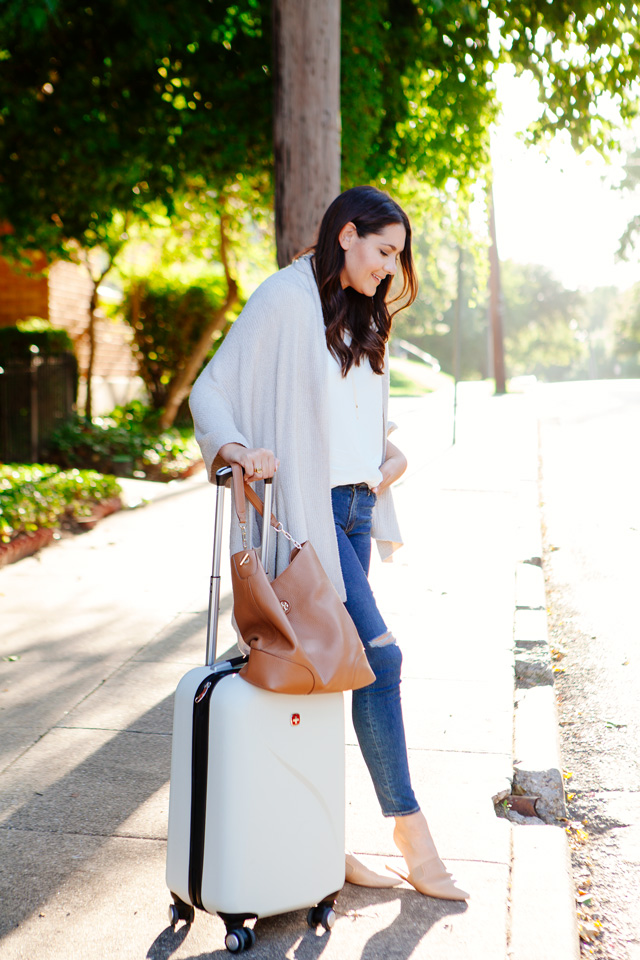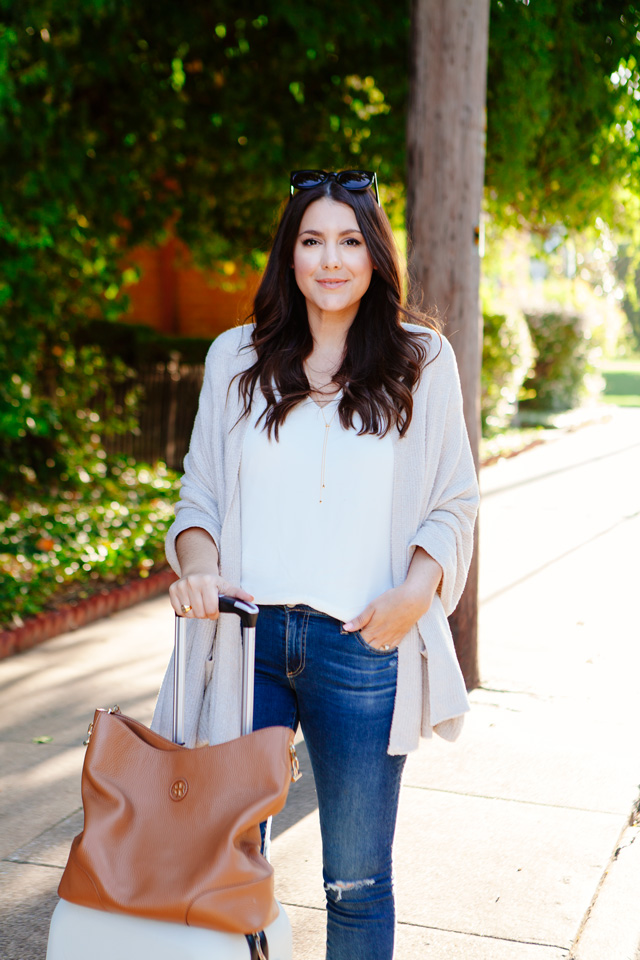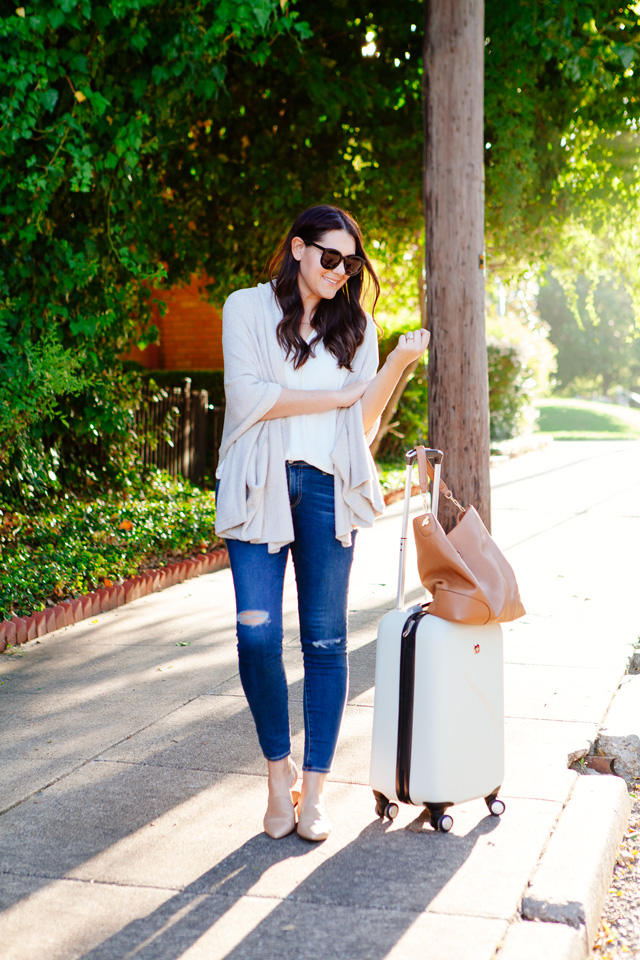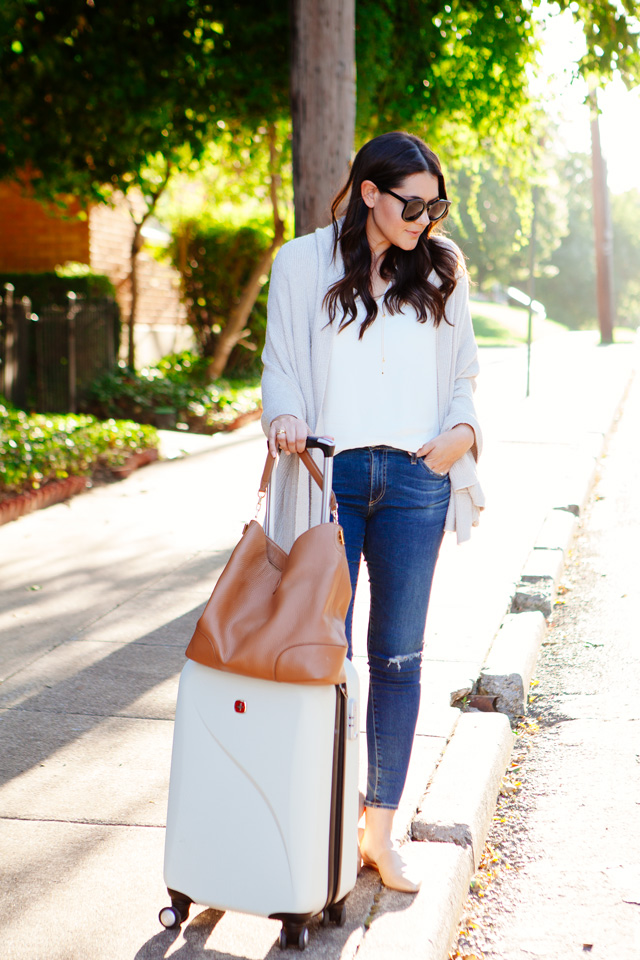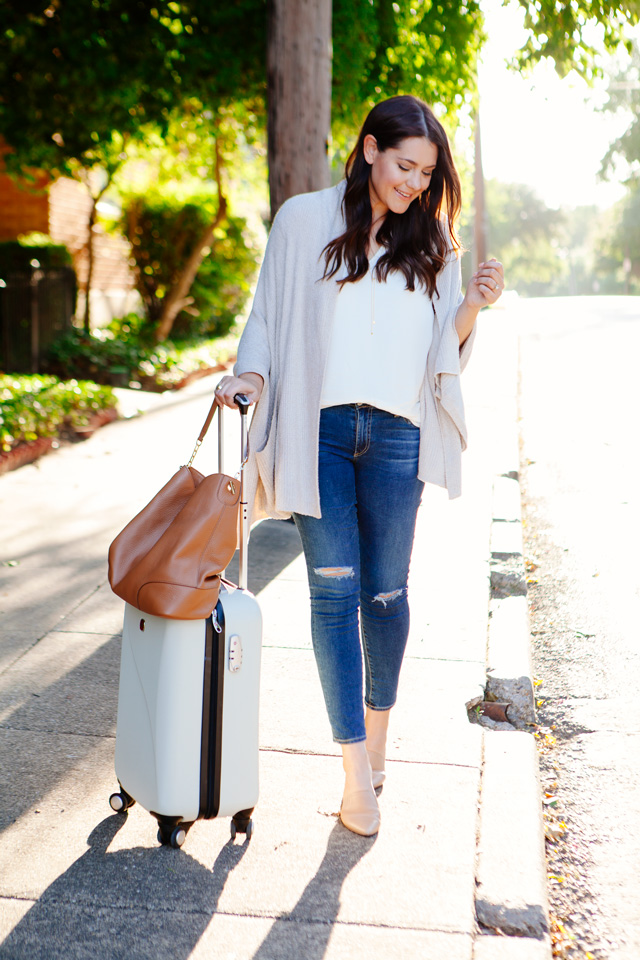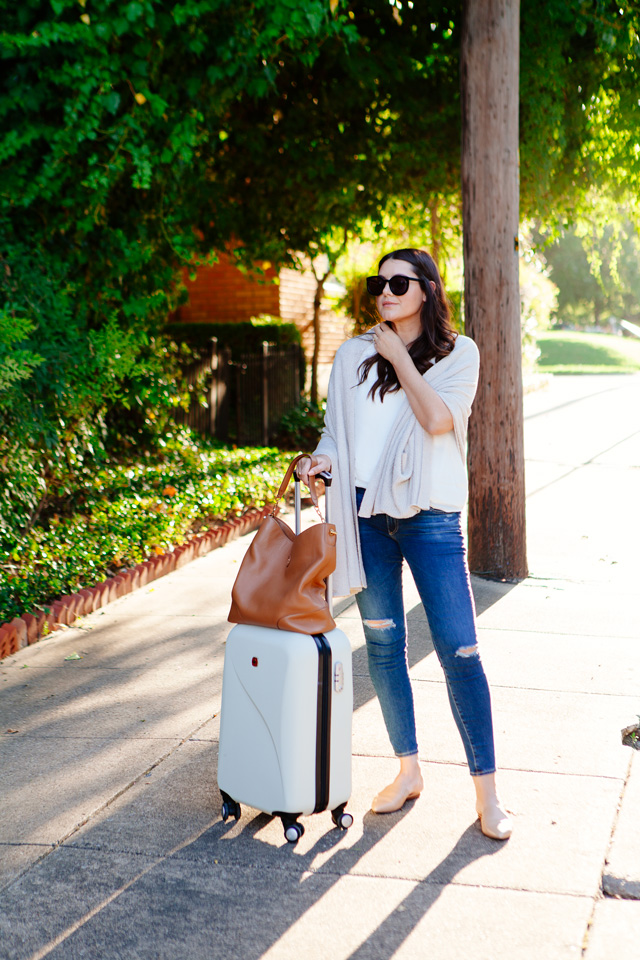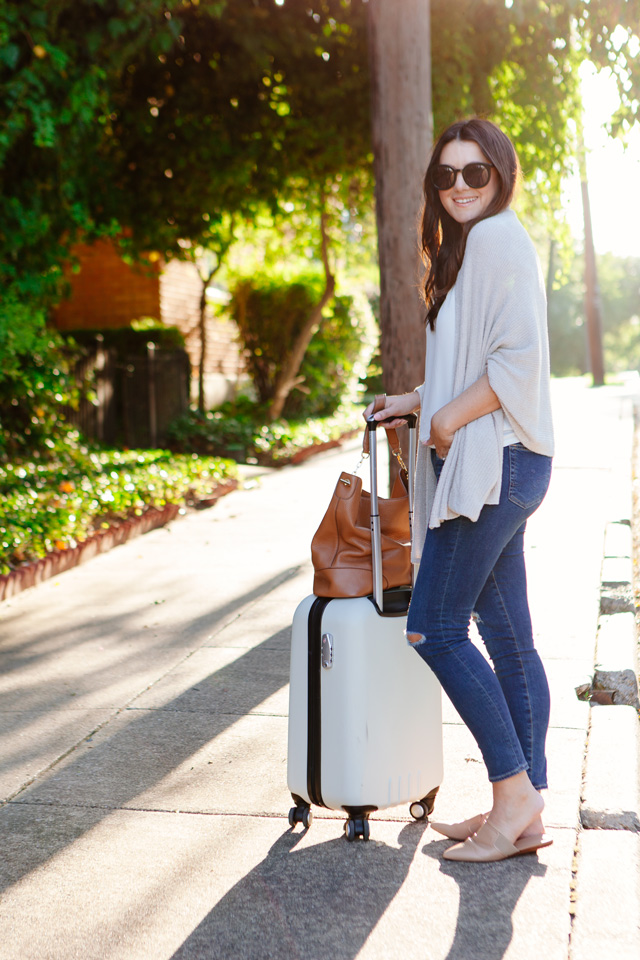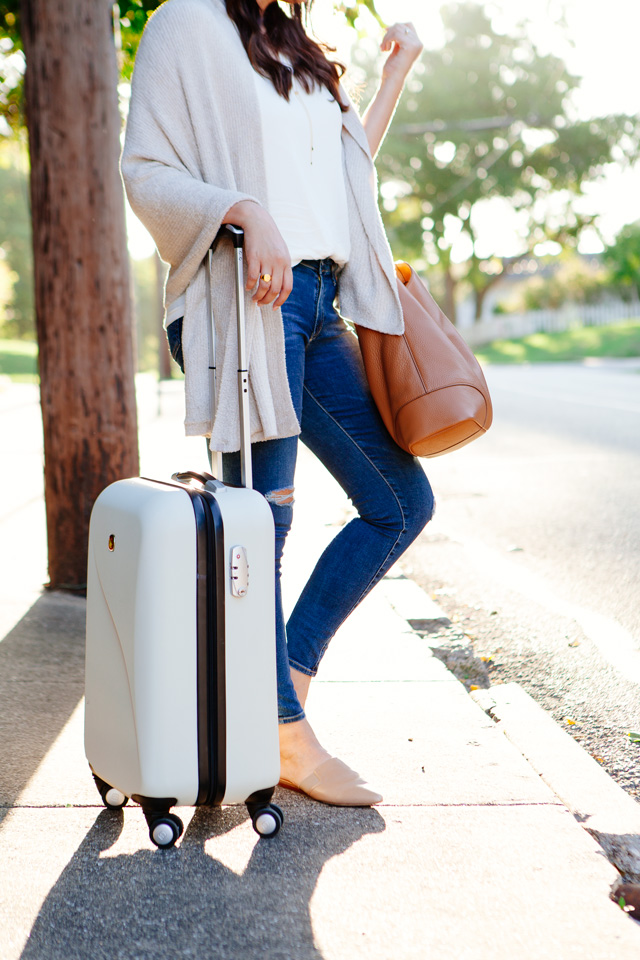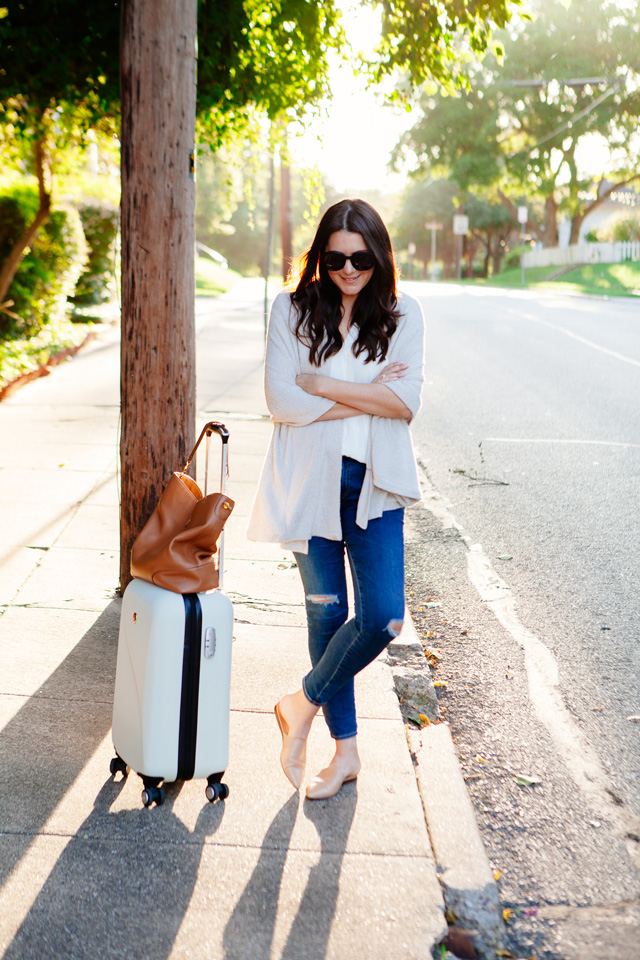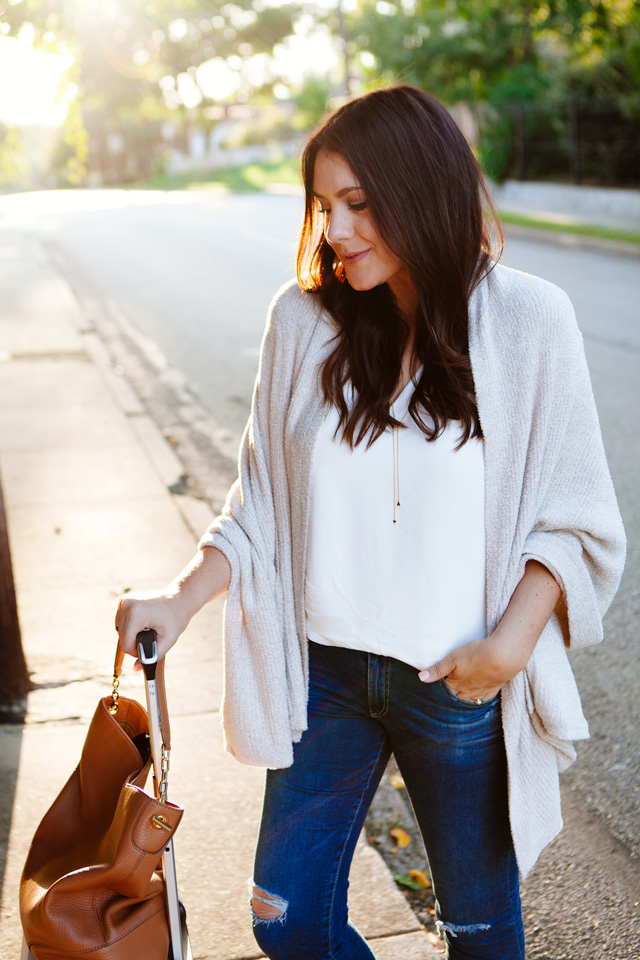 Since we have been on the go lately, I've been really trying to hone in on a few things when it comes to how I travel. I am and will always be a solutions person — even if it's not technically a problem. But I always like to keep improving and as we travel I always think — how can I do that better? So here is my thing with travel: you have to maximize comfort with minimal effort. Maybe effort isn't the right word, but we will roll with it.
When I travel I try to keep all of my things organized and minimal so that I can a) keep up with my stuff and b) I know where everything is.  But I don't want to sacrifice style. I noticed this summer that the first thing I would need on a plane was a jacket or coat, but didn't always want to pack one as that is a lot of space. I ended up searching and coming up with this travel shawl — which has been what dreams are made of. It's so soft I can't even explain it. It kind of feels like I'm cheating in a way — no way is this supposed to be a adult clothing! But I am here for it.  And it works perfectly to pop over a light tee for the summer, so when we land I an easily slip it off and fold it away in my tote or carry-on. On the flip side, it will work perfectly in the winter when a coat is too bulky to haul around the airport. It's the right amount of slouchy and soft. Travel shawl is my new favorite everything.
My other two must-haves with travel are good flats and a tote bag. These flats are just the best when it comes to travel and everyday. They are sleek looking and neutral enough to go with quite everything in your suitcase. I lean pretty hard into neutral colored shoes, but the black are also such a great look. All in all, you can't go wrong with a nice pair of neutral flats when traveling.
This Tory Burch hobo bag has also been a life-saver as of late. I bought it during the Nordstrom Anniversary Sale last month and haven't looked back since. It's the roomiest purse ever so I can keep my wallet, my on-the-go cosmetics bag, my headphones, my laptop and phone with no problem at all. I am not even kidding you. And it closes at the top, which is rare for totes, so it's a dream for travel.
So if you see me in the airport, I'll most likely be wearing some form of this outfit. It's my favorite go-to and the easiest no-brainer before a big trip. (Except for this trip but I forgot my shawl on the kitchen counter. Le sigh. You can lead a horse to water, but you can't make her remember to bring it.)
What are your travel favorites? I'd love to hear them!