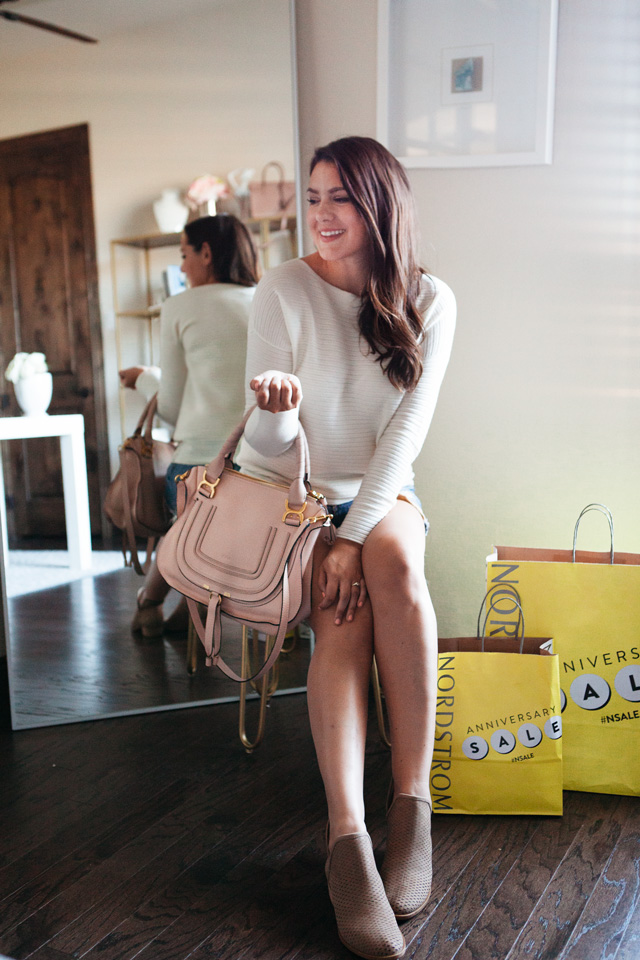 After many carts filled and many days of back and forth, I finally made my picks from the Nordstrom Anniversary Sale. And let me tell you, it was like Christmas day at our house. Mainly because Bryan was glad that I stopped asking if he liked something in my cart. The Anniversary Sale is like the Olympic trials around here — there are many rounds before the champions emerge. But you guys, I've found the best and my favorites ever and I can't wait to show you.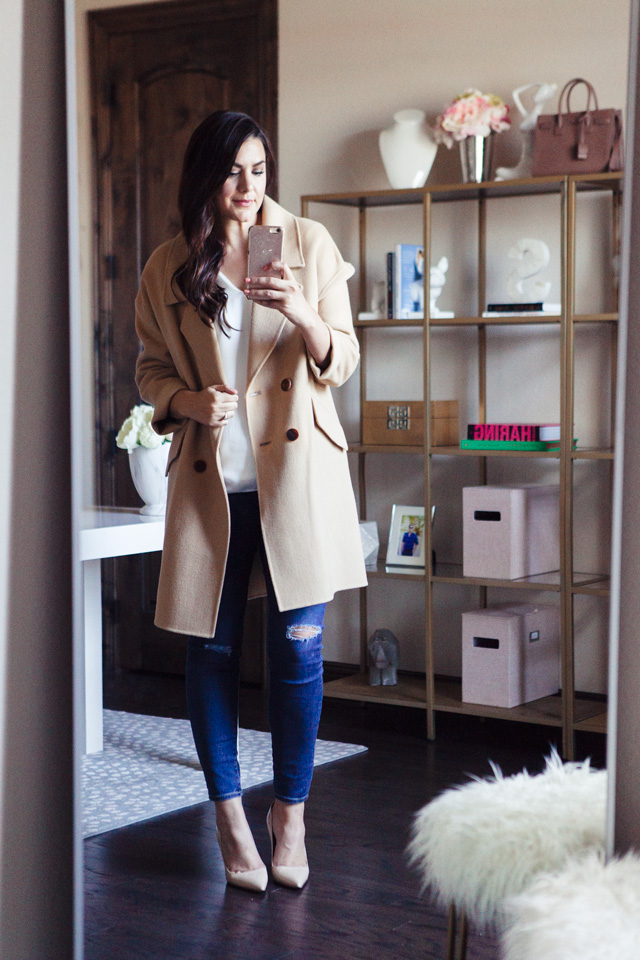 I couldn't decide which camel coat I loved best — between this wrap one or this DVF camel coat but after trying them on, I decided to go classic. The wrap one, however, is fantastic. It's more like an in-between season wrap instead of a coat, perfect for Texas 'winters' and every where else's autumn. I love how this one feels oversized but still keeps it's shape. Such a winner for winter.
I'm wearing: Classiques Silk Top / DVF Camel Coat / AG Legging Denim / Kate Spade Heels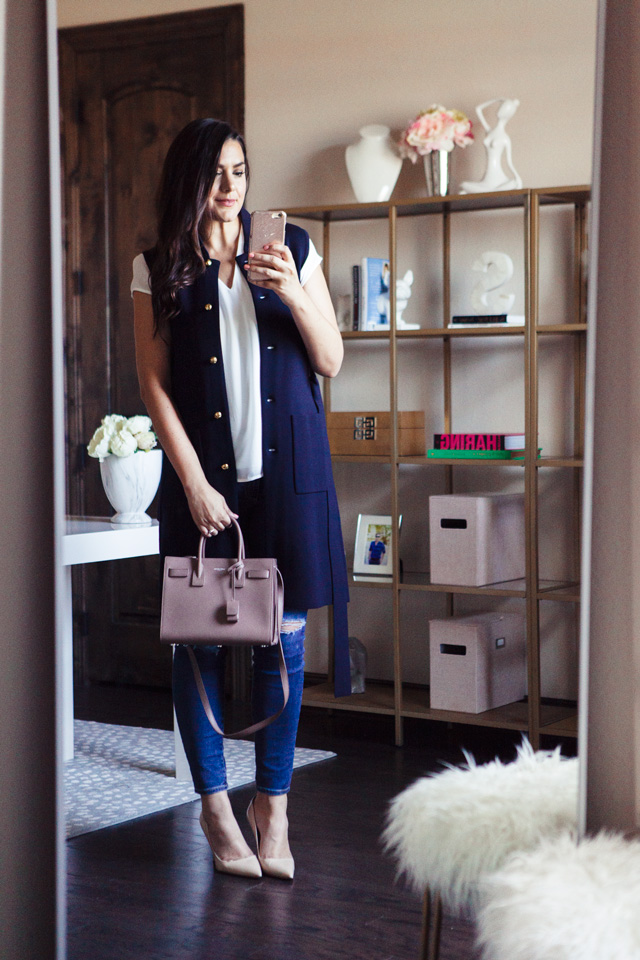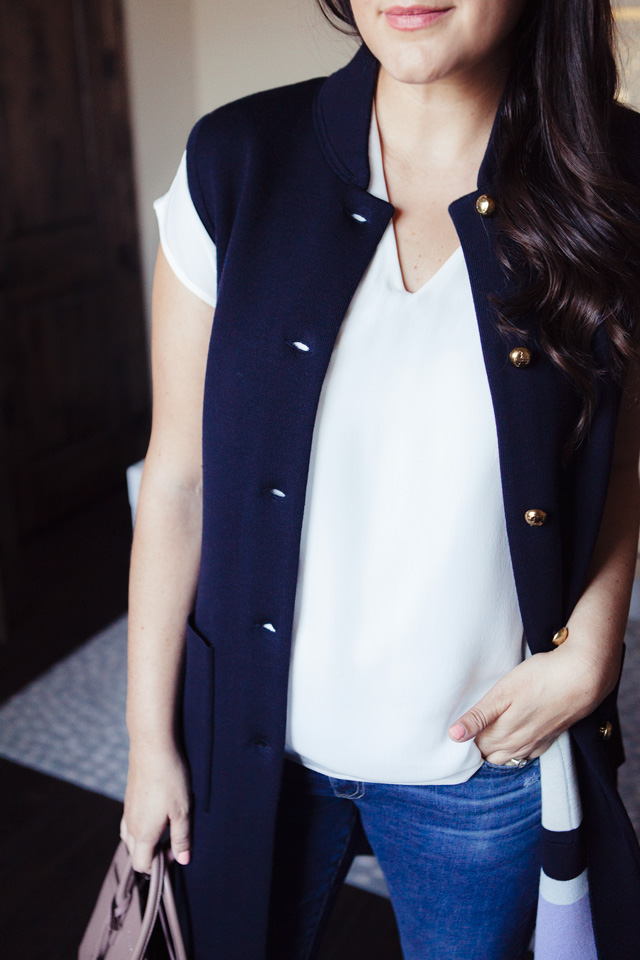 This vest was love at first sight and I'm typically not drawn to vests (but I ended up buying two!). It's more of a heavy knit instead of a sweater feel, but it's perfect weight for fall. And the inside has a stripe design all the way through. It will be lovely for layering later this year. (Even though I want to wear it right now!)
I am wearing: Tory Burch Vest / Classiques Silk Tee / AG Legging Denim / Saint Laurent Purse / Kate Spade Heels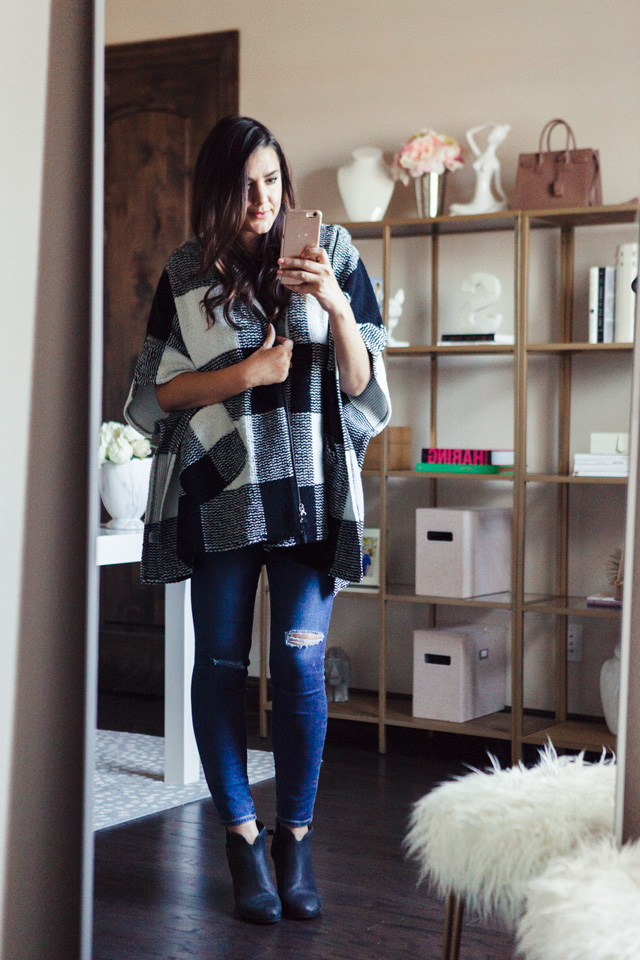 Okay this poncho is all kinds of yes. It's not super heavy, so again perfect for fall or in-between seasons and it comes in this black/white or the red/black. I will say this — it's going to go fast. It's under $100 and so darling, so I predict this to be sold out by the end of the weekend. If you think you might need this, don't wait. Adorable x 1000.
I am wearing: Treasure & Bond Poncho / AG Legging Denim / Rag & Bone Booties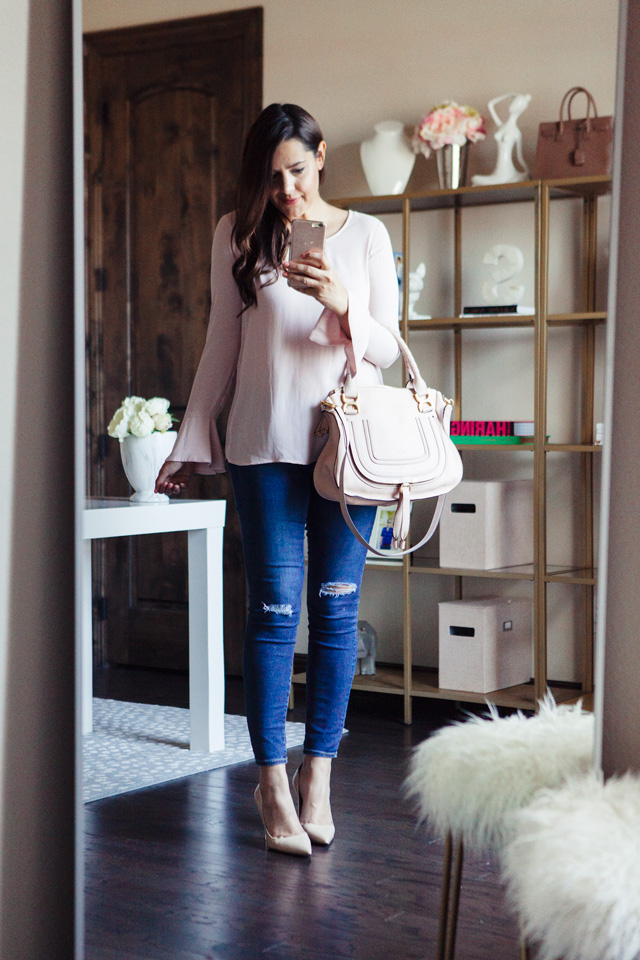 Part of me wants to keep this top a secret because I know it's going to sell out in a heartbeat but I can't. That would just be wrong because it is so freaking cute. It has bell sleeves — and you know how I love me some bell sleeve. And it's the softest shade of blush (you can see a closer view below). It runs true to size! I'm in the medium.
I am wearing: Pieone Bell Sleeve Top / AG Legging Jeans / Kate Spade Heels / Chloe Marcie Medium Bag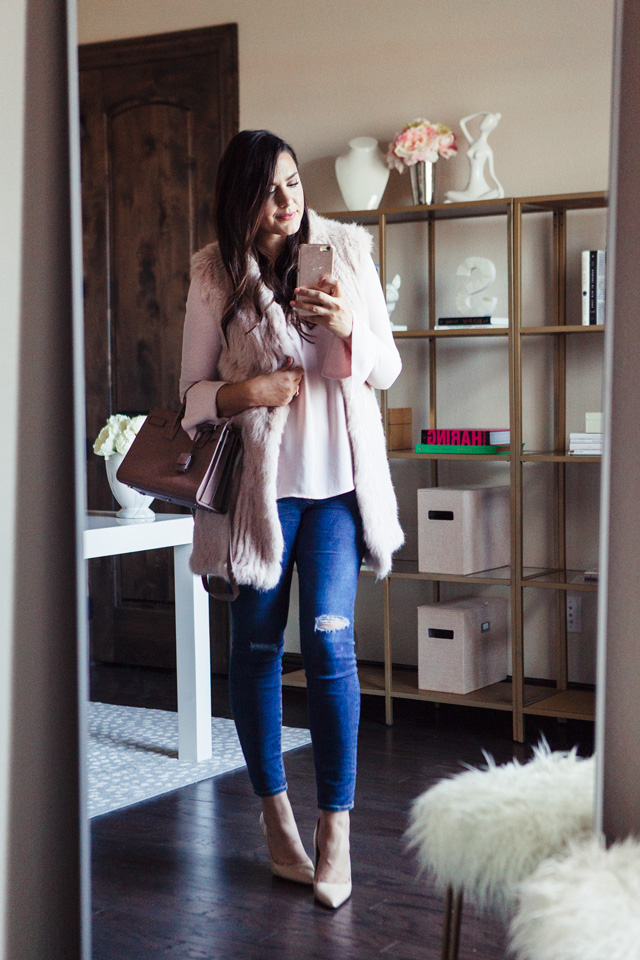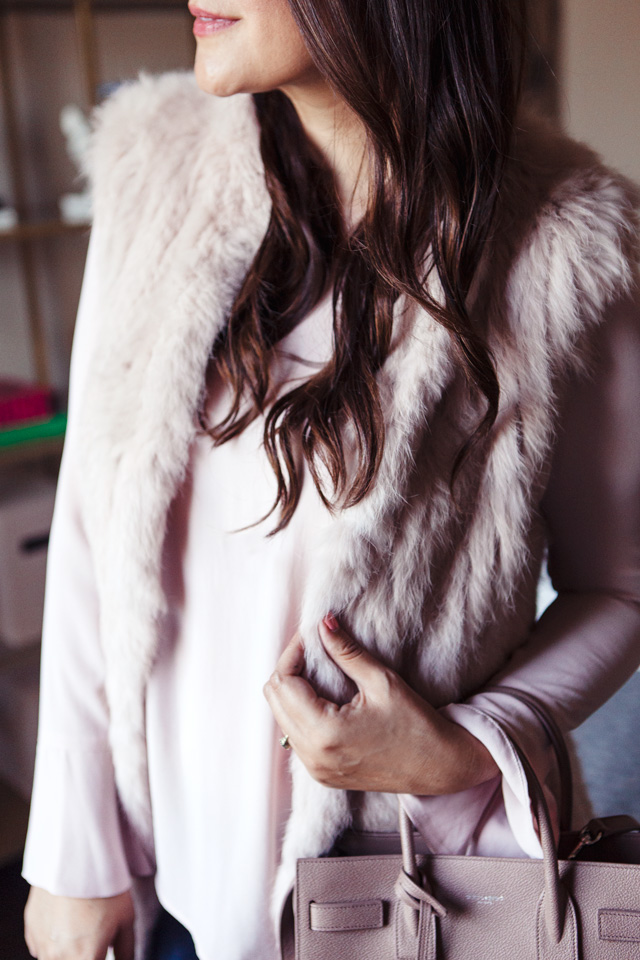 This is essentially the same outfit as before but I just added this fur vest to it. Late winter last year, around January or February, I started this hunt for a light pink fur or faux fur vest and I couldn't find one in my size. By that time most winter things are sold out anyways. So when I found this one at the anniversary sale, I thought I'd give it a shot and I'm so glad I did. It's a bit longer than I realized but I love the length and the shape of it. (here is a similar faux fur vest too!)
I am wearing: Love Token Fur Vest / Bell Sleeve Blouse / AG Legging Jeans / Kate Spade Heels / Saint Laurent Purse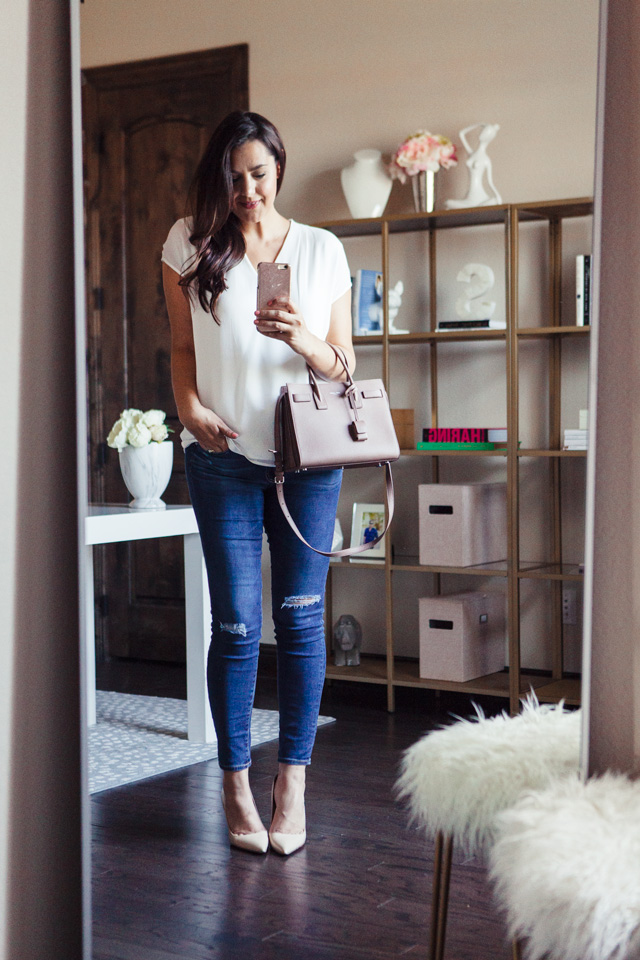 I loved this top from first sight and included it in my Basic Buys post the other day. So I knew immediately it was one I wanted to pick up. I'm always looking for a top to pair under jackets in the fall or just a nice white top to wear with jeans for a classic look and this top fit the bill. It fits true to size but a bit snug in the upper arms. It has the craziest construction too — it's jersey with a silk layer over the top, so the silk layer flows perfectly. And I tried the half tuck test and it passes with flying colors.
I'm wearing: Classiques Silk Top / AG Leggings Denim / Saint Laurent Purse / Kate Spade Heels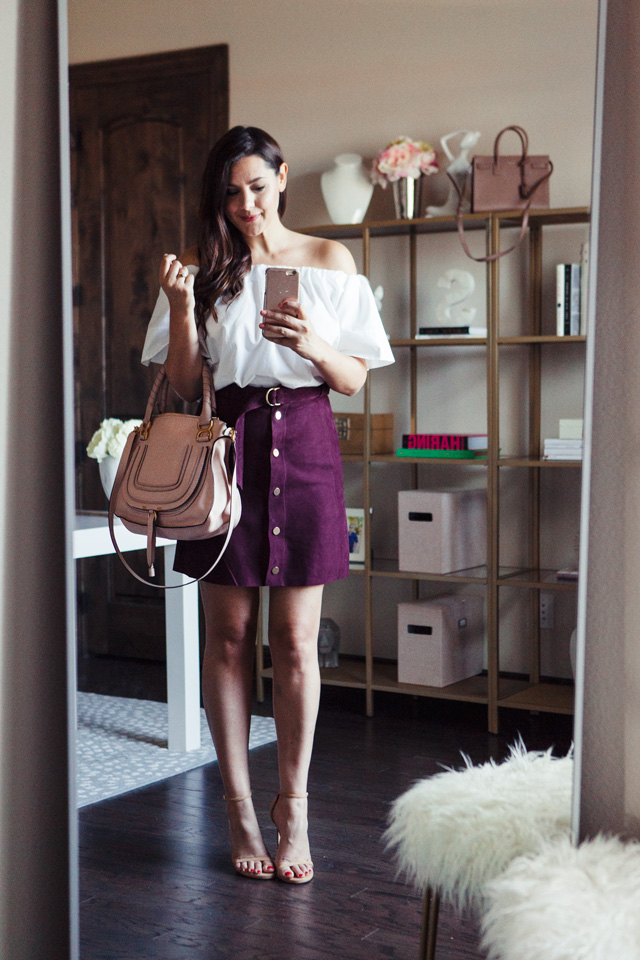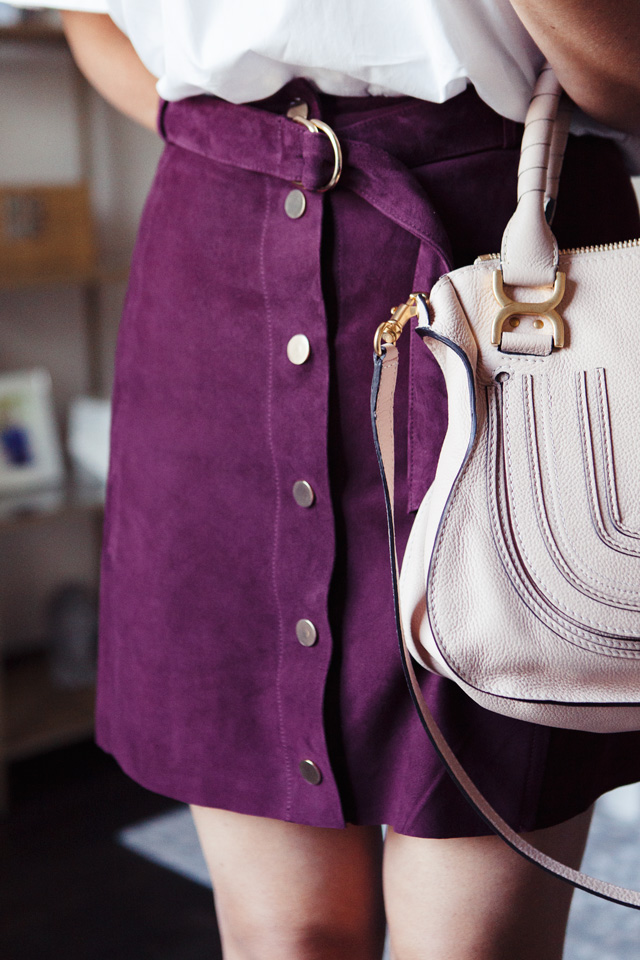 I'll be honest, this skirt was a maybe for me. When I first saw it, I liked it but passed over it a few times in the initial rounds of cart filling. I took a chance on it and loved it immediately when I saw it in person. And then I put it on — it's so soft and fits perfectly. (I found it true to size.) I also love that I can wear it sooner than later too. Suede seems to be year round lately, so I'm excited to have this colorful option this fall.
I'm wearing: Vince Off the Shoulder Top / Kate Spade Suede Skirt / Saint Laurent Purse / Stuart Weitzman Heels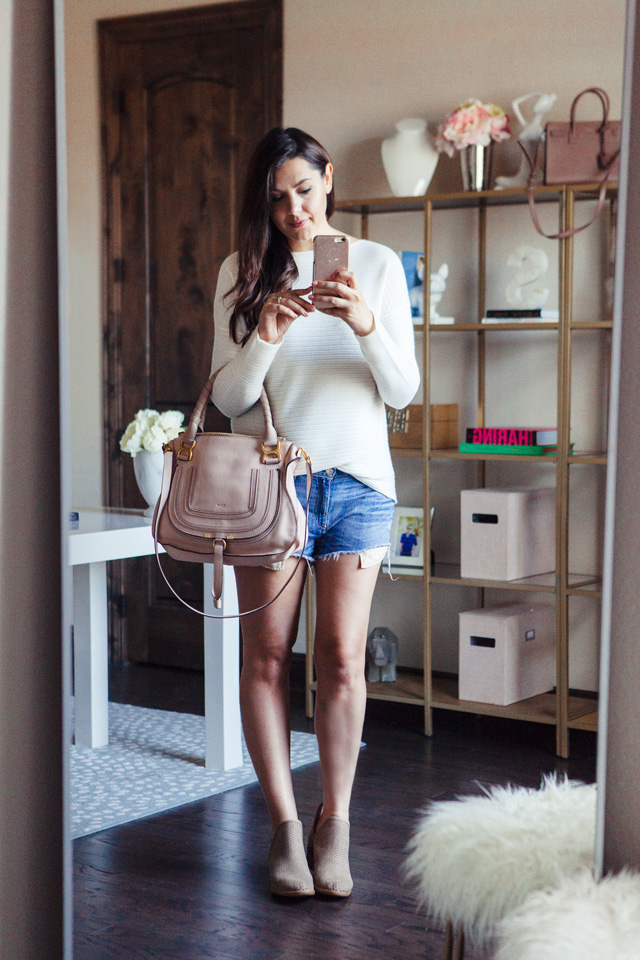 This Vince sweater was also a toss up because it's just a cream sweater but once I put it on, I loved it immediately. It's the softest sweater, I wish you could feel it. And the fit is just right — it has a little bit of a give to it and it's not too bulky so it can tuck nicely. I might could even get away with this come early fall with my cut-offs. And by might, I mean I will definitely do it even if I'm sweating.
I'm wearing: Vince Sweater / Rag & Bone Shorts / Lucky Brand Boots / Chloe Marcie Medium Bag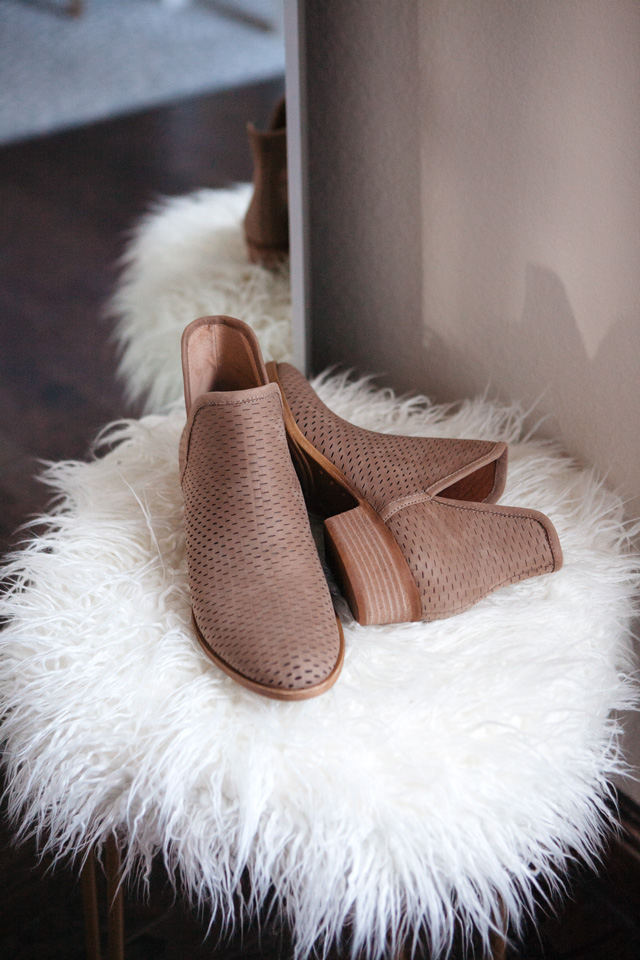 Since I already had these Vince Camuto Lace Up Heels, the only other shoe I've purchased (so far) has been these ankle booties. They are SO comfortable and I love the cut-outs on the side. I'm still trying to decide if I'm going to pick up a pair of these Stuart Weitzman flats. Time will tell. (These boots fit true to size!)
Update: Grrr it looks like those booties are mostly sold out! But I found a very similar pair on sale!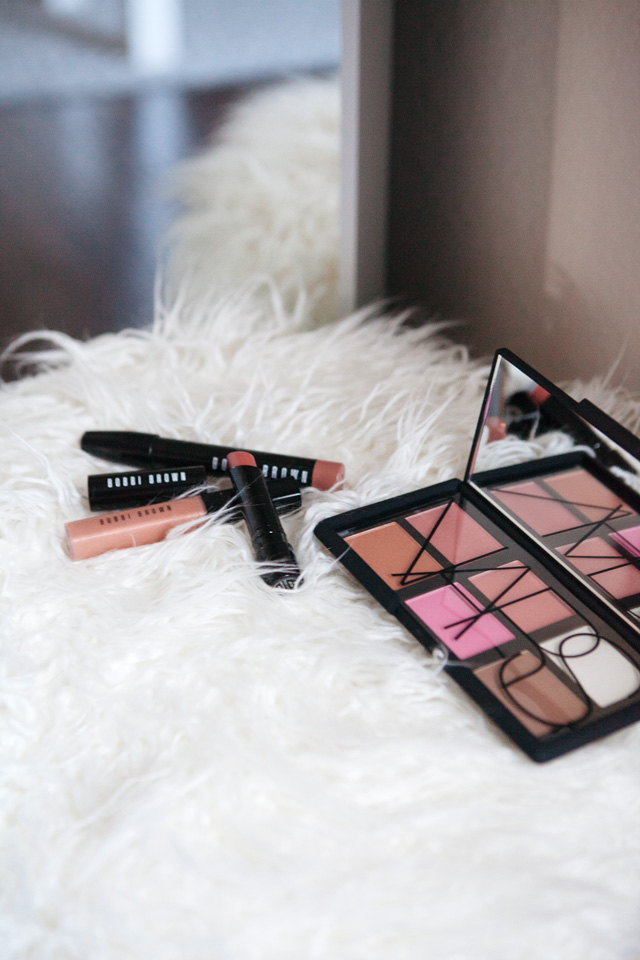 And last but not least, a few of my beauty buys. I ultimately went with the Nars Cheek Palette and both of the Bobbi Brown Lip kits. (The Nude one is pictured here as well as on my lips in the photos). These kits are fabulous — a lipstick, which side note I've never used her lipstick before and it's so creamy, a lip gloss and a lip crayon, which is perfect to keep in my purse for on the go touch ups. I wanted so many more things but I had to draw the line with what I would actually use and Nars blush is always a good idea and lasts forever as well as lipstick that I go through so fast you'd think I was eating it.
I'm not. But you'd think that.
So that's the round up! A few of my favorite things. You can of course see my other posts about the Nordstrom Anniversary Sale — a full round up here, a beauty essentials post, and the best basics to buy here. And the best news ever — today is Full Access day! So if you aren't a card holder, you can now shop from now until August 8! But honestly, I'd shop now because this stuff sells out fast. I'll be updating my full round-up as well with new items that are not sold out. (So many things flew, it was insane!)
Let me know what you got and what your favorites are! I love hearing your recommendations too. Happy weekend friends and Happy Anniversary (sale!)
*This post is brought to you in collaboration with Nordstrom! Thank you for supporting the brands that support this blog!