About a Sunday ago I shared some really great fall finds on Instagram from Amazon. If you've been wanting to see some fall sweaters and tops under $50, this is a great post for you! As always, I post in real time on my IG stories every Sunday a try on. If you're looking for more…colorful descriptions, be sure to check out my story highlights there!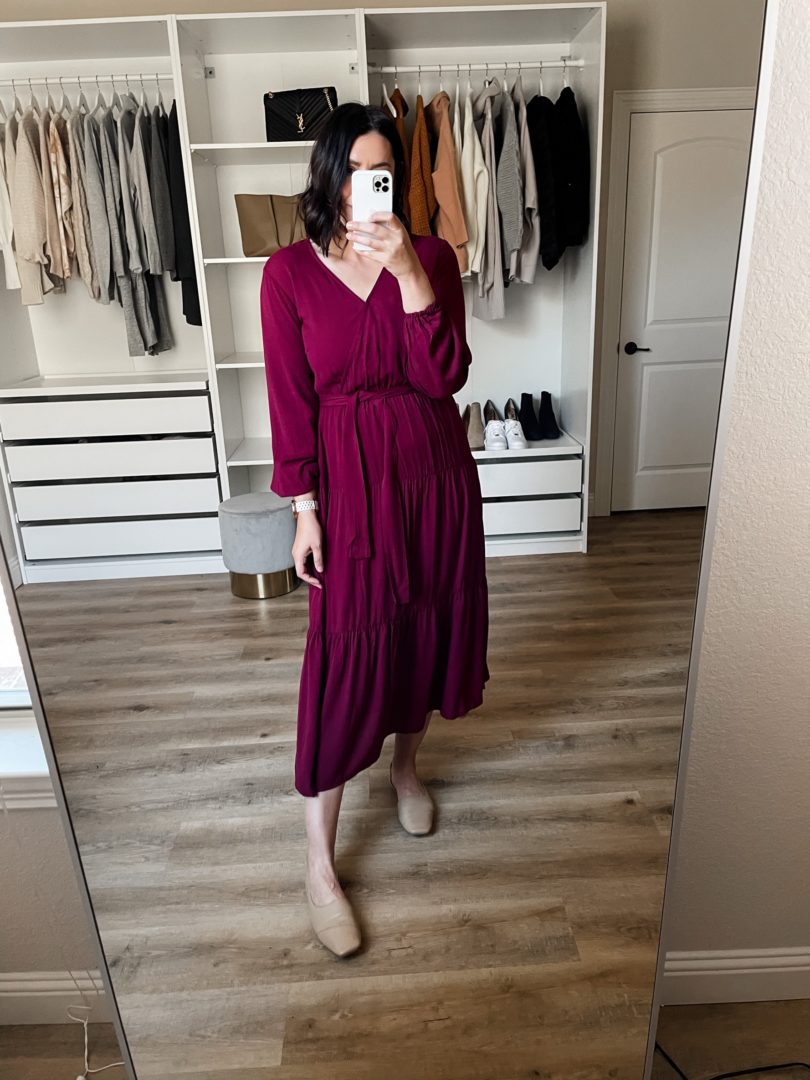 (sorry for the partially crooked photo :/ not sure the angle I was going for there, lol)
This faux wrap dress surpassed my expectations! It's so pretty on, the fit is great and is comfortable! A lovely dress for holidays if you want to look fancy but feel comfortable. It does need a pretty good steam (I recommend this one here!) when you get it, but other than that it doesn't wrinkle too much as you wear it!
I wear the medium and it fits me true to size. It has a removable tie but it's not a true wrap dress and it does fasten at the chest for coverage.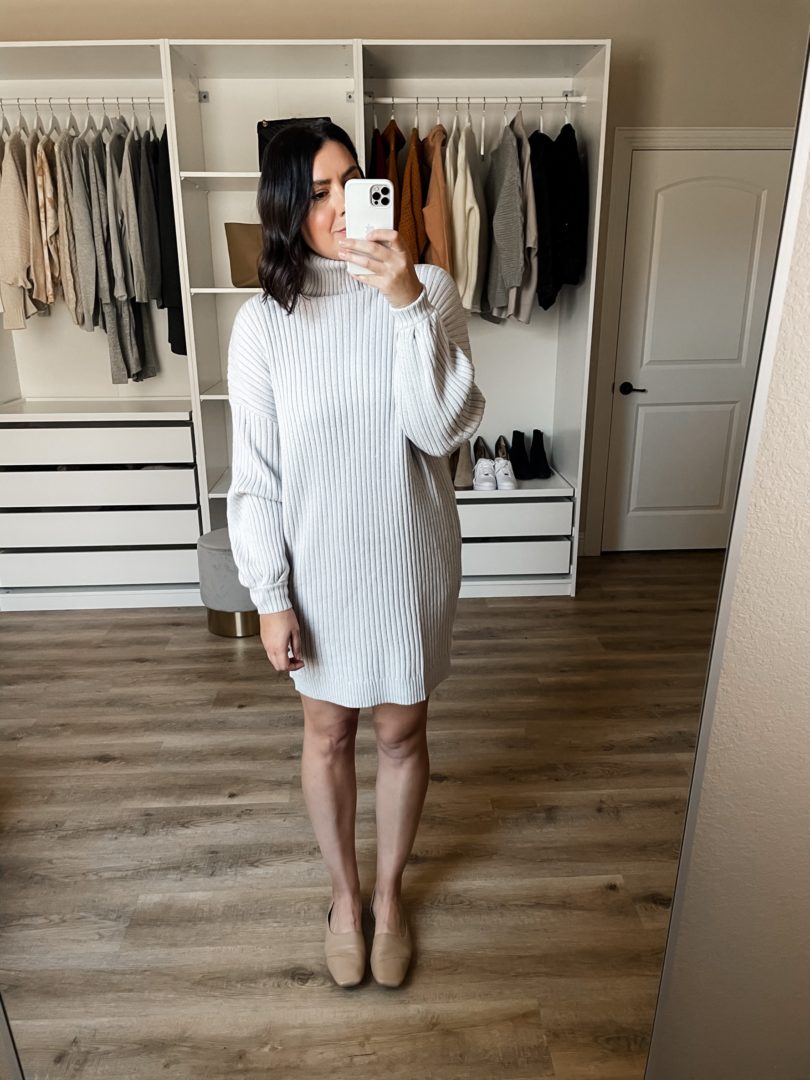 This lovely sweater dress (as featured in a full post here) is a great option if you are looking for a comfy, cozy and warm dress! It would pair well with tights, too. I am in the medium and it's a pretty generous fit! If you're in between sizes, size down one. This is the grey color.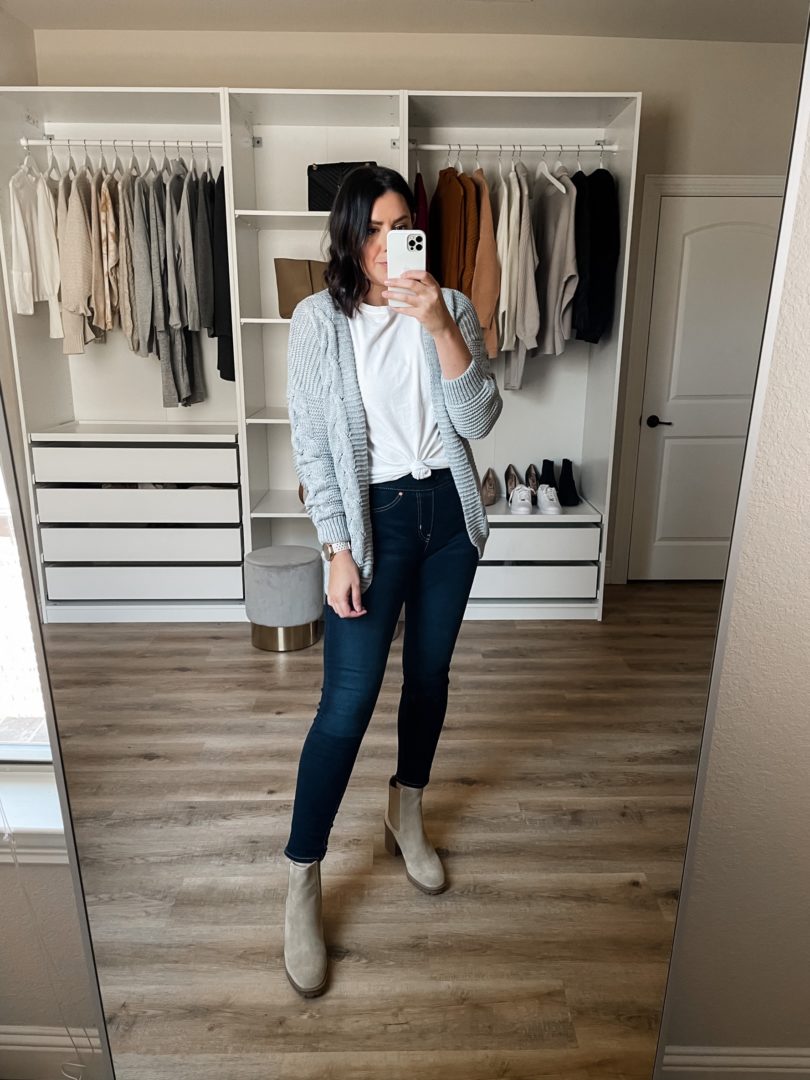 This cable knit cardigan is a nice (and soft!) option if you love an open cardigan. I am in the medium and it fits true to size but on me it's a bit shorter than I was expecting. If you want a truly oversized look, go up on size.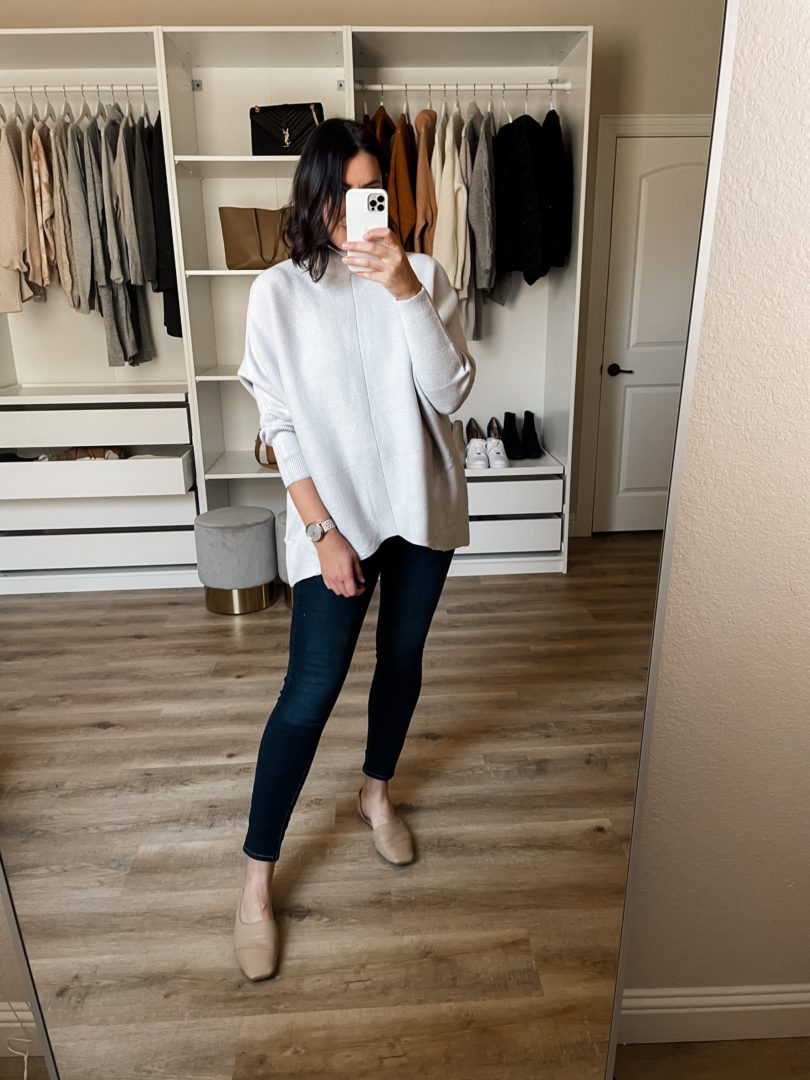 Yes ma'am! It's this sweater again. Have you picked on up yet? You will not regret it — it's the softest little lady. Plus you can wear it with leggings or denim and it's just comfortable which is all I want for the next 6 months.
I am in the medium and it fits true-ish, it's a generous fit no matter so this fits like a Free People medium if that helps as a reference. I have a large in another color and it's longer and I can wear it more as a tunic. If you are in between sizes, you could size down. And if you are tall and want it to be a bit longer for booty coverage, size up. Oh and this is the grey color. I have this color and the ivory. But want the black because #2020.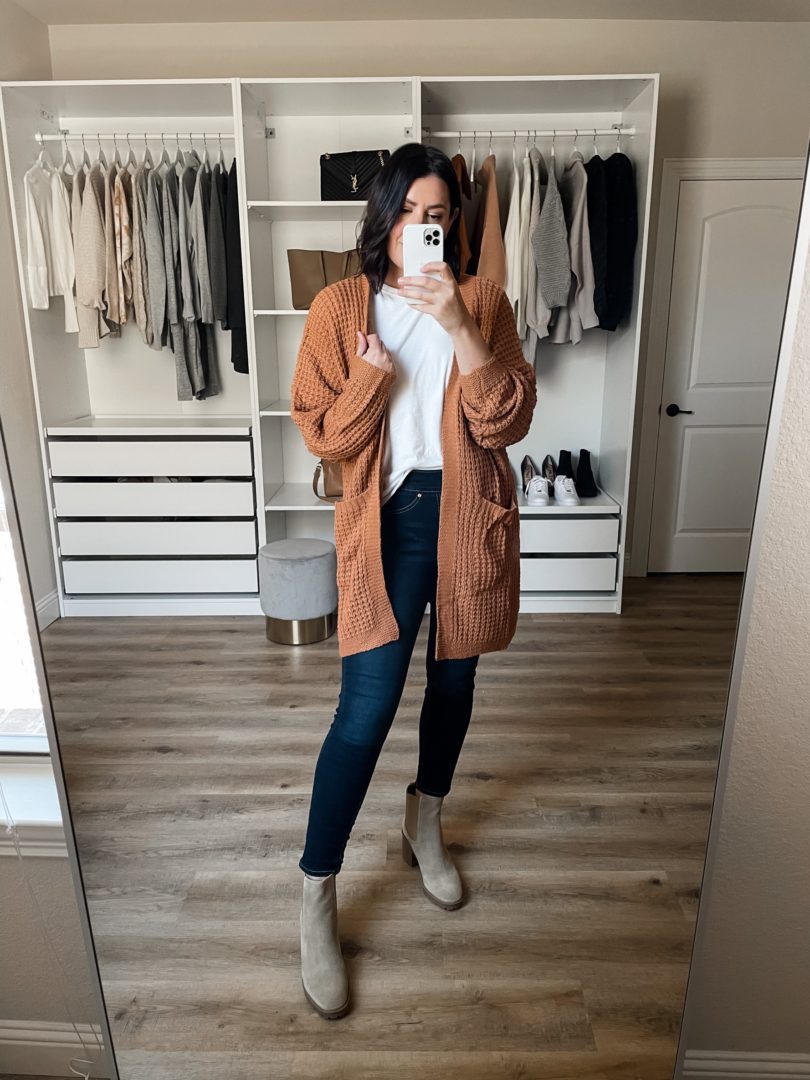 I'm actually giggling at myself for naming this one the oversized waffle cardigan. I'm just envisioning very large waffles on a cardigan and it's a MOOD. Anyways, this is a waffle knit cardigan but quite thick and it's an oversized fit. Nice large pockets up front and slouchy arms. A lovely holiday cardigan to sloth around in. I am in the medium and it fits pretty big. I would say size down if you're in between sizes.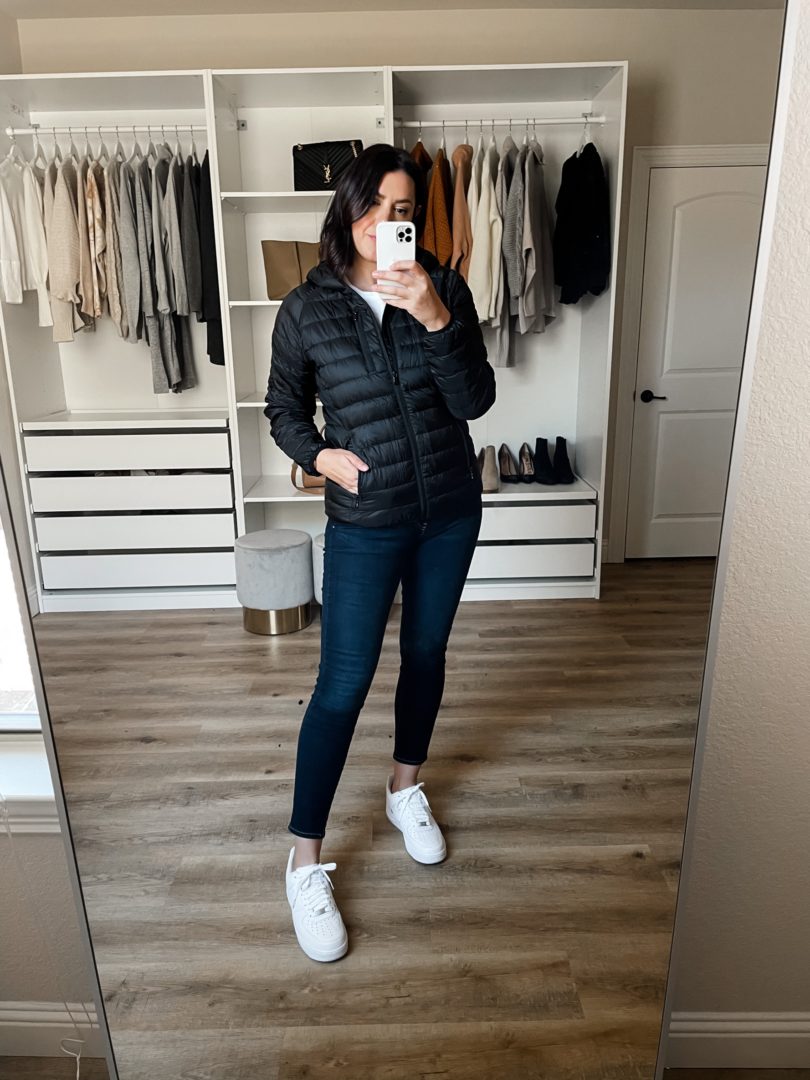 Lovely puffer jacket option under $50 here! I didn't have super high expectations for this one because you never know, but it's a great jacket! Zippered pockets, a hood (I know, I want one without a hood too but they are so hard to find!) I am in the medium and it's a true fit with room for a light layer.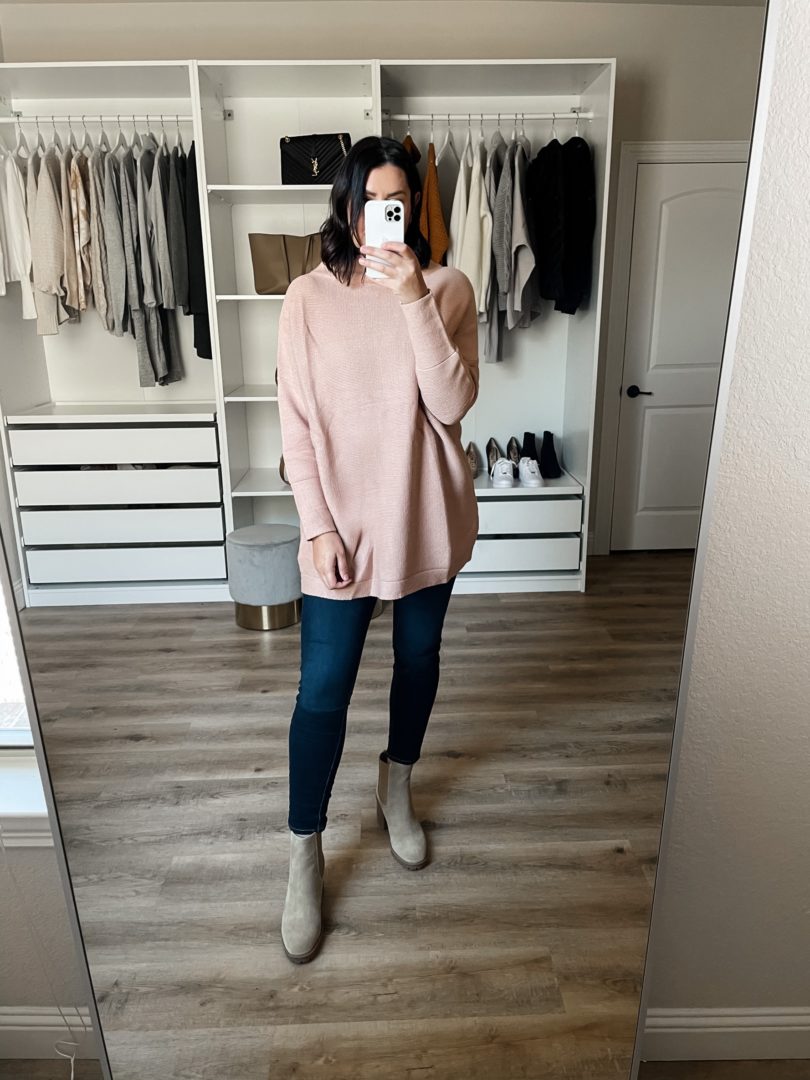 So I bought this sweater expecting it to be a dress but for me — it is NOT a dress. It is a tunic and I even tried my best but it's just too short. I DO think that it can be a dress if you are shorter than me. I would say 5′ to 5'5 would be just fine. But for over 5'5′, it might be a bit short as a dress. This is my best estimate as well! Give it a shot, it might work for you!
So I'm wearing it as a tunic here but I like it best…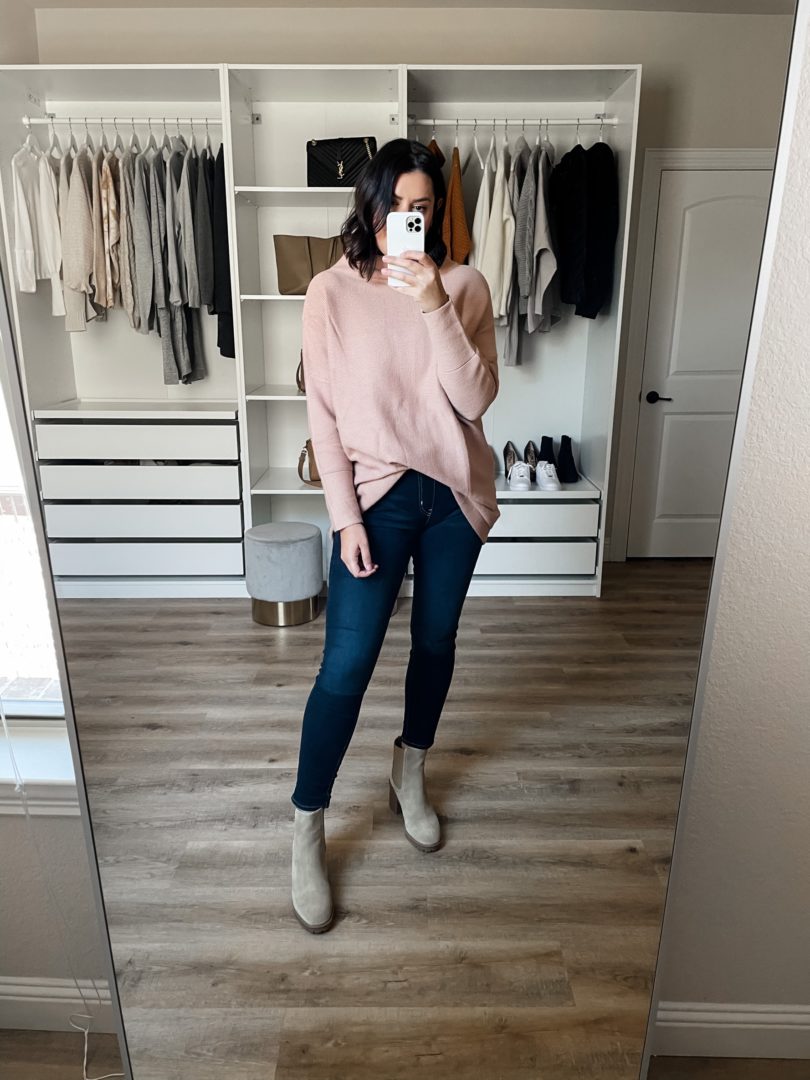 With a little tuck action. You do you though and choose your own adventure.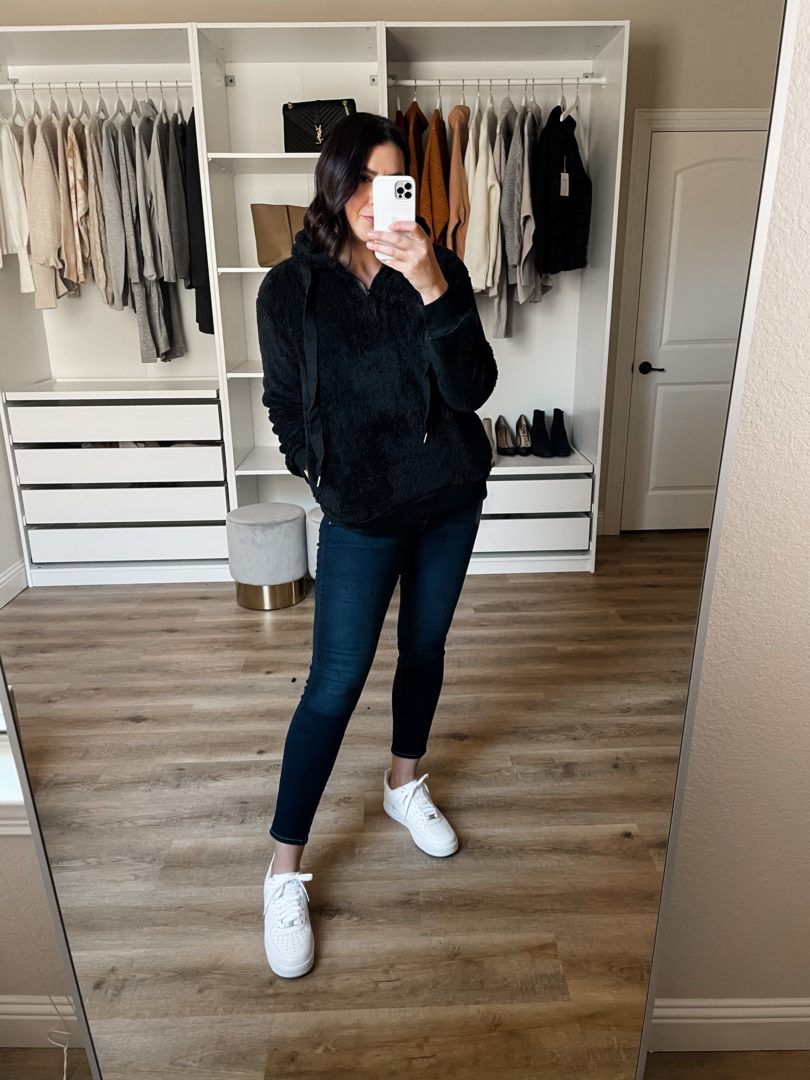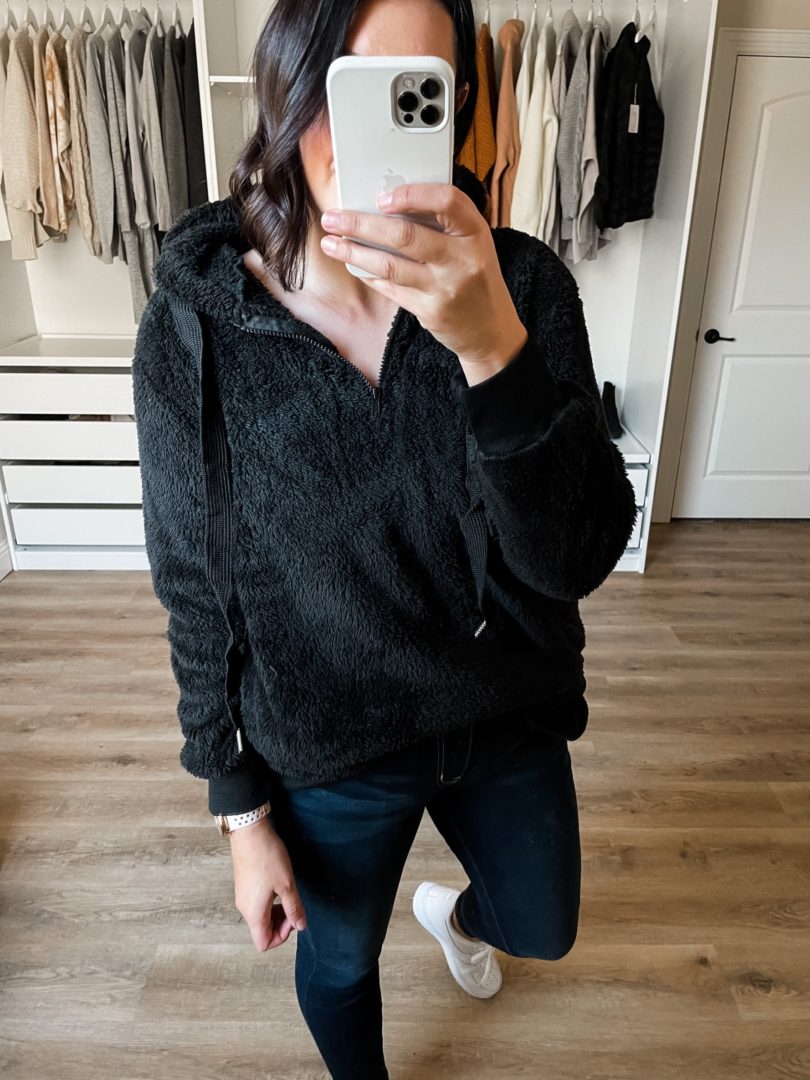 This is a lightweight teddy pullover — really nice if you like the look of a sherpa but you don't want to sweat it out in one. I always find the sherpa's to be SO warm and here in Texas it's pretty rare when we need a ton of super warm layers. I am in the medium here and it fits very true to size but it doesn't fit as big as it does on the model. Womp-womp. Size up if you want a slouchy fit.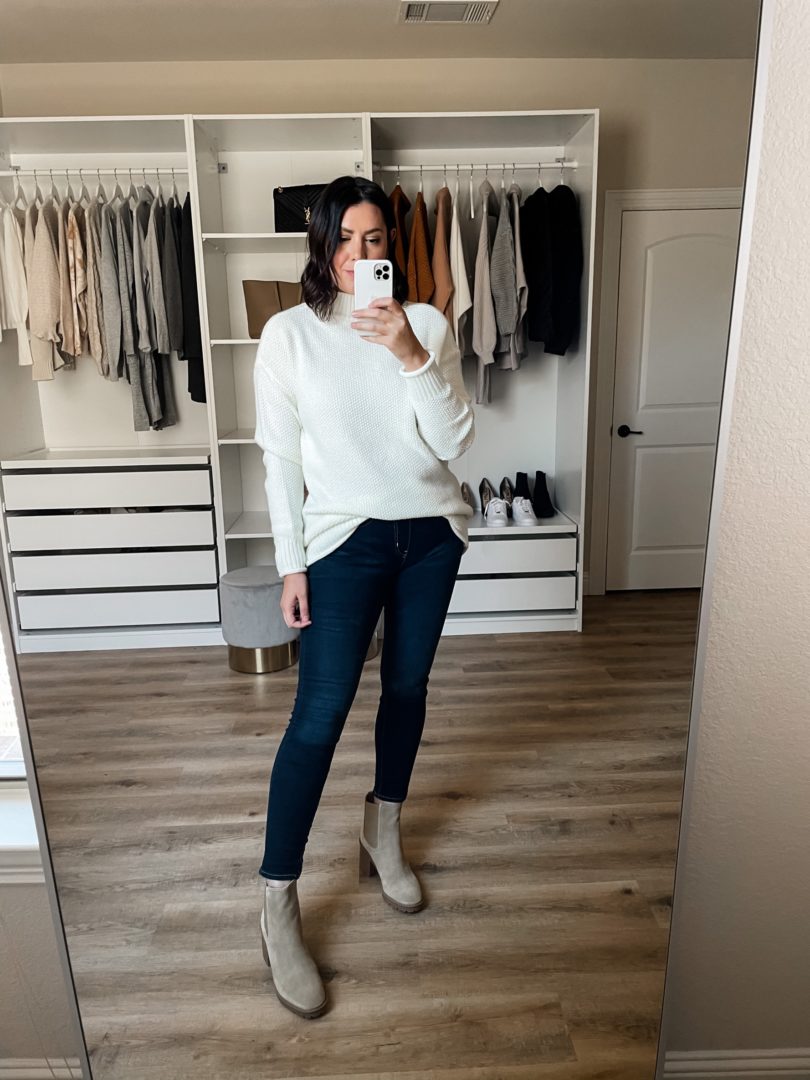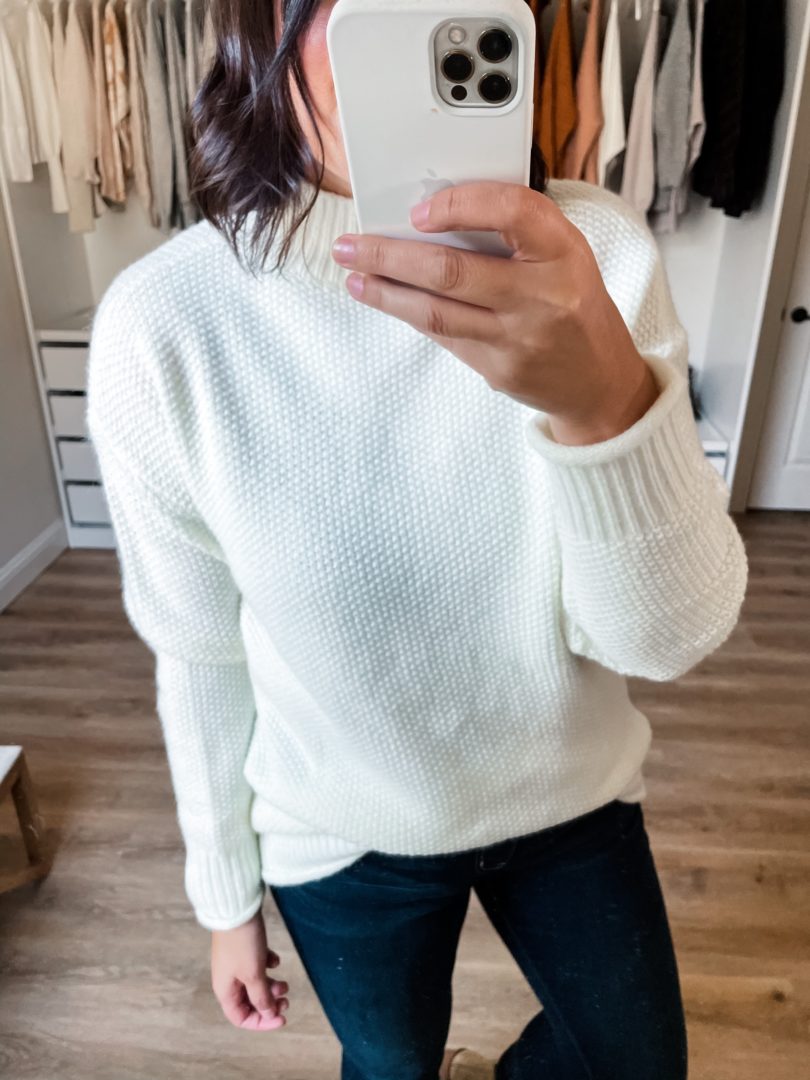 I seriously was not expecting to love every single one of these pieces but I love them all. Unfortunately for me. Well, a blessing and a curse you know? Anyways, this sweater is a lovely classic mock neck sweater and it has this nice pointelle texture. It does fit oversized but the color is not beige, it's straight up ivory. A pretty light ivory too, so don't expect the same hue as what is shown on the model. I did order the beige but this is much lighter. I bought the medium and it fits loosely, but I like this size. Definitely nice you are looking for a classic, cozy sweater.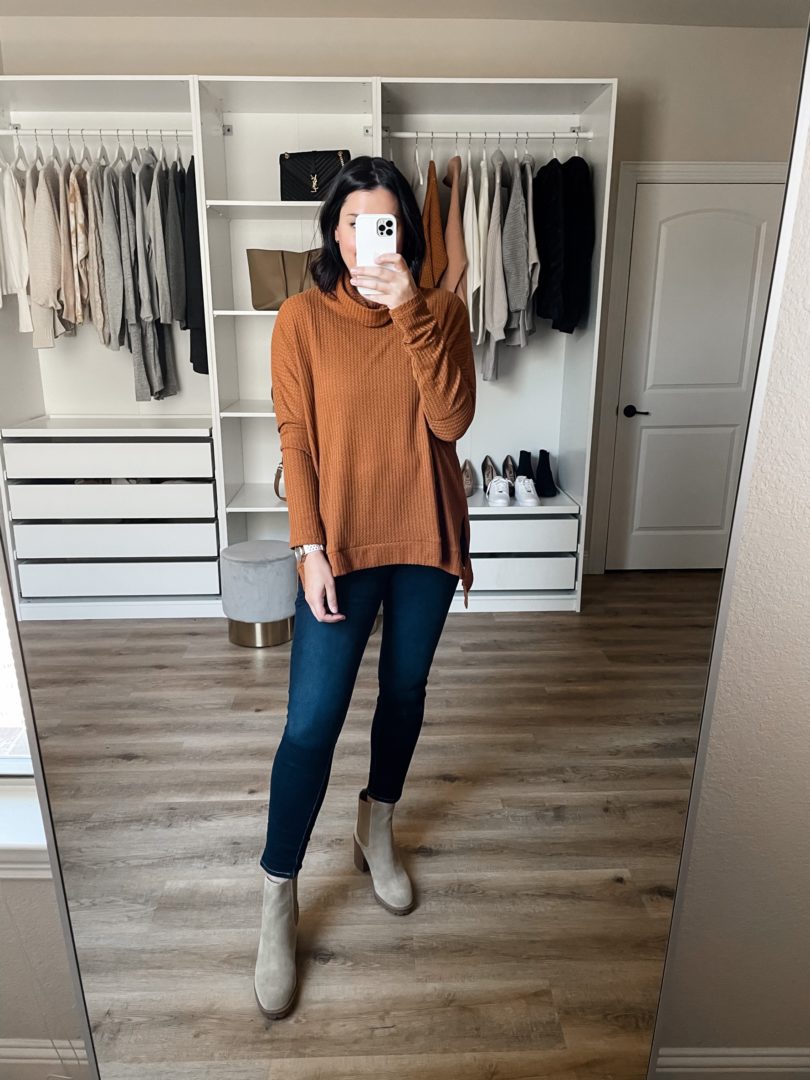 If you love a waffle knit — and apparently I do — this is the perfect tunic. It's a cowl neck, it's lightweight so you can layer over it and most important — it's comfortable. I am in the medium and it fits TTS! It's loose, but that's to be expected. This is the 'caramel' color.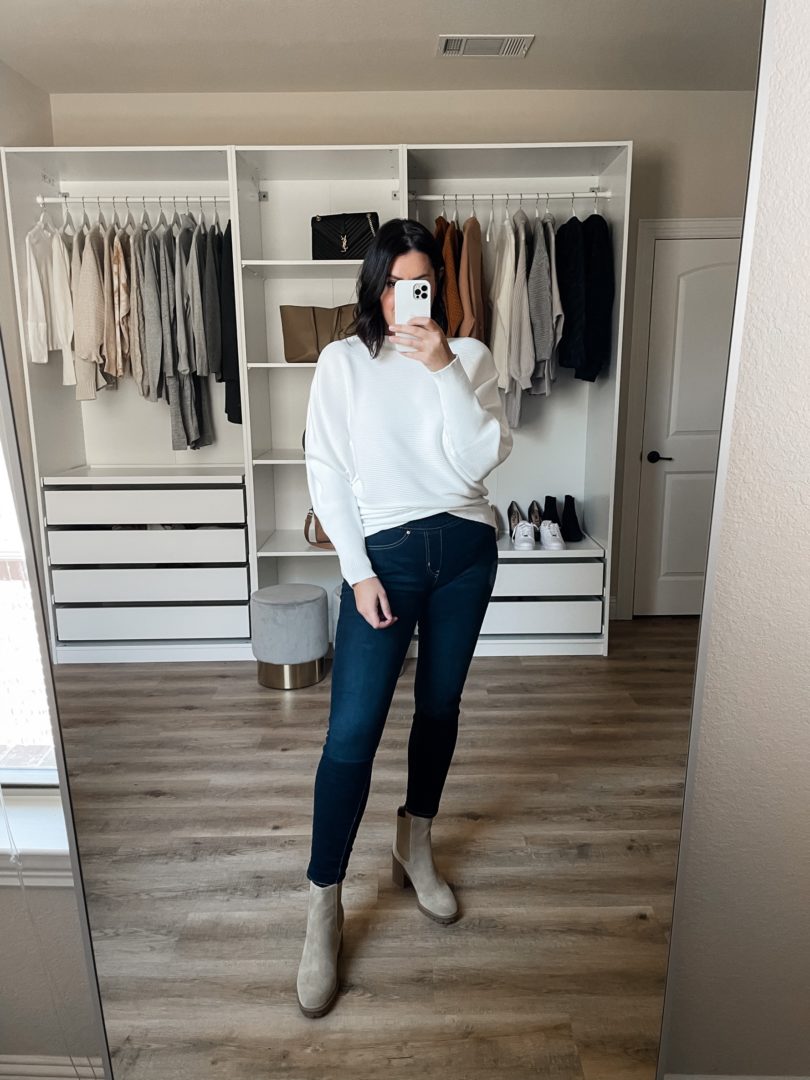 You already know I love this sweater (see this post here) so I'll keep this one short! This is a super soft ottoman ribbed sweater and this is the color white. Now this sweater is a one size situation. It will fit different on different body types / sizes, but for me as a medium this fits pretty true to size. It is stretchy and can be stretched long to wear as a tunic. I think this would work for a size 4-12, pretty well but will look different depending on body type.
I hope this try on helps you find a favorite sweater this season!