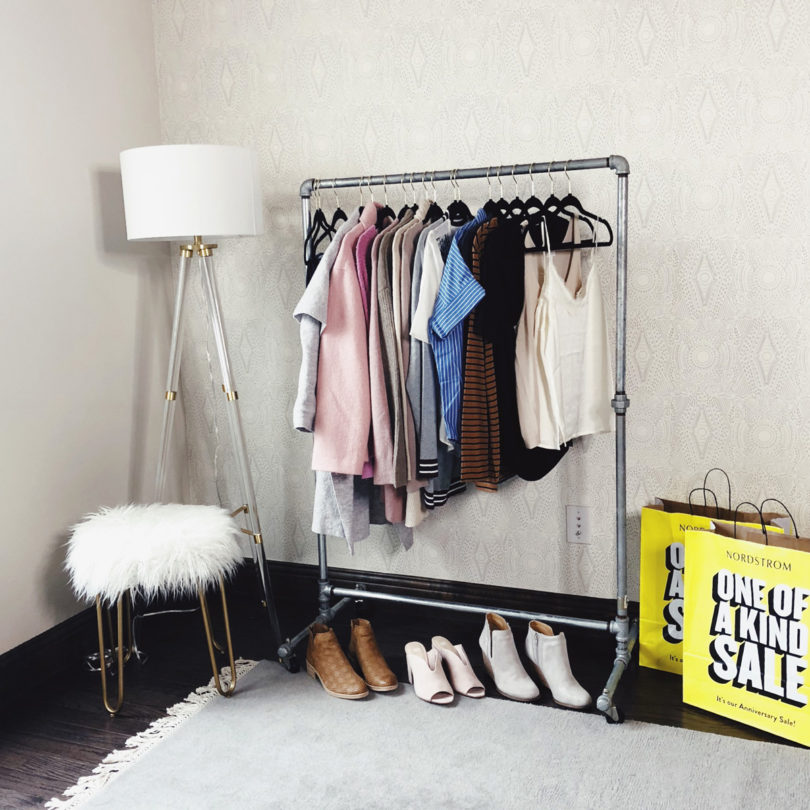 Hello, my good people on this fine Monday morning. (Yes, it's Monday. Yes, it's August. Don't even let that sink in.) So tomorrow starts the Nordstrom Anniversary Sale and this is my favorite sale of the year. I've been covering this sale for 6 years now and over those past 6 years as a blogger and shopper of the sale, I've gathered some pretty good tips on how to approach this massive sale. I've also honed an eagle eye for the styles / products that usually sell out pretty quickly, so I rounded up what I think will sell out quickest below, if you want to skip to that!
I will say this: this is one of the best product mixes I've seen from the sale in the past few years. They've done a really good job of curating essentials and pieces that I didn't know I wanted. Damn it, right? You can see the preview of the whole sale here.
When to Shop
So this year they have broken down the access to shop the sale into different levels. I, personally, find this to be a bit confusing / overload but no one at Nordstrom asked me. LOL.  I snatched this graphic from Nordstrom so you can find when you will be able to first shop the sale. Tomorrow is the first day for Icon cardholders and this Friday is for Ambassadors. I'll be doing a try-on this Friday with what I find at the sale this week on IG and here!
All of the details on the sale here, they've also broken down their Covid-19 precautions if you are shopping in store.
Believe the Hype, But Calm Down
Look — it's a good sale. It really is. Here is why: these are fall styles that are on sale now instead of at the end of the season. You are getting really nice brands for like 30% off, so the quality doesn't change but the price is deeply discounted. This is the sale that I always find my favorite pair of booties for fall and winter, or my infamous Vince nude flats that sell out during the sale and people ask me about for eternity. I typically always stock up on any workout items I need because I like to buy higher quality workout gear, but I hate paying too much for it. Etc, etc. You get my point — I get my basics for fall and beyond at really great prices. Some of my very favorite pieces I still wear today are from this sale.
But.
It's not anything to go crazy about. Like this is not throw-a-television-at-someone-Black-Friday-style level of panic. Also, don't throw things at people in general, I feel like I have to say things like that now. Since there is a lot of hype around this sale, it seems like a lot of people shop emotionally and get lost in the excitement of it all. By all means, have fun but there is no need to be crazy here and buy up all of the things to just return them later. If something sells out the first weekend or even first day, there is a 99.9% chance it will come back in stock. People make returns, orders get canceled, etc. I find that making a list helps weed through the thousands of SKUs and well that leads me to my next point…
Make a List & Set a Budget
This year, starting like two weeks ago, they have the preview of the whole sale available on their site and you can add things to a wishlist that you can access later when you are able to shop. (Sorry for the late notice. I'm behind on content for the year because my brain be like that sometimes.) I've been 'shopping' over the weekend and let me tell you, my wish list looks like a 15 year old getting ready for her sweet 16. If there was an option to buy a horse, it would be on my wish list.
All that to say, go into your closet and see what you want or need. Looking for some new booties for fall? Perfect. Need some new sneakers or a coat or new leggings? Put it on the list! This will help you narrow down to a category and then you can find a style that may or may not work for you. This way you can drill down to what you actually want instead of starting on page 1 and trying to get through all 300 pages of products and then by the end of that your whole cart will be sold out.
Oh and just so you don't end up buying an actual horse, set a budget. If you are shopping in person, use that calculator, sis. And if you need, find an accountability partner that will shame you for going over that budget as well. Do not go shopping with an enneagram 7 because you WILL end up taking a limo home from Nordstrom with all of your over budget buys. (Bryan is a 7. I can not confirm this story to be true or untrue.)
And if you are having trouble deciding on something, yes you can always return. I do find that there is always something that I get home with and immediately think 'but why tho?' and sometimes you don't know that until you are home. But one trick I have when trying to narrow down between a few things, I try to imagine the item that is in question in my donate pile years from now. If my immediate reaction is, WHAT? I WOULD NEVER GIVE HER AWAY, then that's probably the one I should buy. If my reaction is 'oh yeah, I could see that as a possibility.' Then that's usually the one I should walk away from. This is not a method that they teach in shopping school, so it may not work for you. But damn it works for me.
Shop Early
If you prep for the sale with the wish list function, or by making a list to shop in store, etc then when it comes to your day to shop then you can log on early and check out your cart. As someone who basically stalks the site for a month to watch for restocks and for new styles that I'm certain they bring in half way through but no one has confirmed this to me, I can tell you that things get restocked early mornings. You'll have more luck by placing your order earlier than later. Or if you are a night owl, then maybe that late / early hour of around 2-3 am? Let me know if this theory I have is correct.
All that to say, early birds get the booties.
And at the end of the day, if you aren't able to get your favorite items or something sells out or you just aren't able to shop this year, that's okay too! With everything going on this year, this might not be the best time for you to shop. As someone who has done this for years, there will be other sales. Also: MURDER HORNETS. Just wanted to remind you and your anxiety of that. They be waiting.
This Year's Best Sellers*
*and by best sellers, this is what I *think* will sell out quickest based on my experience of watching the sale the last few years. Absolutely no one approves of this message.
Free People Mock Neck Top, Free People Henley Tee, Free People My Only Sunshine Sweater, Caslon Rounded V-Neck T-Shirt, Gibson V-Neck Tunic, Topshop Ribbed Open Cardigan
Marc Fischer Oshay Bootie, Vince Camuto Gradina Bootie,  Vince Nelda Slide Sandal, Adidas Swift Run Sneaker, Veja Esplar Sneaker,  Nike 270 Sneakers
Spanx Faux Leather Leggings, Frame High Waist Crop Jeans, Good American Raw Hem Skinny Jeans, AG Ankle Super Skinny Jeans, Halogen High Waist Ponte Leggings, Zella Live In Joggers
Nike Crewneck Sweatshirt, Zella High Waist Leggings, Zella Splits Ribbed Tank, Zella Soft Pocket Leggings, Nike Biker Shorts, Zella Longline Bra
Nordstrom Moonlight Dreams Pajamas, Barefoot Dreams Lounge Set, Barefoot Dreams Leopard Cardigan, Nordstrom Moonlight Dream Short Pajamas, Ugg Cozette Shearling Slipper, Ugg Fluffette Slipper, Barefoot Dreams Throw Blanket
Zella Cozy Wrap Jacket, Patagonia Down Jacket, Halogen Wool Coat, The North Face Fleece Jacket, Halogen Cashmere Ruana, True & Co. True Body Bralette, BP. Joggers, Giraffe at Home Chenille Robe
Thank you for coming to my TED talk.