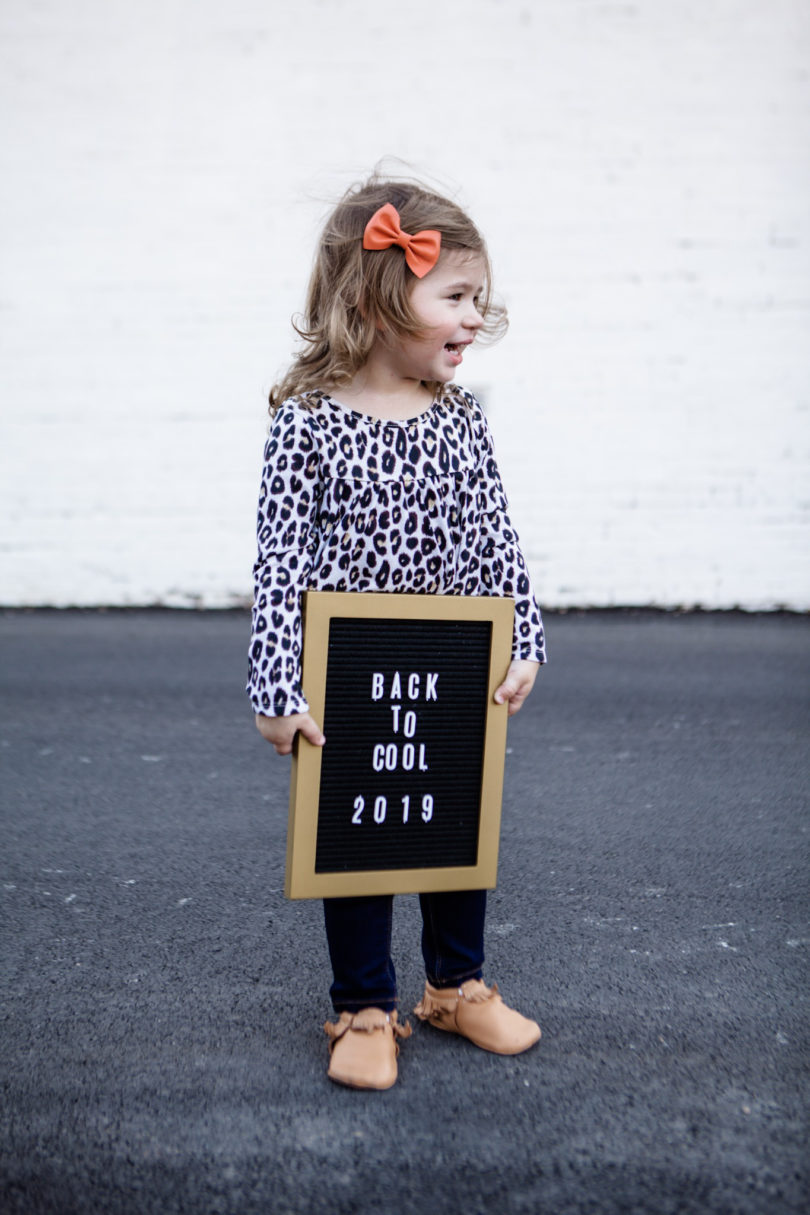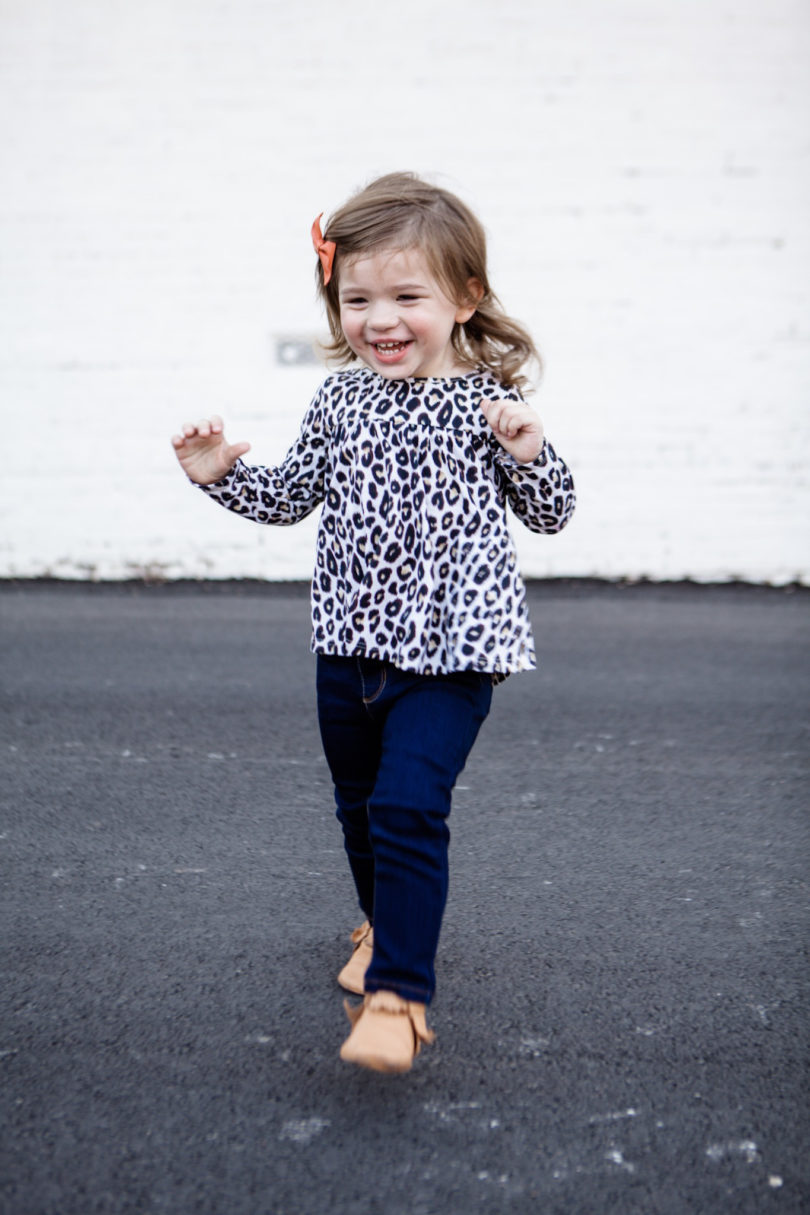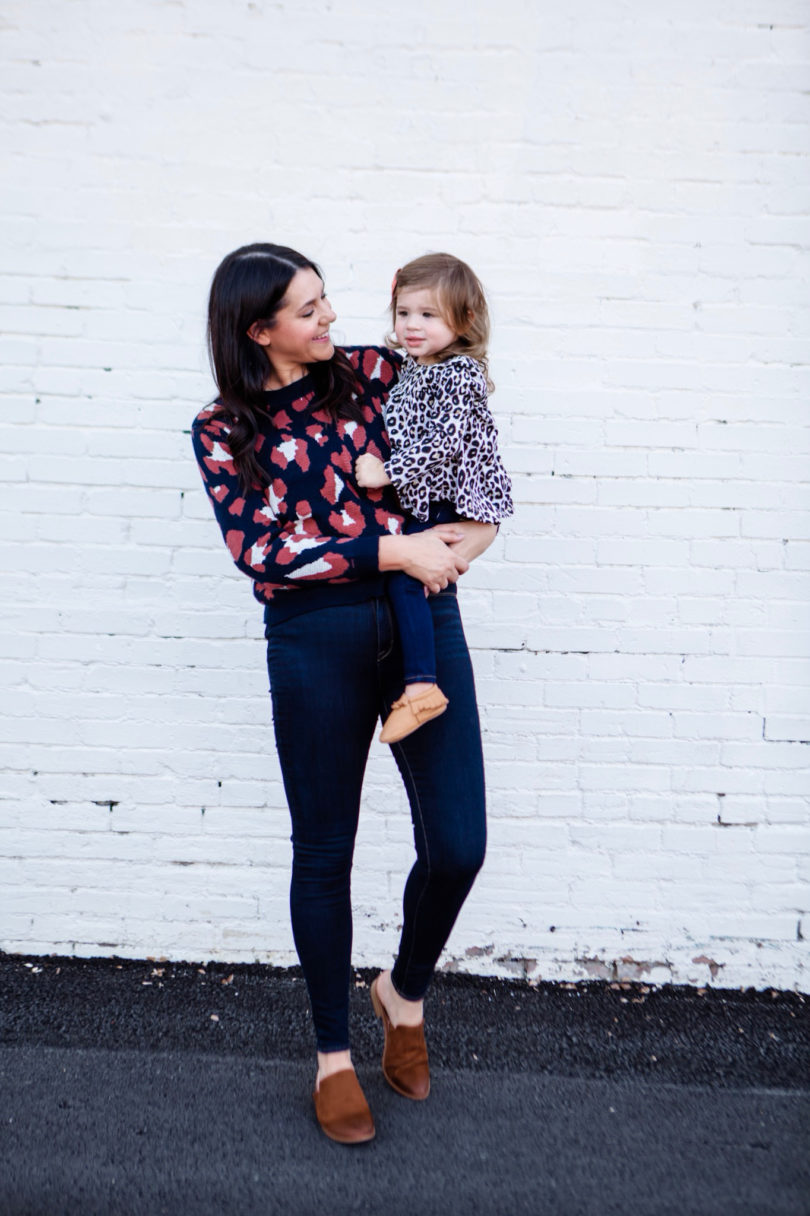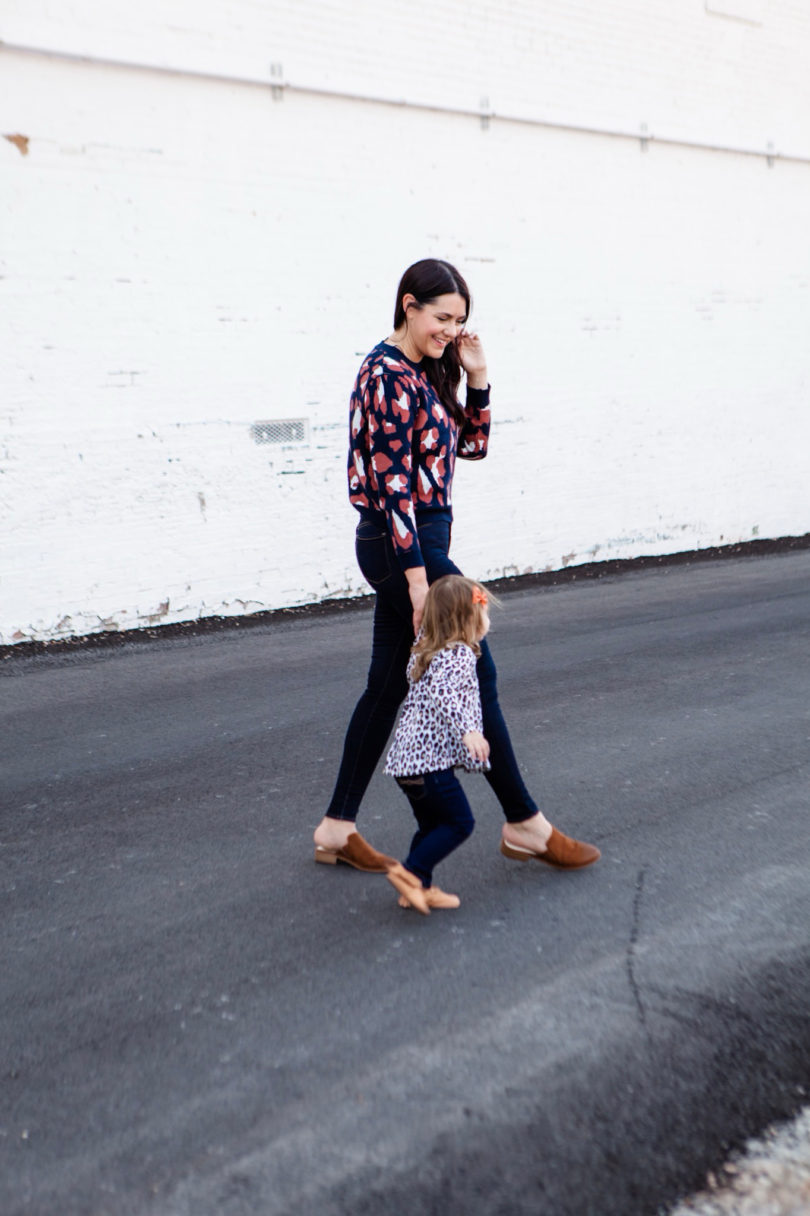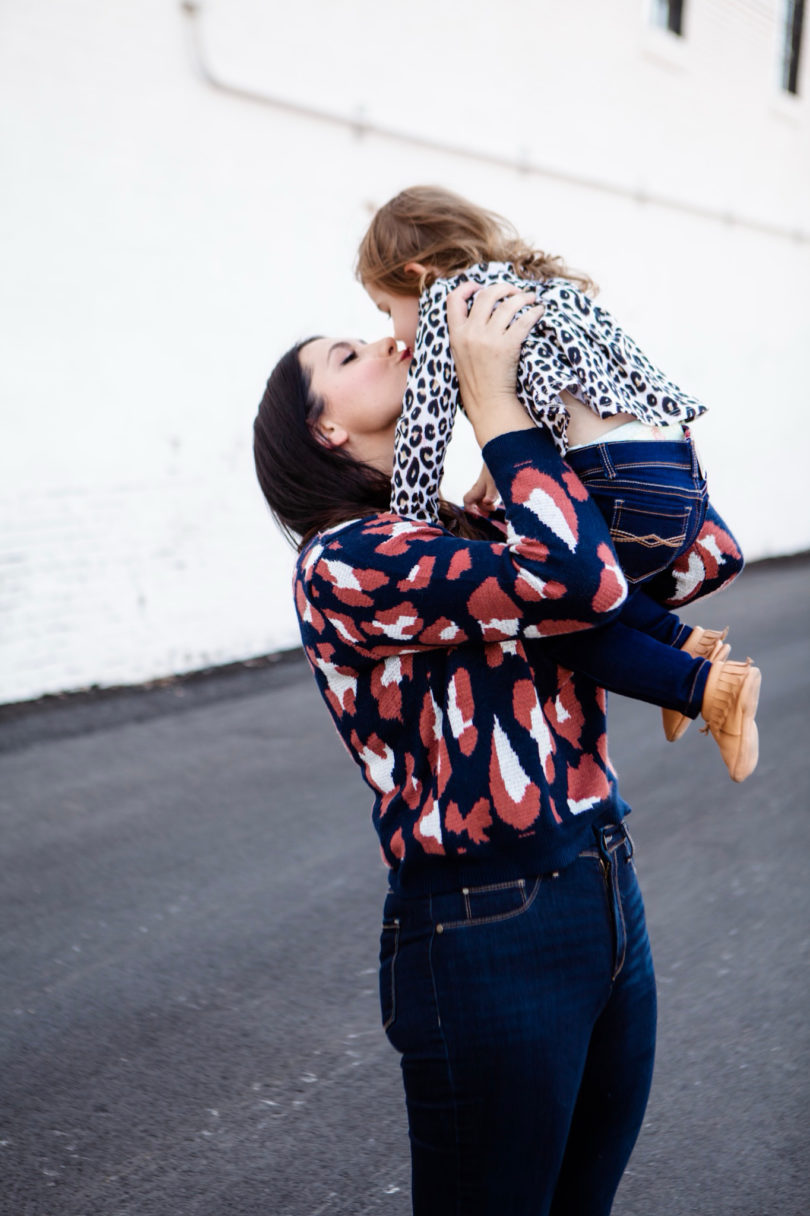 G turned two last week so we are a few years shy of back to school around here. And to be honest, we are a few months shy of back to cool weather around here as well. BUT two girls can dream right? Dreaming in our long sleeves over here of crisp fall days. We decided to play dress up in anticipation for those cooler days.
G almost knew that the Wal-Mart box was for her (which by the way I ordered it last Wednesday and everything was here by Friday! Two-day shipping is the best.) We pulled out this leopard two piece set and new jeans for fall and she said 'Gemma ready?' And I said yes you are! She understands now that photo shoots are actually just her saying 'ready-set-go' and me chasing her and daddy following with a camera so she was GAME for this shoot. (Fact: M&M's were given towards the end and you can see that in the last photo. Little chocolate smudge.)
Since G isn't heading back to school this fall like a lot of your littles, I wanted to just imagine that if she was what I would buy for her! I like to curate her closet in a way that no matter what most things coordinate so getting dressed is fairly simple. I like to call this outfit math, so I put together a few equations for your school-age littles heading to school this fall!
Each of these pieces are well under $25 and most are FREE two-day shipping with orders over $35. (No membership needed and it's easy to hit that $35 minimum with all that Walmart.com has to offer!) And I can attest to this — their return policy makes it easy to return what doesn't fit — either online or in store! (I've done both and they are seamless and quick.) You can find all of Wal-Mart's fashions for kids here or another post of back to school style's here. The thing that I like about Wal-Mart's kid styles is that they are straightforward styles and easy to layer and pair with other brands. Plus, as we all know, kids grow fast and keeping an eye on the budget is important rather you have one kid or 5!
Now, let's get to that outfit math!
---
           Pink Angel Heart Pullover Sweater / Levi's High Rise Skinny Jeans / Climate Concepts Colorblock Puffer Vest / Wonder Nation High Top Sneakers / Wonder Nation Ladder Back Tee
Wonder Nation Button Down Shirt / Wonder Nation Skinny Jeans / Wonder Nation Perforated Booties / Beverly Hills Polo Club Cotton Anorak / Wonder Nation Short Sleeve Dress
Levi's Denim Trucker Jacket / Wonder Nation Ladder Back Tee / Wonder Nation Star Court Sneakers / Wonder Nation Ruffle Hem Sweater / 365 Kids from Garanimals Cheetah Pants
Wonder Nation Short Sleeve Dress / Pink Angle Ruffle Shoulder Cardigan / Wonder Nation Star Court Sneakers / Wonder Nation Lightweight Sweater / Athletic Works Marled Joggers
---
I wanted to point out a few of my favorite items from this list. I didn't want to overload you with options (because there are a lot at Wal-Mart!) so let's review a few of the aces.
– T-shirt packs: For myself, I love the t-shirt packs from Wal-Mart because it feels like a two in one deal. I realize I'm paying for both, but it sure does feel like one of those is free. Plus for G, I love having a few basics on hand so finding these packs of two are helpful when we find a t-shirt we love. You can never go wrong with a solid tee!
– Denim: Gemma is wearing Jordache jeans above (a throwback to my own childhood!) and they fit her perfectly (2T already! Cue the tears.) The quality is comparable to other jeans I've purchased in the past as well. I'm a fan of under $10 jeans! I also love these leggings from Wonder Nation if you are looking for your older kids. Great reviews as well, so you can grab a pair or two in whatever rinse your girl loves! Find them here.
– Sneakers: Why are they not making these in adult sizes? These are the cutest pair of sneakers and honestly I'd buy both if G's foot was big enough! I love these sneakers — I'd snatch them up if I were you! Find them here!
– Fleece Jacket: This didn't make the graphic BUT I bought this one for Gemma (it's so soft — and will for sure be well loved this winter!) and I found a few for the older kids too! This is one of those grab it and save it for later kind of things that you'll thank yourself for.
– Jacket: I love love this field jacket — it looks so fancy but is priced just right. I wish it came in adult sizes as well. Okay, I wish all of these things came in adult sizes. Find this jacket (going fast!) here!
– Swing Dress: I also love this easy knit dress that comes in a myriad of colors!
You can find all of the fun back to school fashions from Wal-Mart here!
PS: Hopefully this helps give you some ideas for your little ladies this fall! Let me know if you like this type of post or graphic! (Or maybe even some outfit math for us who graduated 15 years ago?? 😉 )
*As always, thank you for supporting the brands that support this blog! Special thank you to Wal-Mart for collaborating on this post!