Happy Friday, friends! It's Nordstrom Anniversary Sale Public Access so let's get to it! What did I buy and keep?? I know you've been DYING to know. So you can finally take a breath and sleep at night because here is the post!
You can find my full round of all the favorites I can't buy here!
1. Frame Denim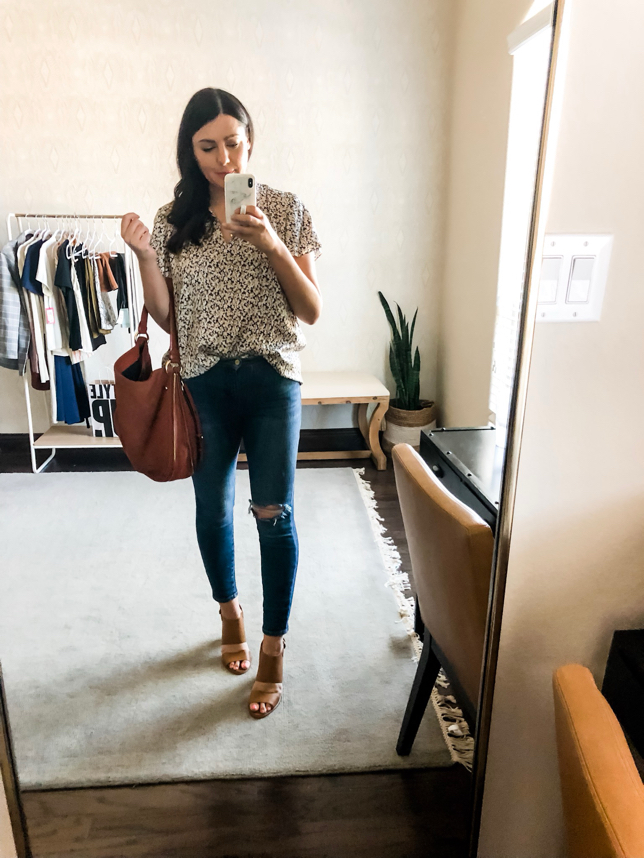 Nordstrom Silk Blouse / Frame Denim / Rebecca Minkoff Suede Hobo / Caslon Sandals
I'll be wearing this pair of denim in the entire try-on! This is the only pair of blue denim I ended up buying. I really really love Frame denim — they are a high quality denim for the price during Anniversary sale, so for me they are worth grabbing up. The only reason I stuck with one pair this year is because…I have a lot of denim, as you very well know! Since these are basically sold out (a few sizes left here) I wanted to point that there is one more pair of Frame Denim on sale that isn't distressed but is almost fully in stock! The fit will be very similar to these. Stay true to size in what you are in AG or Paige, I am a 29 in these. They don't stretch out with wear but will loosen from the first try on.
Find my suggested pair in full stock here
(With that being said, go with the designer jeans that rarely go on sale if you are looking for denim this year! AG, Paige, Rag & Bone are all really good buys during this sale! I received this pair of Rag & Bone denim from Nordstrom as a gift and I'll be revieiwing them on IG stories later today.)
2. Madewell Crop Kick Denim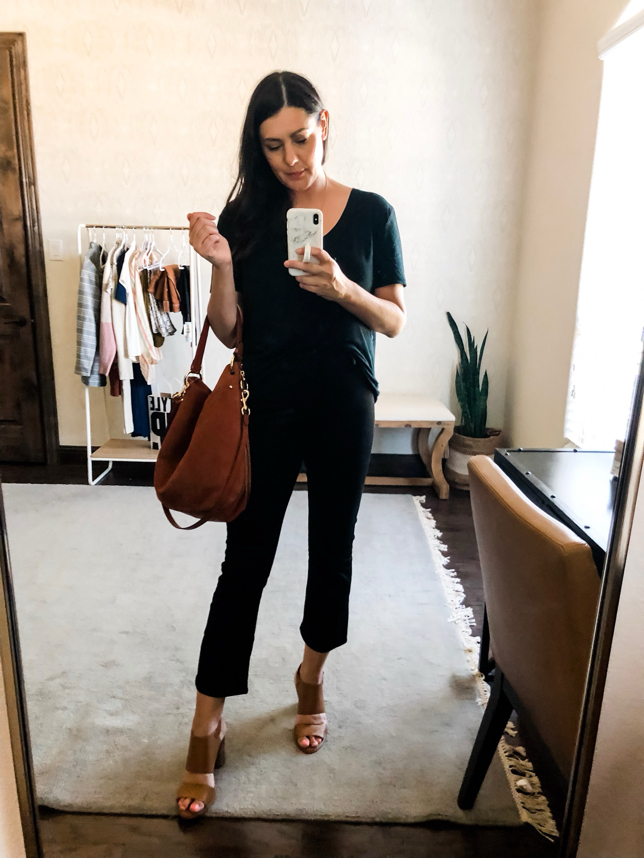 BP. T-shirt / Madewell Crop Kick Denim / Caslon Sandals / Rebecca Minkoff Suede Hobo
This pair of Madewell denim I spotted when I was making some returns of my initial buy. This is the opposite of what I was supposed to be doing by the way. I couldn't believe I didn't see them earlier because they are exactly what I will want this fall. I just know it. They are a kick flare black denim with a high-waist, in true Madewell form. They fit true to size, very stretchy material which is just perfect because it hugs all the curves and the little kick at the end is super flattering. You can find them here. I will say this — they feel like a similar material to the Madewell black skinny jeans I trash talked in my first post but they aren't as scratchy as them and they are stretchier. I like these so much more than the straight skinny jeans, as black denim can be one note. I am in the 29, my typical Madewell size! PS: these jeans are FULL stock as of publication!
(I also received this pair of Paige black denim from Nordstrom as a gift that I'll review later on IG stories today! They don't have the best reviews so we will see!)
3. Leith Longline Cardigan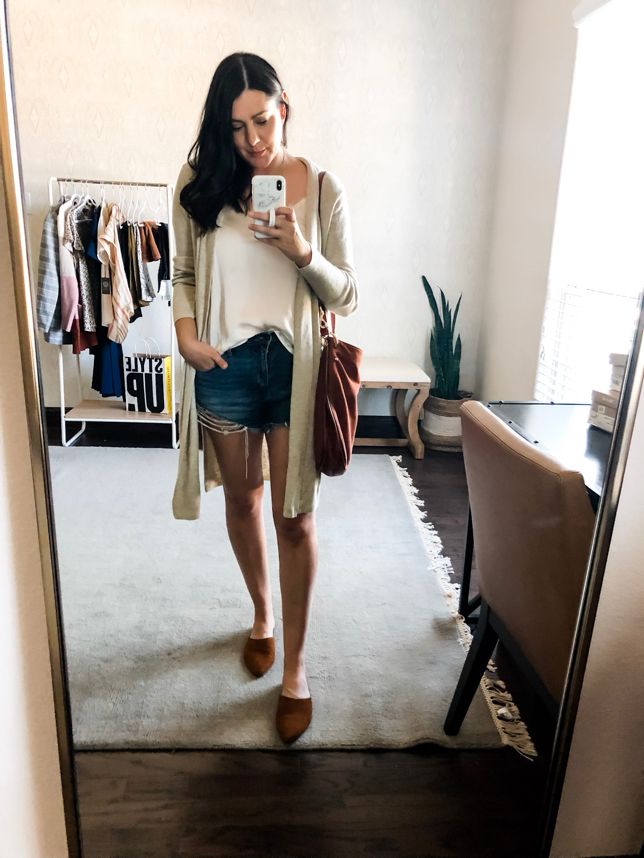 Leith Longline Cardigan / BP. Camisole / Similar Shorts / Madewell Remi Flats
I'm actually surprised this cardigan isn't sold out to be completely honest. It's lightweight, it's a really nice length and it comes in a few colors that would all be great for fall! I am in the medium and it fits true to size, but I would suggest sizing down if you are petite or your top runs smaller. I love the oatmeal color as it will go with everything from now until next spring, it's a nice light color and it feels different than my typical go to which is a camel or tan cardigan. (For length reference, I am 5'9″)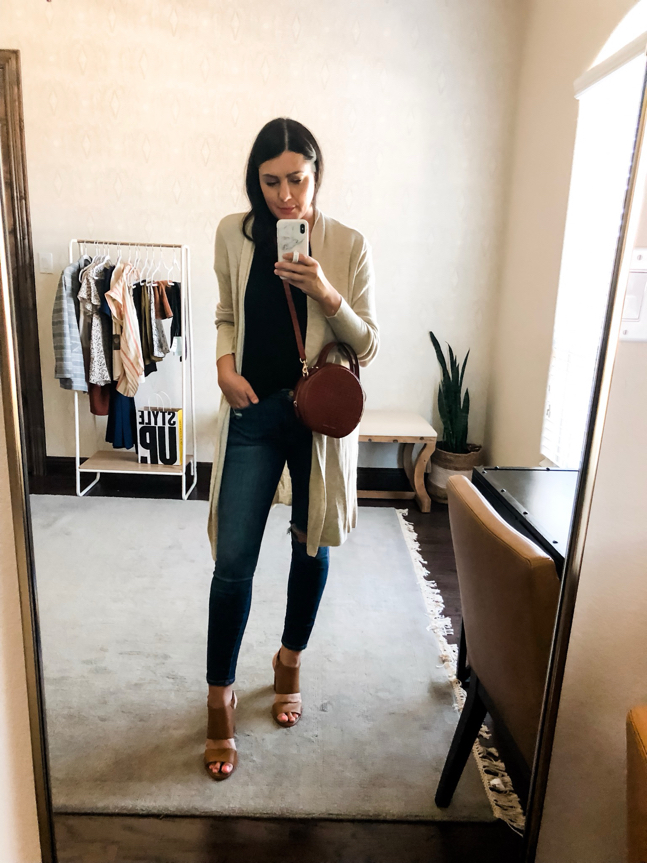 BP. Top / Leith Cardigan / Frame Denim / Caslon Sandals / Rebecca Minkoff Purse
Here's another outfit with the cardigan! More fall inspired feel here.
4. Topshop Checked Blazer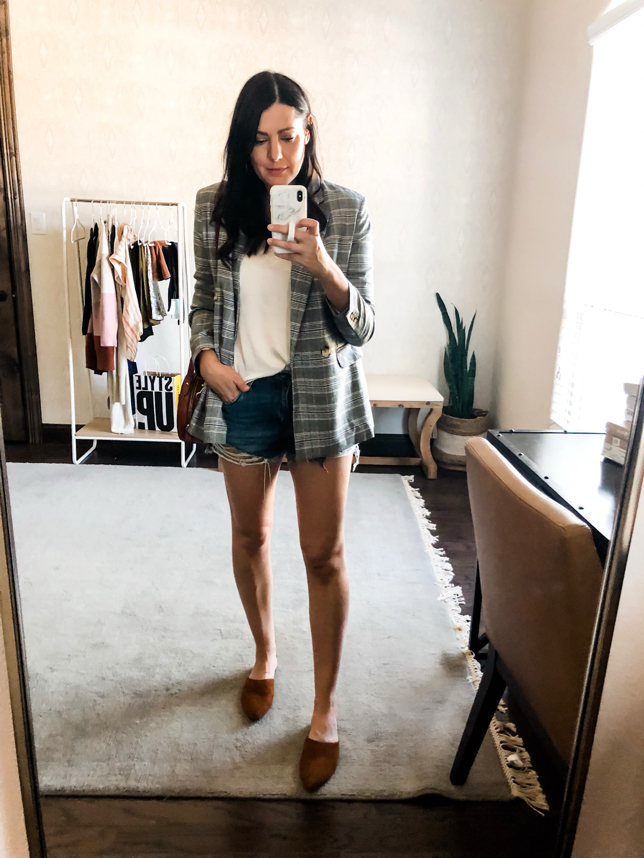 Topshop Blazer / BP. Camisole / Similar Shorts / Madewell Remi Flats
I would suggest sizing down in this blazer. I am in the 8 but it's pretty oversized. Topshop is either wayyyyy too small or wayyyyy too big, so it's always a crapshoot with them. But I am in the 8 and that's my typical size and I'm happy with this fit but it definitely is roomy in here, just FYI. I would not say it's a tailored TTS, it's a relaxed fit that I think will vary on different body types, so if you are smaller on the top, size down one from your typical size. If you have broader shoulders or carry weight in your chest / arms, then stay true to size for a boyfriend type fit.
All that to say…I LOVE this blazer! It has a hint of blue throughout the check and it's just cool looking. I 100% envisioned this outfit when I tried in on in the dressing room. I just feel cool, you know?
5. Madewell Trousers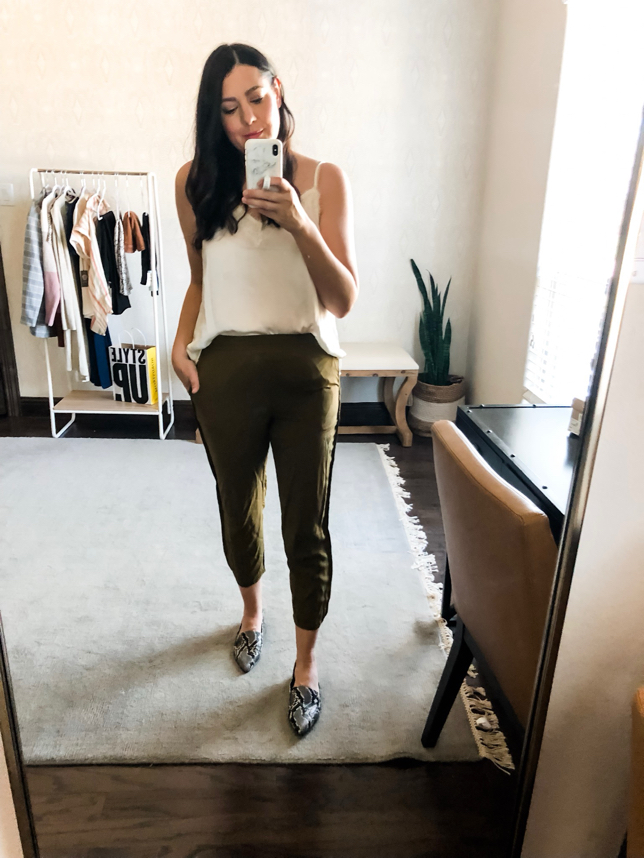 Madewell Trousers / BP Camisole / Marc Fisher Snakeskin Flats
I'll be honest — these are weird pants. But once you put them on they make sense. They are more olive than yellow-green that they show online and they have a slight sheen to them. I am in the medium and they fit but they are fitted for me in the waist / hips. I have to wear seamless underwear with them because they do show a panty line, just FYI. (My personal favorite here.) I would say TTS and if they are snug at first, give them a wear and they loosen with wear. They would be so cute with sneakers too! I truly love them. I've already gotten stains on them, so you know it's love.
6. Madewell Central Shirt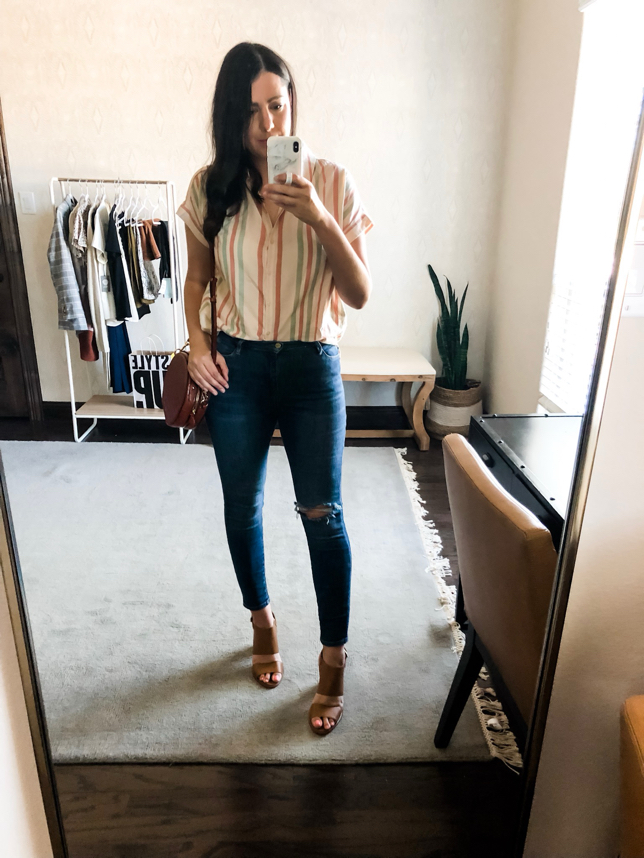 Madewell Top / Frame Denim / Caslon Sandals / Rebecca Minkoff Crossbody
I love these shirts from Madewell and this one is perfect for summer. It's a light coral / sage mix and it's darling! Lightweight, loose and honestly just perfectly Madewell. I am in the medium. I always find that they run true to size IF You want it to fit loosely. If not, size down one.
Find all Madewell on sale here!
7. Gal Meets Glam Wrap Dress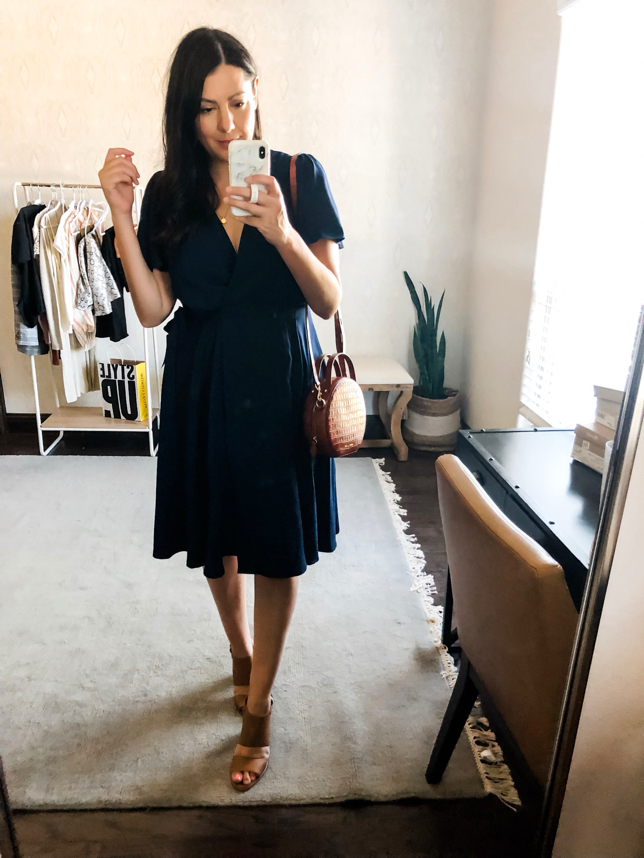 Gal Meets Glam Wrap Dress / Caslon Sandals / Rebecca Minkoff Crossbody
I can't explain it but I just love this dress. It's pretty simple — just a navy wrap dress — but I love the flutter sleeves and it fits my boobs! In fact, it's a little bit loose on my boobs which is really an exciting thing for me, ha! I would say size down one if you are smaller up top. You may need to add a camisole underneath because the top does open a little bit but that's not a deal breaker for me because it's just so pretty. The skirt is flowy, the sleeves are the exact right length and it can work for basically any season. I am in the 8, my true to size. (PS this dress is nursing friendly!)
8. Simple Wrap Top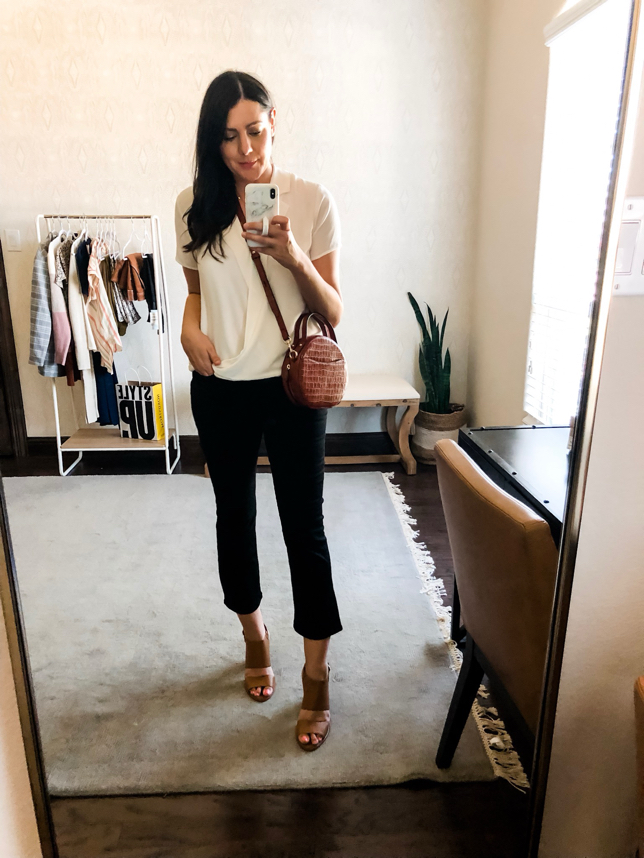 Vince Camuto Wrap Top / Madewell Crop Kick Flare Jeans / Caslon Sandals / Rebecca Minkoff Purse
This is a wrap top from Vince Camuto that I thought would just be a nice basic. I was waiting for this top to come back in stock in my size but it never did, so I found this one and really like it! It's not silk, but a crepe material so that may be a deal breaker for some. But it's thick enough that it's not see-through but it's light enough to wear it now. There is a button to keep the top closed at the chest area which is nice. It comes in a few other colors, but I just love a classic white top. I am in the medium, I find it true to size! Size down if you are smaller on top! But if you have bigger boobs, this shirt works great! Nursing friendly too.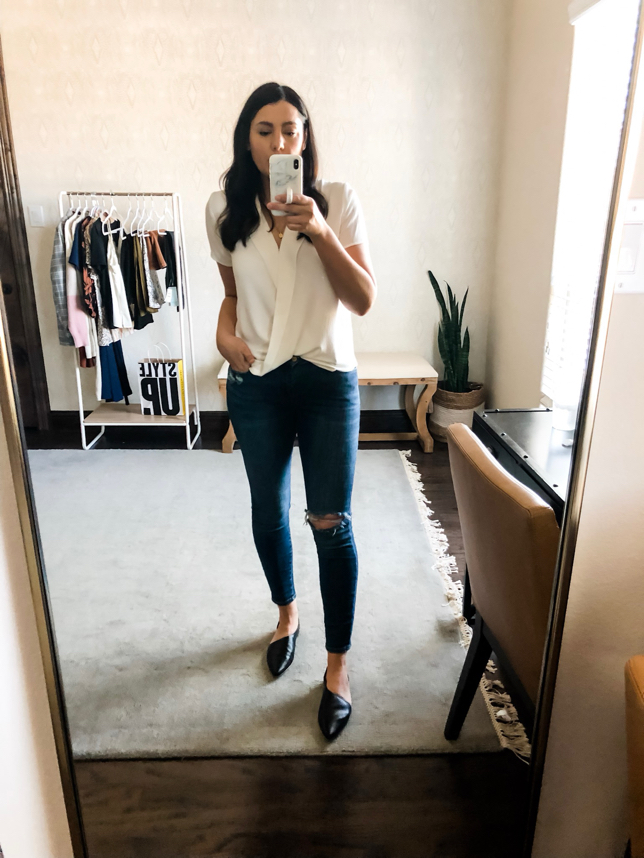 Vince Camuto Top / Frame Denim / Nordstrom Shoes (didn't keep though!)
Just wanted to show it with blue denim as well!
9. Topshop Skirt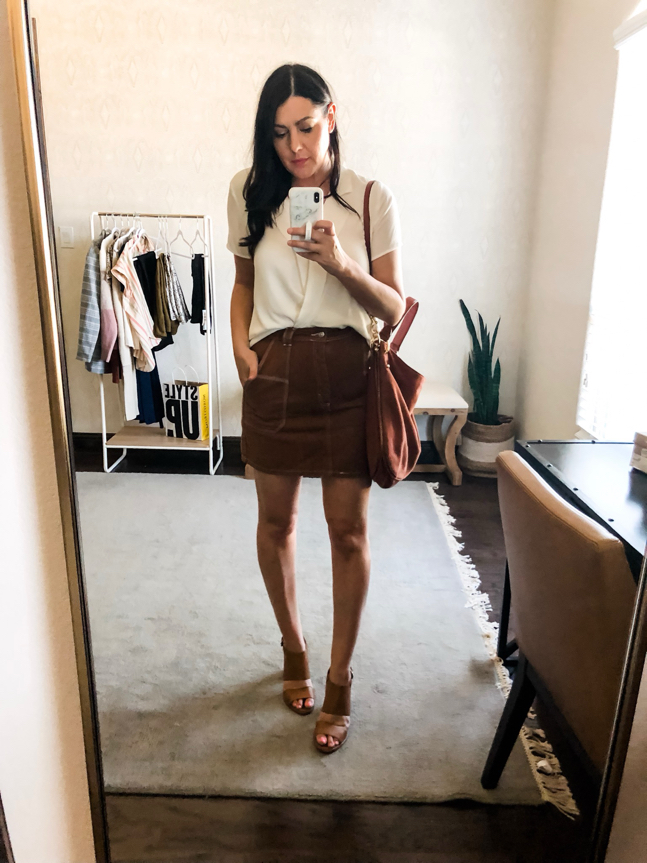 Vince Camuto Top / Topshop Skirt / Rebecca Minkoff Purse / Caslon Sandals
It's kind of hard to see the full effect of this skirt, but I posted it earlier this week here! I love it — it's so unusual and honestly just a cool find! I sized up to 10 and let me tell you — it's still tight. It fits like a tight 8. So I would say size up one for sure, especially if you carry weight in your tummy (here here). That's where it fits the tightest.
I didn't really sell it there did I? LOL. Sizing issues aside, it's a cool skirt to wear now or later. I love it with a simple white blouse or a t-shirt or sweater later on! I mean sky is the limit!
10. Silk Floral Blouse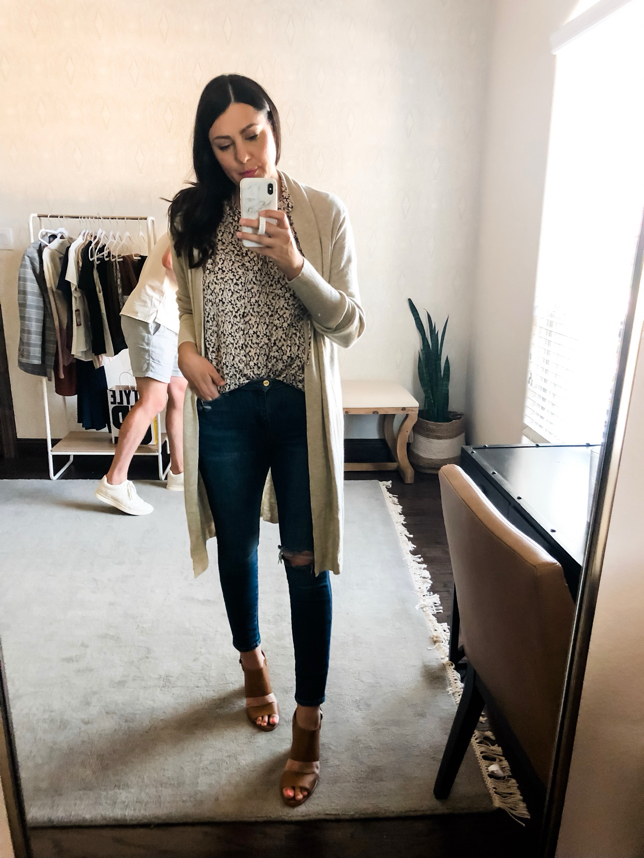 Leith Cardigan / Floral Blouse / Frame Denim / Caslon Sandals
LOL to Bryan in the back. 😉
Sadly this blouse is almost sold out! I loved it so much that I went back for it. I would watch this blouse because I feel like it will come back in stock. I am in the large because it was the only size in store but honestly I really like how it fits. I wouldn't suggest sizing up, I think it's a TTS but I like this fit. If that makes sense! Hoping this top comes back around in more sizes in a few days!
Shoes I kept
If I had to tell you to buy ONE pair of shoes, it would probably be these: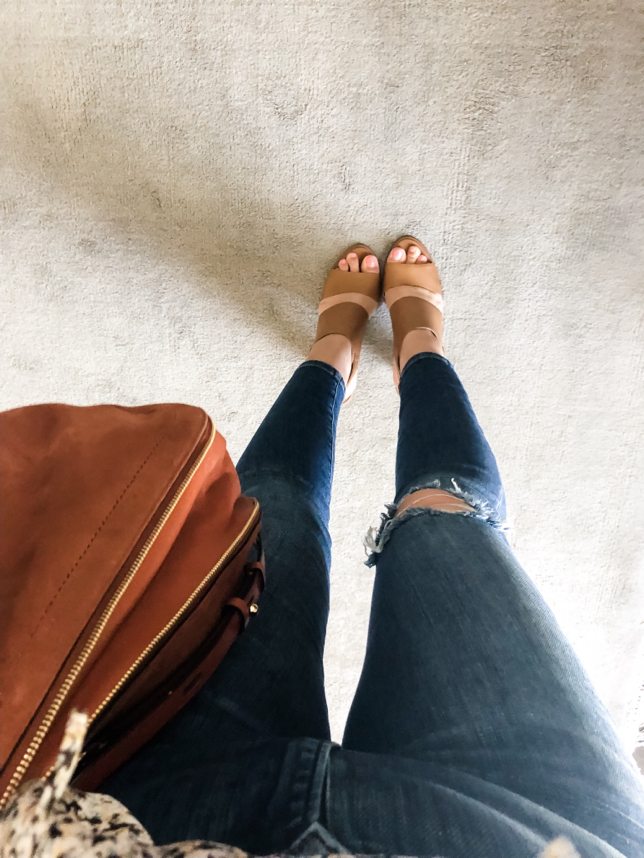 I was SO surprised by these. I saw them in store and picked them up to try and ya'll — they are beautiful. They look so much more expensive than they are ($65). They are a soft leather that keeps its shape but hasn't once rubbed at all. They are comfortable to wear and they are that magical tan color that goes with everything. I am in the 10, fit is true to size!
ALSO: re the bad review on these. WHAT. A review said they are uncomfortable and I am having the complete opposite experience. My only thought is that she bought the black and perhaps that's a different leather than the brown? I went to link and saw that one star and my mouth was a-gap. But to each their own. 
I'm also waiting on my shipment of these Vince Heels! Fingers crossed they are a perfect fit!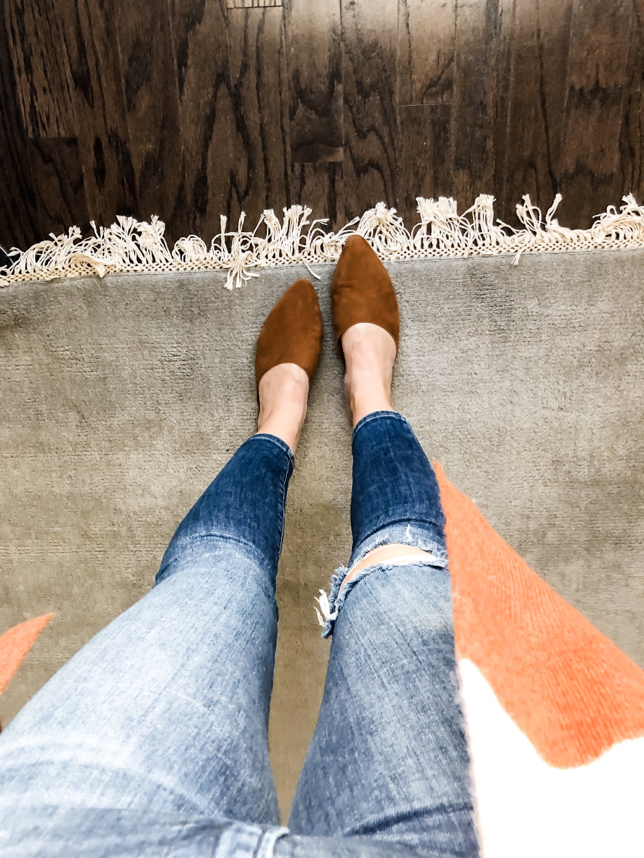 Okay if I had to tell you to buy two pairs of shoes (besides those Vince Mules) it would be these Madewell flats. I love this pair of flats so much, I've worn them all week. They are just an easy slide on for now through fall. I will say that I'm glad they are on sale because I wouldn't recommend buying them at the full $90 price but for under $60 I think they are a great buy for a suede flat. I am in the 10. True to size, but pretty fitted. Size up a half size if you're in between.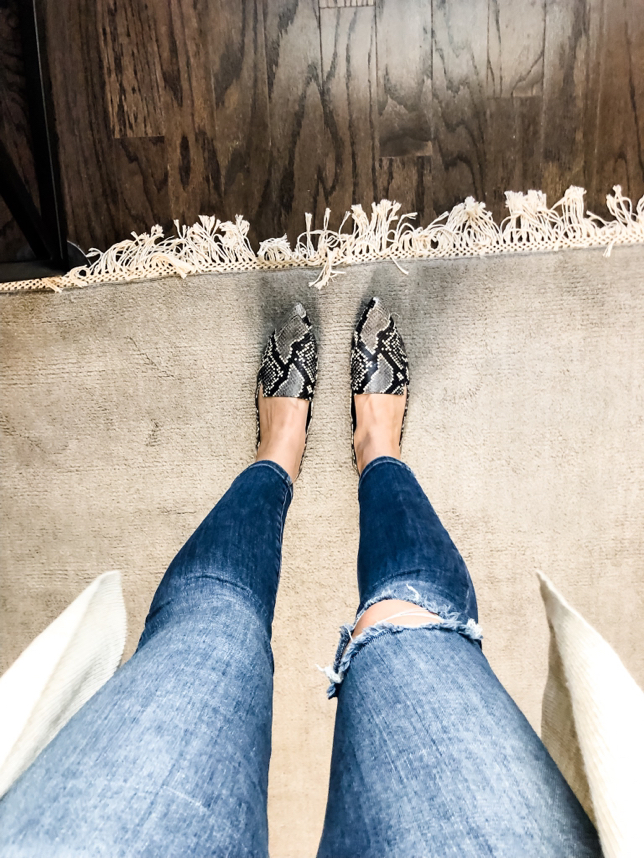 I'm actually on the fence with these Marc Fisher Loafers! I am in the 9.5, by the way. They run a half size too big. I haven't worn them out of the house yet because I'm still on the fence. I love them, they are comfortable but I'm just not sure if they will go with everything I want them too. I think it may be because I'm not in that 'fall' state of mind yet. We will see, I may keep them for a bit to see if I change my mind! What are your thoughts?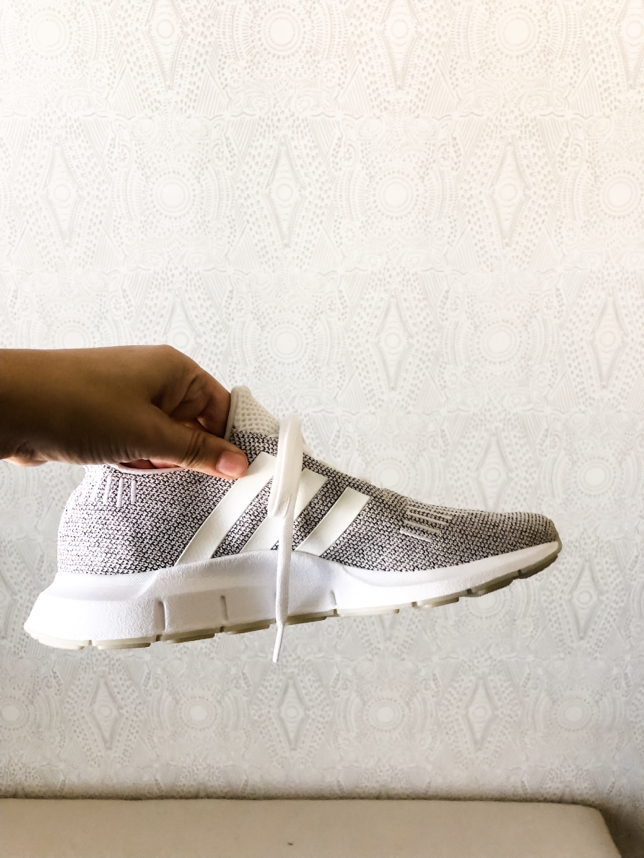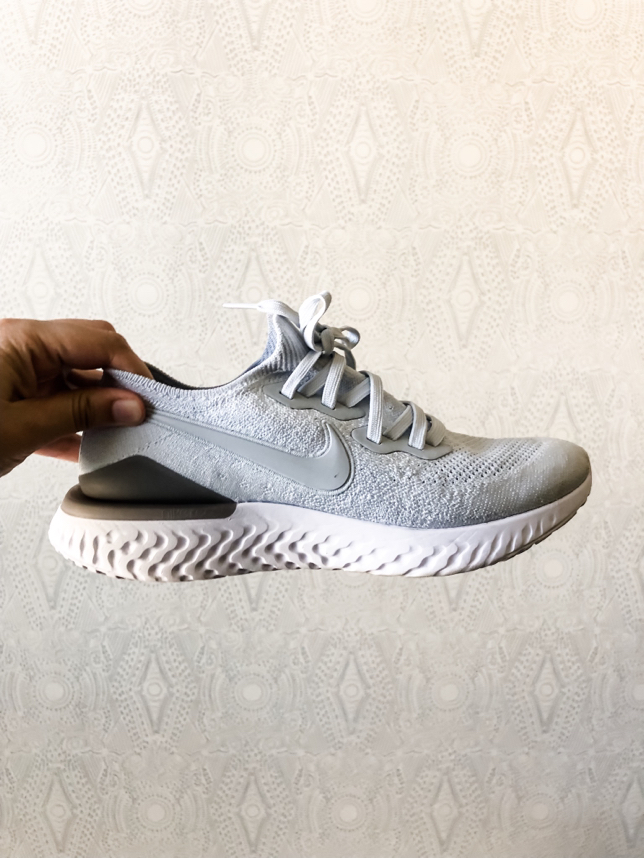 I ended up buying two pairs of sneakers (the Adidas and Nike above) because this is when I always buy my sneakers for the year! Isn't that funny? These are my new gym sneakers, say hello. I LOVE the Nike ones — they are like walking on clouds. True to size. But the Adidas you need to go down one half size.
Find the Nike Sneakers Here
Find the Adidas Sneakers Here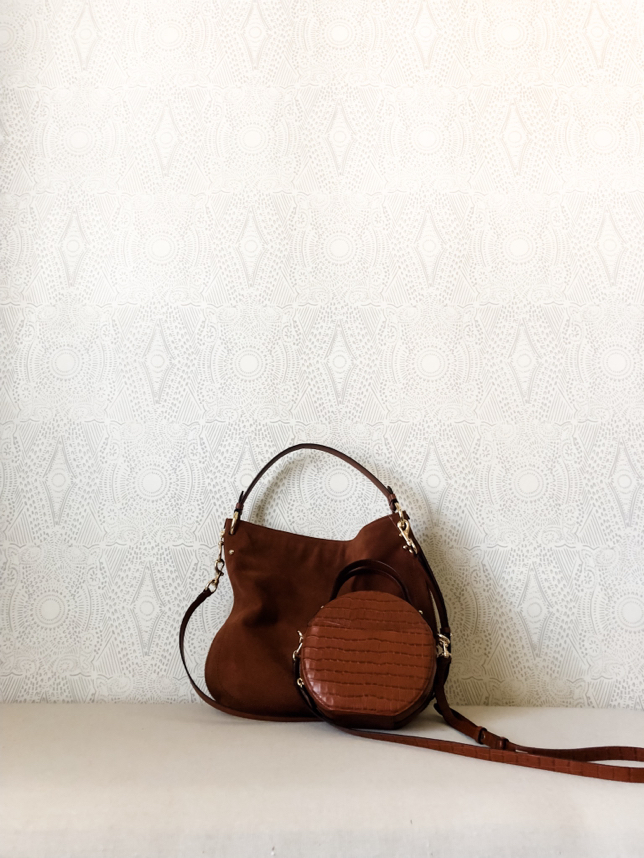 Last but not least…I bought two purses even though I said I wasn't going to even look at handbags. LOL to that version of Kendi.
Ya'll. I LOVE this hobo suede bag. If you were looking for one bag to purchase, may I humbly suggest this one that I also have so we can be bag twins. I love it — it's lined, it has an inside pocket, it fits everything perfectly and it comes with a strap to also be a crossbody. It's just a nice bag and I love this kind of reddish hue. It feels different than other bags I have. Find this bag here!
I also love this crossbody, but as Bryan pointed out, I haven't been as drawn to it as the hobo bag. I'll see if I do in the next few weeks because I just find the little shape darling. I can fit everything in it but I use a smaller wallet. It's a nice size as well for a crossbody. Find it here!
You can find my FULL post here, if you're shopping for the first time today! I also rounded up kids + toddler favorites too!
Happy Anniversary Sale!