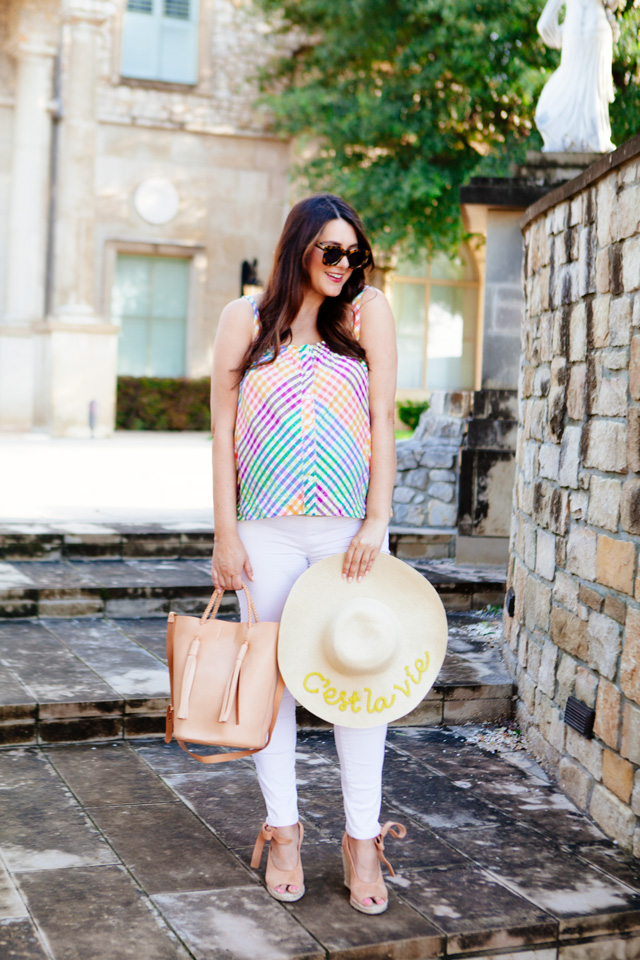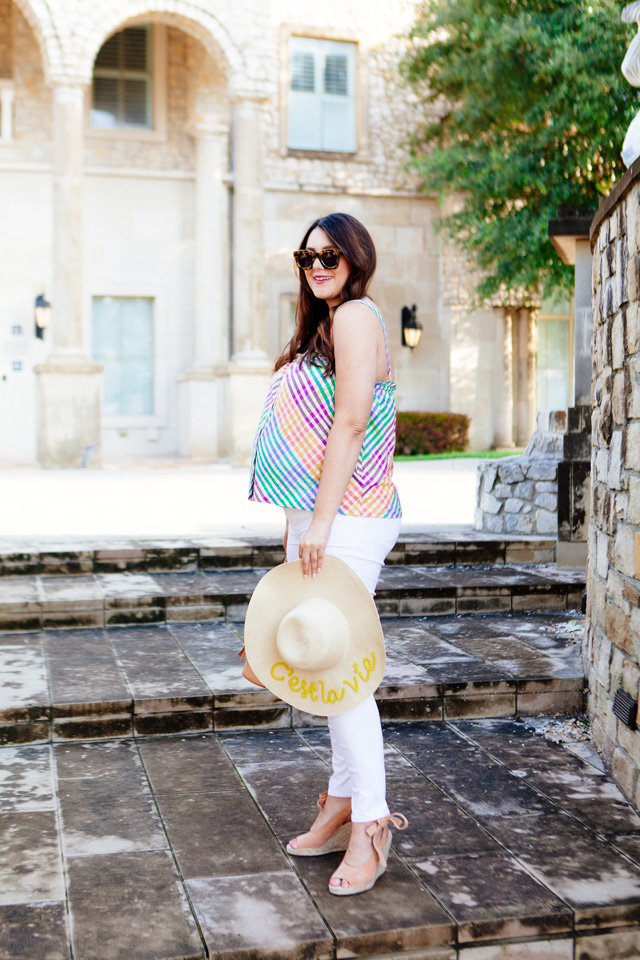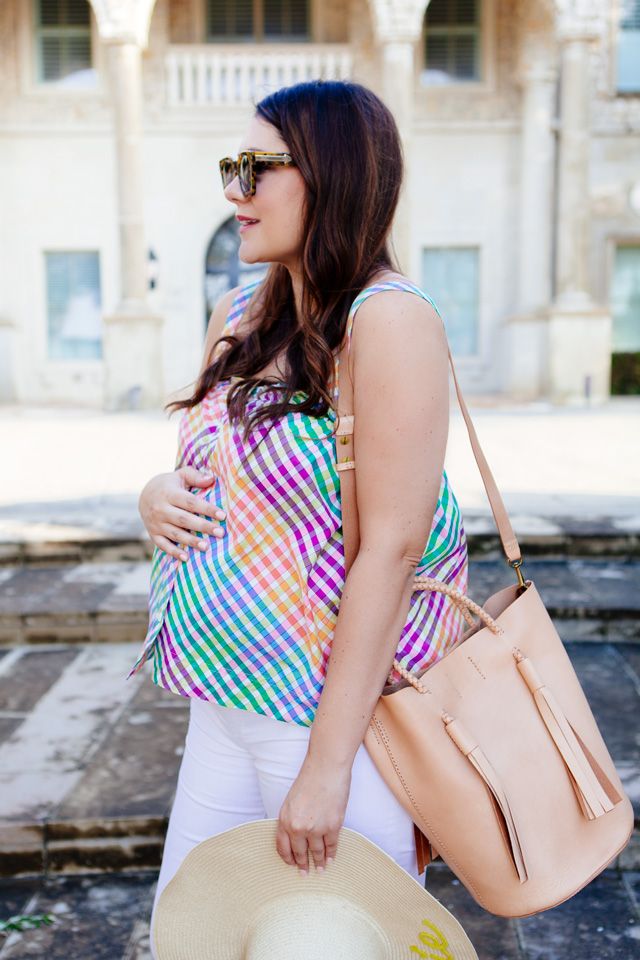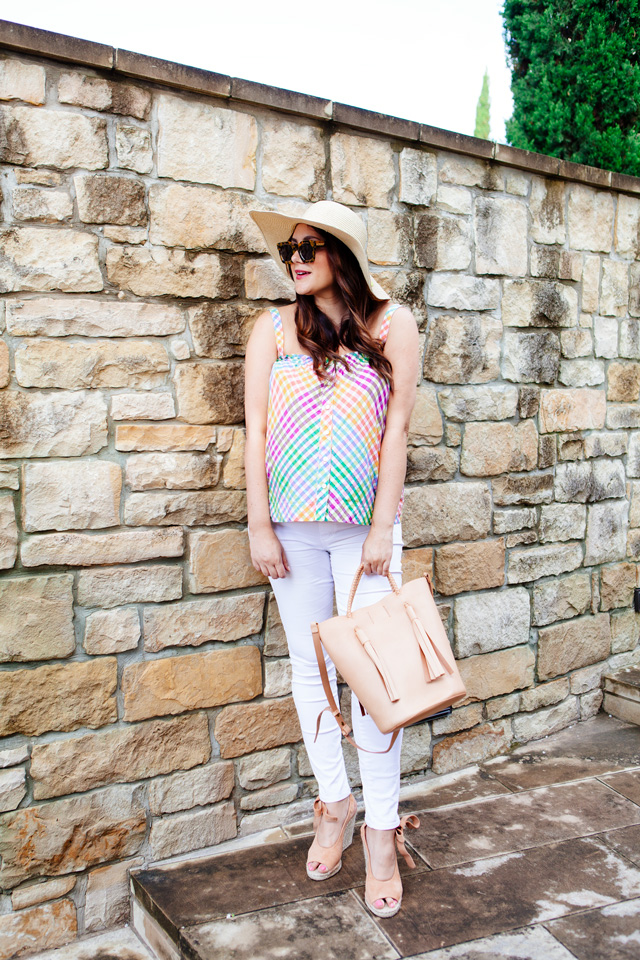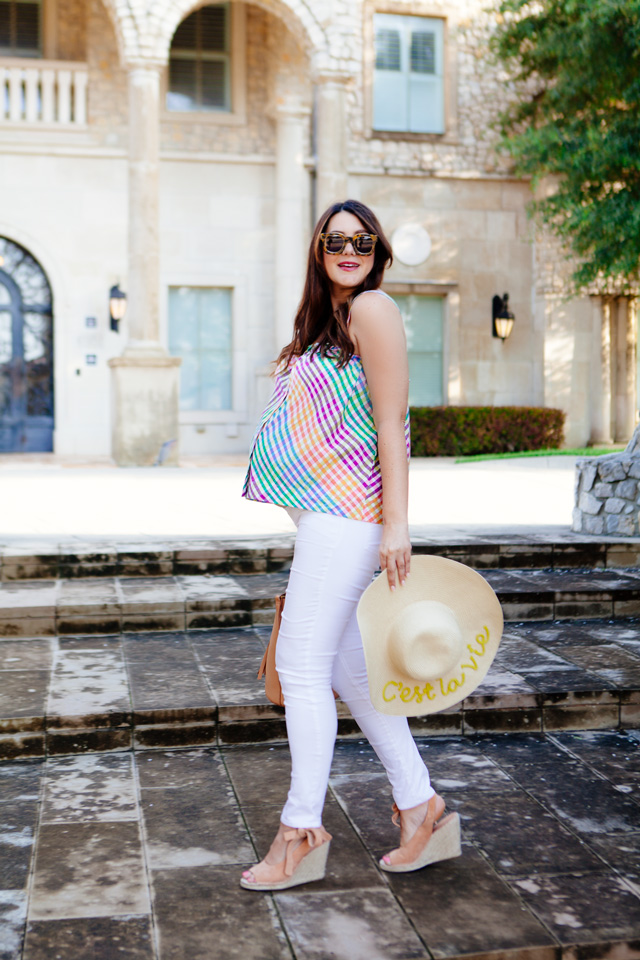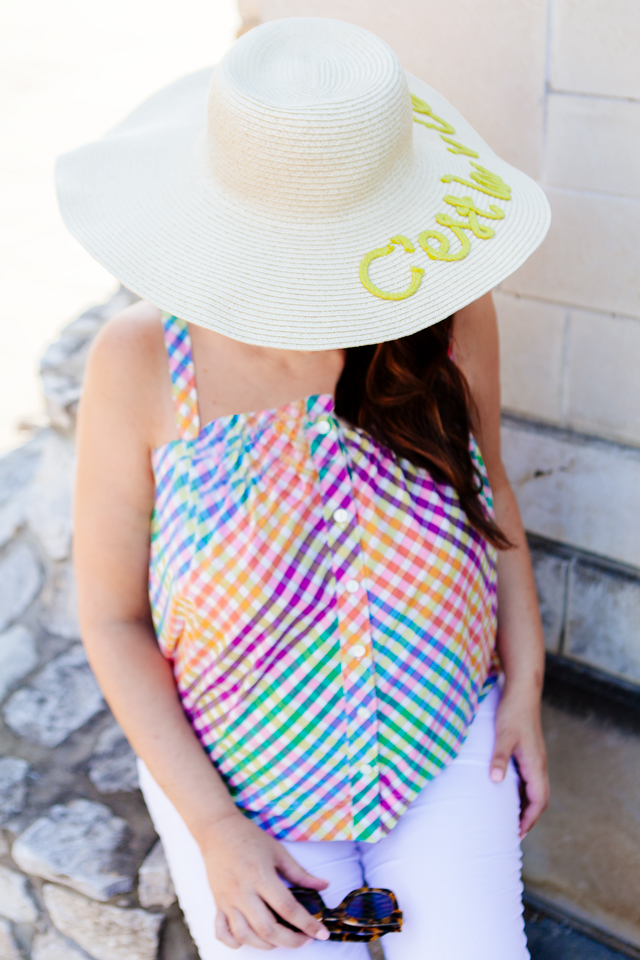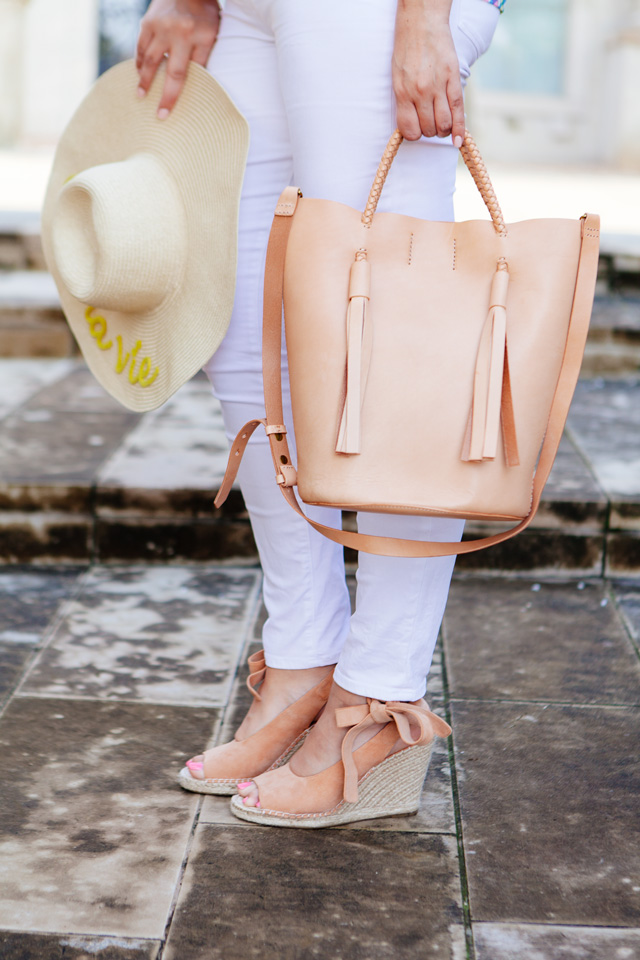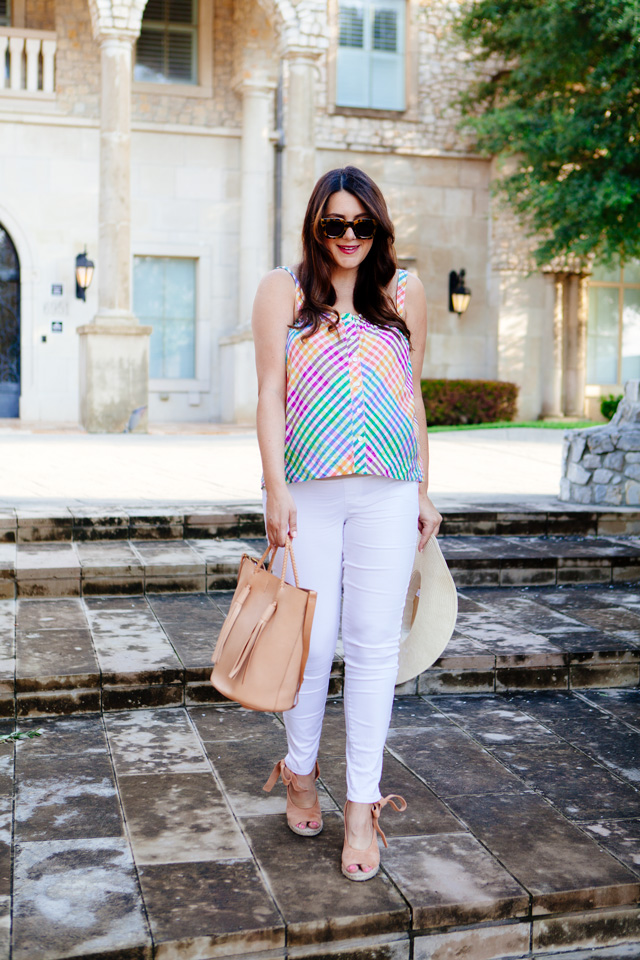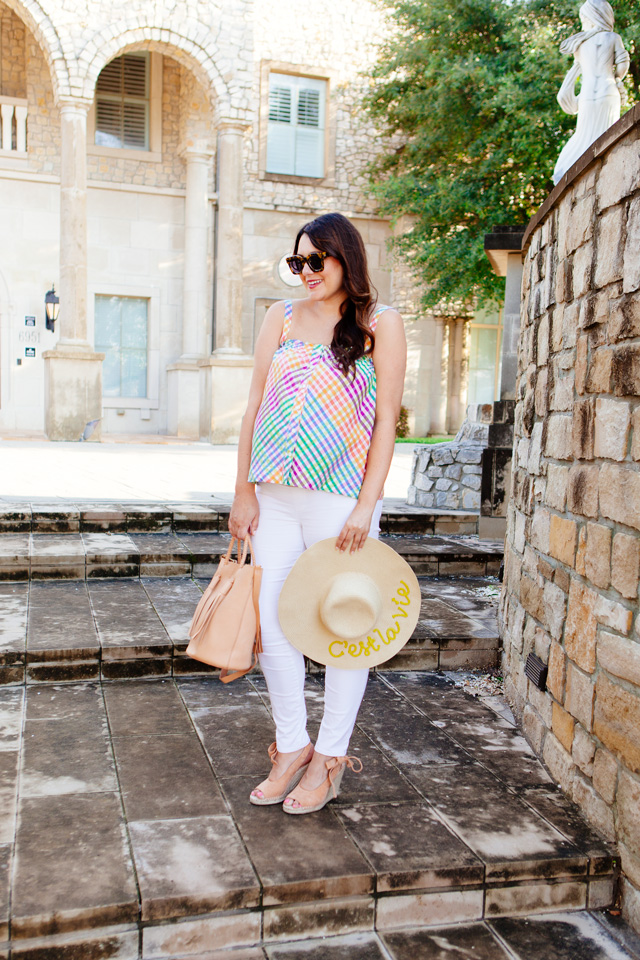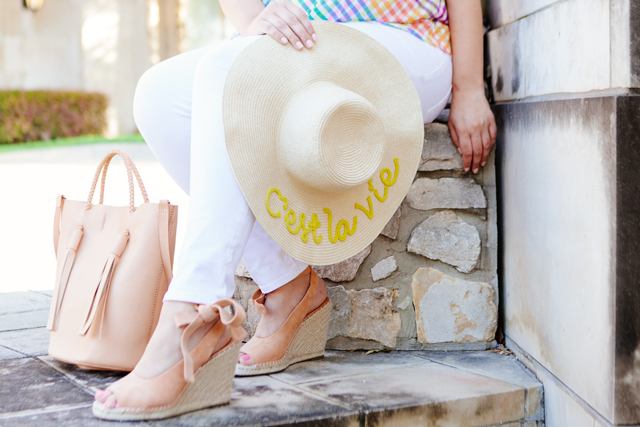 When I think of summer, a few favorites come to mind. In fact, I may be wearing them all right now. (*With the exception of cut-offs. Long live cut-offs. I will see you again next summer, dear frayed denim friend, whether you will be in style or not.) I always think that summer holds a few iconic pieces that you just need when it comes to getting dressed in the heat. Summer is my favorite time to bring in all the colors; I mean why not? We've got all of fall and winter to wear navy and grey and blacks. Plus when else is rainbow gingham acceptable right?
I've thought long and hard about my summer favorites and listed them below! Starting with my very favorite summer pattern, which I never mind sharing with a picnic table: gingham.
Gingham
Always in style from spring to late summer, I love this pattern. I find that it's best to break the pattern up with a top and pants, but never mind a great gingham dress. A few options are below! (Plus this fabulous top from J.Crew. I included the sizing info below in the Editor's Notes if you are interested!)
White denim
If you've followed me forever now — because I'm pretty sure that's how long I've been blogging — this will sound like a broken record. But just in case you forgot my stance on the matter: you need a pair of white skinny jeans. Not just for summer, but especially for summer. Sure they can work year round but summer is their time to shine. They go with all the tops and just bring a fresh, classic vibe. When I'm not pregnant, my favorite brand is AG for designer and Articles of Society for an option under $100.
sunglasses
Sunglasses for summer? Groundbreaking. I know, I know it looks like I'm stating the obvious but I'm not just saying any old sunglasses will do for summer. No, you need fun-glasses. (Just let me have that one, ok?) Summer is THE best time to bust out your best novelty, colorful or bold sunnies. I just picked up this pair of Karen Walkers because a) I love everything she designs and b) they look mod and perfect for summer. I say go big and bold with sunnies in the summer. Live it up.
summer hats
I used to be so intimidated by hats so I never wore one. What a shame, missing out on one of the best accessories summer has to offer. I would feel so self aware in a hat, as if everyone was looking at me and the hat like I was crazy. But turns out that was all in my head and I figured this out by…you guessed it! Wearing more hats. Now they are my favorite summer accessory, especially when they are clever like this one (SUCH a good price!) or anything by Eugenia Kim. This Darling hat is, well, darling.
wedges
A good pair of wedges is all you need in the summer, I tell you. Okay, so maybe also a good pair of flat sandals, too. But I've loved a wedge for summers on end; it's the most comfortable way to wear a heel in the heat. These nude ones from Joie are adorable with their tie on the side but in case ties aren't your thing, I've pulled a few other favorites below!
totes
I keep thinking I'll tire of the tote bag — but that has not happened yet. The convenience factor plus the chic factor keeps me coming back to totes, season after season. But especially the summer — there is just something about being able to grab your purse, toss what you need in and go. That is why I love a tote. I picked up this Madewell one and the leather is like butter, you guys. And this color! Nude leather can't get any prettier than this. A few of my favorite tote options below!
Ah summer, my very favorite season. Except for fall and spring, I also love them as well. Okay so basically we just hate winter around here. But there is nothing happier than summer's colorful styles. What are your favorite styles for summer?
*This post is sponsored by Nordstrom, my favorite place for summer styles (well, okay for all the seasons). Thank you for supporting the brands that support this blog!