Since moving in this past December, one of the most requested rooms to see has been our kitchen. I totally get it. This kitchen is what drew me to the listing to began with last fall, but I actually thought we would paint the cabinets when we moved in. I had budgeted that into the move when we started looking at this house. You see, the listing photo was not accurate on the color of the paint, showing it to be a teal blue. But once I saw it in person, I never realized how much I wanted a green kitchen. Suddenly green kitchens started showing up on my Pinterest page, my google home page, it was everywhere and it was a sign.  This kitchen was meant to be ours and meant to be green. (And yes I do make all of my decisions based on my algorithm's suggestions)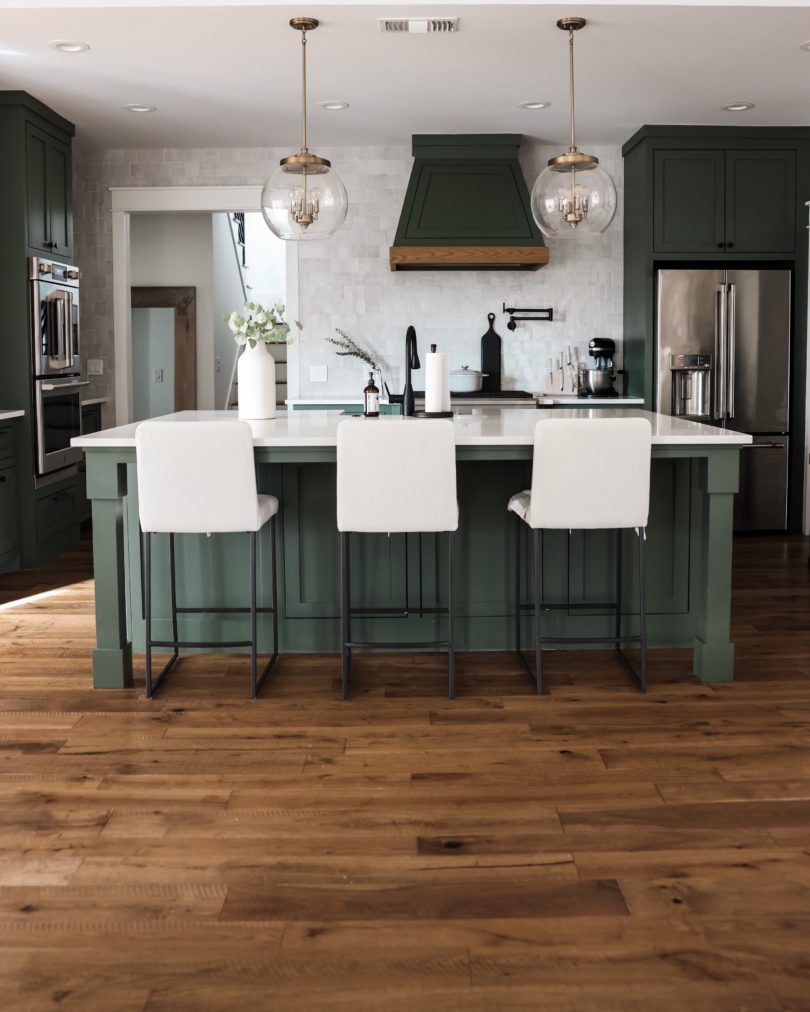 The cabinet color is Sherwin-Williams Rosemary (SW6187) and it is the prettiest green. The photos here show it pretty true to what it looks like in person; a subtle, dark sage green with blue undertones. It's at once bold and soothing, I can't even explain it. We have black matte hardware on the cabinets and drawers that really ground the look. I have carried the theme of matte black throughout the kitchen and our living room, as well. Our West Elm barstools have matte black legs, our coffee machine is matte black as is the pot filler and our kitchen aid mixer. I added a black wood cheeseboard and some dried eucalyptus leaves to add in some natural elements but keeping the same color theme.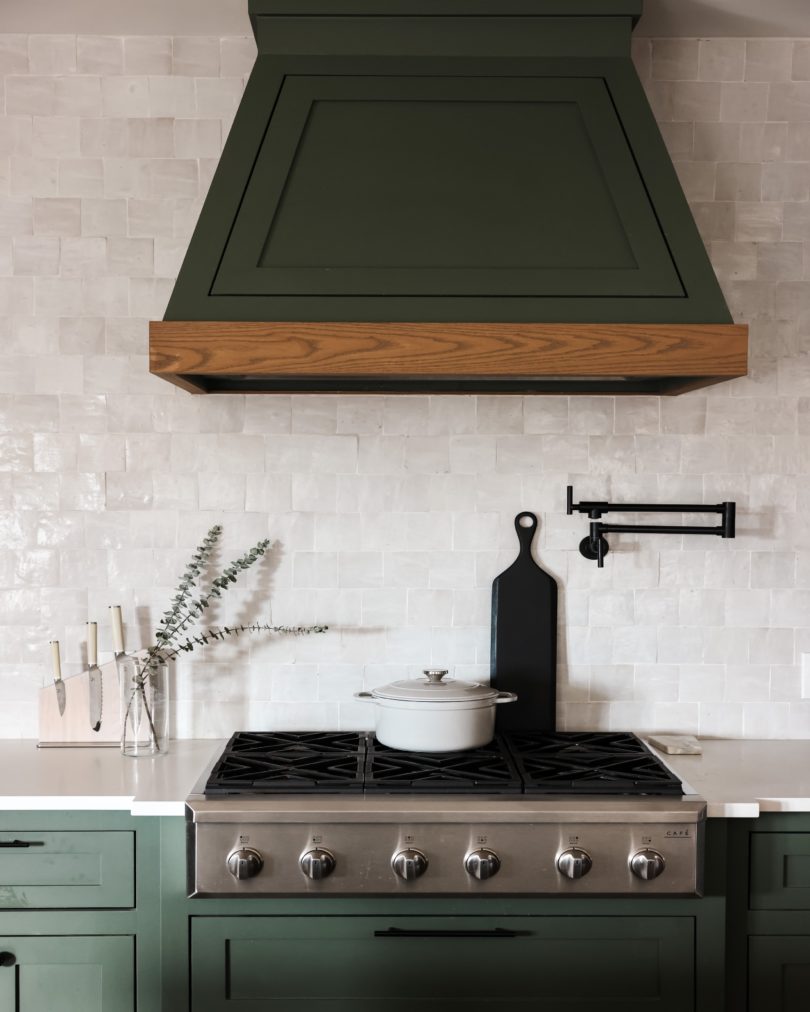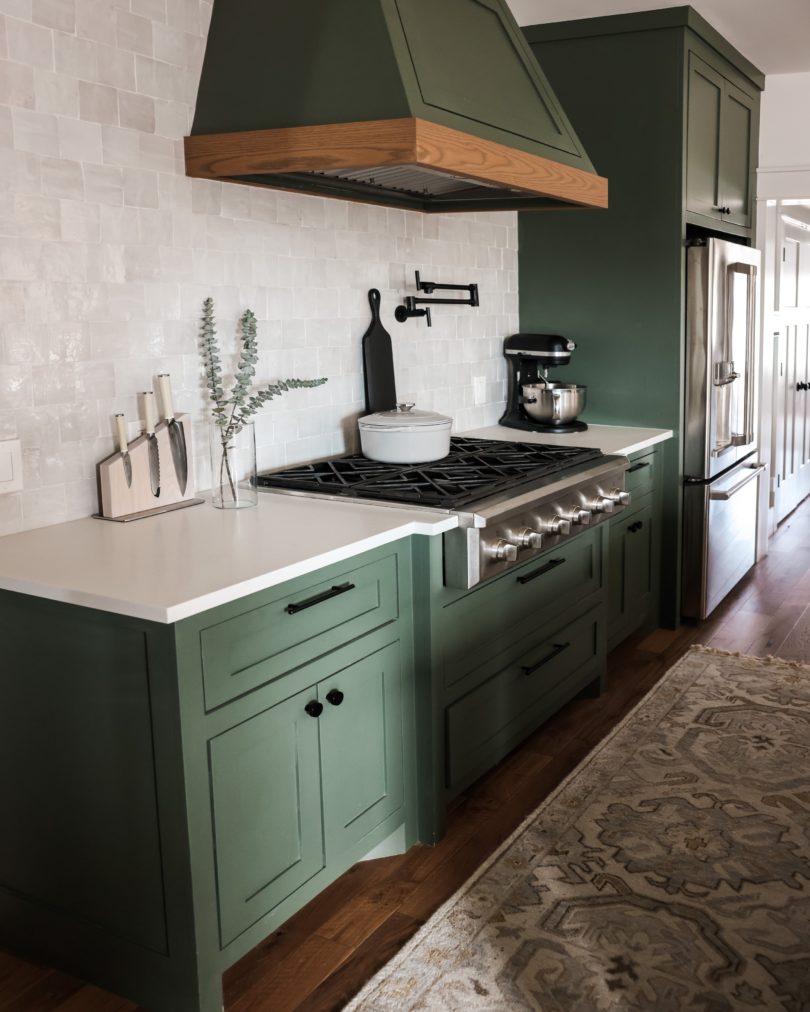 I have linked a similar oushak rug here because this one I got years ago for our other house. It never really worked in the space but I loved it so I kept it. When I rolled it out in this hallway of the kitchen, it looked like it was meant to be. I've linked a couple of similar oushak runners from Loom & Co here.

All of the lights are from Capital Lighting (pendants here and the sconces here) and thankfully they provide a lot of light. I find that with pendants I usually go for aesthetics instead of how much light they give and then I'm annoyed at myself when they're not bright at all. I also wanted to call out these dishes I picked up from Amazon. Really, really nice quality and they're beautiful as well. Since you can see into our cabinets I wanted to keep things clean and simple. We have deep drawers that we keep our plastic bowls and cups, water bottles, etc. in so that you don't see them crowding up the pretty spaces. So far they're happy in their hidden drawer and haven't mentioned how unfair it is that the pretty dishes get the high rise apartments with a view.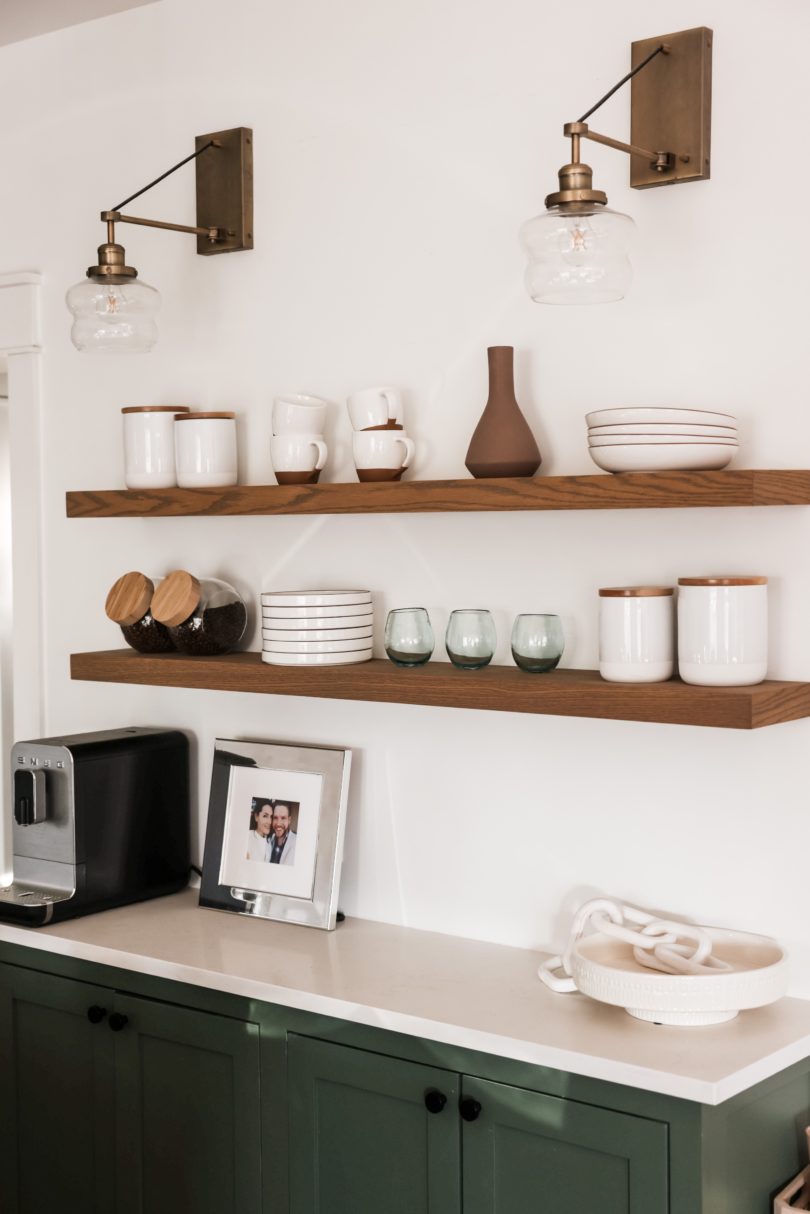 This area I'm still figuring out. In fact I've changed it since we shot these photos and I quickly shot this last night. I want to add some art work or stacked books to it but I just haven't gotten around to sourcing them quite yet. I also want to find something to hide the electrical plug and the big ol' plug our coffee maker uses. Hence the photo of Bryan and I there. It was the only thing I had that was large enough to cover the outlet. I did find this fabric outlet over on Wayfair but I haven't ordered it yet. Once again, for some reason this area I've procrastinated on. But it looks okay, I think for now.
I have linked everything I could possible think of below. As far as exact matches, the paint color and the tiles and lights are exact. I am not 100% sure on our quartz countertops so I went with my best guess below. Also 100% recommend quartz. Nothing stains, it looks so clean at all times, it's durable. It's a messy mom's dream.
Resources:
Fixtures + Paint
Paint color of cabinets: Sherwin Williams 'Rosemary' / SW6187
Paint color of walls: Sherwin Williams 'Pure White' / SW7005
Ceramic Tiles: Ivy Hill Amagansett 4″ x 4″ Straight Edge Ceramic Singular Tile
Pendant Lights: Capital Lights Mid-Century Pendants
Wall Sconces: Capital Lighting Metal Hanging Sconce
Quartz Countertop*: Stonemark Calacatta Vicenza with Matte Finish
Pot Filler*: Italia Matte Black Pot Filler
Accessories
Simular Oushak Runner*: Loom & Co Francie Grey Runner
Bloomingville Black Wood Cheese Board
Mora Ceramic Bowls / Mora Ceramic Pasta Bowls / Mora Ceramic Plates / Mora Ceramic Mugs
Pottery Barn Recycled Wine Glasses (set of 6)
Ceramic Containers with Bamboo Lids
Matte Black Paper Towel Holder
Kitchen Tools + Appliances
SMEG Fully Automatic Coffee Maker
Lodget Dutch Oven in Oyster White
GE Cafe French Door Refrigerator 
*similar because exact product unknown
PS: Find my J.Crew Dress here. I'm in the 8, TTS but tight at the chest / arms / shoulders.
______________________
Shop the Post