So I am v v late to this denim sale going on at Madewell — it's $75 denim and $35 shorts — and it ends tonight tonight. So yeah. Bless my soul I don't even know what day it is. I thought why not try some on — what else do I have to do lol — and share my favorite fits with you in case you were looking for some new denim but get overwhelmed. Because there is a lot on there and it's hard to know, ya know? So here are my favorites that I own and love are below. And I rounded up some cute options along with shorts below the photos! All of the jeans are on sale for $75  and shorts are on sale for $35 with code SWEETDEAL. Find the sale here.
*Okay truth be told these may not be all of the Madewell jeans I own, but these are the ones that are clean and in stock. I've got some good 'vintage' Madewell, natch and those I didn't try on today. Gotta spread out my projects, you know?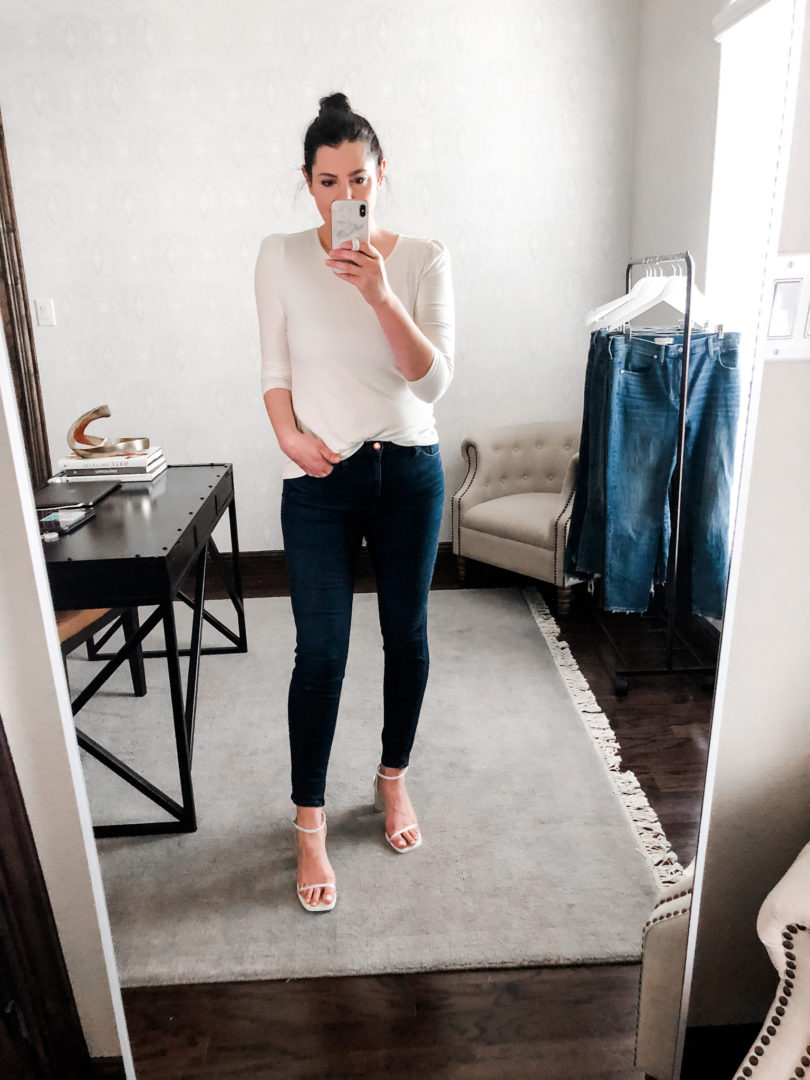 The classic. And I think these are the best sellers across the brand. They are the perfect high rise — actually high rise and slow clap for holding it all in. They are the tightest fit but definitely true to size. And also the most flattering, I think. Find them here. I wear the 29.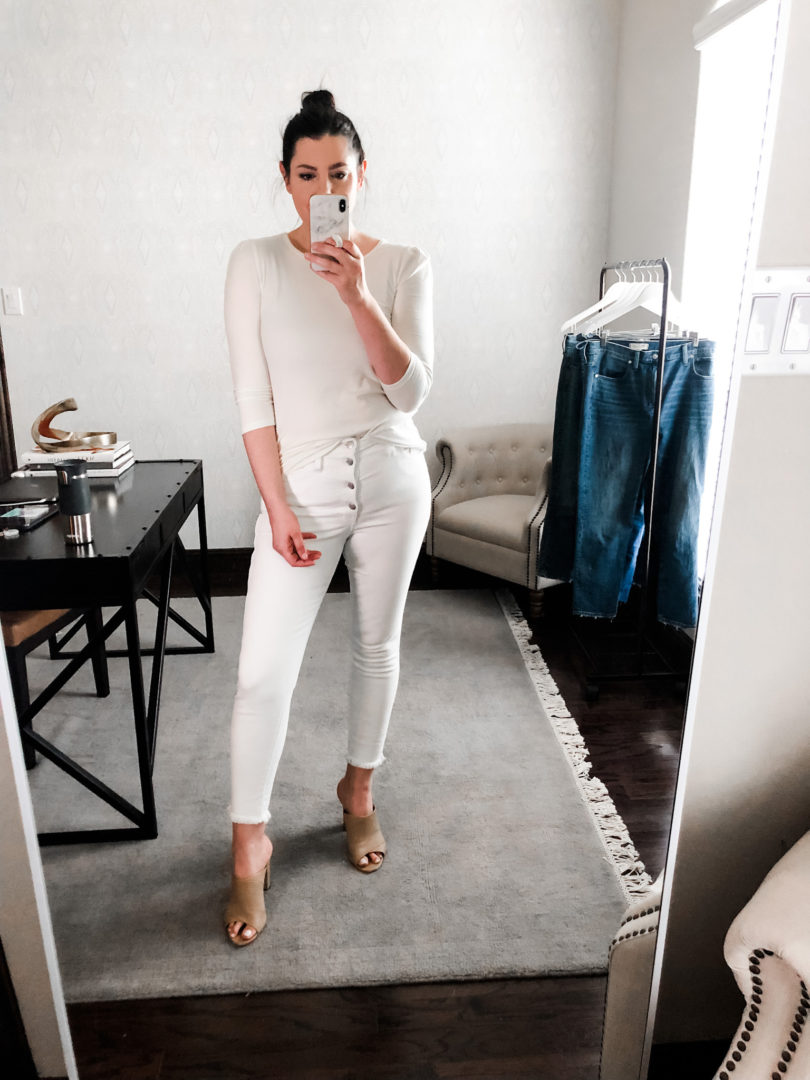 I love these white jeans — my favorite pair of true white jeans. They aren't see through, they have a ton of stretch and I love the button front because it makes them a bit more casual. They fit true to size with some room. I am in the size 29. Find them here.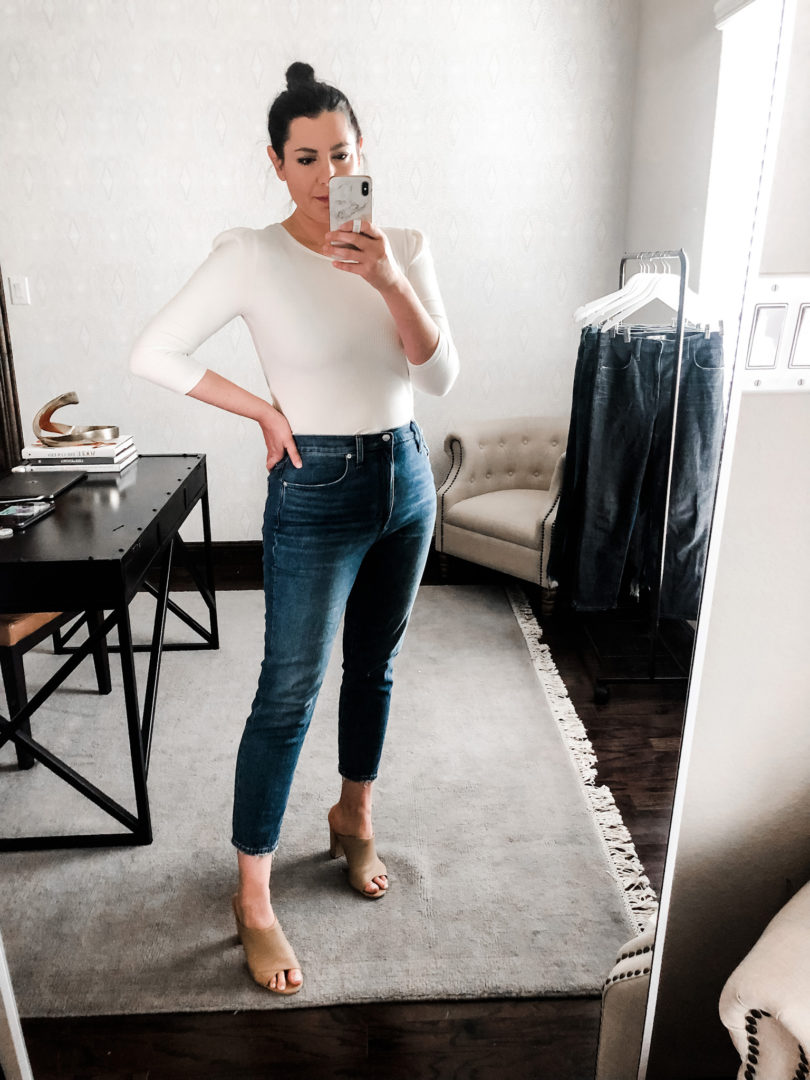 Love this fit. If you are wary of the straight denim / vintage denim look, try this fit from Madewell. It's not as tight at the waist and it's looser in the legs but not a true boyfriend jean. They are so comfortable too because of the stretch and relaxed fit but still somehow hug your curves? Amazing. I am in the 29 regular, the fit is generous but a bit more cropped on my 5'9″ frame. If in between sizes you could size down. Find them here and here.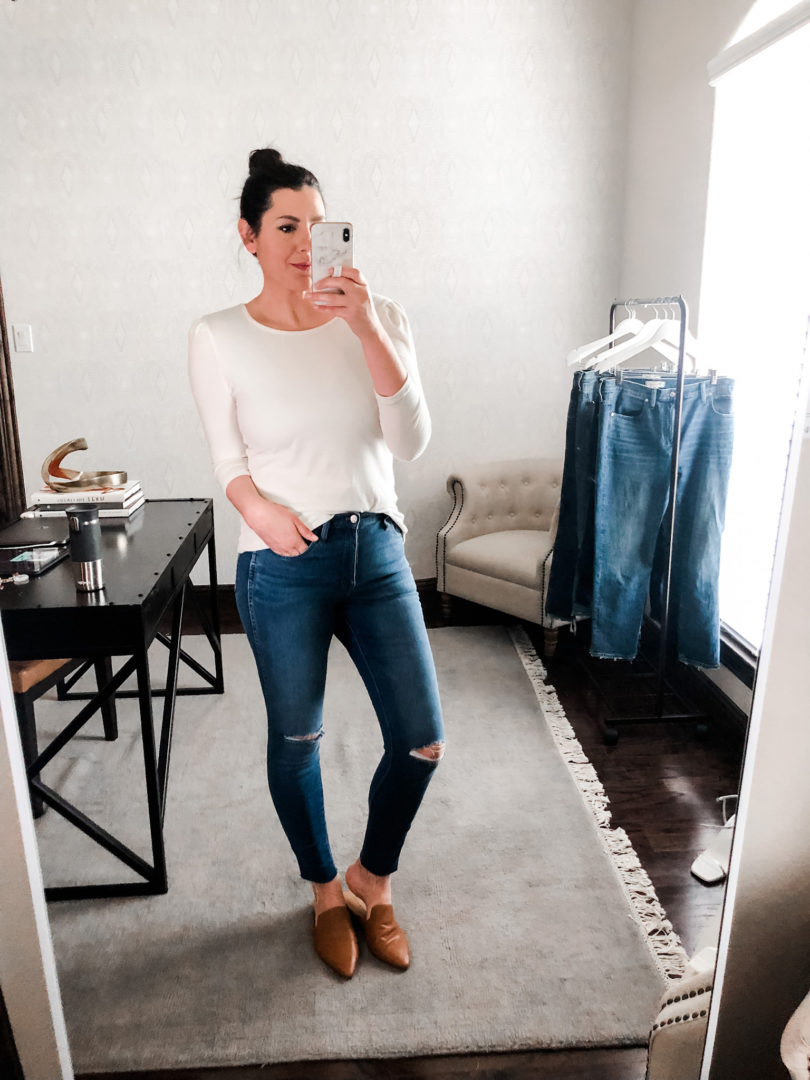 Let's call Roadtrippers what they are: jeggings. And they are wonderful. This pair is an older pair but the fit is pretty universal with Roadtrippers! True to size and stretchy but they keep their shape and fit. I am in the 29 regular. Find them in a lighter hue for spring here.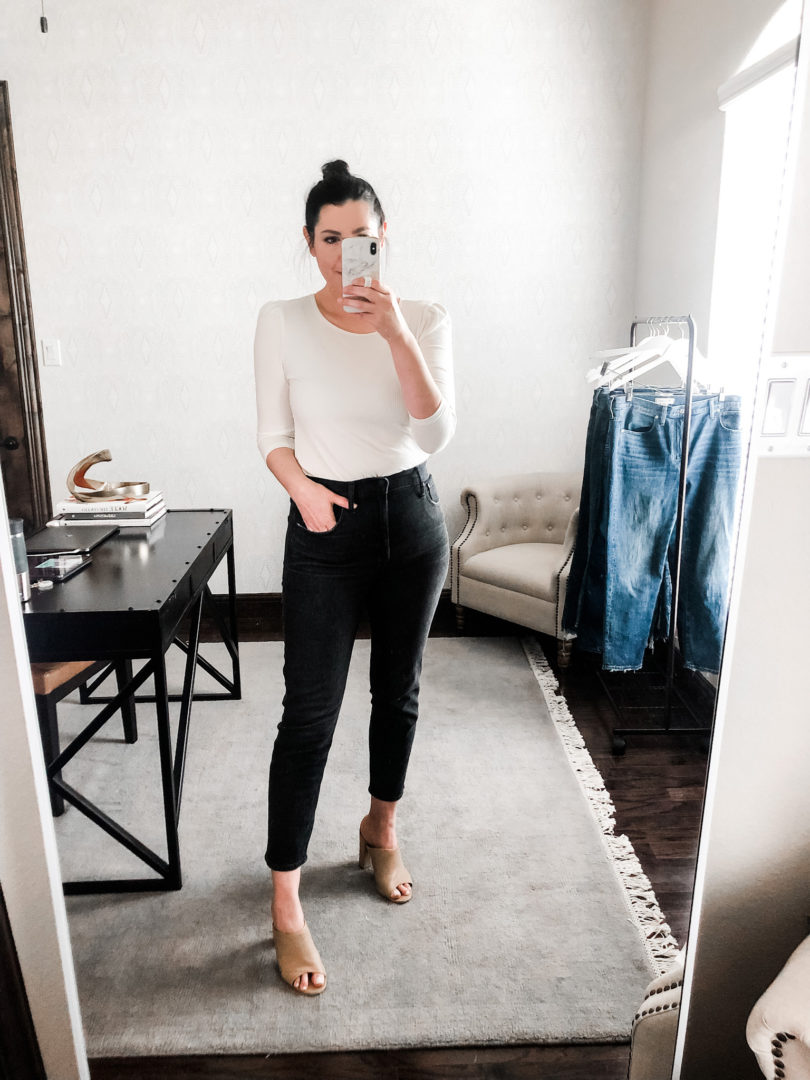 This is another pair that if you're afraid of the vintage jeans, give these a shot. They are stretchy, comfortable and have a wonderful fit. I would say you could size down if you have a smaller waist or you're in between sizes. I am in the 29 regular. If you want a longer fit and you're 5'9″ and up, go with the tall option. Find them here.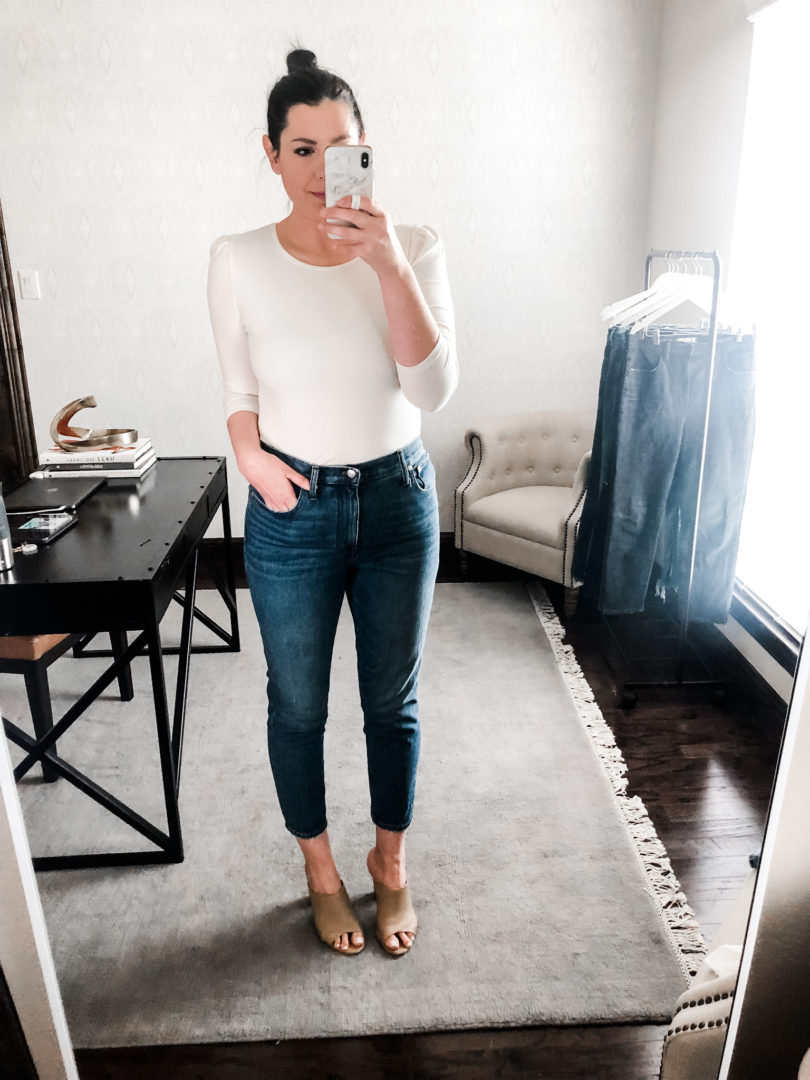 These are just like their name — a classic straight denim. The fit is absolutely straight but I like them because the 'straight fit' hugs my hips and I like the silhouette it creates. These are actually a bit too short for me but I didn't realize this until I ripped the tags off so you know what? We. make. them. work. Ha! But I would say go tall if you're a tall girl. These are the size 28, you can size down one if you want a closer fit. They do stretch with wear. Find them here.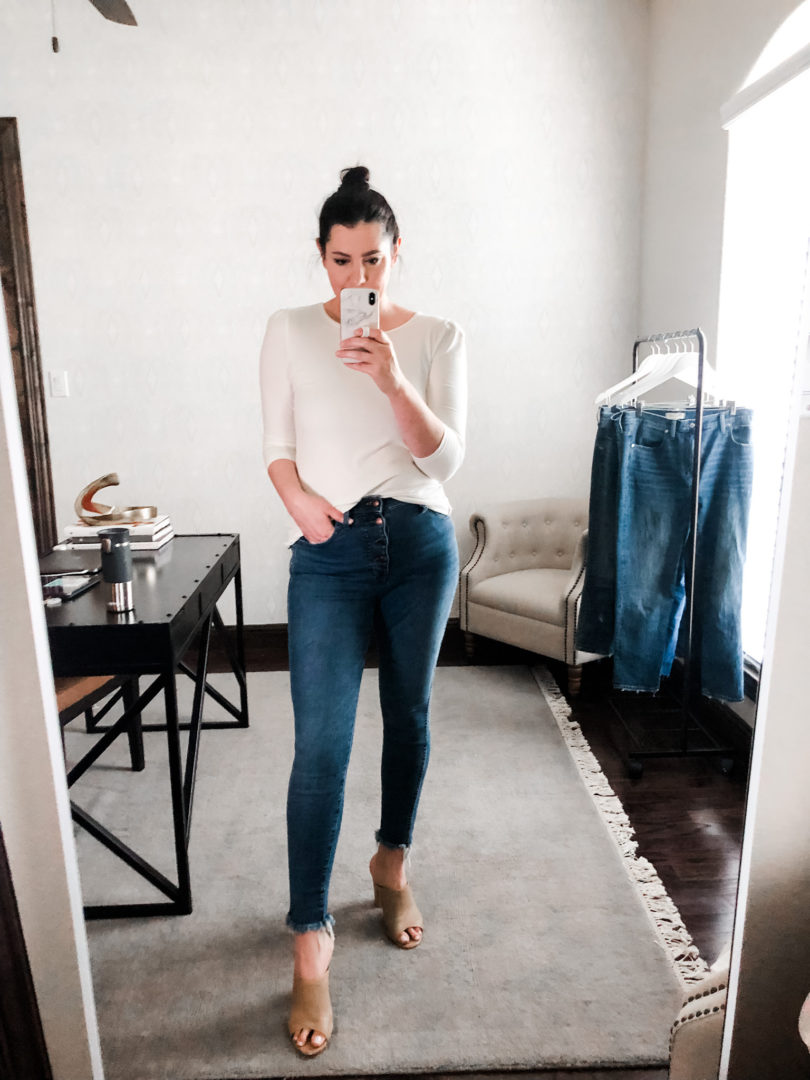 Another best seller from Madewell — I love this pair of denim. They are so so stretchy and comfortable. Almost jeggings territory, but the denim is thick so it's still a jean. I am in the 29 regular and they fit true to size! Find them here.
________________________________________
Here are a few of my favorites and some that I want to add to cart! Especially those shorts. I have the distressed denim short but I'm eyeballing those other too. $35 is a steal!
(You can scroll over the product and click to go directly to the product!)
Check out their full collection of denim here!