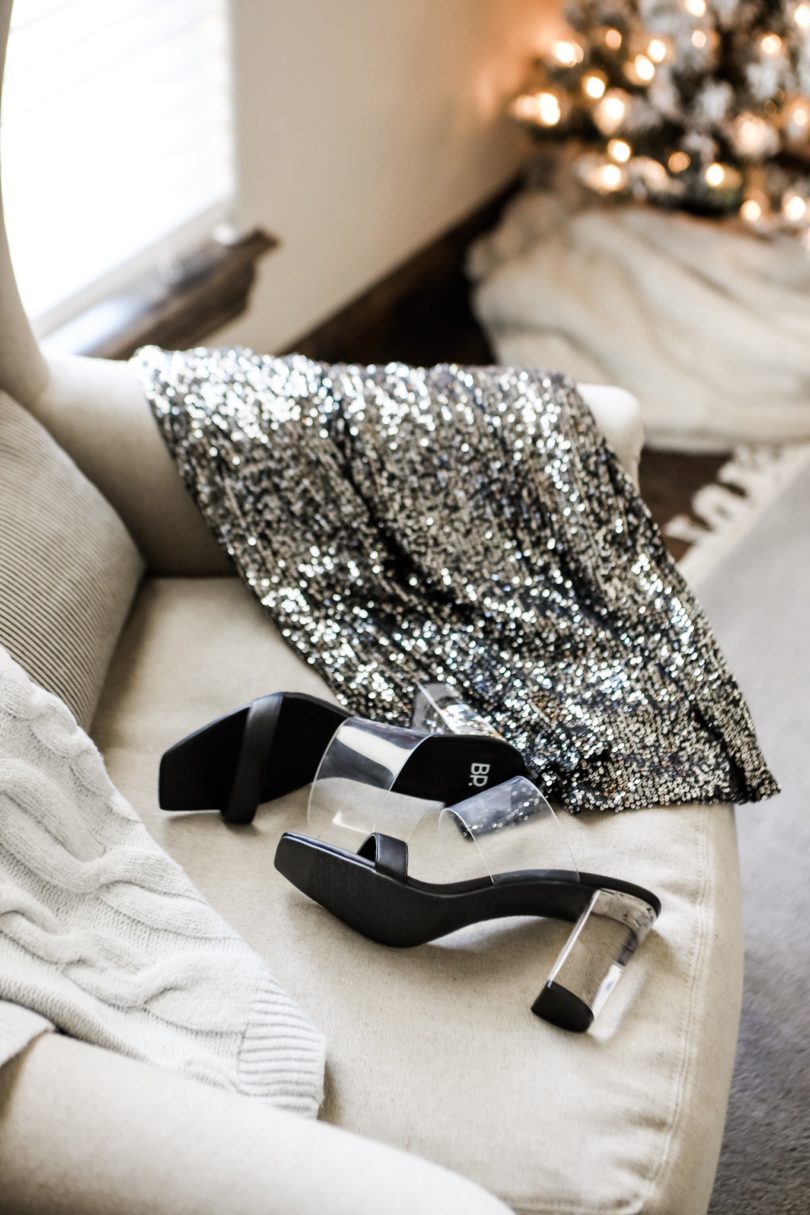 With the holidays coming in hot, I wanted to move up my holiday content just a bit earlier this year so you can be really prepared for those holiday parties. I've pulled together three looks that are perfect for whatever holiday event may come your way — an office party, a holiday soirée, an evening at the Nutracker, dinner with friends, family holiday photos or even just a fancy Christmas Eve. I mean truly, the list could go on because you know just as well as I do that when the events start, there is no stopping till January. Oh and how could I forget New Year's Eve! You see? We've got some sparkle shopping today.
Have no worries though, I've got you and most importantly Nordstrom's got you. My three outfits below are from my favorite go-to for anything holiday. Let's get to the outfits!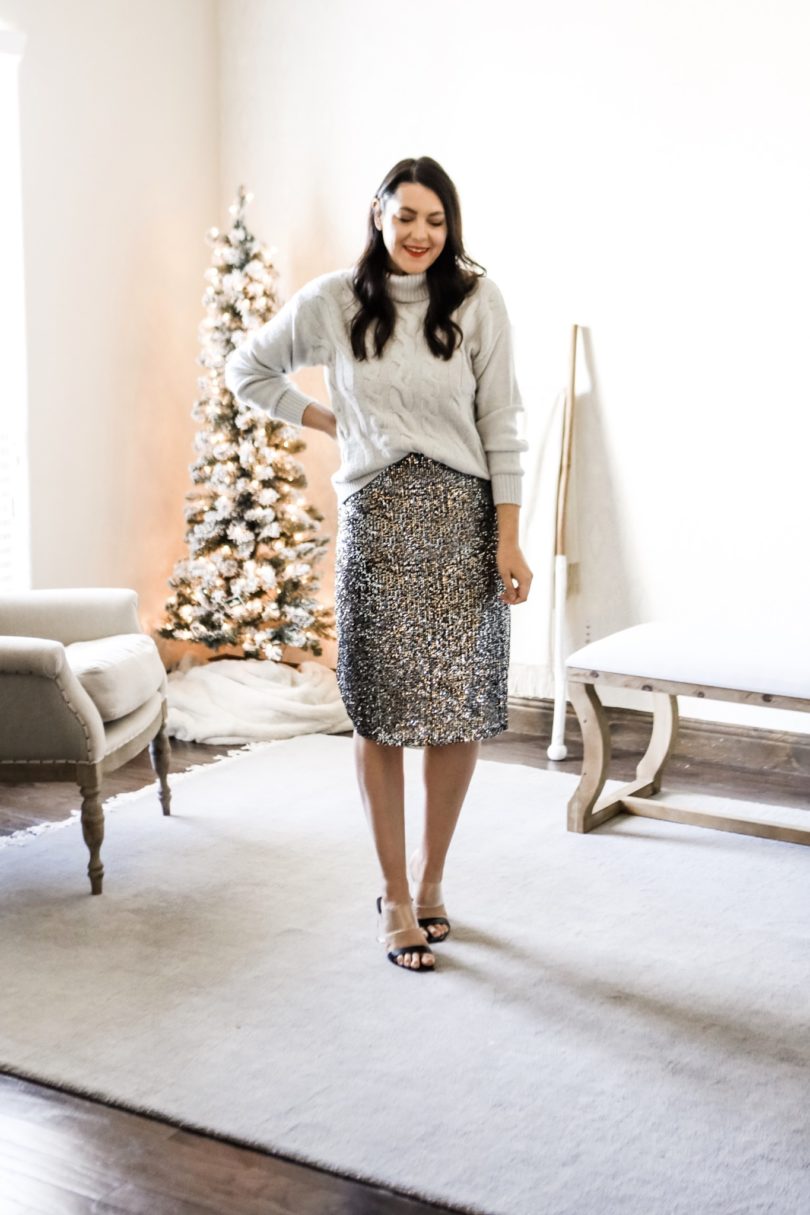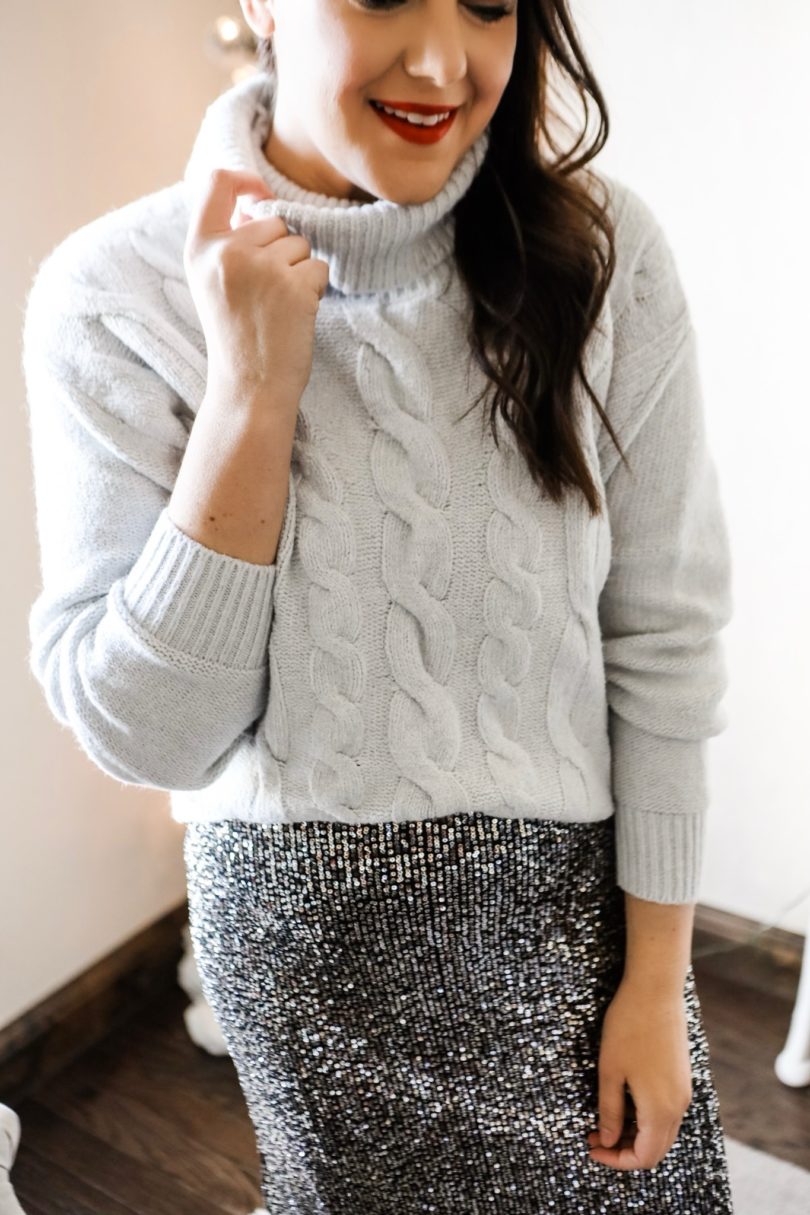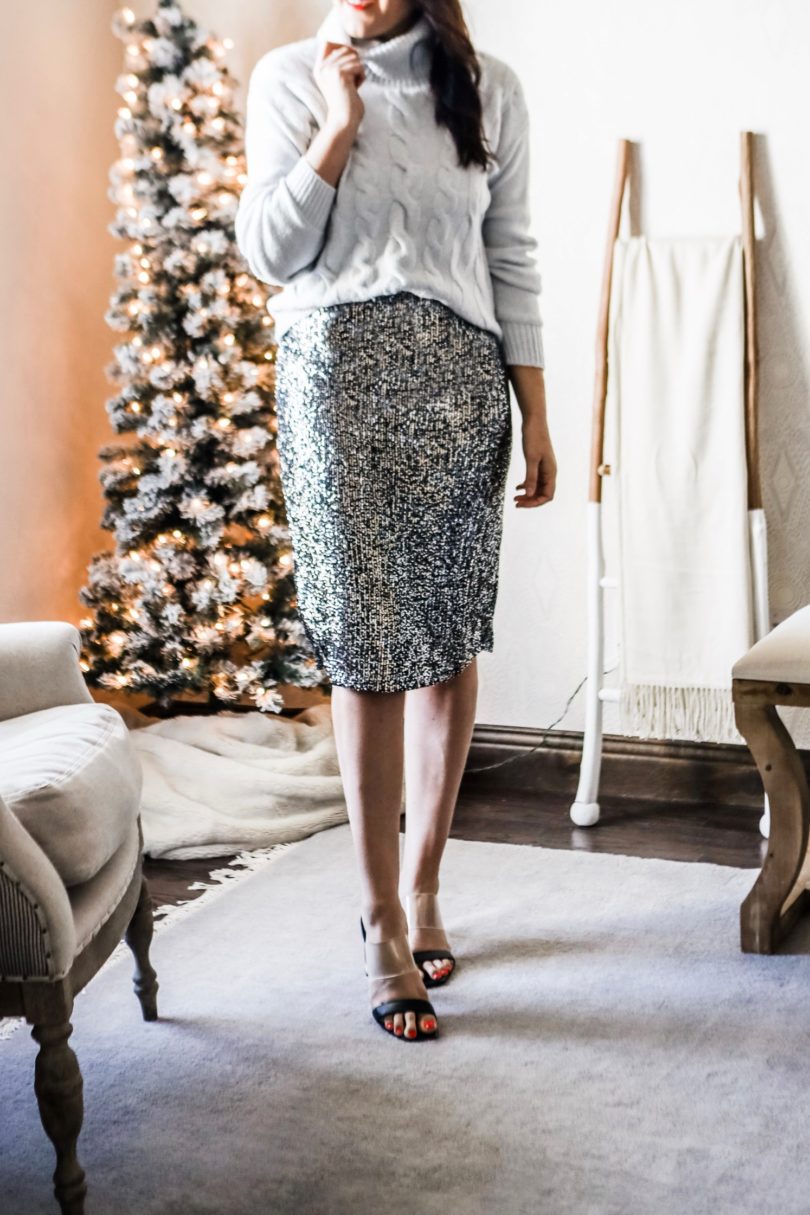 I won't lie — this look is my favorite. That's why it got to go first. First off, I absolutely love the look of mixing a chunky sweater or classic sweater with a bold skirt. Either a slip skirt or a pleated midi or if you want to really say HOLIDAY then a sequined skirt. I do have to stop and rave about this skirt for a second — it fits really well. It's a bit more curve hugging on me that's the model but it's not full pencil skirt so it's not tight AT ALL. Whew. Second, it's not loose or flowy so really the statement is just the sequins, not the shape. It's a really nice and subtle — if sequins can be subtle — look for holiday. Especially when paired with a classic sweater like this one.
Where to wear: Office party / holiday party with friends / New Year's Eve Party
I am in the medium of both pieces! You can find th skirt here. You can find the sweater here!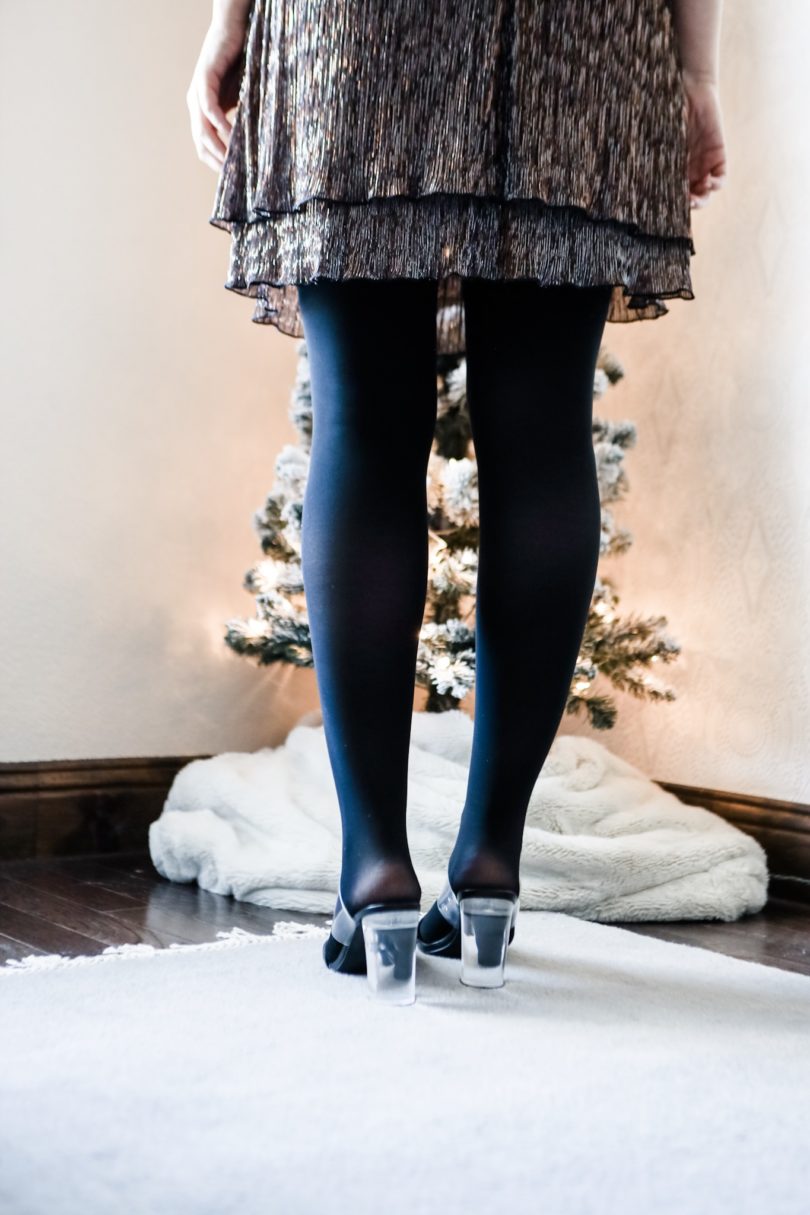 I don't usually say things like this but I will today because I've been stalking this dress online for weeks. If you like this dress, PUT A RING ON IT. It sells out basically daily. There are a few sizes left today so if you like it, go for it! I am in the 8. It's a looser fit but it's true to size for me. I wouldn't size down or anything, but if you are in between sizes, then consider sizing down one. Find this dress here.
This look is one of those subtle holiday statements — yes it's metallic but it's dark in color and can be a really versatile option. I've styled it simply here with black tights and heels just so you can see the dress the best. But pair this dress with a blazer (like this velvet one here!) and booties for a bolder look. You can layer a black cardigan with it as well for a cozy but holiday look. Or even try a moto jacket to give this look some edge. It's really a nice base for many holiday outfits this season. If you are looking for something fun, sparkly but subtle, this is your dress! (Oh and it's not too short!) One more note— it's easy to travel with if you are traveling for the holidays. You can't wrinkle a wrinkled dress. 😉
Where to Wear: holiday soirée / fancy Friendsgiving / Christmas Eve service / NYE
You can find this dress here! It will go fast!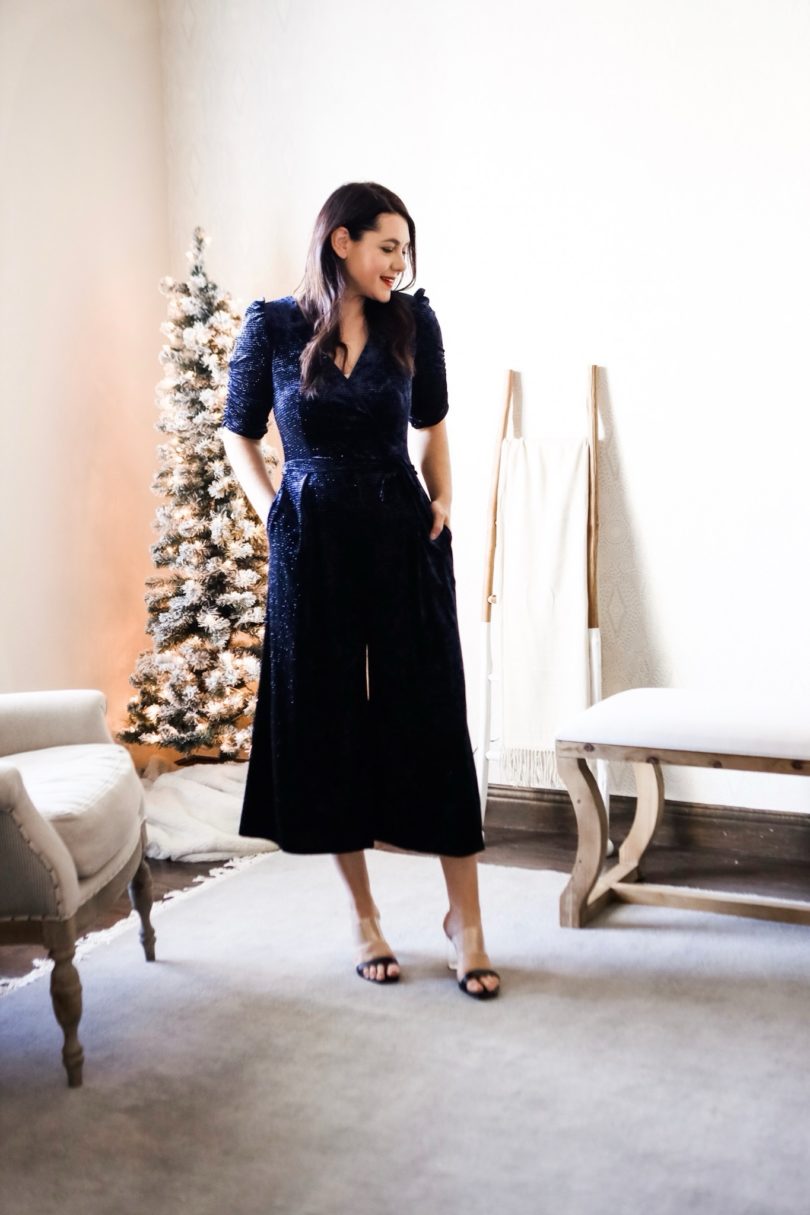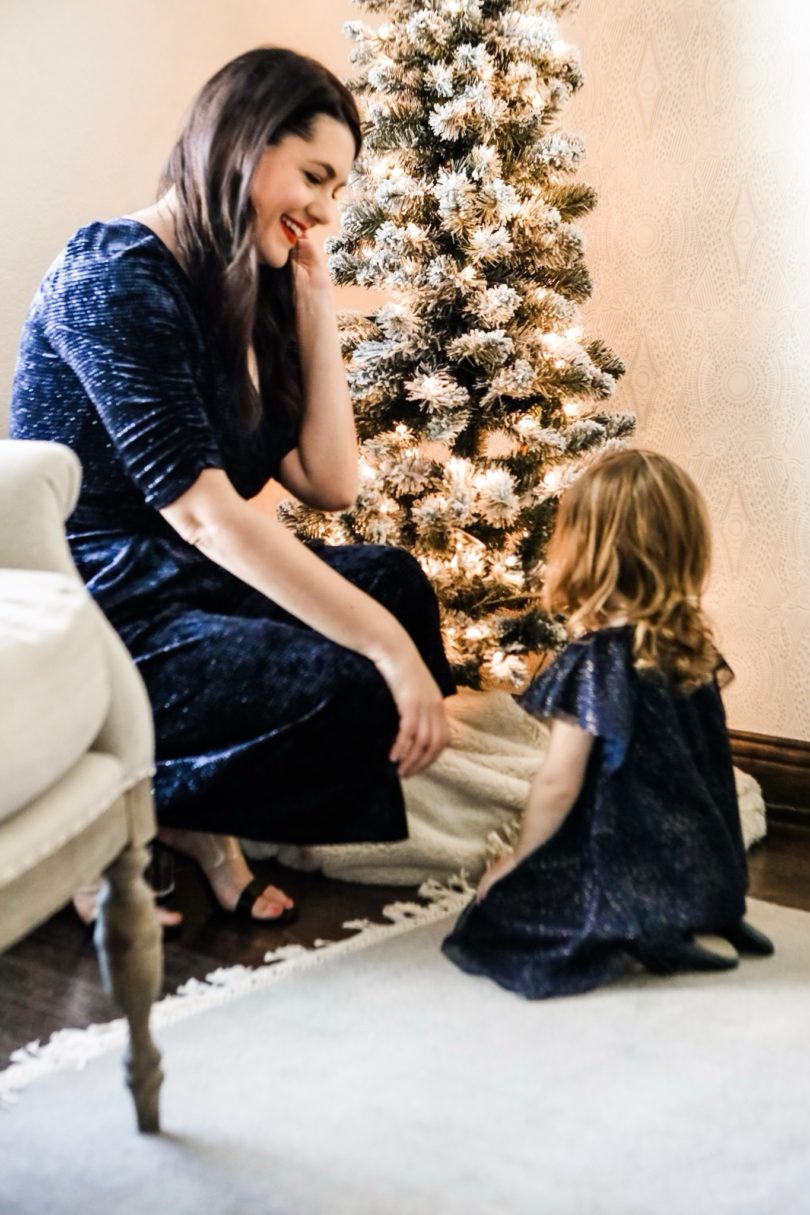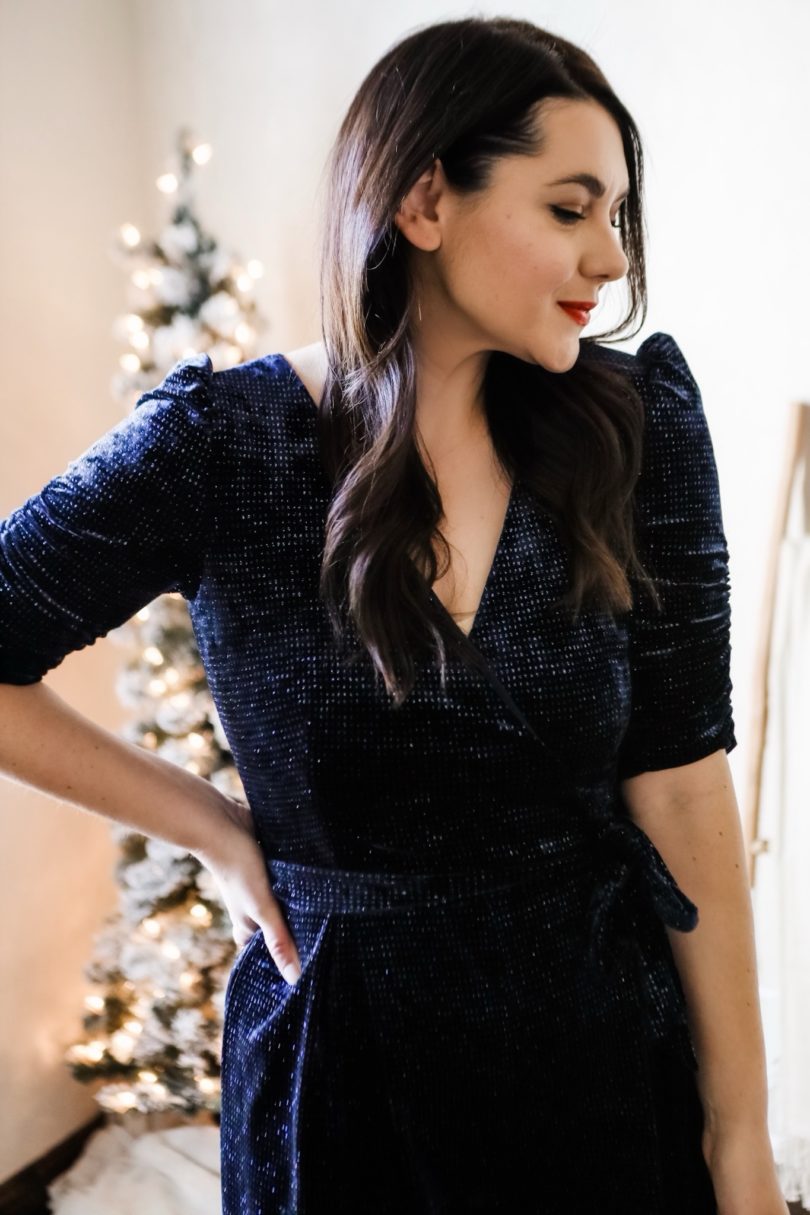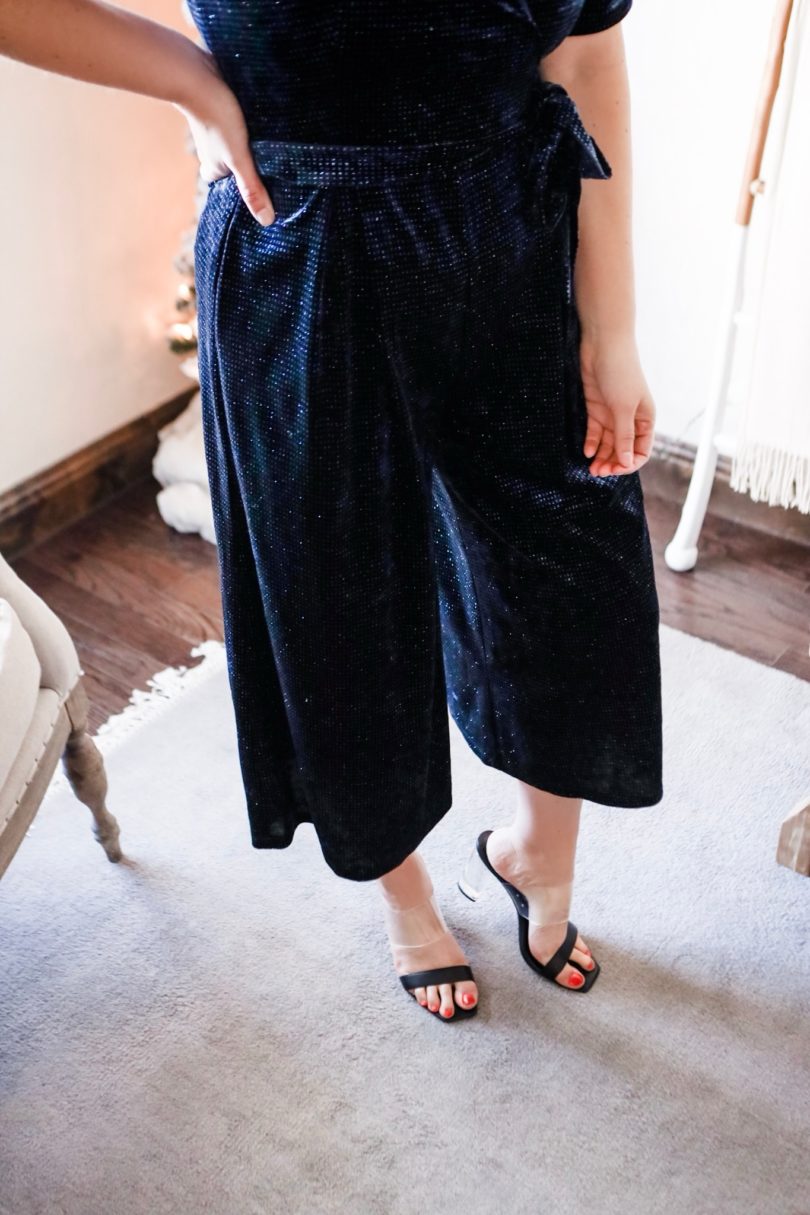 For sure the boldest choice, I love this velour jumpsuit. Let me tell you something, I feel 100% confidence in this jumpsuit. I love the length, I love the puff sleeve and the overall fit. But most of all — it's mum tummy friendly. I don't know how but the way it's cut and the way it moves, I felt so comfortable in this piece. I am in the 8 / medium and it fits me true to size. (keep in mind, I'm tall — 5'9" so it may fall shorter or longer on you!)
I would say this jumpsuit is perfect for an office party where you want to be comfortable and not deal with a dress. Something like this feels dressed up but it's easy to wear. The sparkles on it make this outfit perfect for any even from now until NYE. You could get a lot of wear out of this jumpsuit — even just to dinner! It's fancy but not fussy, you know what I mean? Something we all strive to be.
Where to wear: fun holiday party / dinner with friends / family Christmas photos / NYE house party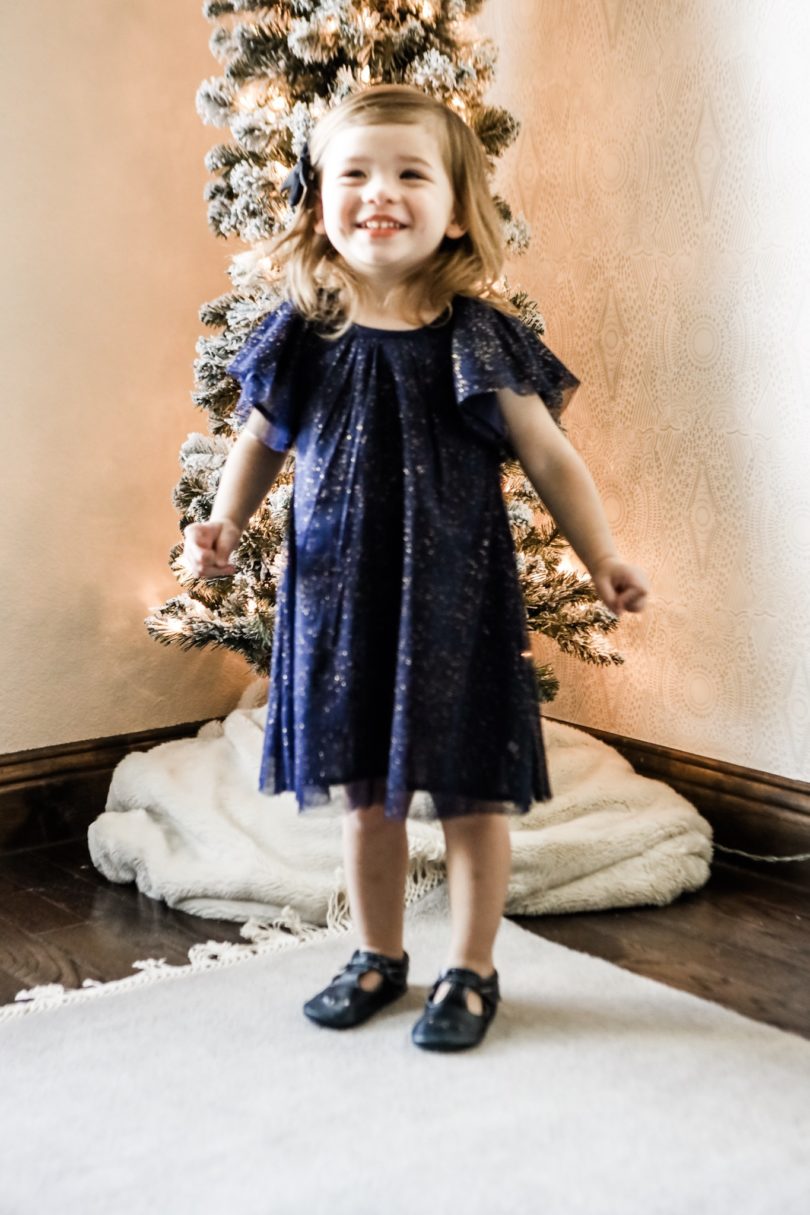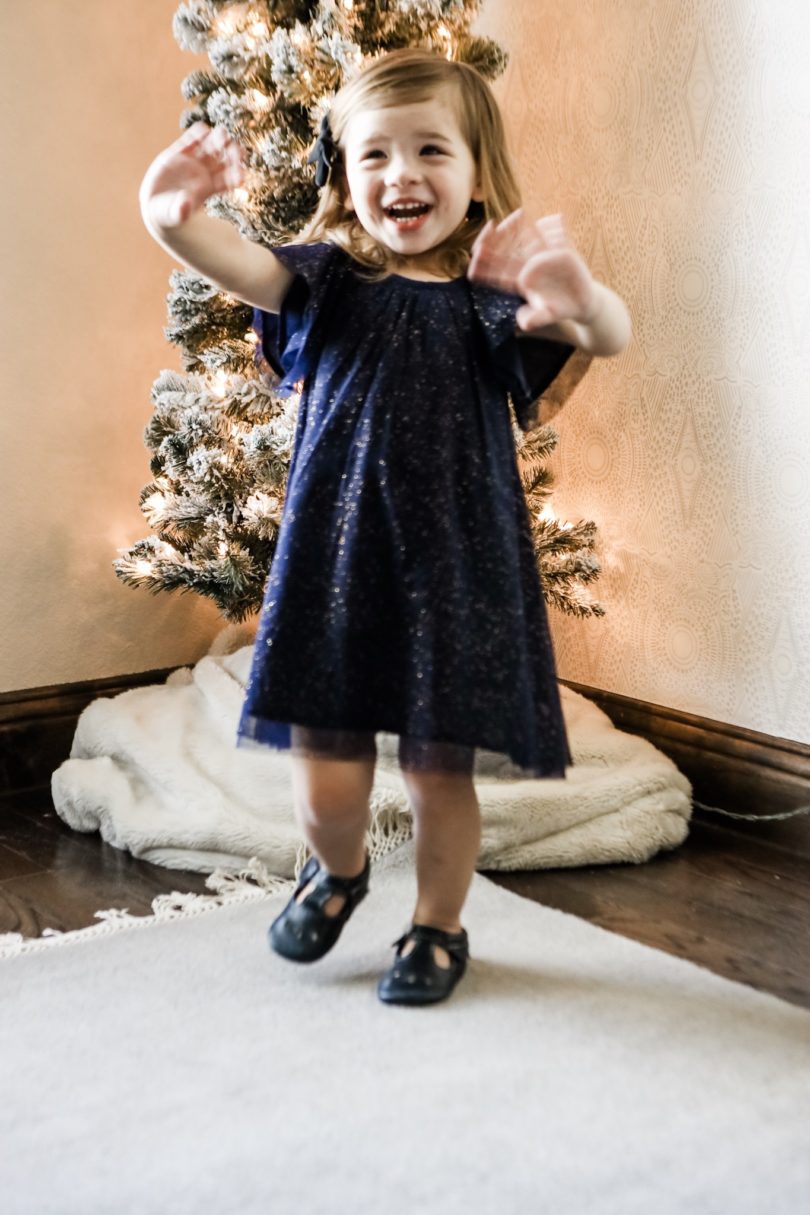 Of course when I saw this jumpsuit I went searching for something similar for my mini me and look what I found. This precious sparkle dress for Gems. Did she love it? YES. Did she love her Christmas tree more? YES. Was it hard to get photos of her without moving? ABSOLUTELY. But who cares when  your smile is this cute? 😉
She is in the 2T and it fits perfectly for here! You can find it here!
---
PS: I wanted to mention that Nordstrom has already posted their Black Friday and Cyber Monday's deals early!! You can see all of the items on sale here for Friday and here for Monday. My favorite coat right now will be on sale for $75! And there are a lot of other amazing deals too! Be sure to check them out now and get your lists ready for Friday!