It's late October and yesterday we sat outside all afternoon and evening. It was the perfect fall weather with just a tiny hint of cold in the air. But we all know that pleasant autumn breeze is about to turn into bitter cold blast soon enough. With the change of the season (and my patio sitting schedule), also comes the change how I take care of my skin for the winter months. My one and only tip? Moisturize, moisturize, moisturize. I didn't realize for years how I wasn't properly moisturizing for the winter air and weather and I couldn't figure out why my makeup just wasn't going on the way it does in the summer. Well now I know! It's hard to put pretty makeup on old dusty shingles. Yes the shingles are my skin in this scenario.
One thing before we get started: I've got some tips below using products from Colleen Rothschild that I've used for YEARS. They are having 25% off now through Sunday, October 27th! So if you have tried their product line before or you need a refill on something, this is the week to do it! Use code FALL25 at checkout.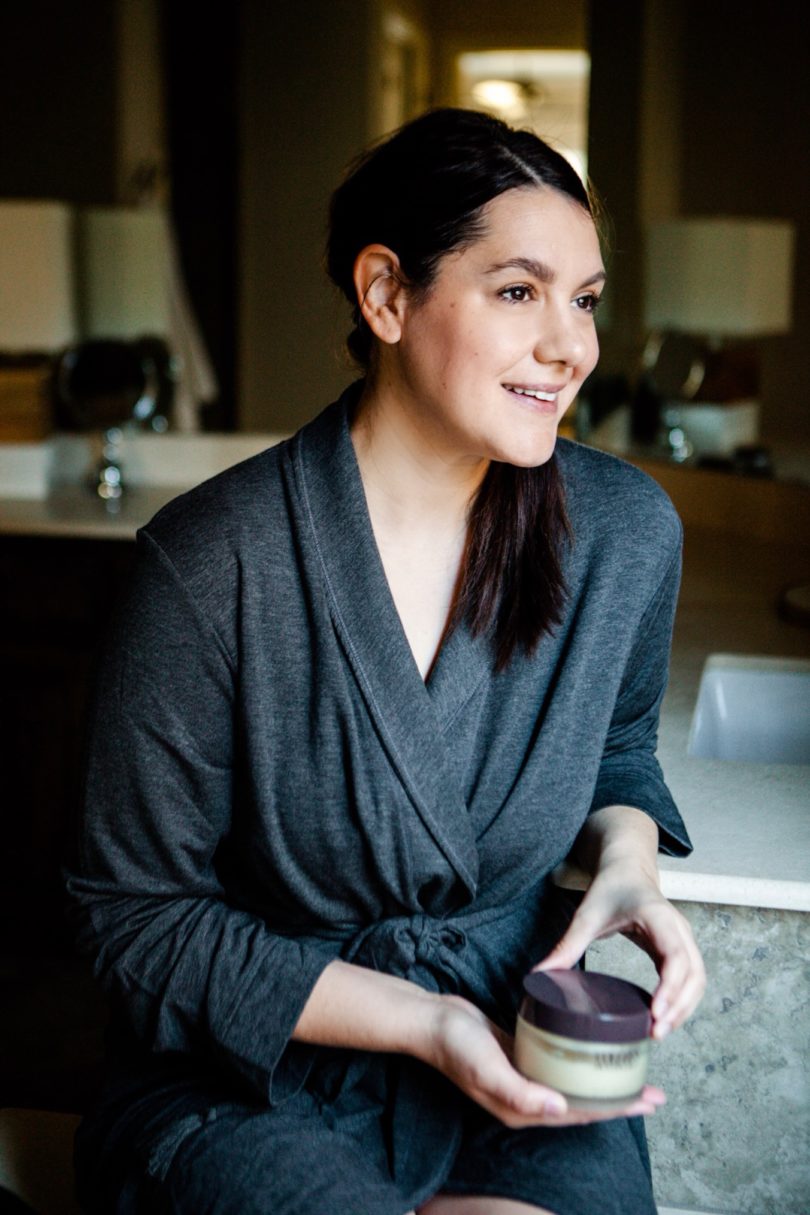 Use an Oil-based Cleanser
One thing that I tend to do year round is double-cleanse with an oil based cleanser. I've been using the Radiant Cleansing Balm for years and it just melts everything off my face. I use it twice, once to get all of my makeup off and again to really cleanse my face. Since it's oil based it doesn't dry out my skin but in fact it hydrates it as it cleanses it. You can find the Radiant Cleansing Balm here! This size jar lasts me about 2-3 months. I use a dime size of the balm on each wash. If you're a believer, you can get the Jumbo Radiant Cleansing Balm here. If you just want to give it a try, you can find a mini version of the balm here!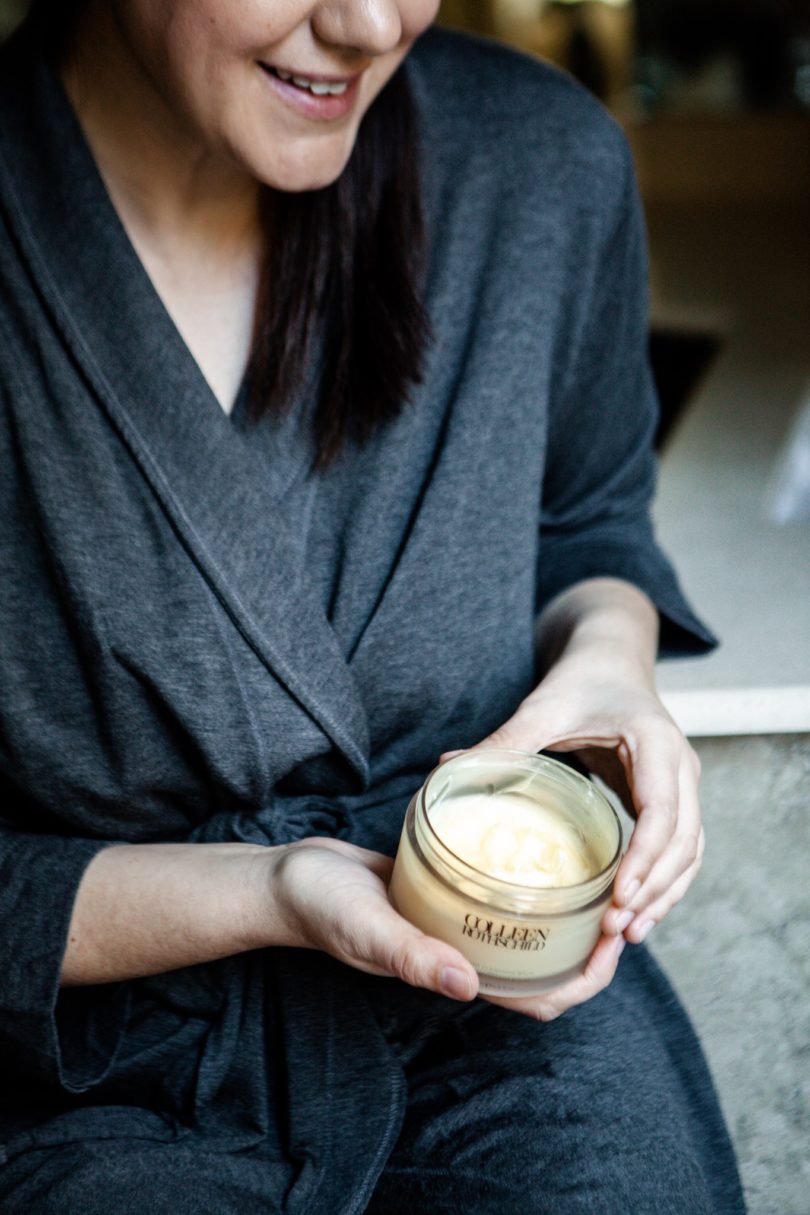 Exfoliate The Dry Skin Away
About once a week, if not twice, I'll use a mask on my face for exfoliation / resurfacing. I've literally used all of Colleen Rothschild's masks so if you have any questions about any of them, I'm your girl because it's hard for me to find a favorite, I love them all for different reasons. The one I'm taking into the winter with me though is the Pomegranate & AHA  Resurfacing Mask. A) it smells delicious so it's a treat to put on and let sit — I feel like a human fruit smoothie and B) it's a chemical exfoliant not a physical one so there's no harsh scrubbing or stripping of your natural face oils. It exfoliates but somehow my skin feels super hydrated after too. It's my favorite go-to mask when my skin is starting to feel kind of rough and I just need it to brighten up. You can find this mask here! This tub lasts me about 2 months if I'm using it bi/weekly.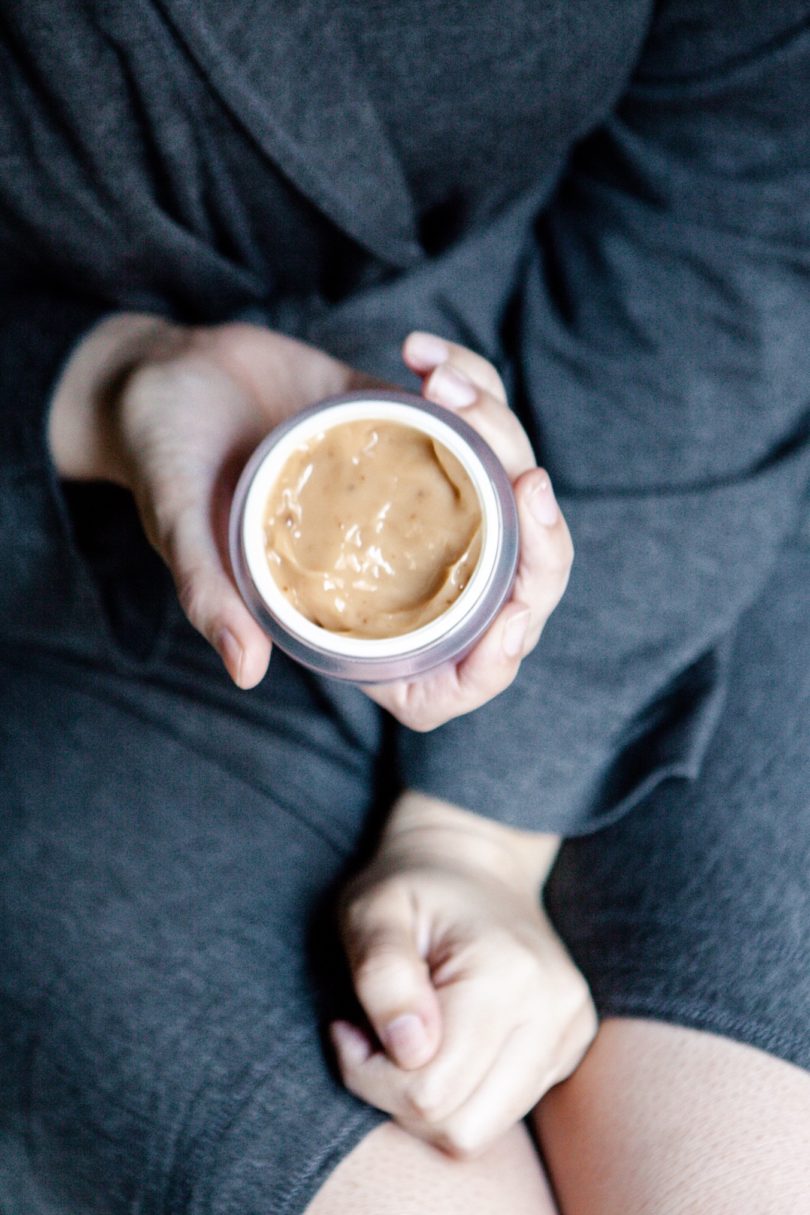 Moisturize… and then Moisturize Some More
The third tip I have is exactly what you think it's going to be: maximum moisturizing. Like I said before, my skin in the winter just starts to dry up like a raisin and my normal everyday moisturize isn't enough. I wake up in the morning with weird dry patches around my nose and forehead for no apparent reason other than the elements outside. So I have a combination I've used since last winter that helps break this dry spell. I use the Extreme Recovery Cream every NIGHT after I wash and tone my face. (I also use this Retinol oil underneath if you're looking of anti-aging) It's thick but my skin is like butter in the morning. And then I use this Intense Hydrating Mask after I wash off the Pomegrante Mask, so about 1-2x a week. I leave it on because it soaks in really well and then continue with a bit of Extreme Recovery Cream before I go to bed. Quick tip: if you leave the night cream by your bed, you have no excuse to not use it! I sometimes forget and if it's by my bed, I'll quickly slap it on before going to sleep!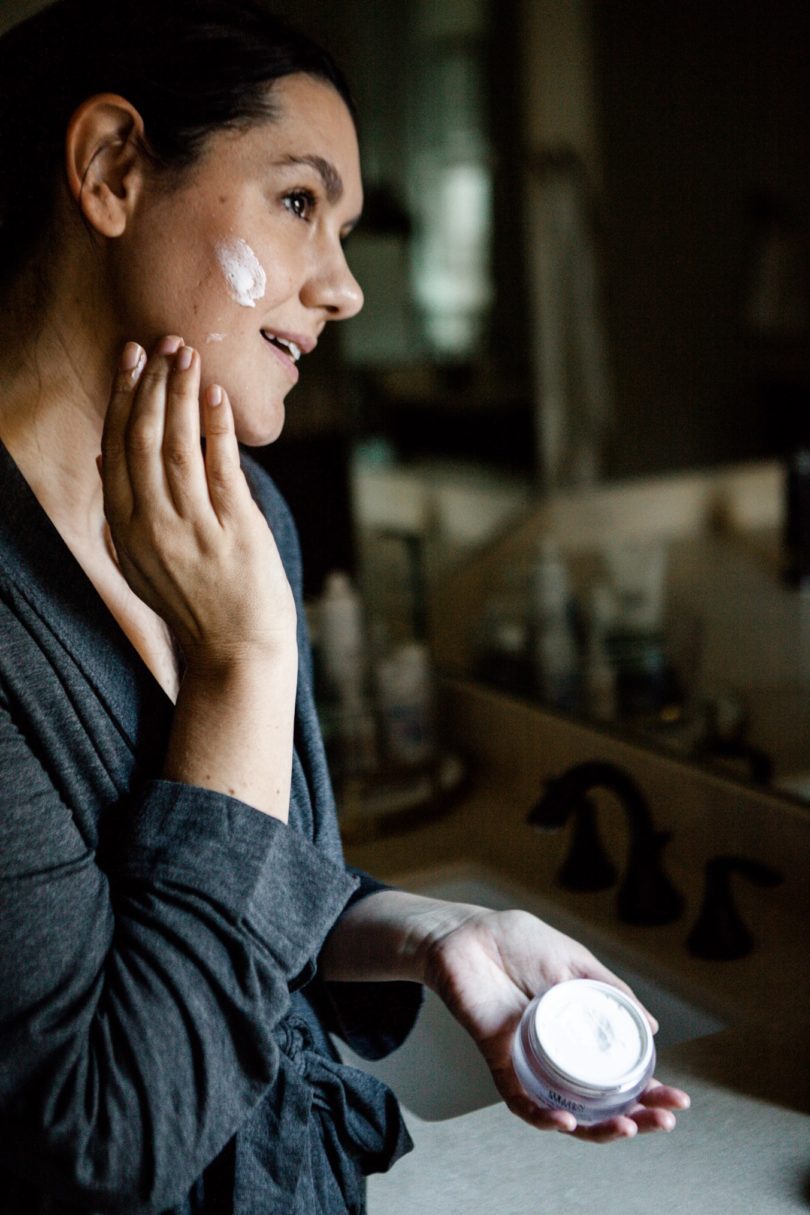 If you have sensitive skin or you tend to have redness, I can't tell you enough how much the Hydrating mask has helped my husband. He has really red, dry skin (Sorry for the call out, B) and this has really transformed his skin. He doesn't use it every night but he does use it year round. It's sensitive skin safe, too.
Find the Extreme Recovery Cream here. This one jar will last you through winter and then some, it's thick so you don't have to use too much at one time! The Intense Hydrating Mask lasts about 3-4 months for me. You can find it here!
Drink a Lot of Water
My other tips aren't things you put ON your skin but rather what you put inside your body. For some reason I just stop drinking water in the winter. Like I just forget. I'm not a guzzler anyways but the summer heat makes me drink more and by winter, I'm just so cold to even think about anything other than a hot cup of coffee. Take it from me: drinking coffee and tea alone does not make for pretty, hydrated skin. So amp up your water intake or if you're a good human already, continue drinking that water through the winter months. I fill up one of those embarrassingly 48 oz huge water mugs (you know — the one with a handle because it's so heavy?) twice a day and force myself to drink. My skin — and well the rest of my organs — thank me.
Eat Your Vitamins
This may also be redundant to you all but I always need a reminder so here is my reminder to you: eat your fruits and vegetables. Again, winter comes and I'm on a carb-loading fest for a few months. I'm not anti-carb by any means but when I stop eating my regulars — broccoli, spinach, sweet potatoes, apples, avocado — my skin starts to look dull and ruddy. Once I add my veggies and fruits back in, my glow comes back. (This is a tip no one asked for: I've found by amping up my broccoli or cauliflower intake I can control my hormonal cystic acne. It took about a month of eating broccoli 4-5x a week (just a cup) and my hormonal acne took a pause.)
Save 25% off this Week!
What are your skin care tips? I'm always looking for new ones! As mentioned before, Colleen Rothschild is having 25% off this week through Sunday so be sure to shop the sale this week if you've been wanting to try her stuff out! Use code FALL25 at checkout.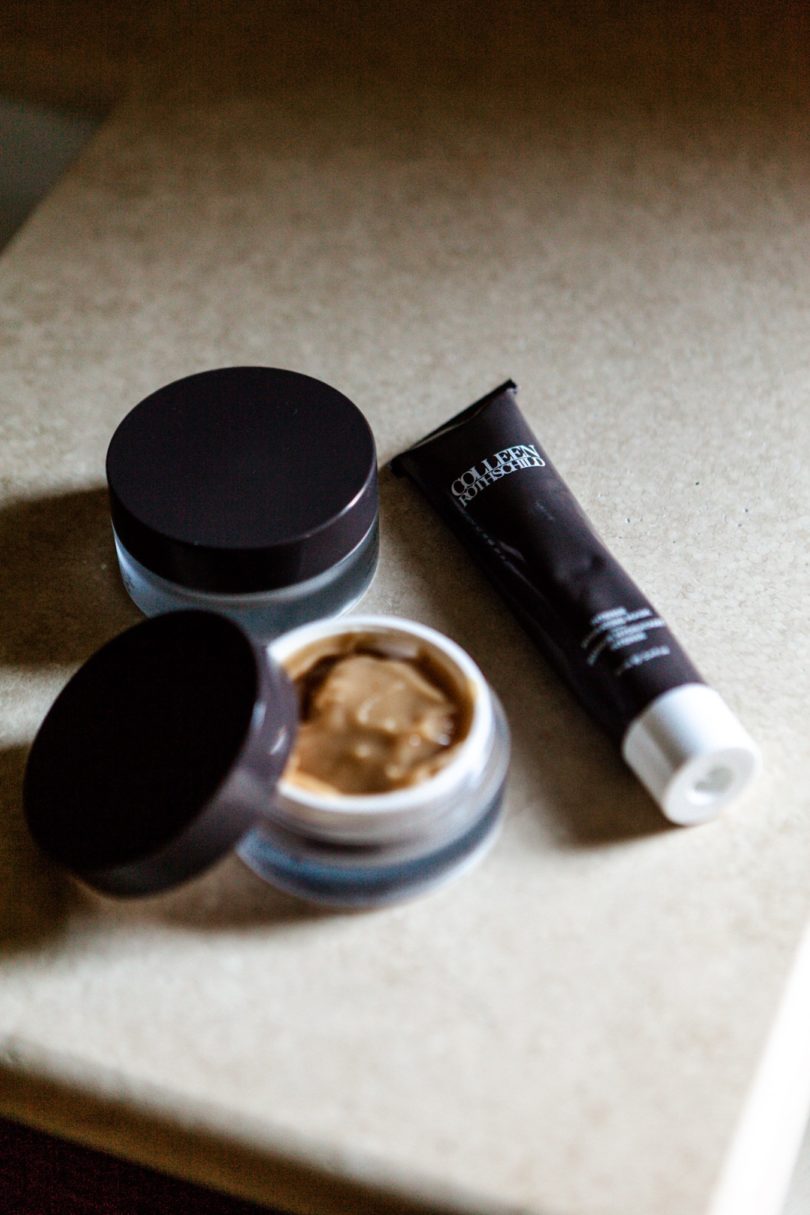 Thank you for reading this sponsored post by Colleen Rothschild and for supporting the brands that support this blog!