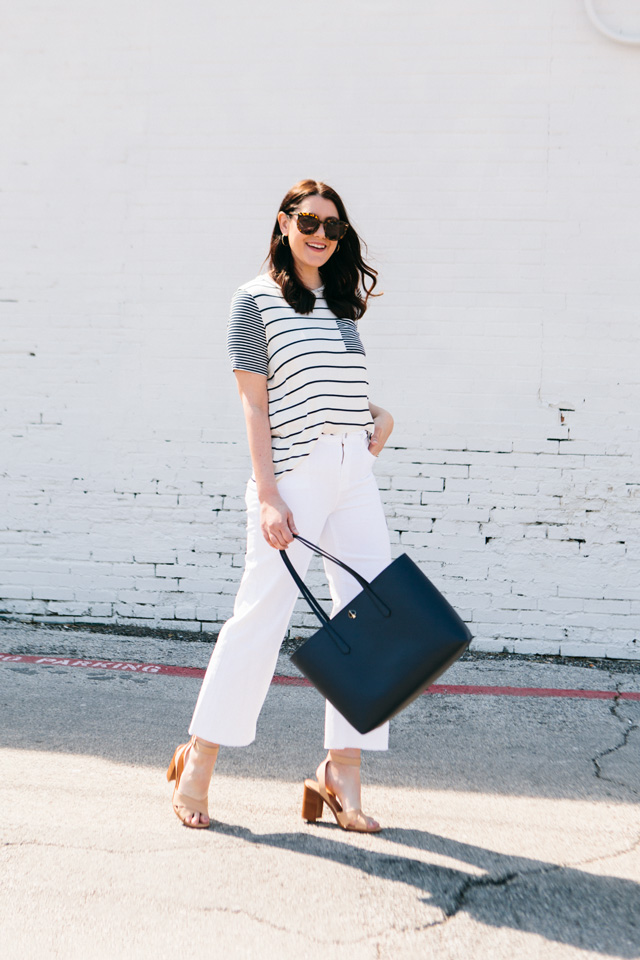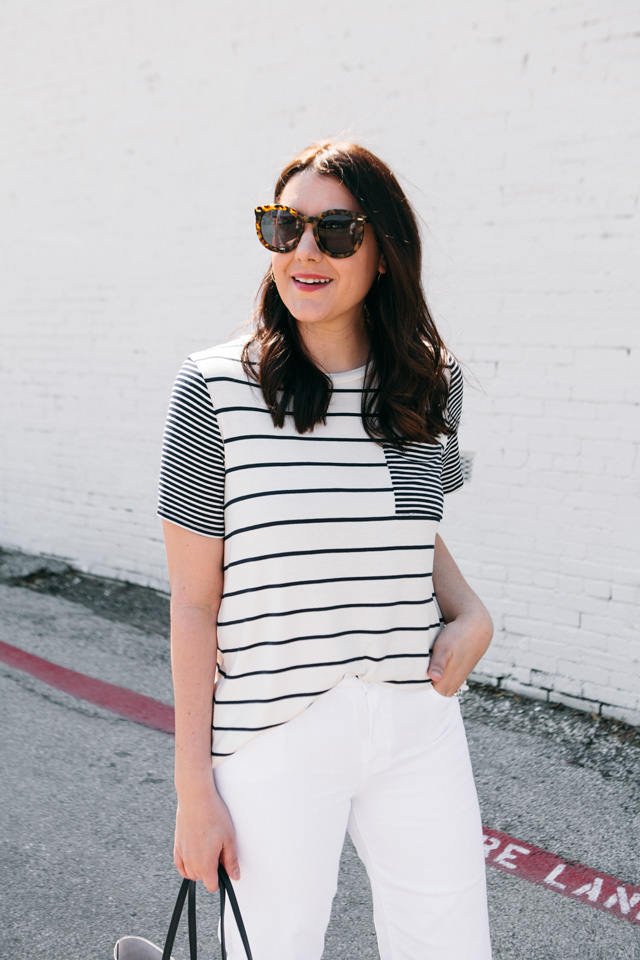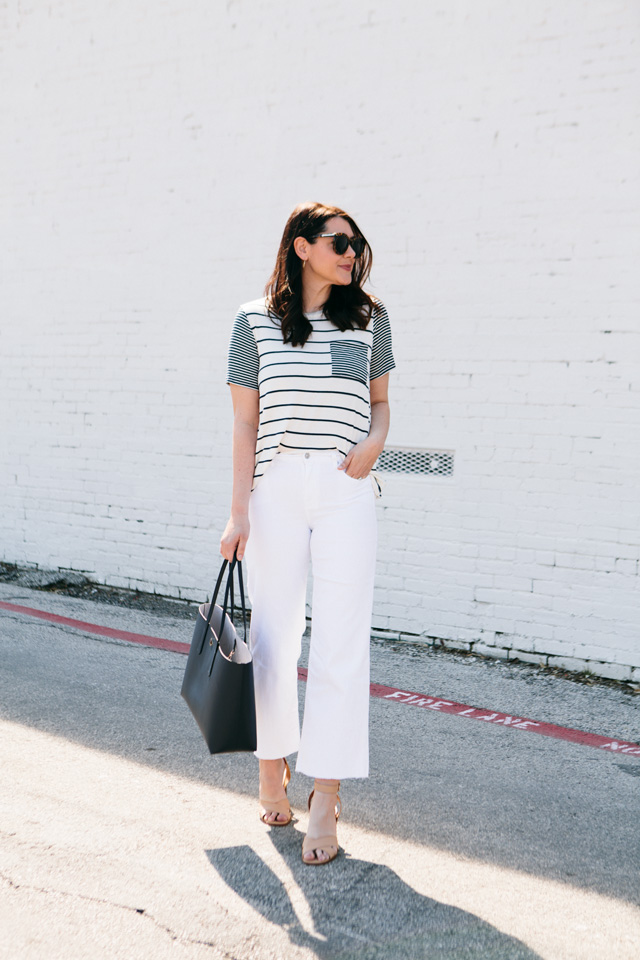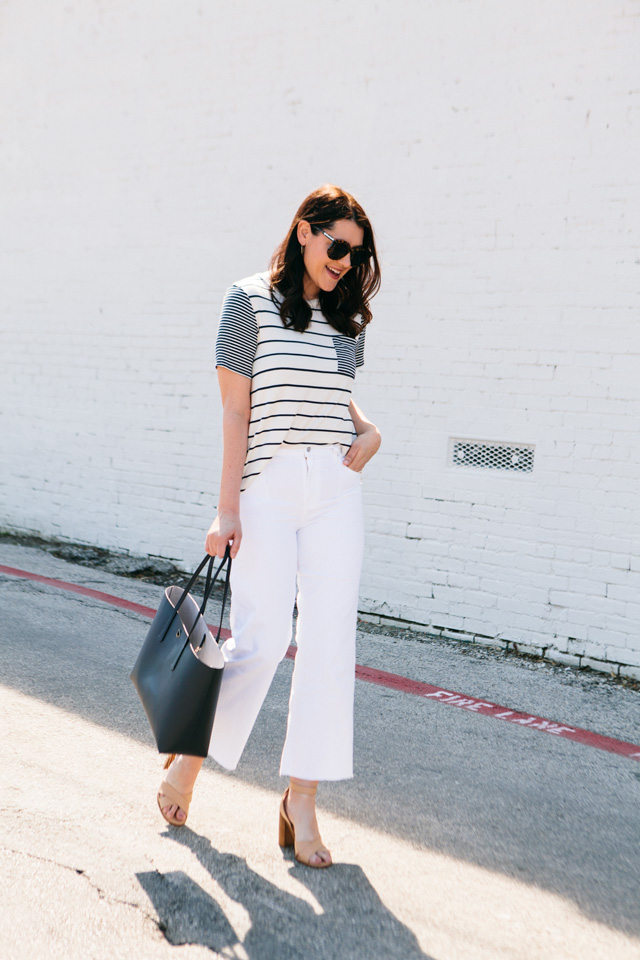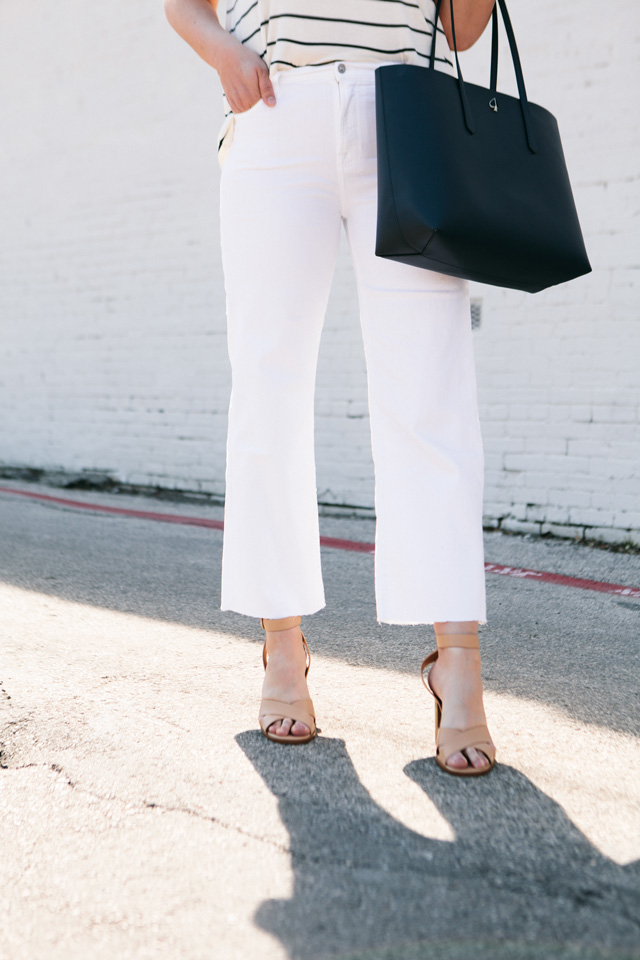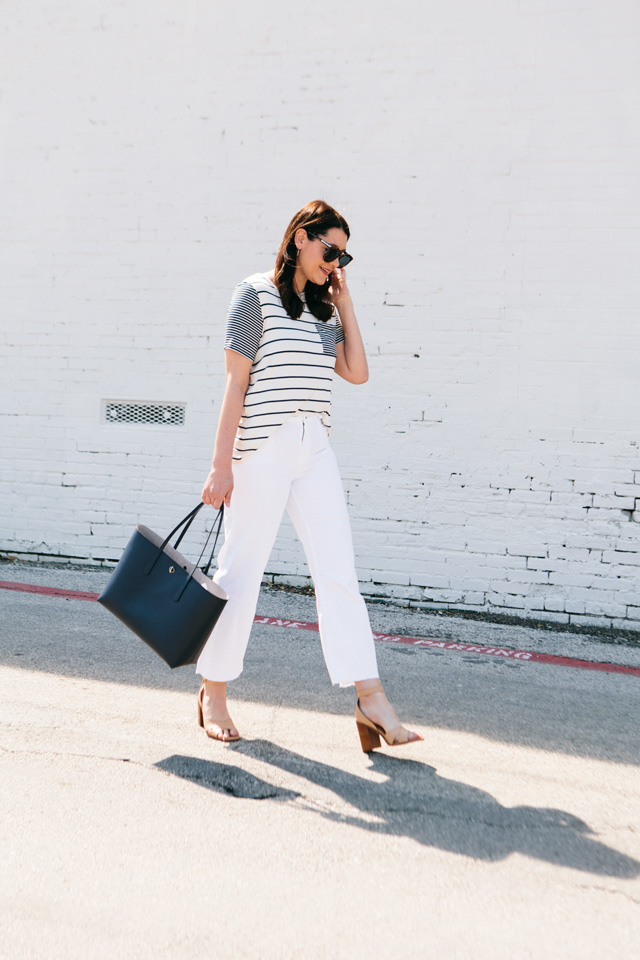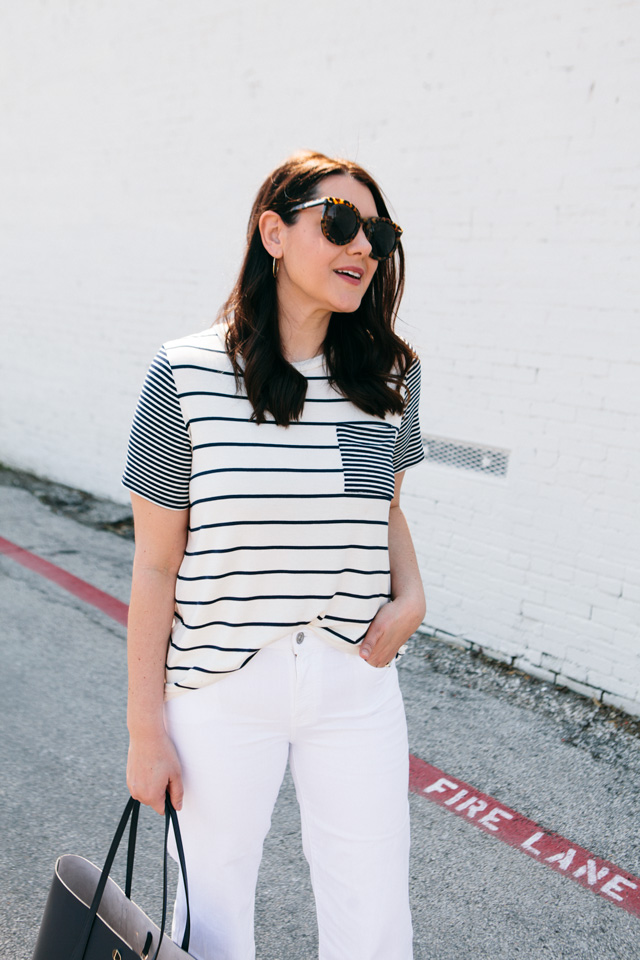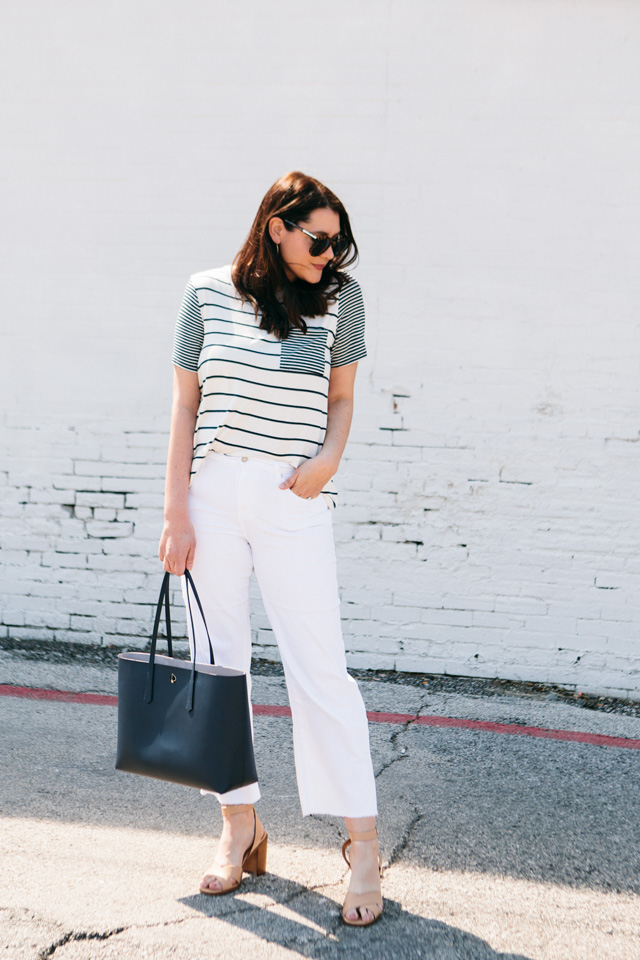 I've been admiring from afar wide leg cropped pants for a while now. But I just haven't thought that they'd look their best on me. Nothing against myself, of course, we all know by now what works with our body types and what doesn't. So I've truly passed up this style for a while, even though I've loved it on others. And let's be honest — a wide leg, cropped, white denim pant is a challenge. Even saying that sentence out loud is a mouth-full. So you can see why I've been intimidated by this style…until now. And I am here to PREACH to you about these pants. So grab a seat and gather 'round, ladies. I've got some pants for you today.
So let's get down to it: these pants are not only super comfortable but they super flattering. Ugh. The F word. A word I never like to use. Did you realize that? I rarely use that word on here or in real life! I actually don't love when people say things like 'that's flattering' to others about someone else's clothing or body. It started way back in the shop girl days when I would see (specifically) moms say to their daughters that something was flattering or not as they were trying on clothing. But 'flattering' is not a fact. Flattering is subjective. Period. The moms just saw the piece of clothing as flattering TO THEM. I'd watch as the daughter who liked whatever they put on, slowly lower their eyes and decide that their mom was right, it was either good or wasn't dependant on this one word and they'd toss a potentially favorite piece to the side. I never liked hearing that word because at its core sure it has some weight to it.  Clothing can flatter a person's body in the best way: it can highlight your favorite things about yourself. But using 'flattering' to say someone looks thinner or that they've hidden a perceived flaw, to me at least, is a destructive way to use a word. It happened over and over again that I decided to not use the F word when I would talk to people about how their clothes fit.
That was a lot to unpack there, wasn't it? I told you I was preaching today, girlfriend.  So as you can see, I tend to stay away from this word because for me looking thinner than I am isn't always the goal of getting dressed. Feeling best about myself is my goal. I like it when a piece of clothing highlights my favorite features, like my legs for instance, or when I can look at myself in the mirror or a photo and think 'wow I like how these look on me!' Feeling confident in what I'm wearing is always my end goal. (And yes, even on days I'm wearing yoga pants. I'm that extra, ok?)
So for me, when I decided to crack open the case of the wide leg pants, I thought for sure they wouldn't work for me. But boy was I wrong. I don't always like to admit I'm wrong, but when I do I'm glad it's about really cute pants.
This pair of wide leg jeans gives me a new look for white denim, too. I live in denim these days and having another option is amazing. I'll always love white skinny jeans, but a fun, wide leg look for spring is fresh and updated. I will say this — the crop seems like it won't be a good idea but it's actually perfect for a wide leg jean. It takes the bulk out of the wide leg, giving a lighter feel to what could be a bulky denim look. And you can pair it with a heel for an even more elevated look. (Literally eleavted. Ha.) And I'm telling you, these are a magical pant. They are comfortable and versatile and I think you should give them a try! These specifically are 7 For All Mankind, but I've found a few others below!

My striped tee is under $40 and SO FREAKING CUTE, right? I mean I don't have to tell you that. You recognize a good tee when you see one. 😉 I am in the medium, it fits true to size and is obviously adorable with white jeans but I have on good authority that it plays well with blue denim too. You can find this top here!
Hope you don't mind seeing this navy tote + nude sandal duo lately because this odd couple actually fit into so many outfits! Who knew a nude sandal and a navy tote were meant to be? I truly 'ship this unlikely love story. You can find this navy tote here and these nude sandals here!