I picked this skirt up at Target from the try-on haul last week and immediately my head started spinning with ideas. (Not literally spinning. That would have really set some people off in the aisles of Target.) Here is the BEST thing about this skirt: it actually fits really well. I love a pleated skirt but man, oh man is it hard to find the right fit. Because I've had a few trysts with pleated skirts over the years, typically they are very fitted in the waist and then, unfortunately, they kind of 'poof' out at the hips. I have a fuller tummy but straight hips so this is an odd fit for me and I found that 99% of pleated skirts fit like this. So I had truly said goodbye to this style thinking it wasn't my best look. When I saw this skirt peeking out of a very crowded rack, I thought dang it! I love that print but it's a pleat! The little devil on my shoulder said 'try it' and the angel on my other shoulder nodded along because she's always keeping it positive. TURNS OUT — IT FITS AND IT IS AMAZING! The waist fits the same width as the hips so it doesn't dig in and 'poof' out! Someone finally figured the fit out and ya'll I'll be damned — it was Target. I would say that this skirt fits true to size unless you have a smaller waist to hip ratio. Then perhaps size down one. I am in the medium and I'm a typical size 8.
Oh and the other note I wanted to mention: I have the skirt twisted in the first two outfits. So the floral pattern is a full pattern in real life IF you wear it the correct way. 😉
Now let's get to the three looks! (I think the last one will surprise you!)
Striped Tee + Heels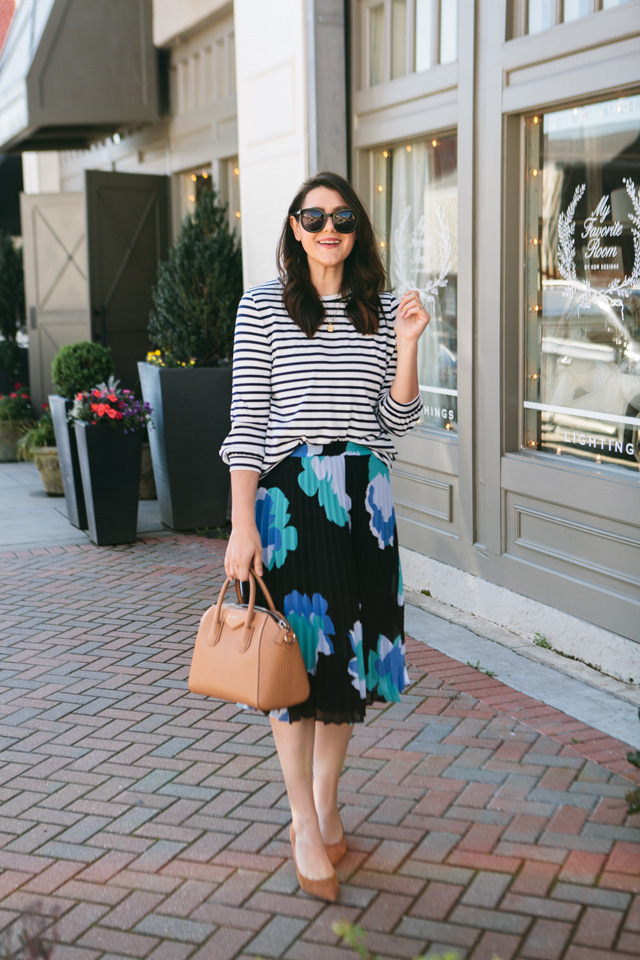 For me, this is such a classic look. I know it's a lot of print mixing, but I just don't think you can go wrong with pattern mixing if you keep it simple and keep it within the same color family. Here I paired the navy hue from the skirt with a navy striped top. (This striped tee is SO similar to the one I'm wearing and it's such a steal! Find the striped tee here.)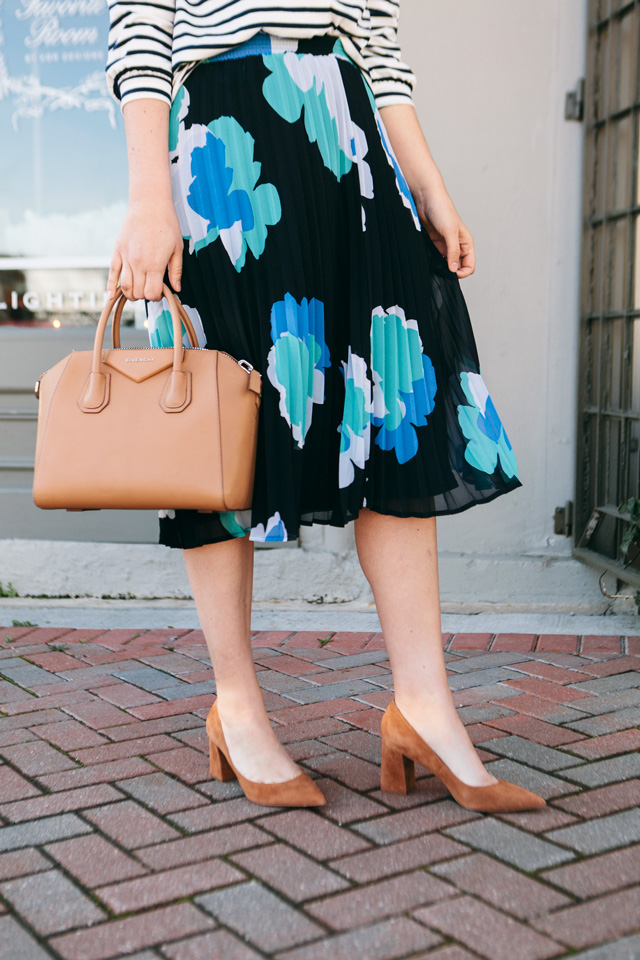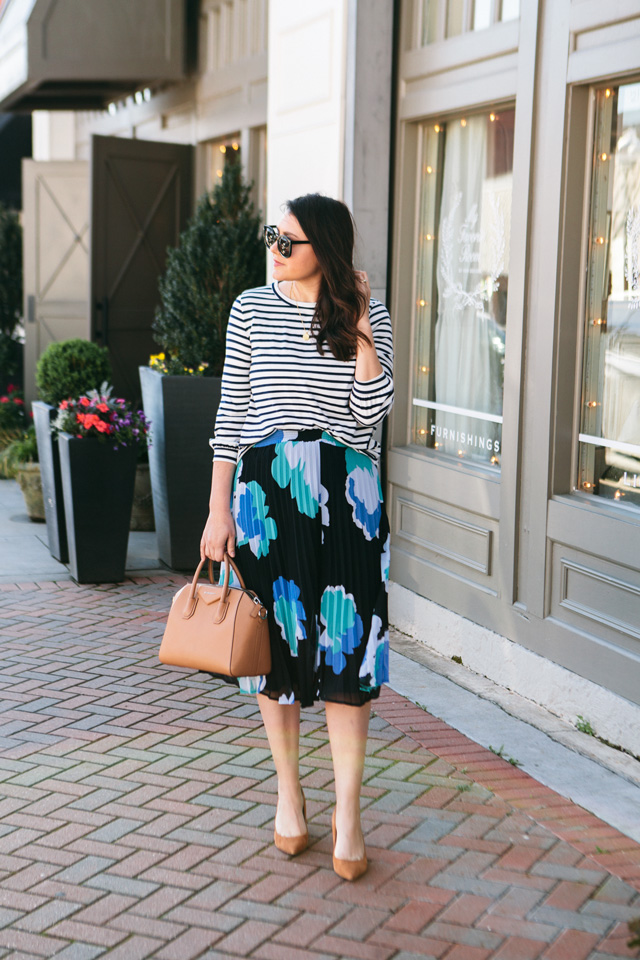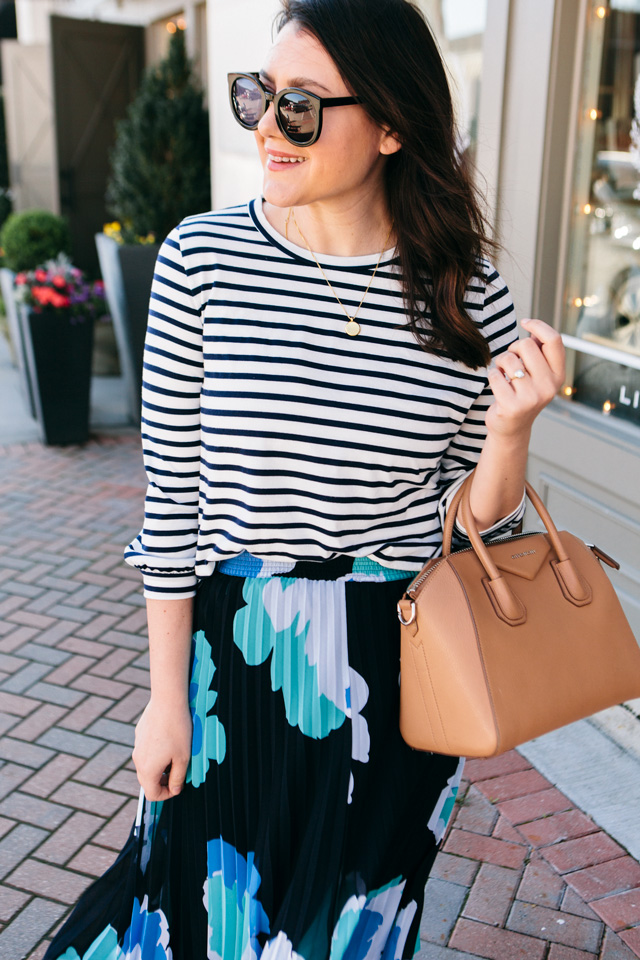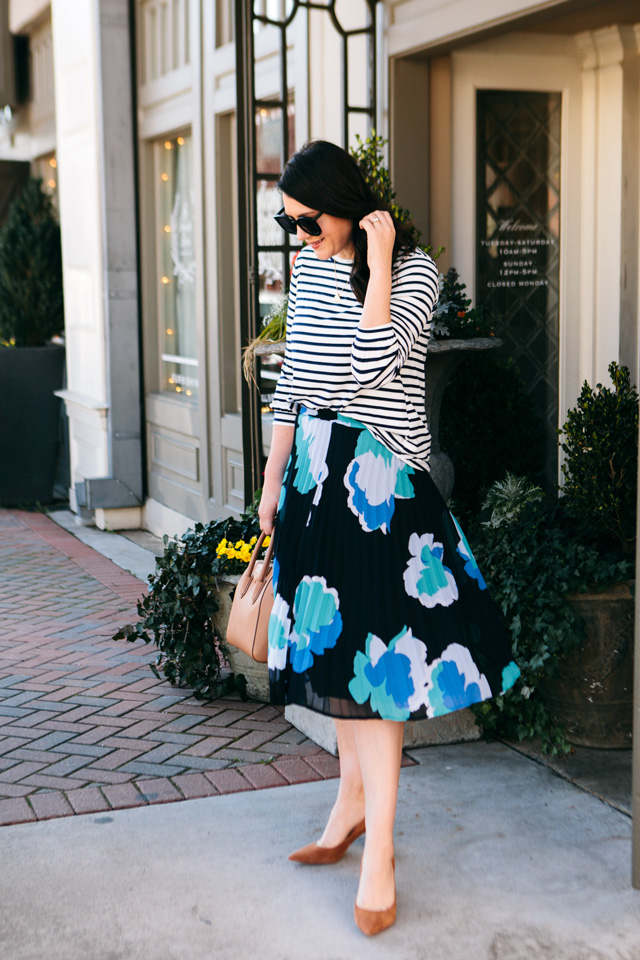 Simple Blouse + Flats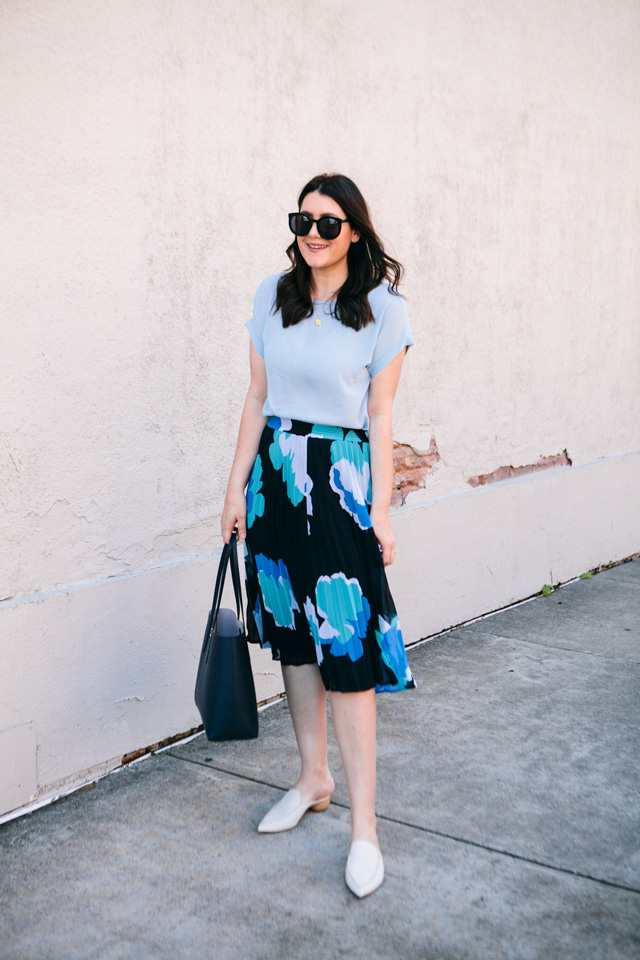 I wanted to keep this outfit as a very day friendly or even office-friendly look, but one that's comfortable enough to wear for your everyday. I paired our Everyday Essential blouse from the shop with this skirt and could those blues match more perfectly?? I don't think so. Plus I've been dying to share these flats on here as well! When you have such a simple top like this one, it begs for an amazing bottom half and this skirt did not disappoint. You can find this top here and a quick note — the Ash Mint hue matches perfectly to this skirt as well! We will restock this blue if we can so sign up for a restock email alert!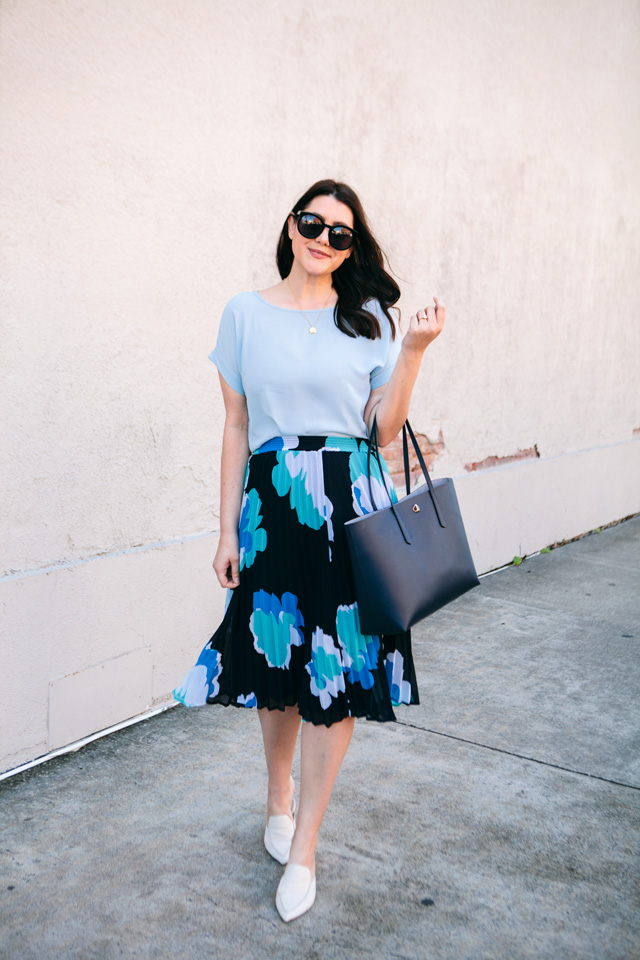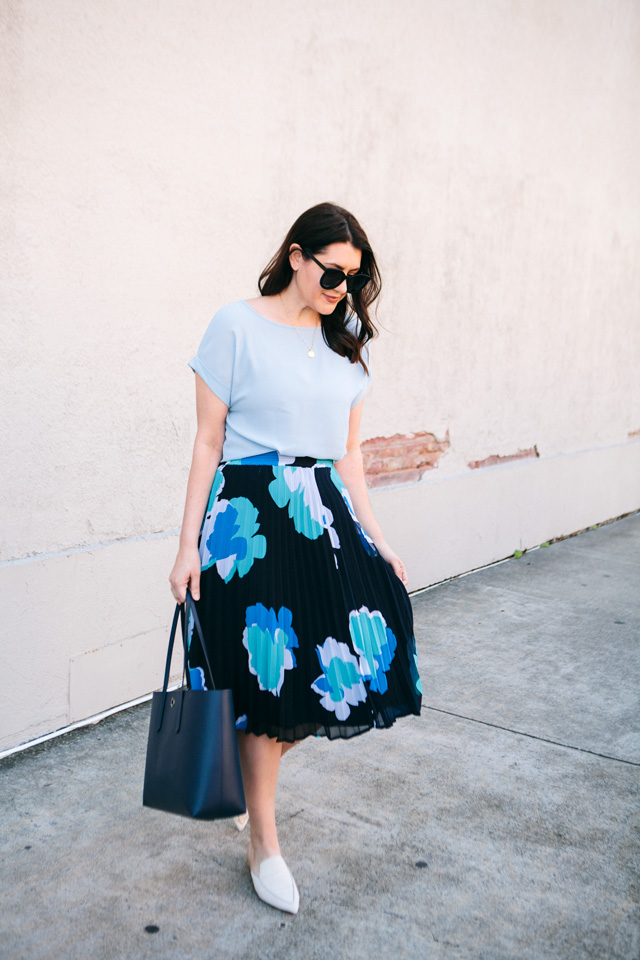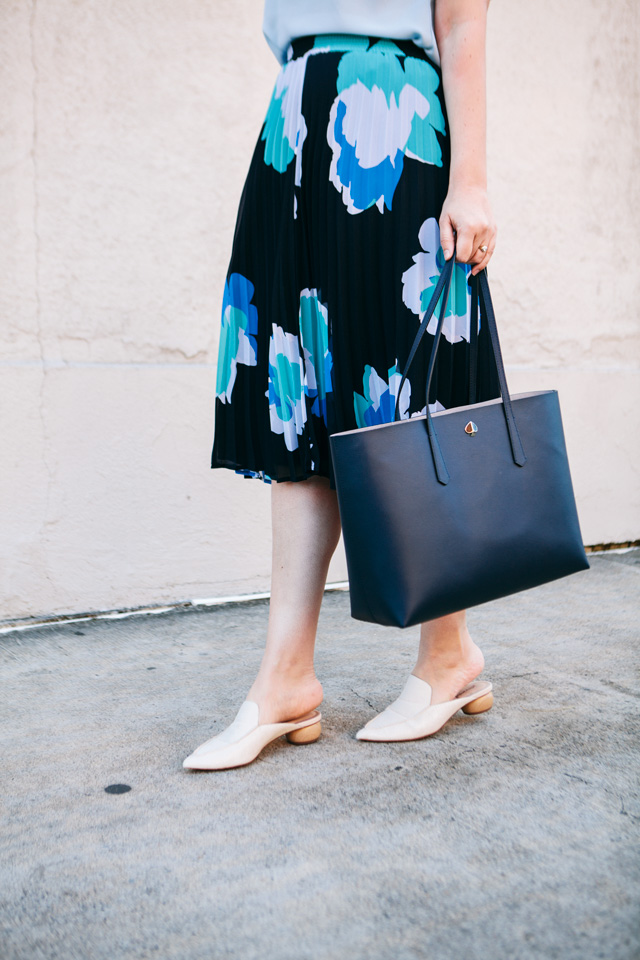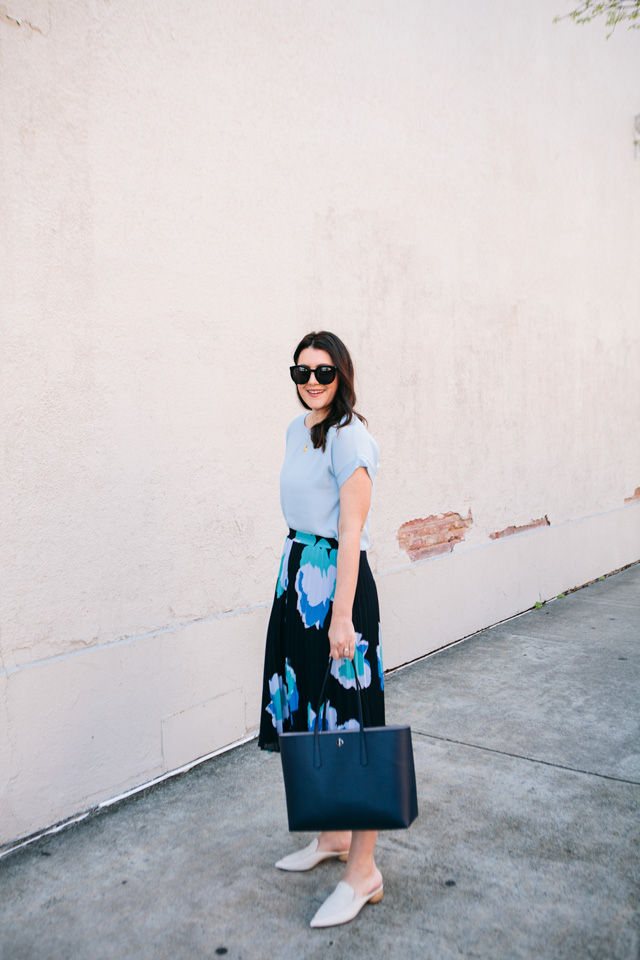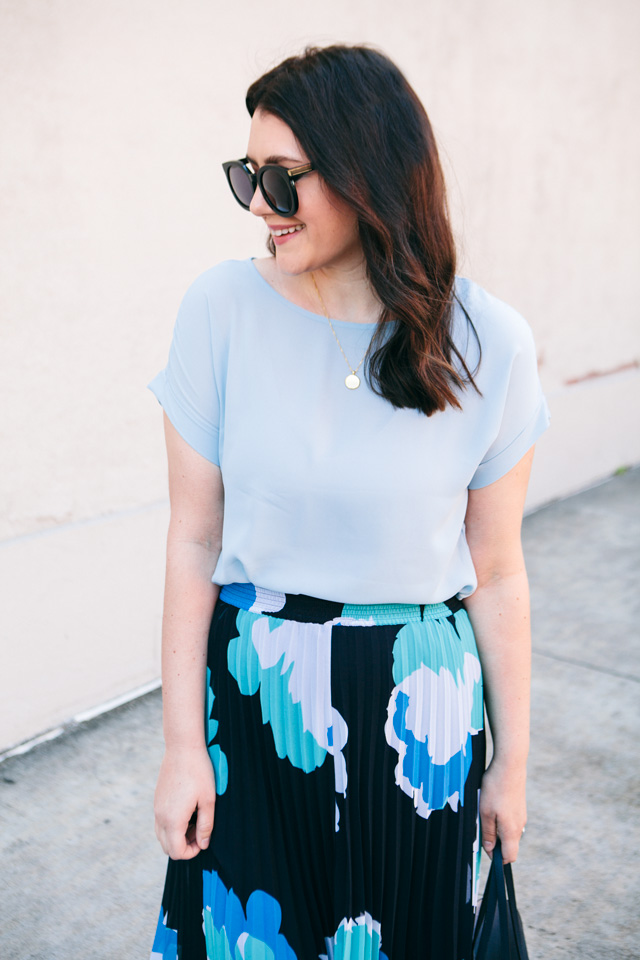 Sweater + Mini Skirt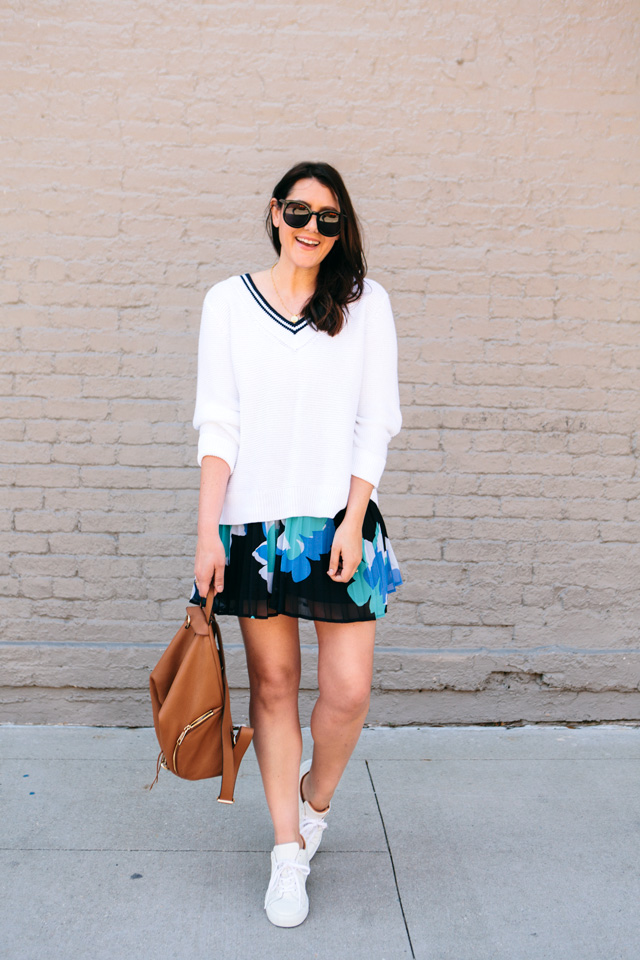 How sneaky am I with this midi-to-mini skirt swap?? SO SNEAKY. Okay, so how did I do this? I did what I would call a cheerleader roll on the waistband. Remember how I said that this waistband isn't super tight? Well because it's a better waist-to-hip ratio, it allows for a normal look when you roll the waist and it lays down pretty flat so you can't see if if you wear a longer top or sweater! (You couldn't tuck a top with this option, but I love the look of a sweater over this skirt so it's a win-win situation.) I paired this skirt with the sweater I also picked up during my Target haul! I sized up in this sweater but I have to suggest that you do as I say, not as I do here: don't size up. It loosens with wear and it's oversized on it's on. Stay true to size and it should be slouchy just fine!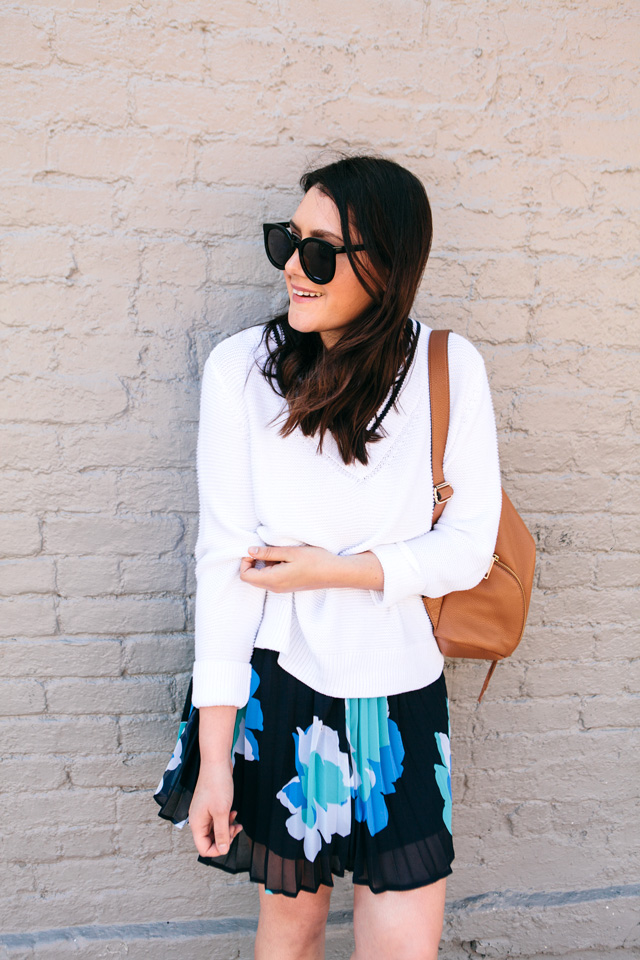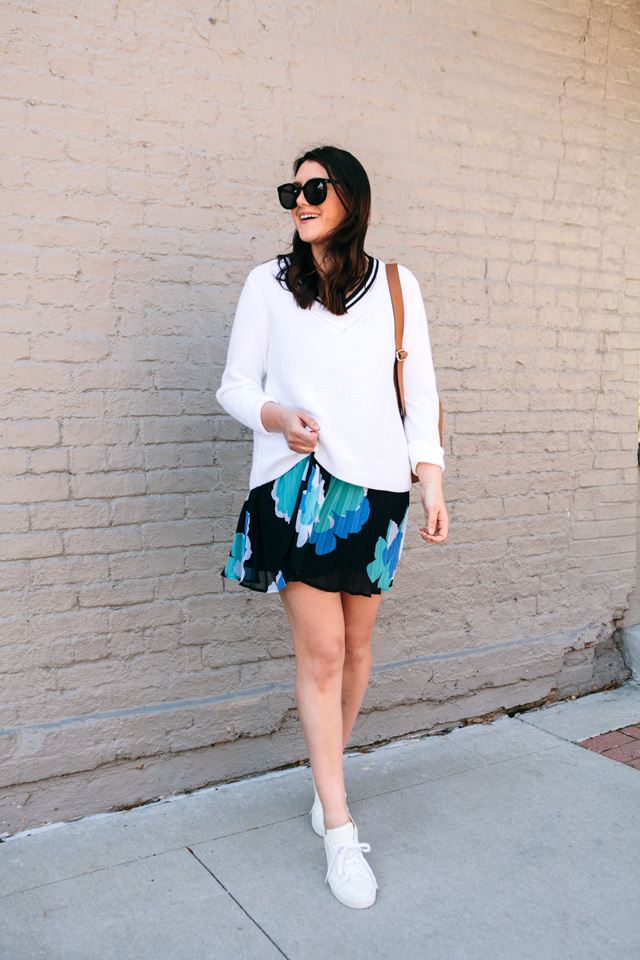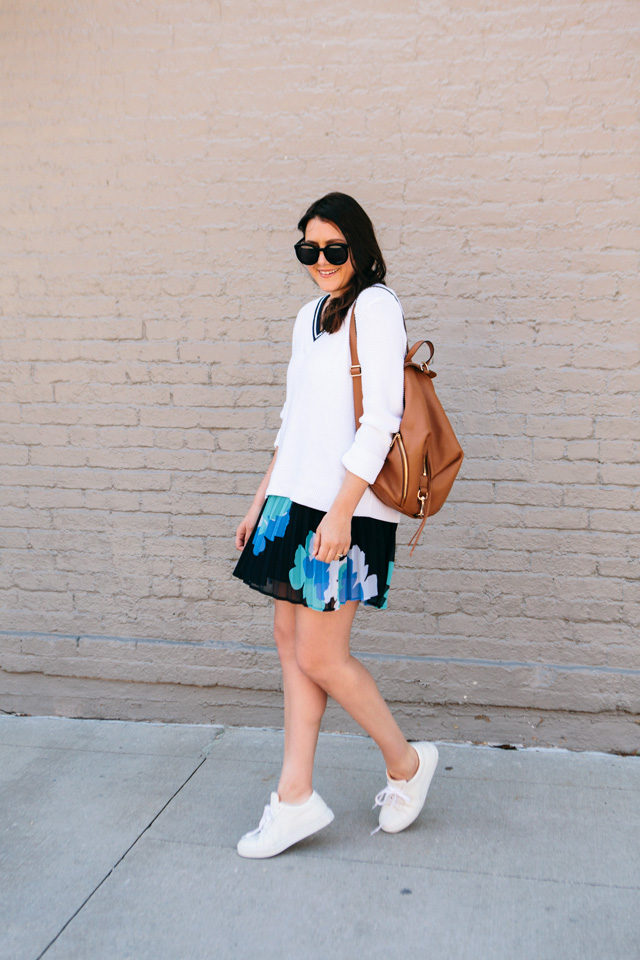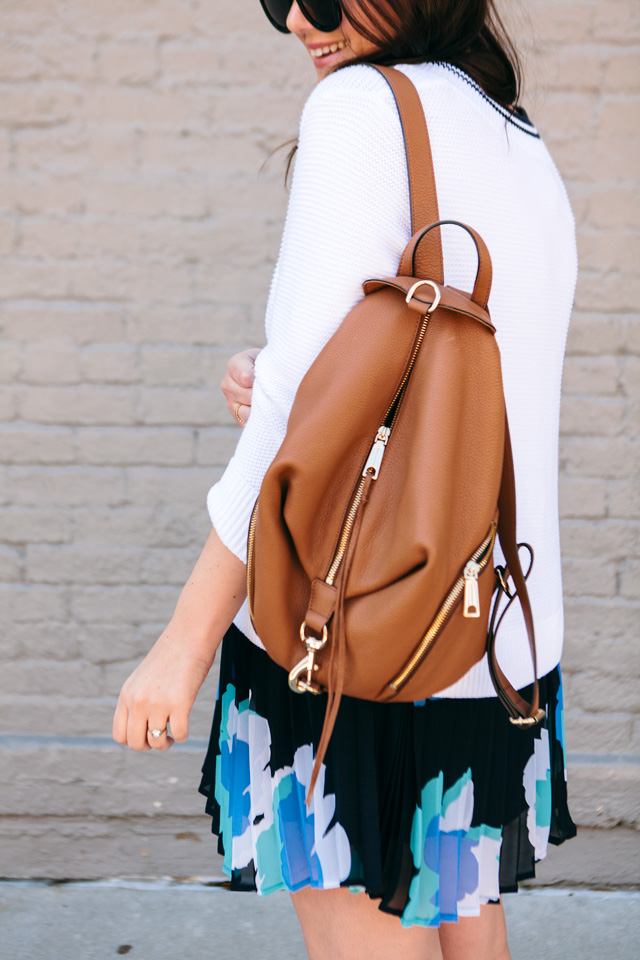 ---
Group chat: What was your favorite look? Would you roll your skirt and make a new look? I say try it! Let me know if you like these posts and I'll try to keep them coming! 😉