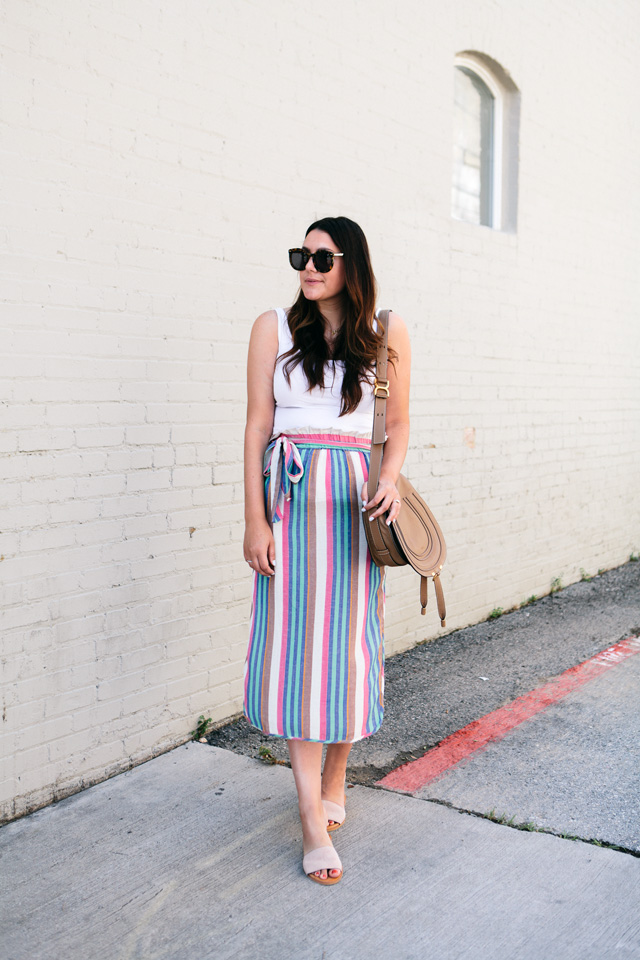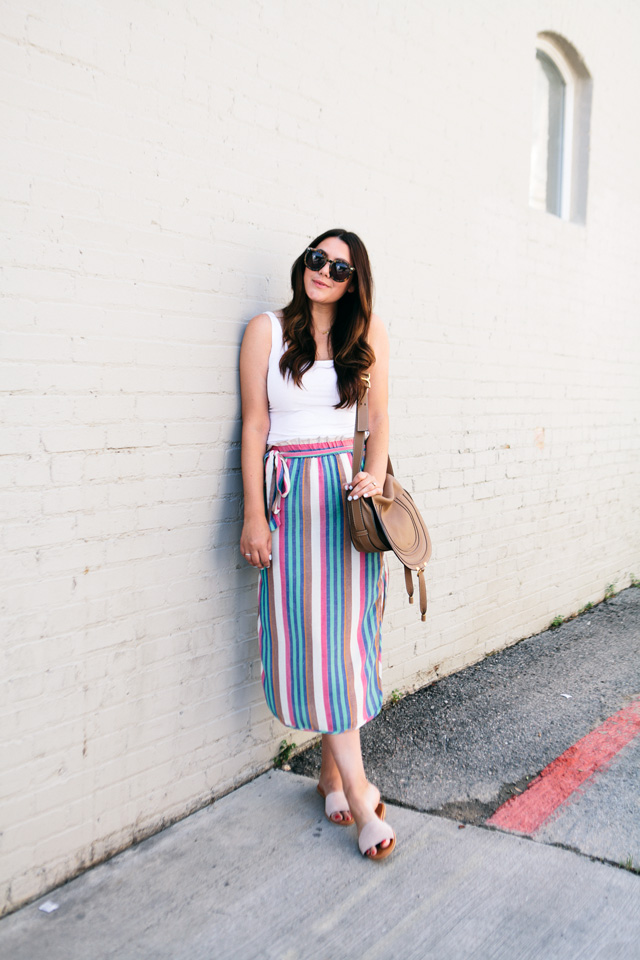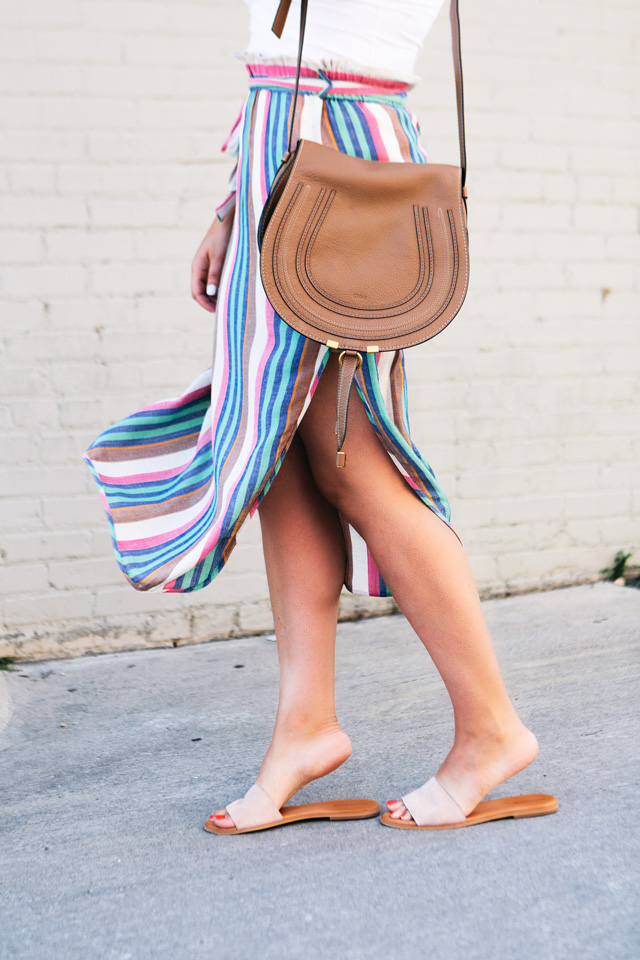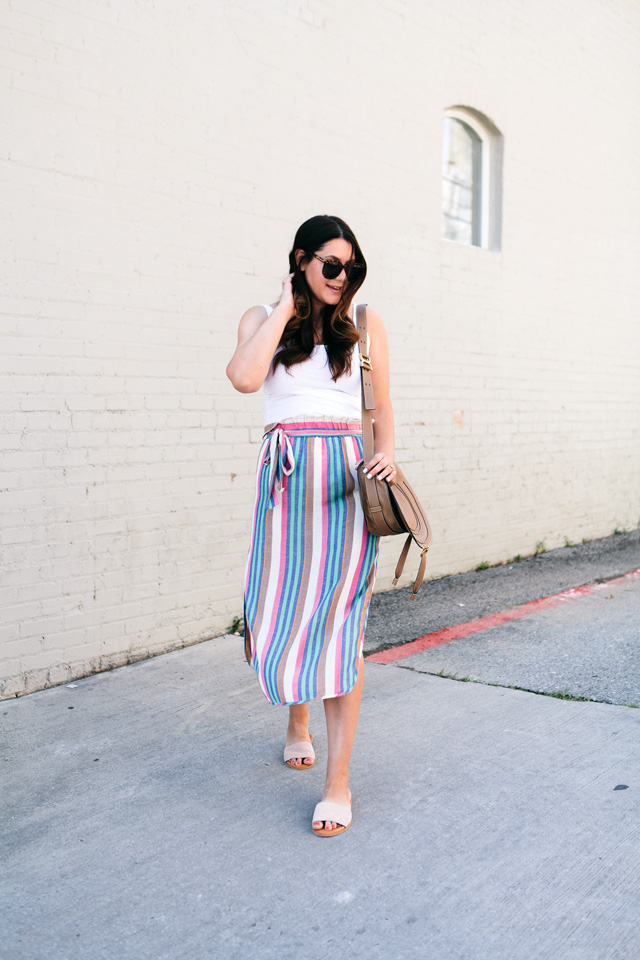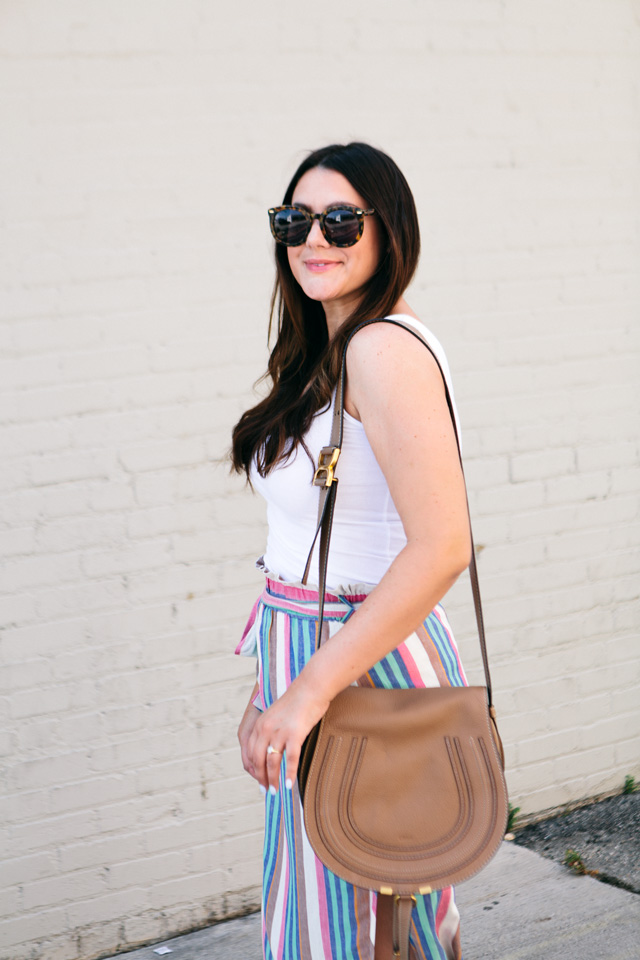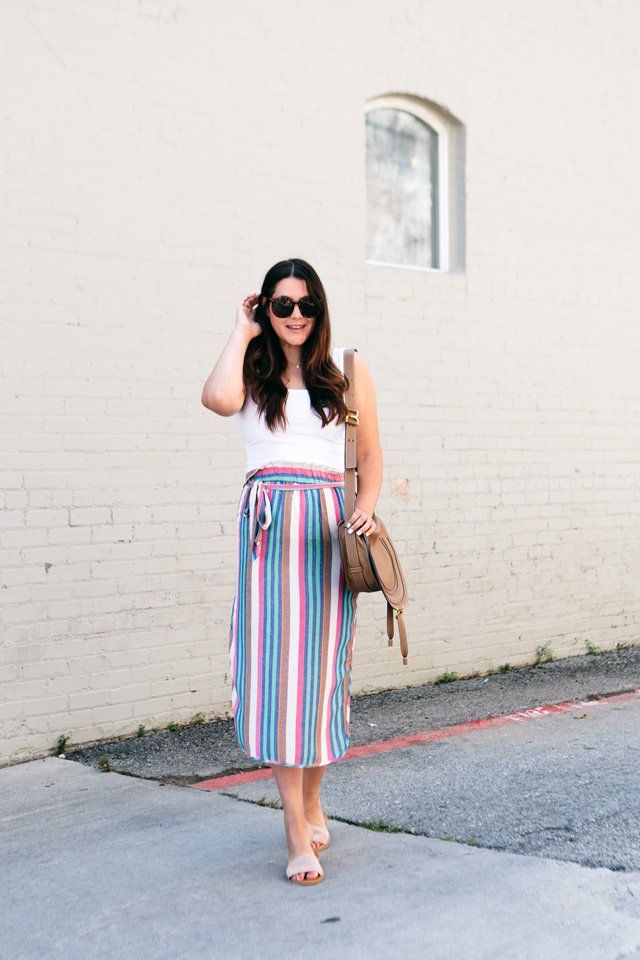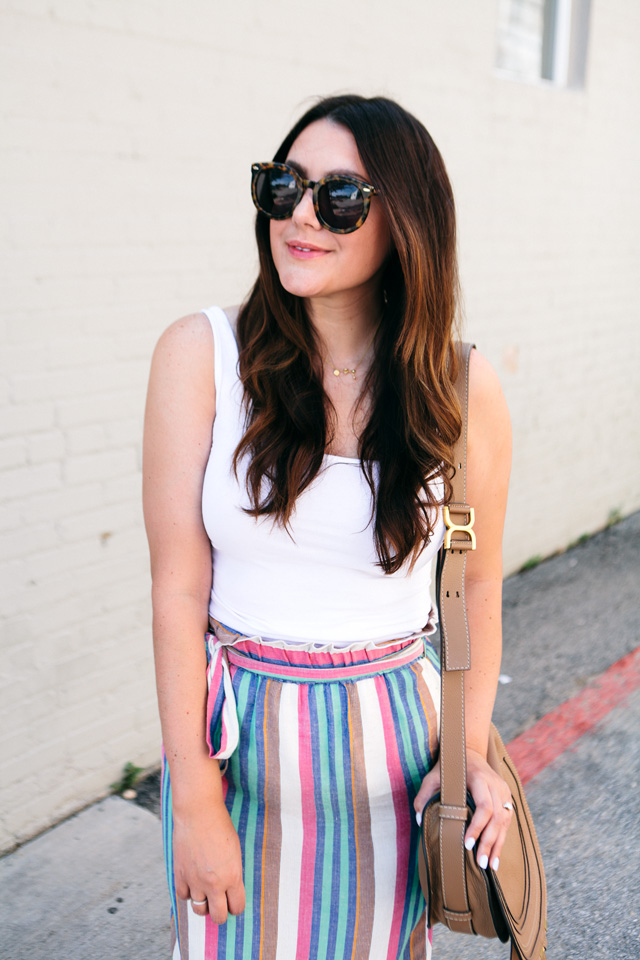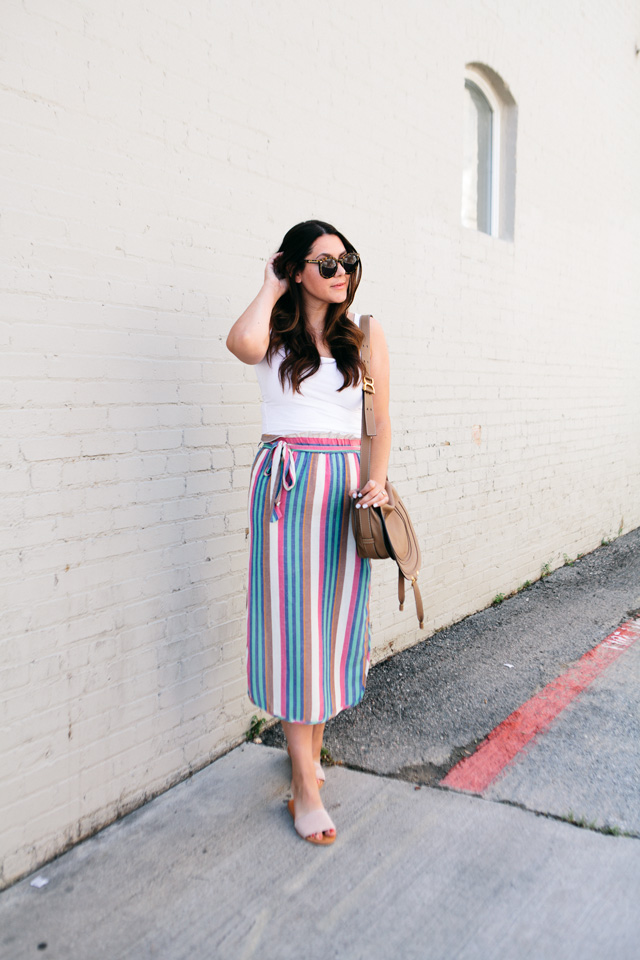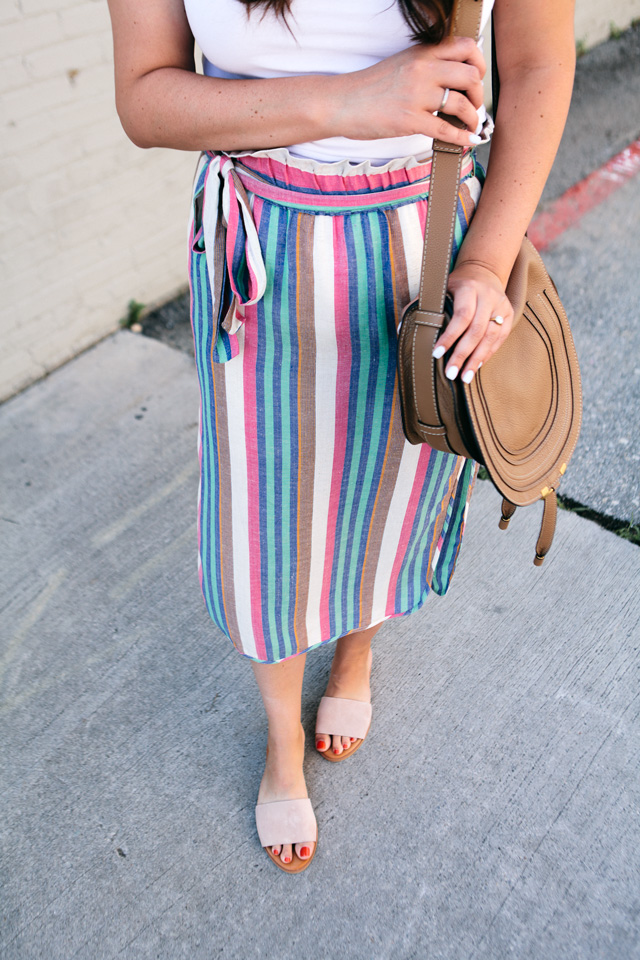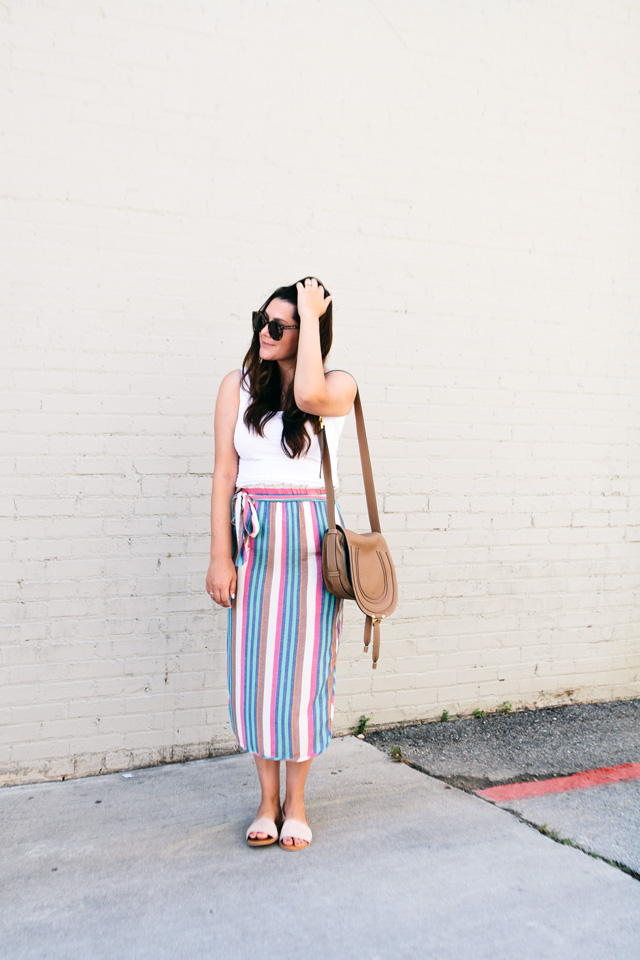 I mentioned this on Instagram but I have been loving all the colors lately. I'm telling you, I've busted out of my winter greys and I'm ready to party with all the colors this summer. As you can tell by this rainbow striped skirt. The colors on this skirt remind me of the Bold colors package of Crayola Markers. Do you remember these?? You were fancy AF if you had this pack. It had the coveted Magenta and Teal. If you're a 90's kid, I know you'll understand this reference. Or maybe they still make this pack of markers? Maybe this is still around? For Gemma's sake, I hope so.
So let's talk about this skirt! It's from ASOS and under $50! It's also very, very tight – ha! This is my second go-round on this ASOS skirt, the first one I ordered true to size and it *fit* as in I got it in my body. But it didn't fit in a way that I'd like to share the whole outline of my body out in public. Luckily with ASOS they have free shipping and returns so I re-ordered the size up and popped the tight one back in the mail and within 2 days I was back in the stripes business! You can find this skirt here!
Becuase I know you will ask — I am wearing a slip underneath! It's similar to this one here. If you haven't invested the $20 or less in a slip, you 100% should. Of course, I would prefer everything I ever buy to be lined and perfect but sometimes that isn't the case. I have three granny slips — one in nude, black and white. (I call them granny slips for no reason. But I figured you should know the vernacular around here.) You can find a slip here (Amazon) or here (Macy's)!
And yes, I'm just wearing a simple tank top with this skirt. I wanted to wear my white Everlane v-neck but in true Kendi fashion, I couldn't find it. Have I told you about all of my white tees that go missing? It's a haunting story for another time, my friends. This tank I actually bought when I was nursing but it ended up being too tight to pull down so I just kept it around. Well, I'm glad I did! It's thick enough to work as a tank top in the summer or as another layer in the winter! You can find this tank here.