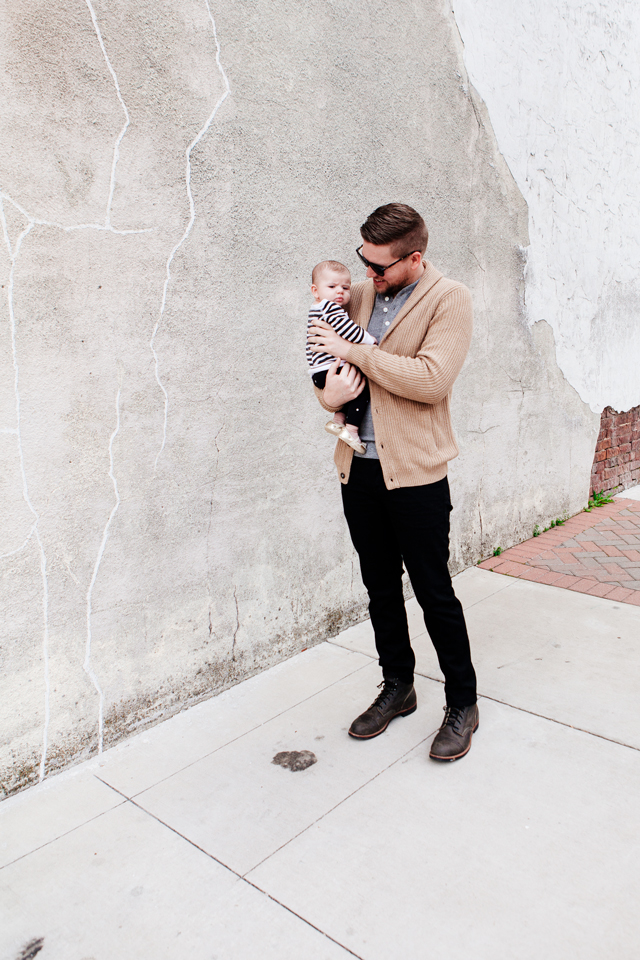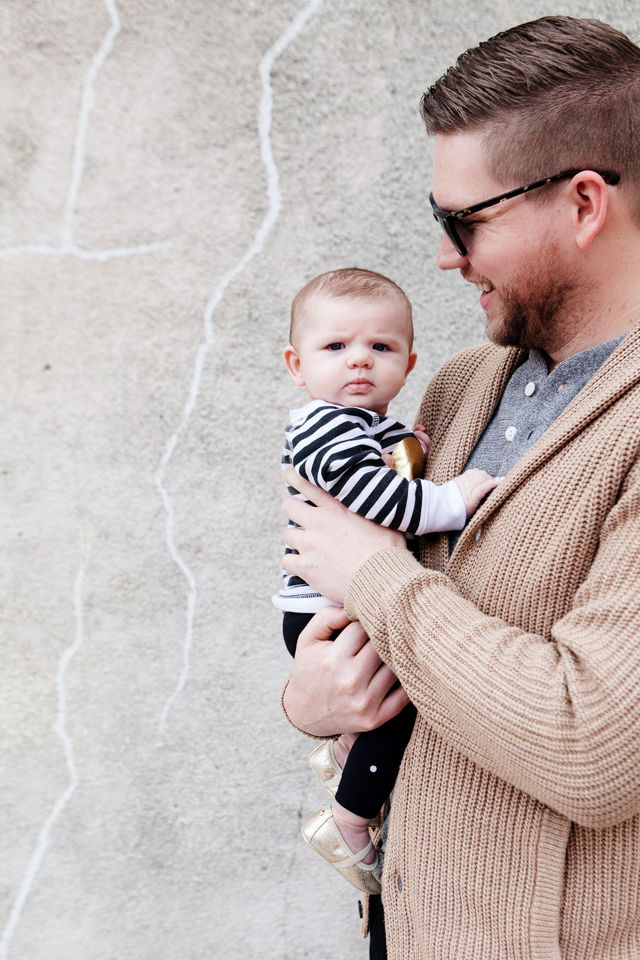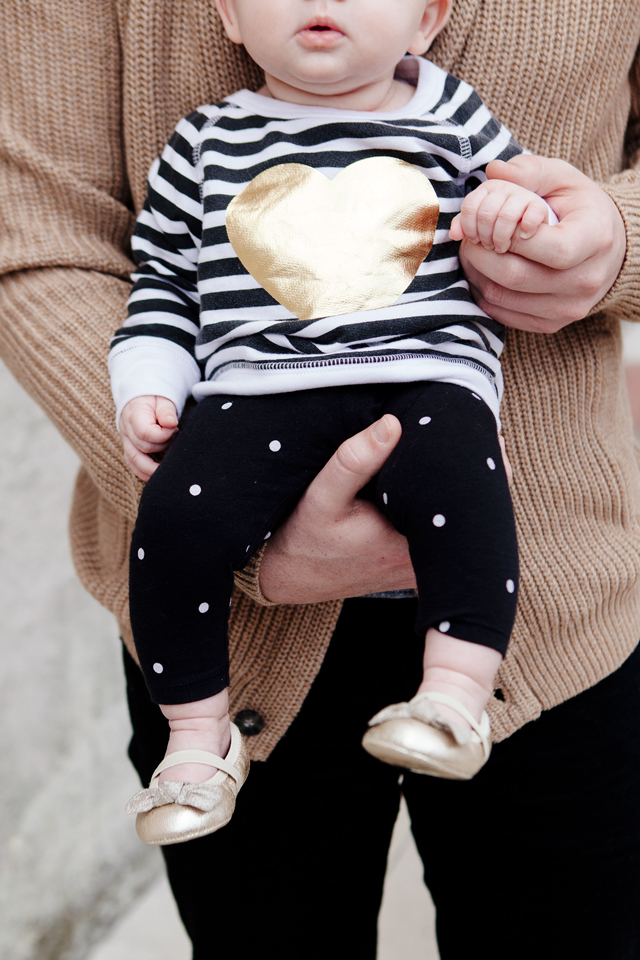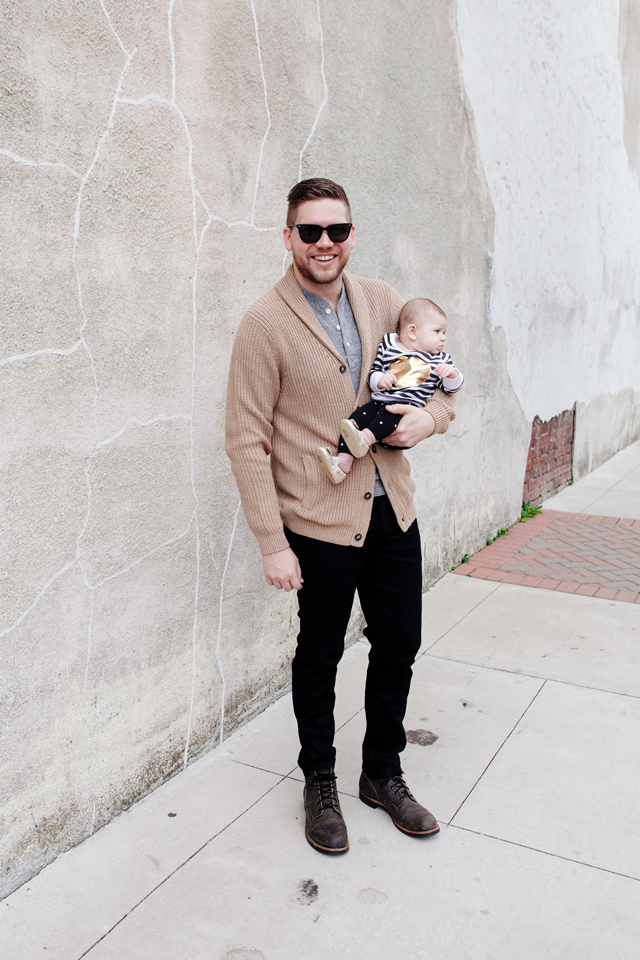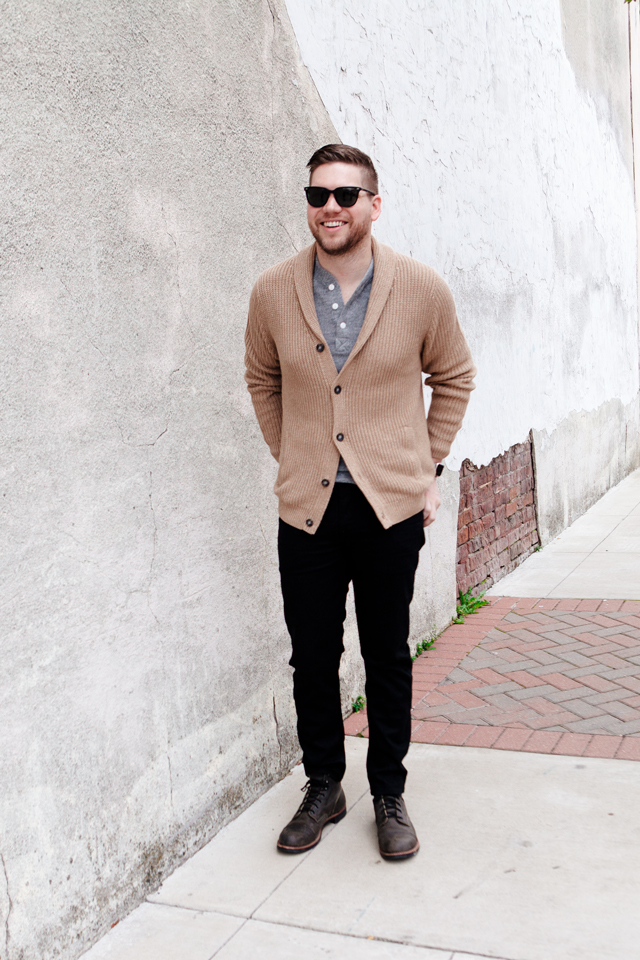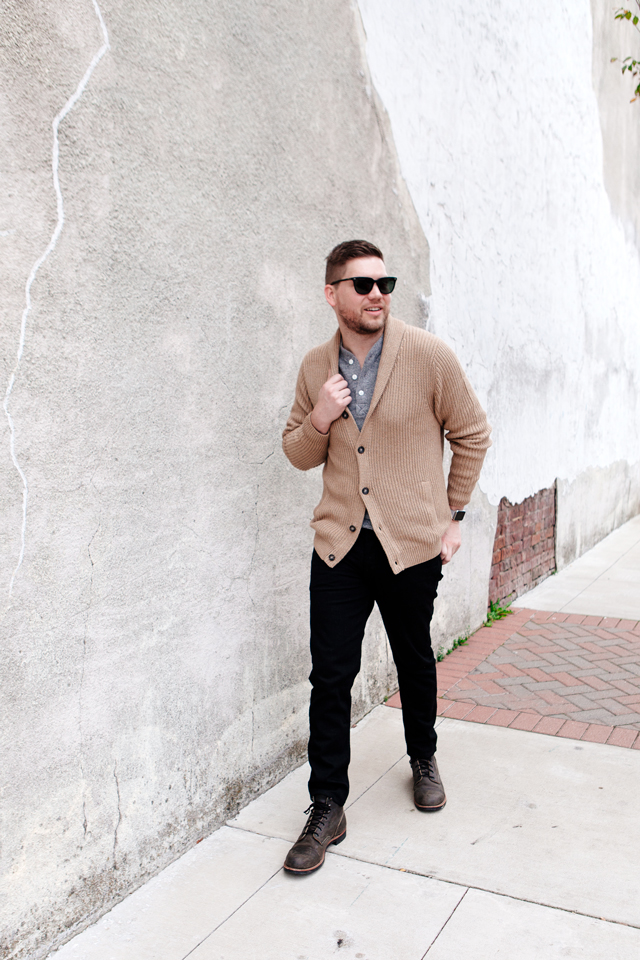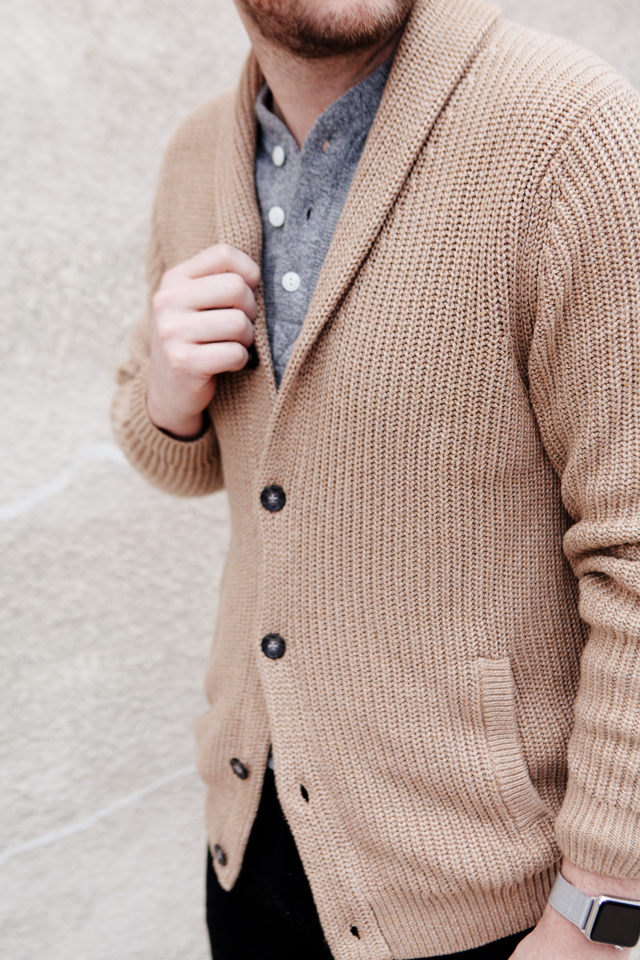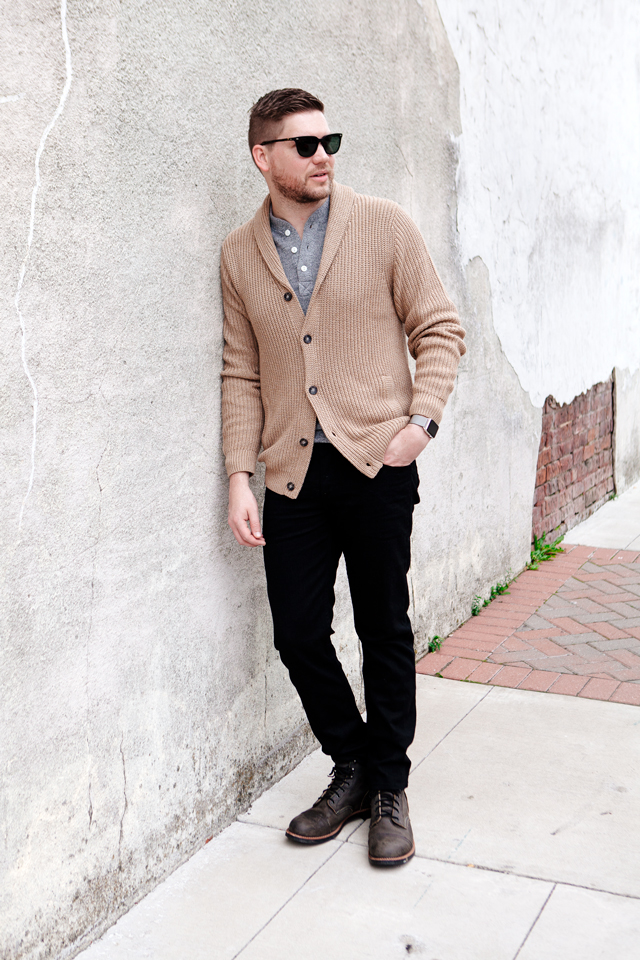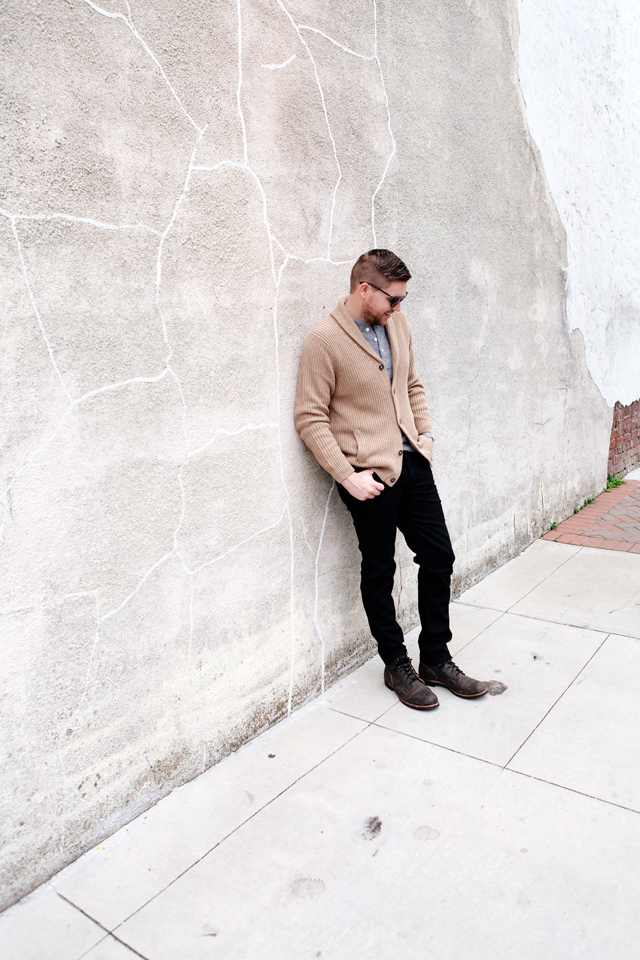 Of course, I saved the best for last this week: these two.  My cute husband and precious baby are joining in on the Thanksgiving outfit fun, too. It's a family affair. I mean these two twins were made for complementary outfits and photo shoots together. I couldn't get over the photos, so that's why there is a complete photo overload 😉 I'm mommin' so hard right now.
B's Thanksgiving outfit includes a soft henley and a camel cardigan, which I'm completely jealous of. It looks so cozy. (He said it is.) He also added that it's perfect for eating all day and watching football. A man after my own heart, except for sports because I couldn't care less about any sports team ever. I will be on my phone scrolling Instagram the whole time any football game is on. (And no, I won't be holding Gemma. I've got a wait list of family lined up wanting to hold and love on her Thanksgiving day. I'm gonna have to enforce the 'take turns' rule.)
B has always been a cardigan kind of guy and honestly, I can't blame him. He makes grandpa sweaters look good. This one is Nordstrom Men's brand (who even knew they had their own brand?) and it's really well priced for this high-quality and warm sweater. I know this isn't going to come as a surprise but most of B's clothes come from Nordstrom. It used to be kind of hard to find high quality but affordable pieces for him, as he truly gets his wear out of every piece he owns. He finds his favorite pieces and wants to wear them non-stop for years, but if they aren't high quality then they just kind of fall apart after a few washes and he gets frustrated. When we started investing in styles from Nordstrom, he has been able to find nice pieces that stay around for many seasons, wash after wash. Men's clothing can be surprisingly pricey, so under $100 for a really nice men's sweater is actually pretty great. If you are looking for a great gift idea, you can find his sweater here! And here is a lighter weight version under $60! (B said sweaters are always a great gift idea, by the way. I think he is dropping hints…)
A few of Bryan's favorite sweaters right now, if you're looking for gifts and such.

Miss Gemma has no idea what she is wearing. Let's be honest. But ya'll she is getting to the age (3 months this week!) or should I say size, that I feel like I can put something other than onesies on her. Although she loves her a good footie to sleep in, I love being able to put things together for her. So far my favorite brands from Nordstrom are Peek, Tucker + Tate, and Nordstrom Baby. Her sweatshirt is Peek, you can find it here. And we love Tucker + Tate leggings. I buy things just a little bit big so they can last a bit longer than just right now.
Oh and her matching her dad? Not even in a slight coincidence at all. Completely planned by her crazy mother. 😉
And of course, photos are overrated and chewing on dad's hand is the best.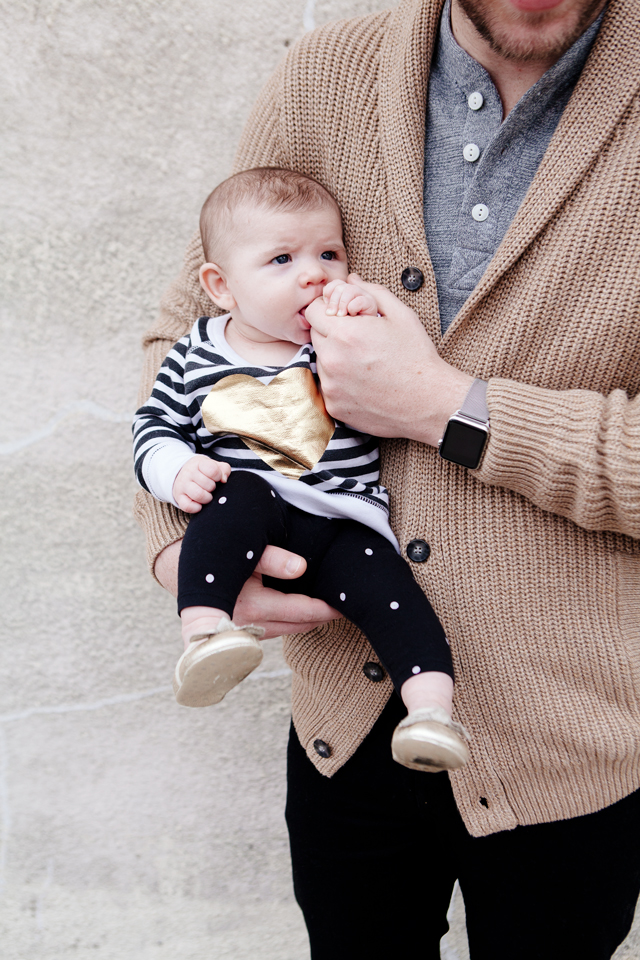 *This post is brought to you in collaboration with Nordstrom! Our go-to for men's styles and baby! Thank you for supporting the brands that support this blog!