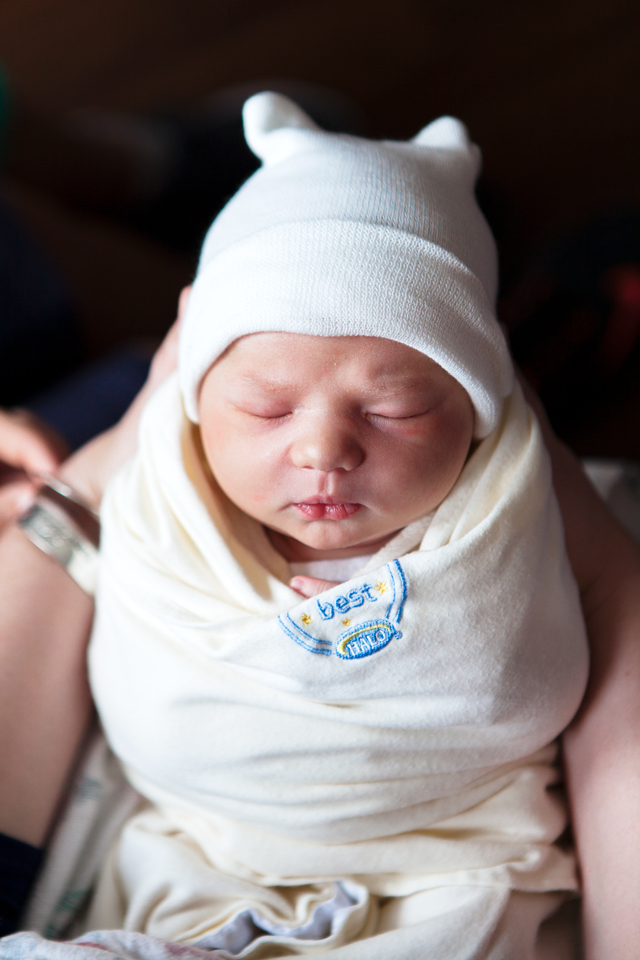 I'll be honest — I never thought I was a birth story kind of lady. Probably because I'm a pretty private person and sharing the story of your child's birth seems like a lot of information to push into the depths of the internet. But after experiencing labor and delivery, it's actually one of the first things I couldn't wait to share here. I am so proud of my body and myself. I don't know if I felt like superwoman after, but I was definitely getting some Gal Gadot / Wonder Woman vibes. Since I'm not too keen on TMI, I have left out the gory details so feel free to read on without fear of passing out. I'll save that story for later, when I really need to get your attention.
I was 5 days late. Five whole days, 120 hours late, 7200 minutes late. And I felt every one of those minutes. By week 36, I had convinced myself that she would be early because that would have been a) very convenient for us all and b) I was done with being pregnant weeks ago. By week 39, the pain was starting to set in, the stretch marks that started to appear softly and kindly a few weeks before turned into something quite angry, I stopped sleeping through the night and my dependance on peanut M&Ms was worsening by the day. I was buying the resealable bags and they weren't getting resealed if you catch my drift. I can't explain it but every day past your due date feels like the longest day of your life. Now that I look back on it, I feel quite dramatic but those almost 6 days felt like 6 months. I felt so tired and so big I didn't really want to go do anything or leave the house. One day I saw a skunk run into a neighbors garage and no lie, I watched it for an hour to see if it would run back out. It was one of my most exciting days.
By Sunday, I'd basically given up on the idea of giving birth. "She's just a part of me now." I thought to myself. I was days away from 41 weeks and I knew that at that point we'd have to induce so I was trying to wrap my head around that process. (This is how I prepare myself mentally. I research, think about it before it happens so I'm not panicked.) But that morning I started to show signs of progress — which I will not go into detail here or ever — and I thought "is today the day?" I tried not to get my hopes up, but I told B. We both played it cool as I continued having a few Braxton Hicks contractions which I'd been having pretty regularly for a week or so. I ended up napping that day and by the afternoon I could tell the contractions were getting closer together. I started timing them, while still trying to convince myself they were false contractions. At this point, I knew I was in the beginning stages of labor but knew it wasn't going to progress like it does in the movies. Which, by the way, there is a lot less screaming and a lot less water breaking with real life labor than Hollywood shows; I feel like everyone should know this so it's not a let down when your baby doesn't pop out 5 minutes after labor starts. I kept timing my contractions while convincing myself this wasn't really happening. We ate dinner and I told B I think this is the real thing but wasn't sure. Strange because I had been ready to meet her for weeks, so ready to start labor but now that it was happening I kind of wanted to back out. We kept timing the contractions throughout the evening and by 11 pm they were getting to be about 3 minutes apart. Oddly enough I had this strange calmness set upon me, which is weird because while I am strange I am not that calm of a person. B strongly suggested we go to the hospital since it was averaging 3 minutes apart and our doctor told us to go at 5 minutes apart but I don't listen very well and again there was this stage of denial I was in so I took a quick shower and changed. I laid back down, timing the contractions that were getting closer and closer together. At this point it was well beyond midnight and I was basically in denial this was going to happen. Ya'll — WHILE IT WAS HAPPENING. Well it was 1 part denial, 2 parts procrastination because let's be honest — I was terrified of child birth and everything that was about to happen. I've never been admitted to the hospital before and I am scared of everything ranging from needles to the blood pressure cuff. It's too tight, you guys. It's not right. Luckily, B knew it was time and he loaded the car with my bag that had been packed for weeks, convinced me it would be okay and we drove to the hospital in the dark of night.
I think it was the fastest and slowest trip we've ever taken down the highway we travel everyday. I don't even remember feeling the contractions at that point because I was so nervous for the events of what was to come. We got into the triage room and the nurse started to check me and the contractions. Baby's heart rate was good, contractions coming ever 3 minutes, and I was dilated to a 3. It was 1 am and they called the doctor. He admitted me and told them to let me progress on my own. My sweet nurse told me that whenever I wanted an epidural I could get one. This sounded great to me, but I wanted to hold off for a few hours. AND THEN THE PAIN HIT. I just thought my contractions were painful but these were a new level. I couldn't say 'epidural' fast enough. Every contraction was the equivalent of every nerve in my body screaming at the same time. I pulled myself together and asked the nurse for the epidural. She gave me this look and I thought 'oh no I've waited too long to ask.' But I was relieved when she told me it would be another hour before the anesthesiologist would be here. It was the middle of the night and the on-call doctor had just been called but there was a patient in front of me in line for the epidural. We waited for almost 2 hours and finally I was able to get an epidural at 6 am. Time seemed to be flying by but also felt like it was hanging in the air. Once I had the epidural, I couldn't feel a thing. I also basically went delirious for the next 13 hours. I am weak when it comes to any type of drug, so the epidural hit me hard so the next few hours were a bit of a blur. We thought for sure I'd have her before noon, so we started calling family.
Turns out that was positive thinking. I had a good 12 more hours of labor ahead of me.
My doctor checked me that morning, broke my water and we waited. And waited. And waited. By early afternoon, he woke me from my weird epidural nap where I was dreaming about food (seriously I was so hungry ), and asked if I was ready to have a baby. I sleepily said 'sure' and then asked B what that meant. He said it was time to push, we were ready to go. I'll spare you the other details of labor transition because I think for those of you who haven't had children yet should have a chance to not know everything until it happens to you. Ignorance is bliss in my opinion. As someone who has never had a baby before, I have to be honest — the pushing does not come naturally to everyone. And by everyone, I mean me. Especially those who have little natural control over their bodies, like yours truly. For athletes? Sure. For this girl? No. My nurse told me to use my abs and I laughed. She said you don't work out? I said 'no – – but I admire those who do.' I ended up pushing for about an hour before they told me to stop because her head wasn't turned the right way. She was progressing but she needed to turn. They ended up positioning me so that her head would turn the right way — and miraculously it did. Or maybe not miraculously, this is probably standard but I don't know because I definitely did not ask questions. We started to push again. They asked if I wanted a mirror at one point to which I very loudly replied 'NO THANK YOU'. I liked my current view and did not need much more detail than that. The less I know, the better.
After another hour and half of pushing, I finally got the hang of it and with each push, I knew we were getting closer. After 26 hours of labor, we finally met our sweet daughter; at 6:38 pm on August 14th, 2017 Gemma Rose arrived into the world. She weighed 8 lbs 11 oz, 21.5 inches long. It was an amazing feeling, the moment she was born. My epidural had waned and I was so glad it had — I knew instantly when I pushed that last time that she was here. It took her a few seconds but she took a giant breath and they laid her on my chest. I looked at B wide eyed and his eyes were just as big as mine. There she was on my chest, our daughter. Dark hair covering her perfectly round head, eyes just barely opening to meet mine. I try to replay that moment over in my head as much as I can because I never want to lose it. It's true what they say — you start to forget the process over the next few days. There are holes in my memory from those 24 hours. But meeting her made time stop; I'll never forget that moment for as long as I live.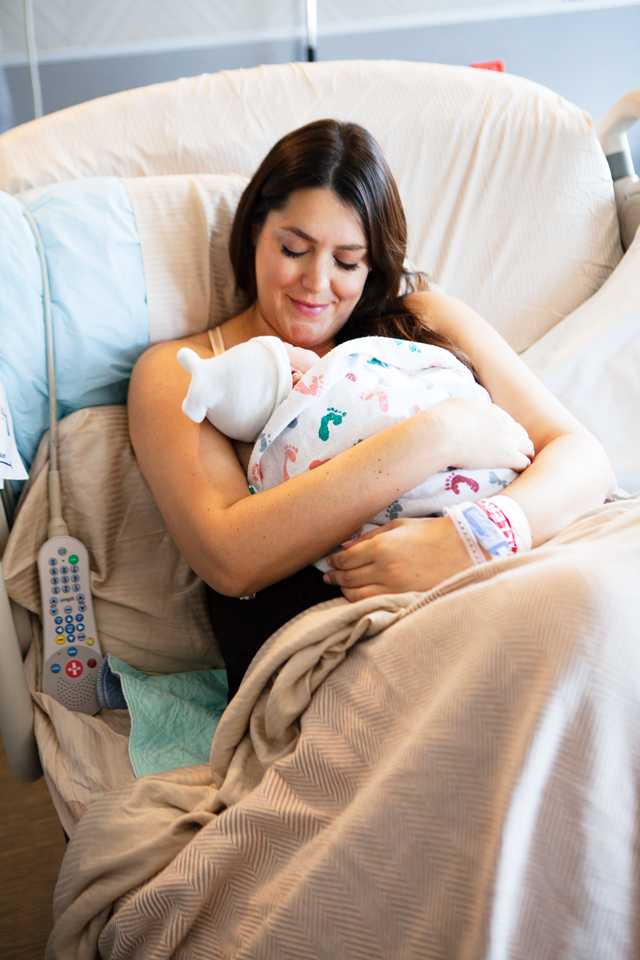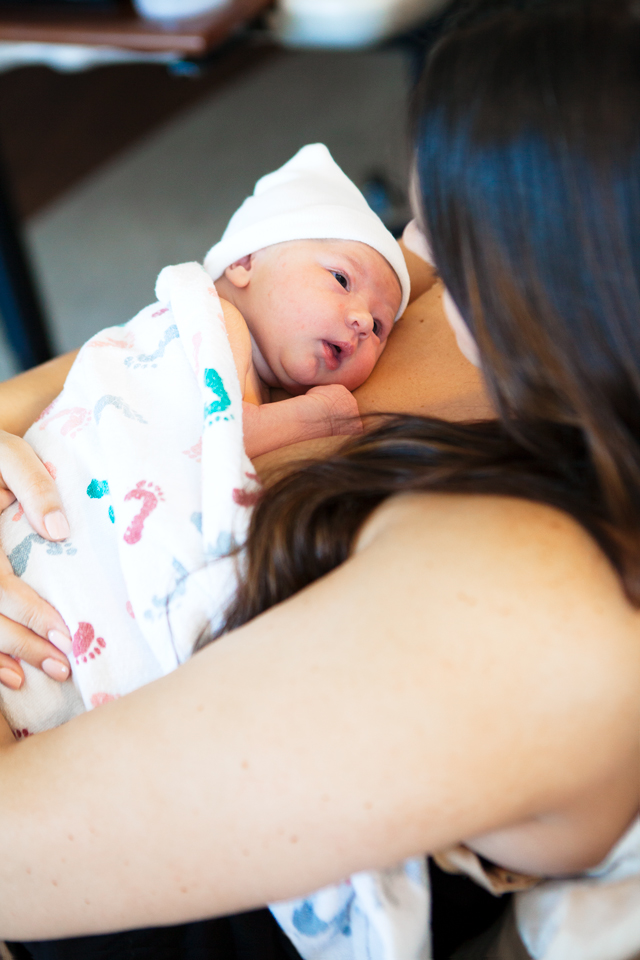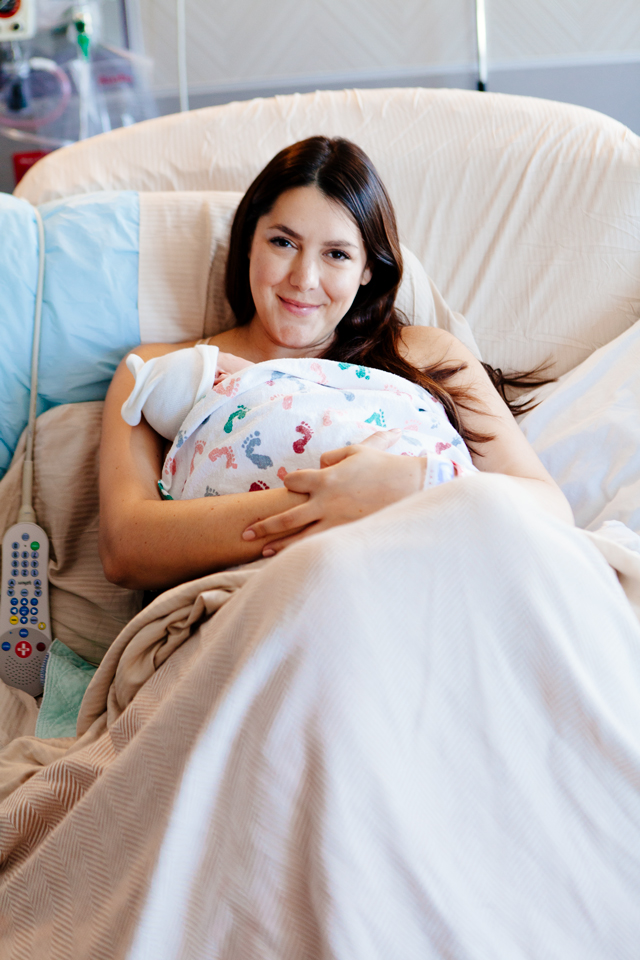 About a week before I had Gemma, our days began to stand still and my emotions started to get the best of me. The smallest thing could make me cry. One afternoon in particular, I was sitting in the living room and I remember looking at B with tears in my eyes and I said to him that I couldn't envision her. I couldn't envision child birth. I couldn't see it, I couldn't see her, I couldn't see our life with her here and it scared me terribly. With everything else in our life, I could envision our future plans even though they never turned out the way I saw them in my mind. It's just helpful to have those hopeful thoughts of your future. But B took my shaking hand, looked me in the eye and said "you can't envision her because she's better than you can ever imagine." As I write this on my phone, I've got a sleeping baby in my arms. She's freshly fed and happily sleeping, her little heart-shaped nostrils flaring with each breath taken. And I realize B was exactly right; she's better than I could have ever imagined. In fact, my imagination couldn't have dreamed her up; it's far too small for how great she is.
Welcome to the world, Gemma Rose. You're better than I could have every imagined.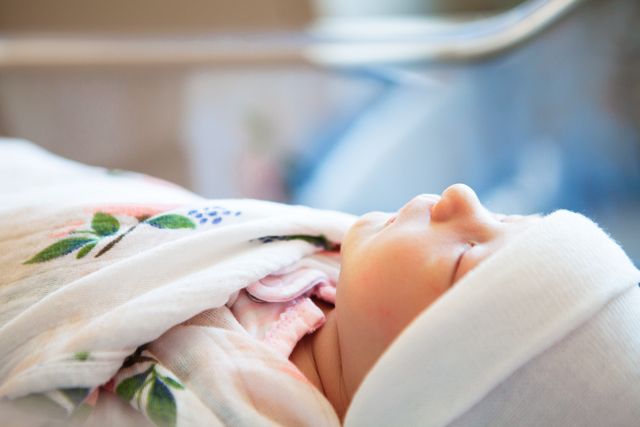 PS: these photos were taken the next day. Lord knows my hair did not look like that after labor.