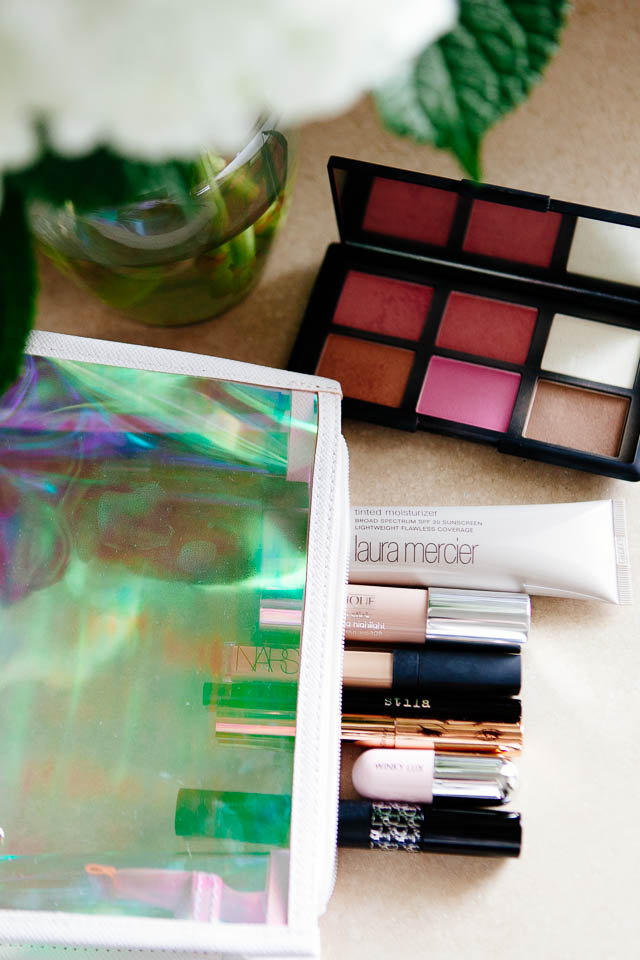 Since we are still figuring a few things out with Miss Gemma (read: all the things) I wanted to start getting a few posts up in the next few weeks before we start our full throttle content calendar in September. Miss Gemma is officially two weeks old and a literal gem of a baby. So happy and healthy! A mama could not ask for anything more. Okay maybe I could ask for some more sleep, but it's worth it. And I'm getting pretty darn good at falling asleep the minute my head hits the pillow.
One of the first things I realized when we got home from the hospital and that new mom fog had past, was that I needed a sense of normalcy. Everything had change and while we were getting used to a new schedule, I started to feel a bit lost in it all. I would look in the mirror and not recognize the person staring back at me. When I was talking to my friend, she asked what was something I missed about my normal routine? And I said makeup — but doesn't that seem silly to get ready just to be home all day? She asked me if I still got ready each day even when I worked from home. She had a great point. So the next day, when I got the chance I showered and put makeup on and fixed my hair. I'm not even kidding when I say it lifted my spirits. I felt more like myself than I had in a few weeks. But the process was slow and I knew I couldn't take as much time as I used to getting ready each day. So I got to thinking — how can I simplify my morning (or afternoon, let's be honest) routine? Everything else in my life has changed, why not shake up my beauty routine to fit our new schedule?
So I did. And this is what I've turned my routine into — 20 minutes hair, 5 minute makeup. Besides a shower, that's 25 minutes flat. And honestly if my hair wasn't so long, I could get it done in less time but I'm keeping this long pregnancy mermaid hair as long as nature lets me. (I know the pending, post-pregnancy 'it's all gonna fall out' hair loss is coming. I am not ready.)
If you're a new mom or looking for a quick routine, here is what I've found works for me!
1. Blow dry + hair rollers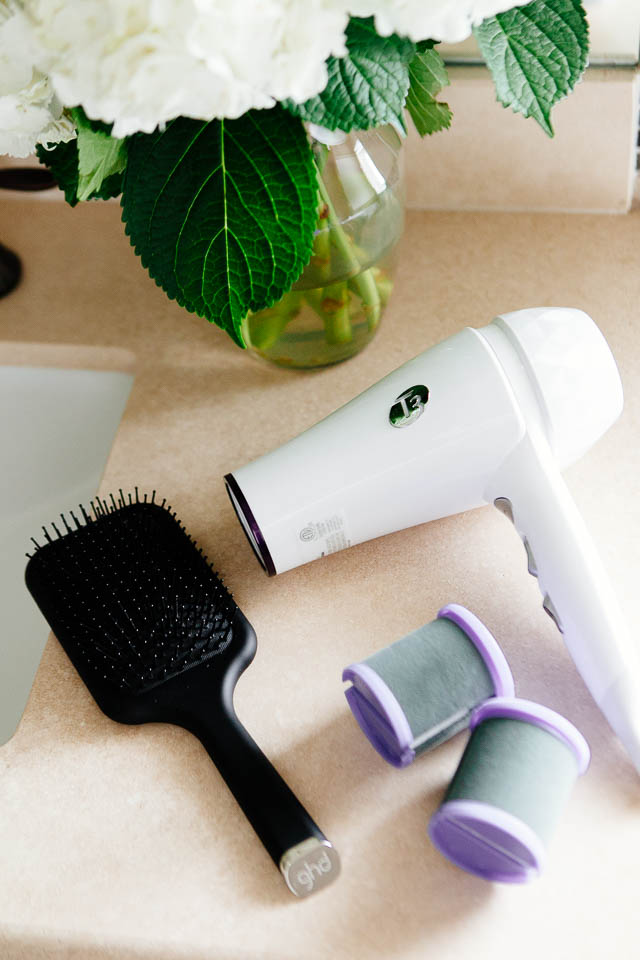 My routine used to involve makeup first — a leisurely makeup routine at that — while letting my hair air dry as much as it could, then blow dry and curling wand my waves. But I've wised up and realized I can use better tools and shave off a lot of time on my routine if I just switch my hair and makeup routine. So now I start with hair, I towel dry then blow dry and put my hair in rollers and continue on with my makeup while my hair sets. I really wanted to show you the photo of me in rollers but I was getting some hardcore old lady from the Shoebox greeting card vibes and just couldn't do that to myself.
I also find that better tools means a quicker morning. I've used this T3 blow dryer for about a year now and LOVE it. Yes it's an investment for a blow dryer, but I usually keep blow dryers for years. I think the one I had before this one I had in college. (And I'm pretty sure it had a better GPA than me.) So I don't mind investing if it makes my morning's faster and gives my hair a lot less damage. I've also invested in a nice hair brush for my long hair. GHD products are some of my favorites — I also use a GHD straightener and this curling wand when I do waves — so I thought I'd try their paddle brush. It's perfect to blow dry with as it doesn't leave my hair tangled. (PS: these are similar rollers to what I used here!)
2. Tinted moisturizer + concelear + highlight + blush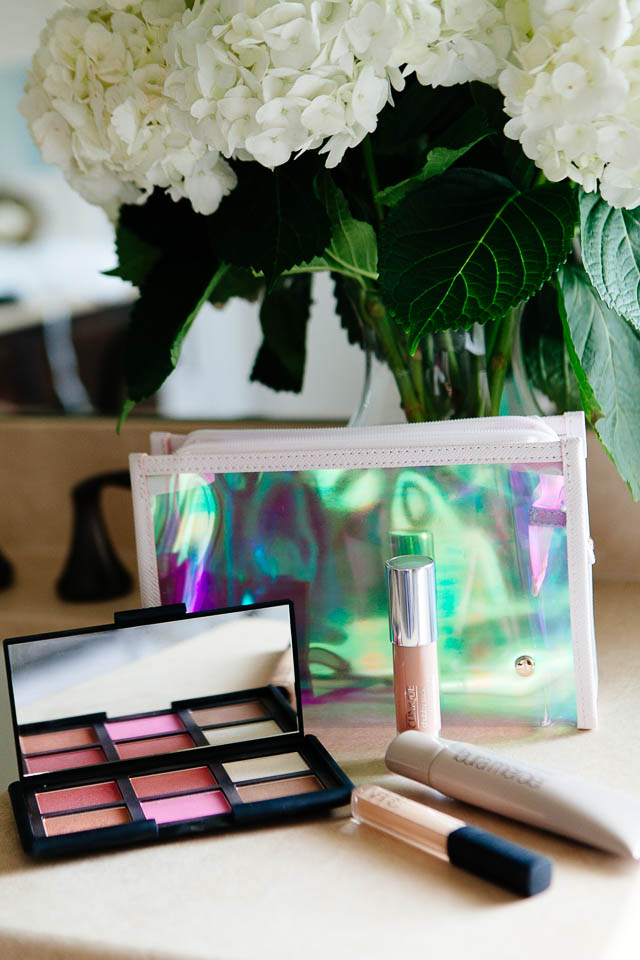 This is where my 5-minute face routine starts. Again, I'm usually doing this with my hair in rollers, but I really can't put that image on the internet.
I start with a tinted moisturizer since time is of the essence and sometimes a face lotion gets forgotten. I went back to my all time favorite, Laura Mercier Tinted Moisturizer. I used it for years before I went to a heavier foundation. Going back to it was like meeting up with an old friend. I forgot how well it covered but feels so light. (Perfect foundation for napping, too.) Then I quickly put on concealer — while I'd love to use something heavy duty to really cover these dark circles, I can't use anything too cakey. This NARS Radiant Creamy concealer is one of the best that provides coverage but doesn't cake and mixes well with a tinted moisturizer. It creates a seamless coverage instead of those dreaded concealer lines; another one of my tried and true favorites.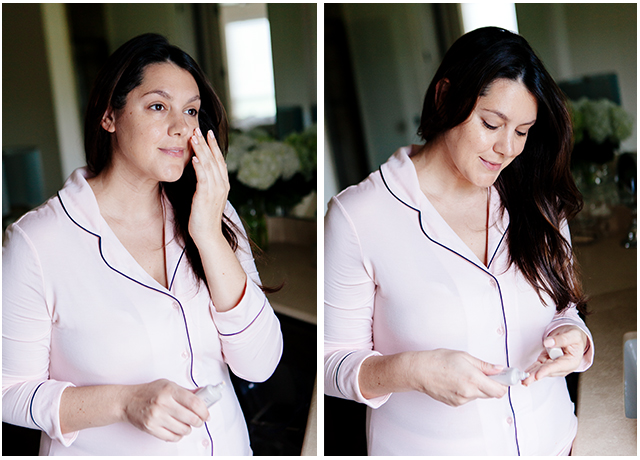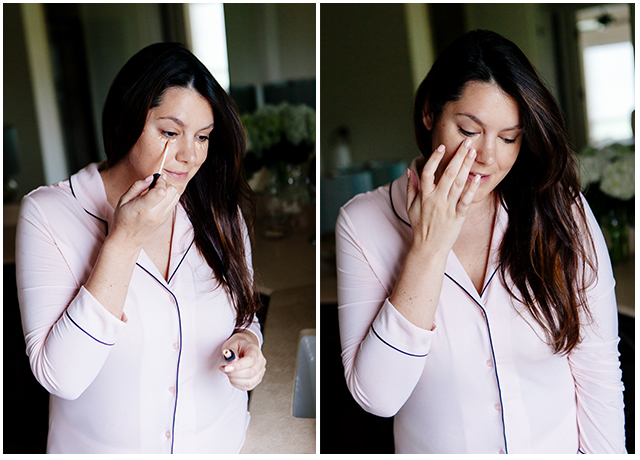 Since the tinted moisturizer already gives me a dewey look, I enhance that a bit more with the Clinique Chubby Stick Highlighter. I use it on my cheek bones, brow bone and on my nose. Then I use my fingers to lightly blend it in. You can always use a beauty blender but for my quick face, I try to keep it as simple as possible with the least amount of tools and products. And since I'm not going to fuss with eye shadow, the highlighter on my brow gives a nice definition for my eyes.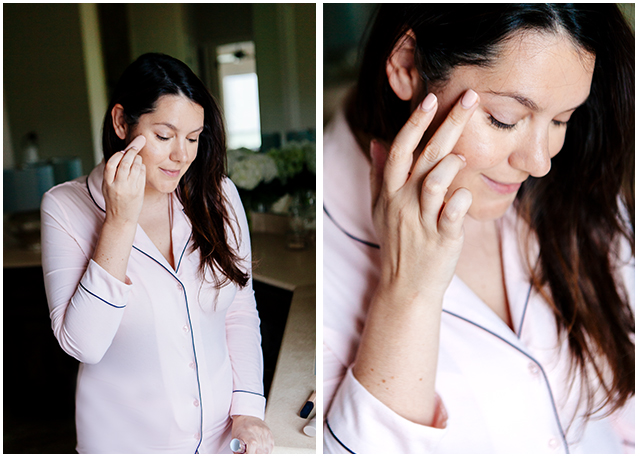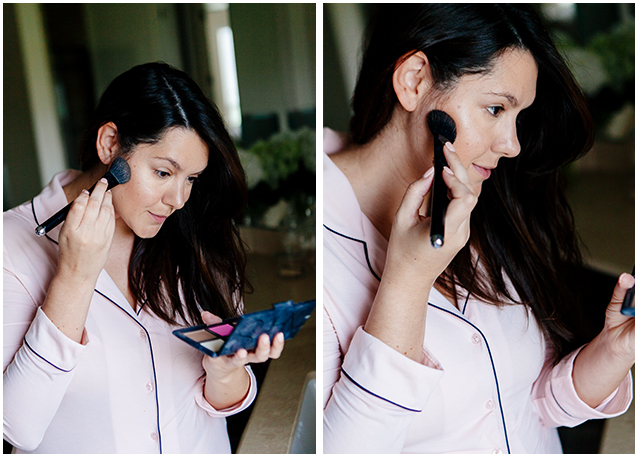 I then do a quick swipe of a bronzer and blush on my cheeks to at once give this tired face some contour and color. I like using multi-packs when it comes to blushes and bronzers because it gives me options in a pinch. This NARS one I'm using (similar here) was from an Anniversary Sale last year, but I love this option here and here.
 3. Brows + Lashes + Lips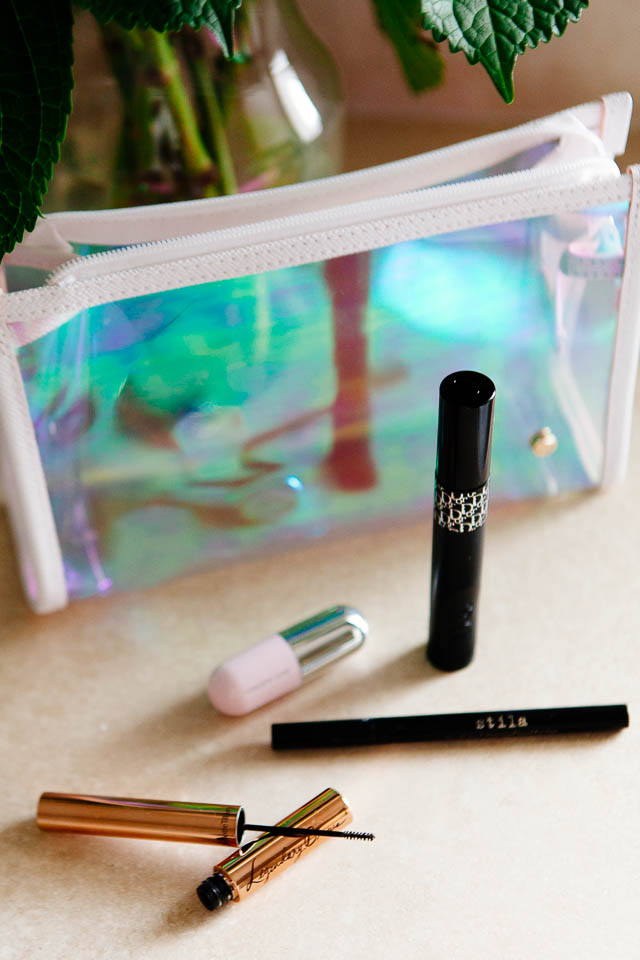 Now is the fun part of the face. I start with my brows, which I'll be honest is usually like a 10 minute ordeal. I'm very particular about my brows and I love using Anastasia Beverly Hills Dipbrow Pomade and taking my precious, precious time. But I needed to find something quick but just as effective and I stumbled upon this Charlotte Tillbury Legendary Brow Gel (I'm using shade 'supermodel'). I've used tinted brow gels before and was never impressed but this product is gold. With one swoop, I had color and shape to my brows. So this went into my new mom beauty bag instantly. Of course I love all of Charlotte Tillbury products, so this is no surprise. Then I use my tried-and-true eyeliner from Stila (it's like a marker and basically fool-proof) for a quick cat eye and a few swipes of DiorShow Pump'n'Volume mascara and I'm finished with the eyes. If I have a few more minutes, I can always swipe on some eyeshadow but the eyeliner + highlighter seems to work perfectly when I'm in a pinch.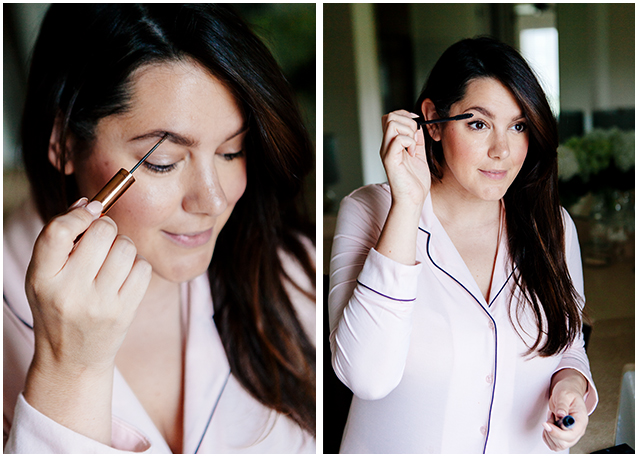 Okay so this might be my favorite part — this Winky Lux Glimmer Balm. I found this while late night shopping at Nordstrom under their new beauty items page. It's so weird, you guys. It's this clear, sparkly little lipstick and you put it on and it changes hue to this natural pink and supposedly it's different for everyone since it's clear. I was skeptical so I bought it, naturally. But now I'm a believer; I love it — it smells amazing and feels so good on. Perfect for a new mama who needs just a touch of color.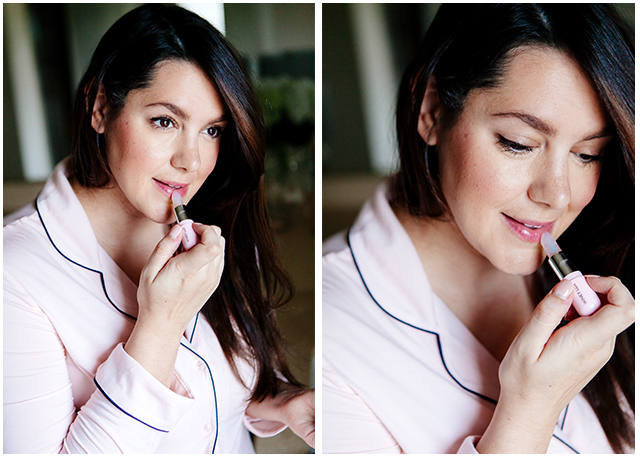 And voila! My 25 minute top to bottom beauty routine is finished. I've got personal goals to get it down to 20 minutes, but that might have to involve a hair cut. 😉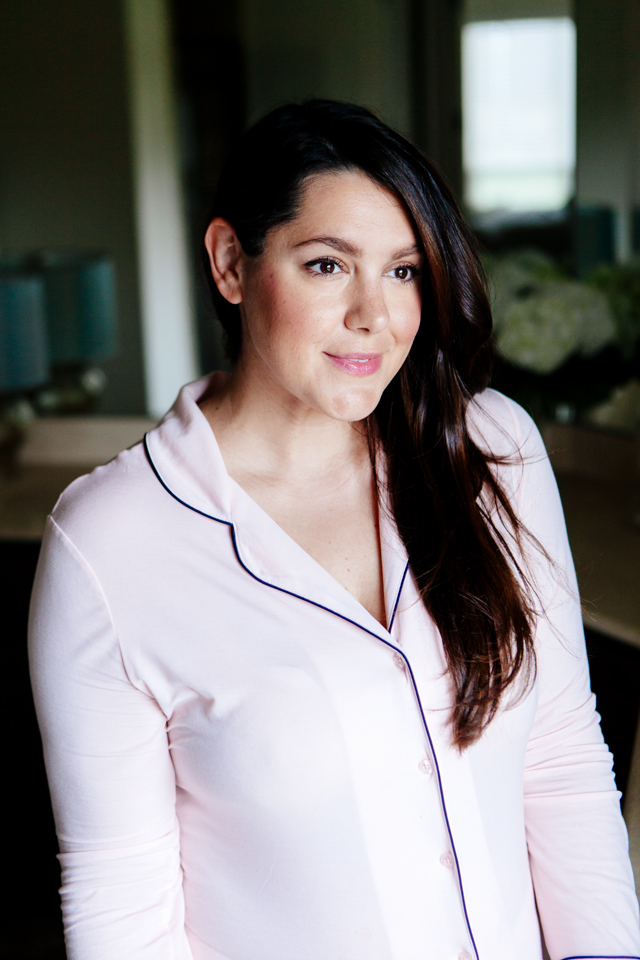 My entire routine in a nutshell. All the products I used are below!

So tell me what is your quick beauty routine hack? Mama's out there — any quick tips from you?
***
This post is collaboration with Nordstrom! One of my favorite places for beauty finds. Thank you for supporting the brands that support this blog.