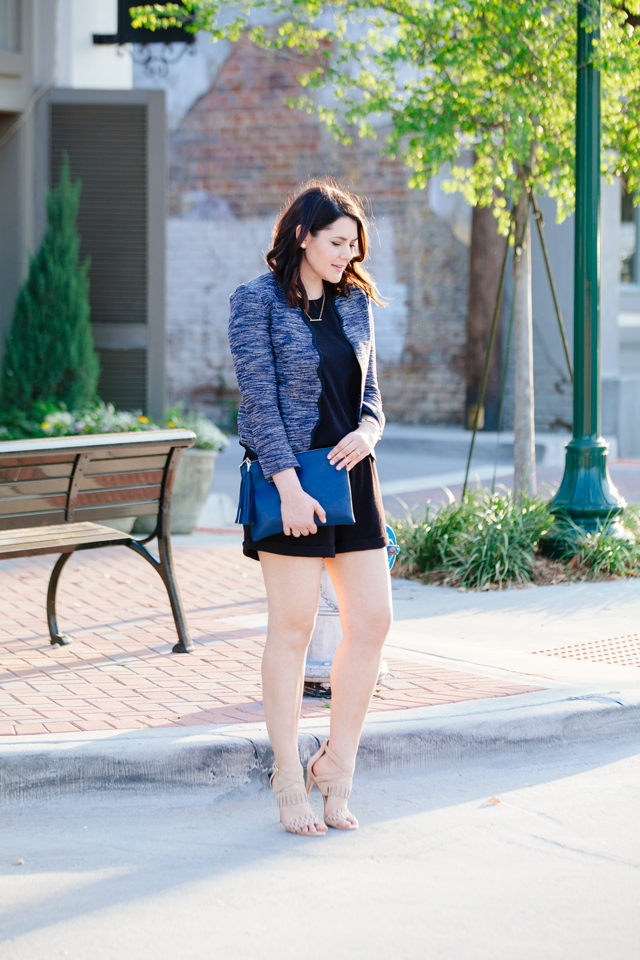 Lately I've been a little lazy on getting dressed for date nights. Especially when we just go somewhere within a 5 mile radius of our house. See, we live in downtown McKinney and are in walking distance of the cutest downtown square in the world. We live,
work
and play within like 3 square miles so if we just run downtown to a restaurant or bar for a date, I can get a little lazy in getting all dressed up. I've been known to wear my yoga pants and sneaks to dinner because I mean…it's just down the road and sometimes after 6 pm this weird thing happens when the yoga pants go on and then the yoga pants don't come off. But honestly, I really like to dress up for dates. Lord knows I have lots of date night options in my closet. A little bit of effort makes it more special even if we are just walking down to our favorite place on the square. Plus, thats why clutches exist right? For date nights and awards shows.
All that to say, I put this cute little romper number on and slipped on my heels for date night last night. It was a success. The guy was great. Bought my meal, laughed at my jokes. He even took my photos for me. Definitely keeper material.
_________________________
______________________

JavaScript is currently disabled in this browser. Reactivate it to view this content.