I know. I wanted this post to be about camels, too. But truth is they aren't having a moment in fashion, but the shade of camel is. At first I was just going to talk jackets and coats, but on my journey through Pinterest I quickly learned camel is actually everywhere. Blazers, skirts, pants, scarves — therefore it indeed is having a moment right now. Let's break it down and see how you can wear it right now.
______________________
Classic Camel: I call this collection classic because it pairs with all things neutral, denim or already in your closet. Black pants, white top or chambray top or hey how about a grey sweater? The simplest of things look a bit more elevated when paired with a camel coat, jacket or blazer. (My vote is for a blazer — a pretty much year round choice.) I really love the camel + white + black combinations lately. The parts are all very simple but the sum is an elevated and perfectly styled combination. Pro tip: If you are looking to step up your game but not spend much money, look at classic color combinations such as this and lean especially on neutral tones. No one ever said that perfectly styled had to be expensive. Going for classic pieces is one of the easiest ways to instantly look chic.
// Camel Blazers + Jackets //

JavaScript is currently disabled in this browser. Reactivate it to view this content.
__________________
Sporty Spice: Street style is everywhere these days. Sneaker chic as I like to call it, which looks especially chic if you pair it with a long camel coat or trench, as seen above. I love the mix of the coated denim, converse and long jacket. Again, it's the classic mix of white, black and camel. You really can't go wrong with those shades but you can go casual. I can always get behind casual chic.
// Casual Camel Jackets //

JavaScript is currently disabled in this browser. Reactivate it to view this content.
___________________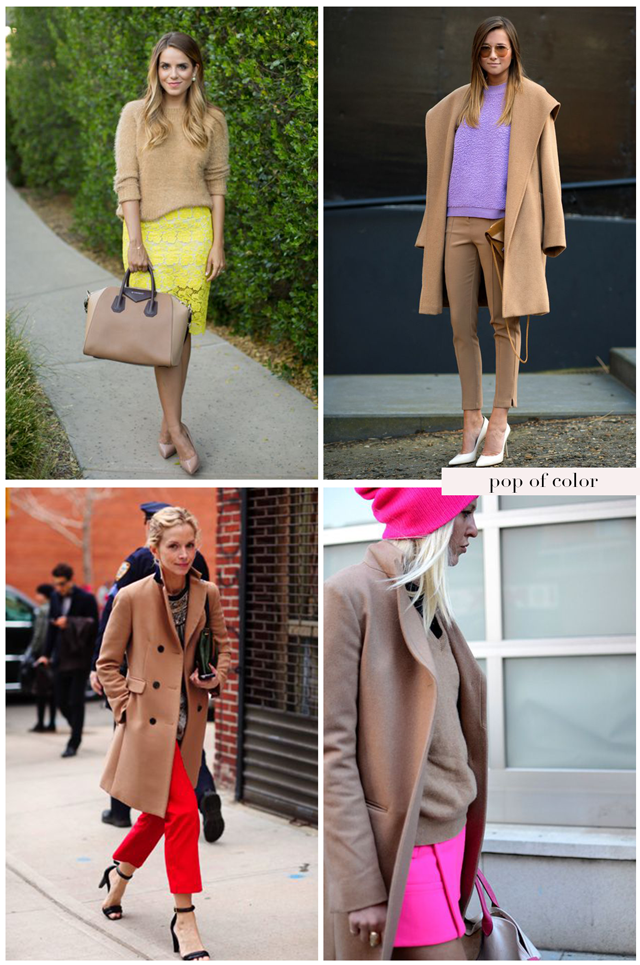 Color Pop: Essentially the color of camel is just a shade of brown. (Of course it's the perfect shade, but still at it's origin it is a bland brown.) And we all know the best way to make a blah neutral pop is with color. Red, of course, is always a classic. Again dressing in the classic shades will never steer you wrong. But I tried to pick a few other unexpected color combinations to pair with camel, as seen above. I think the lavender might be my favorite but I love the play of yellow or the neon pink. In fact, bonus points if you chose neon pink — make that genius points. One more thing — the best part of a shade like camel is that you really can't go wrong with a color combination. I'm sitting here trying to think of a bad combo and I'm struggling to find one.
// Pops to Pair //

JavaScript is currently disabled in this browser. Reactivate it to view this content.
_________________
Camel Everywhere:
Like I said before, the shade of camel is most poplar in jackets and blazers but that doesn't mean that's always the best option. My favorite look is a nice camel trouser. The hardest part is finding the
right shade
of camel and I haven't seen these in person but
this pair
is pretty darn close. I also love a
classic camel pencil skirt
— paired with stripes like above and
oh-la-la
you are living out my french girl dreams.
// Camel Everything //

JavaScript is currently disabled in this browser. Reactivate it to view this content.
(why yes that is a camel on a camel colored sweater above.)
Have you seen this trend around as well? What is your take on how to wear this shade for fall?
*still trying to find sources for these images! if you know, help! 🙂