Special thanks to Delta for sponsoring this post. To see why Economy Comfort is #worthit and to upgrade your seat visit delta.com/EconomyComfort
_________________
One thing I've learned as I get older is to buy quality over quantity. You can look through my blog and see this transition happen. I started finding my style at 25 and now at 29, I've figured out that the pieces I want to buy now, I buy for keeps and not just for one or two wears. I try to invest instead of just shop for the sake of shopping. I used to be queen of buying what I liked in the moment. But after years of style blogging, I've figured out that style takes time and attention. It's not just about what you like — it's about what fits you and where it fits in your life, budget and closet.
I wanted to start a series that helps you figure out where you can start building your wardrobe instead of just adding to it, trend by trend but really choosing investment pieces that will last you years and not just through a season. One of the first places I started investing in and upgrading my wardrobe with was my accessories. It makes sense to start there; they are the pieces you wear the most often. Plus accessories are the easiest pieces to mix into any wardrobe, may yours be high or low. (Is dressing mid-low a thing? I think that's where I'm at actually.)
A couple of ways to start upgrading your wardrobe, whenever that might be.
_________________
01: Statement jewelry:
Statement necklaces
are everywhere and they aren't going away any time soon. In fact, they've been around since I started blogging, so I think it is safe to say they are here to stay. When I think of buying jewelry, I tend to really like simple but bold pieces. I like to add strong pieces like statement necklaces to something simple like t-shirts for an upgraded look.
I also look for pieces that can go with many different outfits. I try to keep my pieces either neutral or with one bold color, so that I can add something to my outfit either way.
Side note: bold earrings are going to be taking over this year (trust me on this one.) Take a simple outfit and make it pop just by investing in some statement earrings. It will surprise you at how easy it is to be fancy.
02: Purses: My first upgrade to a real leather bag was my well-loved Madewell tote (you know the one). I have used and used and used this perfect tote over and again. And you know what? It still looks brand new; completely worth the investment I made. I'm glad that I found a bag that I can wear with many different looks from casual to shop girl outfits. That's an important detail of any purse you buy.
Last fall I went a step further into the world of designer handbags. Now I started small (with size and price) and I invested in a little black crossbody but it has quickly become a favorite of mine. I find myself wearing it to complement a high end outfit or upgrading a low end outfit. Who knew that a little purse could go a long way? I also have found that by sticking to neutral colors with handbags (i.e. tan and black) it is easier to justify the price of upgrading. These are colors that I wear every day, so they make sense to add to my wardrobe.
04: Shoes. After returning to retail when I opened bloom, I decided no more to cheap shoes that hurt my feet. I decided only high quality, well made shoes. The price jump was quite significant, but now I have shoes that will last for years and not just a season. Also, you don't have to break the bank to upgrade your shoes. Step up a little at a time, going from synthetic materials to leather first and don't worry about brand names or labels, worry about quality and how long they will last.
If you are looking to know where to start with a shoe upgrade, I'd start with your basics. Start with a black heel — you can always use and wear a black heel no matter what the season. To keep it season-less, go with a close-toe, classic style in leather and you will have a pair to wear for years. Boots are also a great place to upgrade since you only wear them for a few seasons of the year, they will last the longest in your wardrobe.
04: Sunglasses. A trick of always looking put together and in style is a nice pair of sunnies. A few seasons ago, I upgraded my sunglasses and have kept them in perfect condition since. I learned that I tend to take care of sunglasses that are more expensive than cheap ones that I toss after a few wears. Sunglasses are also fairly season-less as well (depending on how dark your winters are, of course). I wear my sunglasses year round here in Texas, so the worth-to-wear ratio is very good.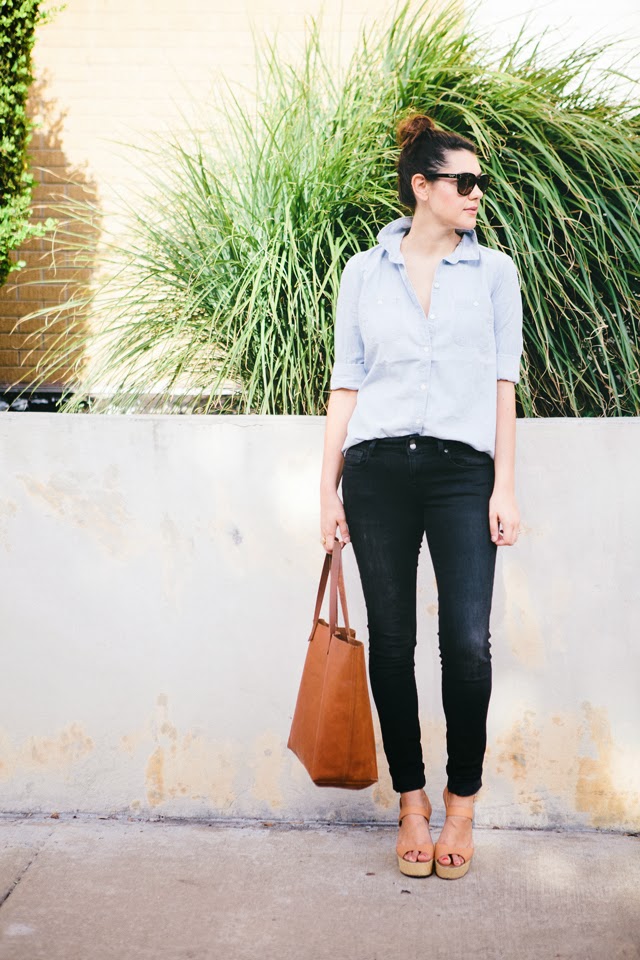 This year find the pieces that are worth the investment and start to upgrade your wardrobe piece by piece. Be smart, buy what you can when you can and don't be afraid to invest in your style and wardrobe. You won't be sorry.
_____________________
Thanks again to Delta and thank you for supporting the brands that support this blog.