A couple of weeks ago on IG I shared a few of my favorite activewear pieces, so I thought I'd round them up here as well! These are pieces that I've found that I reach for over and over again, so they've been tested and reviewed for more than just a try on. I'll link each piece and leave my thoughts on each style below!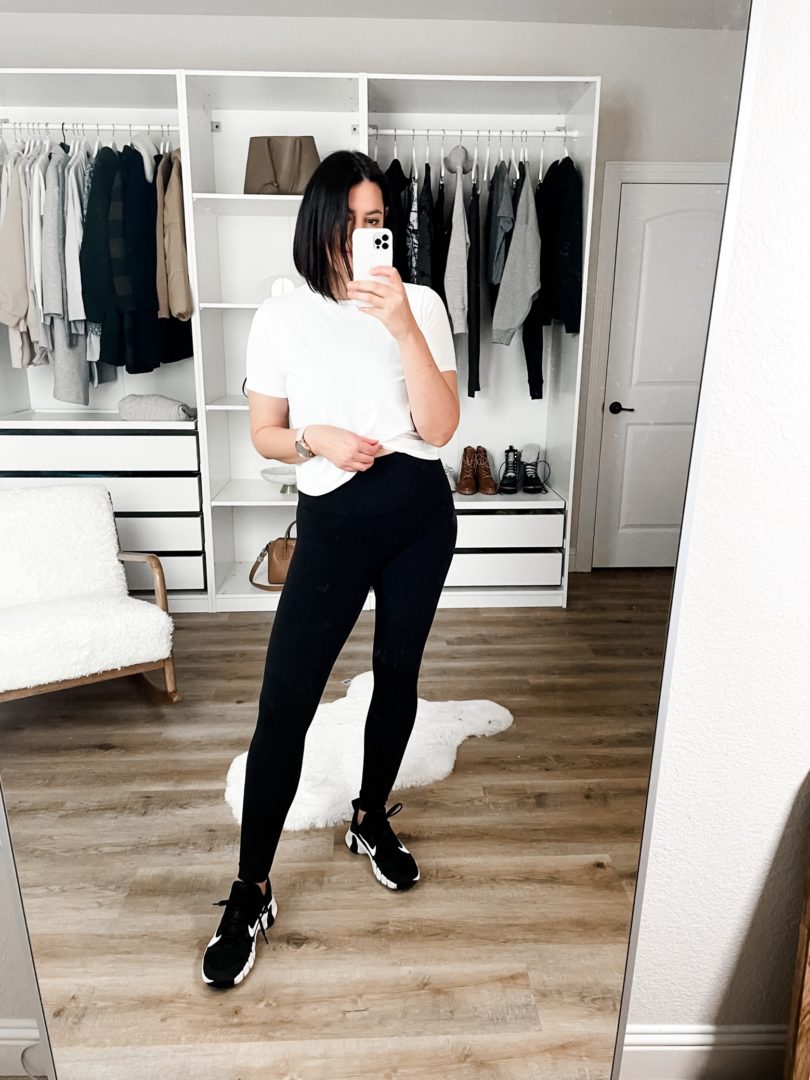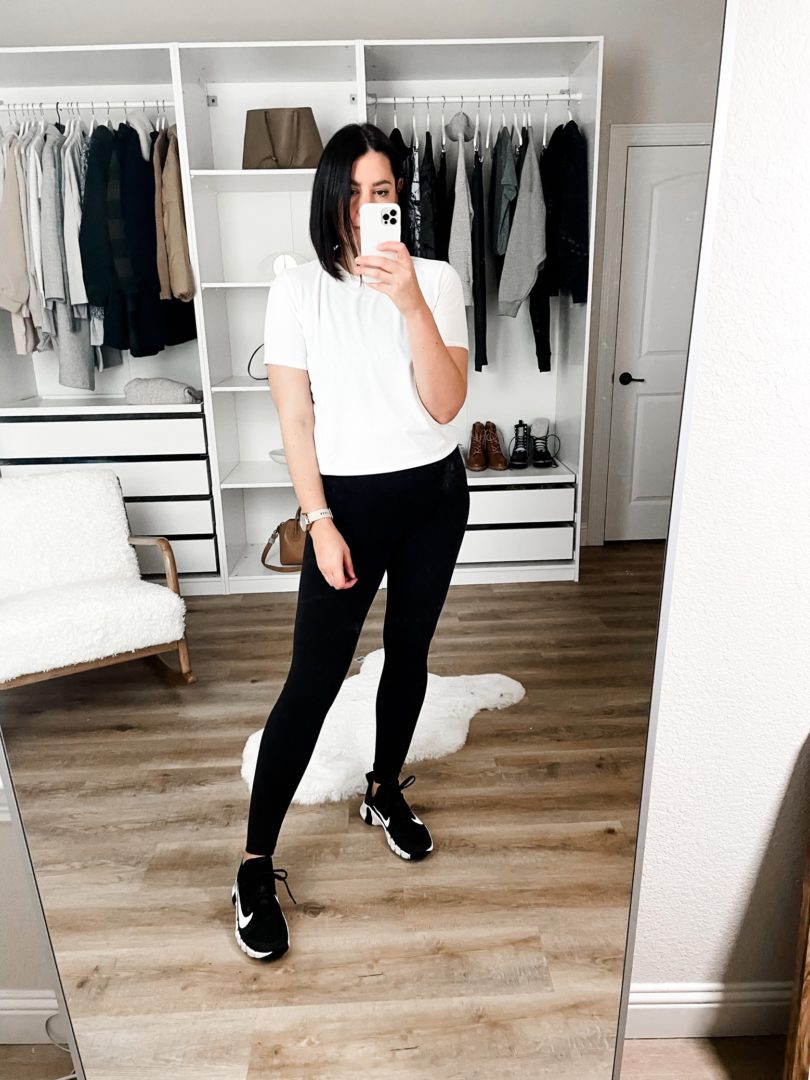 I had been looking for a white workout tee that is very specific, like incredibly specific. Short sleeve, shorter but not cropped, fitted but not tight and white but not sheer. I mean — could the standards be any higher? I ended up finding this on the Outdoor Voices site, which I've tried before and B has a lot of their pieces so I knew the quality was there. I got the Ready Set Tee in white and grey and they're exactly what I was looking for! I am in the medium and they fit true to size, not too tight but fitted just right. More fitted at the shoulders / arms, but that's also because of my body type as well. If you are looking for a nice workout top that is a good weight for all seasons, not sheer and not cropped — this is your gal!
I'm also in Lululemon leggings which I got for Christmas! Turns out Santa is real and he is my husband. These are the Align Leggings in 28″ and I am in the size 6. They are a little bit stretchy and run slightly big, so you could possibly size down. The 6s fit perfectly.
And if you like the look and feel of Lululemon leggings but not the price, check out this Amazon alternative! I wear a medium in them as well.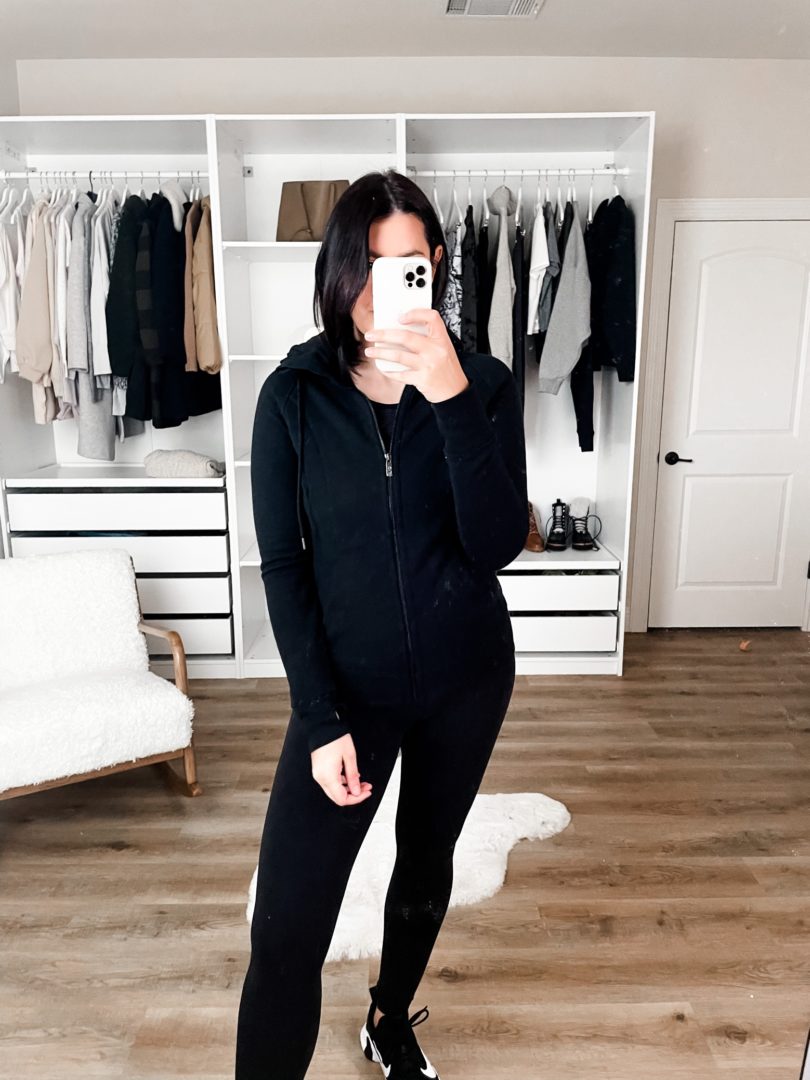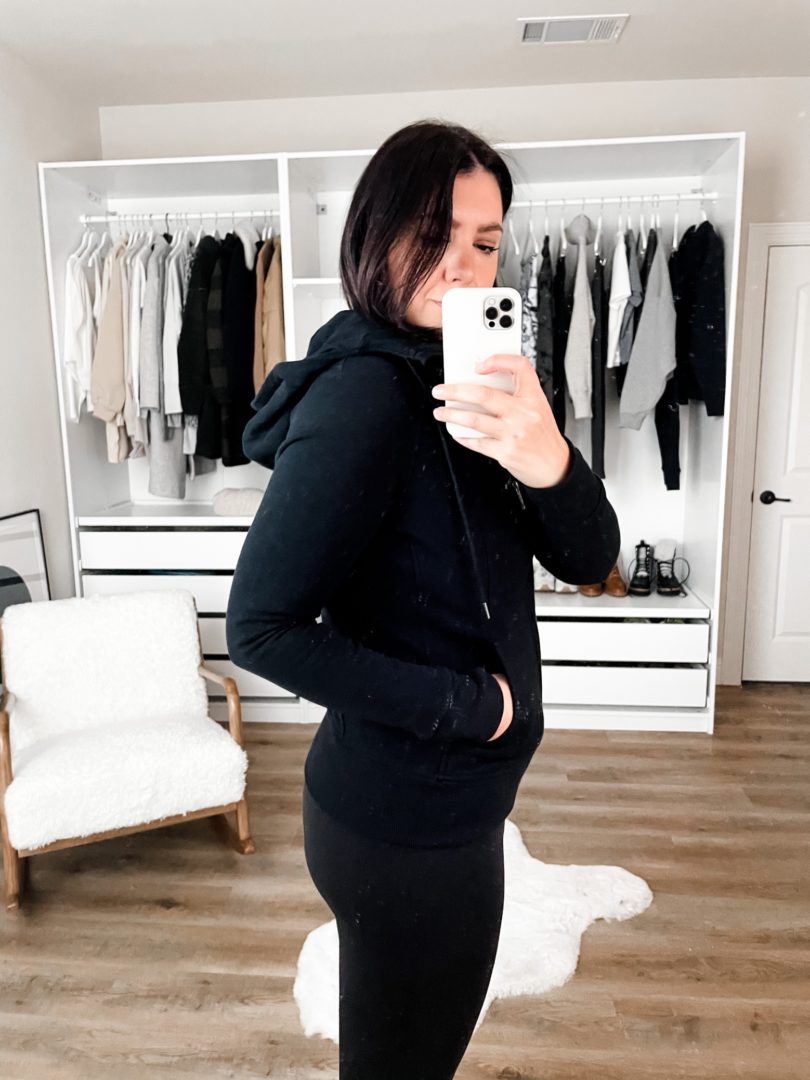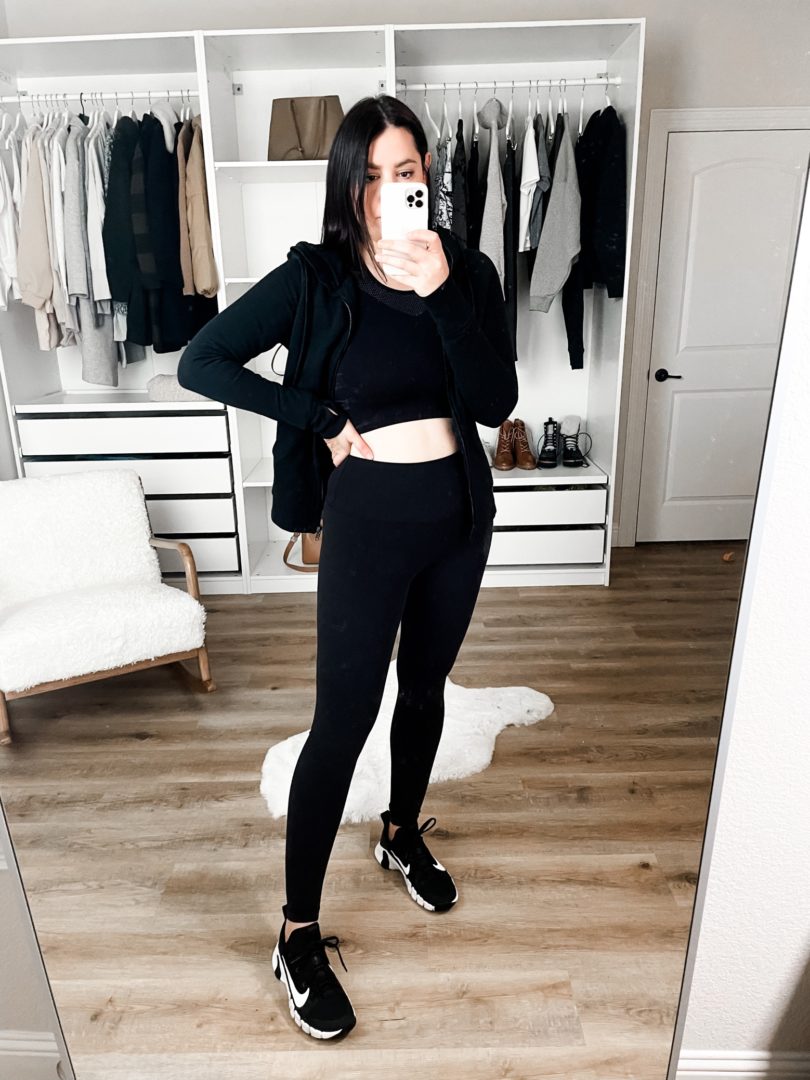 Speaking of Amazon, I found this zip up jacket which is supposed to be a similar look to a Lululemon jacket. I have to say I am so impressed by this jacket — it's thick, structured, and it looks expensive. (It's under $50!) I have high praise for this jacket, a great staple for your workout wardrobe. I am in the medium and it's a fitted medium. If you need more room for boobs, then size up one but overall I would suggest your TTS, just expect a tailored fit when zipped.
Also, my favorite workout sports bra is this seamless one from Zella at Nordstrom. Hands down this is the one I always reach for. It keeps things locked down but it's not restrictive or too tight. It's a longer, almost crop top length sports bra so you could wear it as a top if that's your style, but I just wear it as a sports bra. I wear the large in it because I'm in between a medium and large. I would say size up for bigger boobs, their size chart is pretty spot on.
You can find this sports bra here!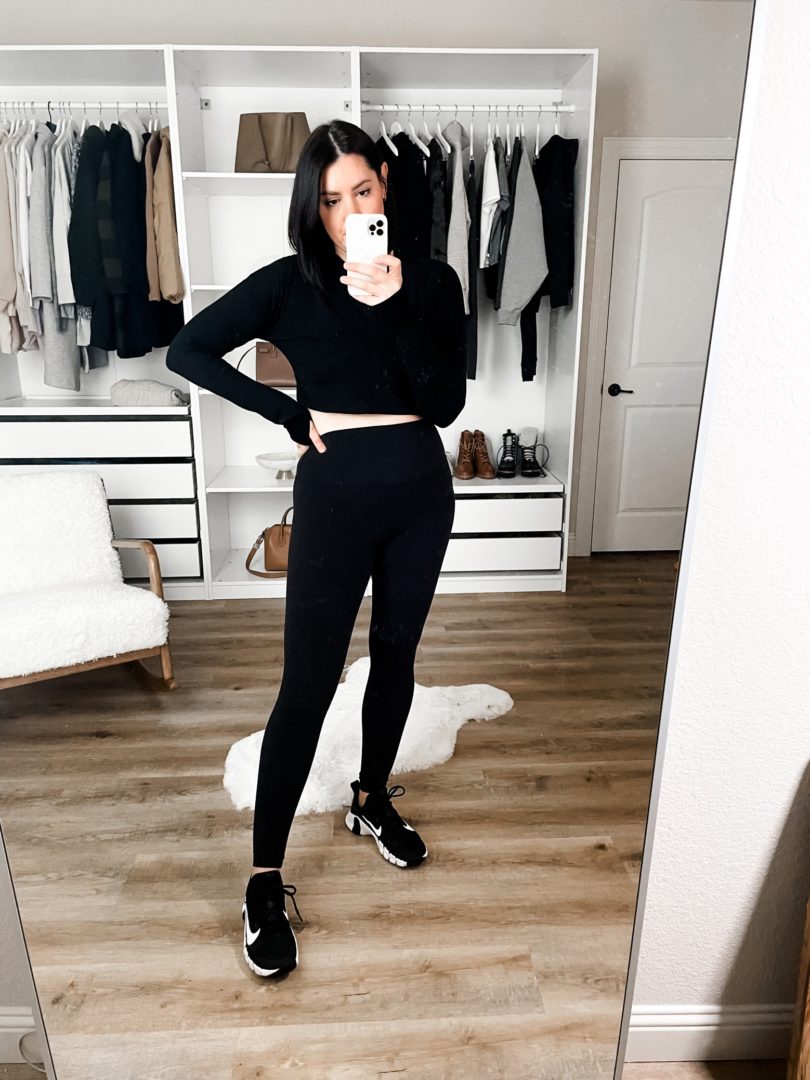 I love the look of a crop top but this one might be taking it too far, if we are being honest. I want like a crop-ish top and this one is definitely a crop top. If you wear it with high waist leggings like these here, you can feel a bit more covered but this top is about the length of my sports bra, so it hits me about mid ribcage. If that's your style, this is a great workout top! But if not, keep scrolling for more options!
I am in the medium. Size up if you want it less cropped!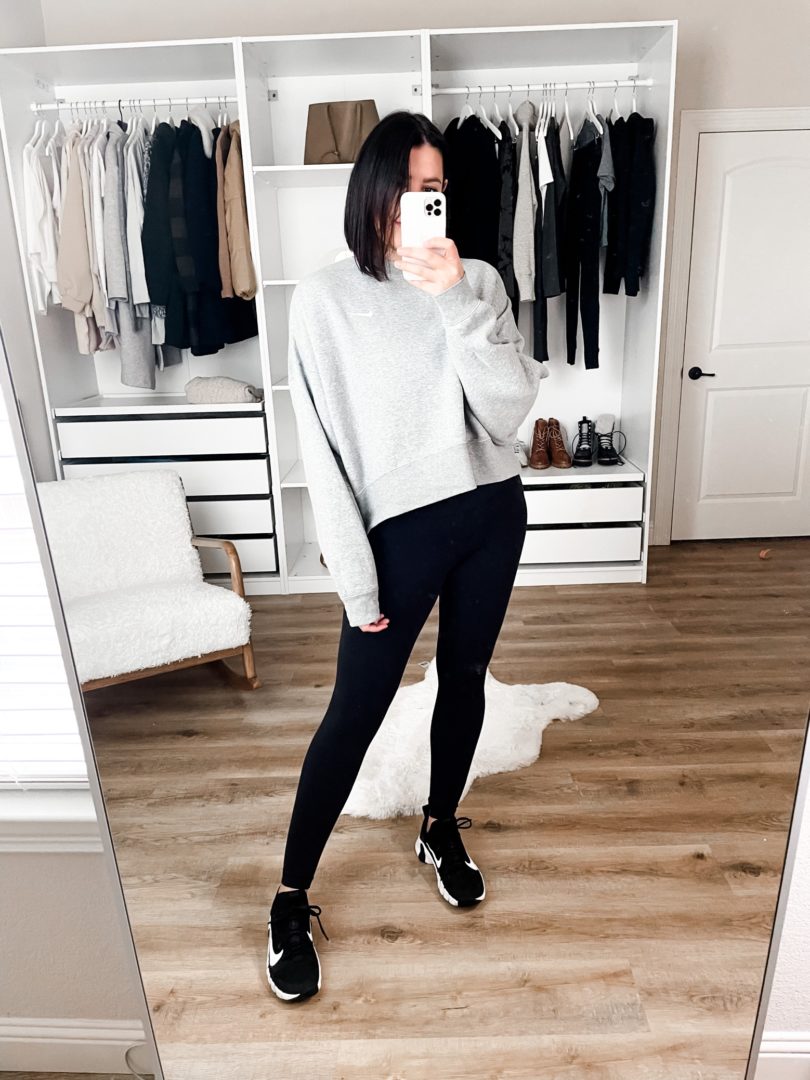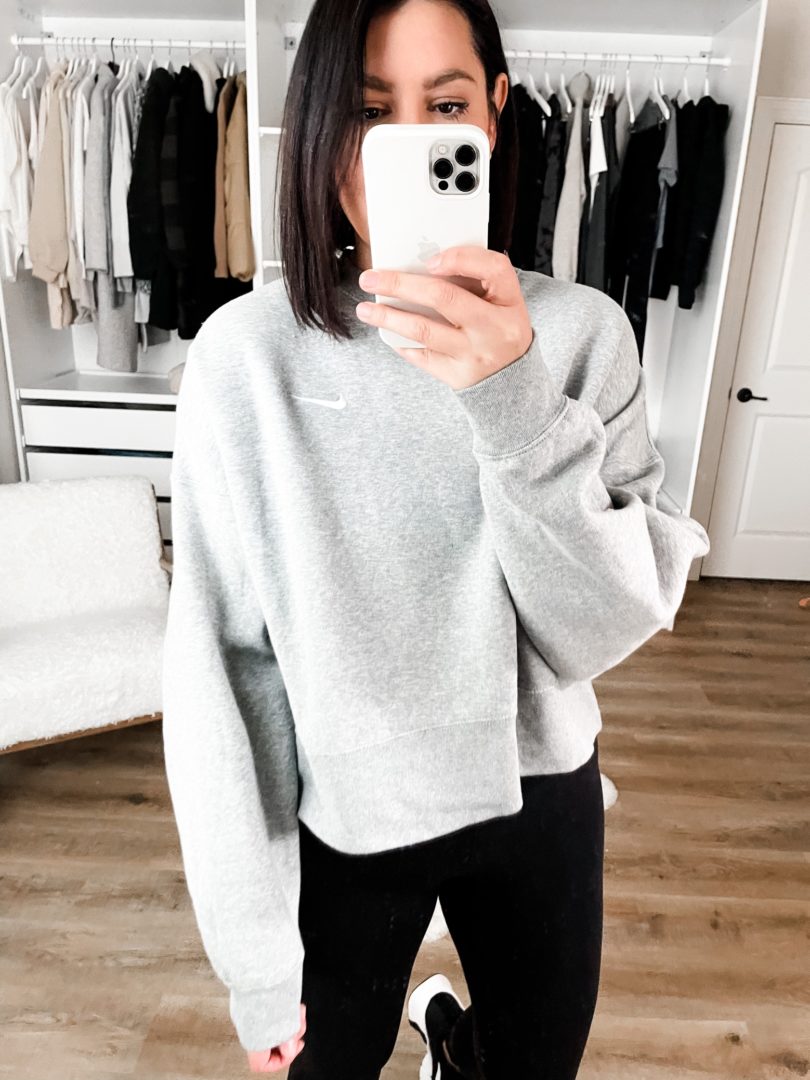 Confession — I actually have two of these sweatshirts I love them so much. I have a black version that I bought during the Anniversary Sale last year and this one I just got over the holidays. I love them because a) they are so comfortable and cozy and b) I love the cut on this sweatshirt. It's a mock neck, boxy fit with a ever so slightly cropped look. And I don't know how to explain this but it just looks cool.
I am in the medium — you can find it here!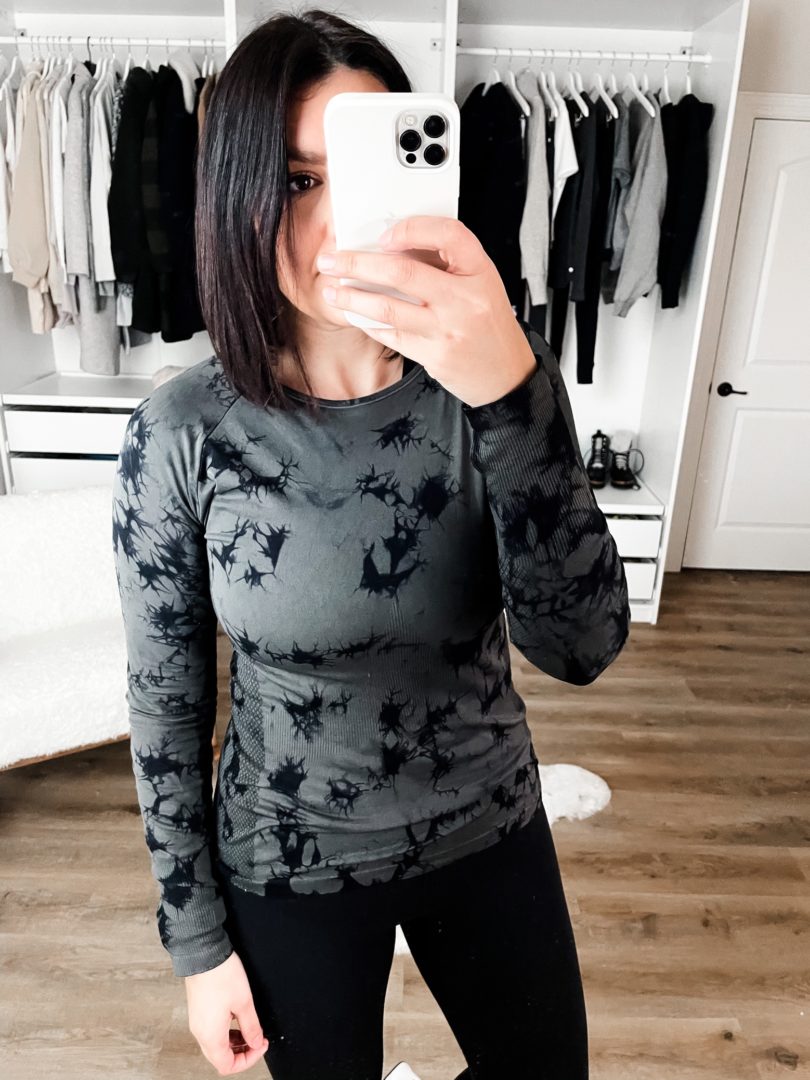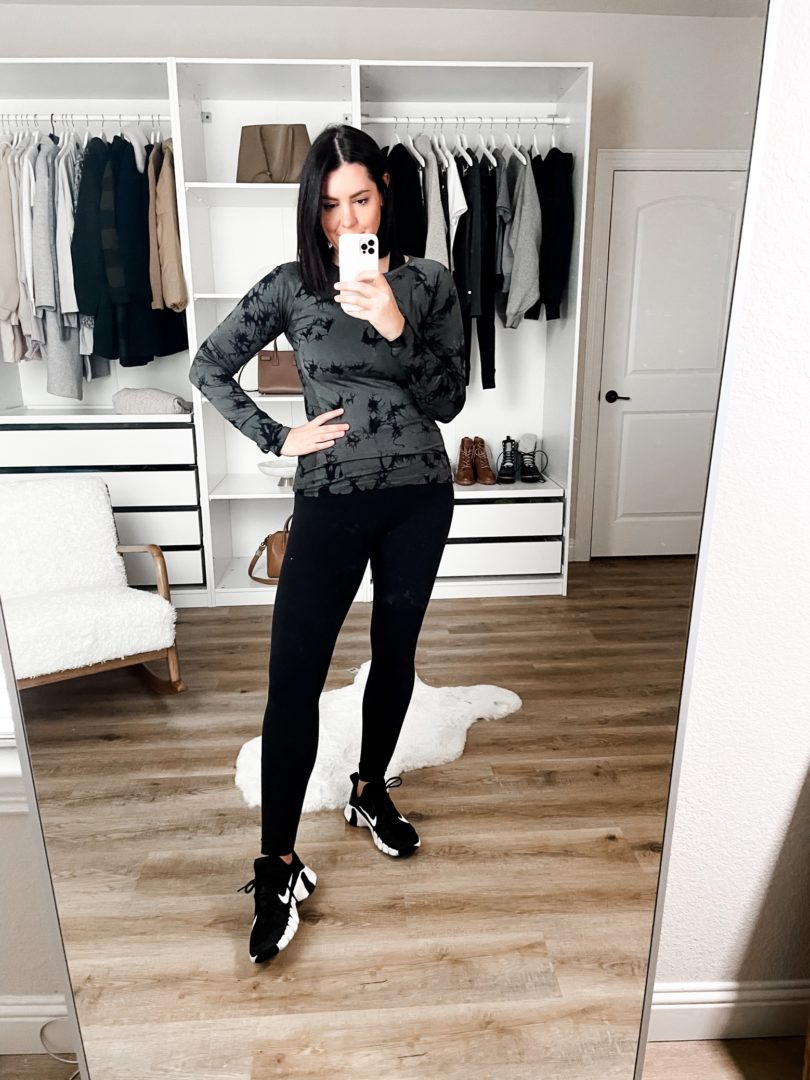 This is one of my favorite workout tops right now! It's a thicker, structured fabric but it's not too tight, so it's not clingy which is just lovely. It's flattering and I feel super comfortable in it too. It's a fitted look, but as you can see there is some slack which is nice. I am here for fitted but I am not here for compression tops that show every.little.bump. This one has it figured out! I am in the medium of the top, fit is TTS!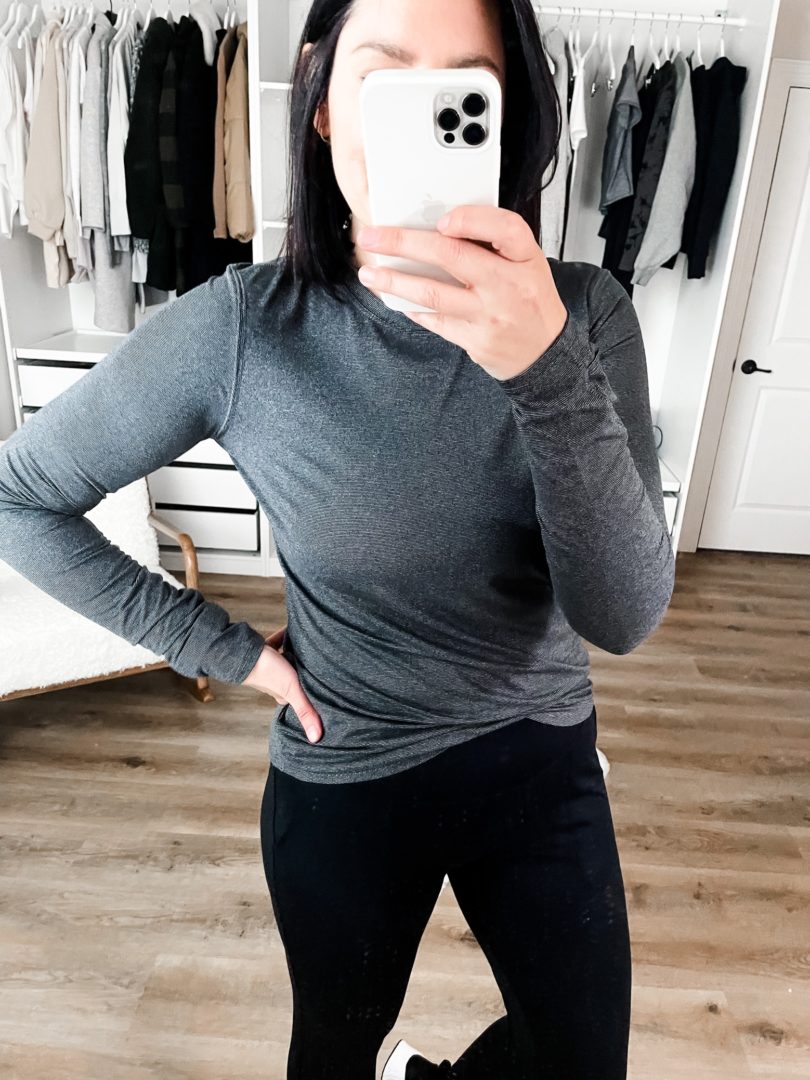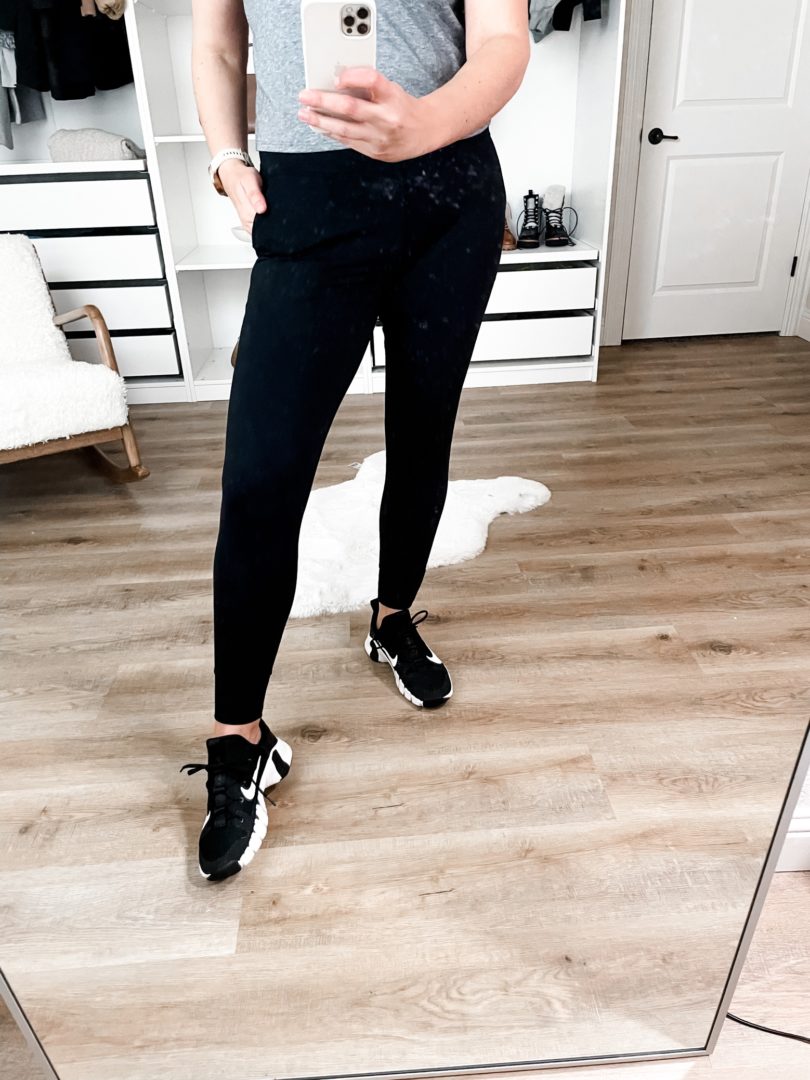 Another Zella workout top that is just a nice staple to have! I rotate this one and the other one throughout the week, because it's comfortable, it covers but you're able to move. I hate restrictive workout tops, but I also don't want loose fabric everywhere as well. So this is a nice middle ground — it's fitted but not tight. It's a thinner fabric than the tie dye one but it's a nice weight.
I am in the medium — it fits a bit generous. Size down if in between sizes.
I am trying to figure out how to create a whole post on these pants because I am absolutely obssesed with them. They are a mix between a jogger and a yoga pant. They've got pockets, they're comfortable and super flattering. I call them my mom pants mainly because Gemma always finds something she wants to put in each of my pockets that I carry all day. 😉 I am in the medium and ignore the reviews — they fit TTS. You want them to be fitted or they'll look like MC Hammer pants. (Mad respect for the early 90s though)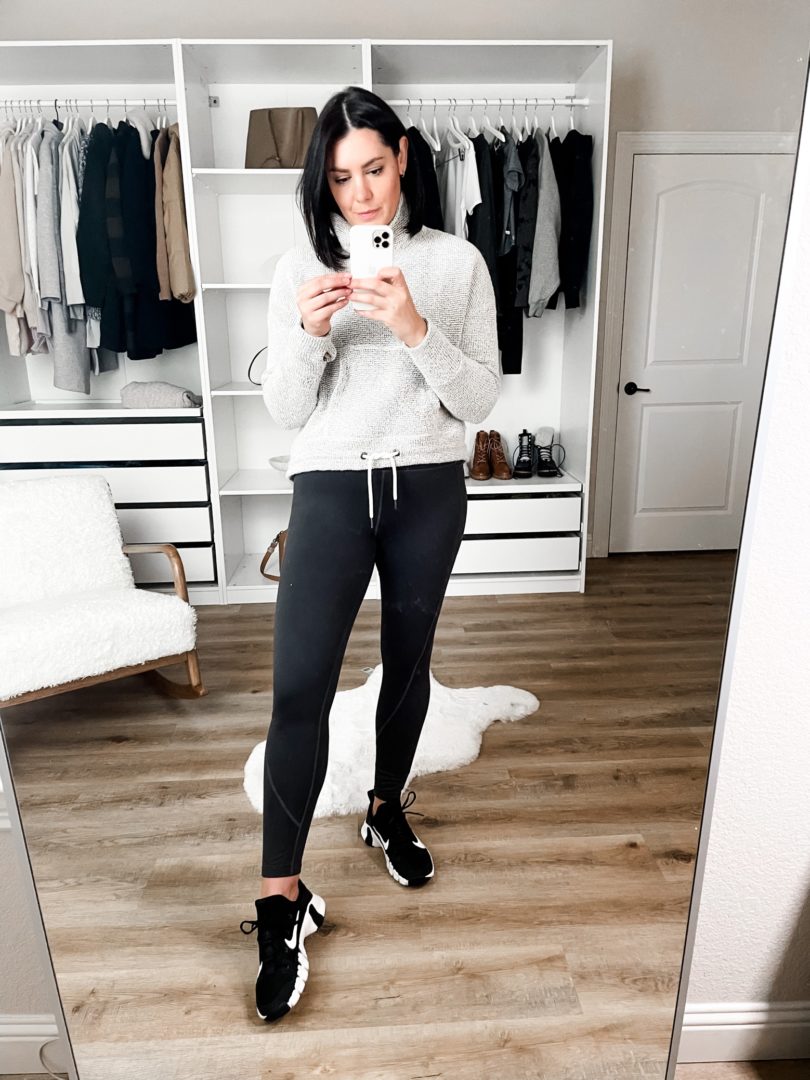 It's no mystery that I love this pullover — it's so soft and I love the cut of it. The turtleneck and the boxy cut are just a silhouette I'm really into right now. The only complaint I have is I don't know what to do with the two drawstring ties, lol. That's a mild complaint so I'll let it slide. It fits true to size, but a bit boxy. I am in the medium.
Oh and I've washed it a few times (on delicate, cold) and it's held up. I've had a few strings come loose but I just snip them, I think that's the nature of the fabric. But I did want to mention that so far it is holding it's shape and structure through wearing and washing.
These Zella fleece lined leggings are perfect for my outside walks right now! It's a fine balance of being warm and not too hot when you're walking outside because your blood starts pumping and if you layered too much you're gonna regret it. These are a nice balance. I am in the medium — TTS!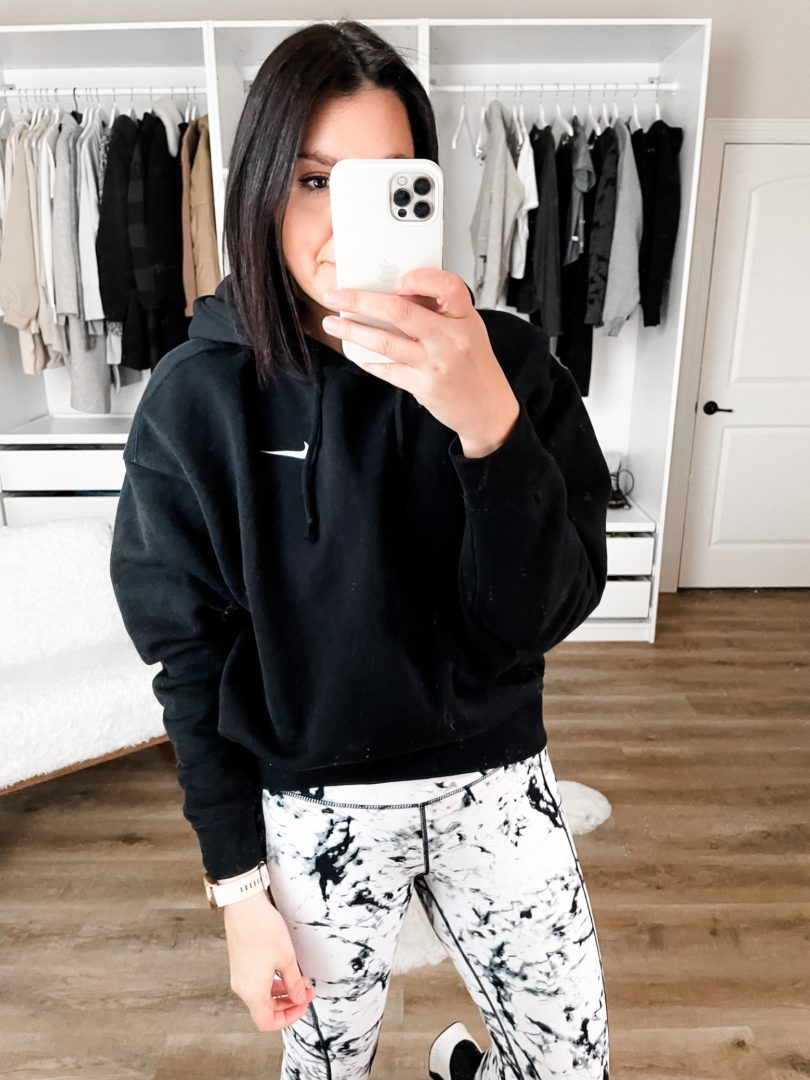 This hoodie is just another classic workout top I have and love — it fits like a hoodie but there isn't a pocket in the front. That may be a deal breaker for you! I am in the medium and it fits TTS!
Let's be real — these leggings are WILD. And I love them. They are also wildly soft, like buttery and super super stretchy. I had to size down to a small they're that stretchy. So if you like buttery leggings that snap to you, these are your new best friend. Size down!
Find these leggings here — in other colors and prints too! (AKA just solid black is available.)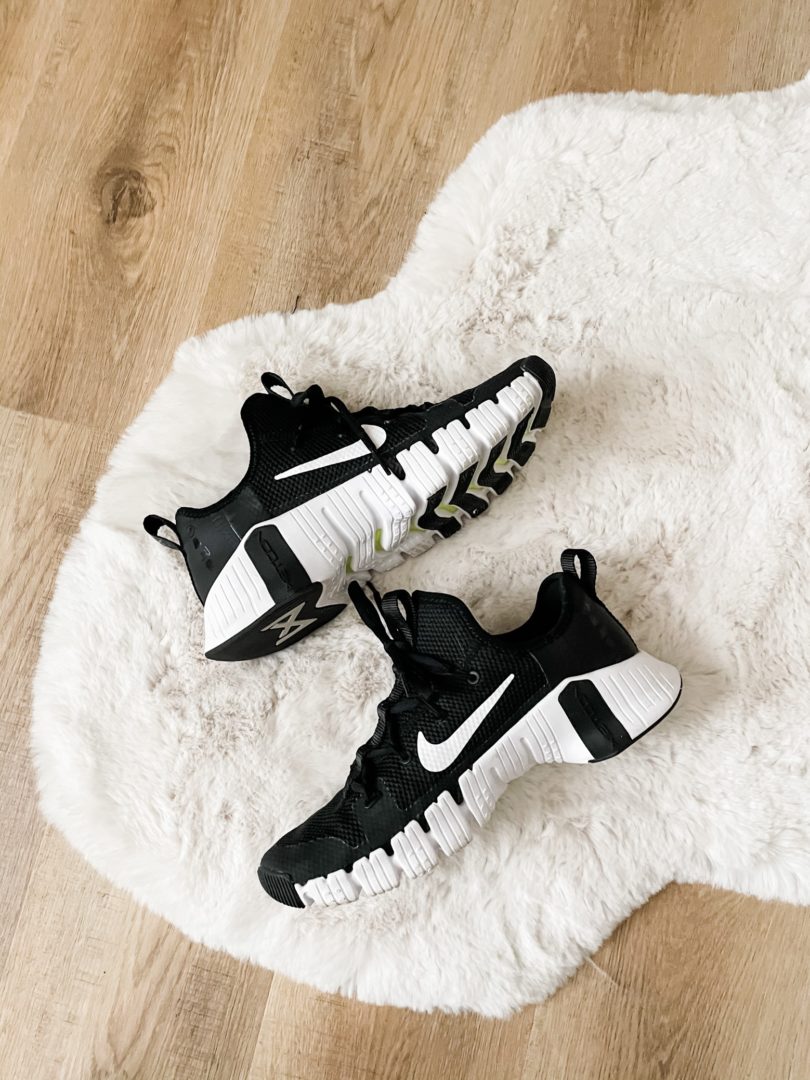 Hands down my favorite training shoes ever. If you weight lift or weight train, these are the best shoes for that because they give you a flat foundation to do heavy lifting. Side note: I can deadlift 155 lbs — isn't that so funny? I'm weirdly strong, lol. So not so much a walking or running shoe, but a great overall training shoe. Fit is TTS!