*This post is in collaboration with Nordstrom!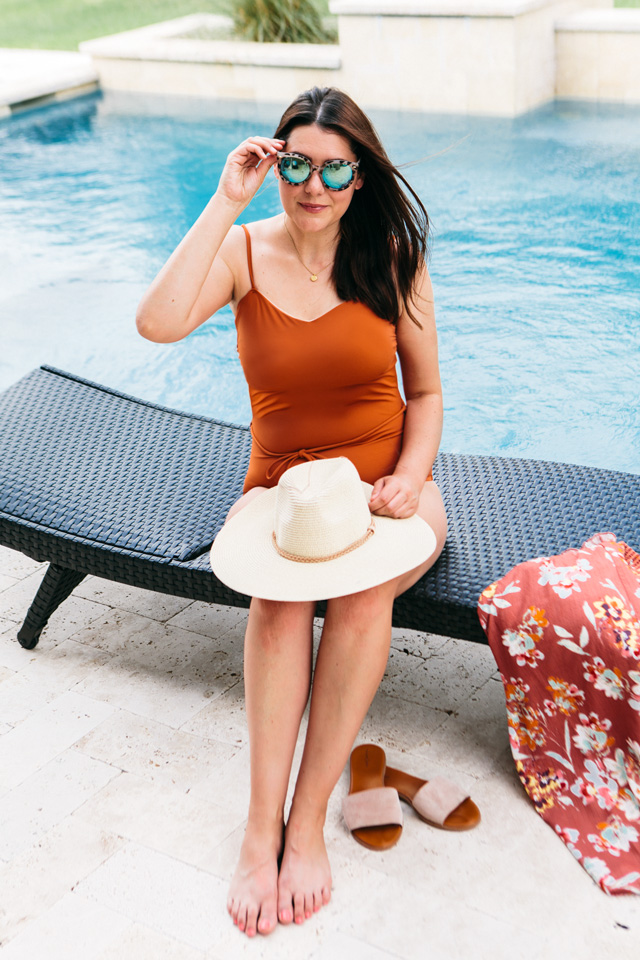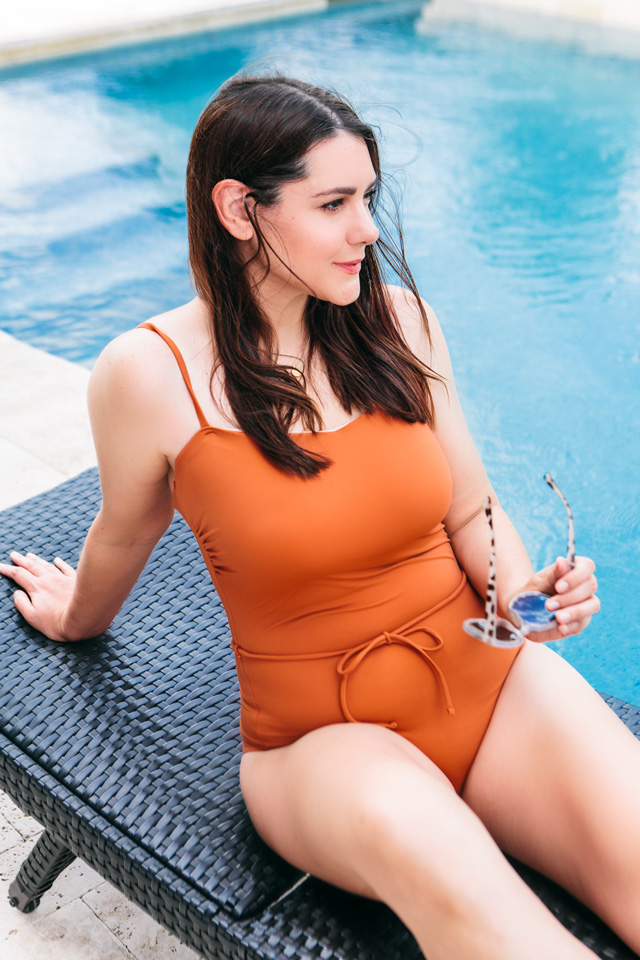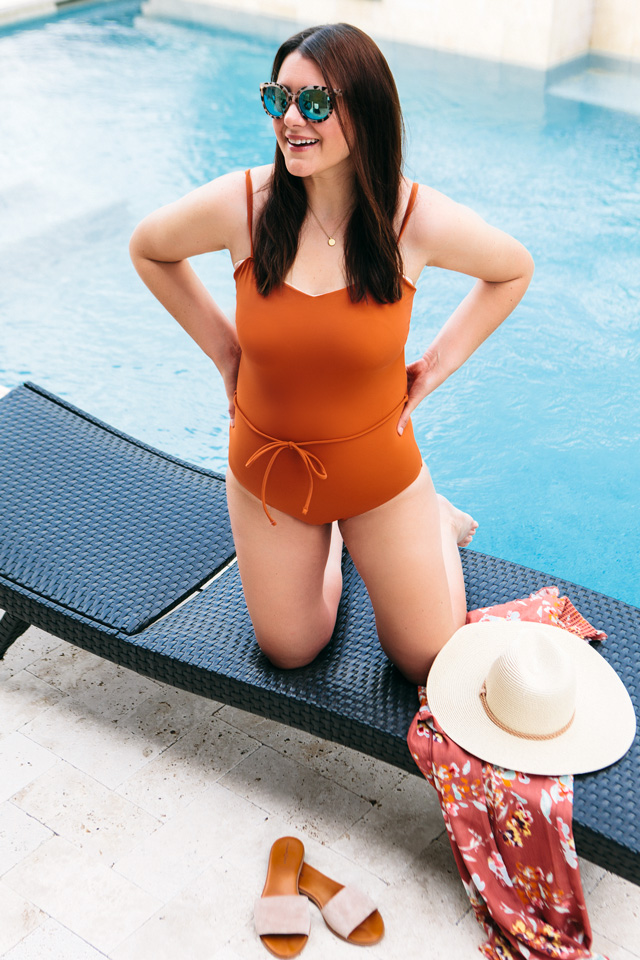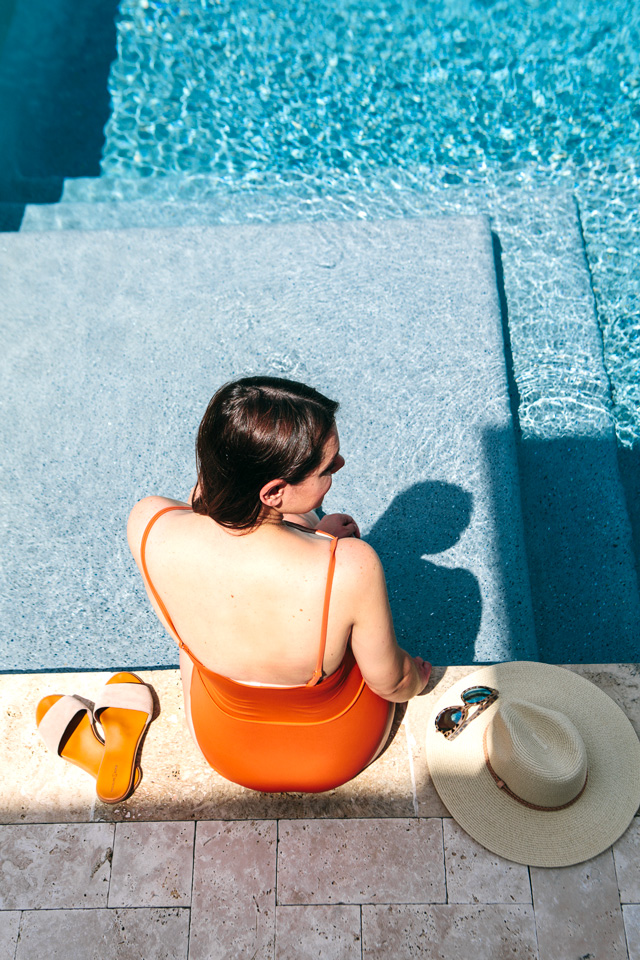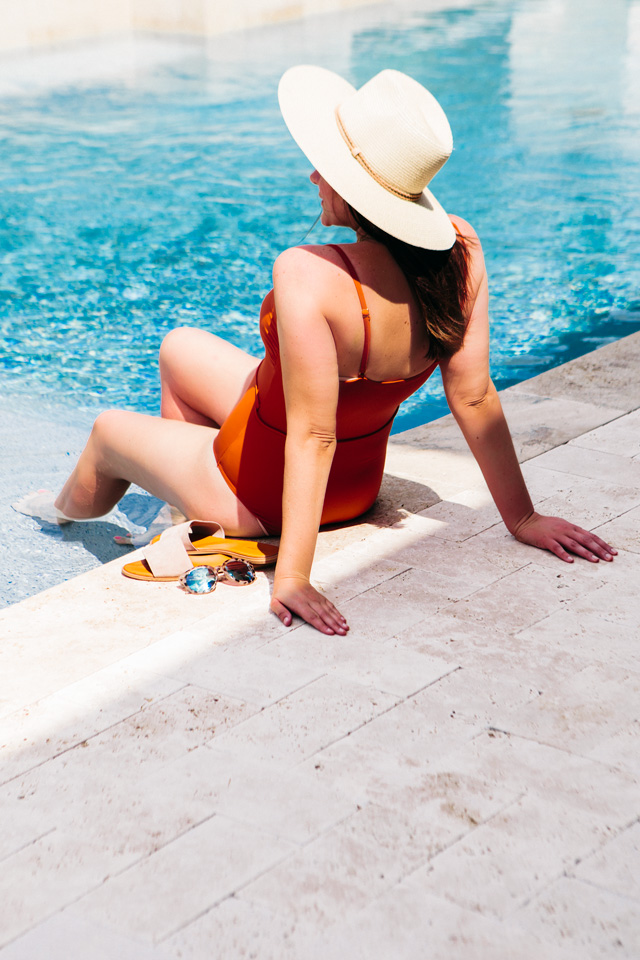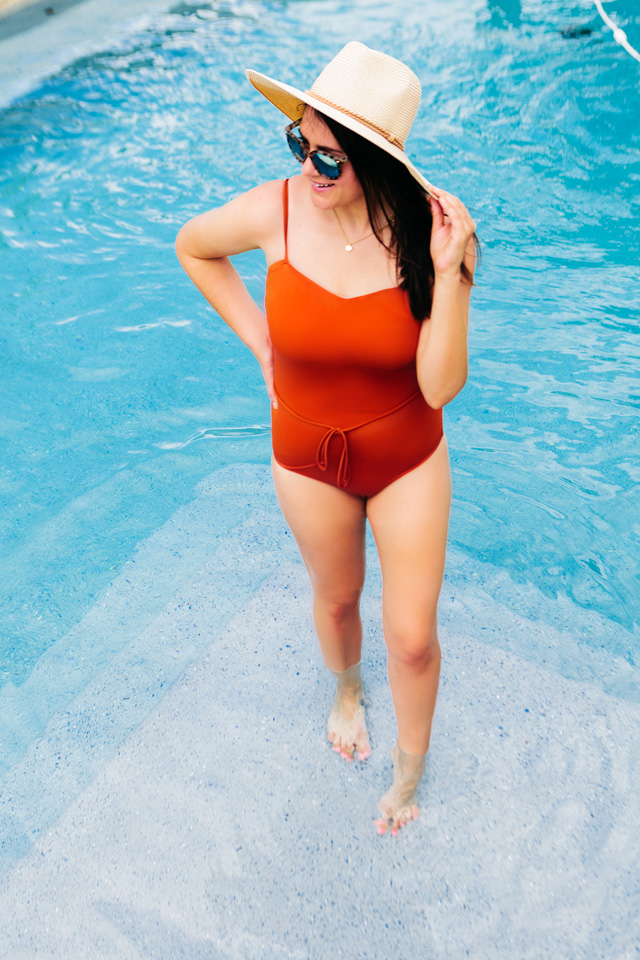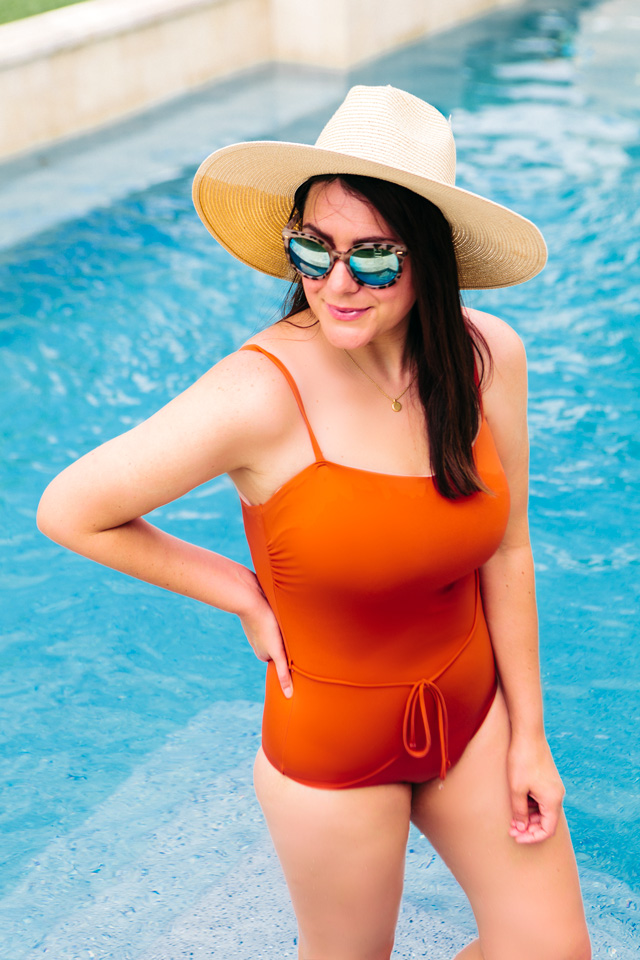 Do you know when I started feeling comfortable in a swimsuit? I think that the answer will surprise you.  It was not at my thinnest in my 20s or even in my younger years, as I was always tugging on some fabric or hiding a tummy roll with my forearm or towel. No, instead I began to feel confident in a swimsuit last summer when I was about 8-9 months post-partum. I hadn't even fully lost the baby weight yet I was 100% comfortable and confident in a swimsuit. That's when I realized I've been looking at myself in a bathing suit all wrong. Here's the thing: it has less to do with what you think your body looks like to others and more with how you see yourself.  And it took me years to find this perception change. After having Gemma, my whole self-perception changed. Not only had I built a baby for almost 41 weeks, but I had given birth to this amazing little human. I was able to feed her with my own body. I knew exactly how to care for her and give her love. My brain and body moved so cohesively in those first few months, when I thought that I didn't know what to do, my brain and body took over, assuring me that I did. That's when my relationship with my body changed. My arms allowed for me to hold my baby and rock her asleep. My legs were really good at swaying a crying Gemma and for carrying her up and down the stairs multiple times a day. My strong back allowed me to carry Gemma in a baby carrier and go on long walks where she would fall asleep attached to me, one of my favorite memories from last spring. Yes, it took me a long time to have a positive relationship with my body. 33 years to be exact. I didn't realize until then that women are incredibly well made, from our complex brains that allow us to do multiple tasks at all times while still being a loving caretaker, partner or friend to the amazing fact that our bodies can create human life. Once I saw my body for what it was, an amazing vessel that for the last 34 years has allowed me to do whatever I wanted to (with the exception of a cartwheel), I realized that a swimsuit was simply just a something to wear while swimming. That's it. Not something to dread while trying on, not something to expect to transform you into a model, and not something to cover all of your flaws or something that keeps you from not going to the pool party.
I can distinctly remember this trip in college that all of my friends were taking to the lake and all of my male friends were waiting in the car on me and my two roommates to get ready and come downstairs. Everyone was ready but me. You see, I was 19 and I was so, so, so insecure. I actually was fully dressed for the lake, swimsuit on; but I remember having an almost panic attack over being seen in a swimsuit and feeling like I wasn't good enough. The only bathing suit I had was a two piece and I just couldn't get my courage up to go on the trip. You guys — I didn't go on a really fun lake trip because I was worried about what someone thought of what I looked like.  I didn't go to the lake that day and neither did my two best friends (we were ride or die.)But I've never forgotten that trip, although I can guarantee everyone else has. That day I knew that my insecurities were too big and too powerful and I needed to find some self love. It took me more than a decade to find it, but I have it and I'll never let it go. You see, I never want to miss out on memories in the water with Gemma. Being around the water is my favorite and so far, Gemma loves it too. So by golly we are going to be in the water. May it be my parent's backyard pool, or if we head to the beach, or even a waterpark with a ton of people around — I never want my insecurities to take away from my experiences with Gemma. I made myself a promise when Gemma was born that all she'll ever hear from me is positive speak about my own body as well as hers. And that started last summer, when I put on the damn suit and got in the pool. And you know what? I felt great. I looked great. And we had the very best time.
Once I realized this, my relationship with swimsuits changed, too. I see them as extensions of my personal style that I can wear in the pool. I used to have a few 'that'll do' kind of swimsuits, but now I've got quite the collection of one-pieces that I love for the pool! But being confident in a swimsuit takes practice for me. Here's a little self-positive routine I do: I put my swimsuit on, check myself out one time in the mirror (strict no nitpicking policy), and say something positive like 'I love the color of this swimsuit on me!" or "I look great in this swimsuit today!" anything that is a nice compliment that I would give to a friend, I just simply tell myself. (It doesn't have to be out loud, if you think talking to yourself is weird 😉 ) Then I go on my merry way and go HAVE FUN. Life is too short to not love yourself.
Side note: I also tell Gemma these things too. Because let me tell you — a toddler in a swimsuit is just about the cutest thing in the world. Positive body talk for everyone! But truly, I hope she only sees and hears how wonderful my body is and how wonderful her body is and everything amazing that our bodies can do. Every body is beautiful.
In the spirit of swimsuits and summer, I rounded up a few that I've loved from Nordstrom today! I am wearing this retro one piece that has a belt and I'll be honest — the belt is 100% the reason I bought it. I love a slightly unnecessary accessory 😉 This fits true to size. I sized up to a large for torso length but I would suggest doing this unless you have a really long torso. ( I do so usually larges are my go-to for one pieces. I'm 5'9″ for reference.) You can find this swimsuit in 4 other colors here! I also wanted to link this swimsuit here too. I also wanted to point out another swimsuit: this one is the one that I had all the confidence in last year! It too runs TTS. Plus it's a nice black option if you like to keep your swimsuits classic and the cut-outs are comfortable and pretty modest!
Swimsuits under $100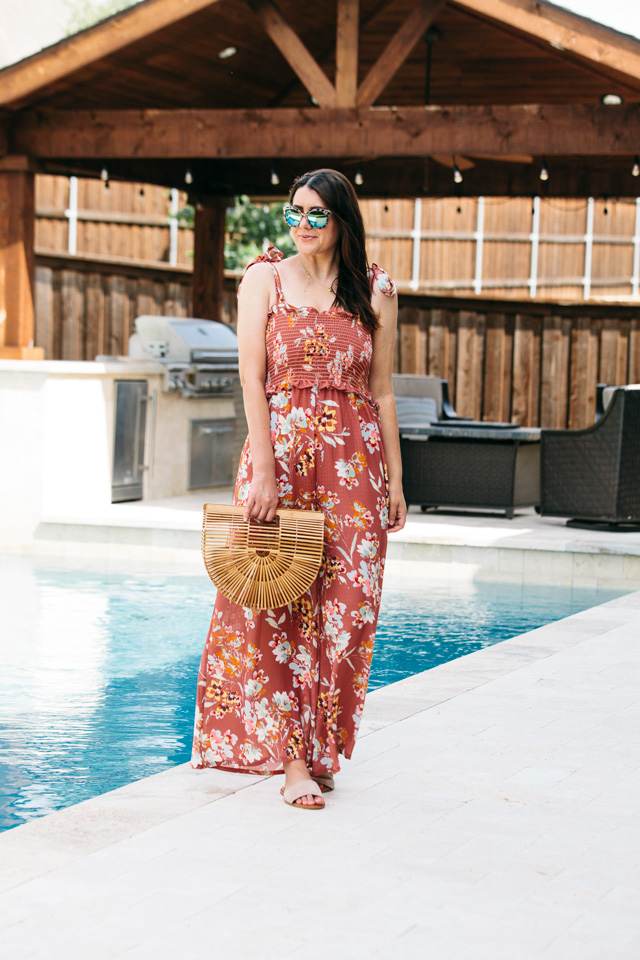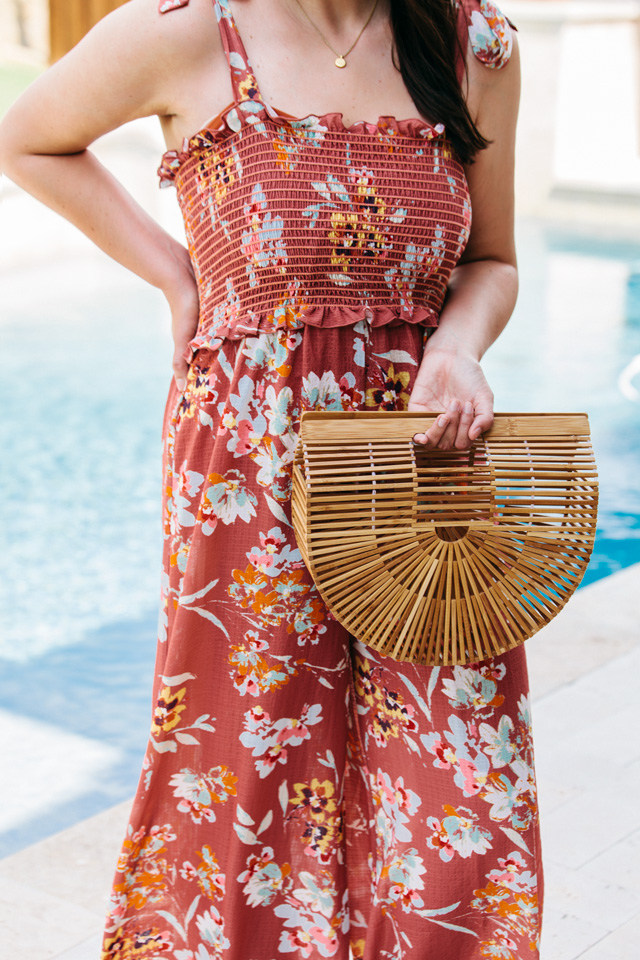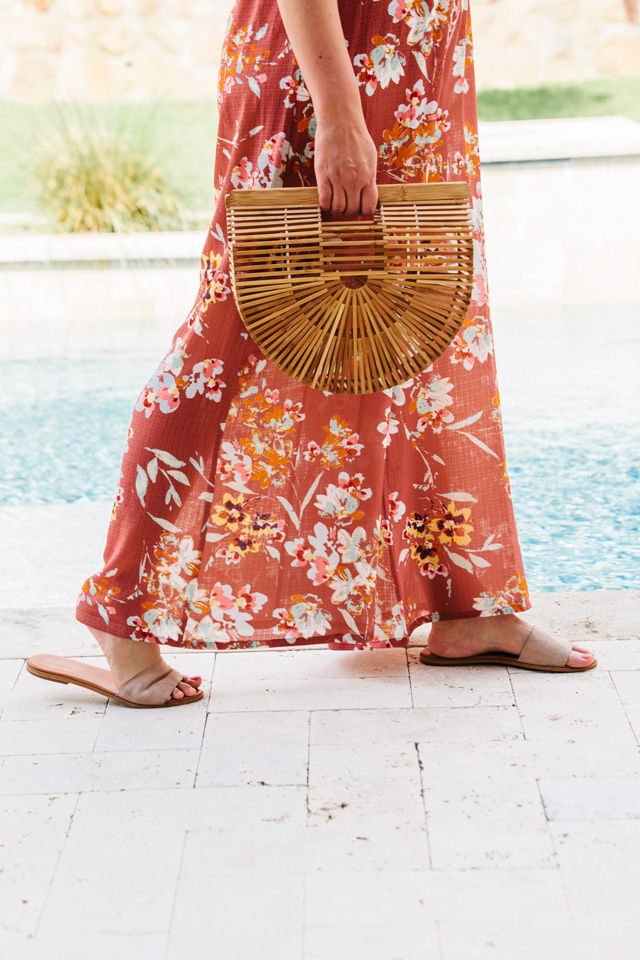 I went matchy-matchy with my swimsuit cover because WHY WOULDN'T I?? I mean look how well these two match! They had to have been meant to be together. This coverup looks like a dress but it's actually a wide leg jumpsuit! The thing I love about this is that if you are on vacation and want to go from beach to dinner, you could real fast because this coverup looks so nice. You could also wear it as a jumpsuit IRL. Toss on a denim jacket and some wedges and you good, girl. You can find this cover up here and I've found a few more below!
Swimsuit Covers under $100
I also wanted to link a few sunglasses that are on the less expensive side. I rarely wear my Karen Walker Sunglasses to the pool or beach because I don't want to ruin them or lose them. You know what I'm saying?? If it's nice, I'll ruin it or lose it. SO I usually find some 'summer' glasses that I take everywhere in the summer from the park to the pool to vacation. I found these really good mirrored dupes here (I'm wearing them!) and they are under $20. I've linked a few favorites below! Oh and speaking of Nordstrom, next month is Anniversary Sale!! Don't forget to sign up for your Nordy Club card to gain access to Early Access for the Anniversary Sale!
Summer Sunglasses under $25
Thanks for taking the time to read this whole post! Whew! It was a long one! Oh and just as a reminder this summer: just wear the damn suit and have FUN. 🙂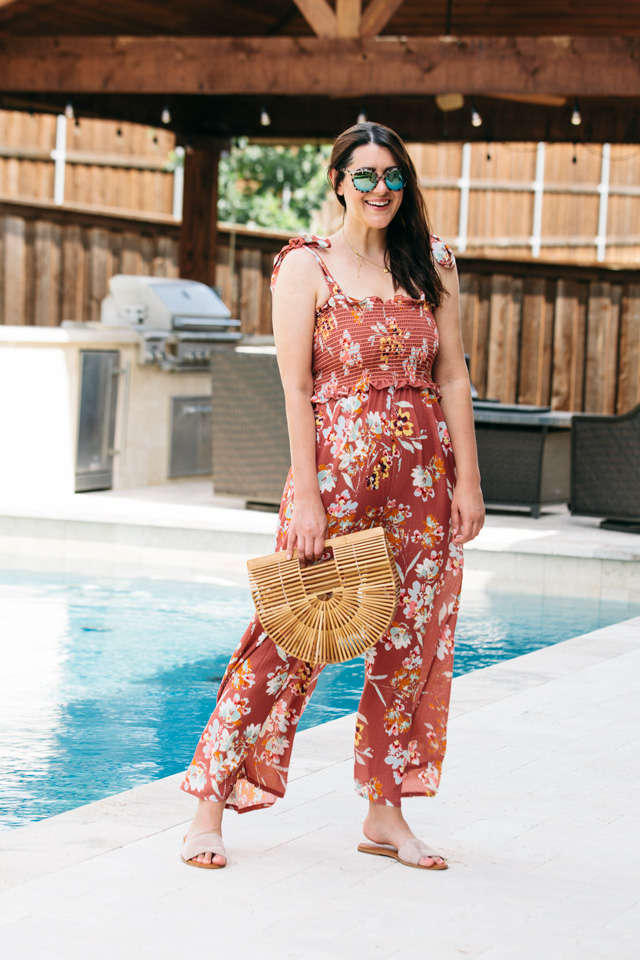 ---
*This post is brought to you in collaboration with Nordstrom! Thank you so much for supporting the brands that support this blog!