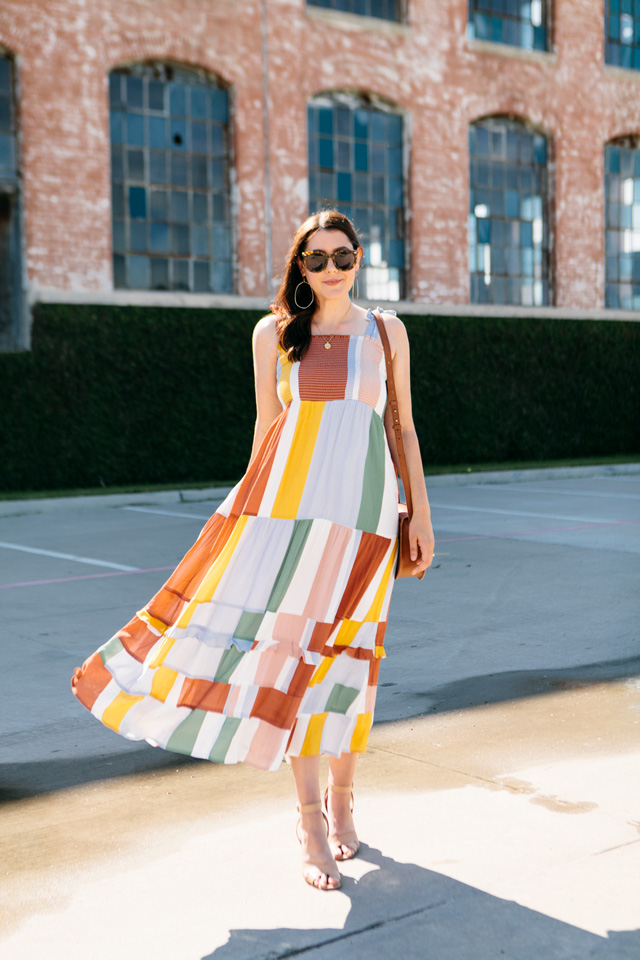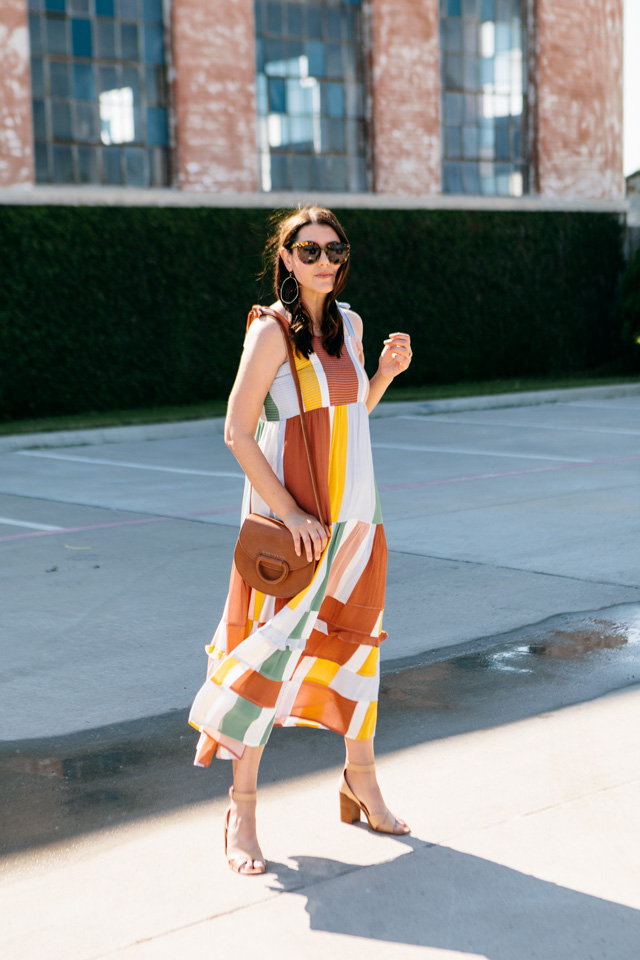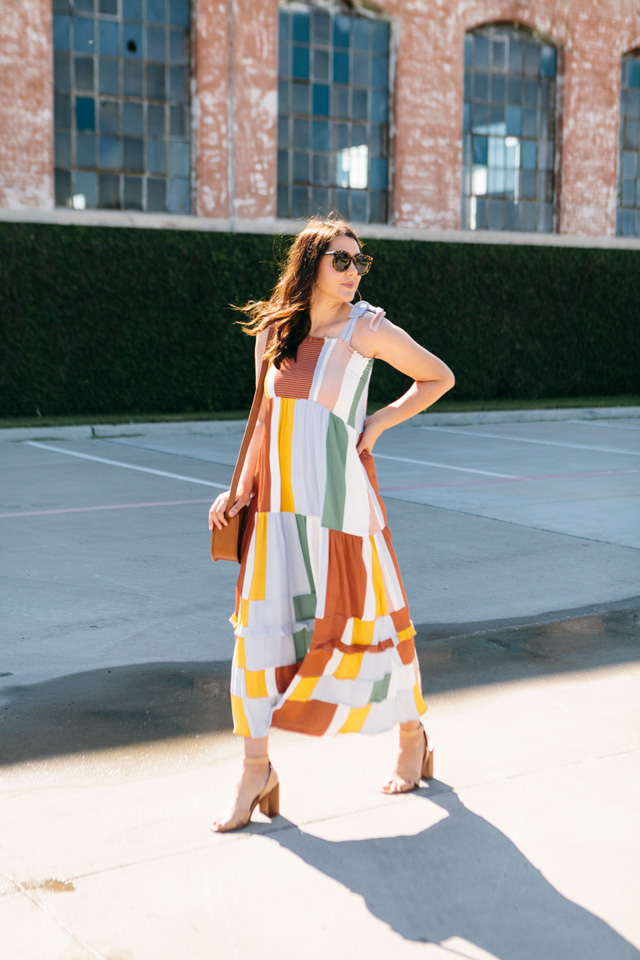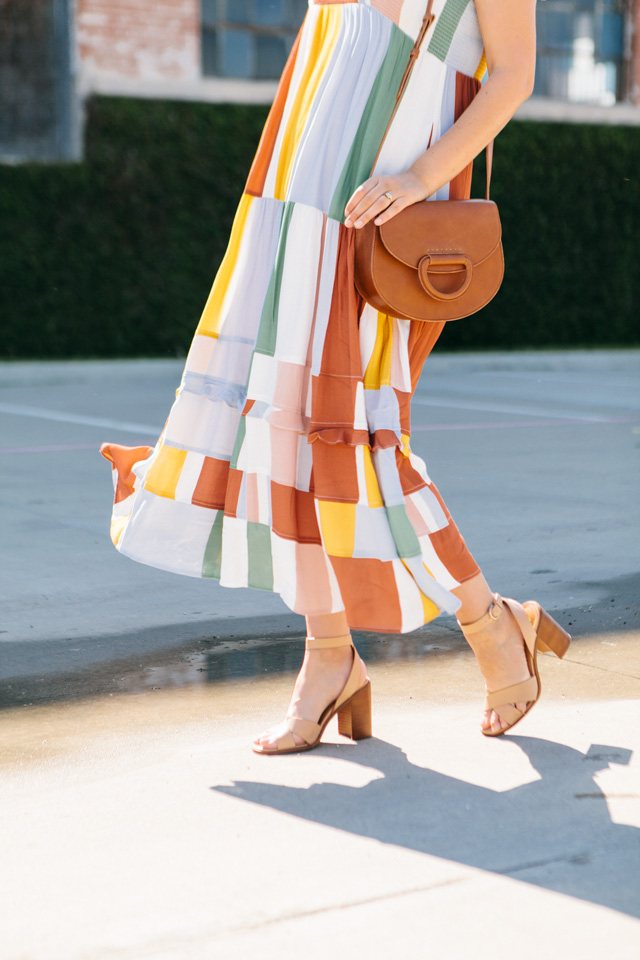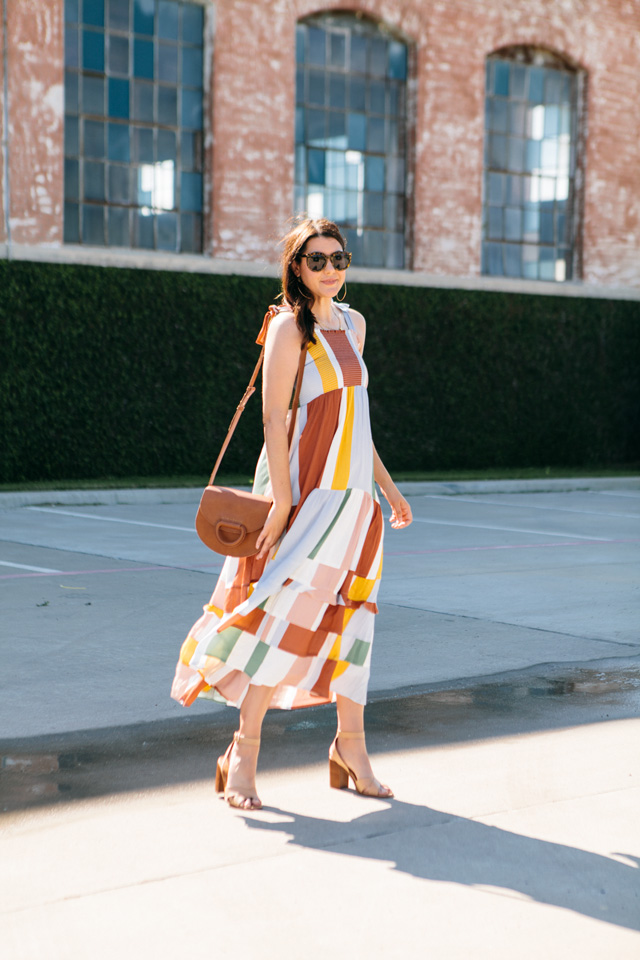 Can you believe next Monday is Memorial Day already? I feel like this spring is flying by! So I wanted to make a list of a few things that are on my must-have list for summer. Everything I'm wearing above made the list if you were wondering. Every summer, more than any other season, in fact, I find myself reaching for the same things over and over. I find my favorite pieces and just wear them until they themselves are ready for a season change. So I thought what are those must-have items for summer from top to toe? Well, search no more.
My list for summer includes the perfect maxi dress, an endlessly versatile crossbody, delicate everyday gold jewelry, summer-worthy sunglasses and nude shoes for every occasion. This shouldn't be too tall of an order, right? 😉
No. 1: Maxi Dresses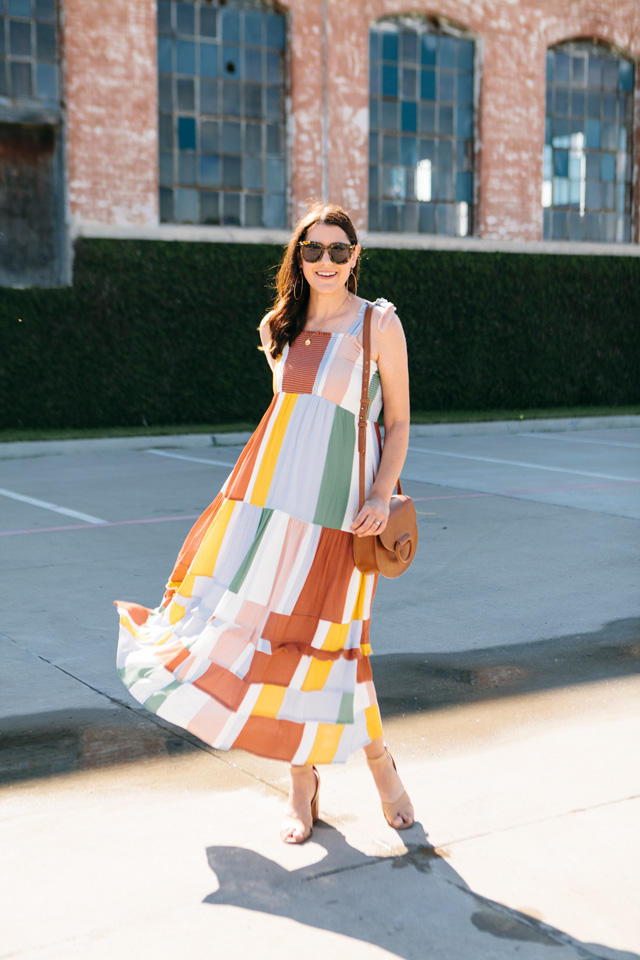 I always think a maxi dress is number one on my list for summer. I remember when maxi dresses became 'a thing' and as a taller woman, I was obsessed with this look because dresses are not made equal. It's not often that a style comes along that is everything you want in a piece, but that's why I love a maxi dress in the summer: it's a key piece for summer weddings, occasions, vacation, and can be dressed up or down depending on the shoe and accessories chosen. This dress caught my eye so fast in the store that I didn't even try it on (okay well technically I didn't have time to, but still. It was love at first shop.) I was expecting this dress to be well over the $350 mark because it was in the fancy section of Nordstrom, as I like to call it. I'd not heard of the brand before (Dolan) so I braced myself when I looked and I was pleasantly surprised when it was under $250. The quality is amazing; it's lined, the ruching at the top is gorgeous, the colors couldn't be any prettier and it just moves well. Do you know what I mean — it just sways and moves so perfectly when you have it on. This dress has soul, I'm telling you.
This dress also looked amazing with my white crossover sandals (find some here!) which further proves my point that with a switch of a sole, you can really make a maxi dress work for you. I know this dress looks fancy, but with a sandal and my hair pulled up in a bun it comes across as effortlessly boho, which I am neither. So you know that this dress is magic if I can pull that look off.
I found a handful of other options for summer, in a range of colors and prices. I tried to keep in mind wearing the dress to an event and also for every day! I think each of these dresses could go from a Wednesday to a Wedding with just a switch of the soles!
*Just one quick note: I've been watching stock on this dress and it seems to be selling fast. I noticed some sizes are selling out, so if you like it — grab it up! Nordstrom has an amazing return policy + free shipping! You could have it in time for Memorial Day festivities! Find this dress here  + my fit info below.
No. 2 A Crossbody Bag

I've been wearing this bag non-stop since I got it a few weeks ago. Honestly, when I saw it online my heart jumped — "THIS is my summer bag" I thought to myself. This is the bag that drove me to Nordstrom (not literally, obviously. Bryan actually drove me to Nordstrom. Thanks, B!) And I was NOT disappointed when I saw it in person. I snatched this bag up so fast, as it was the last one in store. (The black is pretty too by the way if you find you prefer a black bag over brown.) If you've followed me here for a while, you know one of my favorite bags is the Chloe Medium Marcie bag in that saddle brown. It is the bag I get the most compliments on, over and over, year over year. I can find anything to go with that bag, but you know what I think is the best part of that bag? The color. So when I saw this very budget friendly version of my Chloe (this Madewell bag is just $158! I know, right?? It feels like a typo on the price. It's such a nice quality bag.) I knew I needed to grab it up and style it here. This Madewell purse is absolutely lovely. It's big enough to carry my mom things, my full-size wallet, my on the go makeup and my phone. I love that I can carry it crossbody or to my side, like photographed here. As simple as it sounds, that versatility is key in a purse for me. The crossbody look feels more casual and this by my side look is elevated. Plus, you can't argue with an on-the-go option for a purse and a crossbody is the best grab and go option for summer. This brown saddle leather I promise you will go with EVERYTHING. It's the best shade I've ever found in a bag.
You can find this steal of a bag here! 
I rounded up some LOVELY options of brown leather (and a few vegan leather options!) crossbody purses that have versatility for summer. All are maxi dress friendly too 🙂
No. 3 Sunglasses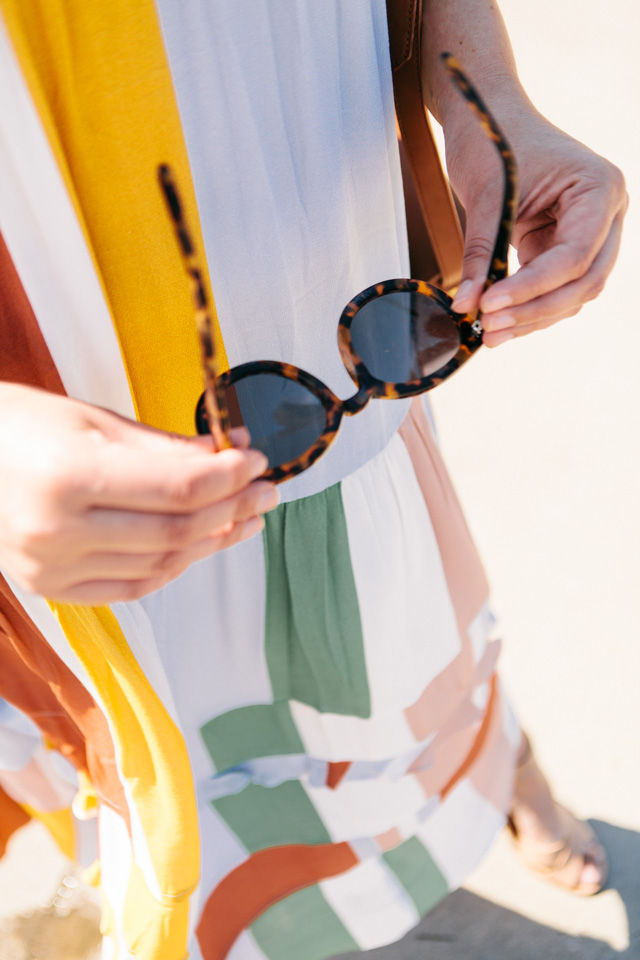 What would an essentials post be without sunglasses? I go NOWHERE without my trusty sunnies. Not only do I need them for sunny days, but I just feel like it completes my look. I believe everyone should find their favorite pair of sunglasses that makes them feel the most styled and like themselves. For me, Karen Walker is my favorite brand. The ones I'm wearing currently aren't in stock, but I found a REALLY lovely dupe pair that's under $100 here. This brand is DIFF and it's a wonderful option for a wallet-friendly pair of sunglasses that will last season over season. I've linked a found a few of my favorite sunglasses below. I'm especially dying over these heart shaped ones. What do you think about this trend? I personally love it. No need to be so serious right?? (PS: I'm saving my notes for these!)
No 4. Delicate Gold Jewelry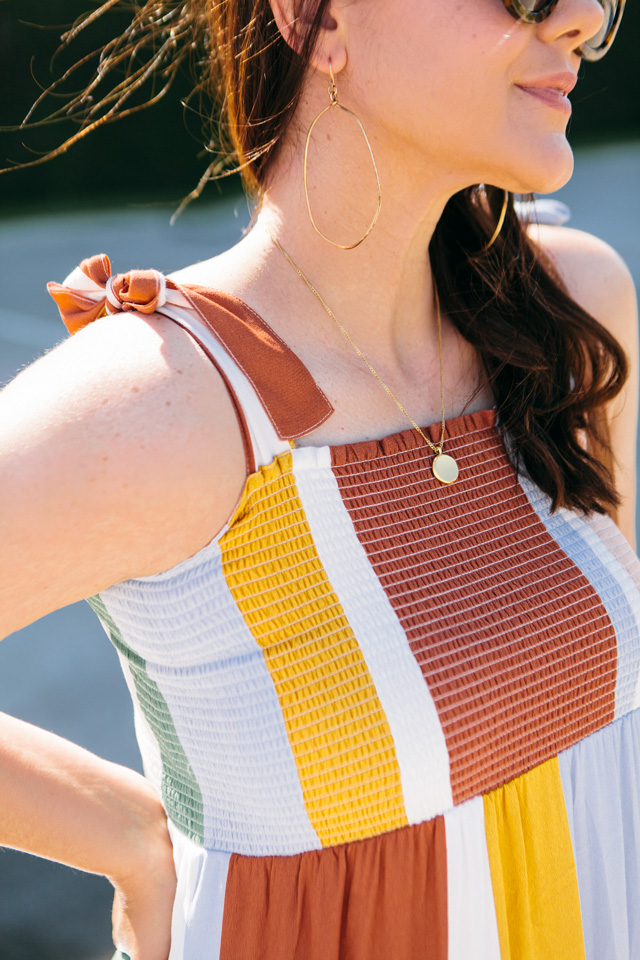 I think I've mentioned this before but I'm a fair weather jewelry person. And this goes year by year. Some years I wear lots of jewelry, others go 12 months completely unadorned. This year I've been living in some version of this layered necklace found here. I decided to just wear one of the layers of this necklace for this post, but I love that I have options. A true 3-in-1 deal! Or if you like the look of just one circle pendant, I found this darling one here!
You can find my layering necklace here. 
I've also been reaching for delicate gold earrings lately. I find that they up the ante of my outfit in just the right amount. These earrings I'm wearing are years old but still a favorite pair because of how unique they are. I couldn't believe it but I found an unbelievably good duplicate pair here! And for under $30! I've never been able to find a pair so similar, so this is exciting! If you've seen me wear this pair of earrings before and loved them, then definitely snag these up!
Find a super similar pair of earrings here!
Gold jewelry for summer feels like a no-brainer as a nice, delicate piece of jewelry dresses up the simple styles of summer. I rounded up a few of my favorite (budget friendly, too!) pieces of gold, delicate jewelry below. From earrings to layering necklaces to a few simple rings, you can't go wrong with one or all pieces!
No 5. Summer Shoes

Sandals are a no-brainer for summer so I decided to go a different route for this summer post. I mean everyone has a sandal, but I think a really nice heeled sandal or wedge is something that everyone needs for summer. I wear a wedge or a sandal out during the summer months. This pair, in particular, my Marc Fisher Orla Sandals that I'm wearing here, have been worn and worn and worn this spring. They are the perfect nude leather with a darker heel, which makes it feel super fancy. Plus I like the height of this heel, it's just the right height for me. If you are looking for a nice nude heel for summer, this is my vote!
I rounded up a good range of heels and wedges and some that are a beautiful saddle leather or a nude, which is always my choice. You can't go wrong with either this summer from denim to dresses.
---
*Thanks to Nordstrom for collaborating on this fun post! As always, my thoughts, opinions and all assets are my own. And thank you, dear reader, for supporting the brands that support this blog!