*Special thanks to Rothy's for partnering on this post! I am SO excited to get to try their amazing shoes that I have been stalking for years! Let's get to the post!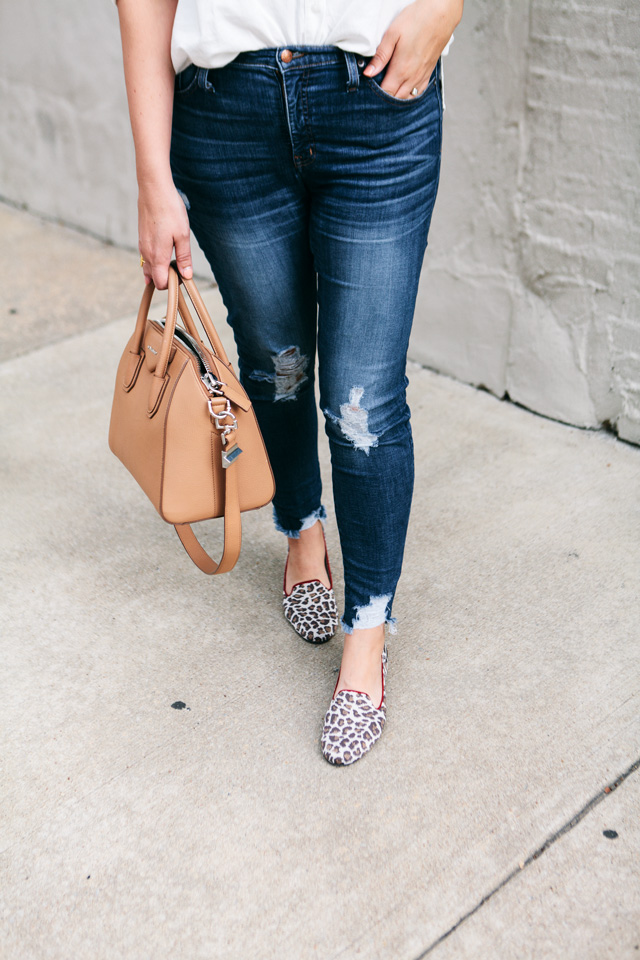 Have you seen these shoes around the internet? I have stalked them for years…and then they ended up stalking me in the form of ads and finally, we were able to meet in person. A true modern day romance. If you haven't heard of Rothy's yet, first off welcome back from under that rock and secondly let me introduce you to the softest pair of flats you'll ever own. Seriously I wore them all day, literally on my feet all day, and they are perfect. There is no breaking in period for their shoes, you just slide them on like old friends and you carry on with your best day.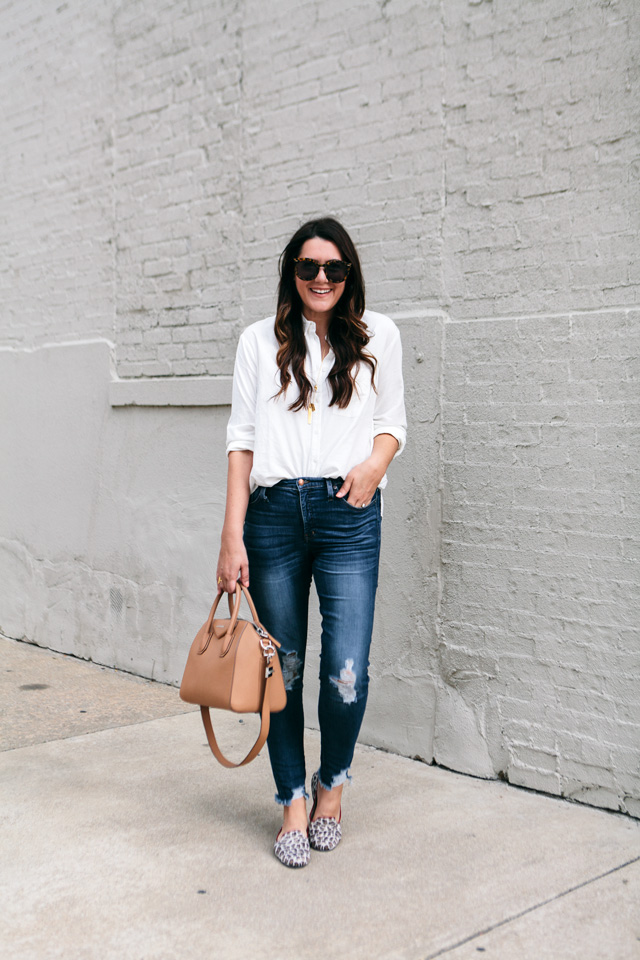 So the thing with Rothy's is that they are made from 100% post-consumer water bottles. YES. You read that right, water bottles. Which is a) amazing and also b) mind-blowing because they do not feel like plastic or breathe like plastic. I found them to have more of a fabric feel and there were literally no blisters by the end of the day. I am such such such a fan now that I have two pairs of them! So if you've been on the fence about them, go for it! Especially if you love flats. Since I received two pairs, I wanted to show the versatility of each pair and I wanted to give each pair the right amount of attention.
Rothy's: The Loafer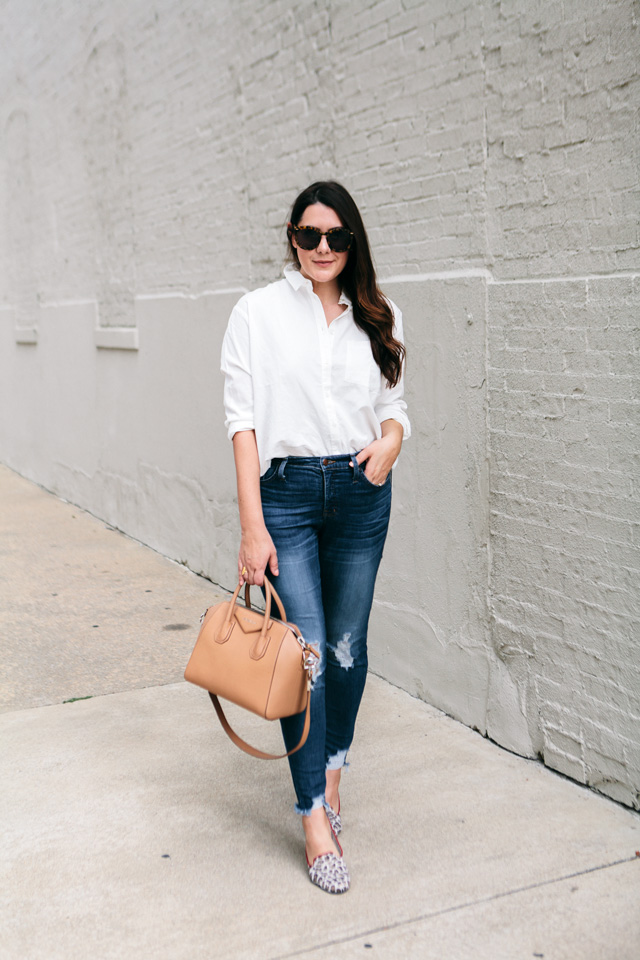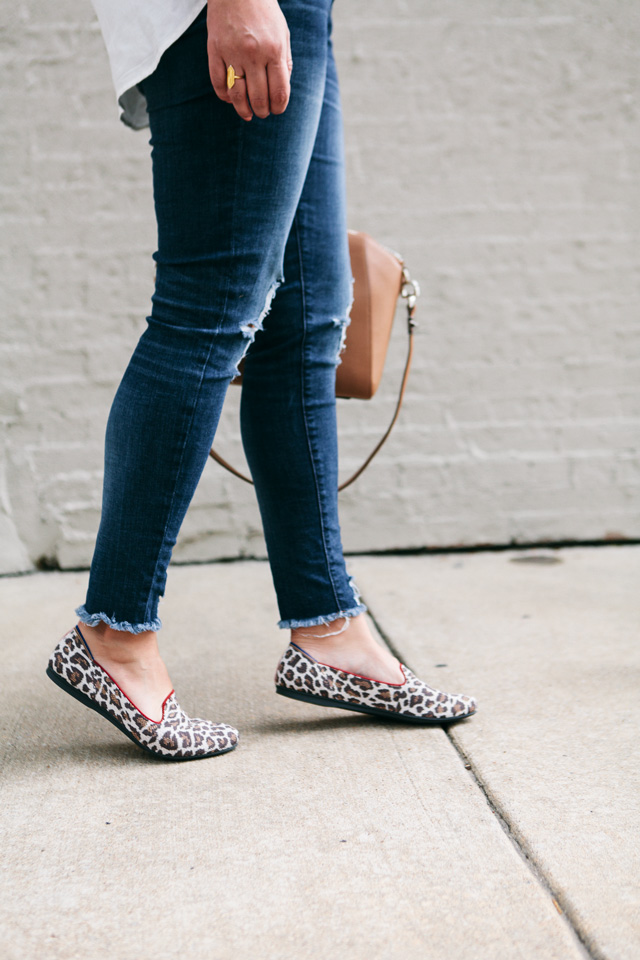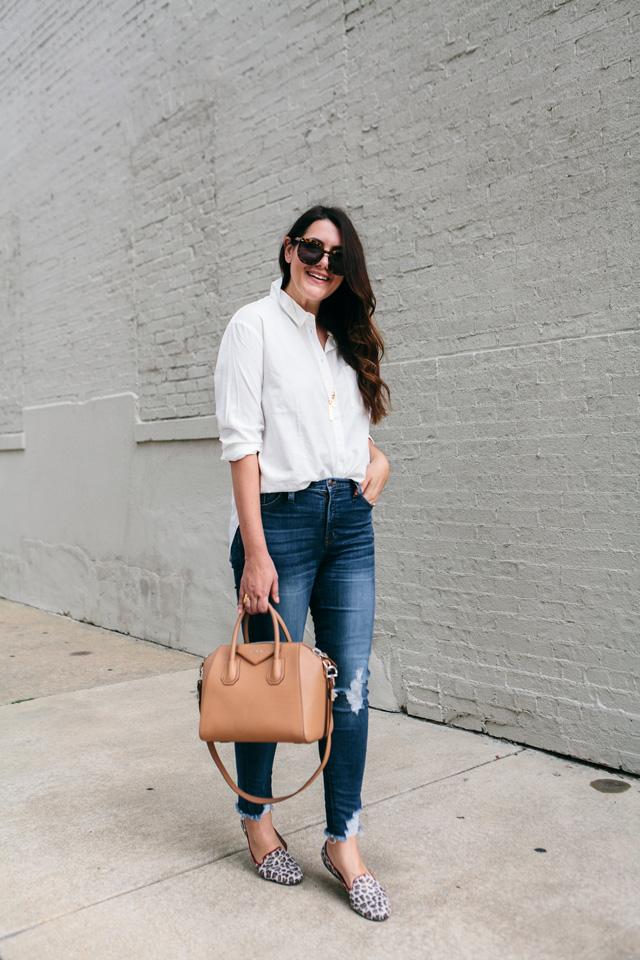 The Loafer is probably my favorite style between the two but I would absolutely buy The Flat in another color. I am in the Mocha Spot color here. (I'd also like to try their pointed toe flat, The Point as well, at some point! I think in the black or the flax birdseye would be spot on for an everyday shoe. But, I digress.) So the reason I really like The Loafer is the fit. The band of the loafer at the top fits snug on my foot and it was super comfortable because I knew that it would stay on all day. Like there was no questioning that this fit my foot perfectly. At one point I kind of forgot that I had shoes on, ha! This pair is perfect to toss on with a simple tee or like in the photos a button down and denim and GO. They are perfect for an on-the-go lady or mama who needs style in a flash.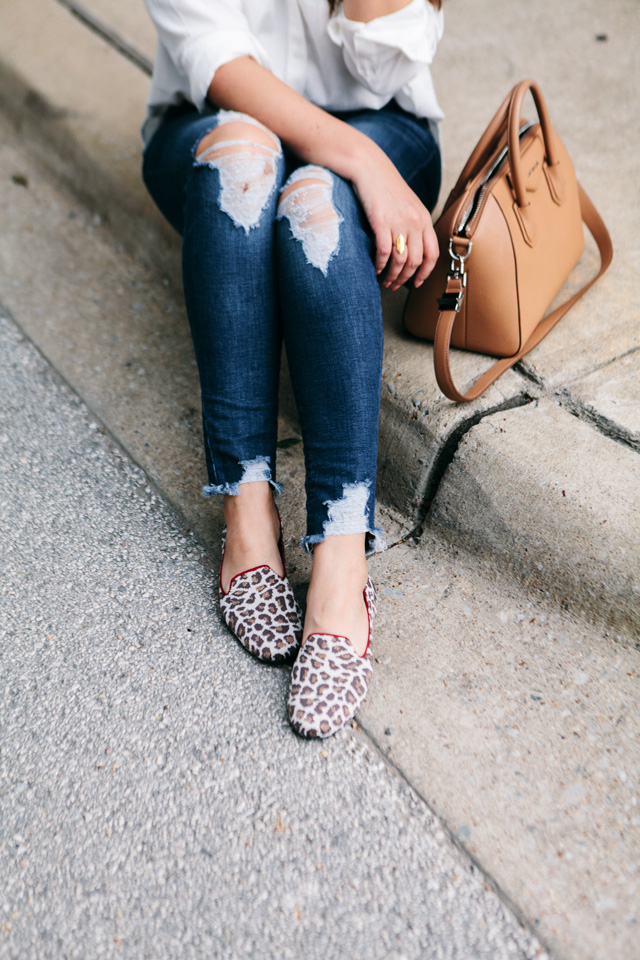 Rothy's: The Flat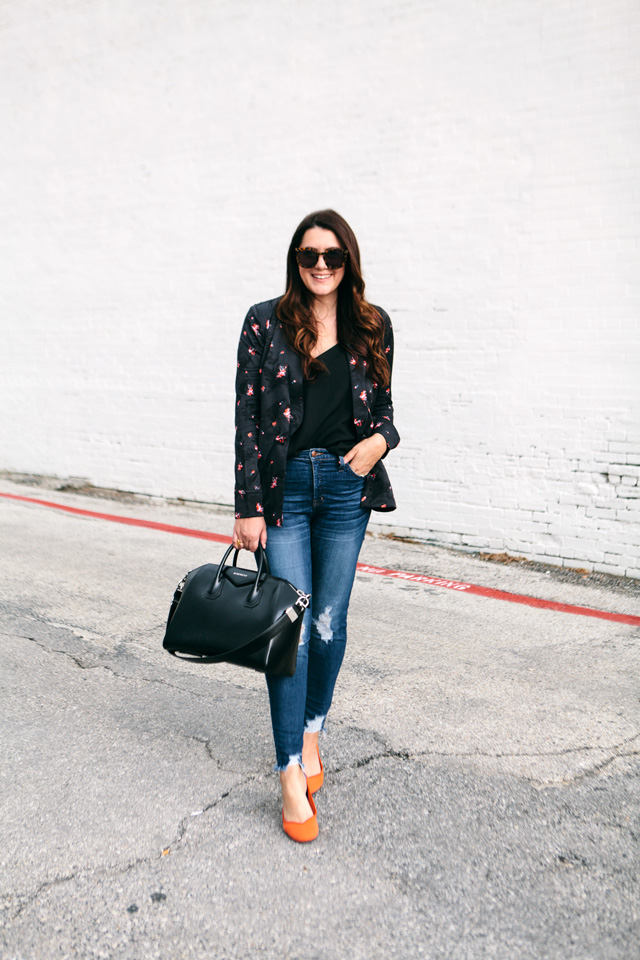 You guys know I'm extra enough to do two outfits in one post, I mean how could I not with such cute shoes? I know I said earlier The Loafers were my favorite, but only by a small margin. This bright pair is their rounded toe flat appropriately called  The Flat. It's honestly like trying to pick your favorite child when it comes to these shoes — I love them all and they all love me. The more I'm looking at these photos the more I'm missing these red flats. I wish I had them on today. I shall live vicariously through these past photos right now and put them on the minute I get home.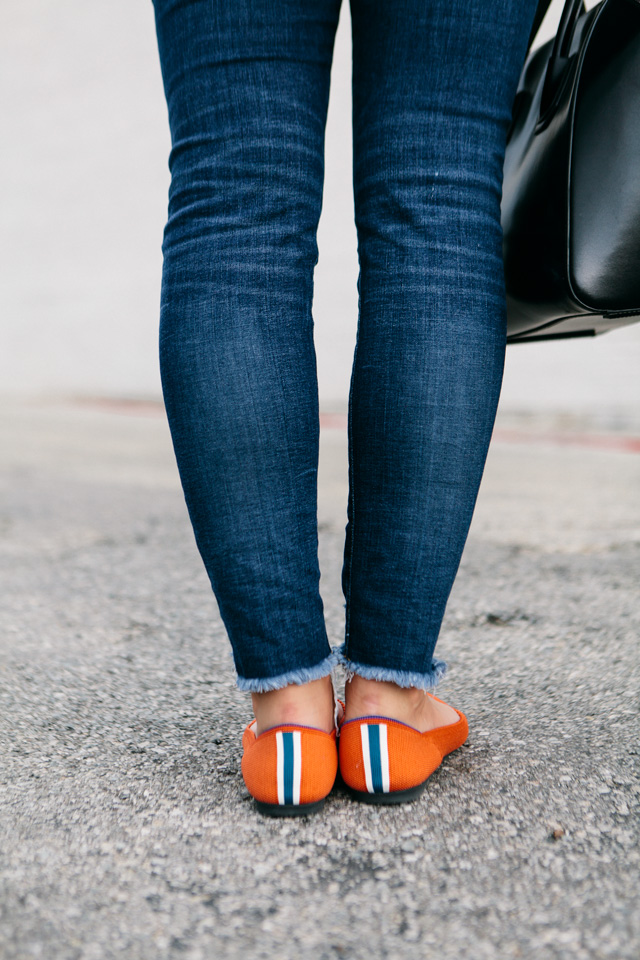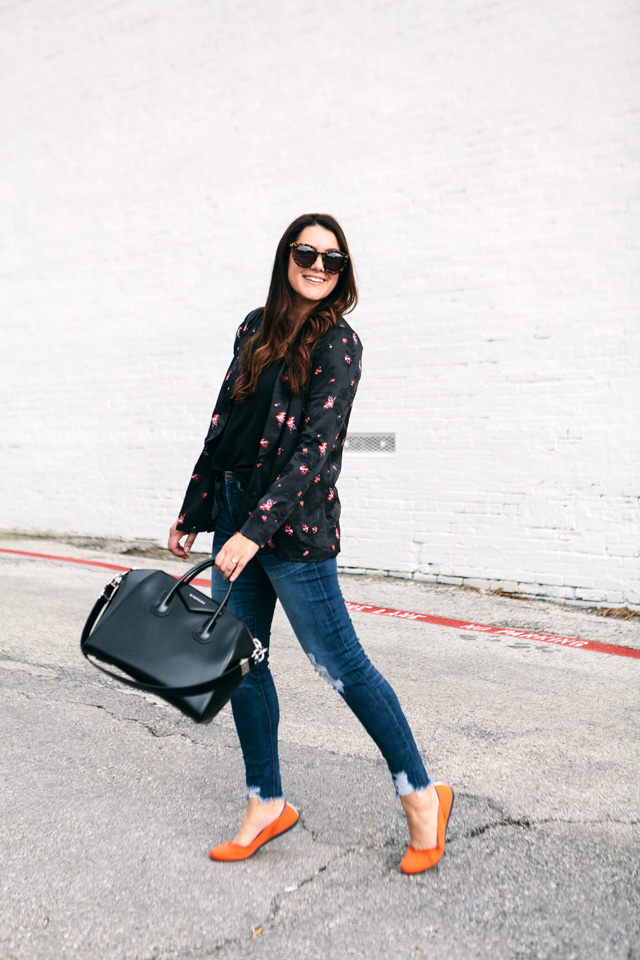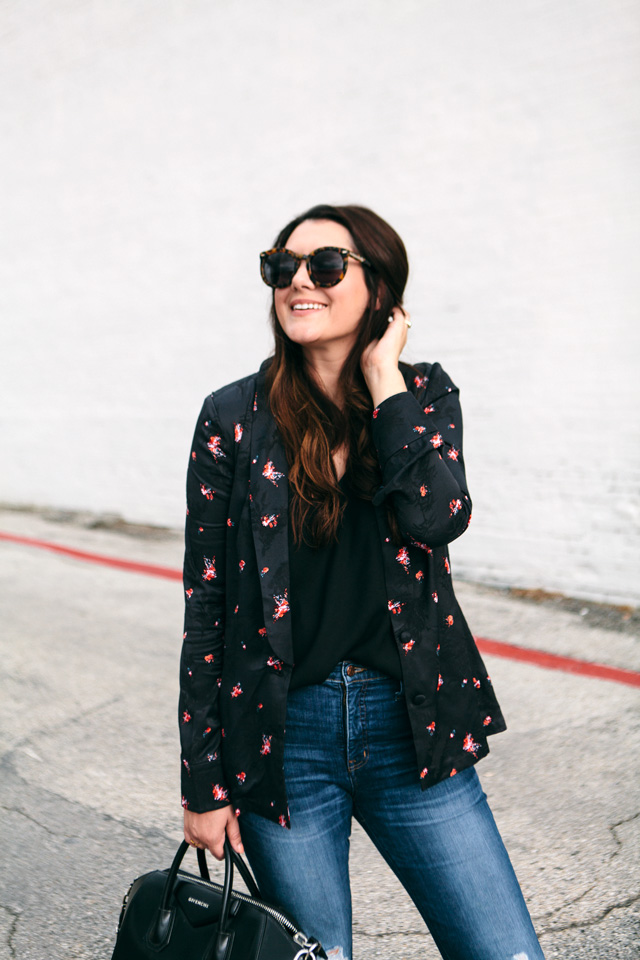 Just look how happy I am in those flats. Game-changers.
The Flat was the first one that I tried and  I LOVE the color of this flat. (I mean, of course, I would. Such a sucker for poppy red.)  This is the Persimmon in Stripe. It's a true poppy red/orange. GREAT for a pop of color!)I have this weird thing with flats and I don't love them if they make my leg look shorter or stubby but because of the notch in this round toe flat, they actually are super flattering. This pair is perfect to toss on with a tee and denim, obviously because of their casual vibes, but I loved how I could wear them a bit dressier with this floral blazer. In fact, I feel like they are the POP of this outfit. Forget the floral blazer, it's the flats that are making the outfit!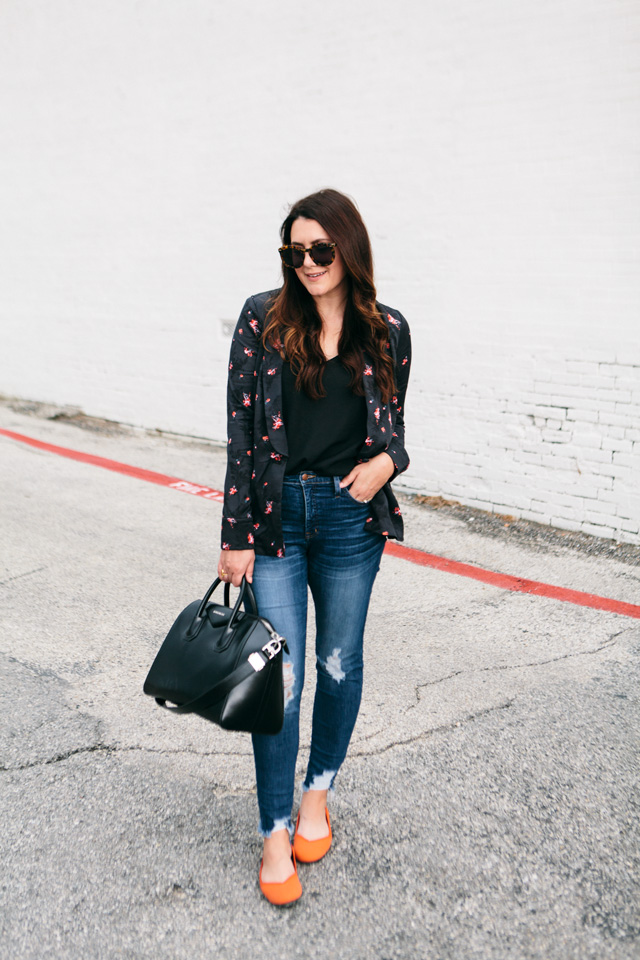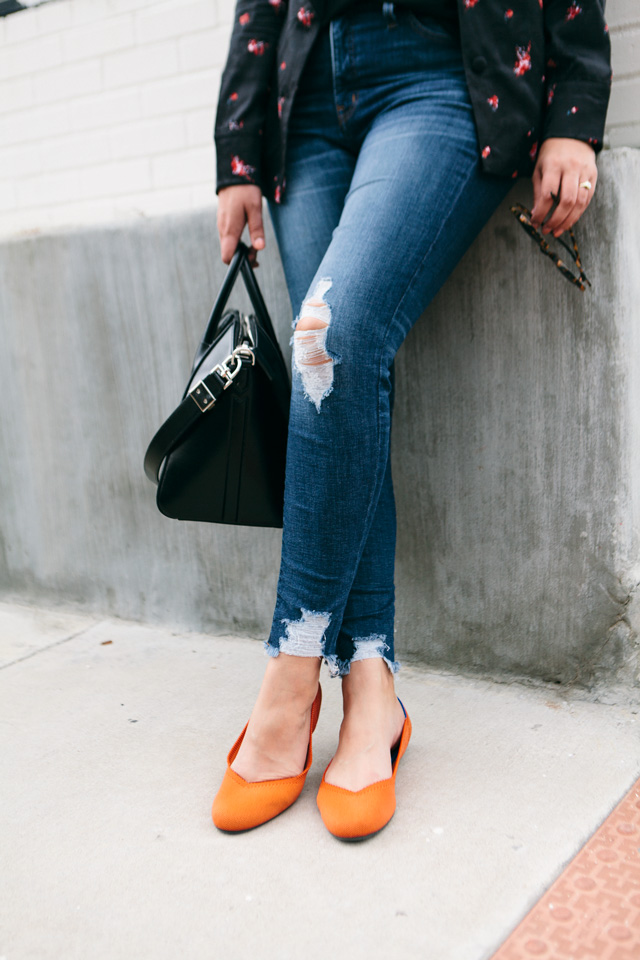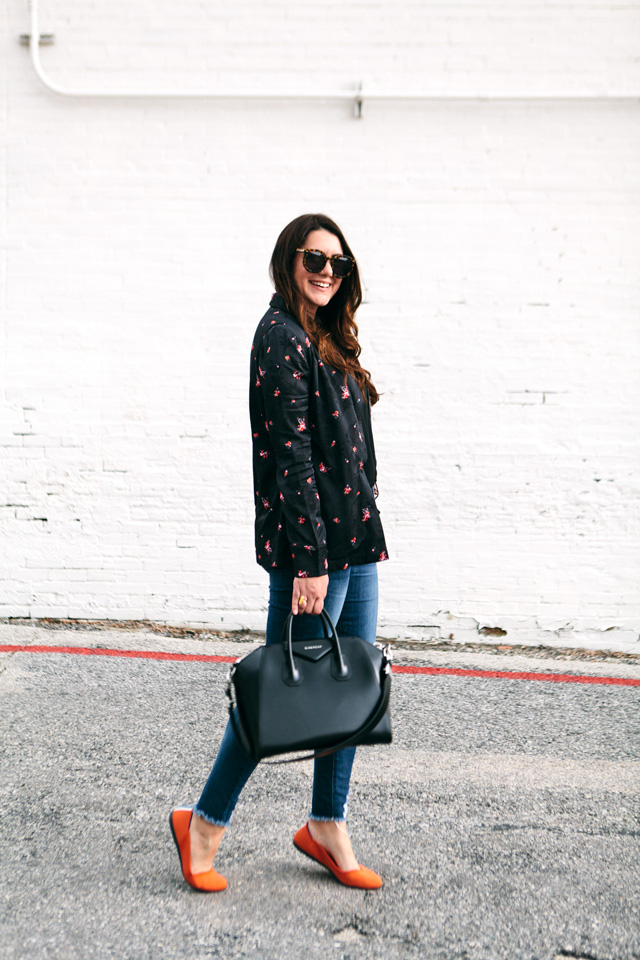 You can find all the colors of The Flat here!
Oh and the best part of these shoes? Completely machine washable. Can you even? No, I can't either.
If you have any questions on these, just let me know! I know this is a sponsored post, but I'm seriously such a fan. Those Flax hue Pointed toe flats are on my to-buy list this fall!