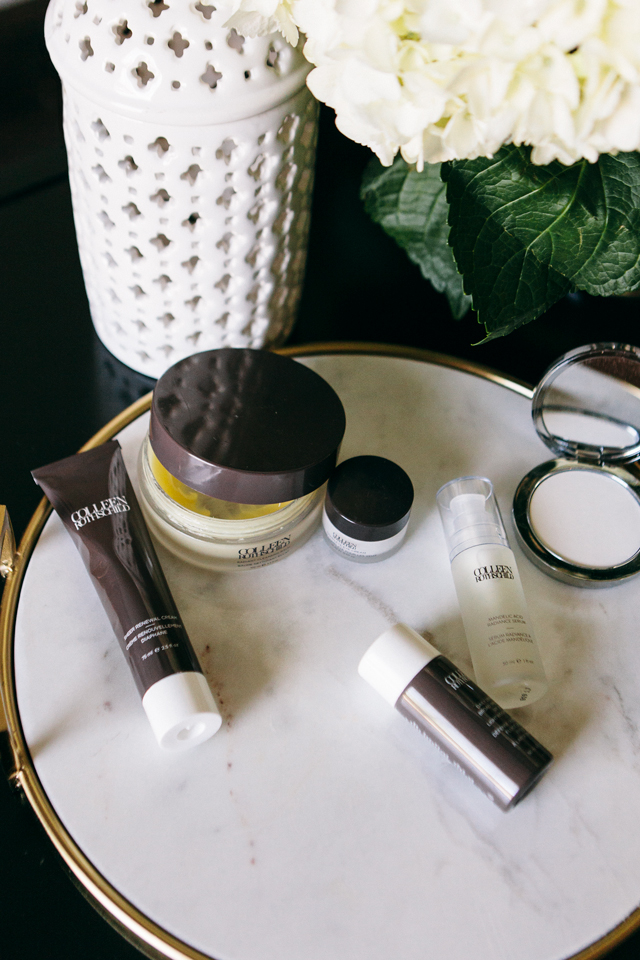 If you've followed along for a while now, you know that my skincare routine involves A LOT of Colleen Rothschild. In fact, I'd say 80% of my routine is Colleen Rothschild based. I started using her products in 2014 and have not looked back. I feel like my skin has changed for the better. I used to constantly have little imperfections, random acts of acne, uneven skin tone, random dry patches. And then I started taking care of my skin with Colleen Rothschild products and honestly I take the results of my skincare routine for granted. I realized this the other day when I got a random blemish (because I'd been lazy with my skincare routine, let's be honest) and then remembered that this used to be a daily occurrence. I instantly started my routine again and my glow returned!
If you aren't sure where to start, I've written extensively about CR Beauty before (it's a love affair, ok?) here and here. But I thought I'd show you my favorite 5 that I use daily! One note — the thing I like best about Colleen Rothschild's line is that there are usually multiple benefits per product. She puts so much thought and care into her products that when you start reading about ALL of the benefits of a single product you really feel like you are getting your investment worth. Her website has an excellent resource under each product to show you exactly what you are putting on your skin and what it does! It's nice to know the full extent of what you are using and I so appreciate the care they put into their product.
Colleen Rothschild Beauty is having a sale for their Annual 4th of July and you can get 20% off from now until July 4th! Use code FLAG20 to receive 20% off! If you've been wanting to try a few of her products or it's time to stock up on your daily inventory, then this is the sale for you! She doesn't have too many sales throughout the year, so I like to grab up as much as I can when she has a sale event! Also, products go fast when she has a sale so don't hesitate! (Especially the Cleansing Balm!)
Let's get to my Favorite Five!

So I started using this serum maybe last year after I had Gemma and my pretty pregnancy hormones were leaving me fast. (My skin was so pretty and glowy when I was pregnant! I got so used to that glow!) My face was also a lot fuller when I'm pregnant so some of the fine lines were starting to show again and I had a tiny bit of melasma on my upper cheeks and lip. I discovered this serum and saw instant results. I'm not kidding — I put it on at night and let it dry, then used my night moisturizer and the next morning my forehead lines were filled in. It's an AHA derived from Bitter Almond and it's powerful, you guys. I can tell if I don't use it for a few days, my little lines start to surface again.
It also evens out my skin tone on my cheeks. This wasn't as instant as overnight, but over time my discolored skin tone has evened out to where I feel like I can go without makeup again.
How I use it: At night after I wash my face, I use about 2-3 pumps on my face using my fingertips to pat it on the surface of my face and neck. I let it dry for a few minutes then use my night time moisturizer over it. (I use the Sheer Renewal Cream at night instead of a thick moisturizer.)
With daily application, I can about expect 6 months + of use.

This is one of those products you don't know just how good it is until you start using something else. It's so lightweight but so moisturizing. It's been my favorite for years now. I've tried other lotions from time to time and I just keep coming back to this one. The Sheer Renewal Cream is my daily go-to for day and night right now. For a while, I wanted a daily lotion with SPF (but they released an SPF!) and I was right back to this lotion. I should have photographed my used tube (this is my replacement!) I just ordered this one since I have squeezed every single drop out of my last one. I was about to back over it with my tire just to make sure I was getting all of it out, but Bryan suggested I just re-order. Smart man.
How I use: I apply this after I wash my face in the morning, after my sunscreen but pre-primer and makeup applications. I let it soak in for a few minutes and then start with my primer/makeup. At night, after I wash my face again and use my Mandelic Acid Radiance Serum, I apply this once again.
With a twice-daily application, I can expect about 3-4 months of use.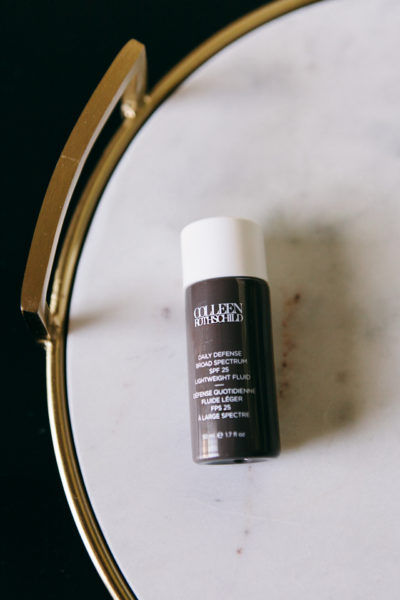 You know when they say to put something out into the universe and it will come back to you? I swear I said 'I wish Colleen Rothschild made an SPF product" and VOILA! This product came out just in time. For sun protection, I prefer zinc oxide and that's exactly what this SPF is. Since my foundation usually does es not have SPF built in, I knew I needed to start using an SPF daily. This is the most unique sunscreen I've ever used and once I got used to it — I love it!
It's a liquid formula which is actually really nice to apply because you kind of figure out how much you need for your face and nothing feels like a waste. Sometimes with a lotion based sunscreen, I overestimate how much I actually need but within a few applications of this, I know exactly how much to apply. So this sunscreen is liquid-based like I said and it takes just a second to dry but I love it and will never use another type of facial sunscreen again!
How I use: After I wash and pat dry my face, I apply this sunscreen with my fingertips. I allow this formula to dry then add my Sheer Renewal Cream and Complete Eye Cream on top! Then I continue on with my makeup.
With daily use, I expect 2-3 months of use.
4. Complete Eye Cream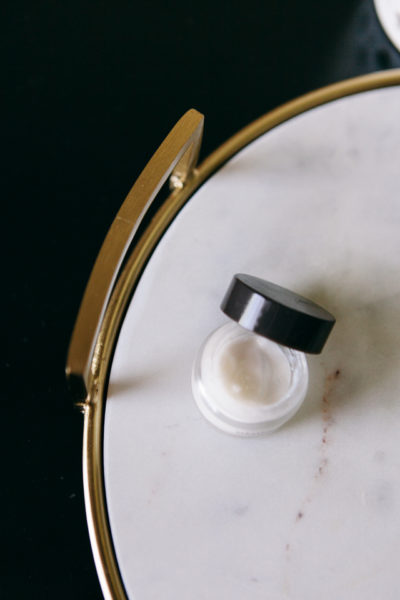 I recently developed the strangest dry patch of eczema under one of my eyes and honestly I had no idea how to deal with this. I decided to switch out my typical eye cream with something a bit stronger and with more moisturizing properties. So, of course, I looked to Colleen Rothschild for the best. I can use the tiniest bit under and around my eyes and I've seen such a difference in my skin there. There is vibrancy in my skin again and the eczema is at bay. I typically just use this eye cream at night but lately, I've added this to my morning routine as well. It's not so thick (as some can be) that I can't use it twice daily.
How I use: With my middle finger, I apply an eraser size amount to both eyes and lightly pat under and around my eyes. I use this morning and night, along with my Sheer Renewal Cream.
With daily use, I expect 3-4 months of use.
You can find the Complete Eye Cream here!
5. Radiant Cleansing Balm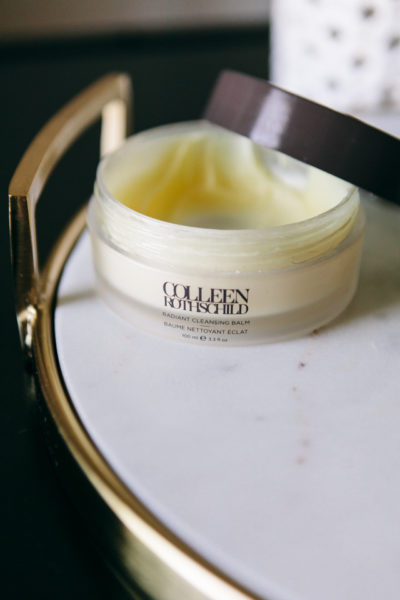 If I had one skincare product only, it would be the Radiant Cleansing Balm. It's oil based and it's so luxurious but it's also a two-in-one in that it cleanses but also moisturizes. I always feel like my skin is so clean but never feel stripped of my natural oils. I swear my skin is happier when I'm using this balm on the regular. I know it doesn't make sense at first, but once you use it, you'll be a full believer.
How I use it: I warm water to a pretty hot temperature and put my washcloth under the water. With dry hands, I take a nickel to quarter size amount of balm and rub it in my hands to warm it. Once the balm has warmed, it's more of an oil and I cover my face in it. I let it sit for just a few seconds then wring out my very warm washcloth and place it on my face for a tiny steam. Then I wash it off and say for the 100th time how good my skin feels. 😉 
With daily use, I  can expect 2-3 months of use.
So in case you missed it, 20% off from now until July 4th! Use code FLAG20!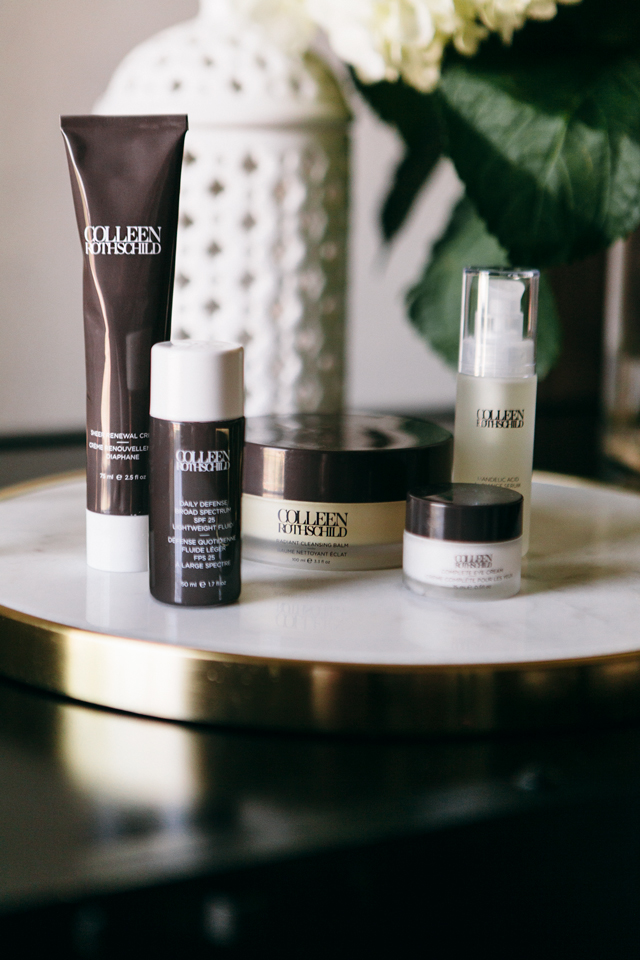 *I collaborated with Colleen Rothschild on this post! But all my opinions are 100% mine! I'm a fan first 🙂