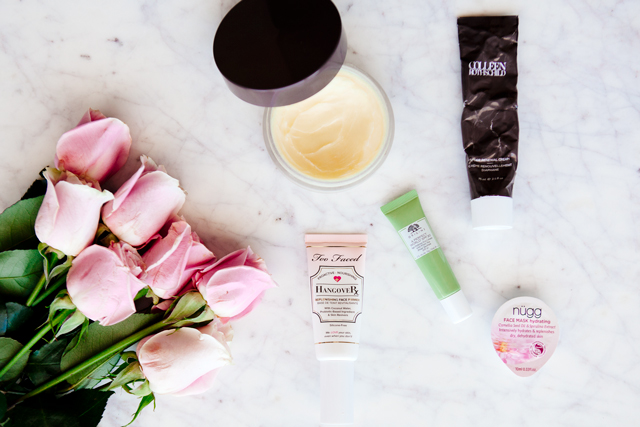 In my 20s, I was more than fine with using and losing products when it came to skincare. I was never a repeat customer of any skincare regimen. Is this because my skin still had that supple, youthful glow and so I thought every product worked as promised? Probably. It's also because I didn't really have any problems to solve yet. The fine lines weren't really there, they mainly just meant I needed to drink more water if we are being honest. But now if I go even a few days without skipping my night time skincare routine (hashtag newborn mom) then I can instantly tell a difference in my skin. There is no skipping skin care once you hit your 30s.
I also have found my true loves when it comes to my daily and/ or weekly routine. No more try this and toss, it now use this until you are scraping the bottle or backing over the tube with your car to get that very last bit out. Waste not, want not. I told you — I am serious about skin care. So my very, very tried and true products are below! (PS I know you saw that giveaway headline! Read on and see how you can win a $200 gift card to my favorite skincare line, Colleen Rothschild!) Just a quick note, Colleen Rothschild is having their Anniversary Sale so everything is 20% off right now through this Sunday! They rarely have sales so this is amazing!
Daily Face Wash: Colleen Rothschild Cleansing Balm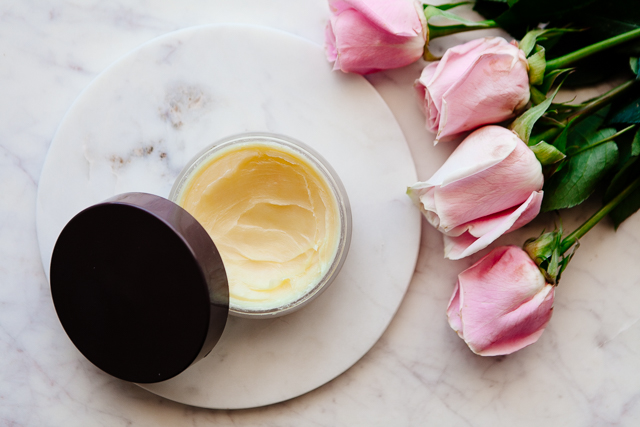 This is one of those face washes that I happily squeeze into our budget because it is just that good. I've used a few others over the years (I have a few drugstore favorites here!) but I always end up coming back to this cleansing balm, especially at night. It makes taking the day off feel so good. I know it sounds confusing since it's not a soap necessarily but a cleansing balm, which basically it is a solidified oil that you warm and soften in your hands and put on a dry face, makeup and all. I take a warm washcloth and for a few seconds lay it on my face and then take the rest of the day off. If I have time, I repeat with a smaller amount to get a bit more on my face and then I seal it with a night time moisturizer. (I typically use the Sheer Renewal Cream morning and night but if I'm feeling fancy or if I have time, I'll use the Extreme Recovery Cream. It's like butter!)
I've got on good authority that they are selling this out quickly, so if you've been wanting to try this luxe face balm, then hurry and grab it on sale! I am not even kidding when I say it is liquid gold, it has over 500 5-star reviews. Worth every penny. You can find the Cleansing Balm here.
Daily Moisturizer: Colleen Rothschild Sheer Renewal Cream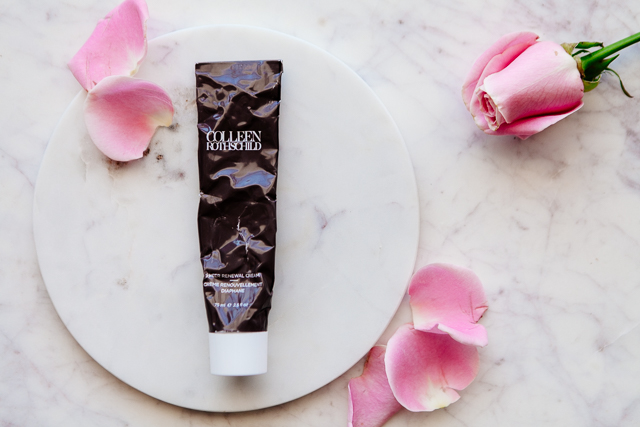 If my memory serves me correctly, this was the first product of Colleen Rothschild that I tried and I was hooked. I think I received a sample of this from a conference and quickly realized it was amazing and I was going to be needing a lot more. This was 2014 and 4 years later it's my favorite moisturizer. It's lightweight, it soaks in quickly, and I love the light scent. It also doesn't roll when you put makeup on — do you know what I mean? If not, then I am definitely doing things wrong. I have never once broken out from it because it's so light but gets the job done. Hands down my favorite daily moisturizer and it lasts for a long time. I can get about 6 months out of this tube, sometimes a little longer if I try that car trick I mentioned above.
You can find this moisturizer here.
Daily Eye Cream: Origins Age-Defense Eye Cream
An unexpected plus of this eye cream is that it comes out fairly white-ish which gives me a boost to my dark, dark circles. It's like a pre-concealer. But I've really found this Origins eye cream to be effective and it gives my eyes a little bit more boost and I feel like my eye bags just kind of fade away. This could be the large amounts of coffee I ingest by 8 am, or it could be the eye cream. I'm not willing to give up either one to do an independent study. I use this in the morning only and this has lasted me so far with more to go for 5 months now!
You can find this eye cream here.
Face Primer: Too Faced Hangover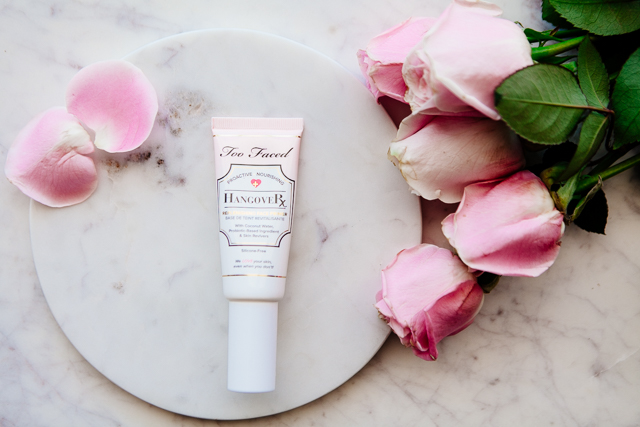 So while I no longer use and lose products like I did in my 20s, I am still happy to be a product guinea pig. I love just finding something on a whim in a store and it turned out to be amazing. I always feel like I'm a wizard when I find something like this on a whim. My face soaks up this primer. I usually wait about a minute after I put my face moisturizer on to put this on next and it makes my foundation just slide on and it has such lovely ingredients in it like coconut water and probiotics. The bottle is a little on the small side and I find myself using it up quickly but I'll happily buy this product again and again.
You can find this skin primer here.
Weekly Masks: Nügg Face Masks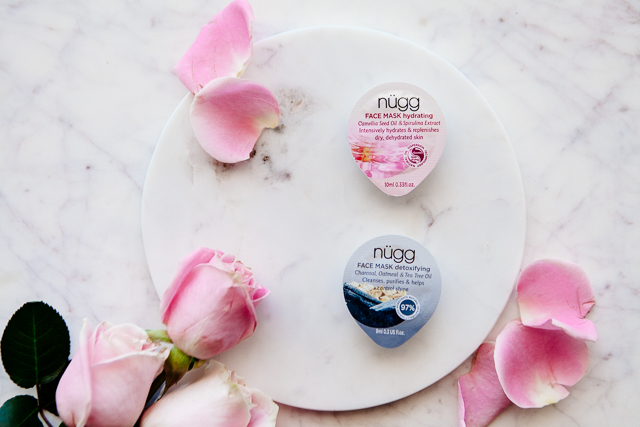 I found these little mask pods at Target and picked them up on a whim. TURNS OUT I FRIGGIN' LOVE THEM. So when I went back and couldn't find them I broke into a hot sweat. But this story has a lovely ending because I searched on Amazon and found them in a 4 pack!! You know what's better than one thing? Four things.
My very, very favorite of these four is the Nugg Deep Hydration Moisture Boost. But I love all the ones from the four pack! I use one at least once a week and if I'm lucky two times a week. They go on like a really thick lotion and you can leave them on for 5 to 15 minutes, so it's not like you need a full hour to get a little bit of facial done. But be aware, they are not like regular masks in that they don't ever dry. The upside is your face feels so soft and smooth after. They are truly the best and for under $4 each, they are my favorite buy.
You can find the four pack here.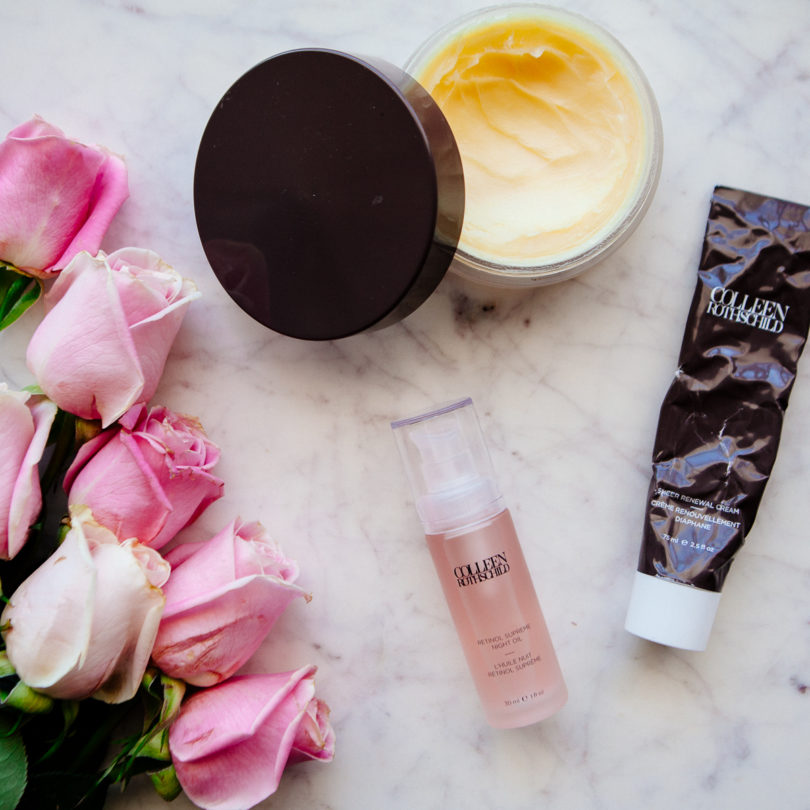 So now for the best part and probably why you are here 😉 How can you win a $200 Gift Card to buy whatever you want within reason from Colleen Rothschild?? All you have to do is:
Go to my Instagram post about this giveaway and be sure to follow me!
Follow Colleen Rothschild on IG!
And last but not least, leave a comment on my IG post by tagging a friend who would love this giveaway!
Best of luck! The giveaway is open until next Wednesday! Best of luck!