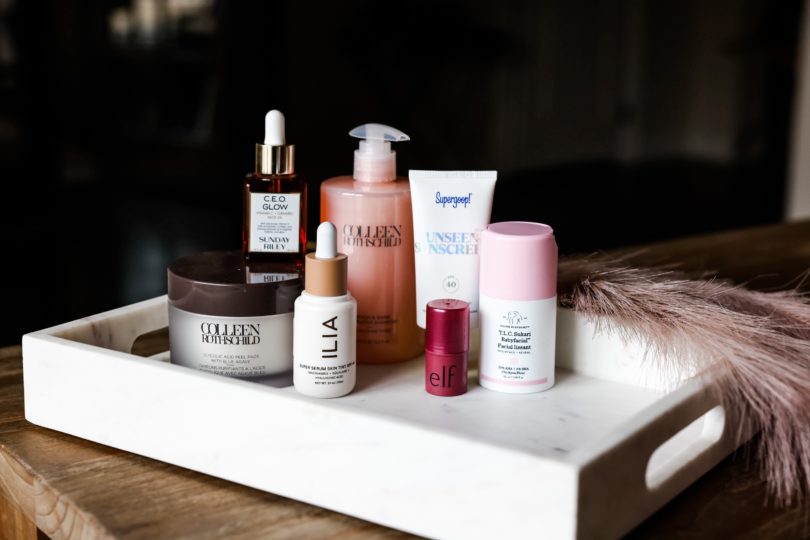 Back back in the day I used to do a monthly beauty buys post. You guys loved it, I loved it. I loved finding and trying products and sharing them. Andddddddddd then I got pregnant, had a baby, completely threw away the idea of a skin care routine because my baby's sleep schedule did not care about my night time serums and masks. If I washed my face, great! If I smudged my old mascara from the day before into a smokey eye, great! Of course now she is three, so gone are the baby days and sleepless nights as we now have a lovely 6:30 pm night-night routine that keeps us all healthy. With all of this new time on my hands (sarcastic wink) I started getting back into a regular skincare routine in the last year or so and I've found some favorites and wanted to share them. In the past I'd round up about 4-5 things but this one has 7. Quarantine made me do it ok?
My typical skincare routine for note: I've always been a Colleen Rothschild fanatic so my basic skincare routine goes like this: wash face, toner, retinol serum (at night only), face oil (morning only), then moisturizer for morning and night. Wow typing it out makes it seem like a lot now that I'm looking at it, but honestly it's quick — wash, tone, serum, lotion. All in all it's about 5 minutes total. And it should be noted I got Botox in my forehead for the first time last year and that's been the biggest helper with my horizontal fine lines. 
***
So during quarantine I noticed there were two new categories of people that emerged: those who wore makeup at home and those who did not. I am (very obviously) in the first camp: I like to wear makeup even if the ghosts in my house are the only ones to see me that day. (No need to haunt them, too, you know?)  I learned quickly that putting makeup on makes me feel like the day is more than just another Saturday over and over and it helps me feel, well, normal.
With that being said, my makeup routine has definitely changed. I started looking for a lighter foundation and just less makeup in general. (which is why I've kicked my skin care in high gear as well.) I stumbled upon this serum in the last month or so and I am obsessed. So it's a skincare serum at it's core, but it's tinted so it provides enough coverage to even out my skin tone and hide blemishes. Plus it makes me a dewy, youthful queen.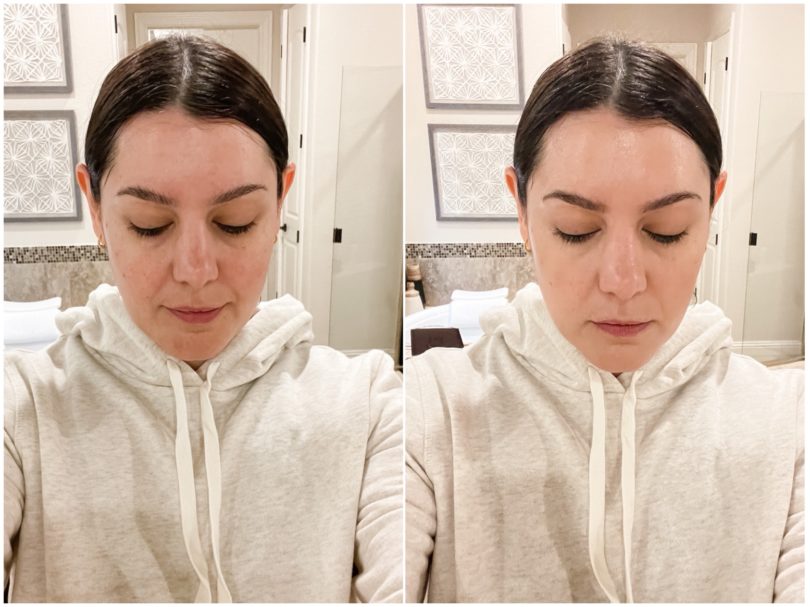 I like that I can continue my skin care throughout the day with this serum but still have coverage. If you have dry skin, this is a wonderful alternative to foundation. If you are a bit on the oily side, this might not be your favorite look for you. I love it — it takes about 15 minutes to set in but the nice dewy lasts all day.
I've been wanting to try a vitamin c serum for a while just because my skin has been kind of dull and I've heard so many good things about vitamin c, especially when paired with retinol at night. (Apparently they are best friends and skincare tag-teamers, who knew?) I ended up going down a long rabbit hole of reviews and actually ended up with this one in my cart which is not where I started at all. I've never tried Sunday Riley products and honestly I don't know if I believe the hype — I hate hype when it comes to cult products. But I thought I'd try this one….
Okay first off, the smell is…A LOT. Like for the first day I kept smelling it all day. I can't even explain what it smells like — it's not bad, it's just strong. Almost like a CBD oil, but it's not. I *almost* took it back because of this but then I gave it one more try and the smell bothers me less and less each time. I've used it for about two weeks now and absolutely love it. I feel like my skin has a nice glow about it and can't wait to see more results.
This is a thick serum so it takes a good 15 minutes to settle into my skin before I start my makeup. I usually put this on my face as soon as I'm out of the shower, that way it has time to soak in before the rest of my routine. This bottle is going to last a long time because I barely use any each time. It's pricey, but I think will last me most of this year.
On the complete opposite end of the budget, this is a $4 multi-stick that is just amazing. I mean 2400 4-star reviews on Amazon is pretty darn good. I have the hue 'sparkling rose' and I use it as a blush. It's a sheer blush, so it will go on pretty pigmented and then I take my beauty blender and blend it in. I layer it for more color, but overall I just do one swipe and blend and it's the perfect amount of fresh color on my checks.
Note: Per the reviews, I didn't find it to be *too* sparkly as someone mentioned. But yes it is a sheer color. If I want more color, I just blend and then layer because it will build on itself without looking thick. You will never get heavy pigmentation from a sheer stick like this, so if you are looking for heavily pigmented color an opaque powder blush will be your best bet. I like the sheer color as I think it mixes best with my lighter foundation.
I've actually been using this for a minute, so this one has been very tried and tested. I am on my second bottle but it probably took me 6 months to get there. If you've ever looked at my hair and thought, 'damn that's shiny' — this is why. I mean I also eat a lot of eggs, but I'm pretty sure it's the shampoo. I have the best hair days with this shampoo + conditioner mix. (The conditioner is THICK so you don't have to use a lot of it. I tend to go through the shampoo quicker!) It really does give me glossy, sleek locks like no other shampoo I've used before.
I've had such a curiosity for Drunk Elephant products for some time now, but I a) don't want to pay for them and b) I already have products that I like. But I'm always looking for a new mask and I've been wanting something to improve my skin tone recently and that's what this mask claims to do. So I took the bait.
And I'm hooked. Yes, so plainly put it works. It tingles at first when you put it on (also it's clear-ish so it was hard for me to know if I put enough on / where I put it, lol) but then it levels out and you feel nothing. After washing the mask off, I immediately put a few drops of the included oil on and let me tell you — it was like touching brand new skin. My face has felt smooth and glowy since using it. The bottle says once a week and I say — it's a date.
Just as a disclaimer — Drunk Elephant is stupid pricey. Some people have hobbies like golfing, hunting, furniture refinishing. Mine is skincare.
I could have sworn that I had written about these glycolic pads before but I think that was a phantom post in my dreams because I couldn't find any evidence of this. So if this is the first time I've mentioned these, let me apologize because you should have known about these the second I got them. They are amazing. Again — I'm on a skincare journey with tunnel-vision to get smooth, dewy baby skin. So I discovered these last fall or whenever they were launched and immediately found results. I ended up running out of them and they — gasp — sold out, leaving me with a gap in my skincare routine for weeks. And guess what? I mean yeah I lived BUT I could immediately tell a difference in my skin. These pads go on right after I wash + tone my face, they help exfoliate and smooth my skin. When I don't use them, I can tell instantly as my skin looks dull and pores look clogged. If you want an easy add on to your skincare routine that instantly renews your skin, it's these my friend.
Side note — I get flooded with Noxema pad memories when I use these. They are NOT even close to being the same as those tragic trash wipes but it reminds me of the good ol' 2000s when rubbing alcohol was considered an acne fighter. 
Hate to admit that this year is the first year I'm really truly putting an SPF under my foundation every single day. In the past, it would just be during summer months but you know what? Sun damage is the number 1 ruiner of all things and it's time, Kendi. Be better. I mean,  better late than never, I guess? I did my research and found a ton of great reviews about Supergoop and took the plunge on the Unseen Sunscreen.
It's weird, you guys. Ha — I mean it's not what I was expecting at all. It's almost like a primer, it comes out clear (unseen — I get it now) and glides on, literally. You don't have to use a ton of it which is nice because it's the price of foundation. But overall I liked it. I use it after my serum/moisturizer but before my foundation. Confusing I know but helpful in the long run so that my face doesn't look like perma- hot Cheetos.
So far so good, but it's been really grey here so I'm just trying to get this a part of my routine before it's super sunny. I'm not sure if I can tell you it's worth the money just yet, but I like it thus far.
Also I wanted this one here but it sold out. I'm gonna try this one next!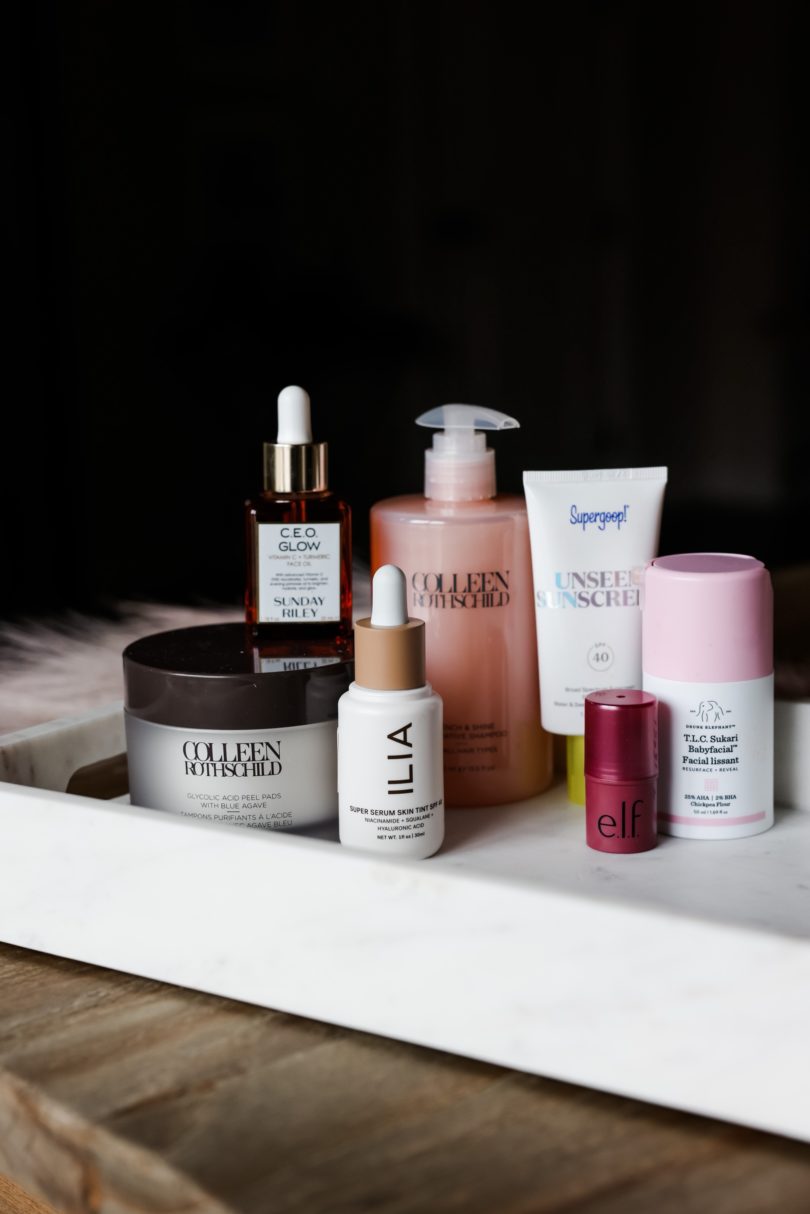 Have you tried any great products lately or have any you want me to try? Let me know in the comments below!