I know that it's officially fall according  but fall always seems like the mythical season here in Texas. We usually jump straight from summer 1 to summer 2 to dead of winter back to summer 1. But this year, it's actually *feels* like fall already. Leaves are even starting to turn, if you can believe. So for the rest of the country that experiences fall — I GET IT. What a magical season! I may even drink a hot coffee over an iced. (Well…maybe. Let's not get crazy.) And with any change of season, my closet usually needs a shake up. I bring my sweaters to the front of the line and start dusting off my boots. I thought I'd pull together a few outfits that are easily recreated for fall this year. (And well into winter, too!) Layering is my favorite part of fall fashion, so I found three perfect layering piece from Nordstrom, my go-to when looking for wardrobe staples that last year after year. PS: their best kept secret are their in-house brands! They are really well priced (like these leggings!) and really well made. If you haven't checked out their brands, follow this link here.
Let's break it down!
For Structured Layers: The Blazer Coat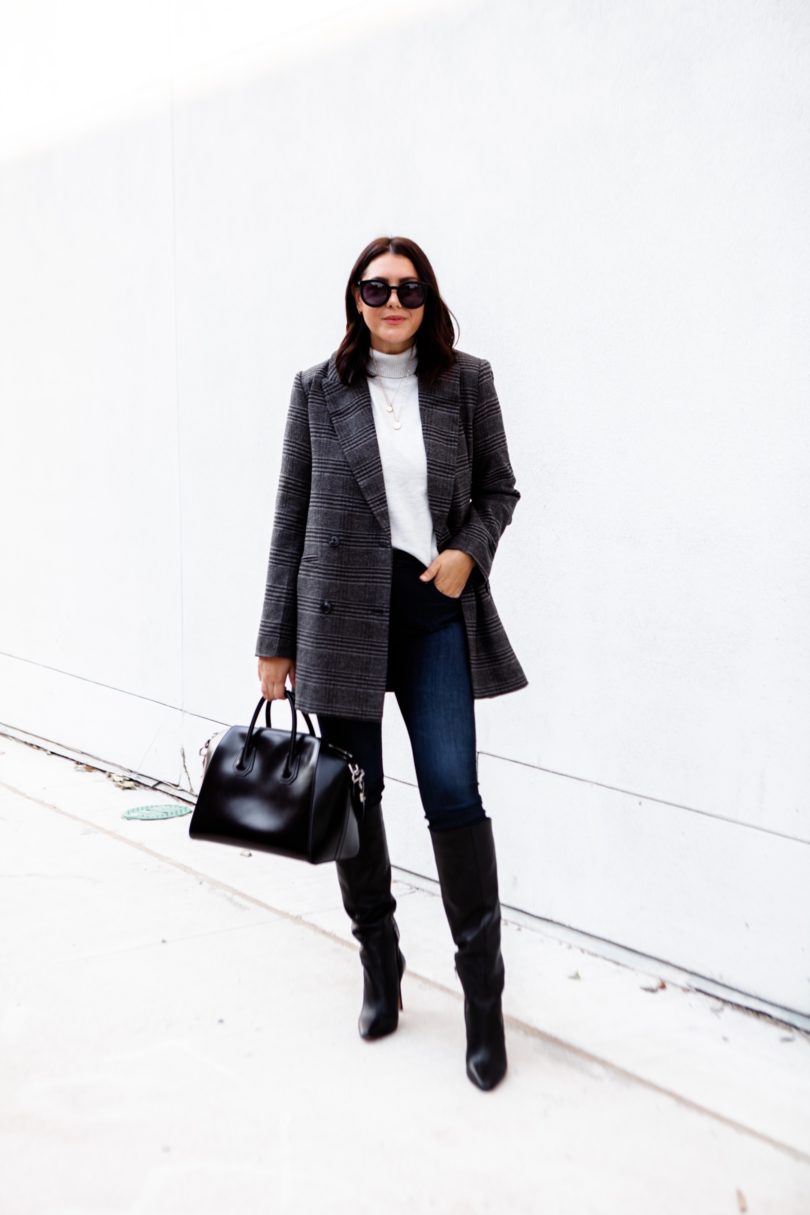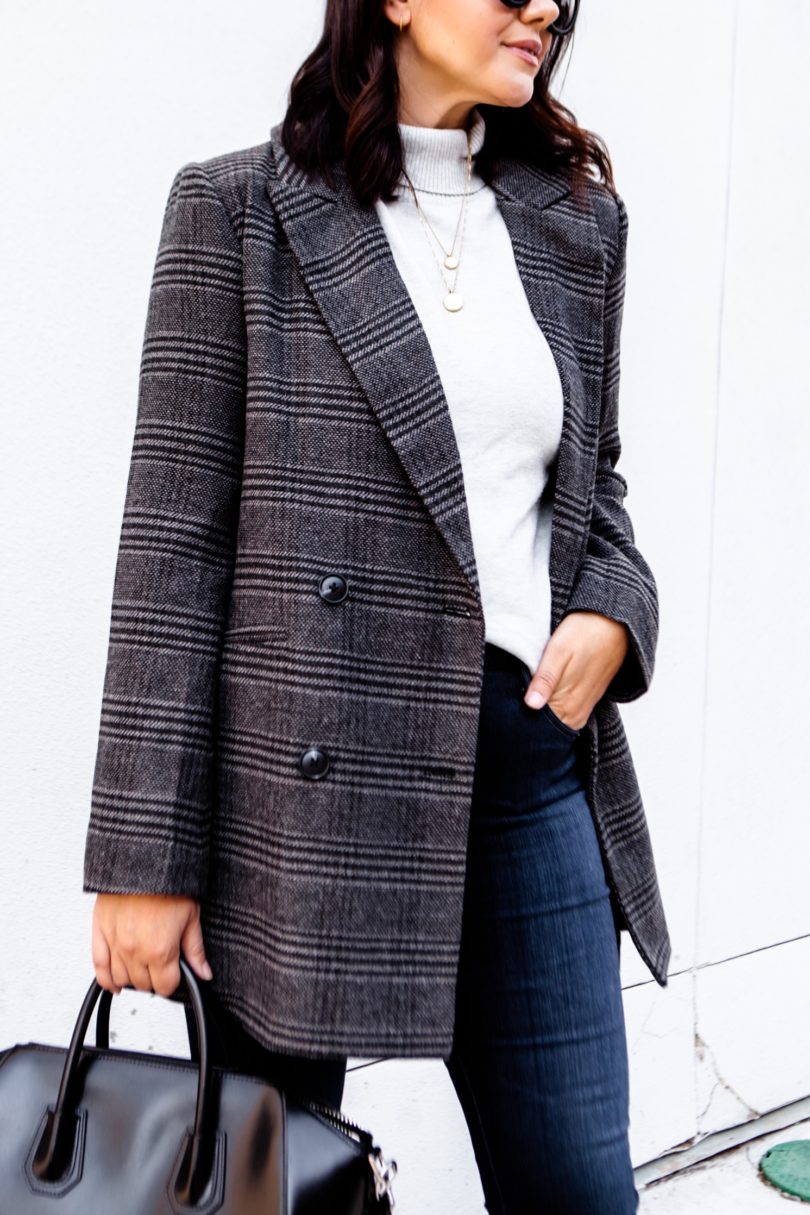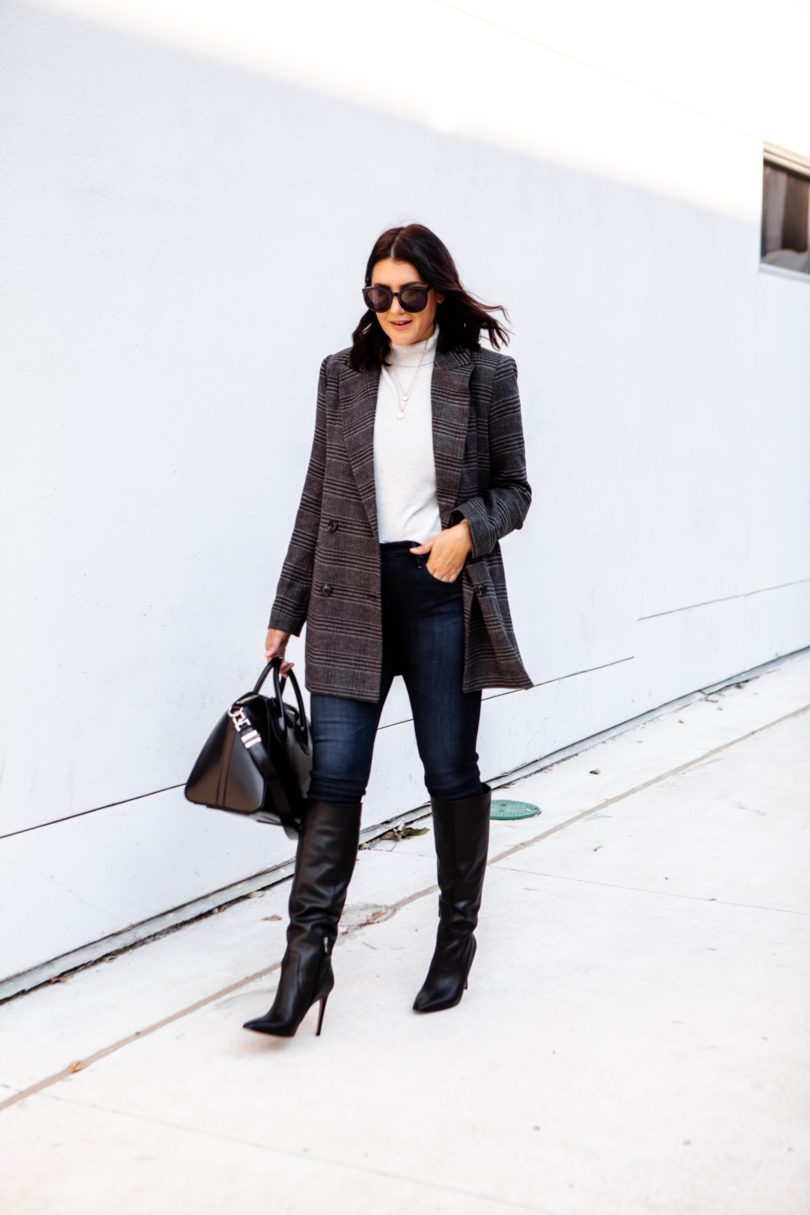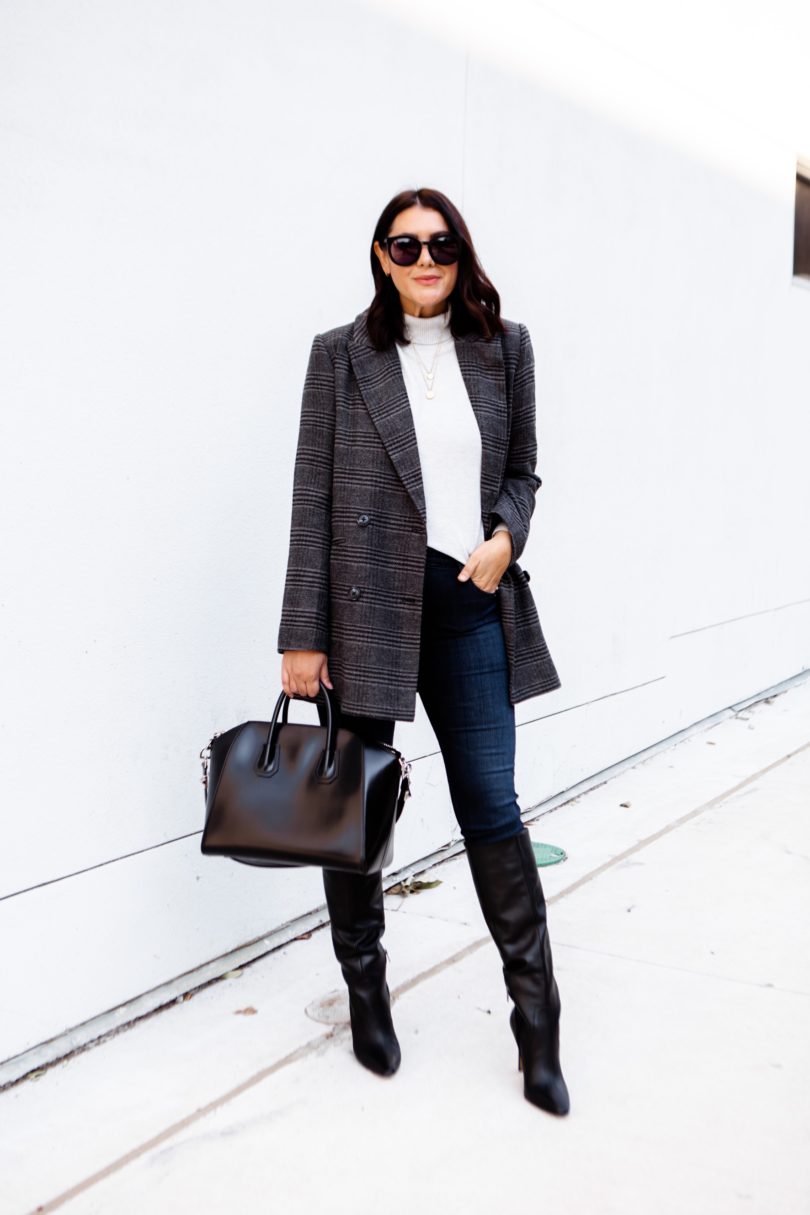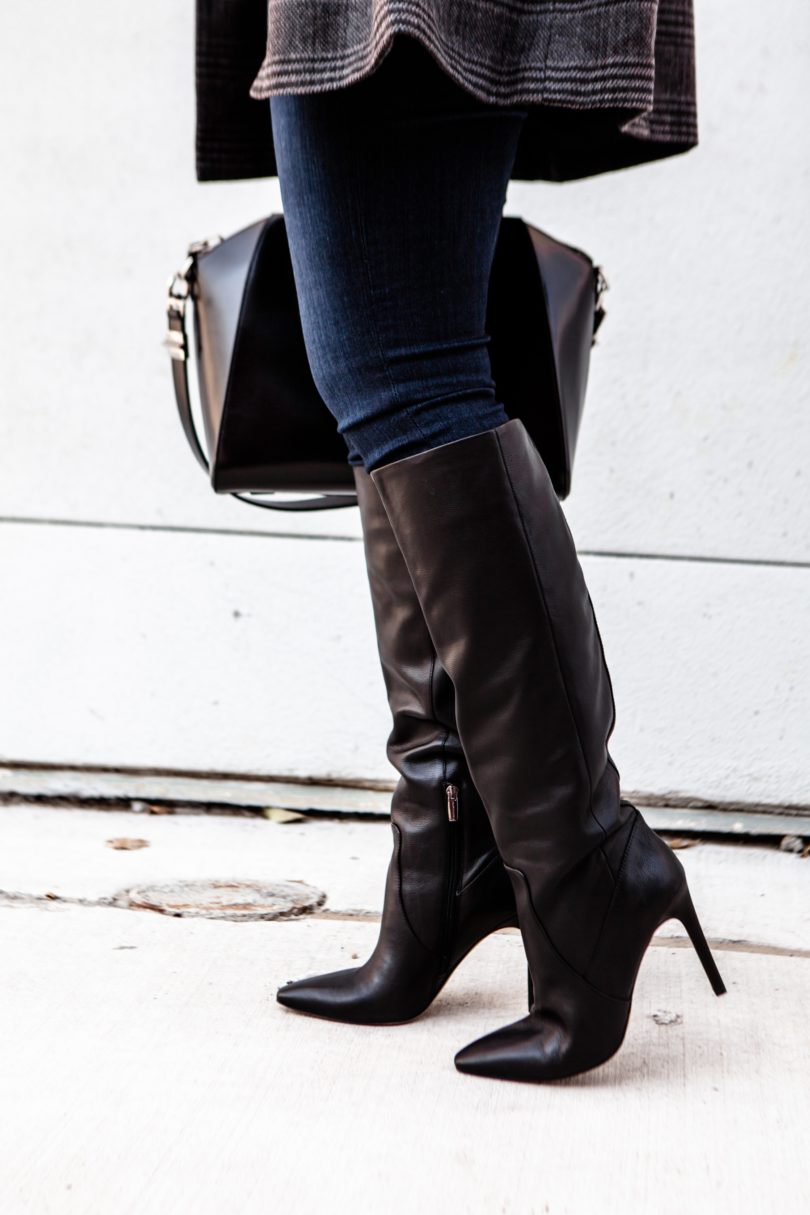 The Blazer Coat (the bloat? The clazer? Suggestions welcome.) is going to be a huge trend this fall and winter. You may say — Kendi, aren't *most* coats technically long blazers? Okay yes — you may have a point there, friend. But what I love that this one from Nordstrom is that it actually looks like an oversized blazer but surprise — it's a lined coat. It's the perfect look if you like to keep your ensemble a full outfit with your outerwear. 
I don't usually go into too much detail on the pieces I wear but I I love this coat so much, I thought these things were worth nothing. This coat is super great quality, especially  for the price (under $200). It's a nice mid-weight, so you can layer a sweater or a tee / blouse under it depending on the level of warmth you need. And it keeps its shape and structure, so the integrity of its style stays. Plus it's a nice, truly neutral grey and black combo, so you can go with warmer neutral tones (camel) or cooler natural tones (grey) or even bright colors (bright red, royal blue, fuchsia) and it will go with all of them. It's quite versatile in it's shape and tone, so you can wear it with most of your winter sweaters or autumn tops! Also it fits true to size, if not a little generous for layering underneath. I am in the medium and really like the fit / size. If you are more narrow in your shoulders, you could probably size down one. Find this blazer coat here!
I paired this coat with a lightweight sweater (found here!) and I love the cowl neck sweater look with a blazer coat. This outfit is classic and can carry you through even the later winter months. Find this sweater here. 
I added one more layer to this outfit — my knee high boots. You probably don't think of shoes as another layer but they can absolutely be another layer. Think ankle booties layered with chunky socks or over the knee boots, both give a layer of warmth and interest to an outfit. I technically was not in the market for tall boots but I saw these and the decision was made. I loved how sleek they look and the pointed, chic heel. I don't have anything like this in my closet so she was a welcomed style. I can't wait to pair these with sweater dresses later this fall. You can find these boots here!
For Light Layers: The Shirt Jacket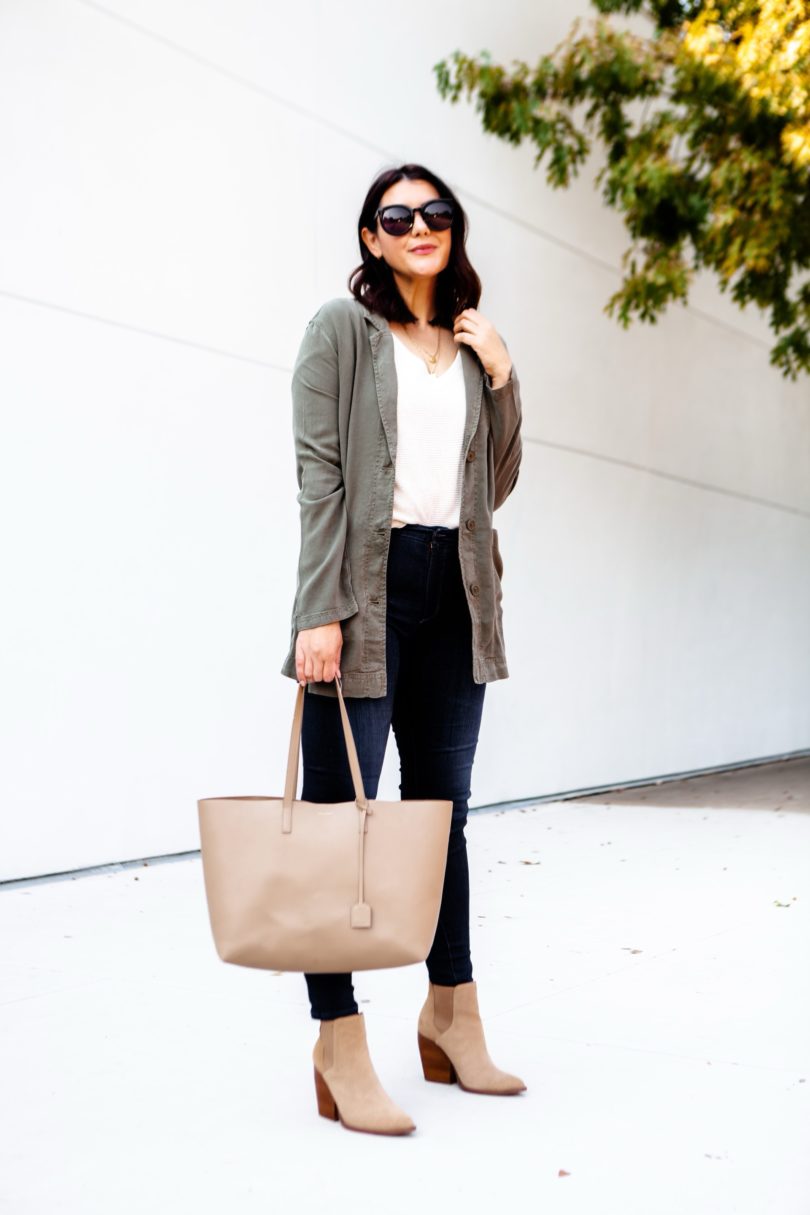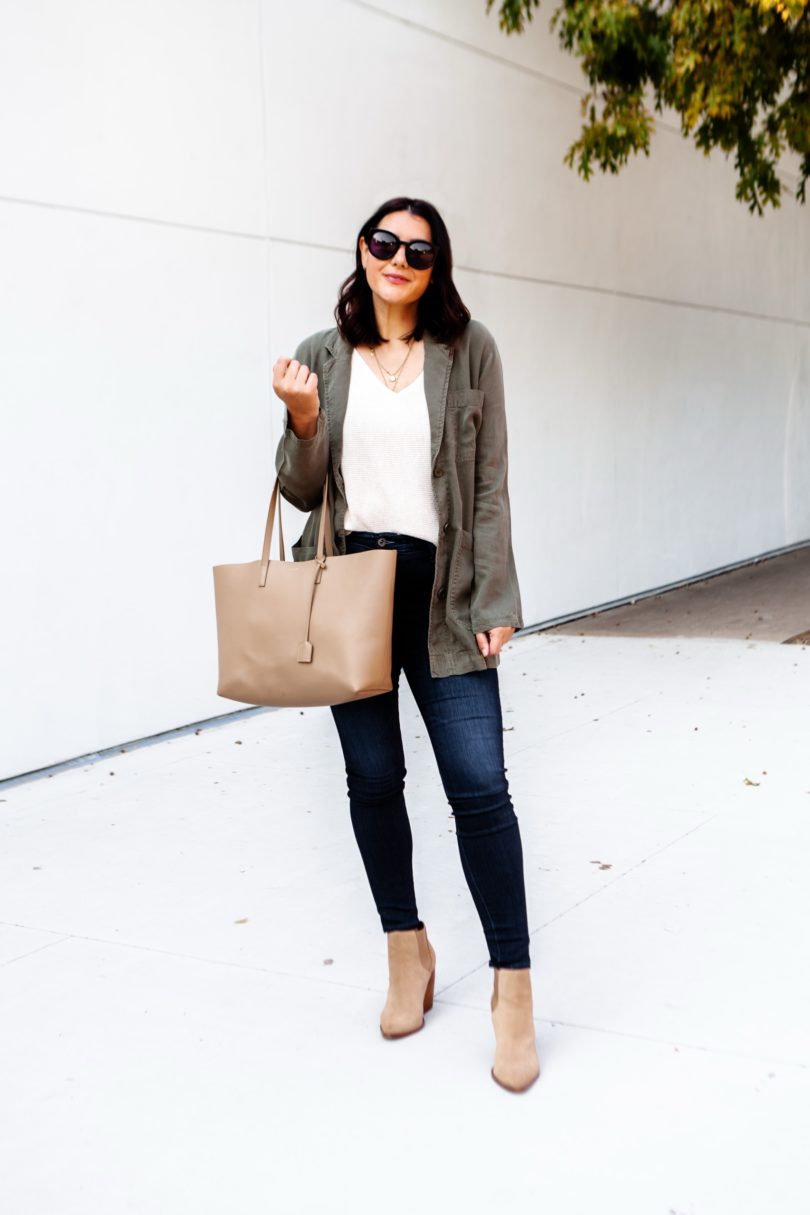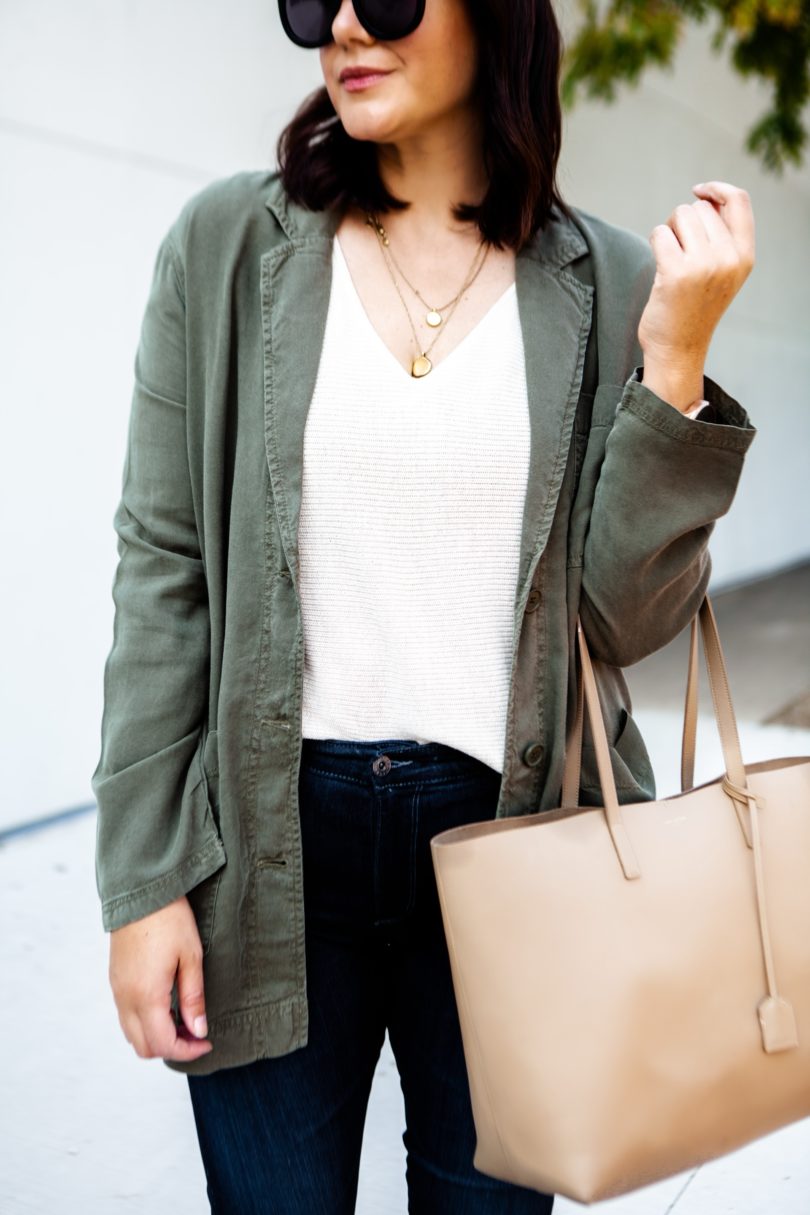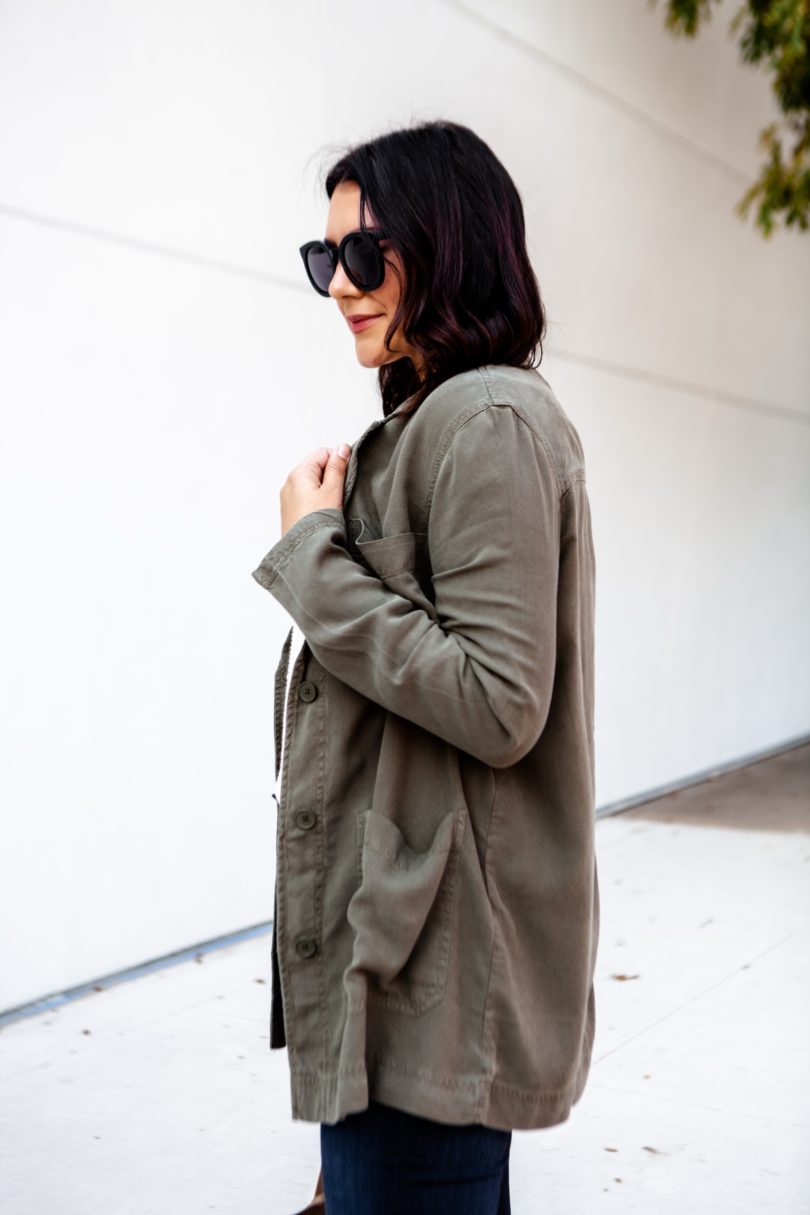 This outfit is actually perfect for right now, when it's a bit cooler in the mornings and evenings but the days still hold warmth. I layered this fabulous v-neck sweater under this lightweight canvas jacket. First off, this sweater is everything. It's loose in all the right places and fits in all the right places. I did size up because I wanted extra slouch — so you can stay true to size if you want it a bit less loose. (I'm in the large) It's adorable with just denim and booties as well, a serious favorite! I feel like this one will sell out fast. Find this sweater here. 
But let's talk about this jacket. It's actually exactly what I've been looking for…for years. So shoutout to Nordstrom for literally making my dreams come true. I am not even being a little bit dramatic about it…okay maybe a little. But basically I've wanted a mix between an oversized shirt and an anorak jacket, which is exactly this. It has the lightness and loose structure of a button down shirt (it's a soft canvas) but the shape of an anorak jacket. It's not as stiff or polished as an anorak, so it lends to a more casual vibe. Think of this outfit but a simple white tee and sneakers — that would be perfect as well! (I can put this together, if you want!) I am in the medium of this jacket and it fits true to size. If you want it to fit a bit more boyfriend / relaxed then size up one, but overall it's true to size. Find this jacket here. 
For Comfort Layers: The Boyfriend Cardigan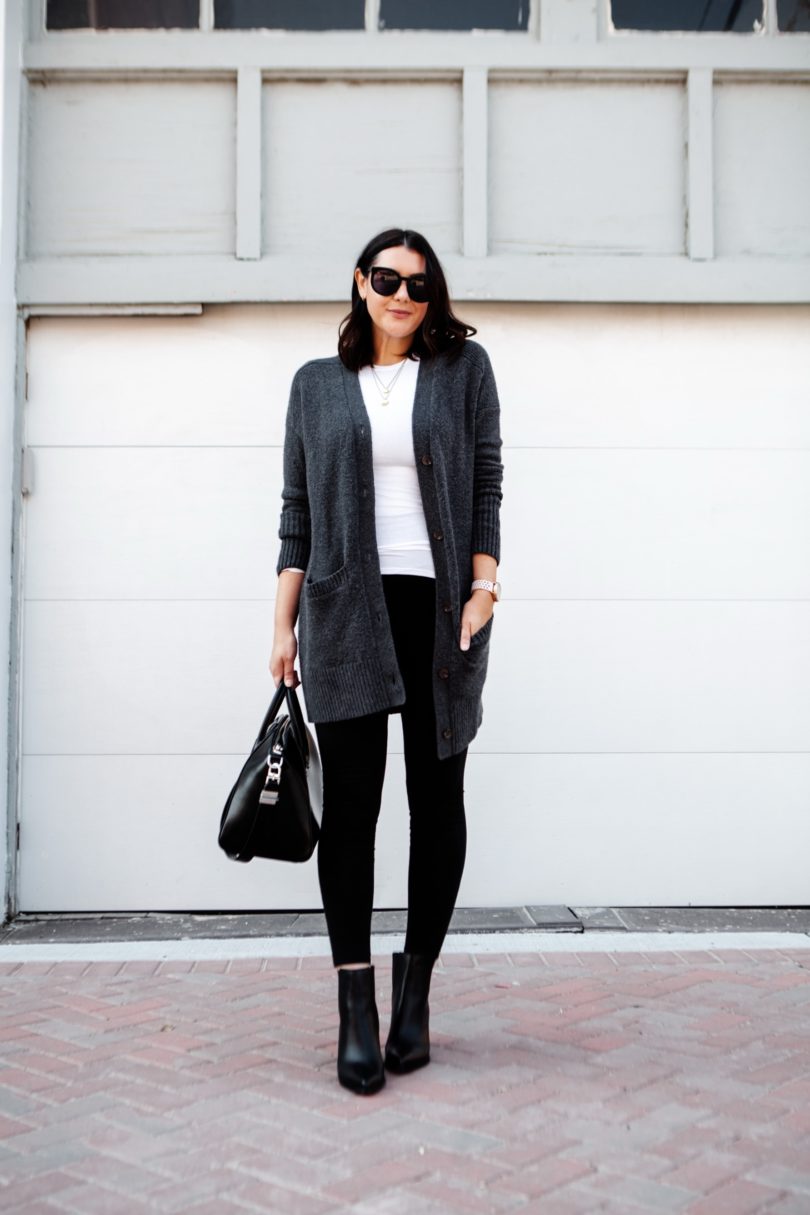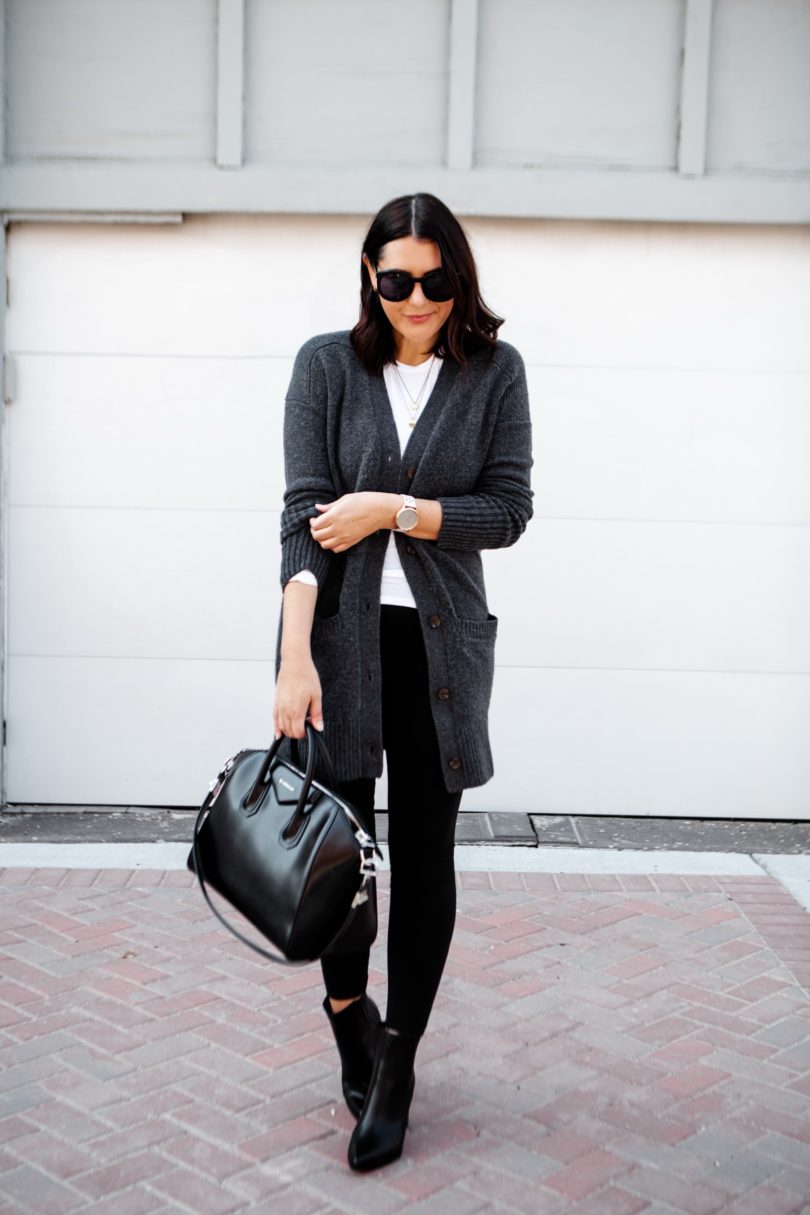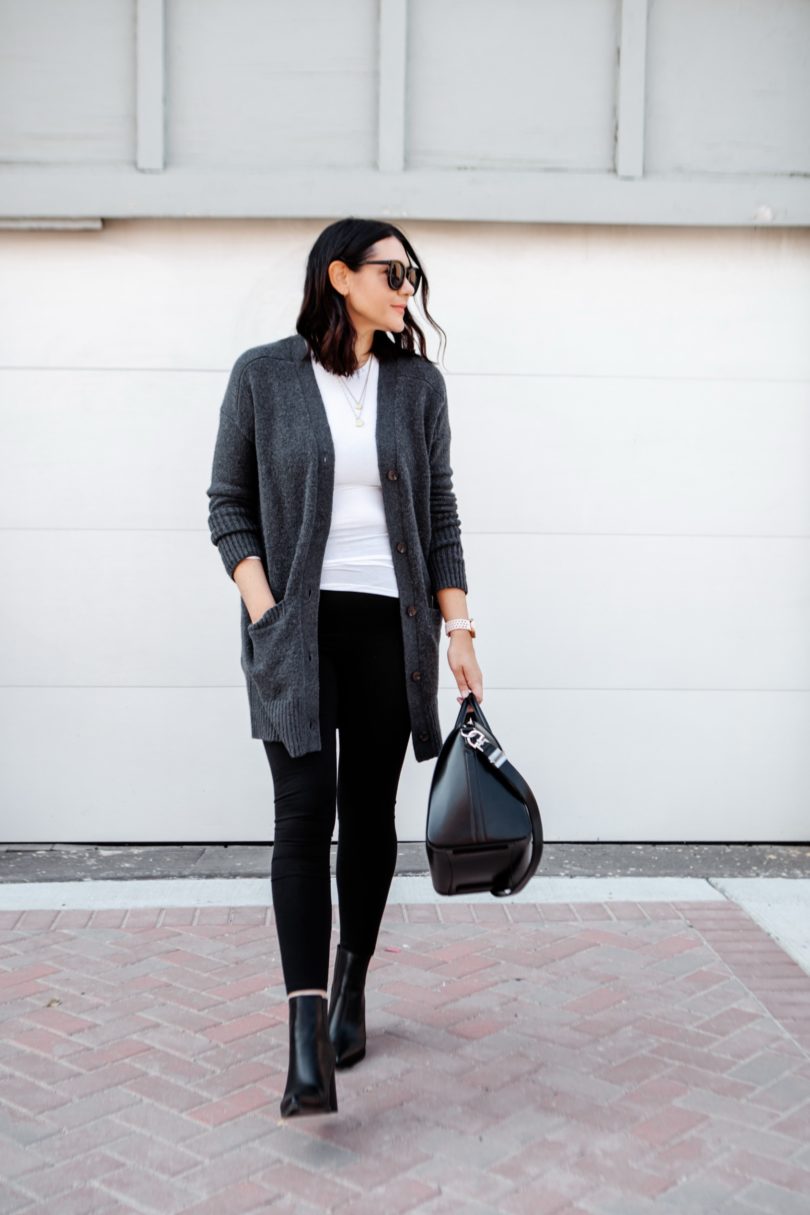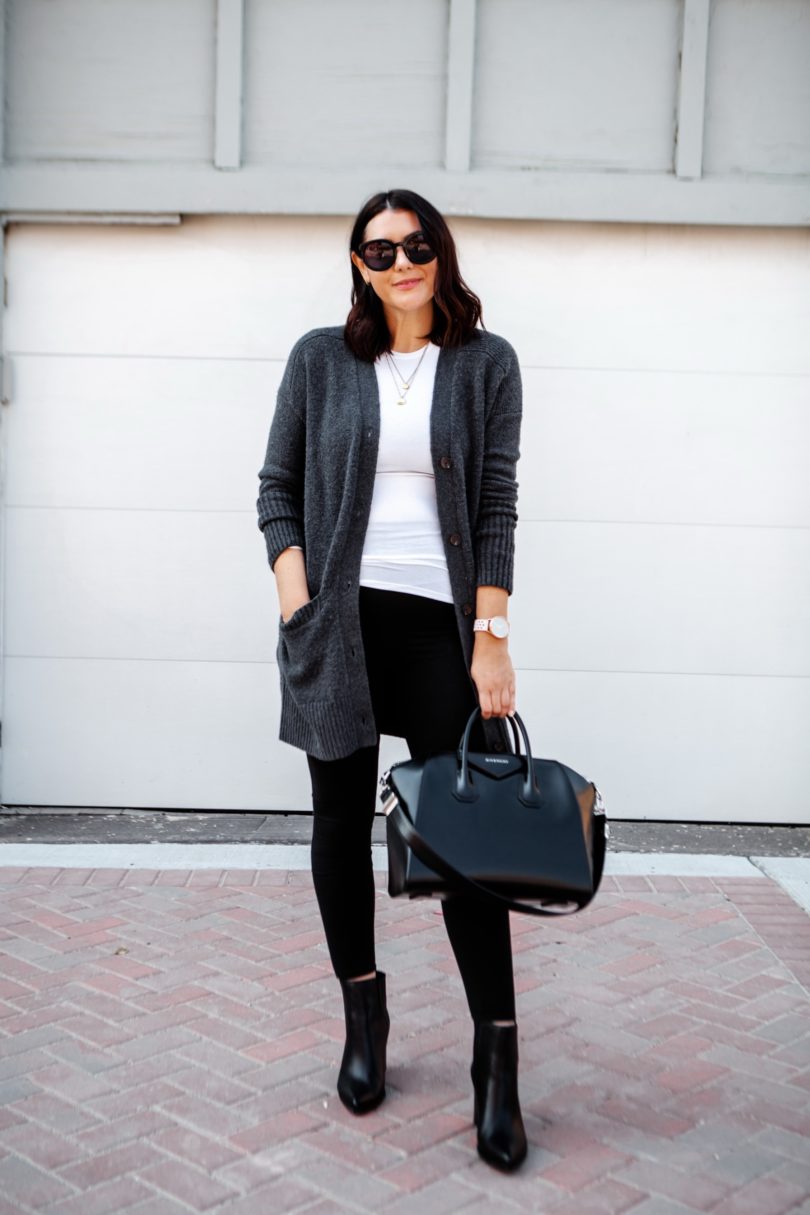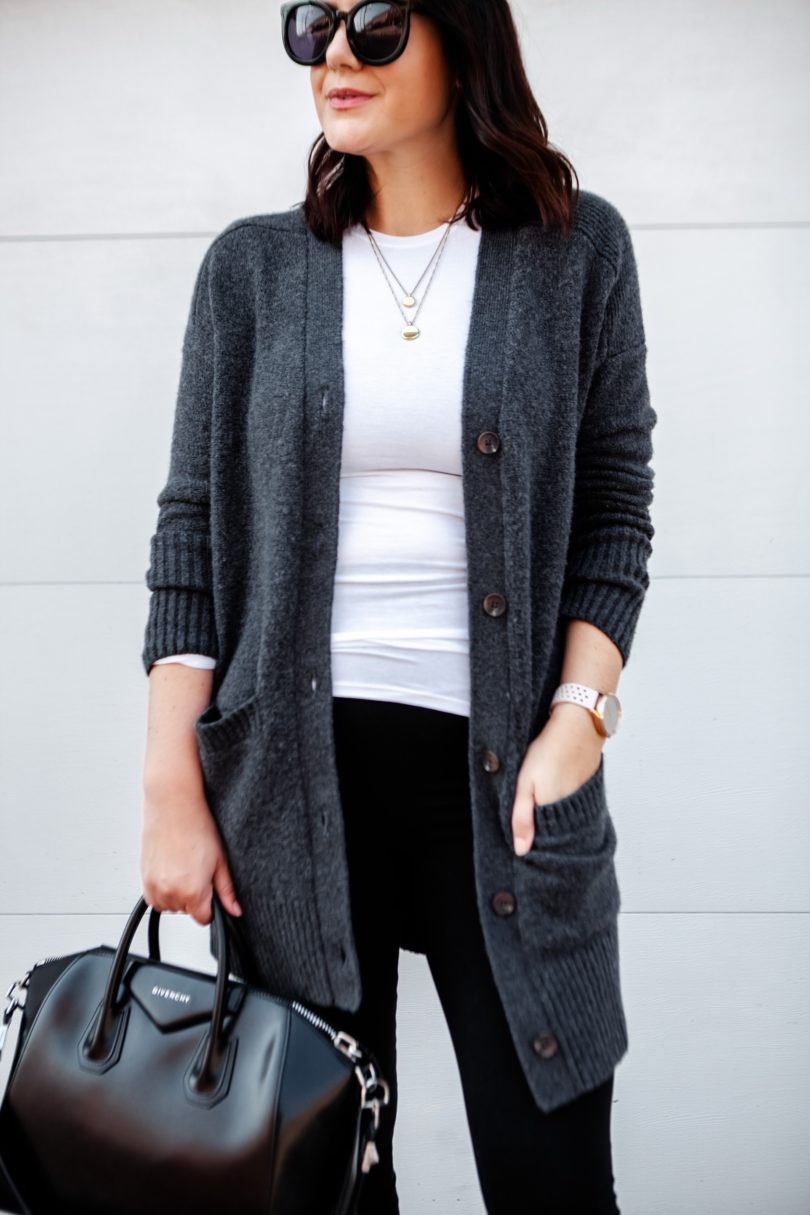 Last but not least: the boyfriend cardigan. Last only because I can not pick a favorite outfit; I've never been able to and I won't start now. This is probably one of those outfits that I've worn a hundred times but I never photograph for the blog. It's the perfect outfit: super soft tee, comfort cardigan, easy to wear leggings. What's not to love about this everyday style? 
First off this tee is like LEGIT. I needed a new long sleeve white tee for fall / winter and I love anything with the word luxe. But this tee is actually luxe — it's super nice and so soft and probably the best feature? It is NOT sheer. Standing ovation for this white tee. I am in the medium, it fits true to size! Find it here. 
This cardigan is one I've had my eye on for a while and finally put it in my cart for keeps. I am so glad I did — it's an oversized fit but just right. The fit is spot on (I stayed TTS despite the suggestion to size down. I'm in the medium.) and it is just so nice and cozy. Find this cardigan here.
This look would work for denim as well, but leggings win me over some days. In fact, this outfit is a WFH staple for me. These leggings are so comfortable and not too heavy, with just the right amount of stretch. (TTS!) They are under $30 as well. Find them here. 
One edit: I couldn't decide if I wanted to shoot this with sneakers or booties. As you can tell, booties won. But I wanted to mention if you are more a flat lady or a sneaker lady, this outfit works with them all. I actually like showing you how you can dress up leggings — these are just cotton leggings — with a bootie and it looks really classic. So this look can be versatile with just the change of a shoe. TL;DR: Sneakers optional. 
Which look do you love? Let me know in the comments below! 
________________________
*Special thanks to Nordstrom for collaborating on this post. And thanks to YOU for supporting the brands that support this blog.