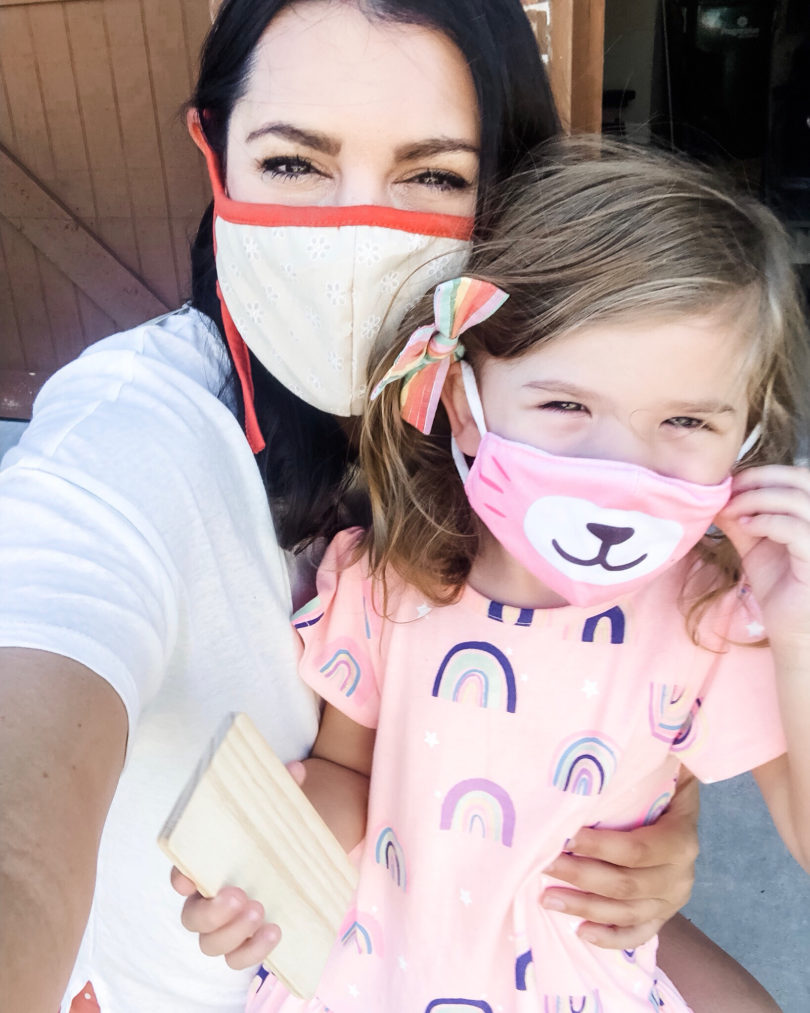 I'm not sure about you guys but our state (Texas) is partially re-opened and has been since May. We still don't go many places, especially like we used to, but when we do go anywhere we always have our masks on hand. Here in Texas, wearing a mask is mandated at every business and we want to respect those who are working and of course, those who are around us. Plus, we know it can help stop the spread of the virus, so I'm all for it. At first I bought the disposal ones to wear (and in fact I still do! I keep a box in the car for the 'just in case' moments) but now I've gathered quite the collection of masks for me, B and Gemma. I just see it as a new way to accessorize.
Gemma actually loves them, too — I think it's because she has seen mom and dad wear them without complaint and now she wants in on the action. I also told her that she has to wear one if she wants to go to Target again. She hasn't been there since March and let me tell you, if that is the key to the toy aisle then she is down for it. We went the other day and she ran up to that big red circle outside and slapped it like 'it's nice to see you again, pal, been a while.'
So in the spirit of wearing a mask — why not wear a fun or pretty one? I rounded up some of my favorites below from the classic black to some pretty florals. Oh and scroll for the kid version too!
Z Supply 4-Pack, Gemelli Pink Hat with Mask, CeliaB In Rose, Nordstrom Pleated 4-pack, Shashi Bright 3-Pack, Sanctuary 5-Pack, CeliaB in Pink
Splendid 3-Pack, Amazon 3-Pack, Nordstrom Assorted 4-Pack, The Odells Adjustable in Cream, The Odells Adjustable in Black Motif, Nordstrom Pleated 6-Pack, Amadi 2-Pack in Ivory
 – I really love these ones from Nordstrom because they are really soft on my face and I like the double tie because my mask moves as I talk and the extra tie holds it in place. I also picked up this one from Anthro because I wanted a cute one and I love the neutral color right now.
– For B, I didn't put his on here but he really favors the Nordstrom ones or this Hershel Supply Co one. He likes this one the best because it covers his face best. (He has a bigger face— I have permission to say this lol. So if you are looking for one that covers really well, try the Hershel one!)
– Also, I don't know how I missed this for the graphic but Old Navy has an absolute PLETHORA of masks that come in 5 packs! Love this tie dye set here but there are solids, too!
Cat & Jack 2-Pack, Cat & Jack 2-Pack, Nordstrom Pleated 4-Pack, Cubcoats 2-Pack, Raibow Gaiter 2-Pack, Cat & Jack 2-Pack, Nordstrom Cotton 6-Pack
Andy & Evan Assorted 4-Pack, ABG Accessories 3-Pack, Cubcoats 2-Pack, Nordstrom Assorted 4-Pack, Genovega Gaiter 2-Pack, Nordstrom Pleated 4-Pack
– For Gems, I got her these from Target and this animal face pair from Amazon. Since she is not quite 3 years old, finding a mask that fits her little face is a bit of a struggle. The Amazon ones are the best fit, but I tie an adjustable knot on her ear loops to make it smaller and it stays best. This one fits her face the best. The Target ones are great as well, they are a bit bigger but again I adjust the ear loops with a knot. Also, if you have a girl, I have found that using a bow to secure one ear loop is the most helpful.
– To get her to not constantly touch the mask or tug on it, I tell her to tell me when she needs a 'big breath'. I will — with sanitized hands — pull her mask down for her and let her get a few deeps breaths in and then we pull it right back up. This has seemed to help, giving her an option instead of it never, ever coming off. I re-affirm her throughout her wearing it saying she is doing a good job and how brave she is. I've heard some parents say that their kids think they are ninjas with masks on and I think that's an amazing idea! I would 100% go with that story too. Whatever makes it fun. Kids love fun and adventure so might as well make a fun story to go with it.
– And for advice absolutely no one asked for, like I said above I keep disposable ones in the car and I keep our masks right by the back door in a basket so we never forget them when we leave. I also have multiples so that I can always have one clean. I always keep an extra for Gemma in my purse in a little baggie, just in case as always.
If you have any favorite brands or masks that you've found, leave them below!