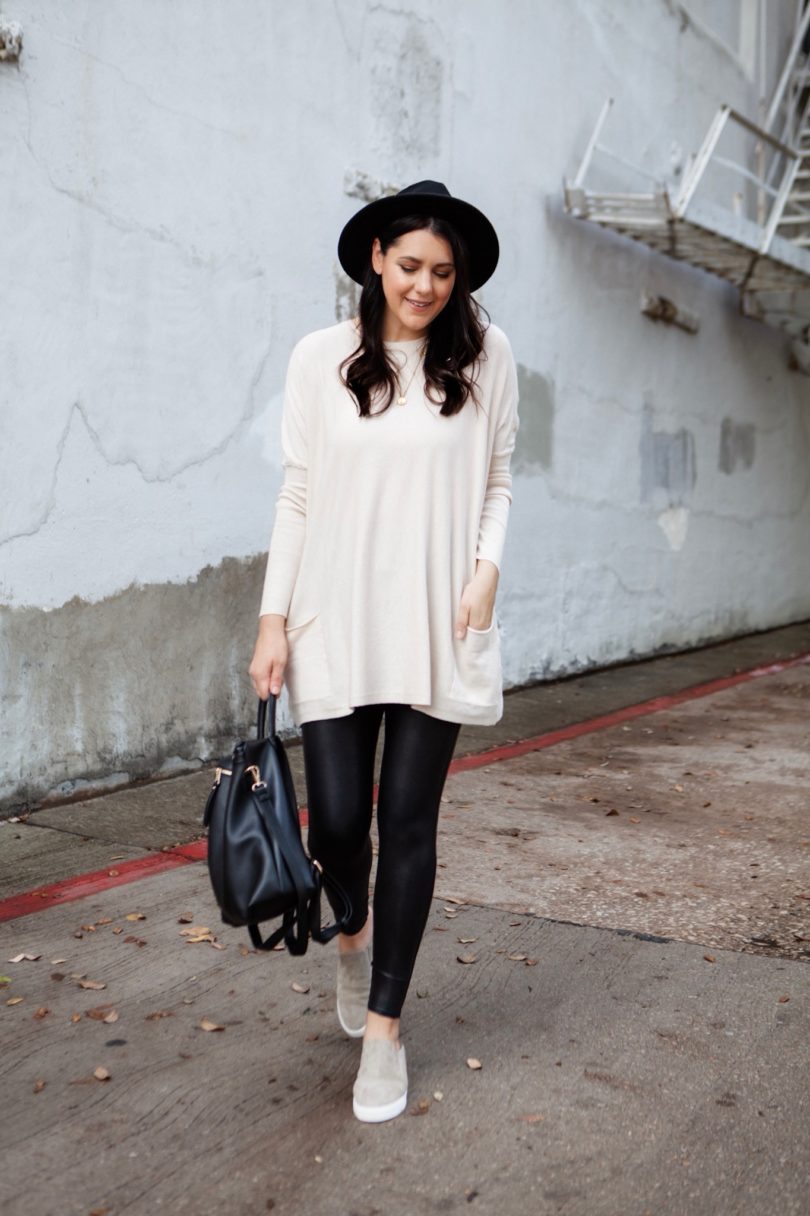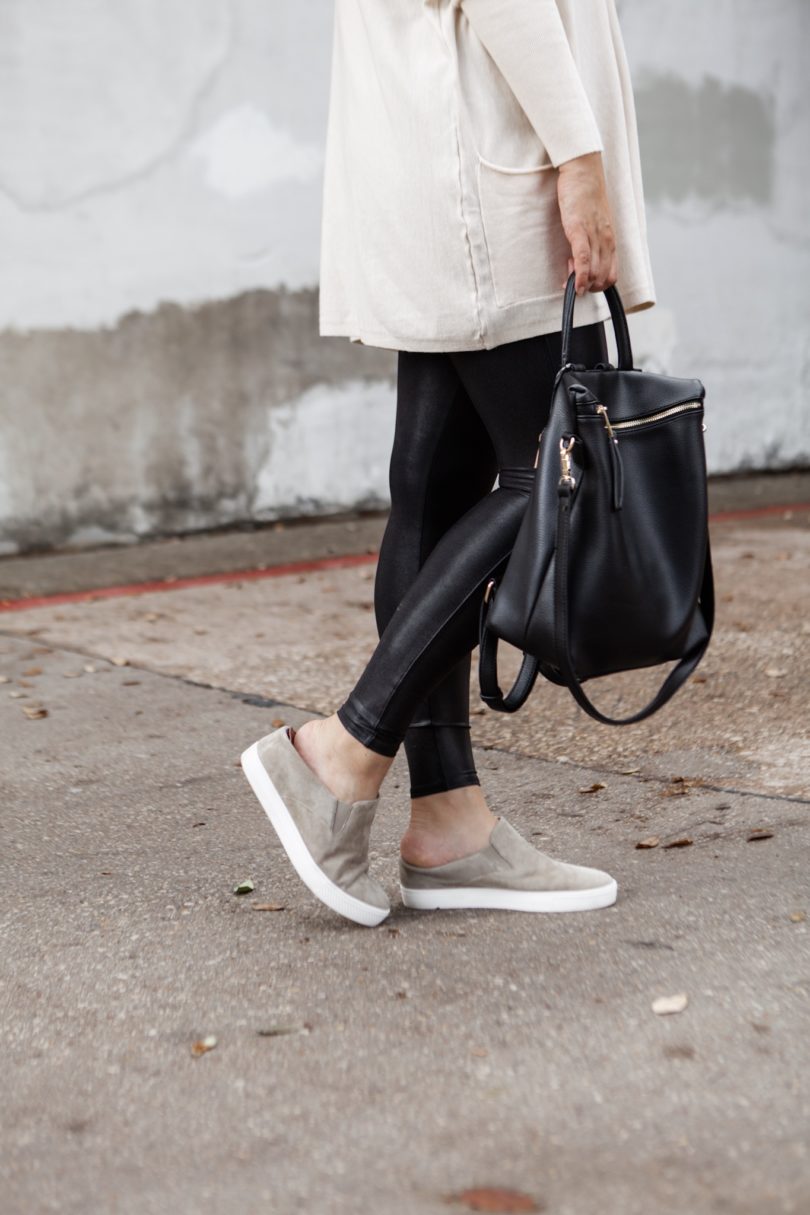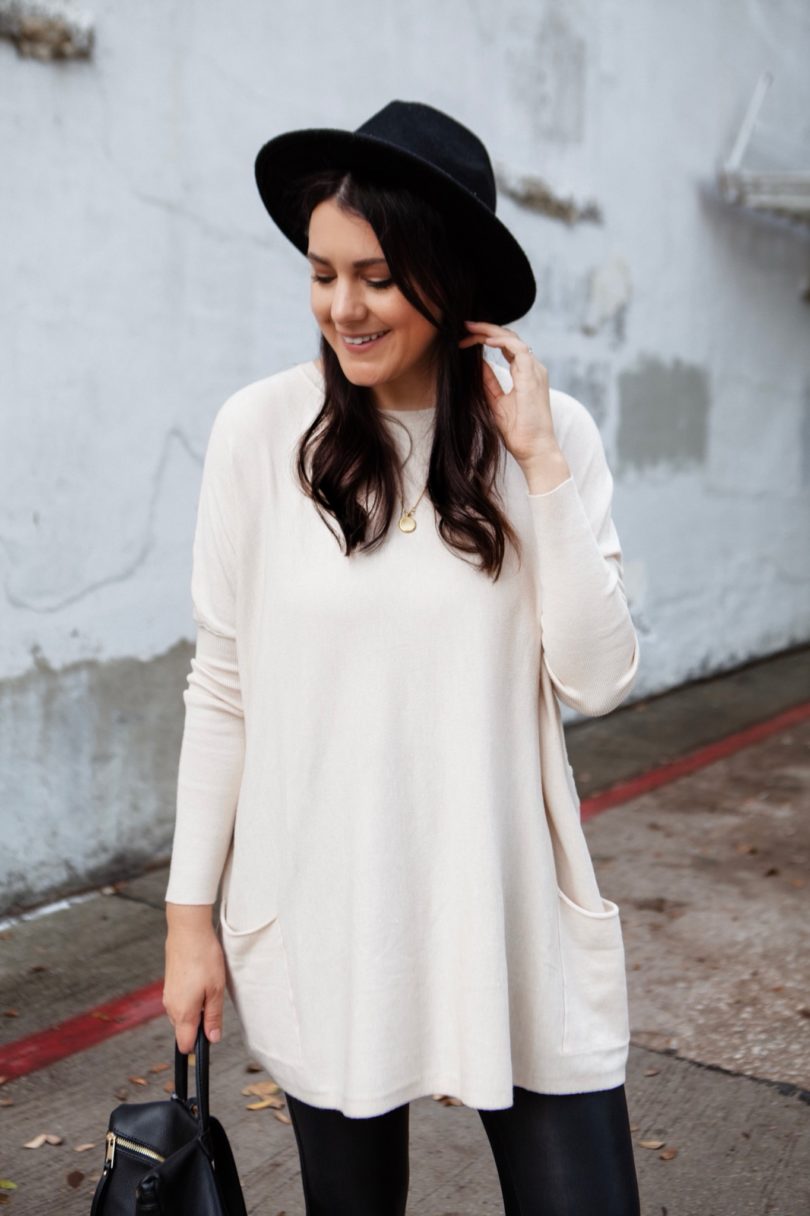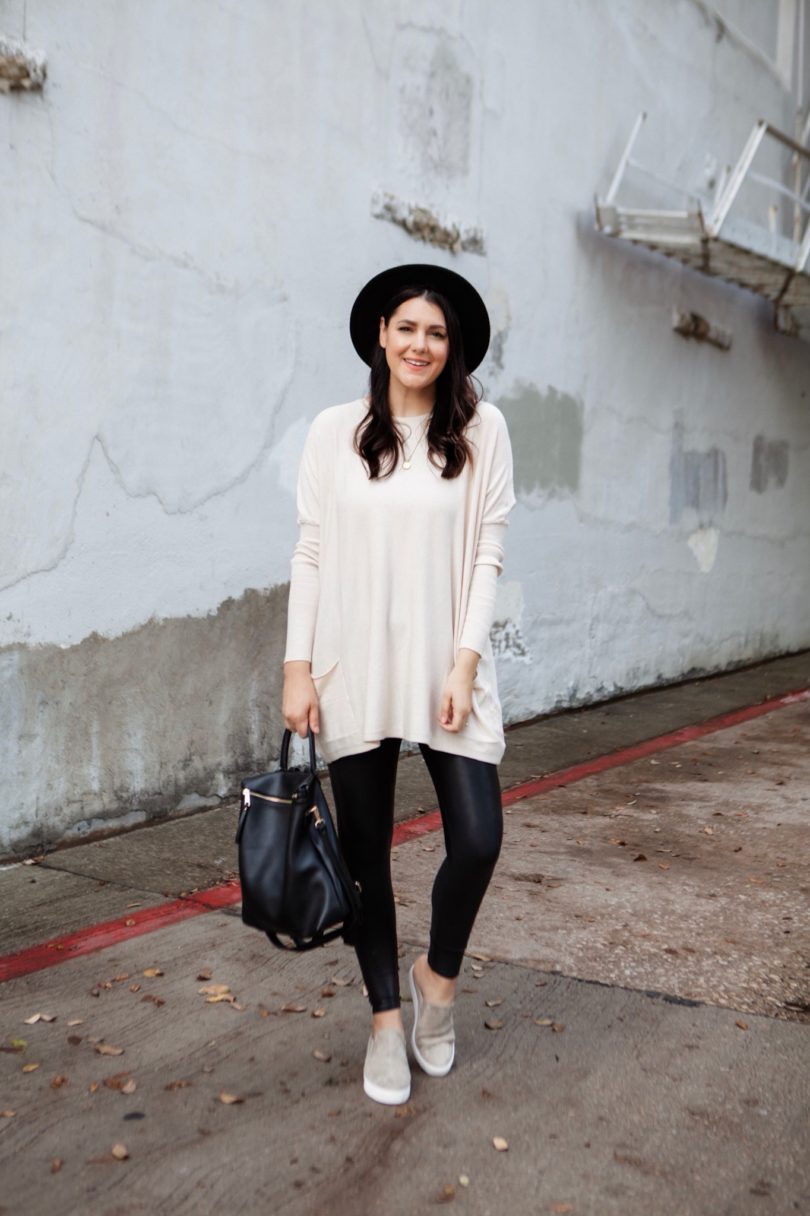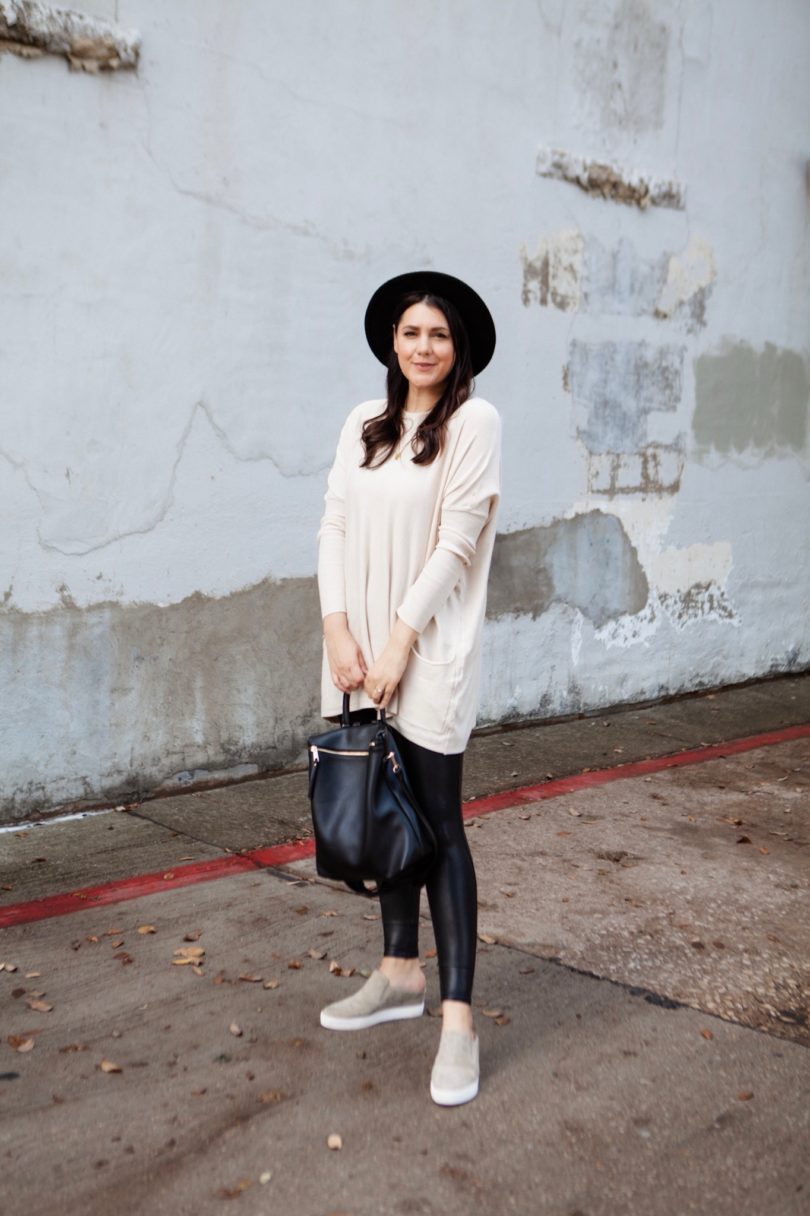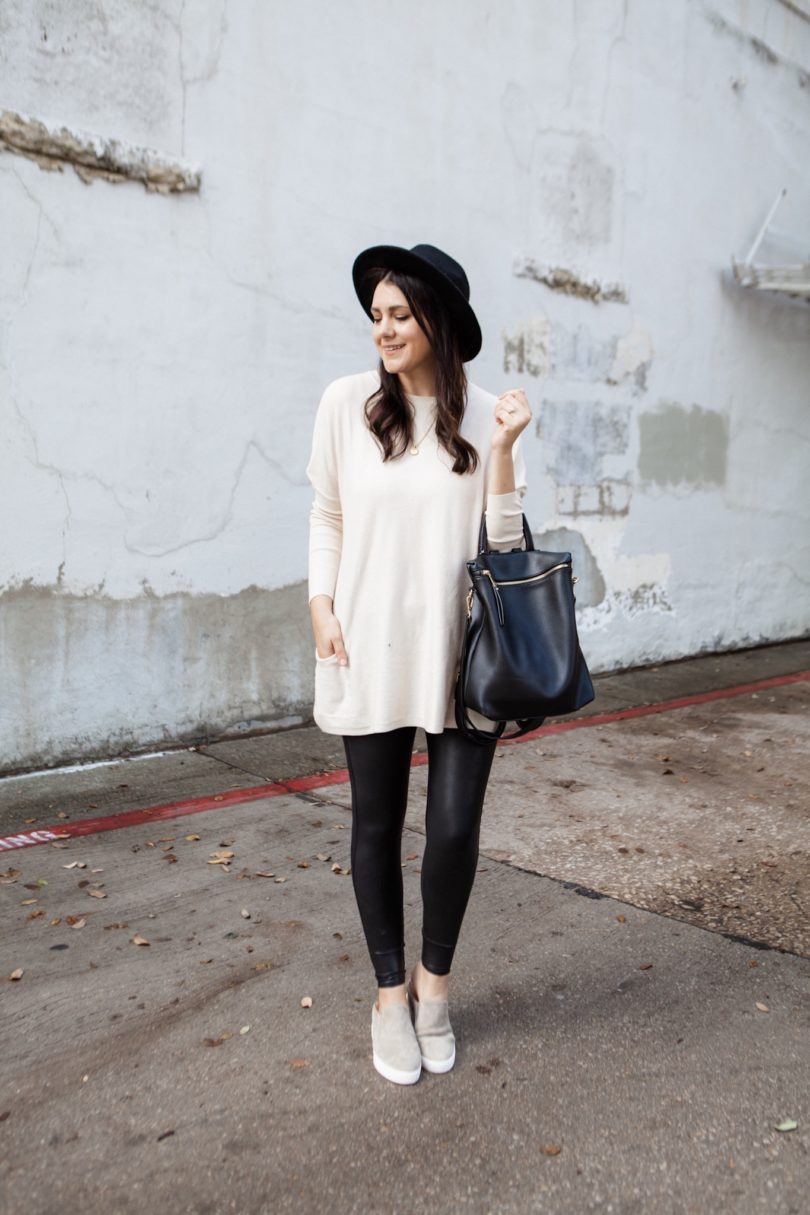 This happens every year and I'm never ready. The COLD FRONT hit and *I* was prepared because I have my handy-dandy Spanx leggings and this fabulous sweater tunic. But my brain blipped out when it came to Gemma as I realized this morning in what felt like 28 degrees…her coat from last year is too small and the only fully closed in shoes we have (thank goodness) are sneakers. So…yeah. I'm going to find her a coat and some boots this weekend. I wouldn't call this quite a mom fail but I do love that I thought her coat would fit again this year. Love that unrealistic hope I have when buying children's clothes, as if they will last season to season. It's cute right?
But I will tell you what does last year over year, season to season — my faux leather Spanx leggings. These are literally a 'buy them once, have them forever' situation. So when people as me if they are worth it —YEP is my only answer. I've had these for a few years now and I love them. Now I would suggest sizing UP — I am in the large and they are fitted. (I'm an 8/size 29 in most denim.) They are mainly fitted at my waist / tummy so I tend to wear them with tunics. If you are thinking that they will fit like Spanx undies, they don't. There really isn't a 'holding in' situation here. Don't get me wrong, they definitely smooth and tighten but they don't feel like wearing tight, tight Spanx all day long. It's just a tighter, cleaner version of a yoga pant. Leggings CAN be pants, if they try hard enough. #dreambig
This sweater tunic has been waiting for today — it's finally cooled off here and sweater weather is happening! This is the softest — I mean it — softest sweater tunic and we have it in a few colors. This cream, an olive / brown hue and a light blue color, if you like to bring in some blues in fall. You can find this heck of a deal of a sweater ($44!) here! I am in the M/L. The cream one fits a bit longer than the other too for some reason, but I like this size because it's loose and easy to pair with leggings. Think tunic! (PS: I also have this in the brown)!
I think I've said this before but these backless sneakers have been a surprising favorite of mine this fall! They are comfortable, easy to wear and my foot stays nicely tucked inside. You can find them here!