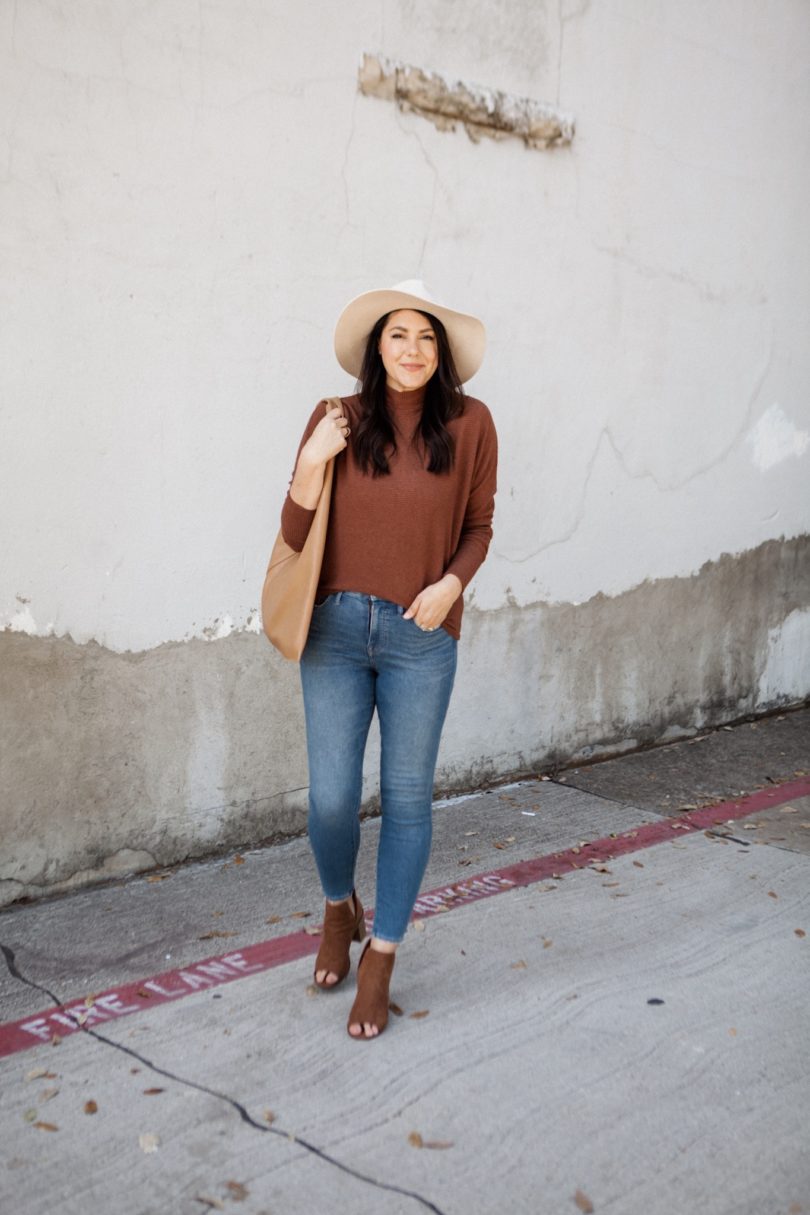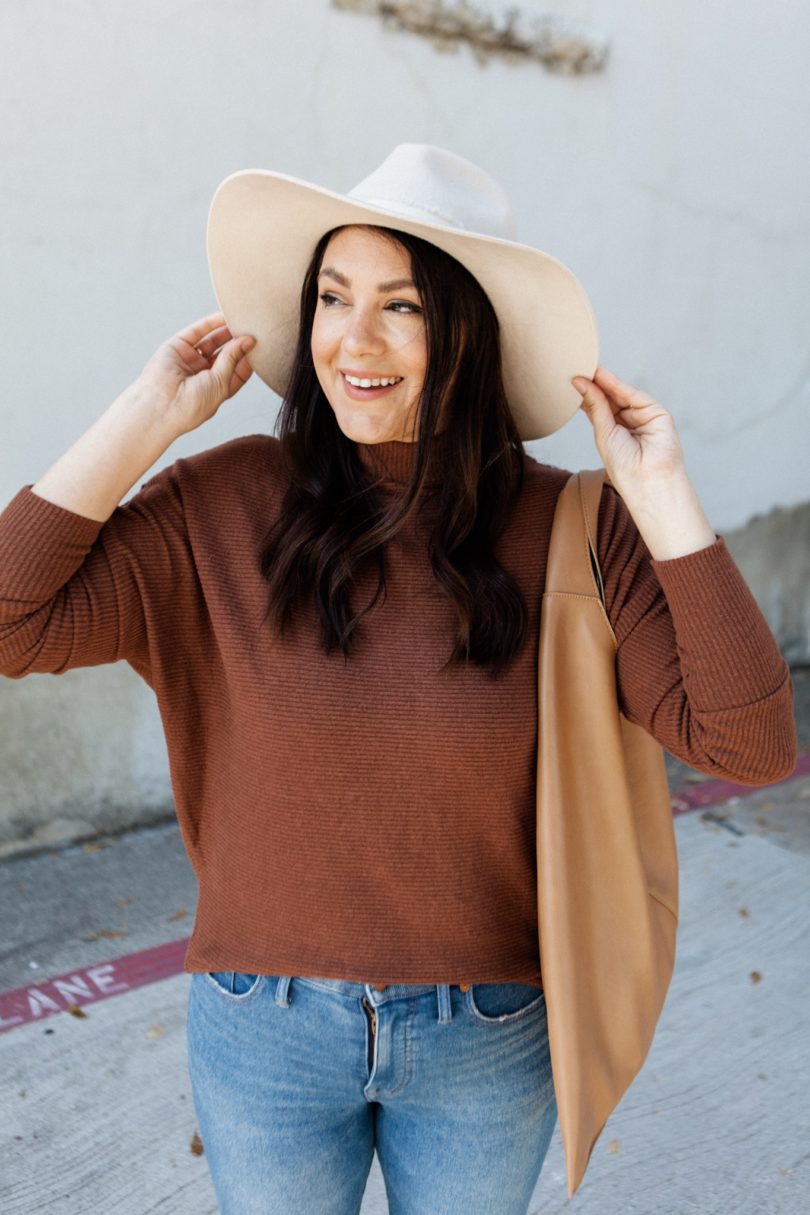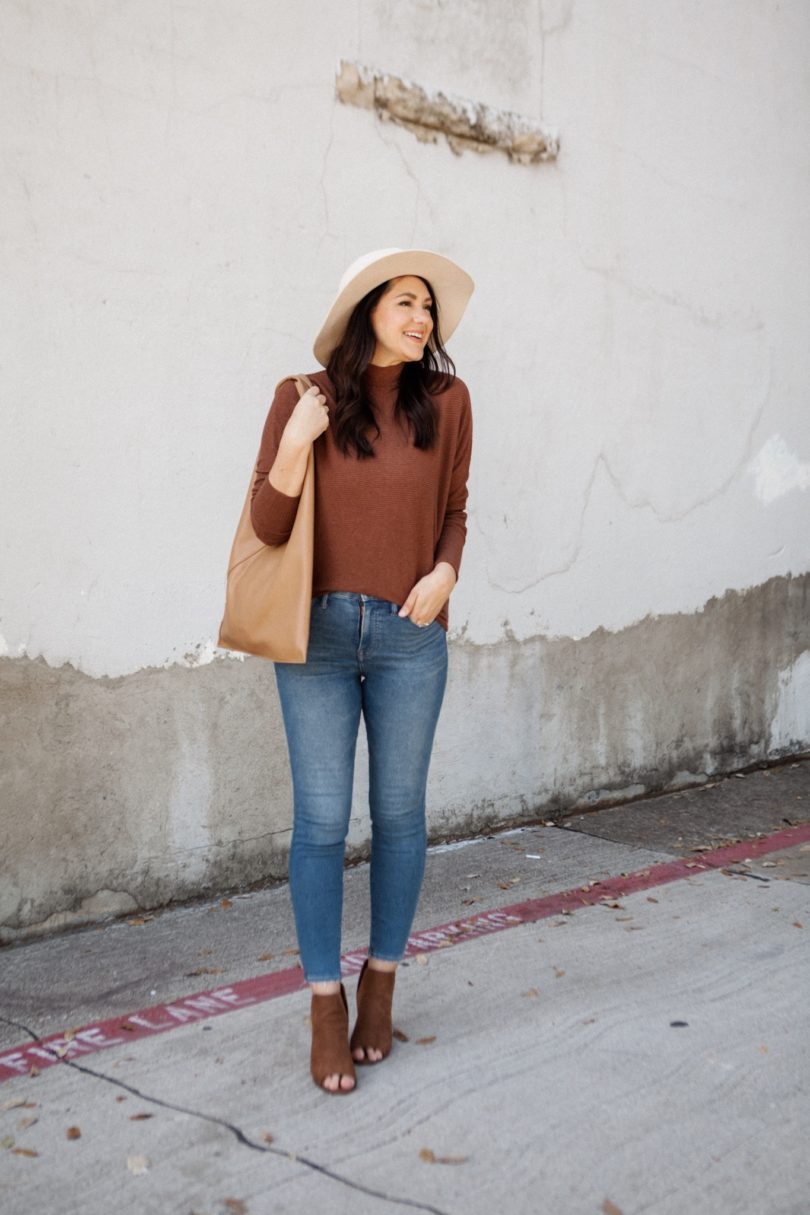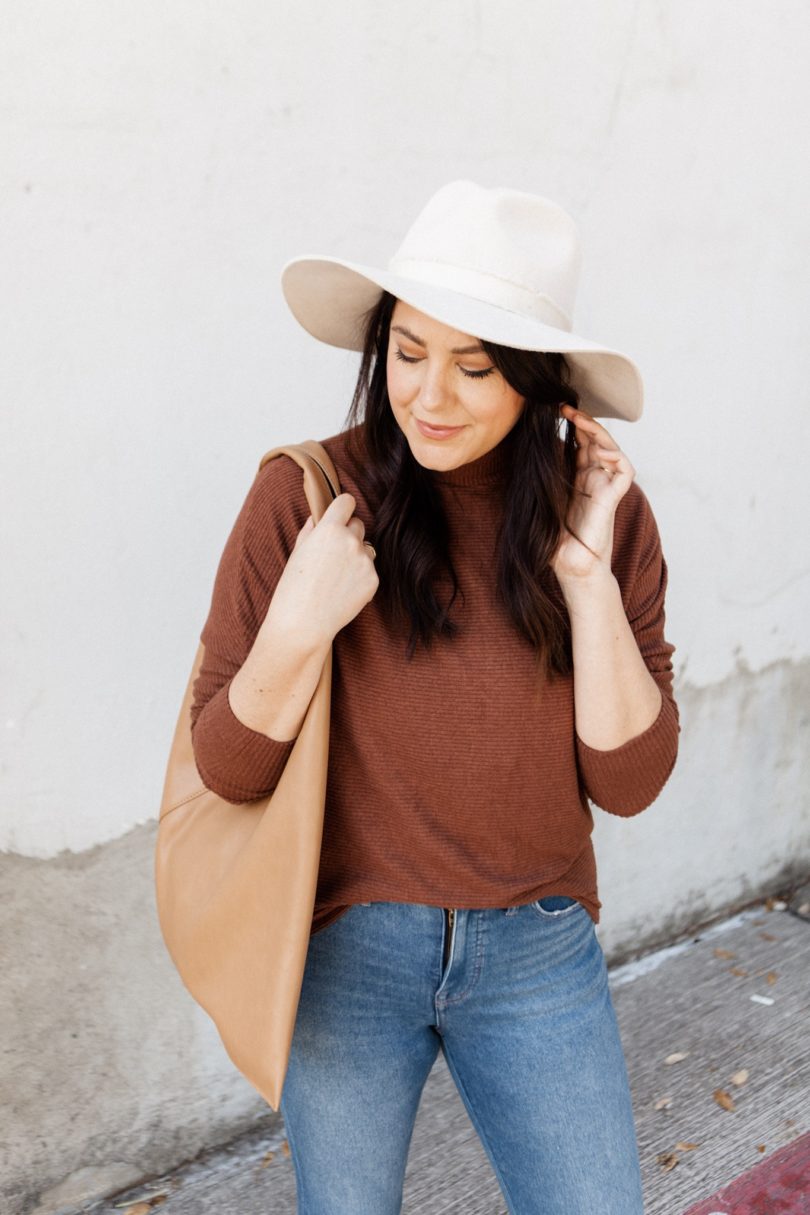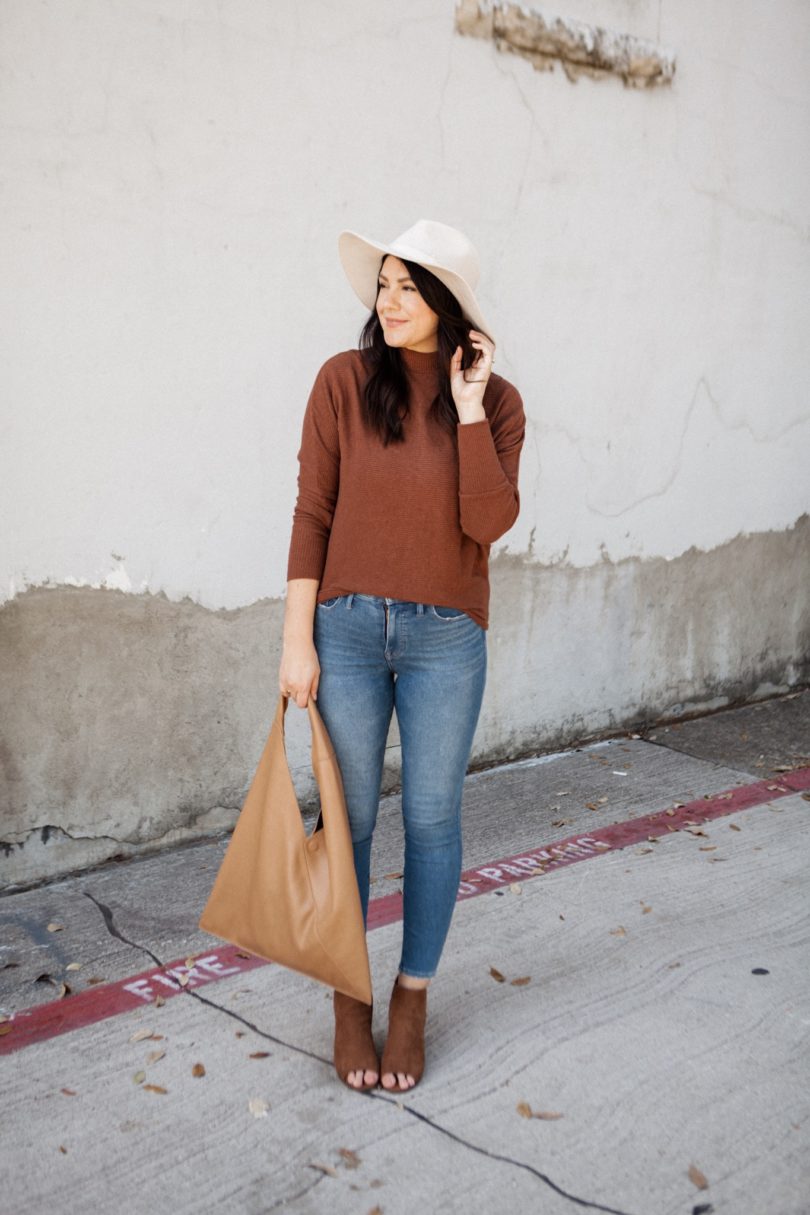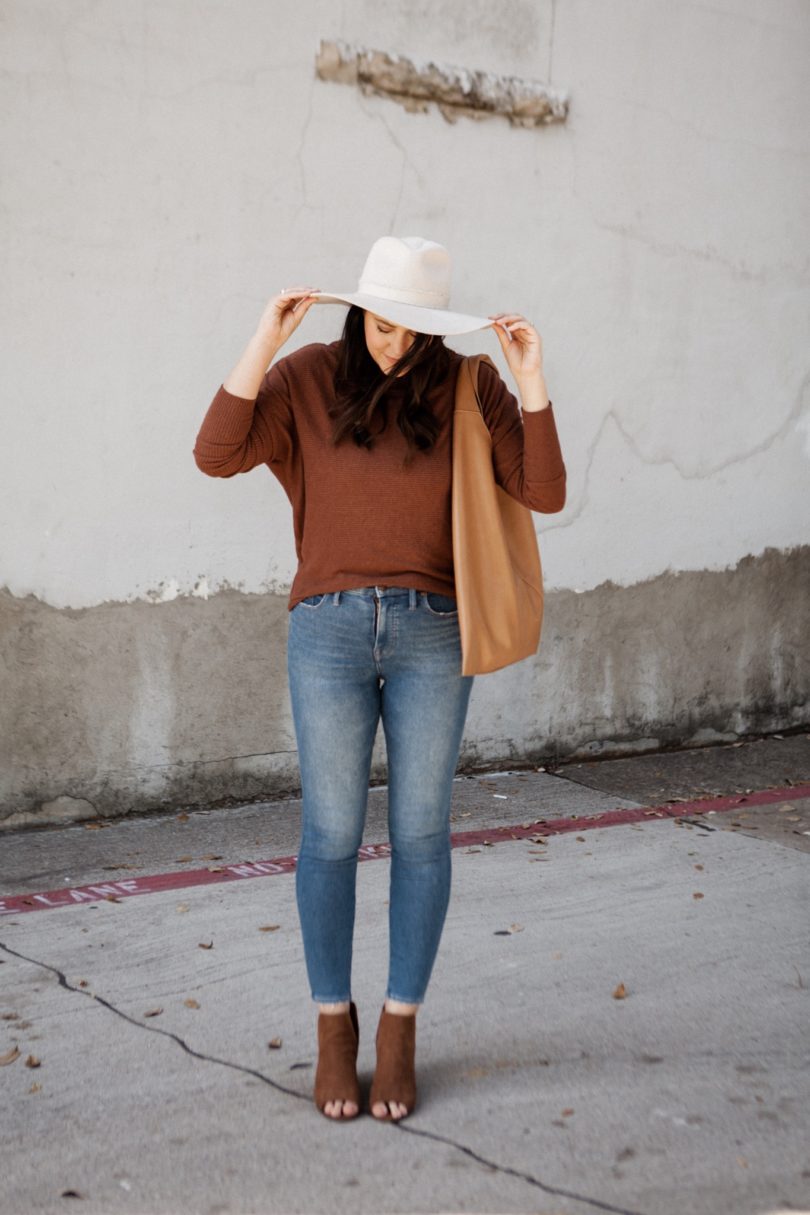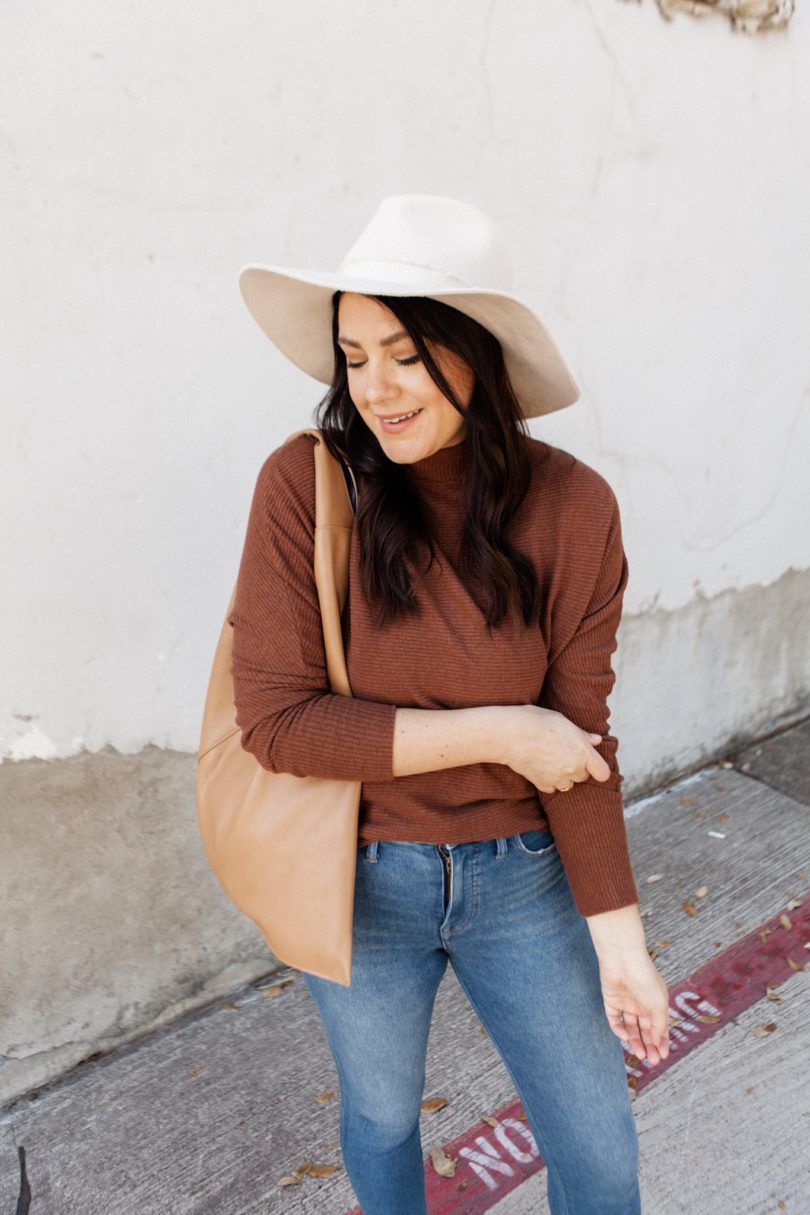 I almost named this post 'hope you like brown' because this week has been multiple variations of brown. So yeah, hope you like brown because Lord knows I have been lately. What are your thoughts on earth tones this fall? I feel like they are coming in hot and I am here for it. It's a nice break away from greys — although you know I love grey and black and white. I'm just excited to see a new hue out there for fall. What about you?
I was looking at these photos and I told Bryan I think I may look like a human version of a pumpkin spice latte and I don't hate it. With the cream hat (the lid) and the brown sweater (the latte), if this isn't a pumpkin spice latte I don't know what is. This top is lightweight — in fact I would call it more of a thick knit than an actual sweater. But I was wearing this outfit the other day and a lady asked me if I was hot. She had pure sympathy in her eyes. I had to think about why she was asking me this and then I realized 'oh my God it's still 95 degrees out' in the real world. (As opposed to the fake world, the internet, where it's always whatever season you want it to be.) I realized that I'm out here dressing for the season I want, not the season I have. I comforted this woman by telling her I worked under a very cold A/C unit all day and I'm pretty much always in some sort of jacket / sweater / cardigan. As she wiped away the beads of sweat accumulating on her forehead from just looking at me, she said 'well it sure is pretty but damn it's hot outside.'  Touché, Ma'am, touché.
Also, if that's not the name of a memoir: "It's Pretty But Damn It's Hot Outside" Essays on Dressing for Autumn in the Heat of Texas
You can find this sweater / top here!
I'm working on a Madewell Try-on for this weekend as we speak! They are having a sale through Monday so I'll get a new try-on up this weekend. These jeans end up being 20% off! You can find them here.
I hear there may be a Friday Night Likes this week…I mean don't hold your breathe but…that's what I hear from the boss lady. (That's me.)